7+ Rustic Wall ideas to Enhance Your Farmhouse-style Home
Affiliate Disclosure: As an Amazon Associate we earn from qualifying purchases. Hence, if you click through and make a purchase, we will get a commission at no extra cost to you. For more info, read our full disclosure.
When it comes to infusing warmth and character into your farmhouse-style home, rustic wall decorations are an absolute game-changer. They add a touch of nostalgia, a hint of the countryside, and a whole lot of charm to your living space. In this blog, we'll explore seven rustic wall decor ideas that can transform your farmhouse-style abode into a haven of cozy elegance.
Refined Farmhouse Kitchen with Rattan Touches
Behold a modern farmhouse kitchen that exudes sophistication. A pristine white kitchen island takes center stage, adorned with a light gray marble countertop beautifully displaying an artful arrangement of fruit in an exquisite three-legged marble bowl. Against the backdrop of light gray walls, a rustic sideboard stands adorned with potted greenery and modern accents.
Above the island, round rattan baskets add a touch of rustic charm, while light wood barstools are thoughtfully arranged below. Completing the scene, a grand black wagon wheel chandelier gracefully hangs from the ceiling.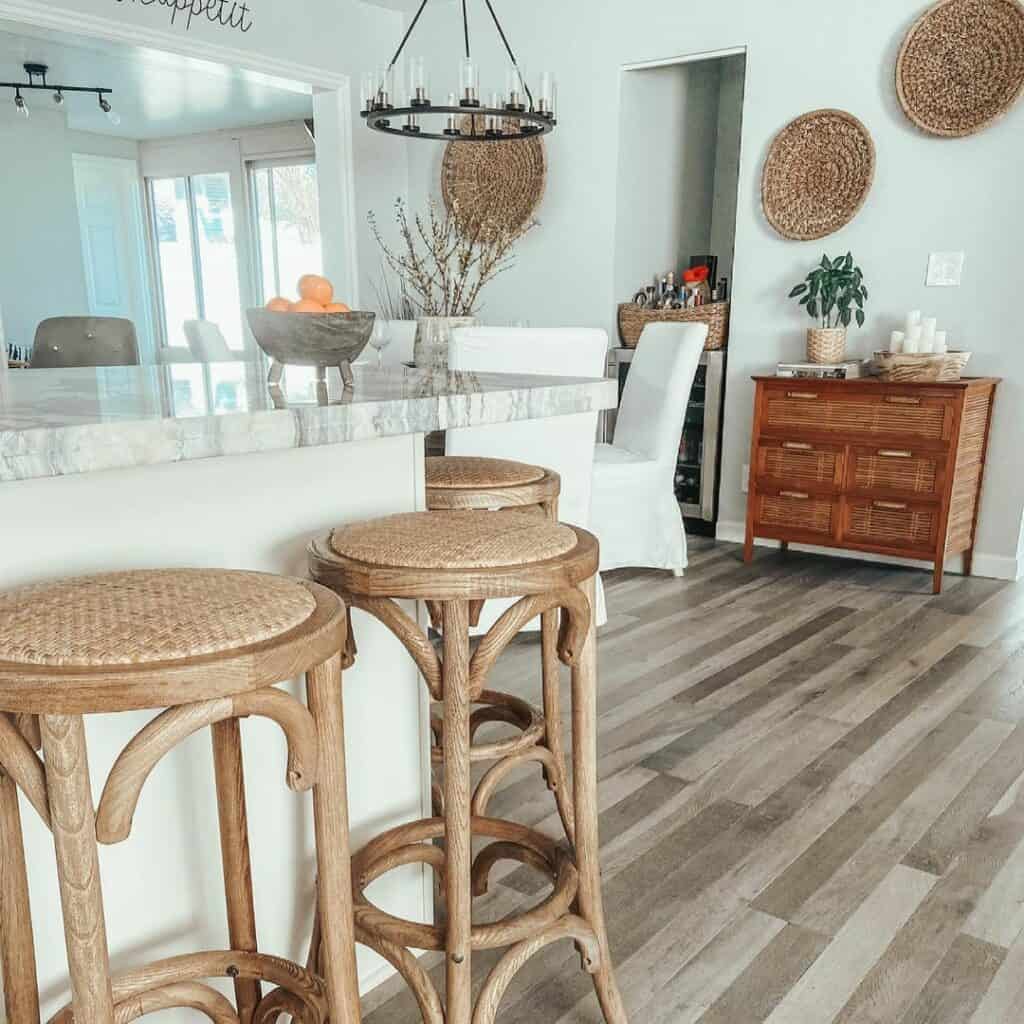 Credit: myhomeinlittlesquares77
Shop the Look
Artistry with Round Rattan Baskets and Vintage Plates
This white farmhouse kitchen showcases an artful blend of functionality and aesthetics. Round rattan baskets and vintage plates adorn the walls, infusing the space with rustic elegance. A light blue accent table is graced with potted greenery, positioned beside white cabinetry with glass hardware. The neutral walls provide a gentle contrast, while an abundance of natural light envelops the room.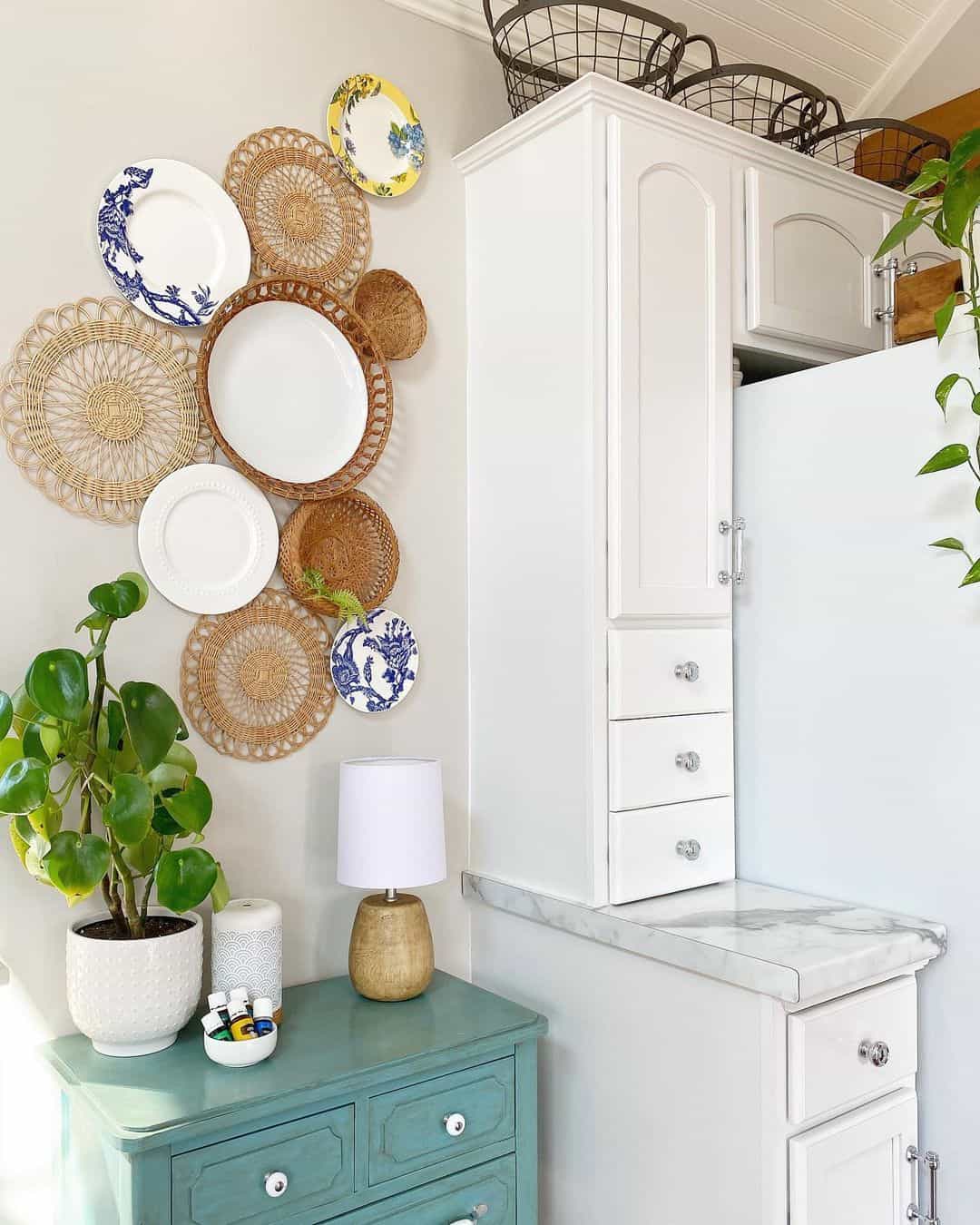 Credit: my.purposed.place_2
Shop the Look
Farmhouse Bedroom Charm with Rustic Wall Decor
Step into a charming farmhouse bedroom where timeless charm reigns supreme. A rustic black metal bed dressed in white and blue paisley pattern bedding stands as the focal point, accented by coordinating throw pillows. Flanking the bed, light wood floating shelves provide a platform for rustic metal accents filled with vibrant greenery and framed artwork, creating a gallery-like setting.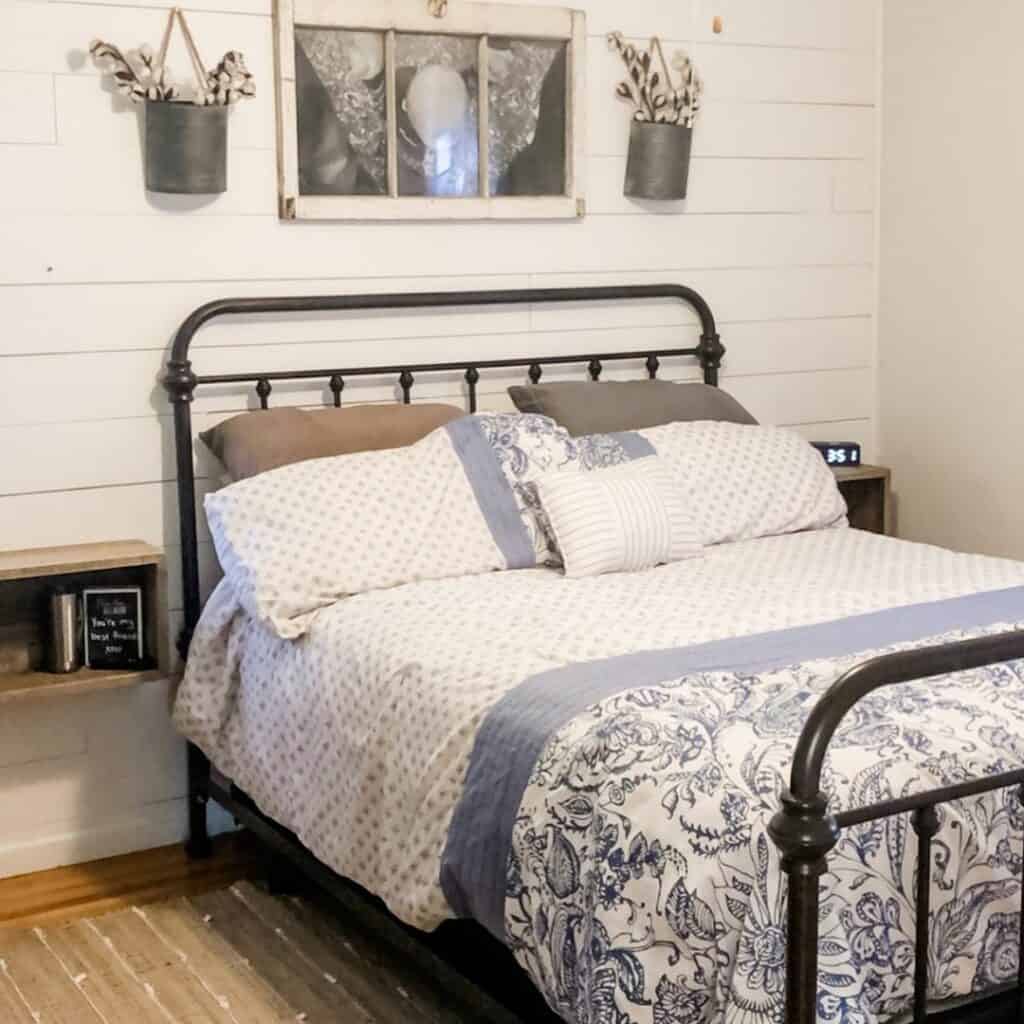 Credit: styledmicasa
Shop the Look
Farmhouse Living Room Elegance with Wicker Wall Decor and Greenery
Elegance and comfort come together seamlessly in this farmhouse living room. A light gray couch, adorned with plush accent pillows and draped in a cozy blanket, graces the center. It is paired with a white armchair embellished with accent pillows, facing a light wood coffee table.
An artful arrangement of greenery and white florals takes the spotlight on the coffee table, while a neutral textured area rug defines the space. Above the armchair, on a white wall, rustic wicker wall decor brims with lush greenery. Throughout the room, light wood flooring adds to the inviting ambiance.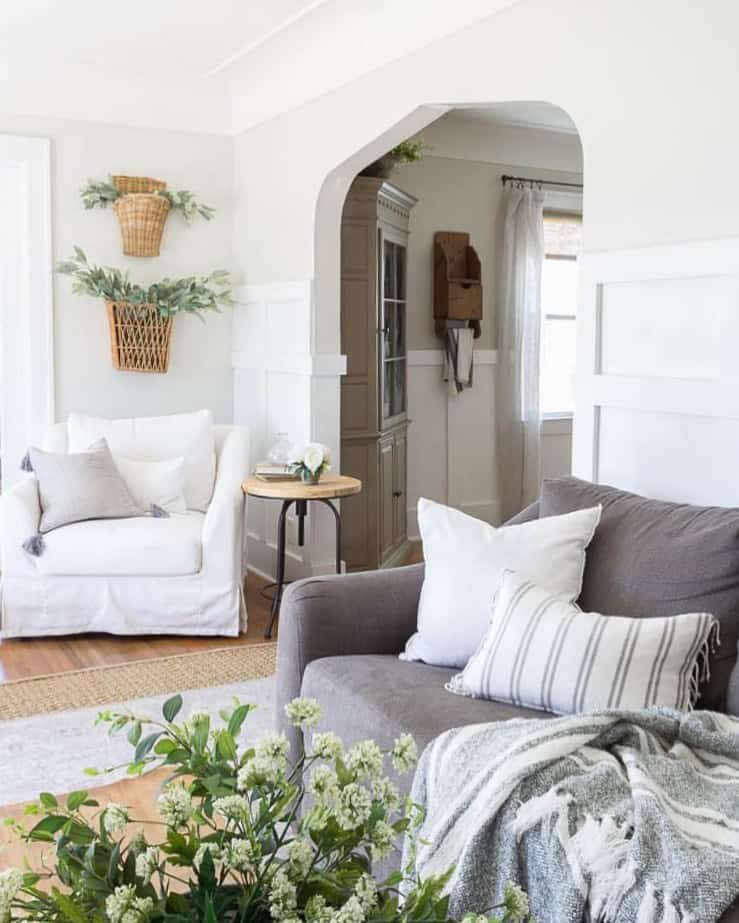 Credit: pineandprospecthome
Shop the Look
White Shiplap Wall
In this tranquil farmhouse bedroom, a serene ambiance takes center stage. A rustic white four-poster bed, dressed in pristine white and beige bedding, stands against a backdrop of white shiplap walls. The bed is flanked by windows softly veiled by beige sheer curtains, allowing for a gentle infusion of natural light.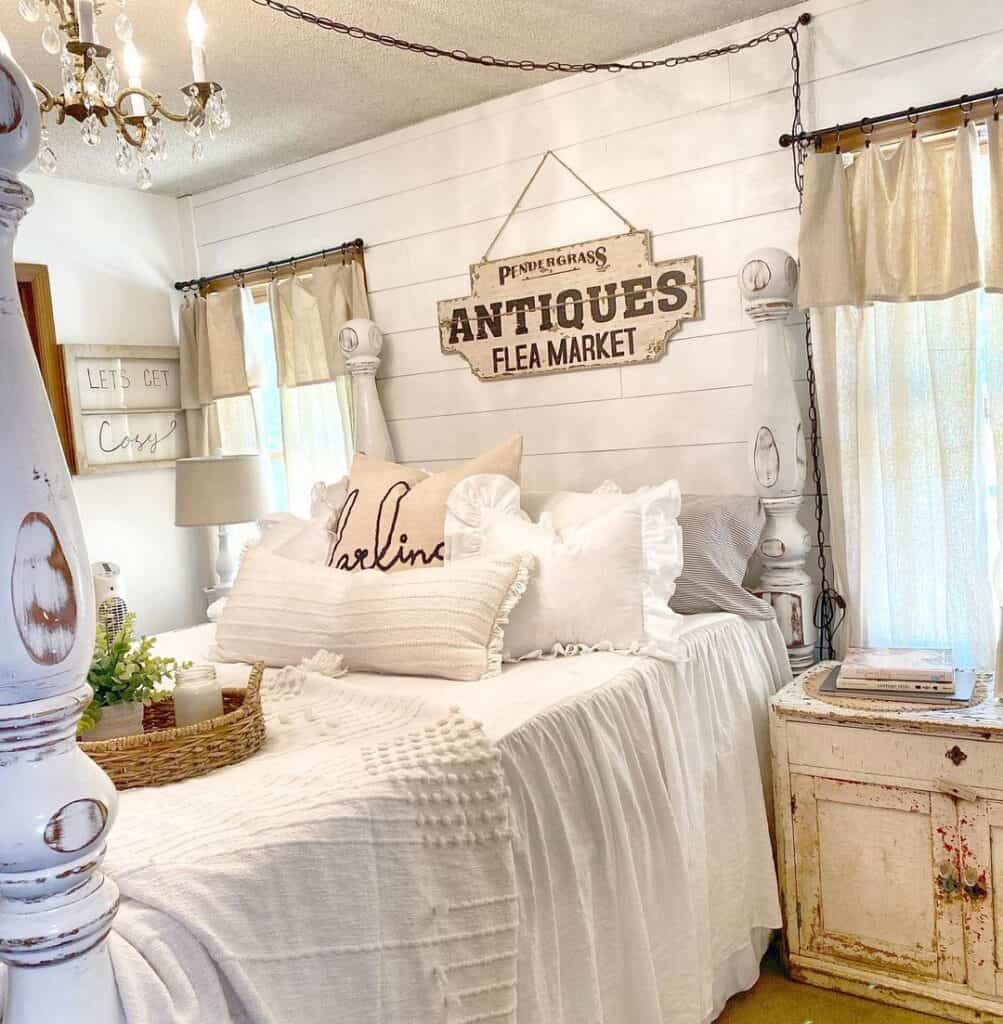 Credit: thecottageonshope
Shop the Look
Inviting Farmhouse Living Room Adorned with Vintage Elements
Welcome to a cozy and welcoming farmhouse living room, where complementary neutral armchairs, embellished with coordinating throw pillows, entice you to unwind. In the heart of the room, a round light wood side table steals the spotlight, artfully showcasing an array of cascading greenery. Nestled in the corner, a rustic wooden dresser exudes warmth, adorned with vintage framed prints and delightful accents that infuse character into the space.
A rustic rattan basket brimming with greenery graces the adjacent wall, while an abundance of windows floods the room with invigorating natural light. The embrace of warm wood flooring serves as the final flourish to this inviting sanctuary.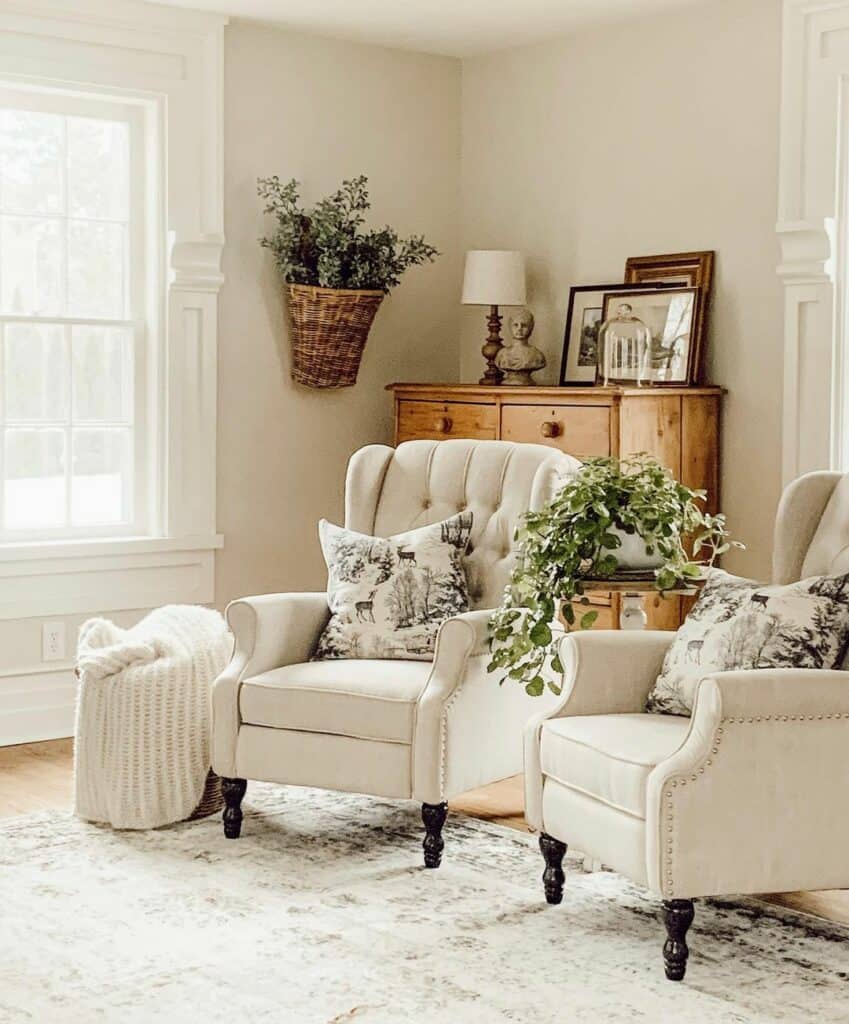 Credit: the_cole_farmhouse
Shop the Look
White Decor with Light Gray Paisley Bedding
Step into a graceful white farmhouse bedroom that embodies timeless elegance and comfort. This meticulously styled space features a pristine white bed, adorned with blue and white paisley bedding and accentuated by coordinating throw pillows.
Positioned at the foot of the bed, a light gray padded wooden bench, adorned with accent pillows and draped with a soft blanket, introduces a touch of opulence. On either side of the bed, matching light gray wooden side tables complete the harmonious look, while a circular rattan wall decor piece graces the pristine white wall above the bed.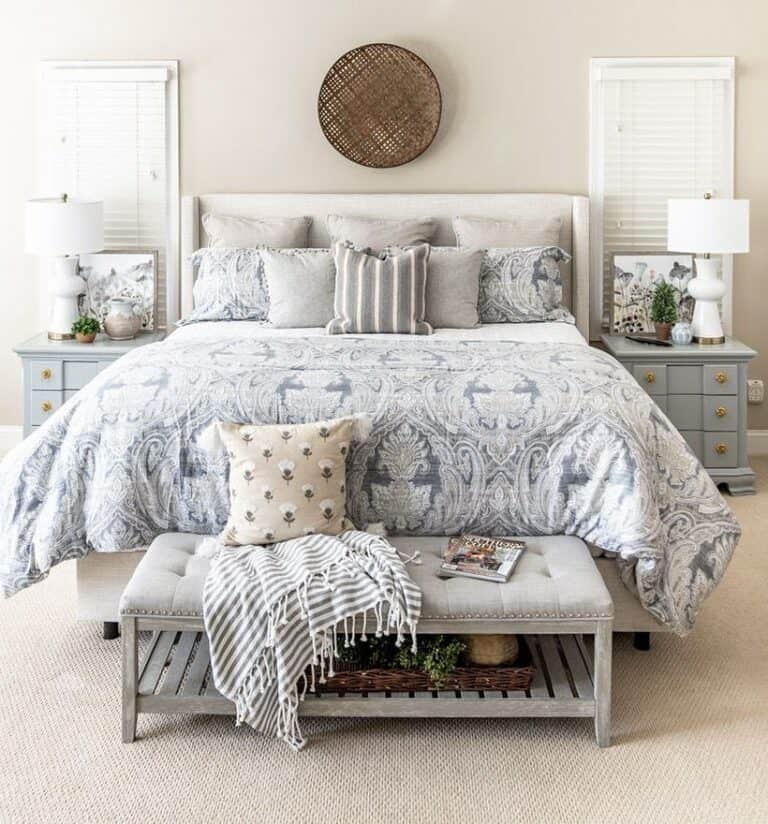 Credit: worthingcourtblog
Shop the Look
Monochromatic Living Room with Stylish Black Accents
In a neutral and white living room, you'll find a blend of tranquility and elegance. A neutral sofa, adorned with both neutral and black accent pillows, takes center stage, encircling a round farmhouse coffee table. Above the sofa, a framed print and wall sconces adorn a neutral wall, while a textured area rug defines the space.
Adjacent to a natural-toned wall, a light wood padded bench, embellished with accent pillows, offers a comfortable seating option. Adding to the room's allure, a warm wood-framed mirror, draped with fresh pine garland and mounted above the bench, reflects the room's abundant natural light, all set against the backdrop of warm wood flooring.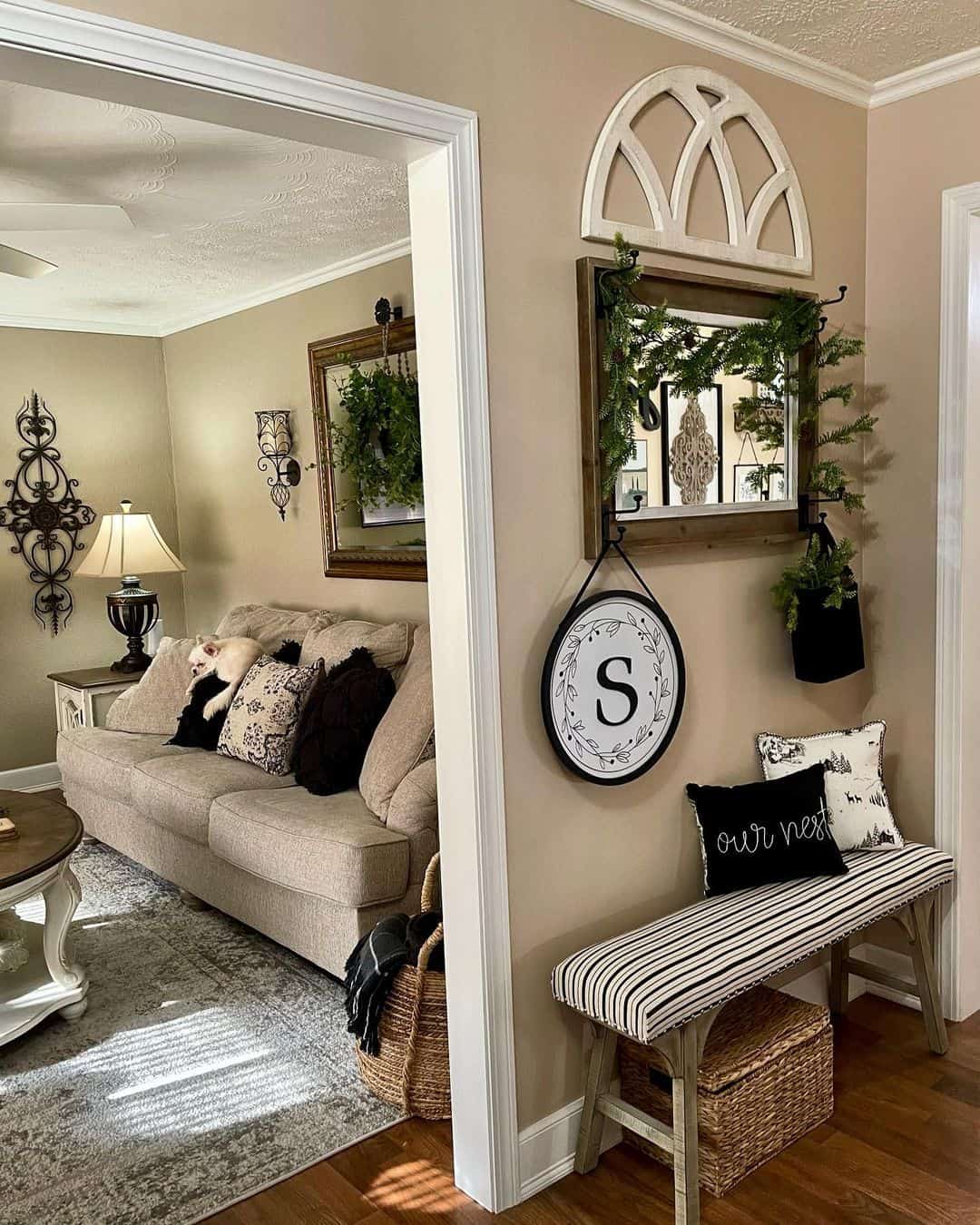 Credit: wheretwoaregathered
Shop the Look
Wrap-up
Incorporating rustic wall decorations into your farmhouse-style home is a surefire way to enhance its appeal and create a welcoming atmosphere. These handpicked decor ideas not only capture the essence of rural living but also infuse your space with unique character. So, go ahead and let these rustic accents turn your home into a delightful retreat that reflects your love for the farmhouse aesthetic.