7+ Creative Small Island Ideas for Your Farmhouse Kitchen.
Affiliate Disclosure: As an Amazon Associate we earn from qualifying purchases. Hence, if you click through and make a purchase, we will get a commission at no extra cost to you. For more info, read our full disclosure.
Elevate your farmhouse kitchen's functionality and style with these 7+ creative small island ideas. Whether you're working with a compact space or simply looking for innovative design inspiration, these clever island solutions will add charm and practicality to your culinary haven.
A Stylish Small Island in a Bright White Kitchen
This charming kitchen embraces a touch of elegance with its compact island adorned with a wooden top and stylish farmhouse-style legs. Maximizing space, it features two stools on either side. The island's presence beautifully complements white cabinets with sleek black hardware.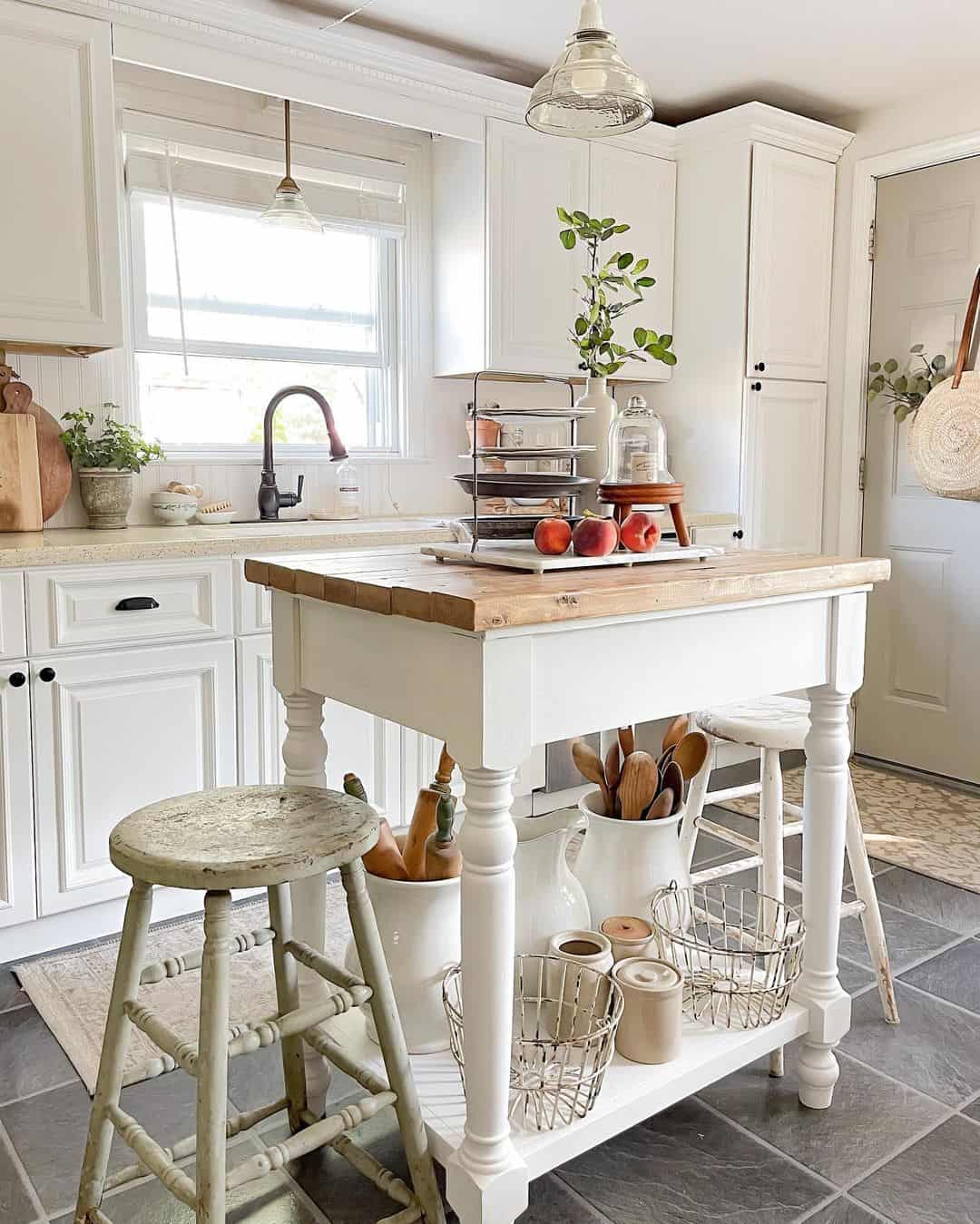 Credit: the.huber.homestead
Shop the Look
Pillar Island and White Cabinets
Experience the grandeur of this kitchen with its white cabinets and a kitchen island boasting a wooden top, supported by imposing pillar-style legs. Comfortable gray-cushioned bar stools create a welcoming seating area, while an exquisite chandelier adds a touch of sophistication. A lively green wreath graces the range hood, providing a refreshing contrast.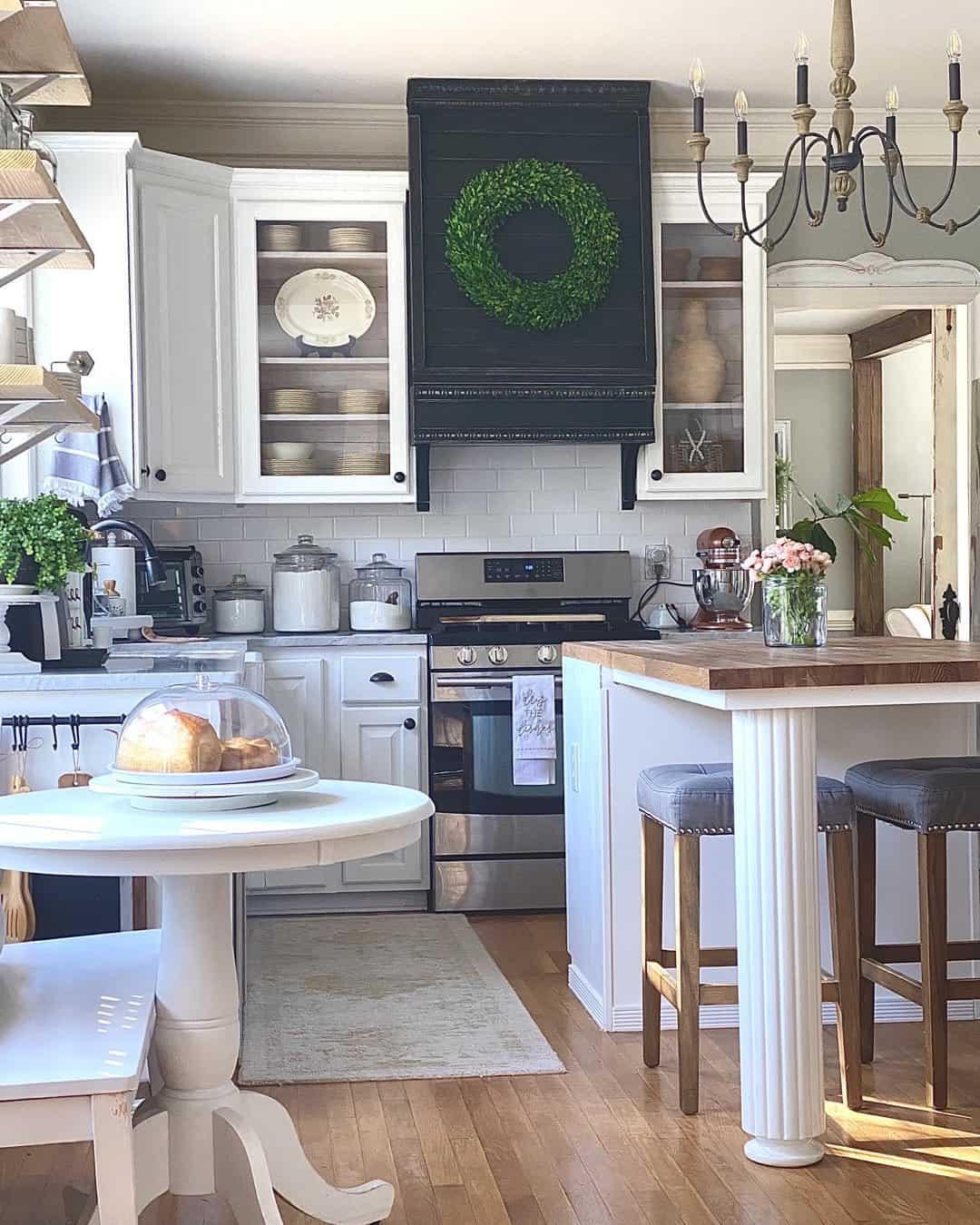 Credit: the_melton_homestead
Shop the Look
Dual-Tiered Island Beauty
Enter a vintage farmhouse kitchen that introduces a distinctive dual-tiered island. One section boasts a tall, vertically planked island, while the other ingeniously converts into a functional chest of drawers, providing generous storage space. These islands are thoughtfully embellished with an array of delightful features, from chopping boards adorned with thriving plants to vases brimming with rolling pins and charming plant pots.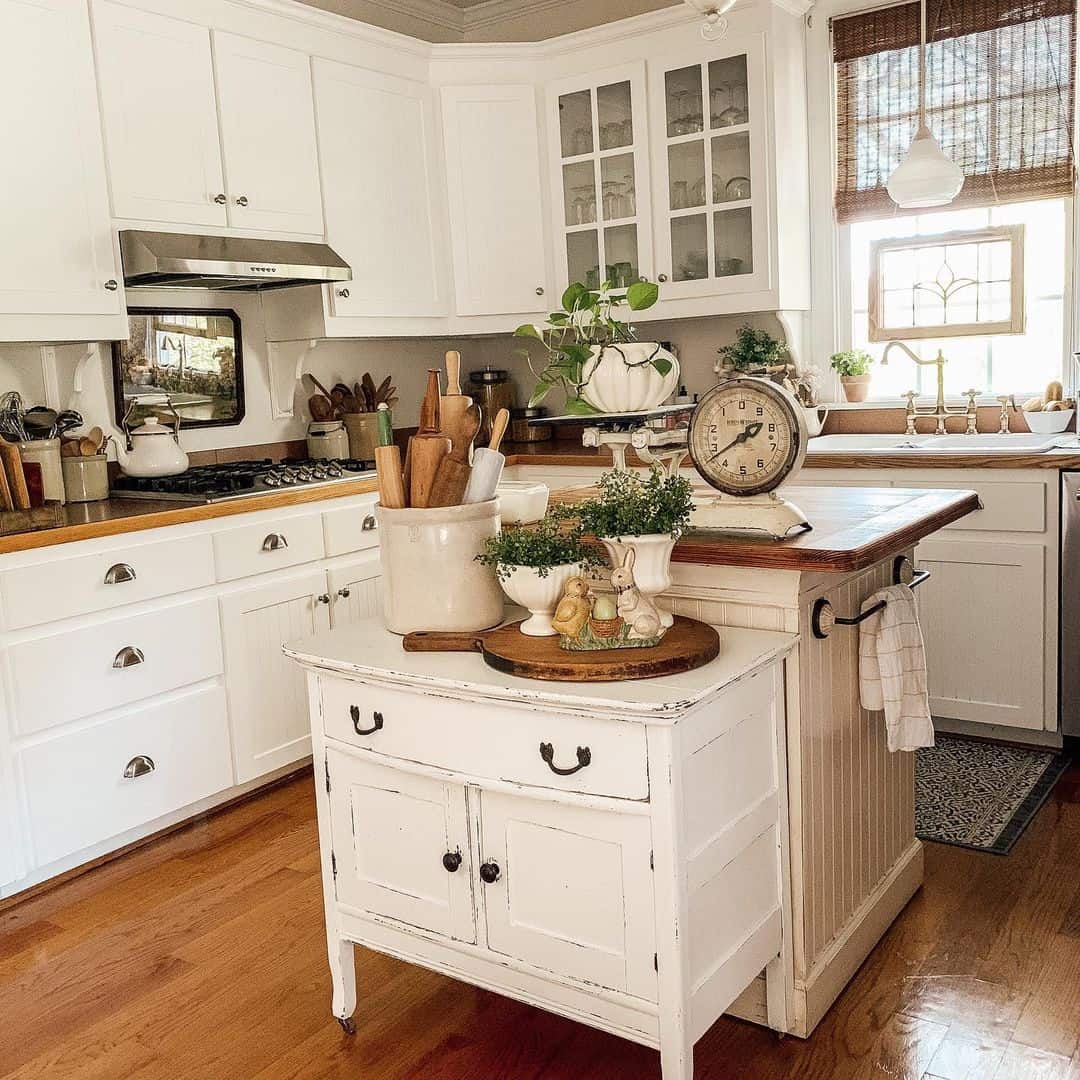 Credit: linenandtwigs
Shop the Look
White Kitchen Island Featuring Copper Cookware
In this delightful white kitchen, discover the art of open-shelved kitchen islands, thoughtfully accompanied by wooden stools. A row of coat hooks ingeniously holds gleaming copper pans, adding both functionality and a touch of glamour to the island. The island is artfully decorated with a bountiful basket of fresh flowers.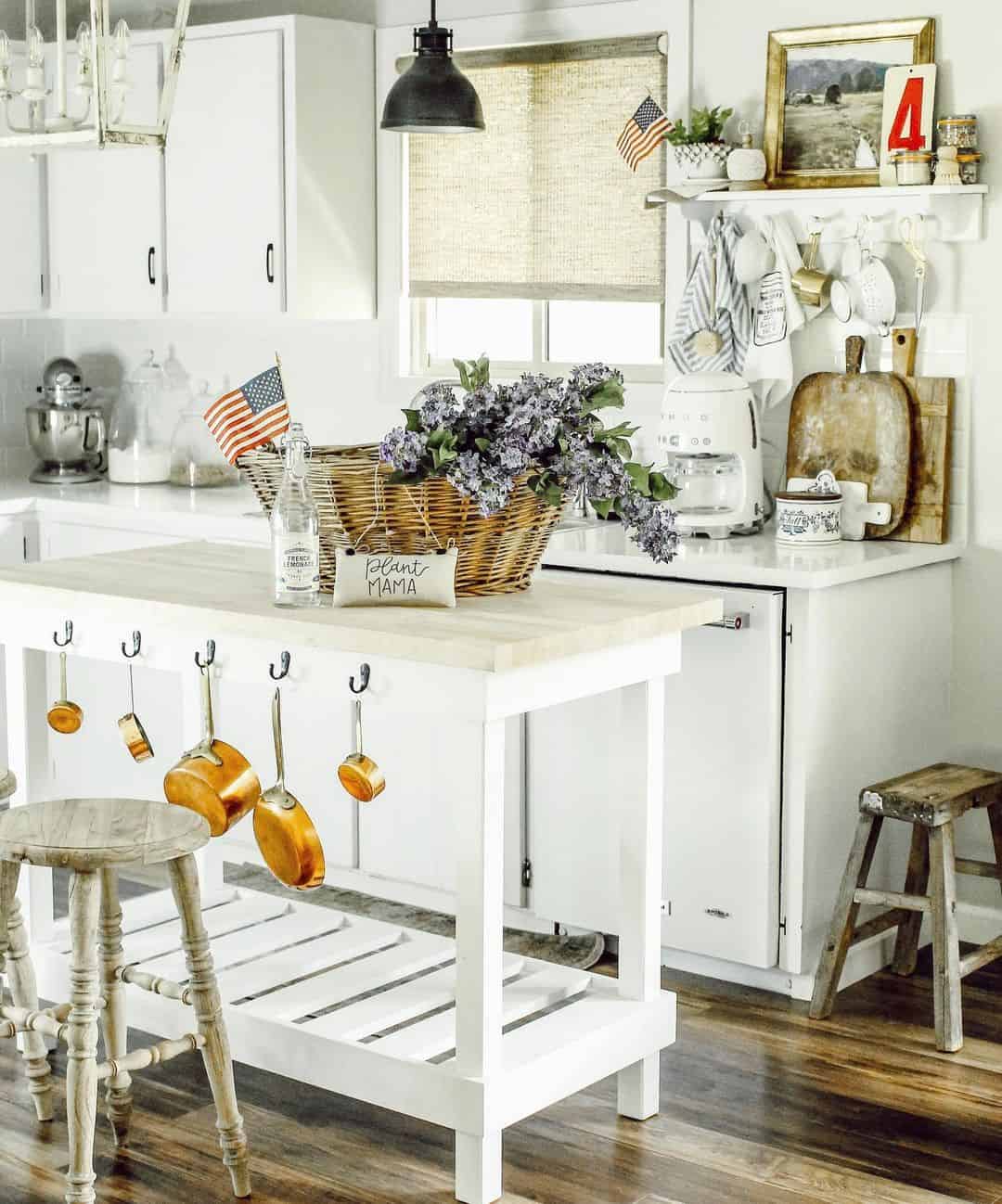 Credit: thecoefam
Shop the Look
Contrasting Black Island in a White Kitchen
In this compact kitchen, a striking pitch-black island commands attention, creating a dramatic focal point amidst pristine white cabinets enhanced by sleek black hardware. The interplay of contrasting light and dark is further accentuated by the combination of tiled backsplashes and faux marble countertops. Pendant lights overhead provide an elegant and illuminating touch to complete the overall look.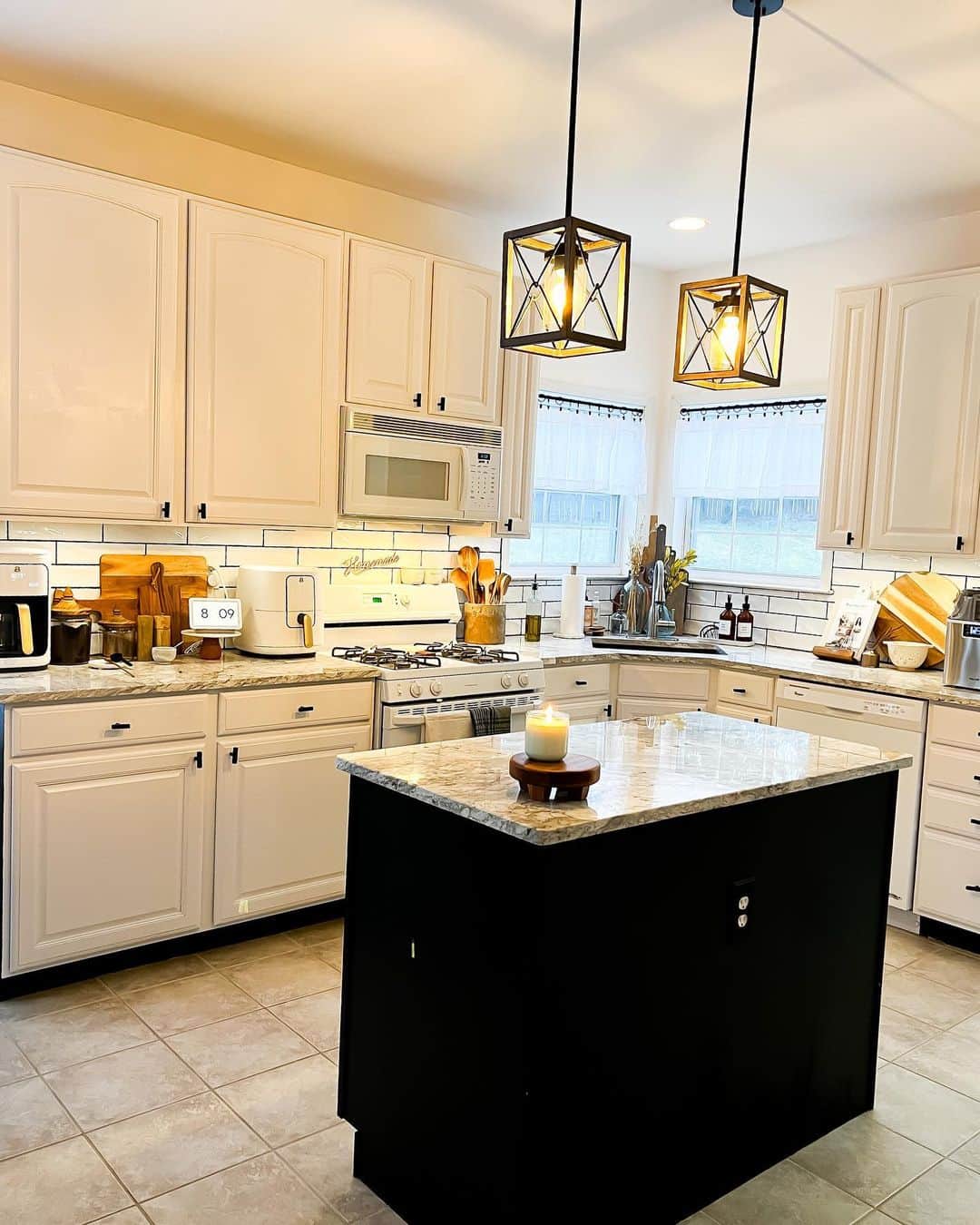 Credit: my.fauxfarmhouse
Shop the Look
Wooden Beauty in an Open Kitchen Design
This kitchen island demands attention with its prominent olive tree as the central focal point. Its ingenious design incorporates a smart rail and hook system, adding versatility by serving as both a storage solution and a welcoming seating area. Above, a sleek metal range hood complements a rail embellished with gleaming kitchen utensils, harmonizing with the sparkling countertops.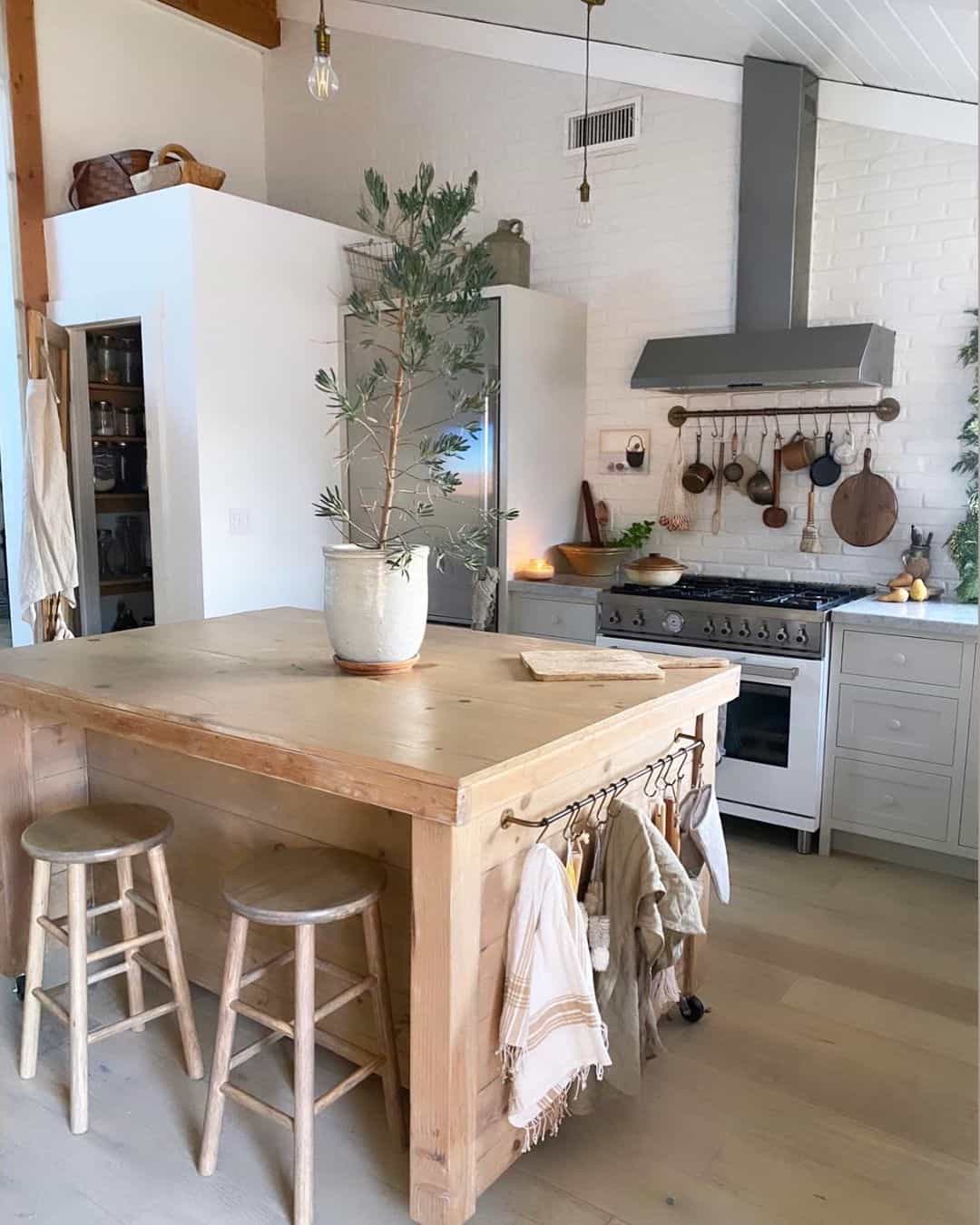 Credit: milkandhoneylife
Shop the Look
Harmonizing Black, White, and Wood
In this cozy compact kitchen, a timeless color palette seamlessly integrates shades of white, black, and natural wood. The white cabinets harmoniously pair with white metal island chairs, creating a sense of unity. The kitchen island, painted in a deep black tone, showcases a wooden countertop that beautifully resonates with the presence of the wooden range hood. The space is further enriched by the addition of a striking beige and white patterned tile floor, which enhances the enduring charm of the kitchen.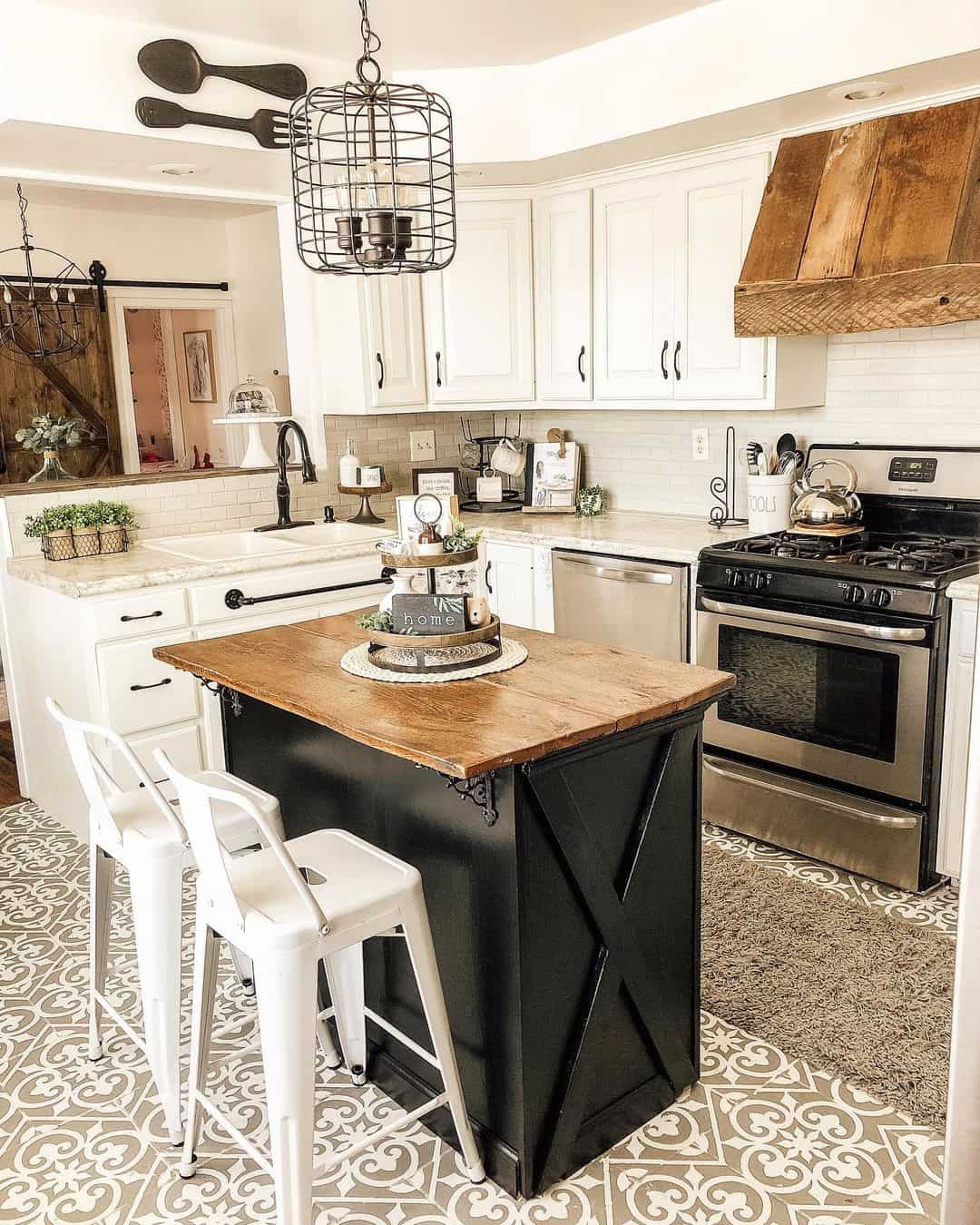 Credit: our.nohai.home
Shop the Look
Creative Kitchen Island Concepts
Embrace the vintage charm as the spotlight falls on the enduring beauty of wooden legs, supporting a rustic planked counter. This captivating centerpiece transforms the farmhouse kitchen, becoming the nucleus of attention. Open wooden shelving proudly displays an array of tableware and baking accessories, nestled within a well-lit space adorned with white shiplap walls and the allure of a sliding barn door.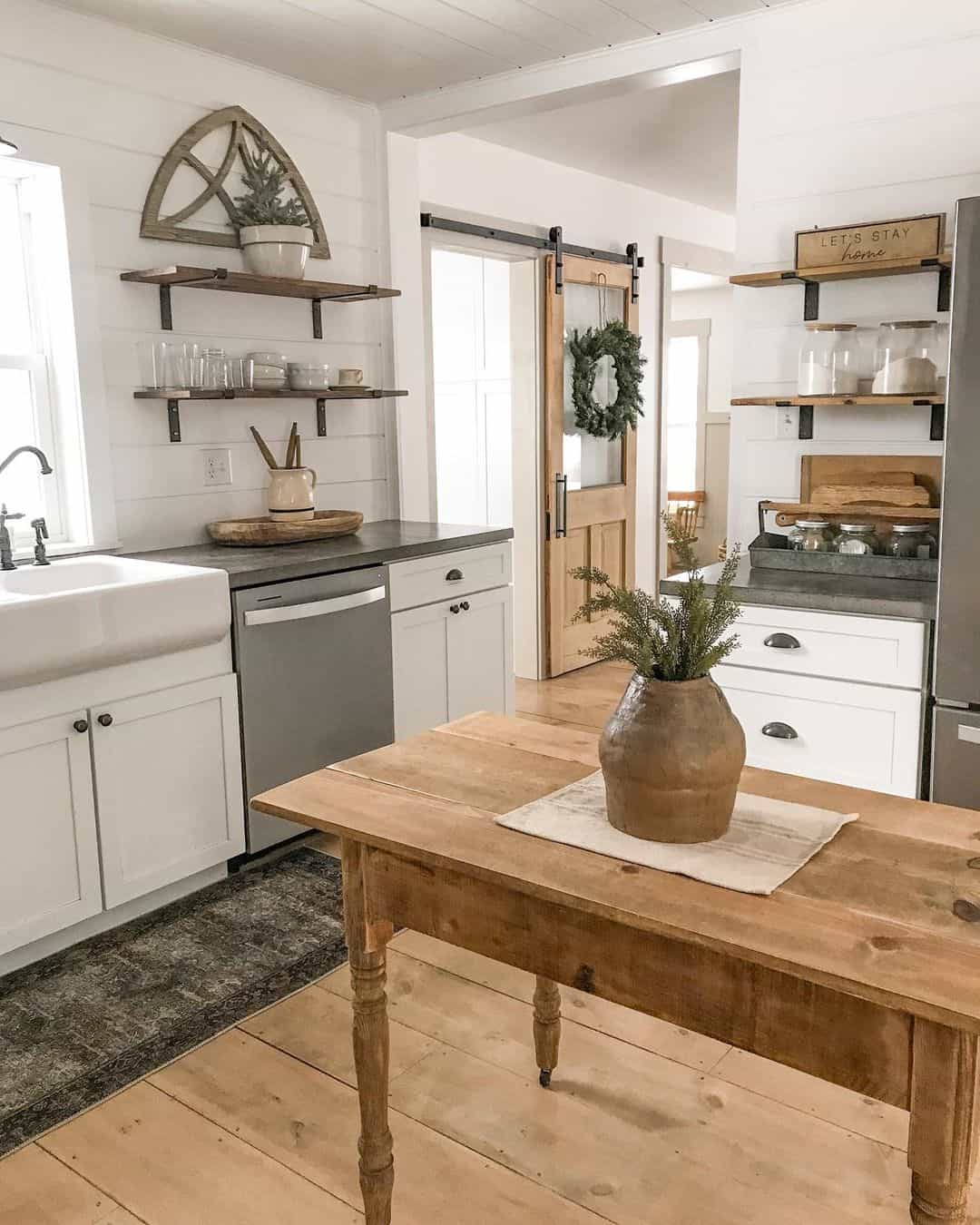 Credit: little.byrd.house
Shop the Look
Wrap-up
As we conclude our exploration of these creative small island ideas for farmhouse kitchens, it's clear that innovation and style can coexist harmoniously. These versatile islands bring both functionality and charm to your culinary space. Embrace the beauty of well-utilized space and smart design, and let your farmhouse kitchen shine as a hub of creativity and warmth.