7+ Charming Small Kitchens Embracing Open Shelving Concepts
Affiliate Disclosure: As an Amazon Associate we earn from qualifying purchases. Hence, if you click through and make a purchase, we will get a commission at no extra cost to you. For more info, read our full disclosure.
Step into the heart of rural simplicity and warm hospitality with our exploration of "7+ Charming Small Farmhouse Kitchens Embracing Open Shelving Concepts." In a world where minimalism meets rustic elegance, these kitchens are a testament to the enduring appeal of farmhouse aesthetics.
Join us as we journey through these inviting spaces where open shelving takes center stage, allowing you to see the beauty in both function and design. These kitchens are sure to inspire, whether you're a country dweller or an urbanite with a penchant for the countryside's timeless charm.
Modern Farmhouse Kitchen Elegance with Open Shelving
Step into the realm of modern farmhouse chic as this kitchen combines the best of both worlds. Dark gray cabinets and wooden countertops provide a touch of contemporary sophistication. Grounded by a traditional brown rug, the monochrome dining area harmonizes with open shelving that ensures ample storage for all your kitchen essentials.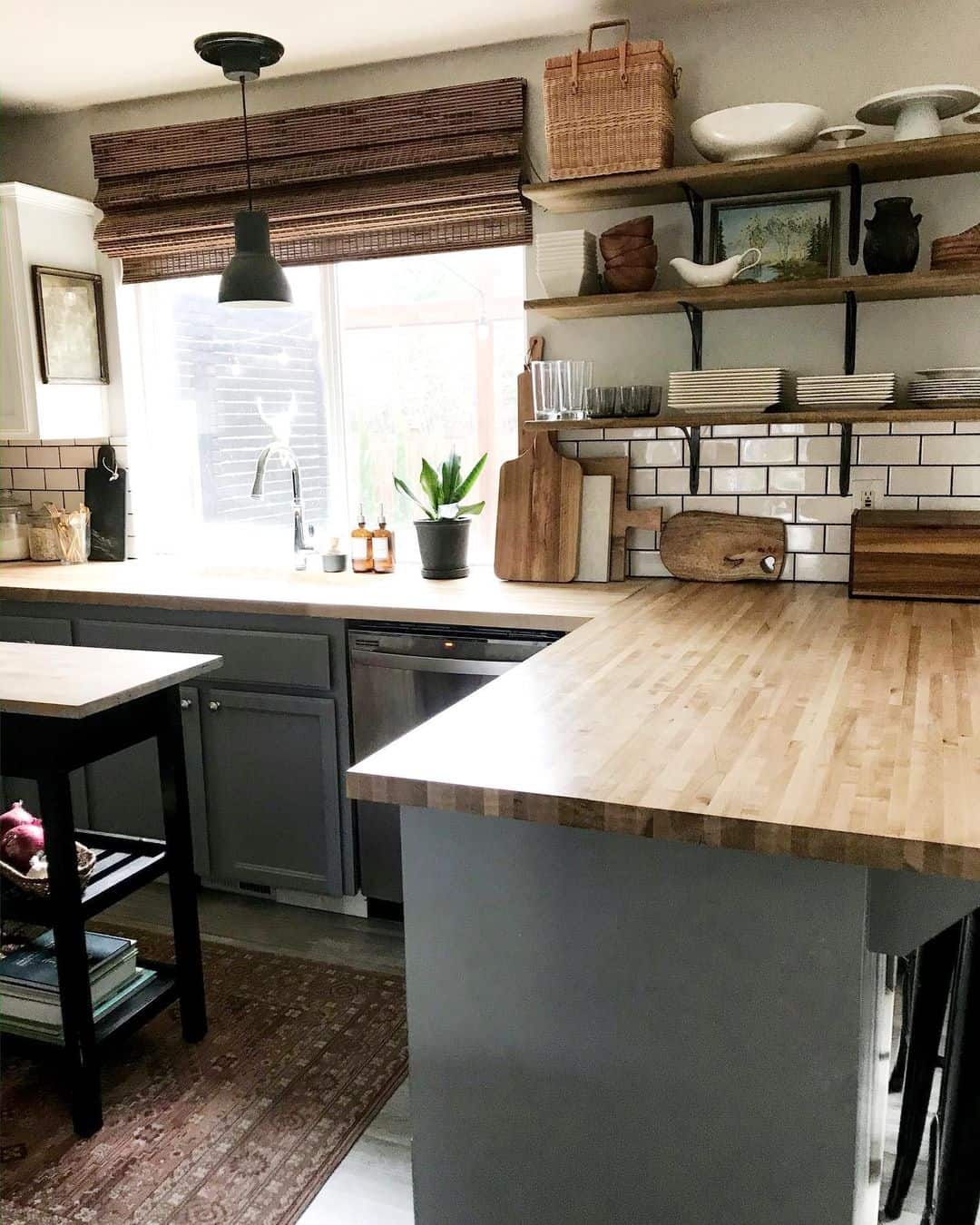 Credit: mia.interiors
Shop the Look
Fall-Inspired Kitchen Charm with Gray Open Shelving
This kitchen encapsulates the cozy essence of autumn. A gray subway tile backsplash complements the pristine white cabinetry, while brown-and-white accents adorn the generously sized open shelving. To complete the autumnal aesthetic, a delightful bouquet of fall-inspired decorations graces the countertop.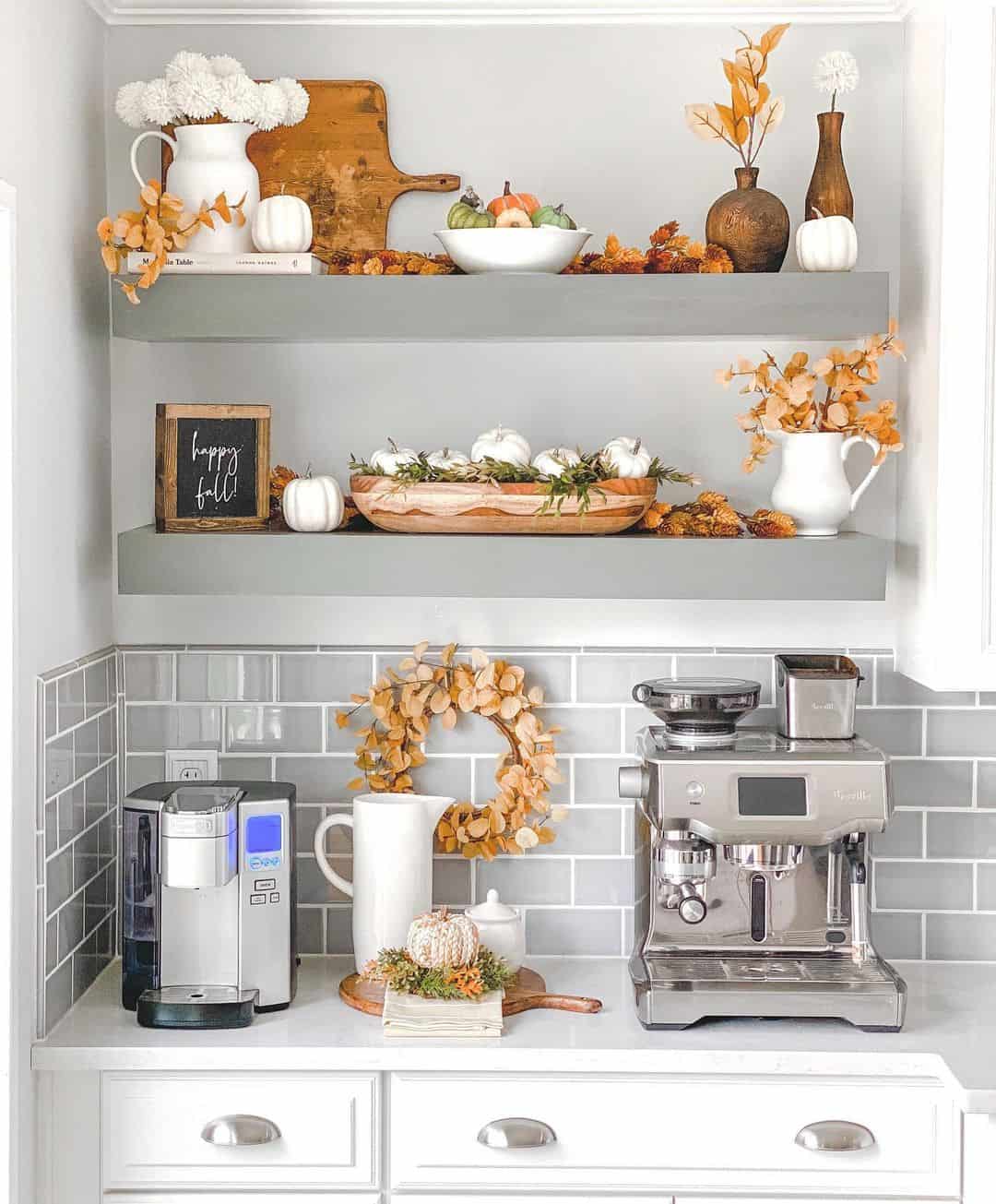 Credit: pbandp
Shop the Look
Rustic-Modern Fusion in Kitchen Design
Experience the perfect blend of rustic charm and modern style in this kitchen. White cabinets, accented with touches of black, are set against a marbled countertop. The natural elegance of wooden feature walls, open shelving, and pendant lighting creates an inviting atmosphere reminiscent of a pumpkin-patch-themed gathering.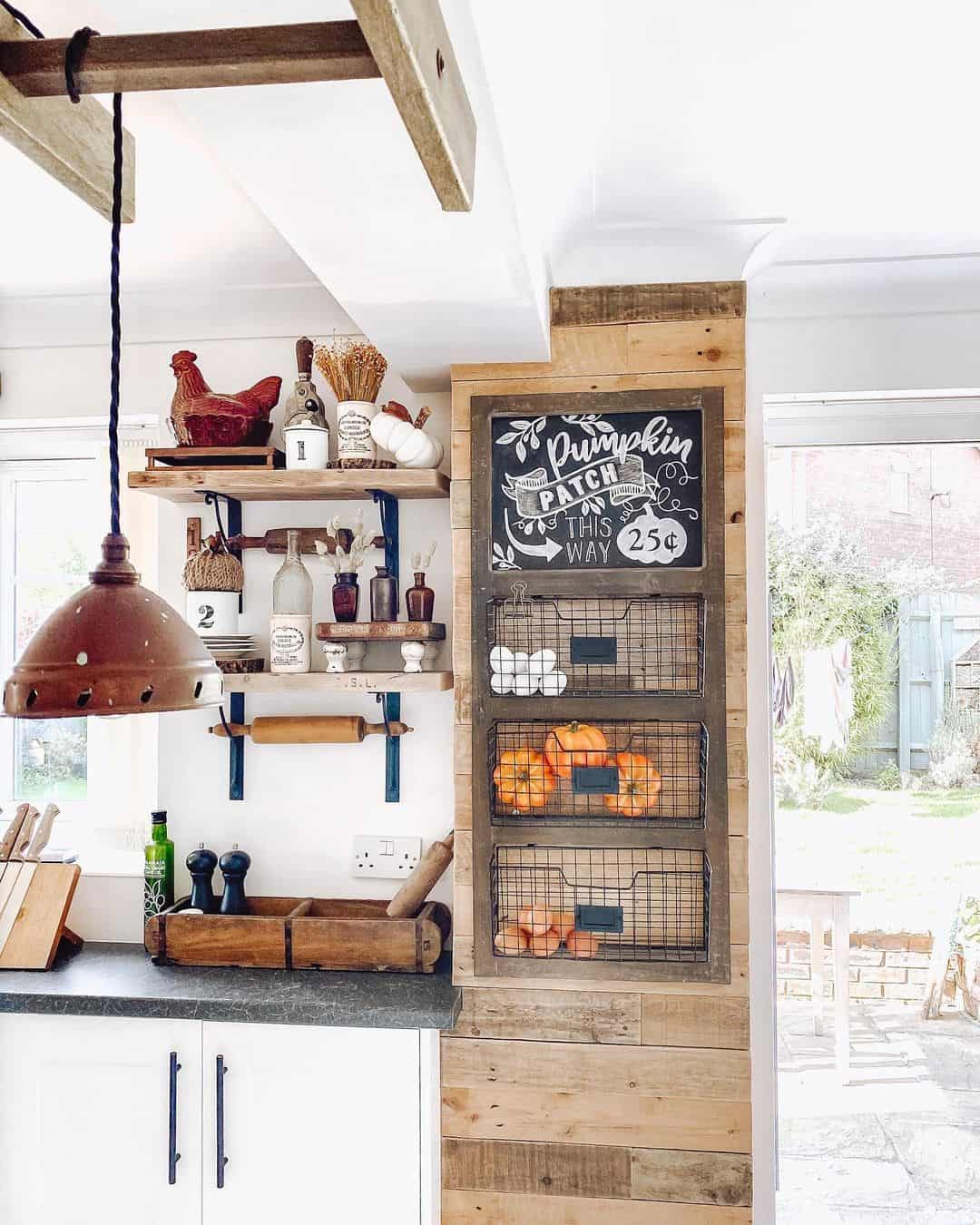 Credit: makinghomematter
Shop the Look
Cozy Small Kitchen in White and Earth Tones
In this compact kitchen, white cabinets with black handles, and a beige countertop serve as a canvas for greenery. Potted plants and a black-accented cup holder breathe life into the space, while thick wooden open shelving stands in striking contrast to the stone backsplash, adorned with earthy-toned decor.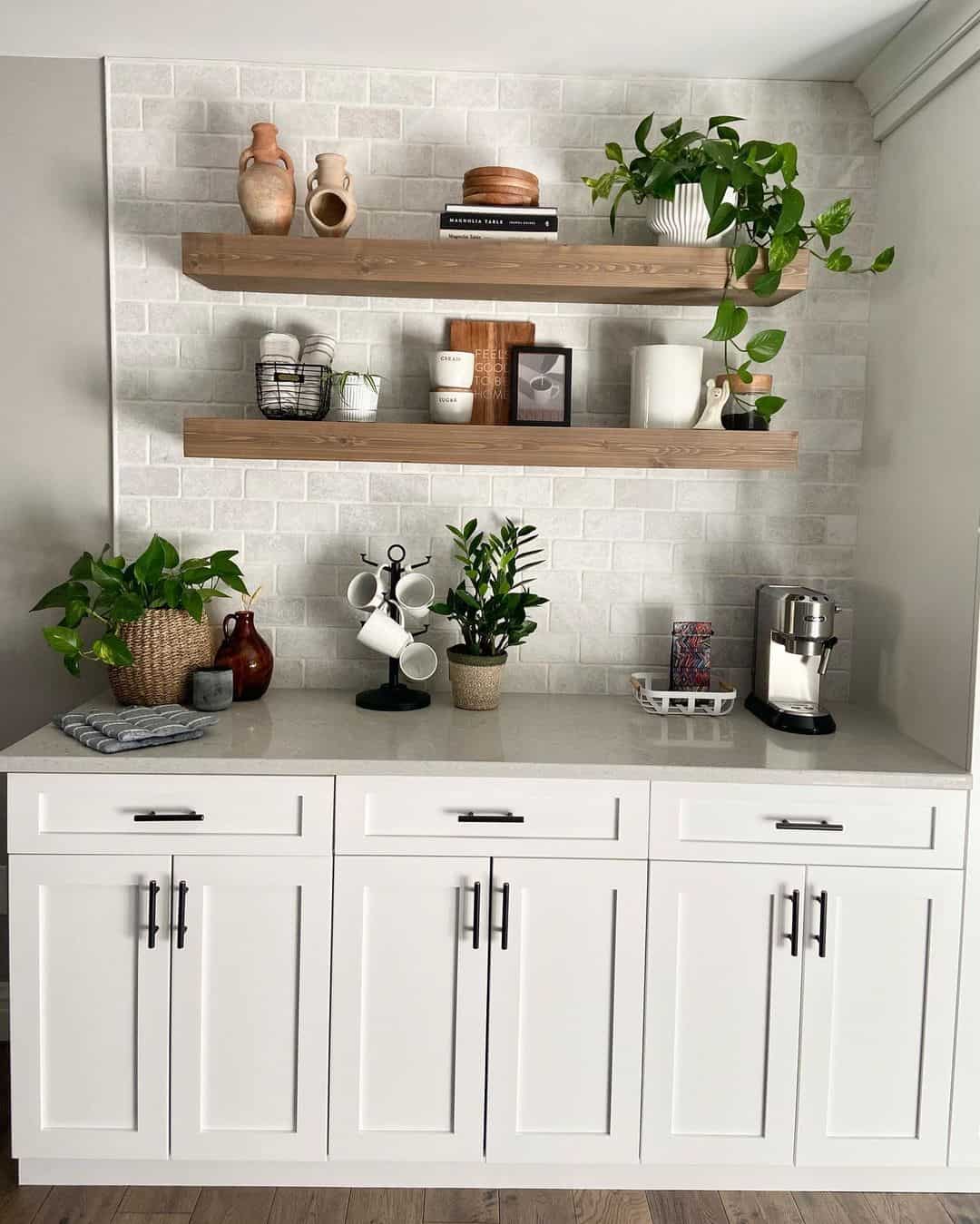 Credit: ourhomeoncolonial
Shop the Look
Farmhouse-Inspired Rustic Small Kitchen
Embrace the farmhouse aesthetic with this charming kitchen. A rustic green table featuring a wooden countertop doubles as an island table. Coordinating wooden cabinets house an array of white kitchenware, while white open shelving and signage provide a delightful visual contrast.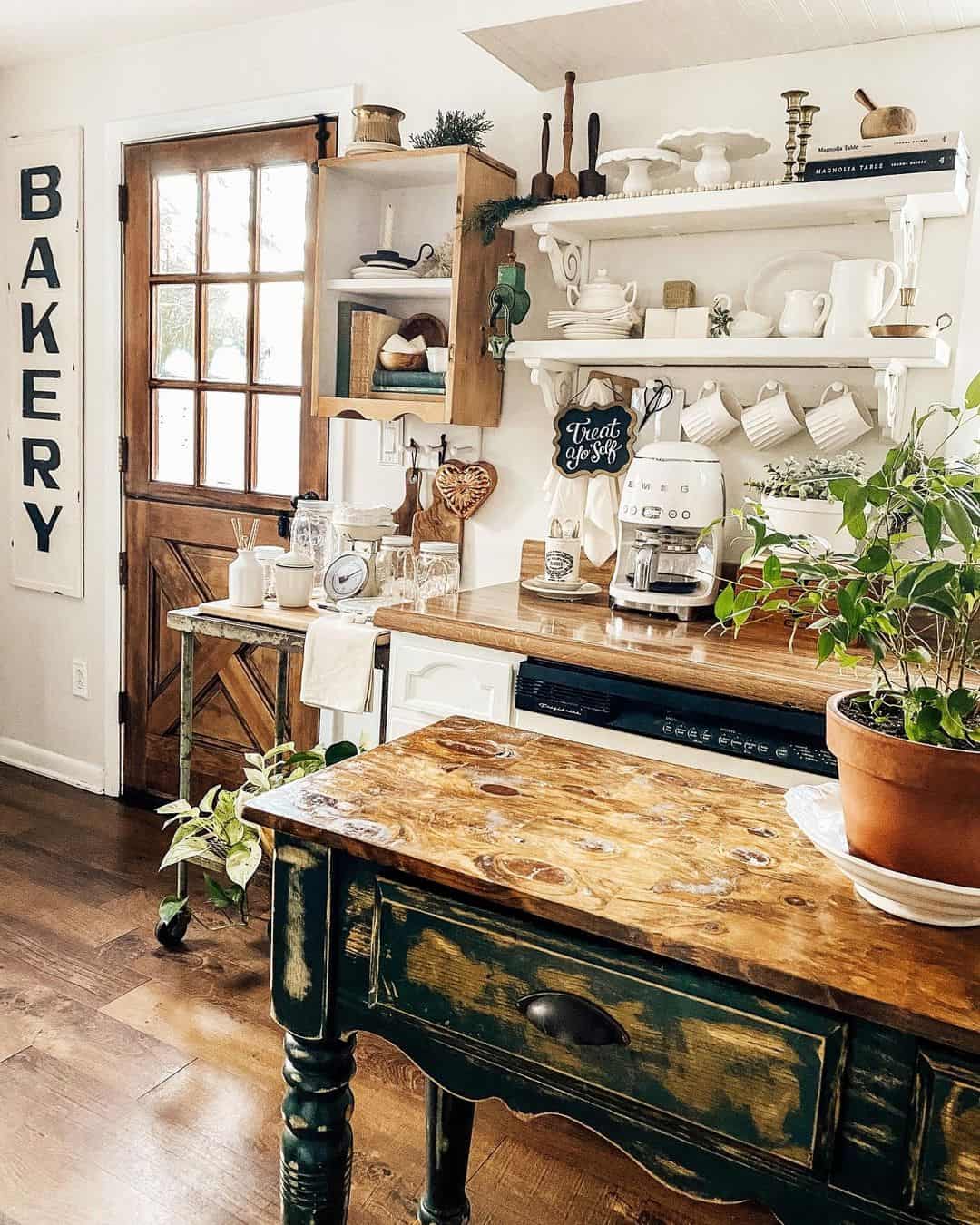 Credit: we_dabble
Shop the Look
Charming Cottage-Style Kitchen with Symmetrical Open Shelving
Step into a charming cottage kitchen that boasts symmetrical white open shelving, a beige countertop, and an inviting farmhouse sink. The open shelves burst to life with colorful kitchenware and potted plants, while whimsical animal decorations complete the picture.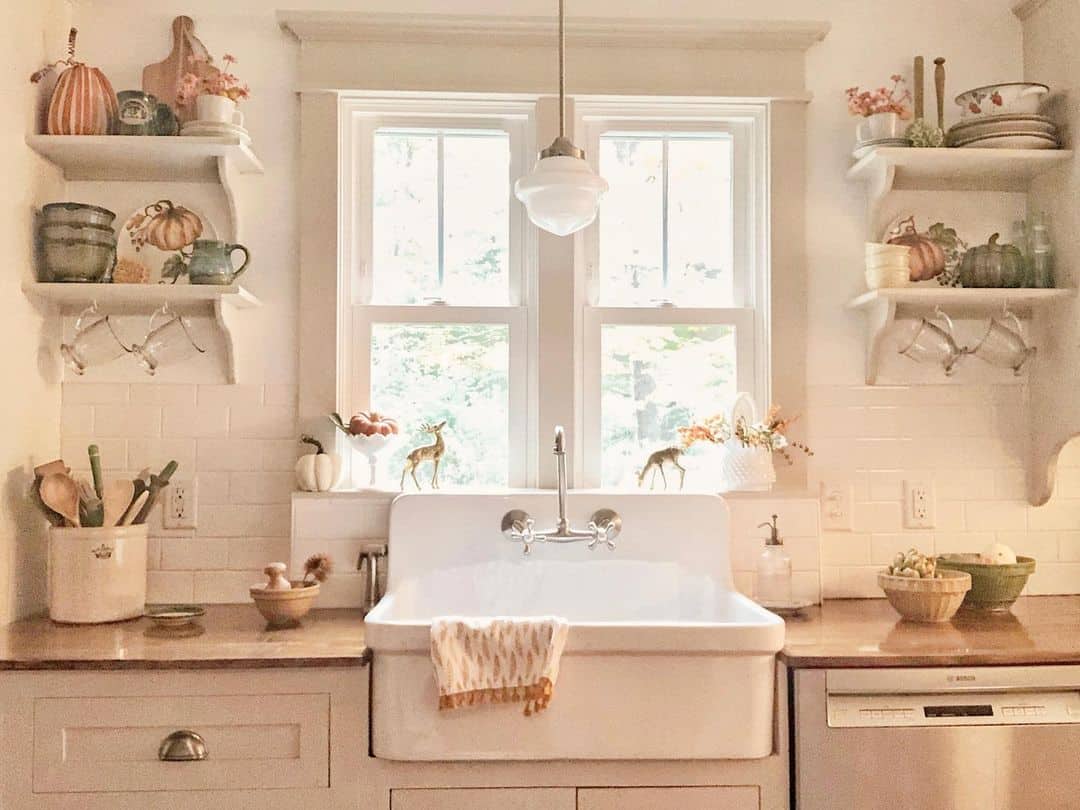 Credit: poconomountaincottage
Shop the Look
Blooming Splendor in a Cozy Kitchen
In this compact kitchen, a vibrant display of colorful blooms steals the spotlight. Arranged artfully on a wooden board, the blossoms infuse the space with natural charm. Against the backdrop of a striking red brick wall, illuminated by the warm glow of black pendant lighting, the wooden open shelving introduces an elegant contrast to the pristine white island table.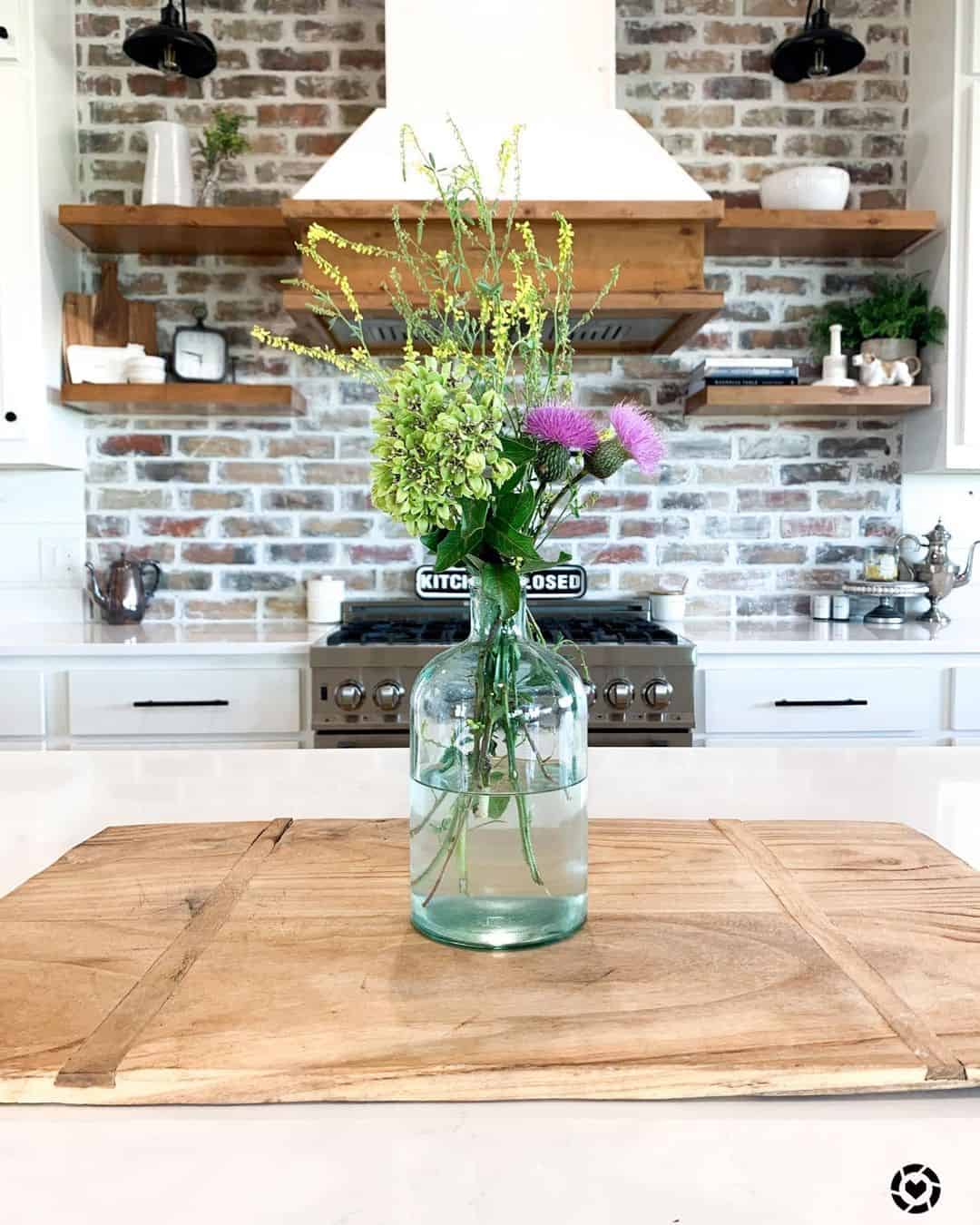 Credit: forever.six.acres
Shop the Look
Autumnal Shelf Styling for Your Farmhouse Kitchen
Beside the white kitchen cabinets and a window with a bamboo shade, you'll find wooden shelves supported by black braces. These shelves are decorated with white mixing bowls, wooden cutting boards, a white vase full of dried flowers, and some fall-themed decor. Below the shelves on the counter, there are more dried flowers and fall accents, along with a wooden sign that celebrates autumn.
In one corner of the counter, a tablecloth is draped elegantly, offering a nice place for a plate of cheese, fruit, and a green mug. Near the silver sink, there's a cutting board with chopped snacks, all arranged on a leaf-themed placemat.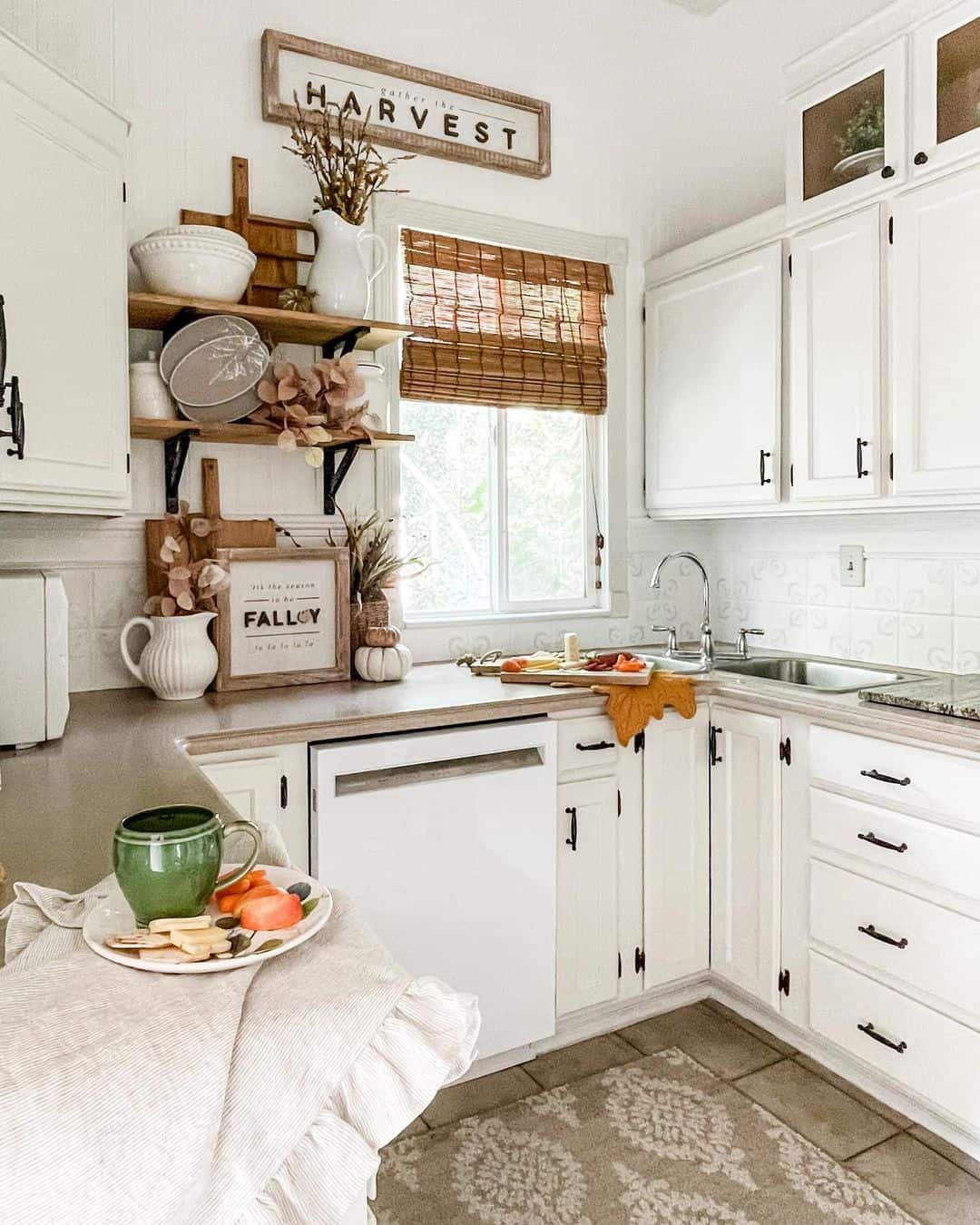 Credit: theoldhouseonmain
Shop the Look
Wrap-up
As our exploration of "7+ Charming Small Farmhouse Kitchens Embracing Open Shelving Concepts" comes to a close, we hope you've been inspired by the fusion of tradition and contemporary design. These kitchens serve as a reminder that functionality can coexist with beauty, and simplicity can be more inviting than opulence.
Whether you're considering a farmhouse-inspired kitchen transformation or simply appreciate the enduring charm of rustic decor, these spaces offer a wealth of ideas to make your own. As the saying goes, the kitchen is the heart of the home, and in these small farmhouse kitchens, it's a heart that beats with open shelving concepts, creating a warm and welcoming ambiance for all to enjoy.