7+ Farmhouse Ceiling Beam Inspirations That'll Take Your Breath Away
Affiliate Disclosure: As an Amazon Associate we earn from qualifying purchases. Hence, if you click through and make a purchase, we will get a commission at no extra cost to you. For more info, read our full disclosure.
Step into the world of rustic charm and timeless elegance with our curated collection of farmhouse ceiling beam inspirations. These design elements have the power to transform any space, from cozy living rooms to modern kitchens, creating an ambiance that's both inviting and breathtaking. Join us as we explore seven or more awe-inspiring ideas that showcase the beauty of farmhouse ceiling beams.
Innovative Kitchen Design Featuring Wooden Ceiling Beams
This modern kitchen showcases innovation with its pristine white countertops and suspended shelves, creating a striking contrast with the polished wooden flooring. Delicate decorative wreaths add a touch of charm, and the wooden ceiling beams, suspended beneath the painted-white ceiling, house adjustable black metal lights, creating an atmosphere of pure elegance.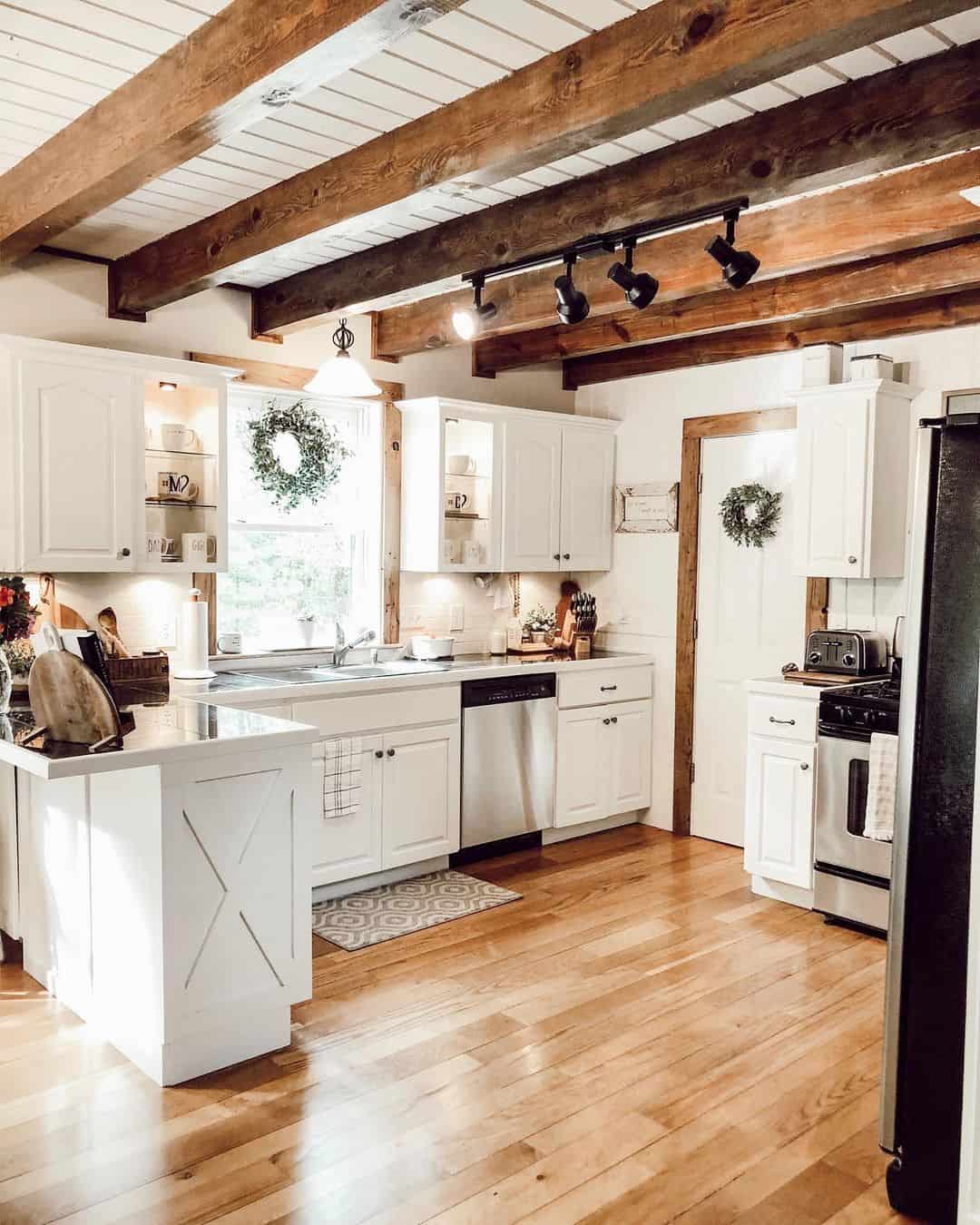 Credit: mistymorning_
Shop the Look
A Contemporary Culinary Haven and Cozy Living Space
Step into a world of modern aesthetics where the kitchen's vibrant colors and a sleek white-and-brown island adorned with white lamps provide a striking contrast. The cozy living room, on the other hand, welcomes you with warm, inviting tones, featuring wooden accents, a sumptuous velvet sofa, and a natural ceiling beam.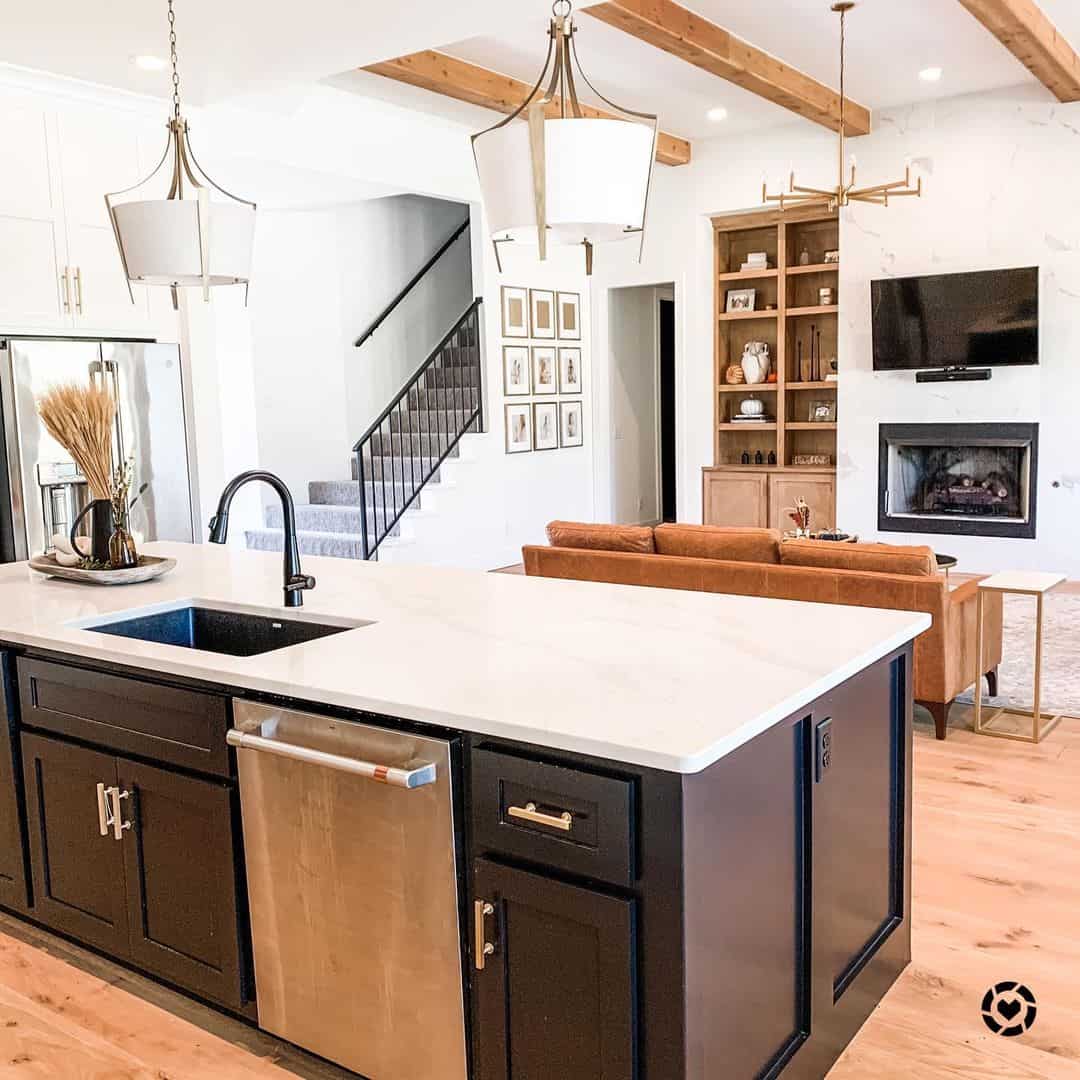 Credit: houseofrad405
Shop the Look
Harmony in Brown and White Kitchen Decor
A harmonious blend of brown and white decor elements characterizes this space. The dining area boasts a marbled island table, complemented by black farmhouse chairs and pendant lighting with bronze accents. Right behind it, a comfortable gray sofa is layered with throws and adorned with patterned cushions.
Credit: our_rustic_farmhouse
Shop the Look
Luminance in the Living Room with Wooden Ceiling Beams
Step into a luminous living room adorned with pristine white walls and sofas, all brought to life by a resplendent golden chandelier. The ceiling features two slender wooden beams that infuse warmth into the space, while a textured stone fireplace adds character and depth.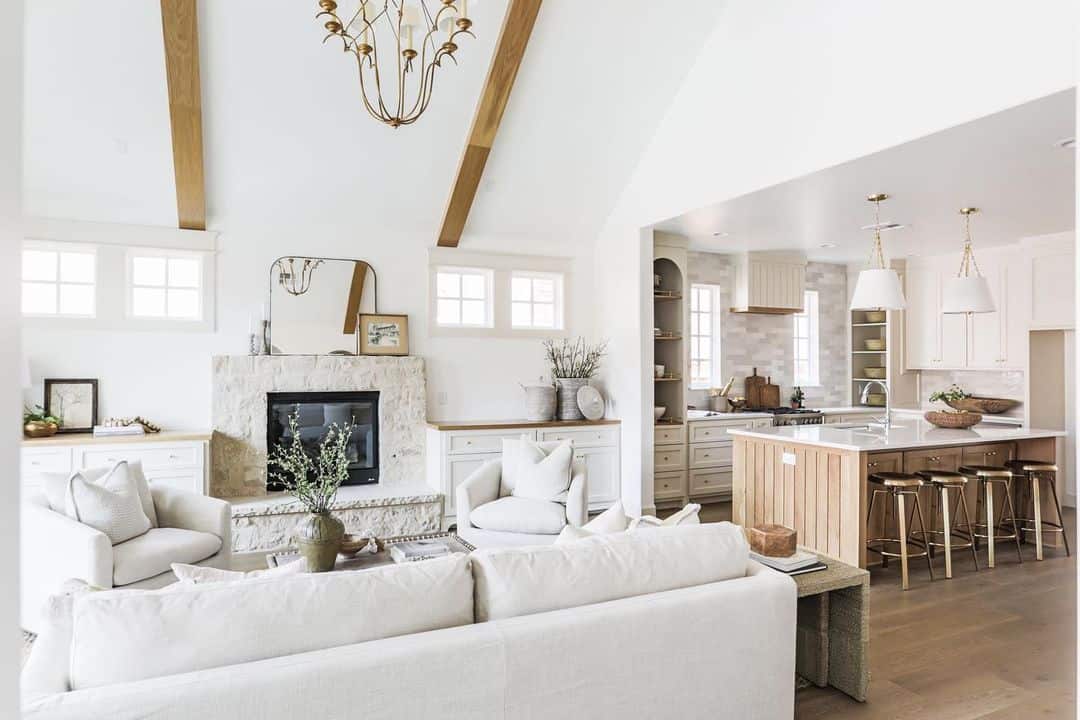 Credit: kelseyleighdesignco
Shop the Look
Crisp White Shiplap Ceiling with Exposed Beams
In this white kitchen, elegant brass pendant lights gracefully hang from a white shiplap ceiling with exposed beams, casting a warm glow over a stained wood kitchen island. Black wishbone bar stools line the island, tucked under the gray countertop.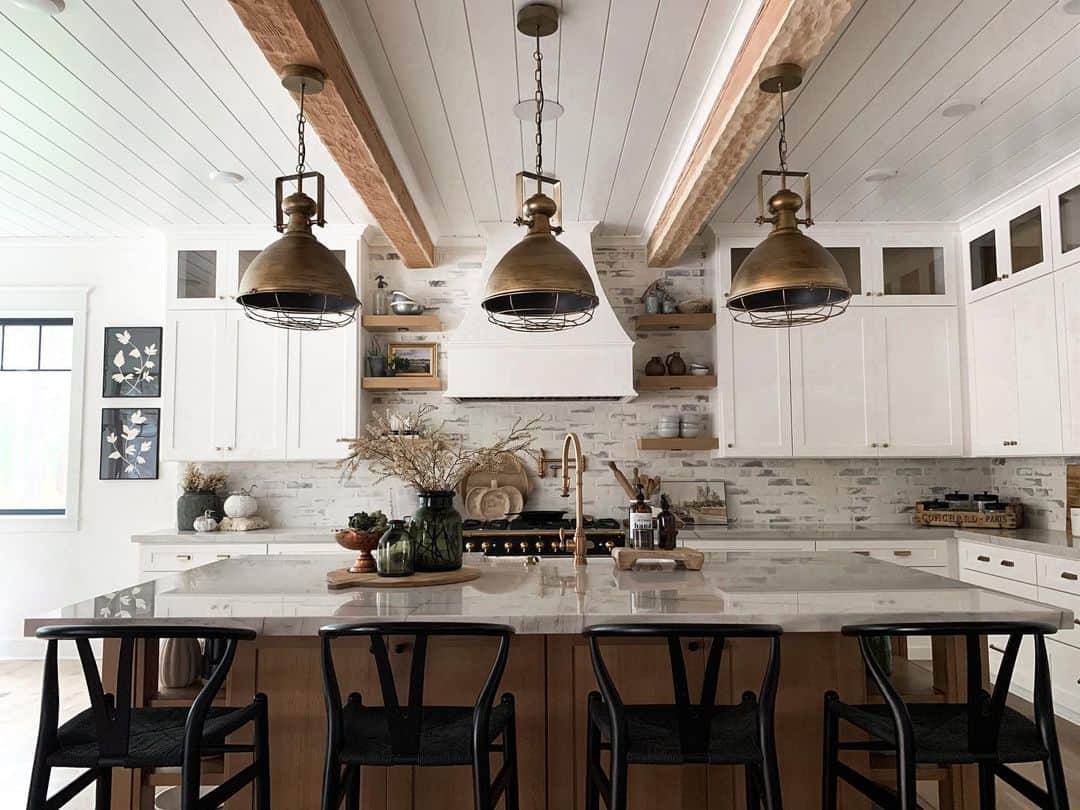 Credit: theryanhaus_
Shop the Look
Timeless Home Decor with a Touch of Wooden Elegance
This house is a testament to timeless style, featuring unique wooden beams that come together to form an eye-catching triangle shape overlooking the dining space and the inviting living room. A stunning metal chandelier takes center stage in the dining area, complemented by plush velvet sofas surrounding two stylish wooden coffee tables, creating an ambiance that's perfect for relaxation.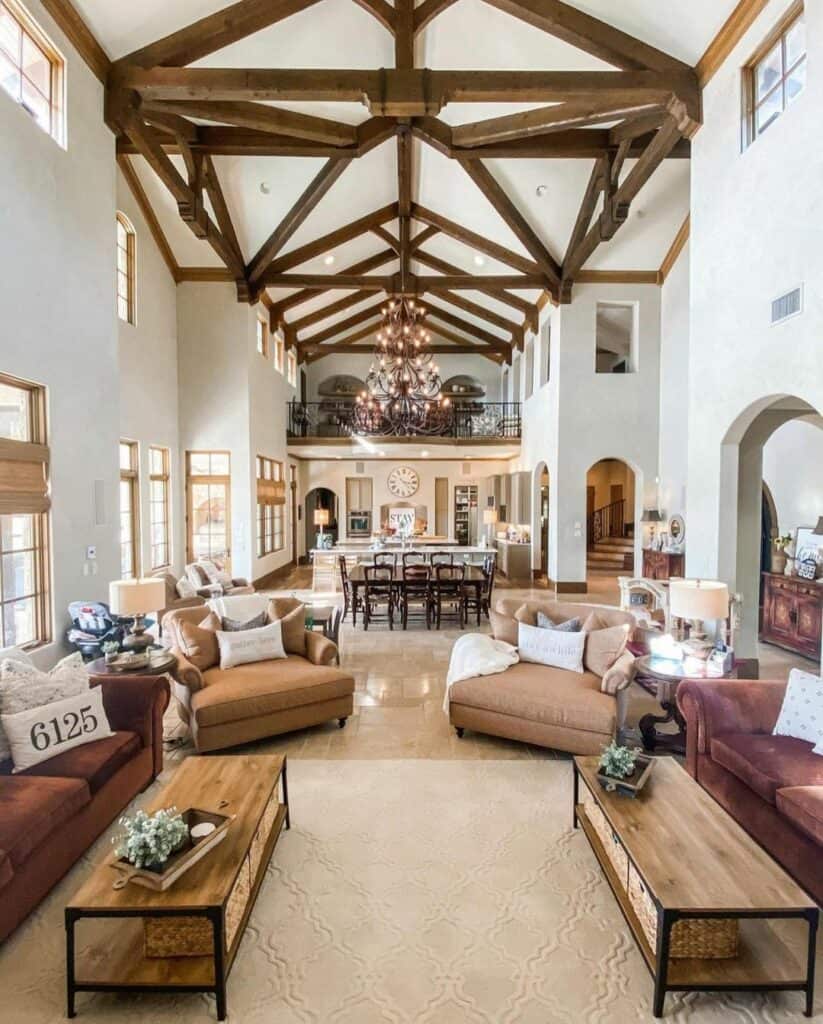 Credit: to_mimishousewego
Shop the Look
Embracing Colorful Comfort in the Living Room
Discover a welcoming living room where rich tones of brown, white, and lively pops of red come together to create a warm and inviting atmosphere. At the heart of this space, a sumptuous leather sofa takes center stage, adorned with an array of cushions in varying hues, infusing the area with vibrancy. Above, a sophisticated black chandelier gracefully descends from rustic wooden beams, adding a touch of elegance.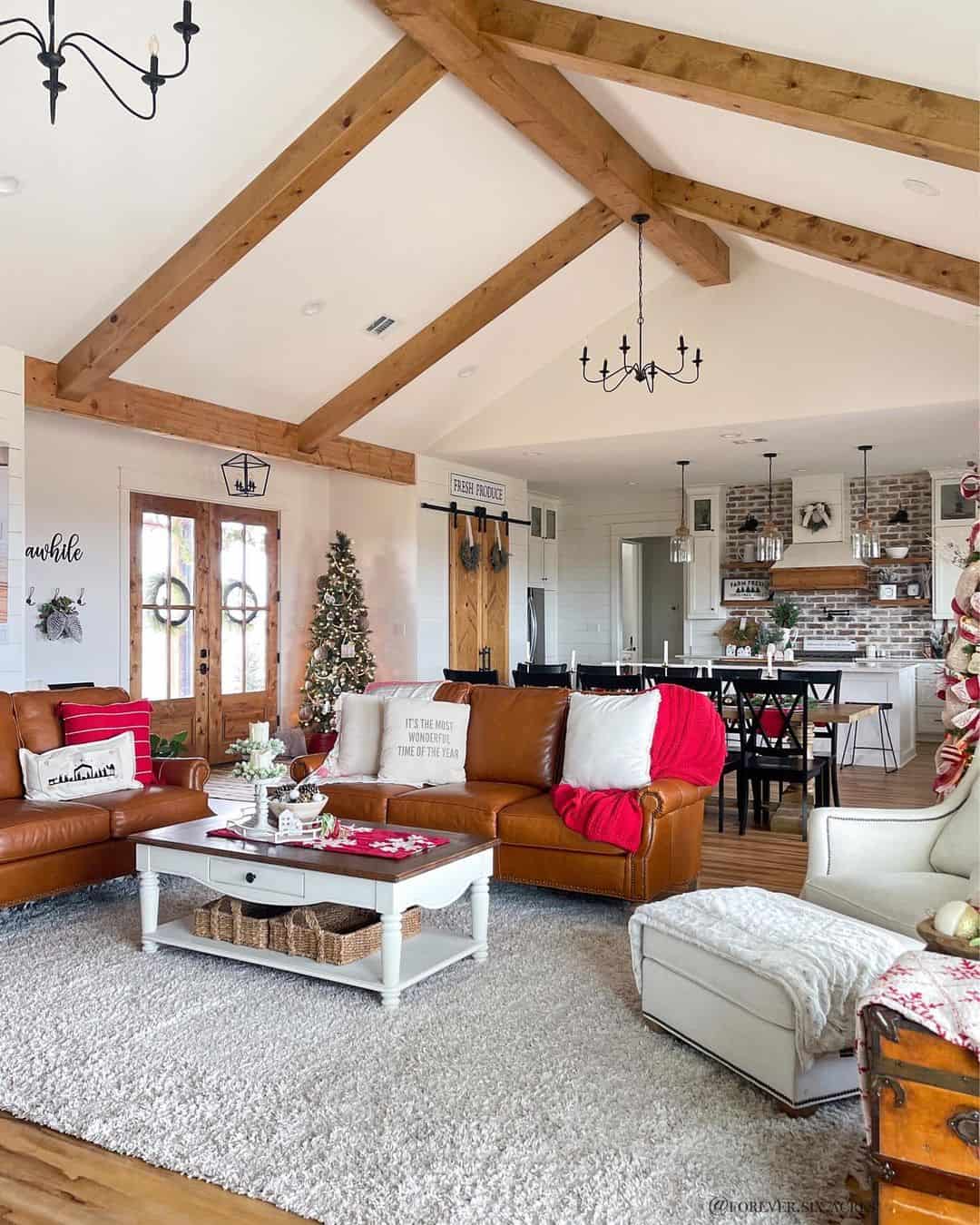 Credit: forever.six.acres
Shop the Look
Modern Dining in Monochrome Harmony
Step into a contemporary dining space that exudes monochrome sophistication. A sleek black wooden table is paired with matching black chairs, and a cushioned white bench completes the ensemble. Two chic black-accented ceiling lamps hang gracefully between light-colored wooden beams, casting a stylish glow over this elegant setting.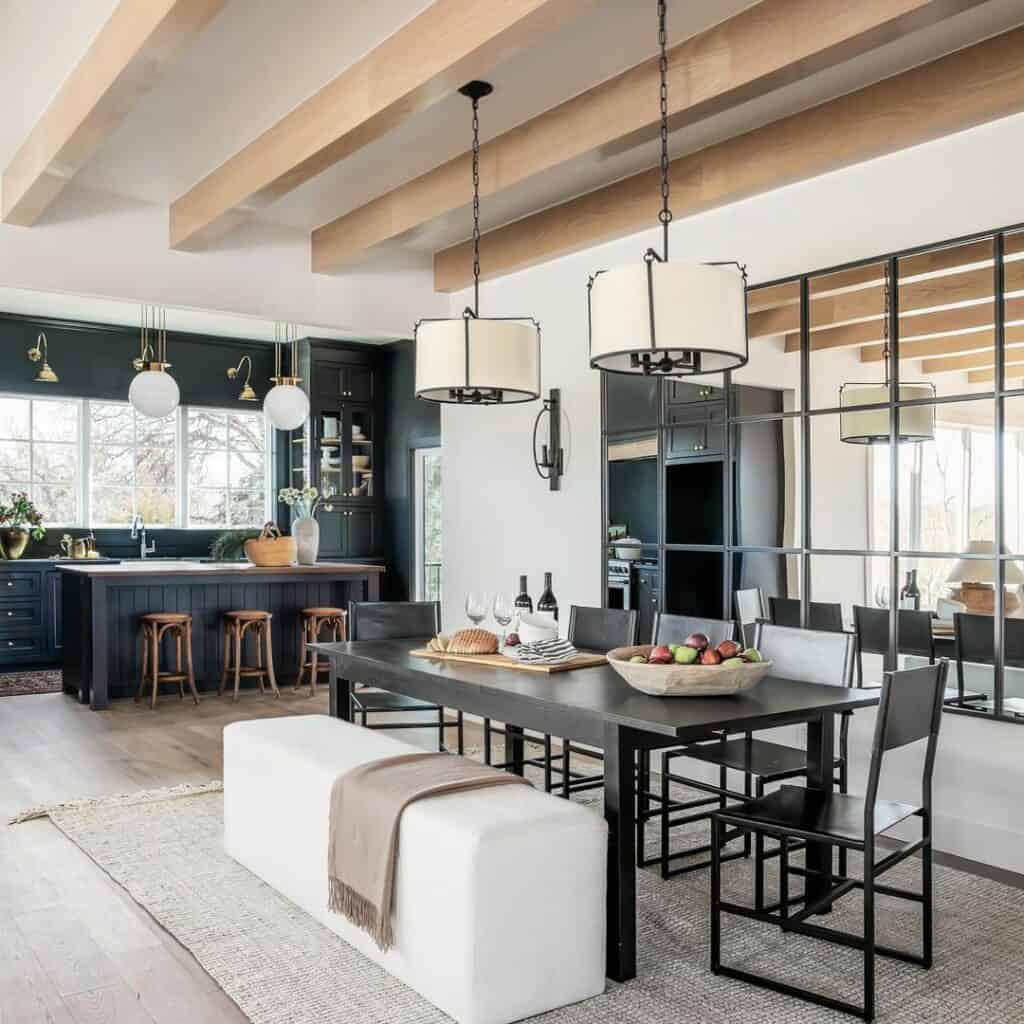 Credit: mcgregorhomes
Shop the Look
Wrap-up
From classic wooden beams to innovative designs that blend tradition with contemporary flair, these farmhouse ceiling beam inspirations are sure to leave you inspired. Elevate your interior decor and add a touch of rustic sophistication to your living spaces. With these breathtaking ideas, your ceilings will become the crowning glory of your home, a true testament to the timeless charm of farmhouse design.