7+ Space-Maximizing Countertop Organization Ideas for Farmhouse Kitchen
Affiliate Disclosure: As an Amazon Associate we earn from qualifying purchases. Hence, if you click through and make a purchase, we will get a commission at no extra cost to you. For more info, read our full disclosure.
In the heart of farmhouse aesthetics, efficient space utilization is paramount for creating both a functional and visually appealing kitchen. This blog explores seven-plus ingenious countertop organization ideas, specially curated to maximize space while enhancing the charm of your farmhouse kitchen.
From clever storage solutions to design inspirations, discover how to transform your kitchen countertops into practical and stylish focal points.
Brick-Infused Backsplash
Experience the timeless charm of this farmhouse kitchen, where the meeting point of warm white cabinets and granite counters finds harmony with a natural brick backsplash. The countertop adorns itself with a symphony of matching pots and pans, while a copper flower vase mirrors the elegance of the copper utensils suspended above the stove.
Credit: caligirlinasouthernworld
Shop the Look
Farmhouse Culinary Haven
Step into a culinary haven adorned with a substantial white hood flanked by open shelves against a marbled backsplash seamlessly merging with the countertops. Floating shelves proudly display an array of plates and dishware, while the countertop plays host to essential appliances — a blender, air fryer, and toaster — accompanied by white vases cradling cooking utensils.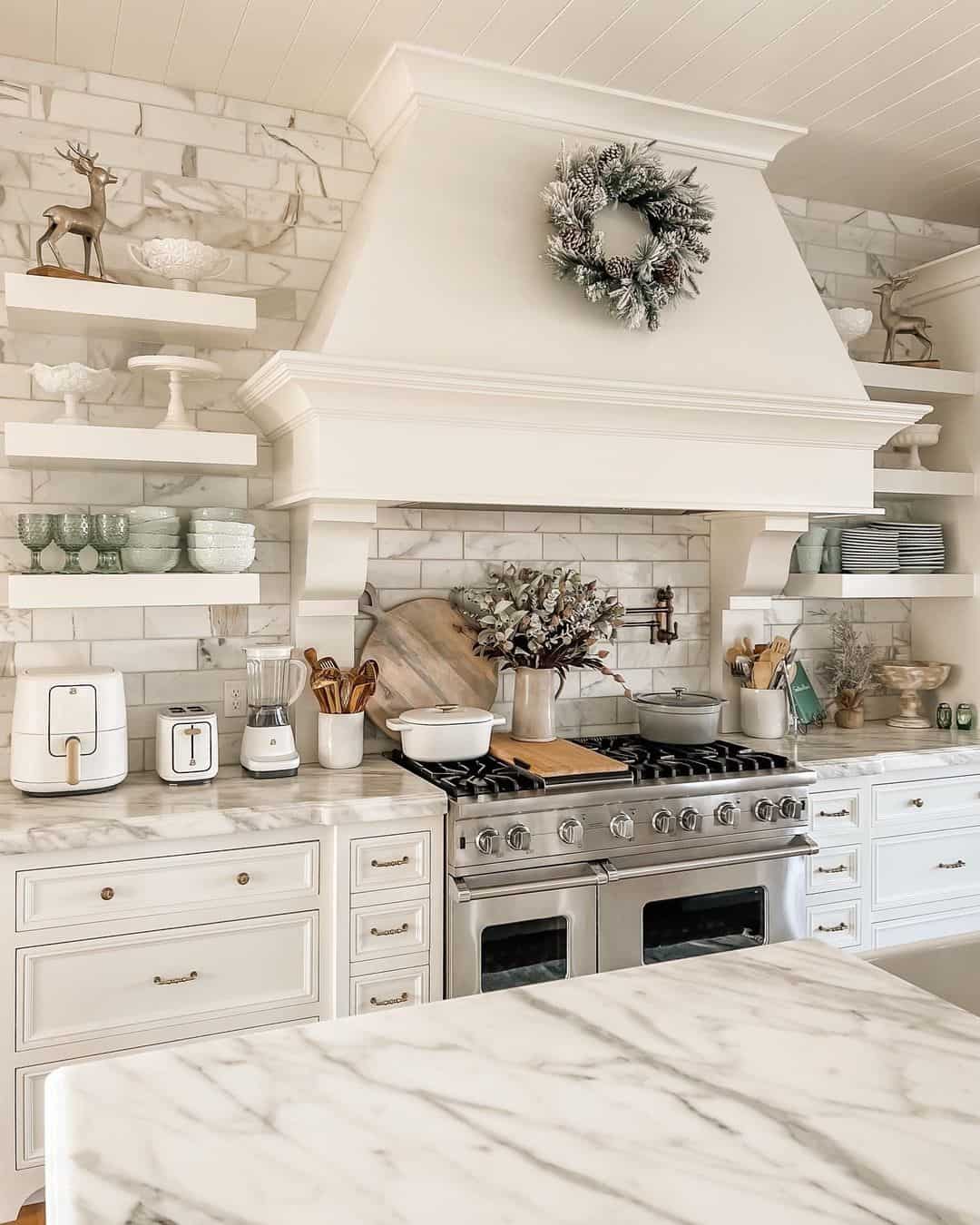 Credit: homewithhollyj
Shop the Look
Farmhouse Kitchen Organization
Immerse yourself in the spacious charm of this farmhouse kitchen boasting abundant storage above butcher block countertops. The shelves gracefully exhibit an assortment of dishware, teapots, mugs, and other kitchen essentials, all bathed in the warm glow of vintage light fixtures that evoke a sense of cozy farmhouse nostalgia.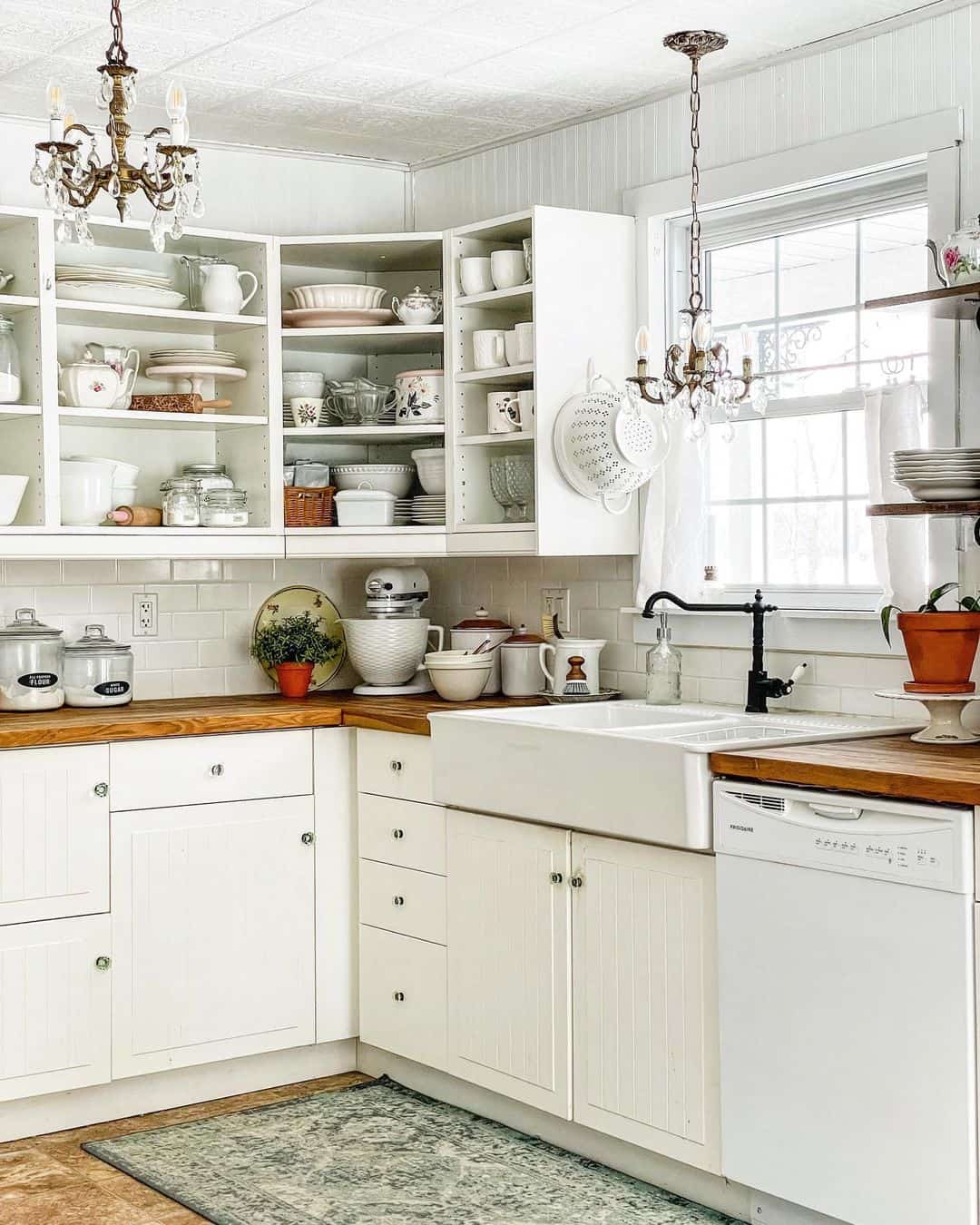 Credit: tracey_hiebert
Shop the Look
Stove-side Organization
Behold the meticulously arranged lineup of petite copper pans, suspended above the stove, crafting a captivating scene against the backdrop of a marbled subway tile backsplash. The countertop serves as a showcase of elegance, featuring a metal fruit holder, a white vase cradling a vibrant bouquet, a potted plant, a circular cutting board, and a compact wooden tray holding indispensable items.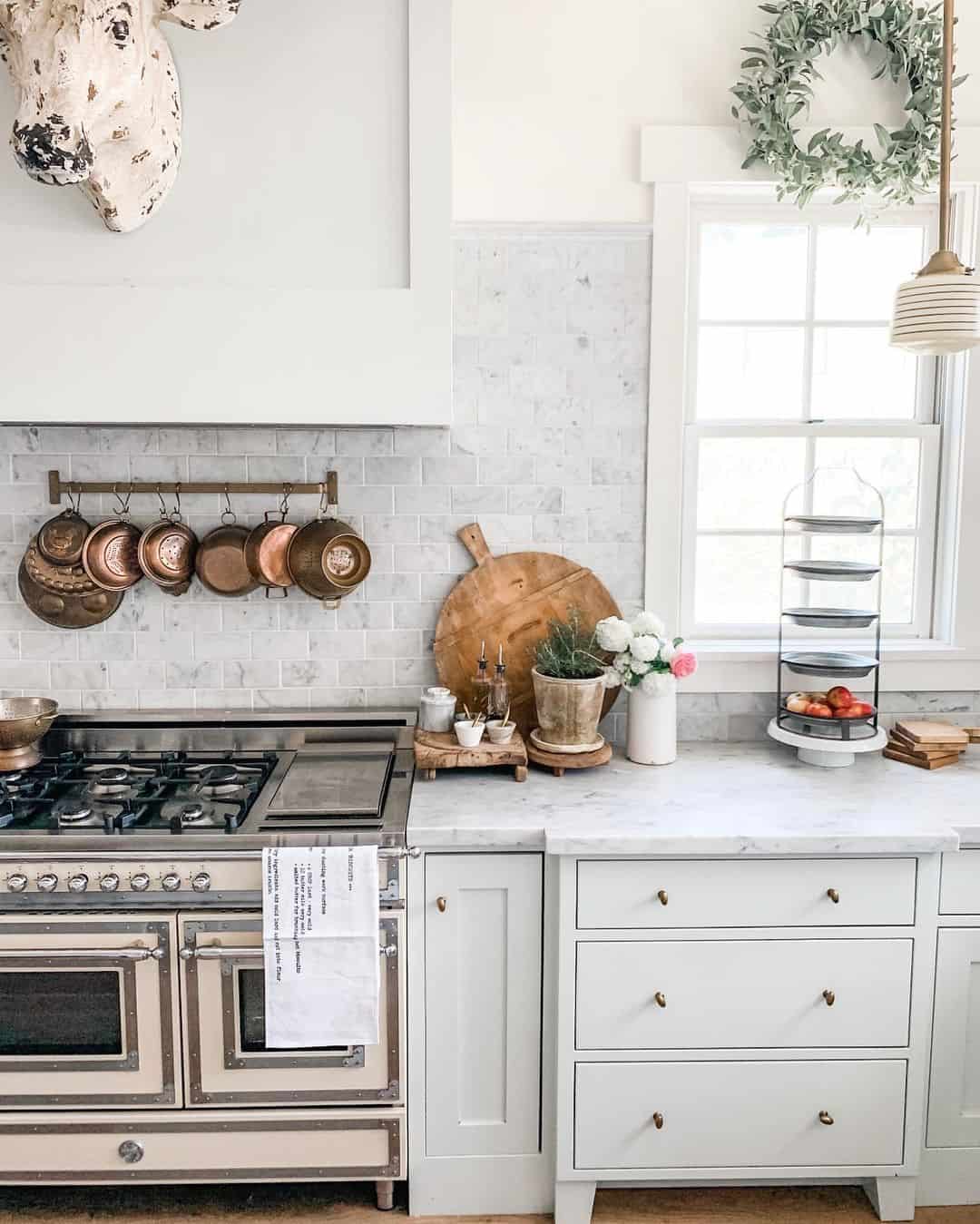 Credit: thestonehouseroad
Shop the Look
Wooden Cabinetry Serenity
Step into a welcoming farmhouse kitchen embellished with wooden cabinets and immaculate white countertops seamlessly stretching to an upgraded kitchen island. The countertops exhibit meticulous organization through petite white storage units, reflecting the pristine charm embodied by a white stand mixer and toaster.
Credit: thethriftedcottage
Shop the Look
Innovative Countertop Symphony
Experience the contemporary charm emanating from this farmhouse kitchen, adorned with pristine white cabinets, sleek black handles, and a white subway tile backsplash highlighted by bold black grout. The white marble counters serve as a canvas for three generously-sized glass jars housing dry ingredients, accompanied by layered wooden cutting boards and a white container embracing an array of cooking utensils.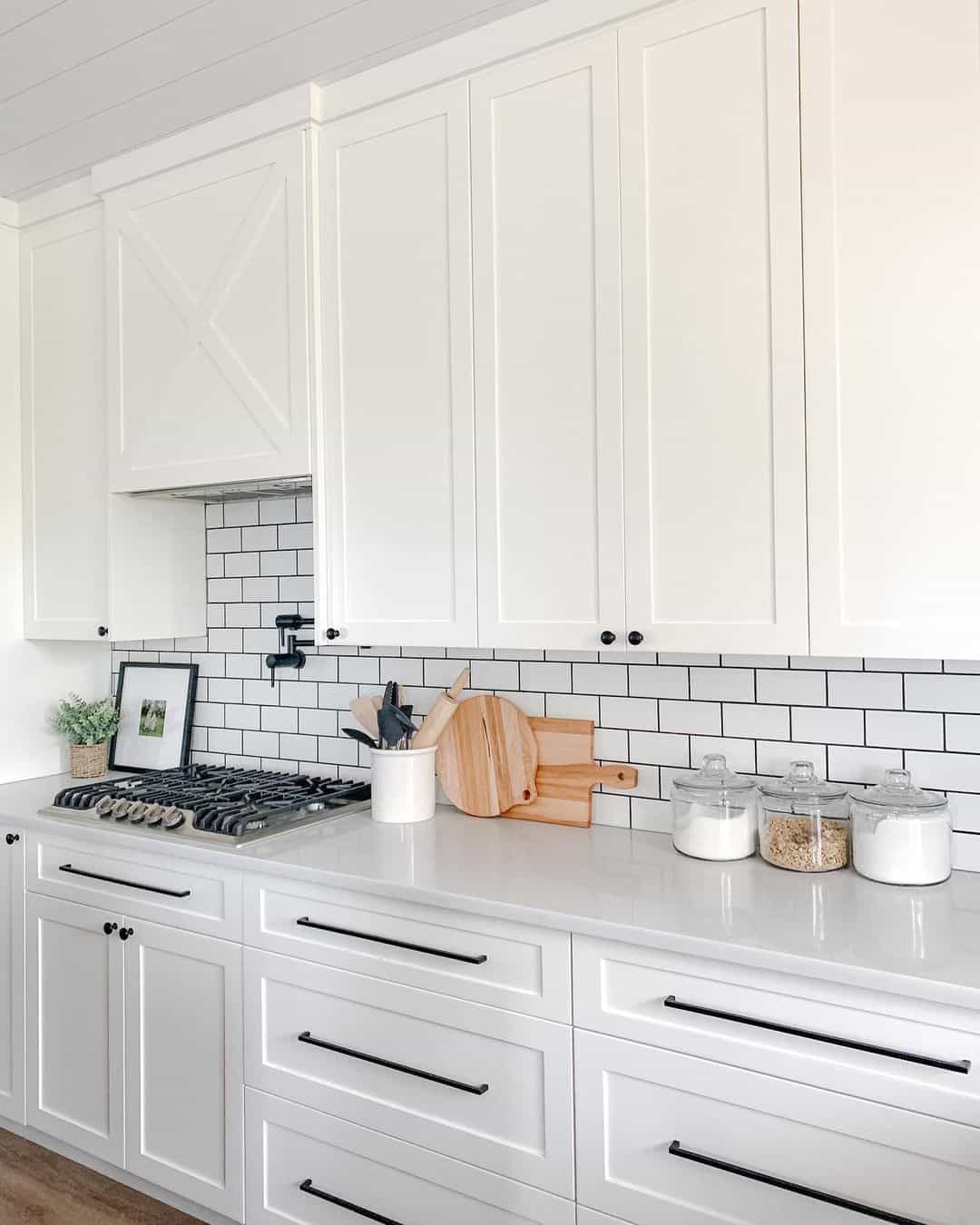 Credit: this_simple_farmhouse
Shop the Look
Country Kitchen Retreat
Welcome the rustic ambiance of butcher block counters harmonizing effortlessly with warm-toned wood floors and a patterned rug in this charming country kitchen. The countertops transform into a captivating display, featuring a stand mixer, essential ingredients neatly stored in white jars, a kettle on the stove, and a discreetly positioned microwave.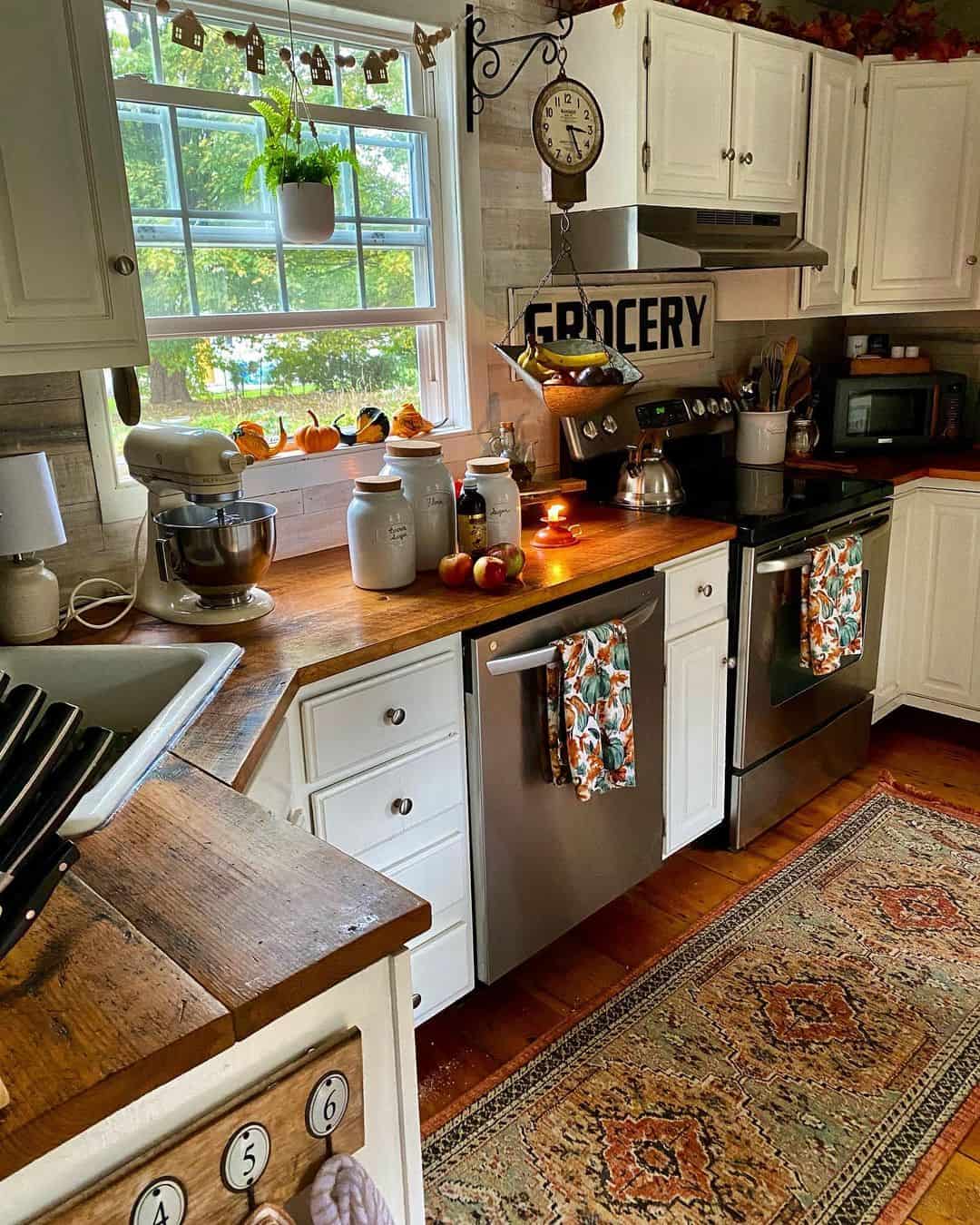 Credit: thelongawaitedhome
Shop the Look
Meticulously Organized Kitchen Retreat
Bask in the serene coziness of a meticulously organized kitchen oasis. A framed picture graces the marble counter beside a large floral bouquet and a basket of eggs. The stove area emanates minimalistic charm with a copper kettle and two wooden cutting boards leaning against the wall.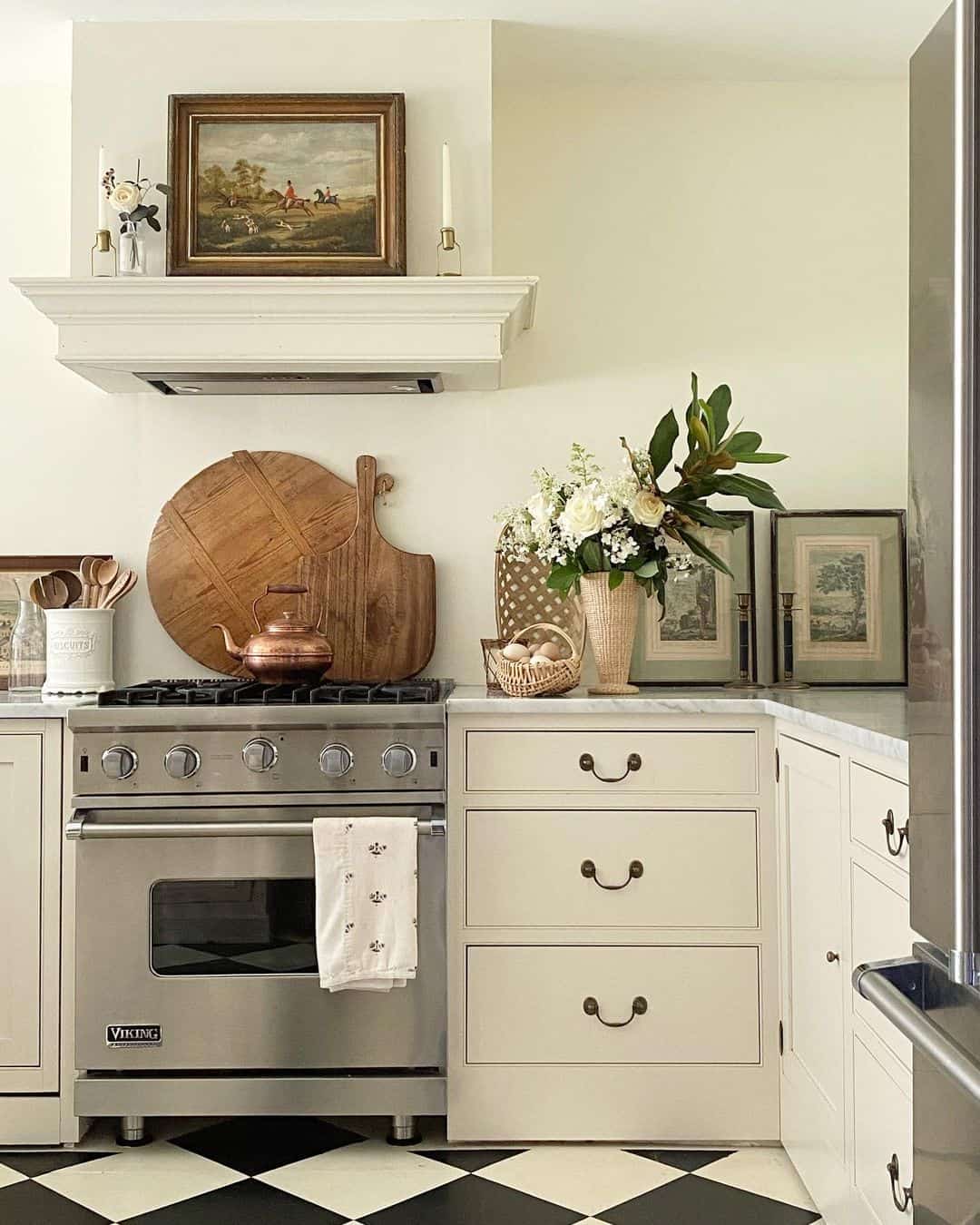 Credit: tallwoodcountryhouse
Shop the Look
Wrap-up
As we conclude this exploration of space-maximizing countertop organization ideas for your farmhouse kitchen, we hope you've gathered inspiration to elevate both form and function in this central space. From decluttering tips to innovative storage solutions, implementing these ideas can transform your kitchen into an organized haven. Embrace the rustic charm while optimizing every inch of your countertops for a farmhouse kitchen that seamlessly combines style with efficiency.