7+ Smart Cabinet Ideas for Microwave Placement in Your Farmhouse Kitchen
Affiliate Disclosure: As an Amazon Associate we earn from qualifying purchases. Hence, if you click through and make a purchase, we will get a commission at no extra cost to you. For more info, read our full disclosure.
Enhance the efficiency and aesthetics of your farmhouse kitchen with these 7+ smart cabinet ideas for strategically placing your microwave. From space-saving solutions to stylish integrations, elevate your culinary space.
Wooden Cabinetry in the Kitchen
Explore the rustic charm of this country kitchen, where light wood cabinets cradle an over-the-range microwave cabinet. Below, a gray countertop hosts a built-in stove and oven, harmonizing with the white subway tile backsplash.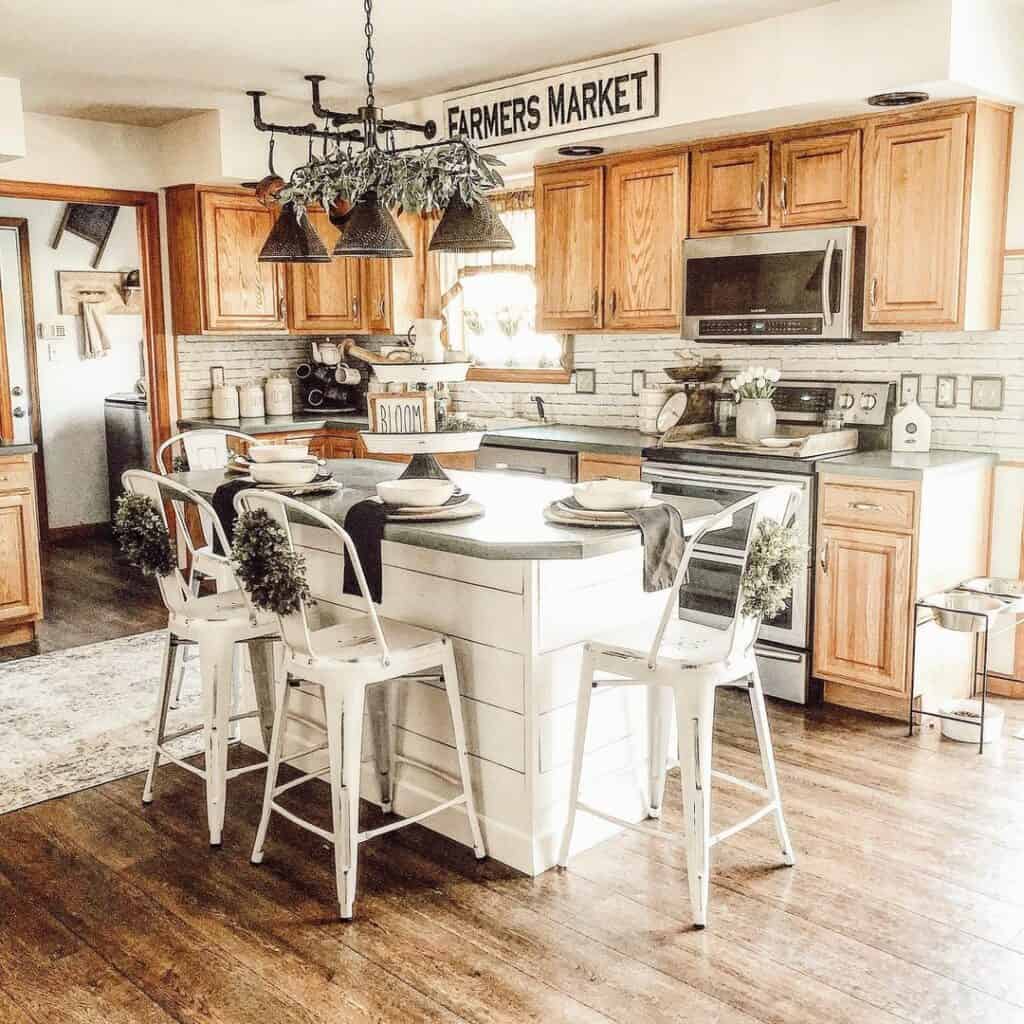 Credit: sixonoakathome
Shop the Look
Modern Farmhouse with Microwave Integration
Enter the realm of modern farmhouse elegance, where an over-the-microwave cabinet seamlessly integrates sleek black cabinets, offering a contemporary touch infused with the practicality of a country aesthetic. Below, a light wood countertop complements black drawers, creating a harmonious balance against the backdrop of crisp white tiled walls.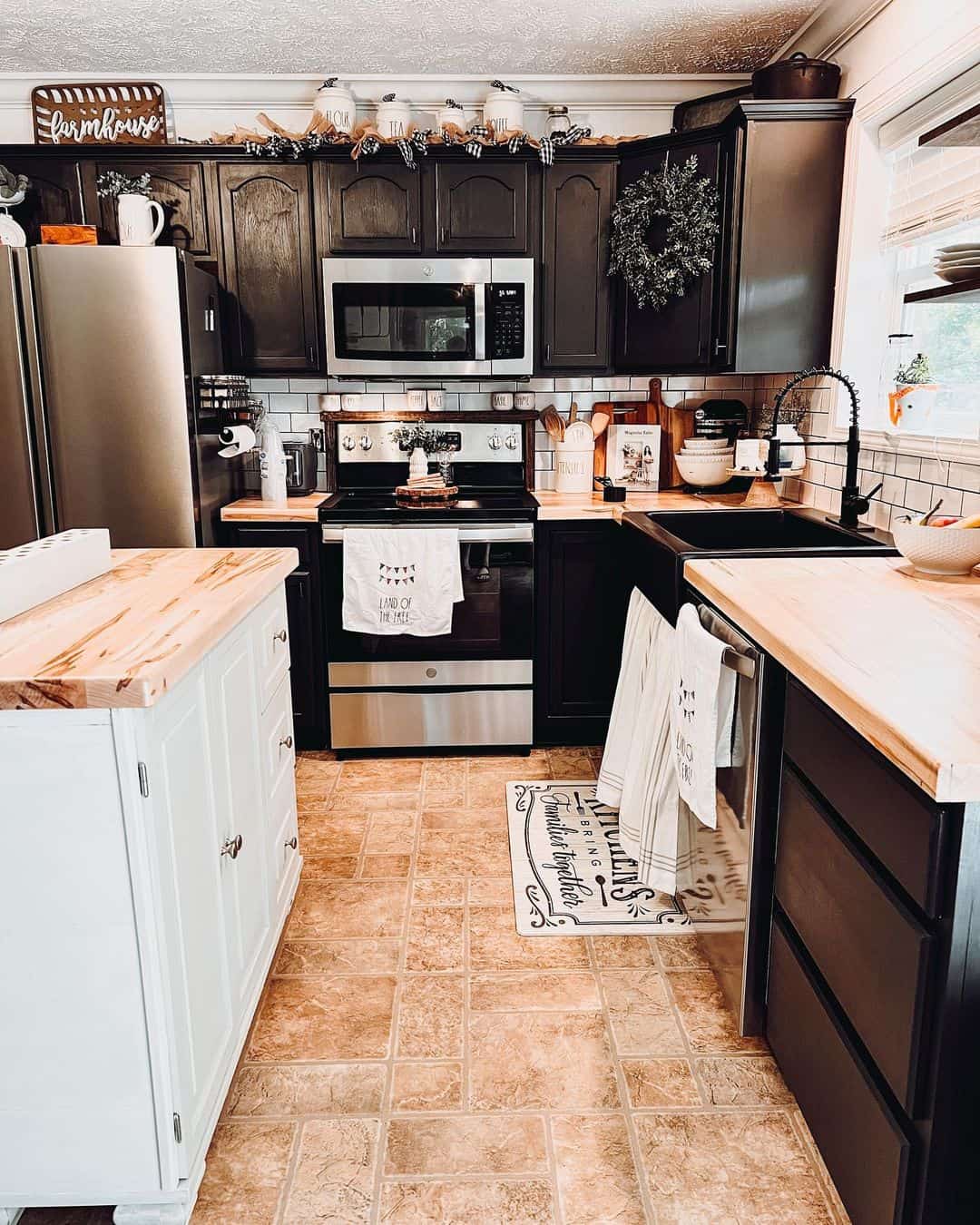 Credit: ridgeranchfarmhouse
Shop the Look
Mounted Microwave in Farmhouse Setting
Embrace timeless farmhouse beauty in a kitchen featuring a white cabinet positioned above the microwave, adorned with black curved handles. Below, a black and white speckled countertop harmonizes with white tiled walls and vibrant green planters.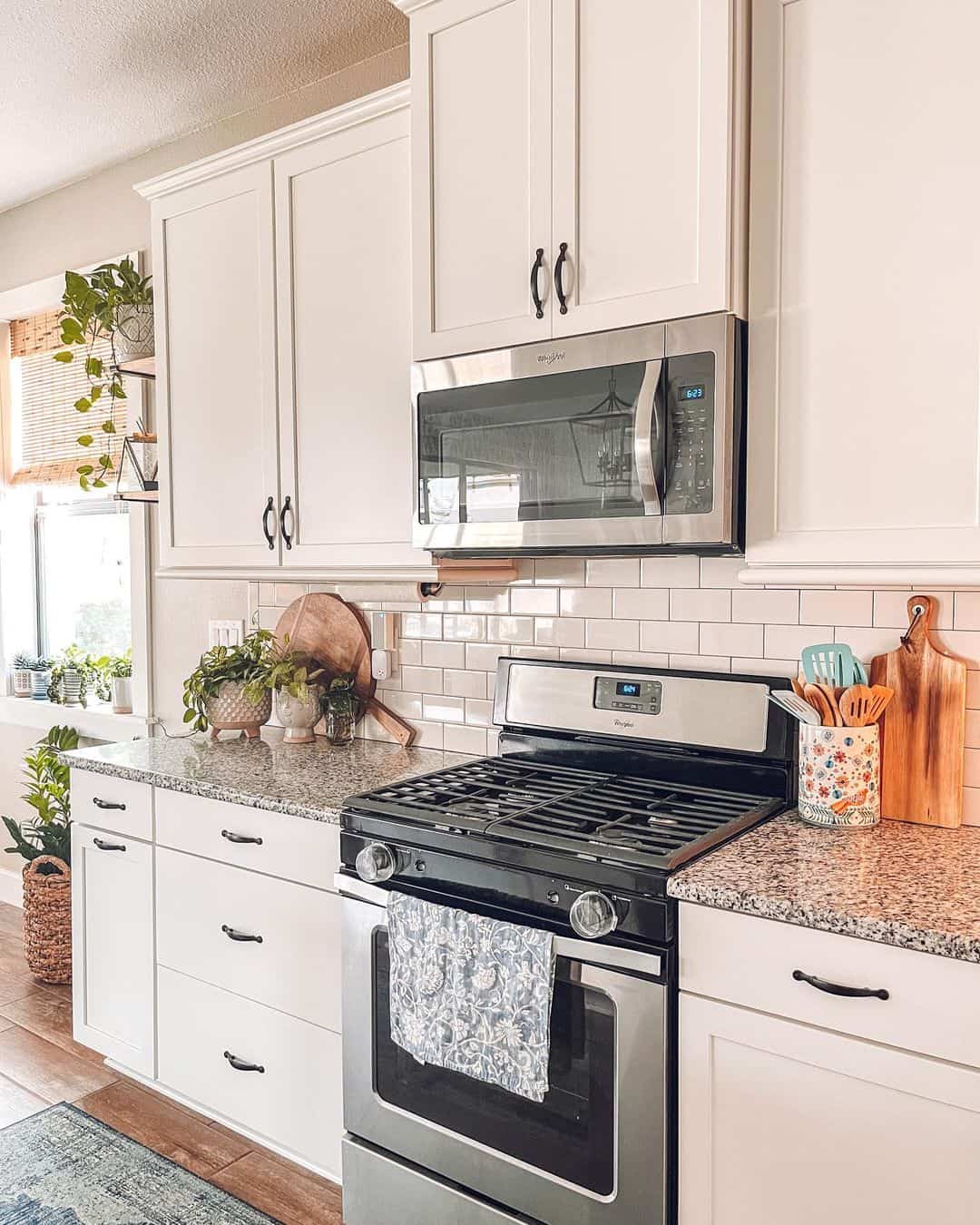 Credit: theboyerhome
Shop the Look
Wood Cabinets in the Farmhouse Kitchen
Experience the cozy allure of rustic cottage vibes as an over-the-range microwave cabinet style nestles within dark wood cabinets. Below, a black and gray granite countertop complements the pristine white walls, creating a rustic yet sophisticated atmosphere.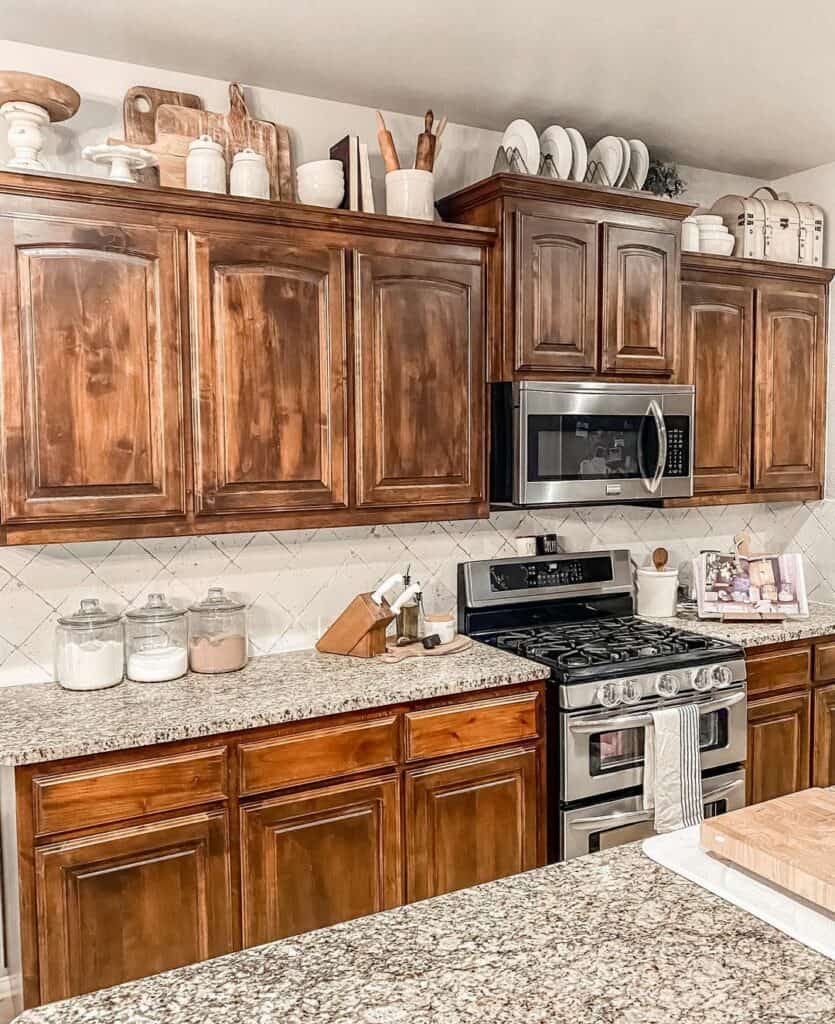 Credit: rusticrosehomestead
Shop the Look
Over-the-Range Microwave Haven
Warm gray cabinets, adorned with black metal handles, define this farmhouse kitchen. A white countertop featuring a built-in stove and oven creates a central focal point. Wooden elements, including exposed beams, kitchen tools, and shelves, add a touch of coziness.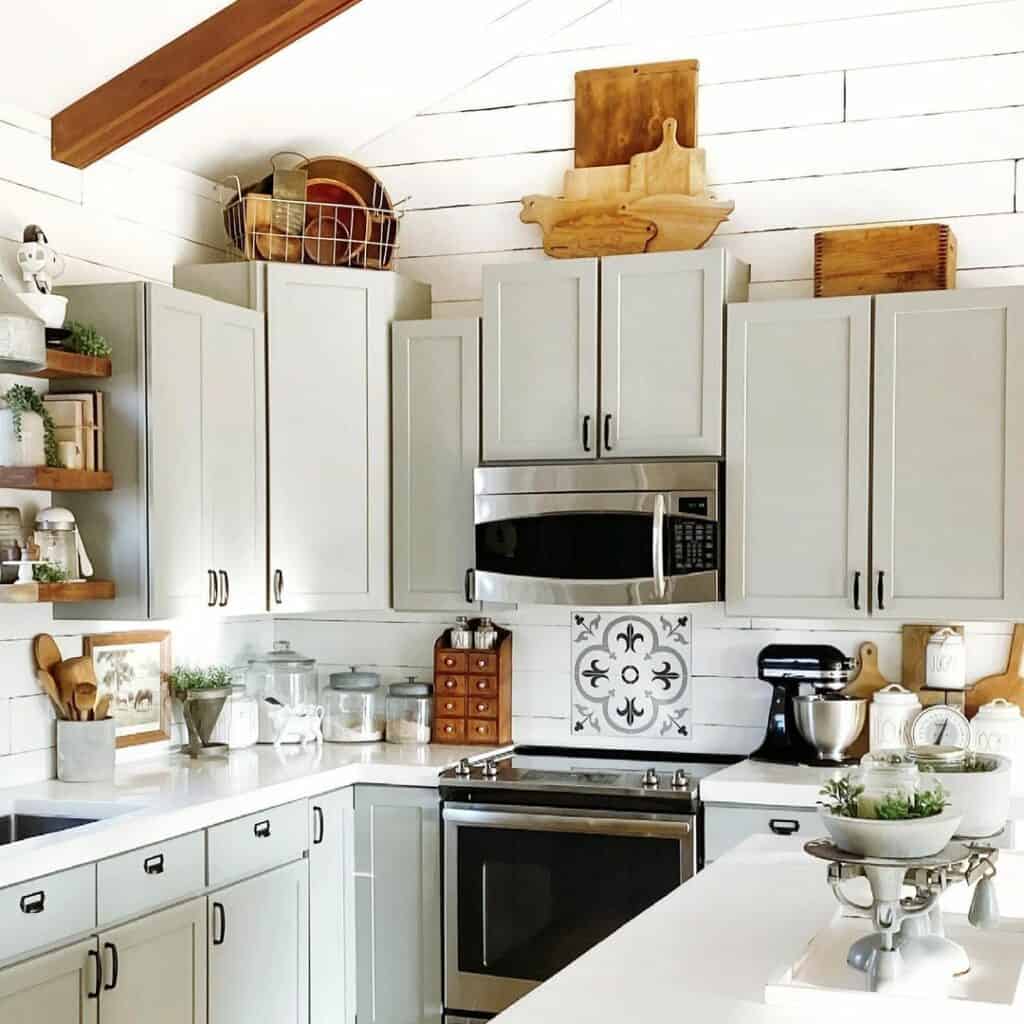 Credit: therustedroost
Shop the Look
Black Microwave in Farmhouse Setting
A standout black microwave takes center stage against the backdrop of white cabinets, creating a bold and contrasting focal point. Below, a matching black stove and oven add to the dramatic appeal against pristine white walls and countertop.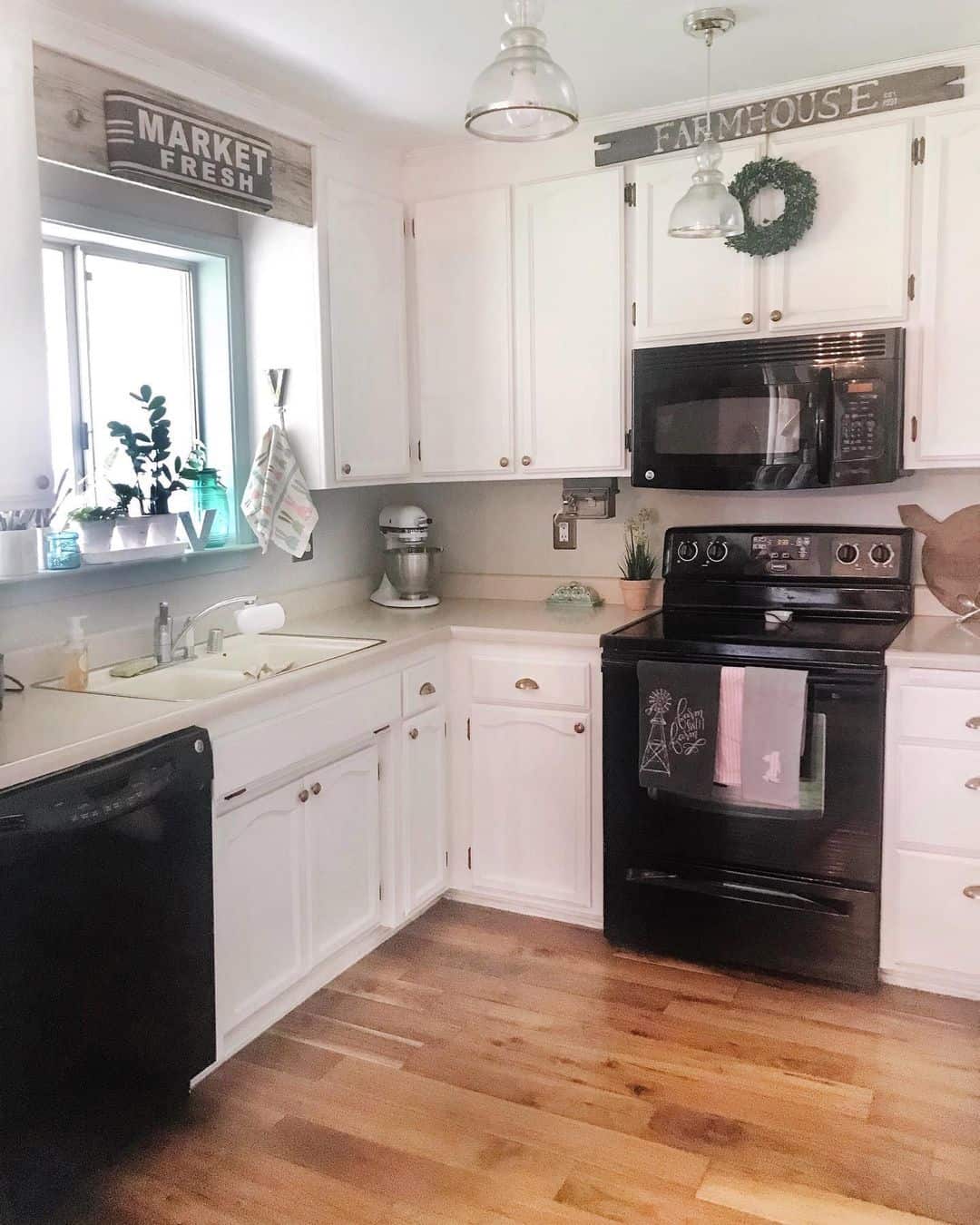 Credit: rekindledsigns
Shop the Look
White Microwave Accents in a Classic Kitchen
Enter a kitchen with a vintage-inspired charm, as cream-white cabinets envelop a white microwave. The grey and white marbled countertop introduces an element of sophistication, seamlessly blending with vintage decor, white walls, and warm wooden floors.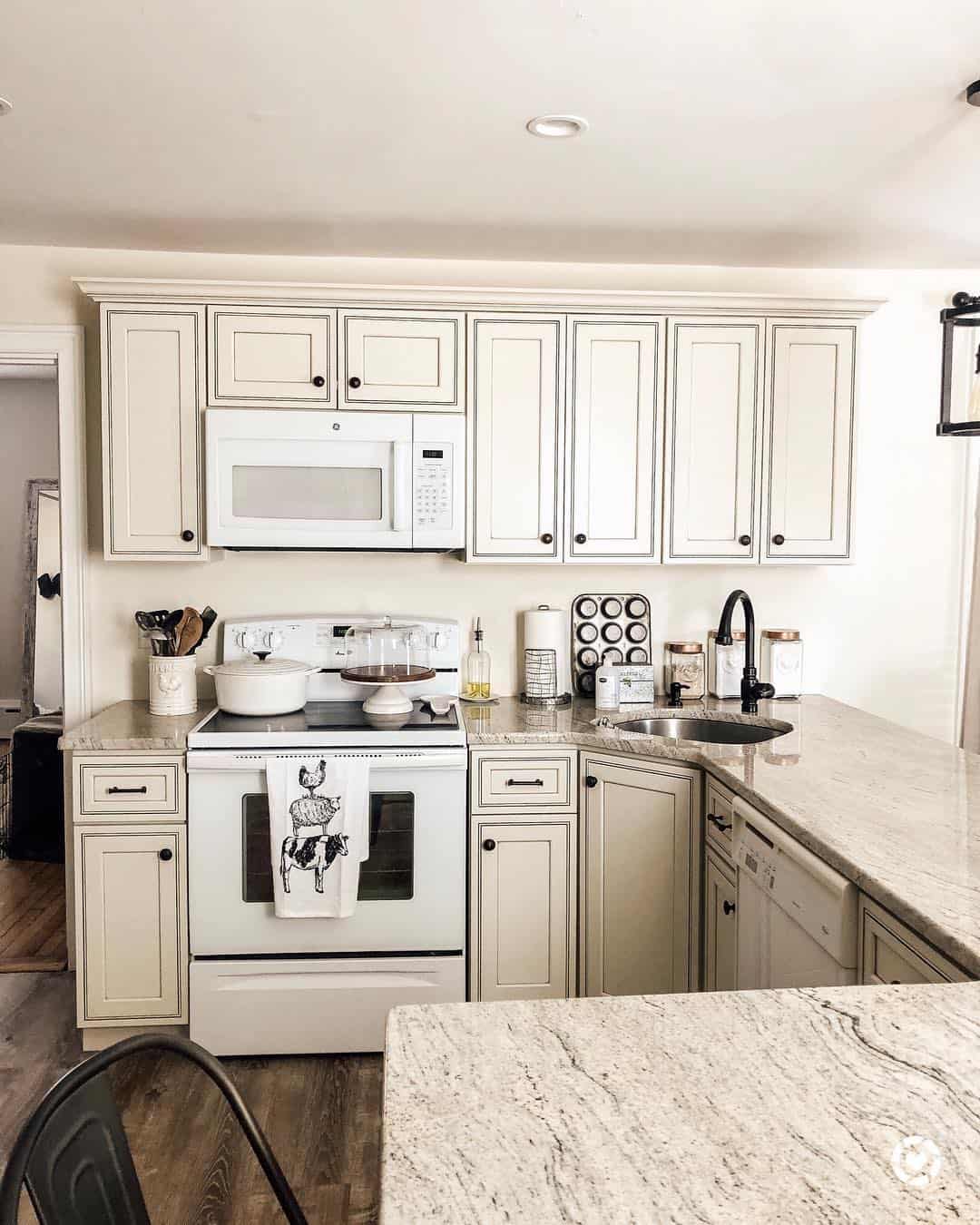 Credit: torismithhome
Shop the Look
Black Hardware Accents in the Kitchen
Step into farmhouse chic charm within a kitchen featuring soft grey walls, earthy brown tiled floors, and a warm brown countertop. Elegant black knobs and pulls adorn white cabinet doors and drawers, creating a stylish contrast, while a central black stove and microwave stand as bold focal points against the neutral backdrop.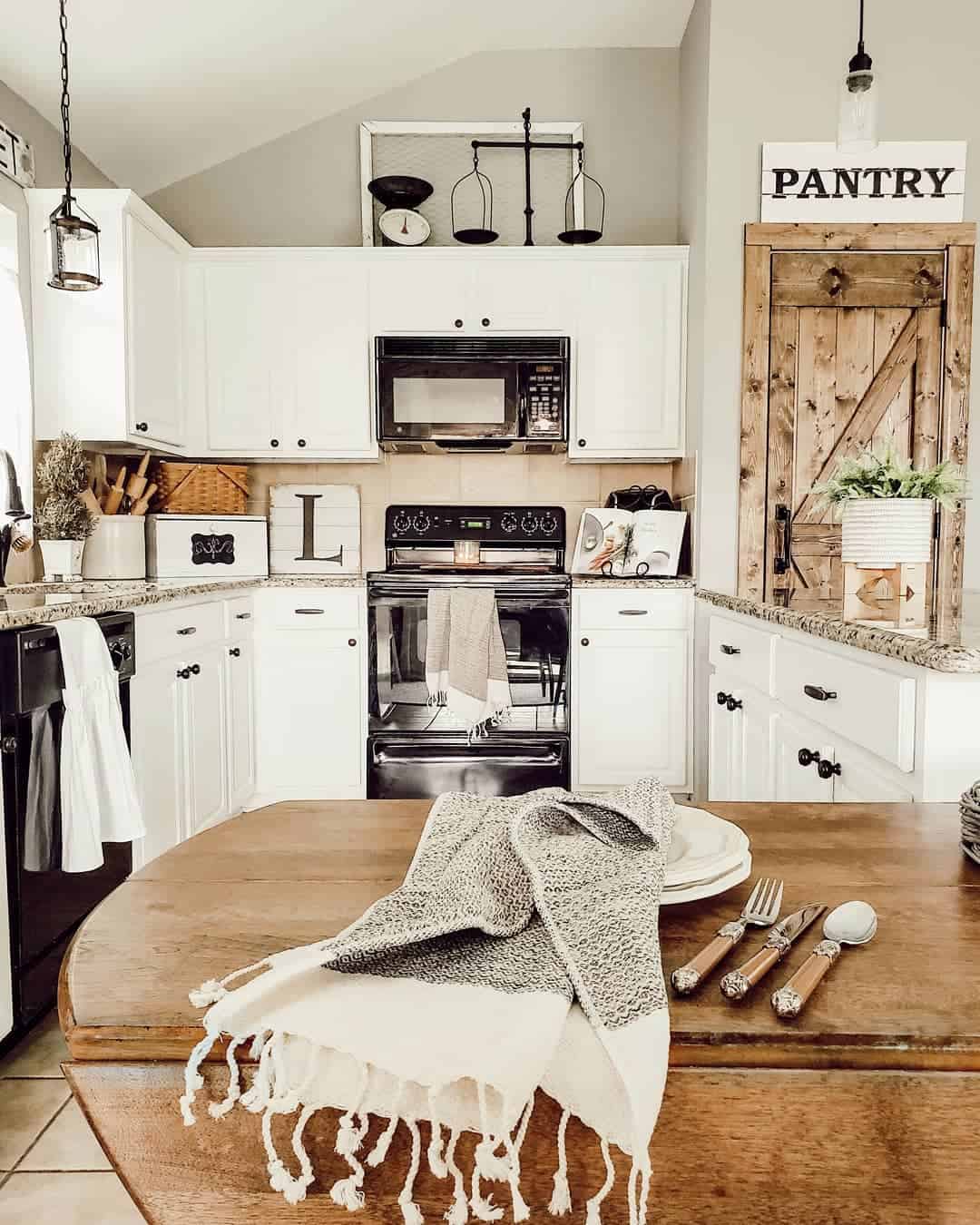 Credit: lambertcottage
Shop the Look
Wrap-up
As we wrap up our exploration of smart cabinet ideas for microwave placement in farmhouse kitchens, envision a space that combines functionality and farmhouse charm seamlessly. These inventive concepts promise to transform your kitchen into a hub of efficiency and style.