7+ Elegant White Cabinet Farmhouse Kitchen Backsplash Ideas
Affiliate Disclosure: As an Amazon Associate we earn from qualifying purchases. Hence, if you click through and make a purchase, we will get a commission at no extra cost to you. For more info, read our full disclosure.
Welcome to our blog, where we're diving into the realm of elegant white cabinet farmhouse kitchen backsplash ideas. If you're looking to infuse timeless charm and a touch of sophistication into your farmhouse kitchen, you've come to the right place.
White cabinets offer a canvas of versatility, and when paired with the right backsplash, the result is nothing short of stunning. In this article, we'll present you with seven or more exquisite ideas to transform your kitchen into a space that exudes timeless elegance.
Fresh Spring Kitchen Ideas for a Charming Farmhouse
Experience the charm of a farmhouse kitchen adorned with pristine white cabinets and bathed in the gentle elegance of light gray granite countertops. These elements are thoughtfully paired with a subtle light gray subway tile backsplash.
The white walls and grout work harmoniously to introduce texture and depth, while rustic pots artfully cradle vibrant pink flowers, bringing a delightful touch of spring indoors. The room is generously bathed in natural light, and the elegant white vent hood is graced with tasteful Easter accents.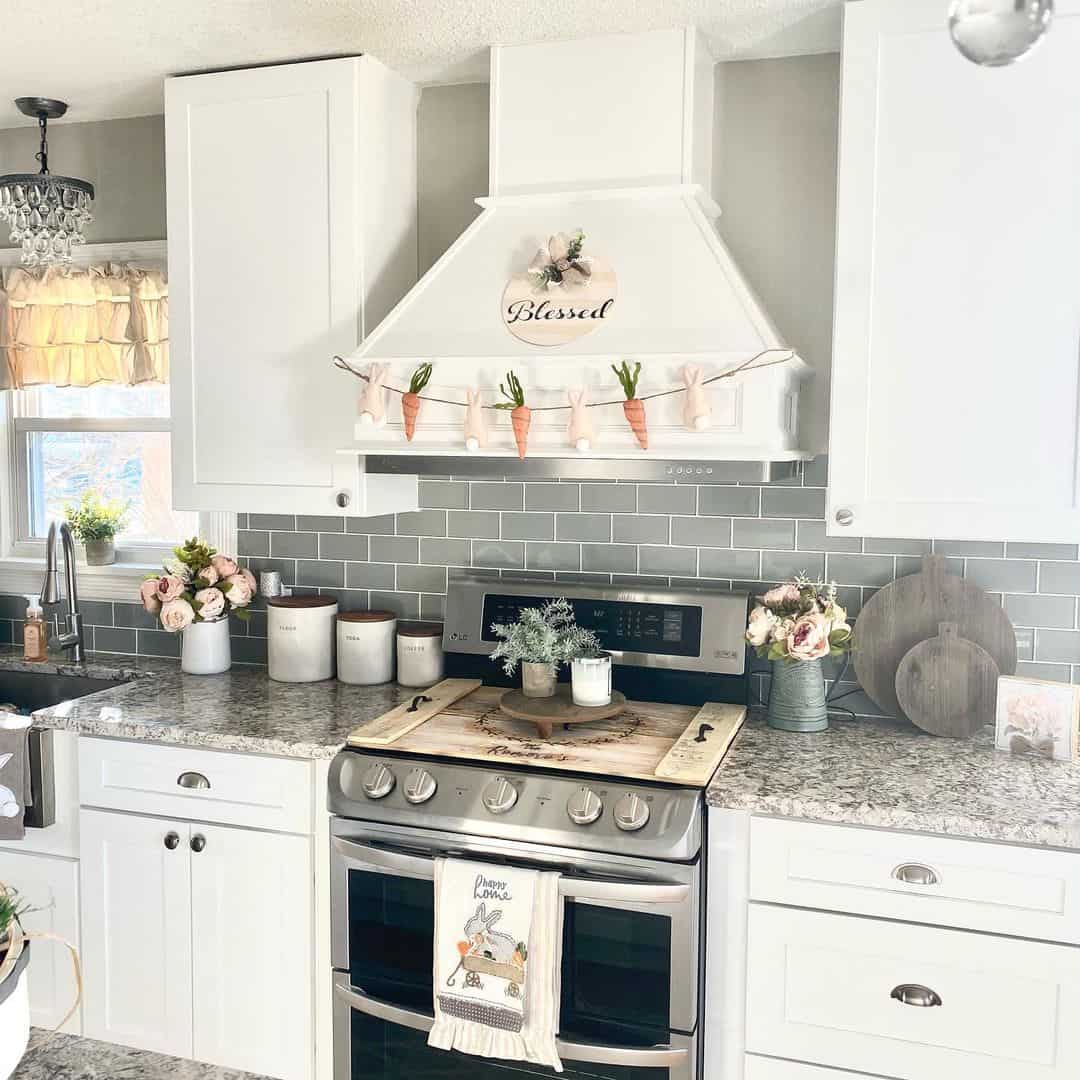 Credit: casa_de_lish
Shop the Look
Contemporary Farmhouse Kitchen with Light Gray Backsplash
In this contemporary farmhouse kitchen, you'll encounter an exquisite marriage of design elements. White cabinets, featuring sleek stainless steel hardware, create a seamless aesthetic alongside a pristine white quartz countertop. These elements are elegantly contrasted by a light gray subway tile backsplash.
The neutral walls serve as a canvas for texture, and the subway tile backsplash defines the space with a captivating contrast. An open window allows the room to bask in the abundance of natural light, and rich dark wood flooring extends gracefully throughout.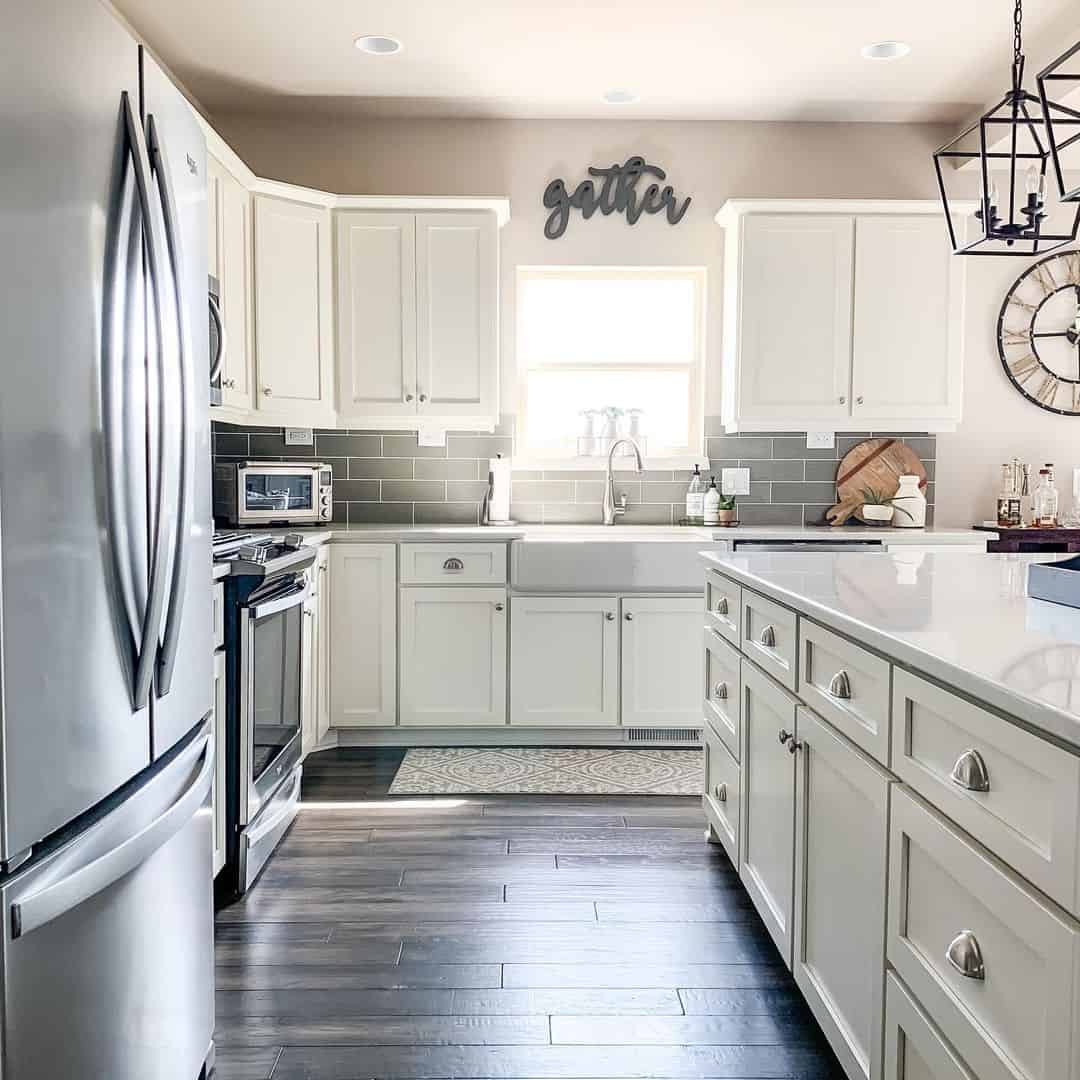 Credit: the.westnest
Shop the Look
Rustic Farmhouse Kitchen with Patriotic Touch
This farmhouse kitchen sets the stage with cream cabinets, adorned by gleaming stainless steel hardware, and they effortlessly pair with warm granite countertops. However, what truly sets this kitchen apart is the exposed red brick backsplash, adorned with white grout.
This creative choice brings forth a captivating interplay of texture and depth. A clear vase elegantly displays white and blue hydrangea blooms, while fresh strawberries grace the expanse of a generously-sized kitchen island, infusing the space with delightful, patriotic accents.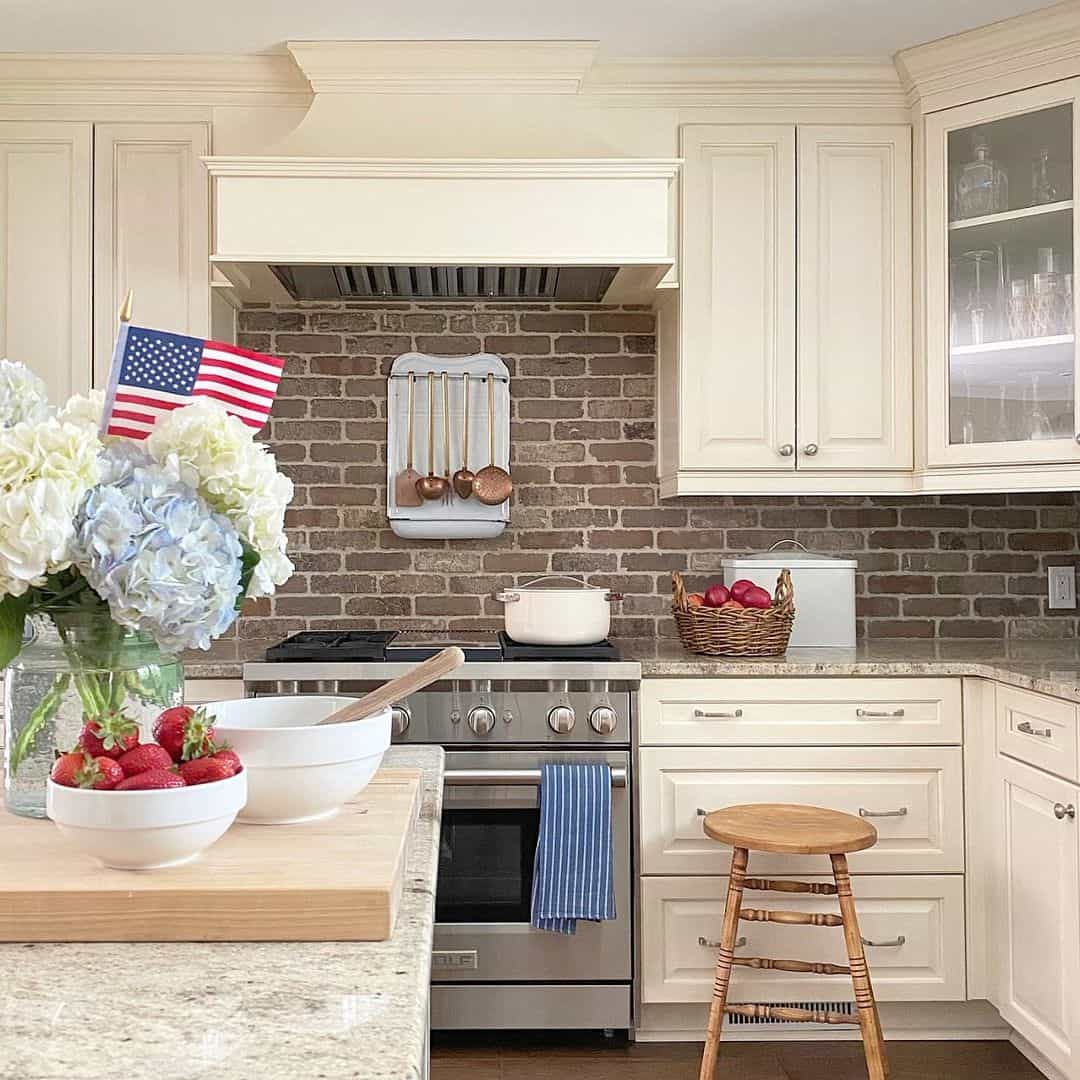 Credit: caligirlinasouthernworld
Shop the Look
Enchanting Farmhouse Kitchen Featuring Light Gray Subway Tile
Step into a charming farmhouse kitchen where you'll be greeted by white cabinets, beautifully adorned with stainless steel hardware. These cabinets provide an elegant contrast to the pristine white quartz countertop, and the scene is gracefully completed by a light gray subway tile backsplash. Farmhouse accents tastefully add allure to the space, and fresh potted herbs find a picturesque home in front of a sunlit window.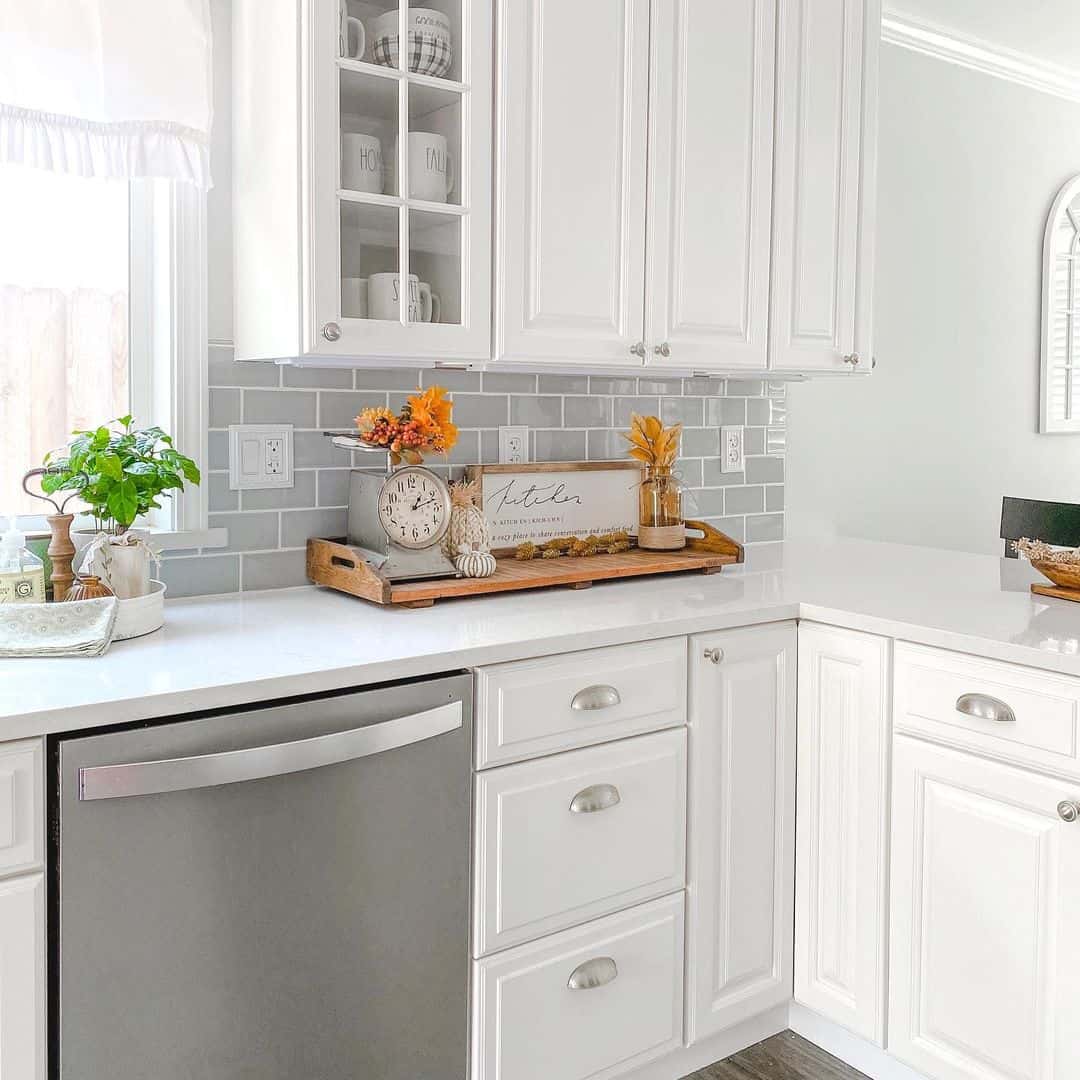 Credit: pbandp
Shop the Look
White Cabinet Farmhouse Kitchen with Backsplash Inspirations
This farmhouse kitchen is a masterpiece in design, featuring elegant white French country cabinets paired with a chic light gray granite countertop. These elements are complemented by a classic marble subway tile backsplash. Warm wood accents are thoughtfully integrated into the scene, and an array of farmhouse-inspired decor pieces find their place in the kitchen.
Natural light cascades generously throughout the room, accentuating a distinctive steer head mounted above the white hood vent, while a lavender wreath graces the window, adding a touch of rustic elegance.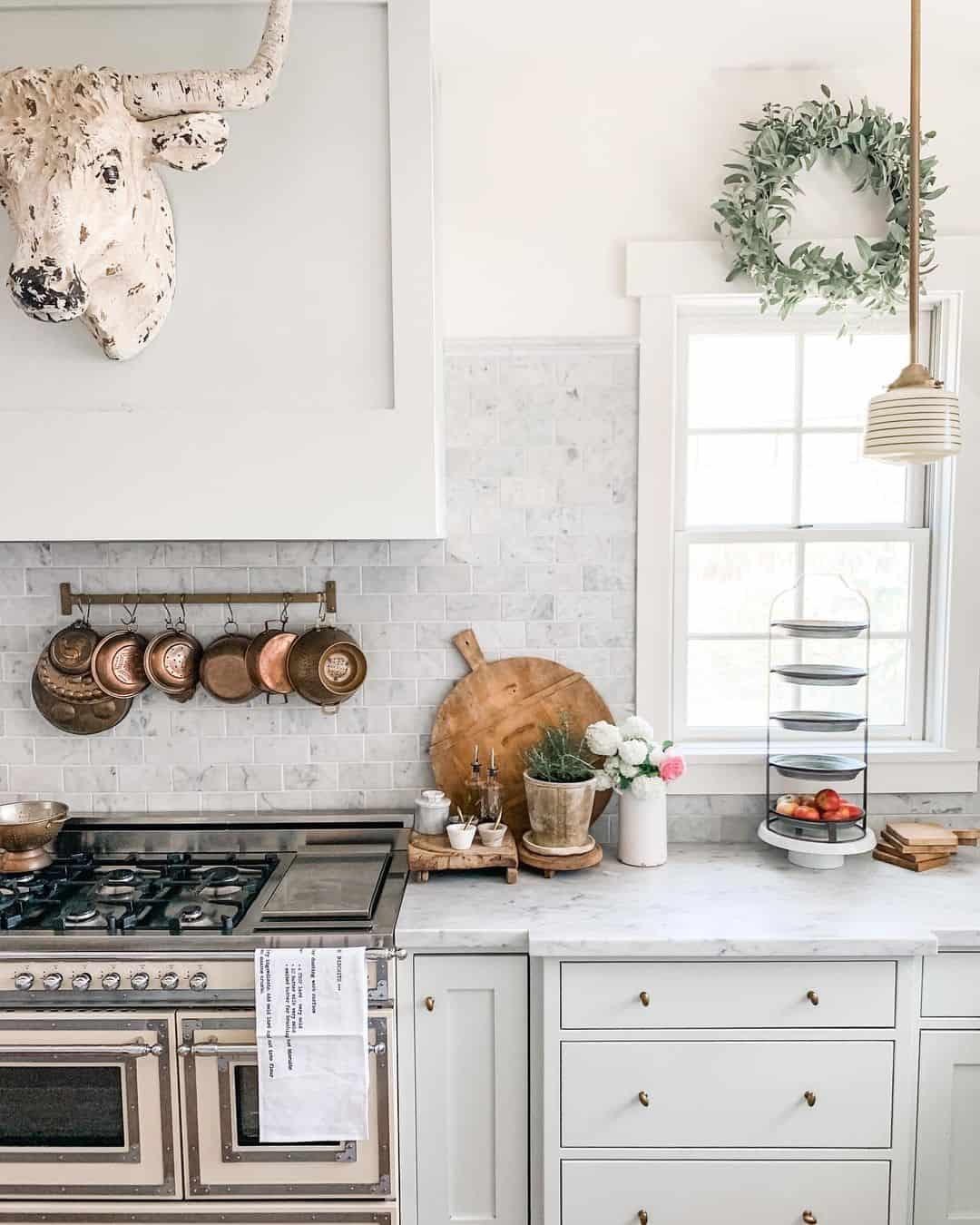 Credit: thestonehouseroad
Shop the Look
A White Kitchen Peninsula with Timeless Gray Countertop
Beneath a spotless white kitchen peninsula, crowned with a sophisticated gray countertop, you'll find white painted wood bar stools neatly arranged. These stools create an inviting space facing a stunning array of white glass-front kitchen cabinets, tastefully accompanied by a refined white and tan tile backsplash.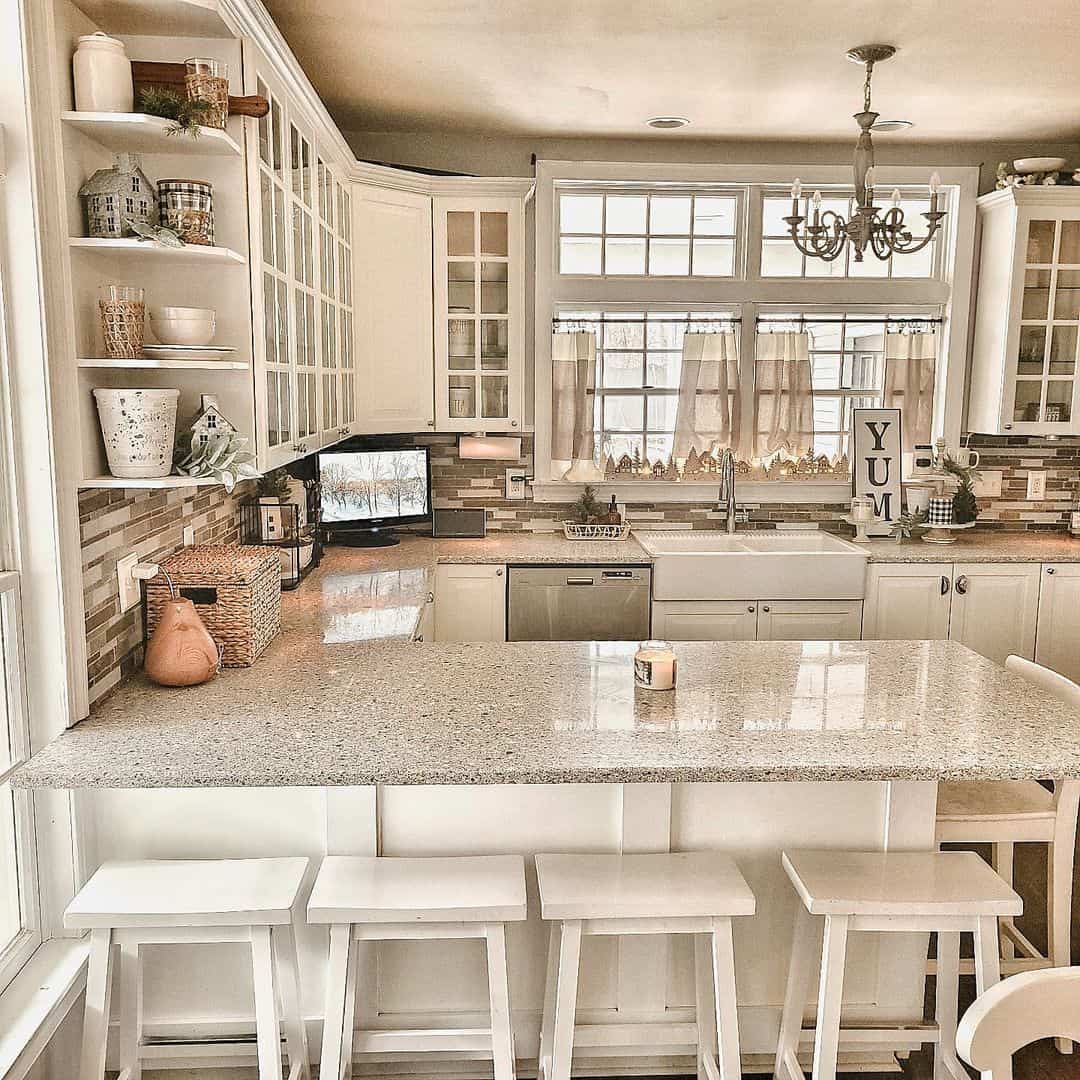 Credit: thisvictorianfarmhouse
Shop the Look
Captivating Farmhouse Kitchen with Fall Decor
This inviting farmhouse kitchen is a study in contrasts. It features elegant white cabinets paired with a pristine white quartz countertop, and a classic white subway tile backsplash. Yet, what truly sets this scene apart is the addition of autumn-inspired decor and rustic wooden accents.
They create a captivating interplay against the pristine white backdrop. Natural light filters through the room, accentuating a fall foliage wreath adorning the white shiplap vent hood, while graceful light wood flooring extends throughout the space.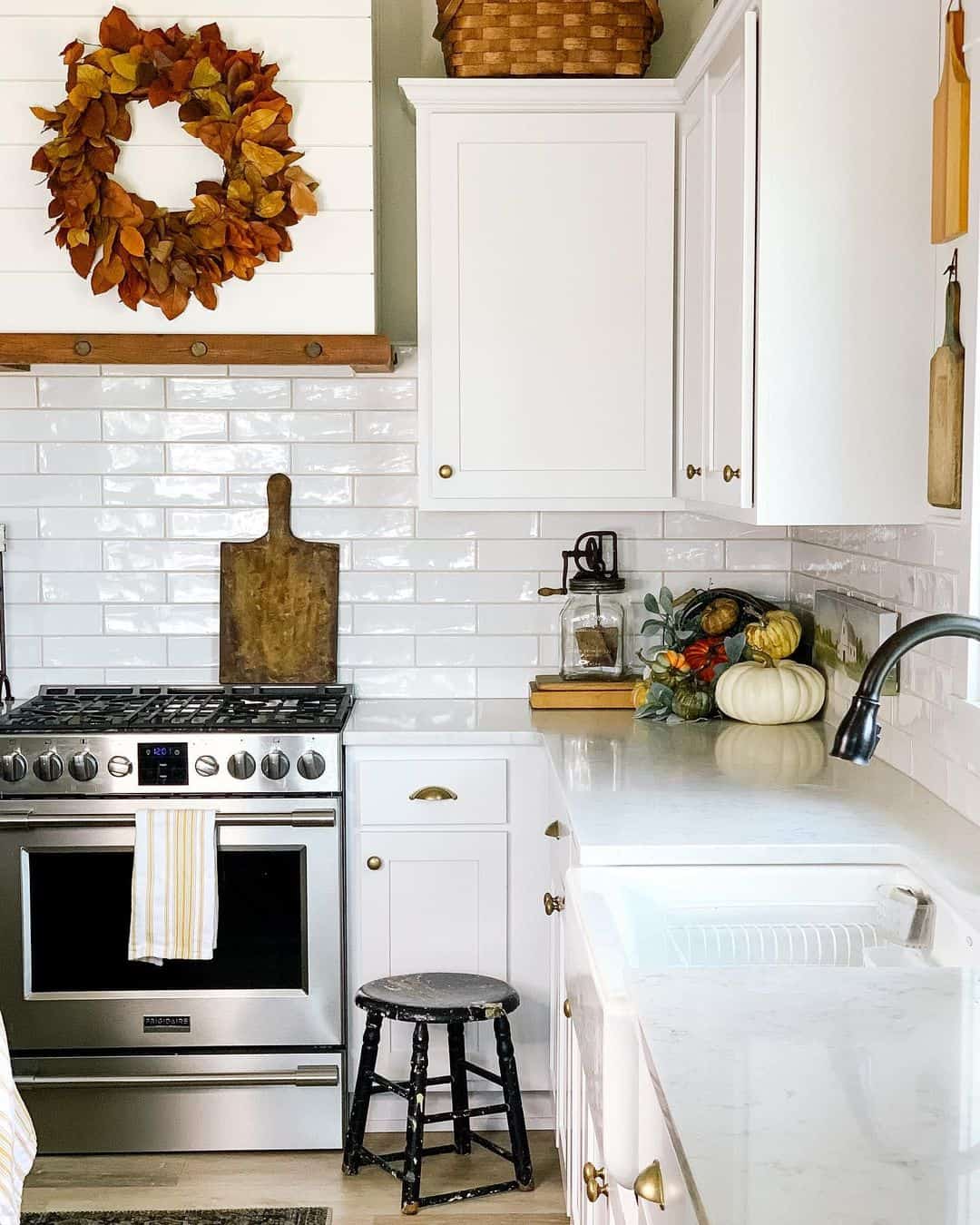 Credit: lyndaledrive
Shop the Look
White Cabinets with Greenery
In this cottage-inspired kitchen, you'll be greeted by white cabinets embellished with gleaming stainless steel hardware, harmoniously paired with light gray granite countertops. The light gray subway tile backsplash, adorned with white grout, provides a striking contrast against the cottage-themed decor gracing the counter. The room is bathed in abundant natural light, and potted greenery adds a touch of freshness atop the cabinets.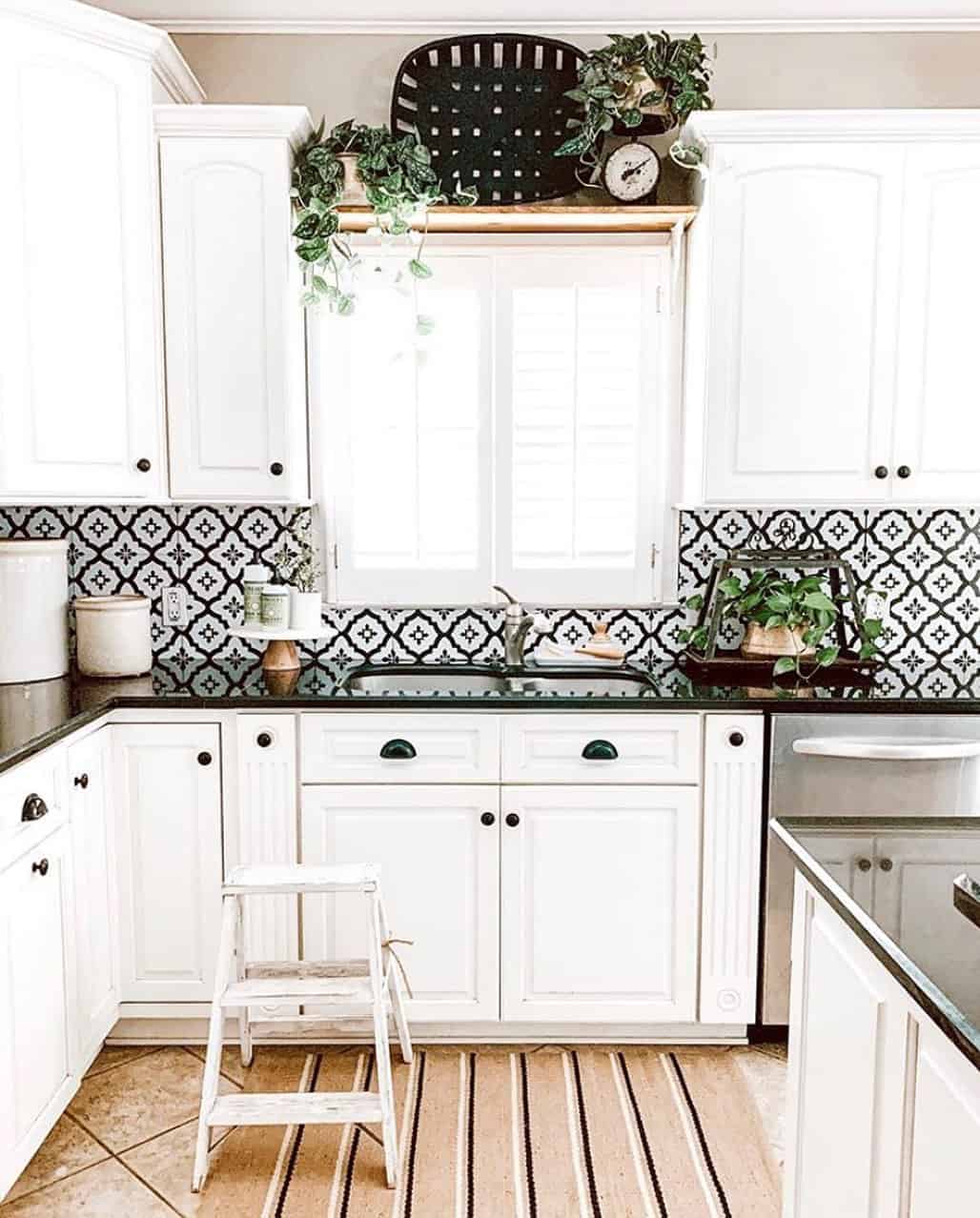 Credit: lynnaeraquelhome
Shop the Look
Wrap-up
In conclusion, the possibilities for enhancing your white cabinet farmhouse kitchen with a captivating backsplash are endless. Whether you lean towards classic subway tiles, intricate patterns, or even a touch of rustic charm, your choice can define the character of your kitchen. We hope this article has inspired you with the ideas and creativity needed to craft a kitchen that's both functional and a work of art.