7+ Stylish Ideas for Hanging Two Pendant Lights Over a Farmhouse Kitchen Island
Affiliate Disclosure: As an Amazon Associate we earn from qualifying purchases. Hence, if you click through and make a purchase, we will get a commission at no extra cost to you. For more info, read our full disclosure.
Revamp your farmhouse kitchen with a touch of elegance and illumination by exploring these seven stylish ideas for hanging two pendant lights over your kitchen island. Pendant lighting not only adds a functional glow but also serves as a chic design element that can transform your kitchen into a space that's both inviting and aesthetically pleasing.
Creative Ideas with Globe Pendant Lighting
Discover the beauty of well-lit spaces with these globe pendant lighting arrangements. In a spacious kitchen, a large black island with a pristine white countertop serves as the perfect canvas for the warm radiance of two globe pendant lights.
Pull up a seat on wooden and metal bar stools, and instantly, you're in the realm of modern farmhouse charm. Hints of autumn's arrival are present through the addition of ornamental pumpkins and the soft glow of candles.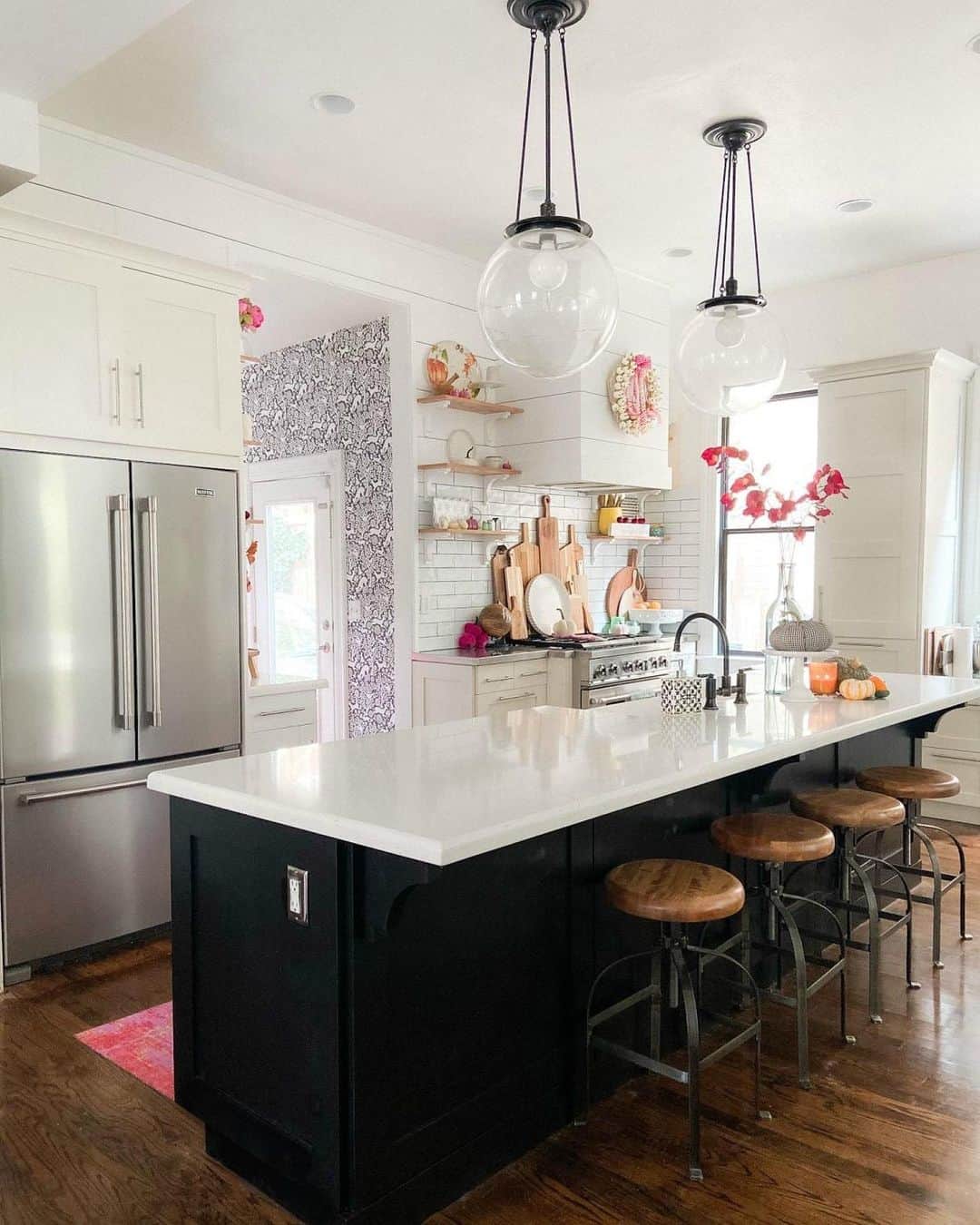 Credit: tatertotsandjello
Shop the Look
Modern Elegance with Wood and Metal Bar Stools
Step into the realm of contemporary aesthetics where a gray and white island takes center stage in this modern kitchen. Two pendant lights, suspended above, offer both function and style, casting a soft, ambient glow. The seamless gray theme extends to a glossy subway tile backsplash and the sleek cabinetry. Wooden and metal bar stools add a touch of comfort and modern farmhouse allure.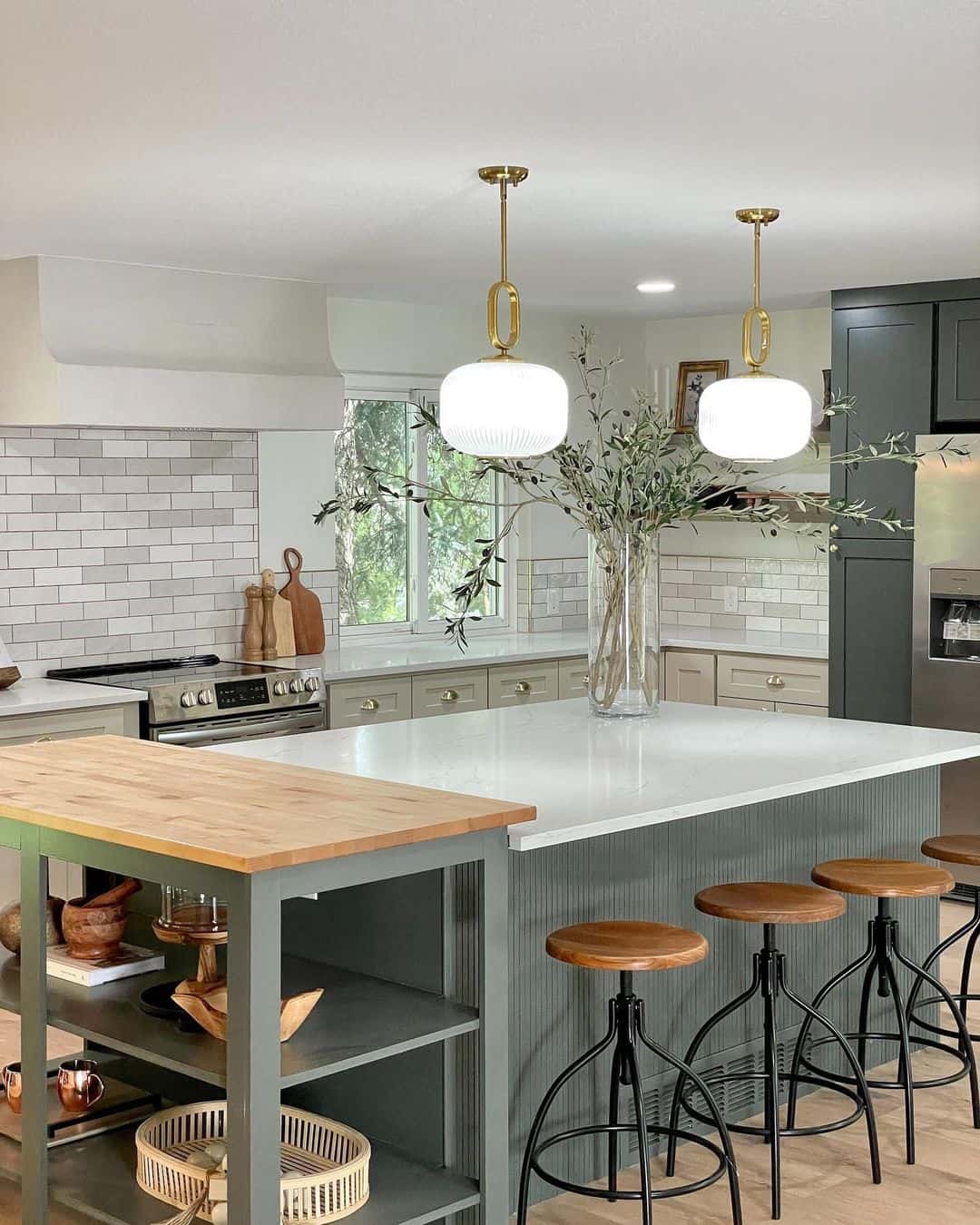 Credit: lonihaskellinteriors
Shop the Look
Rustic Charms of a Blue Kitchen Island
Explore the rustic charm of a kitchen centered around a captivating blue shiplap island. It's surrounded by inviting wooden cross-back bar stools, and above, two wooden pendant lanterns add a touch of warmth. This space also boasts an accent shiplap wall and classic shaker cabinets, creating a rustic and inviting atmosphere.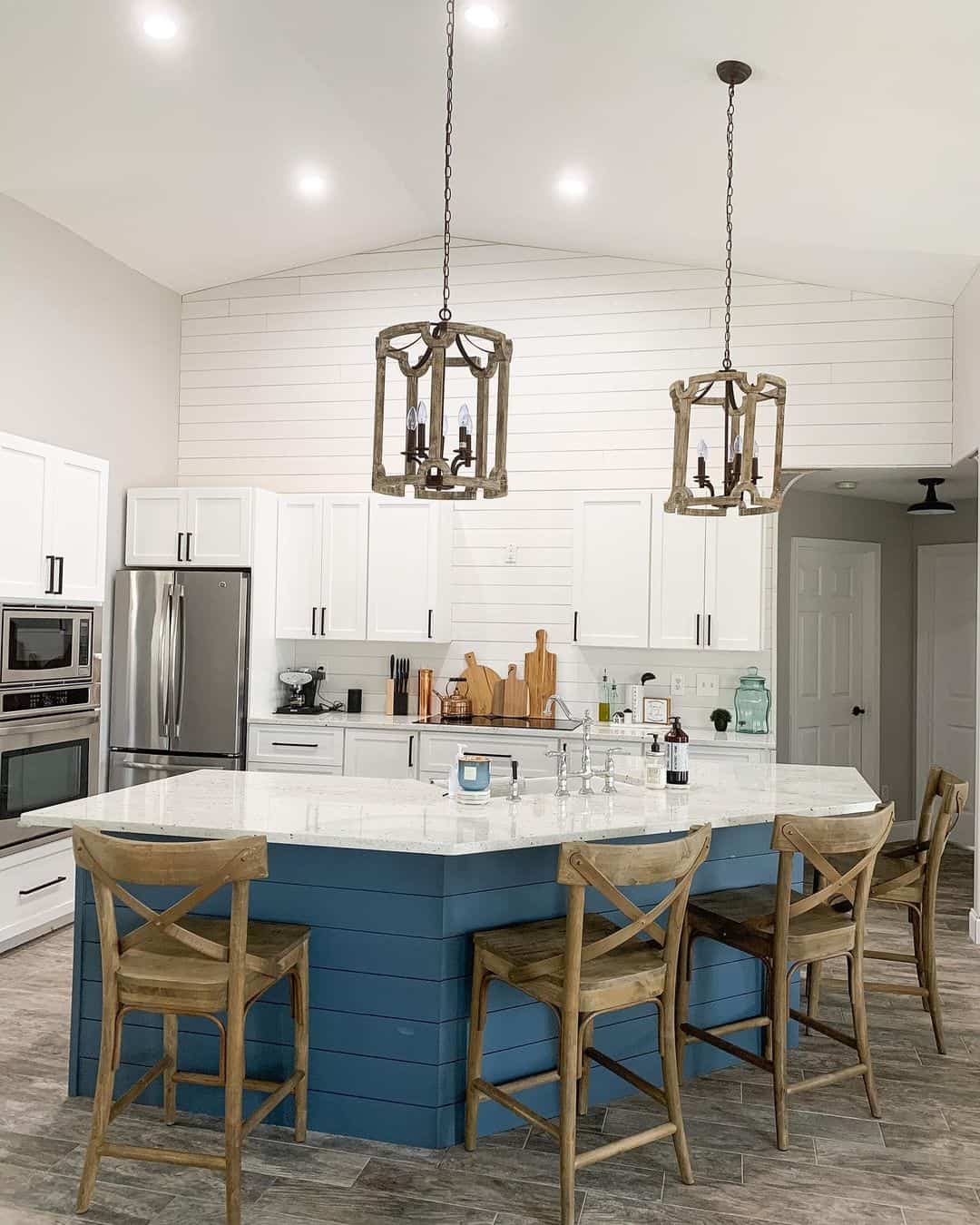 Credit: the.crafted.woodshop
Shop the Look
Serene Kitchen with Natural Wooden Accents
Step into a bright and airy farmhouse kitchen where two eye-catching pendant lights bring elegance to a neutral island. The soft, neutral palette extends seamlessly to the lower kitchen cabinets. Wooden accents shine through in the flooring, stove hood trim, and the floating shelves, creating a harmonious and inviting space.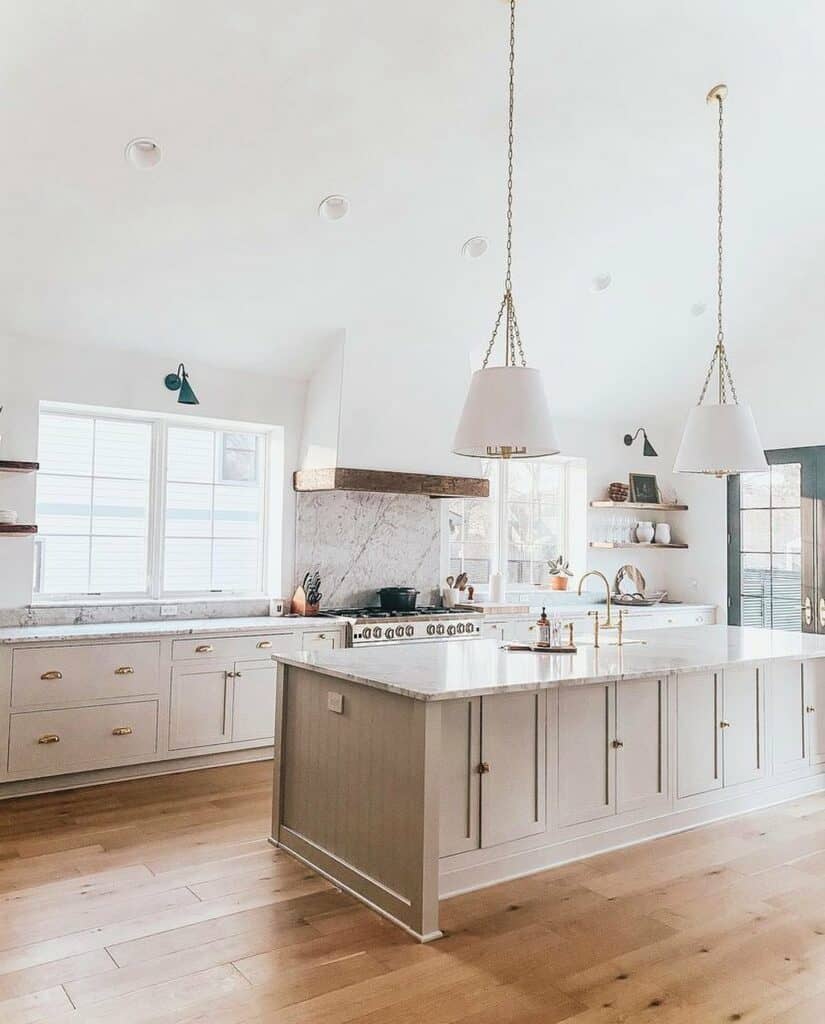 Credit: nest.out.west
Shop the Look
Elevating Your Kitchen Island
Incorporating a touch of sophistication and functionality, a gray kitchen island takes center stage in this farmhouse space. Crowned with a resplendent granite countertop, it becomes the focal point of the room, exuding elegance and practicality.
Above, two pendant lights hang gracefully, casting a warm and inviting glow that enhances the island's allure. Along the wall, a row of white upper cabinets, adorned with subway tiling, adds to the kitchen's charm and provides a clean and modern aesthetic.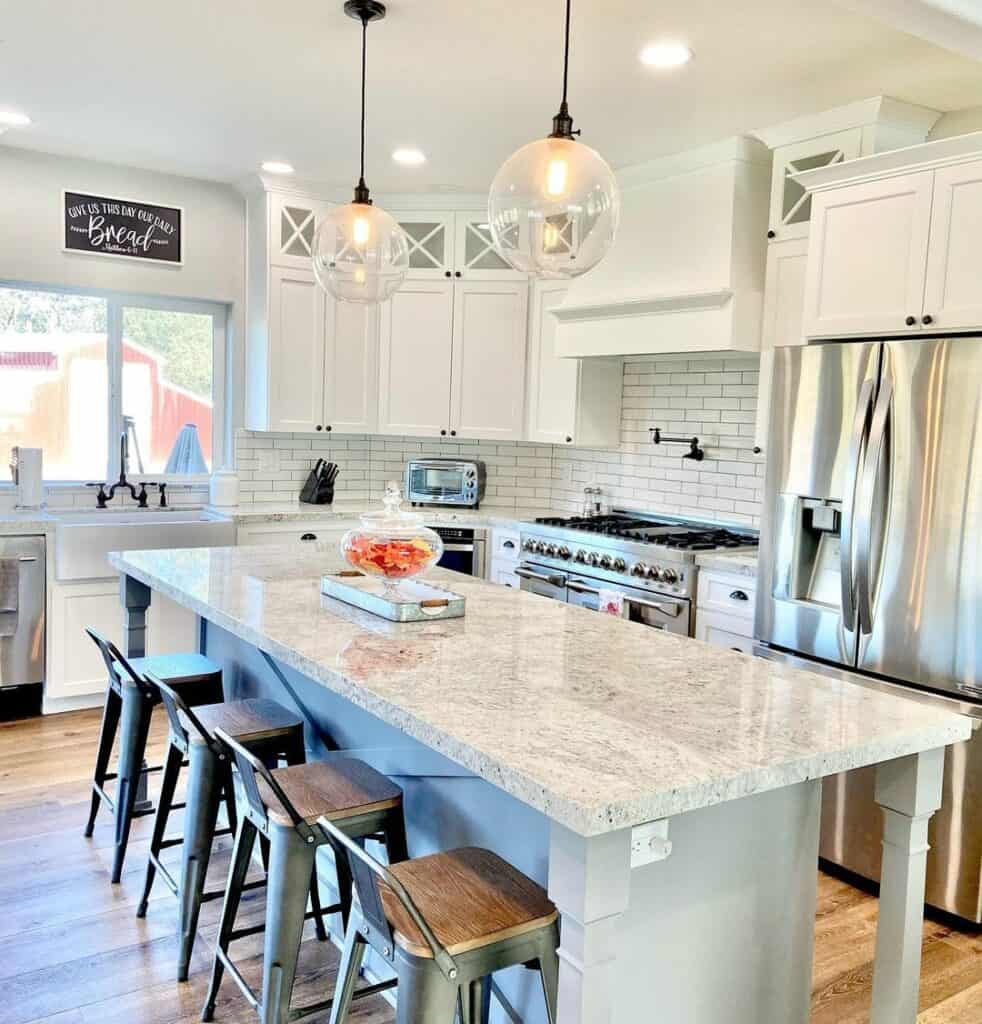 Credit: bartlett.farmhouse
Shop the Look
Embracing Christmas in a Neutral Kitchen
Step into a neutral modern farmhouse kitchen transformed by the magic of Christmas. Seasonal decorations bring festive cheer to this space, with two pendant lights delicately illuminating a black granite island, adding an air of sophistication. The herringbone backsplash that lines the space between the white upper and lower shaker cabinets adds a touch of timeless elegance.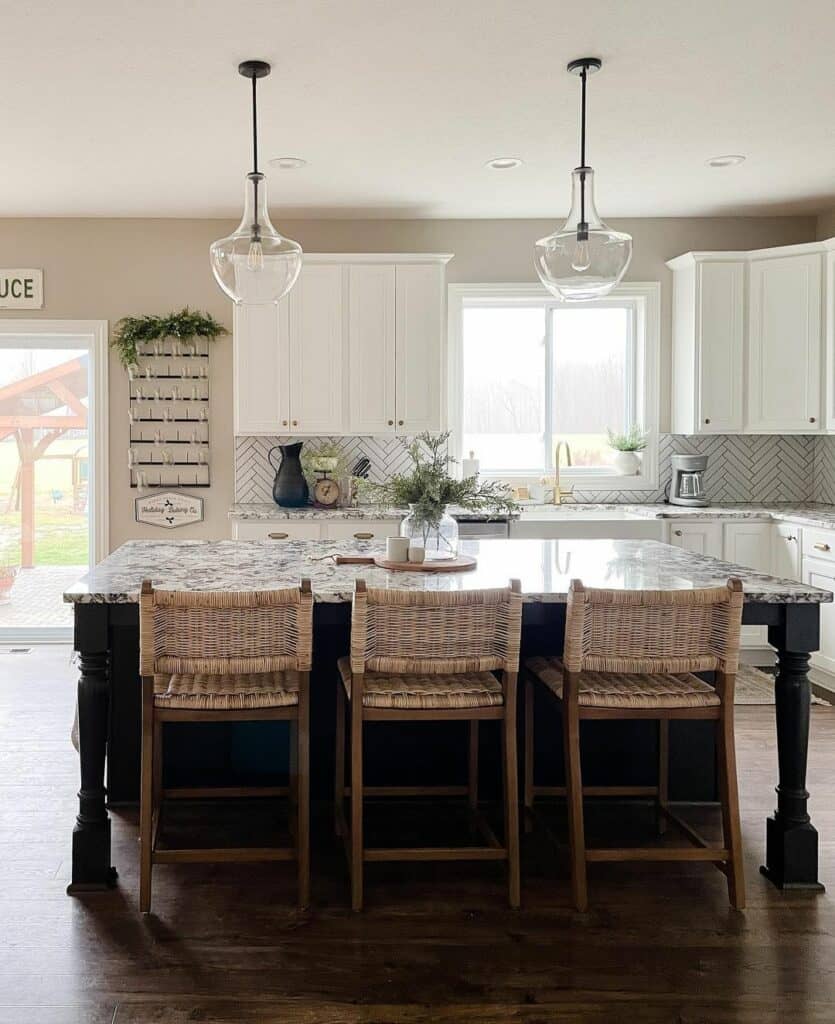 Credit: fiveacresonbrook
Shop the Look
Black Door and Pendant Lights
In the heart of this rustic-inspired white kitchen, the scene is set with black pendant lights casting a warm glow over a white-painted wood movable kitchen island table. This elegant island stands as a centerpiece, perfectly complemented by white kitchen cabinets crowned by a sleek black countertop. To add a dash of contrast and charm, a black pantry door with glass takes its place next to the cabinetry.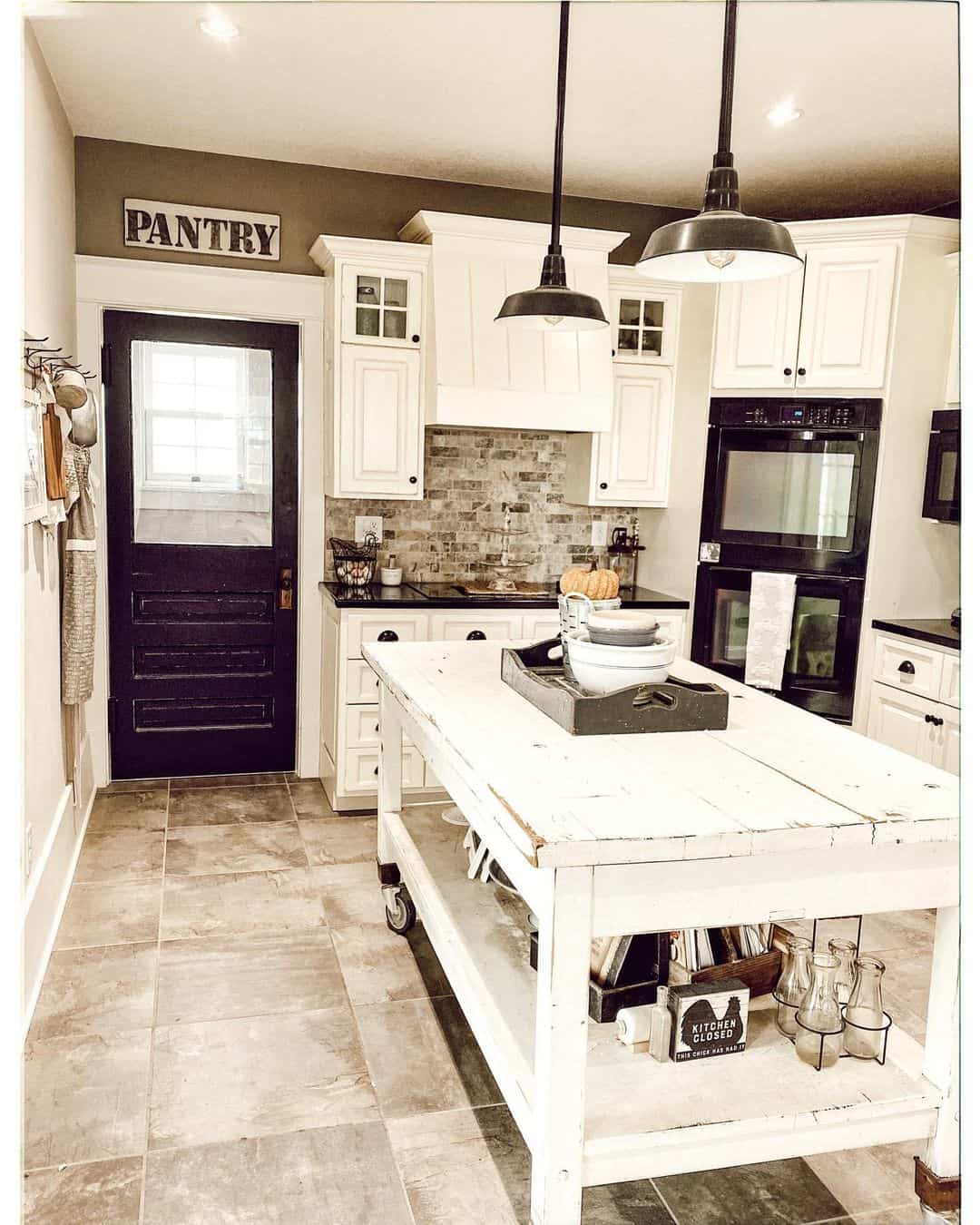 Credit: theredheadedfarmgirl
Shop the Look
Stylish Black Caged Pendant Lighting
Experience the charm of a modern farmhouse kitchen with the elegance of two striking black metal caged pendant lights. They hover above a white granite island, providing illumination and style in equal measure. The white cabinetry stands in bold contrast to the rich, stained wood flooring, while the addition of winter greenery brings a touch of seasonal charm.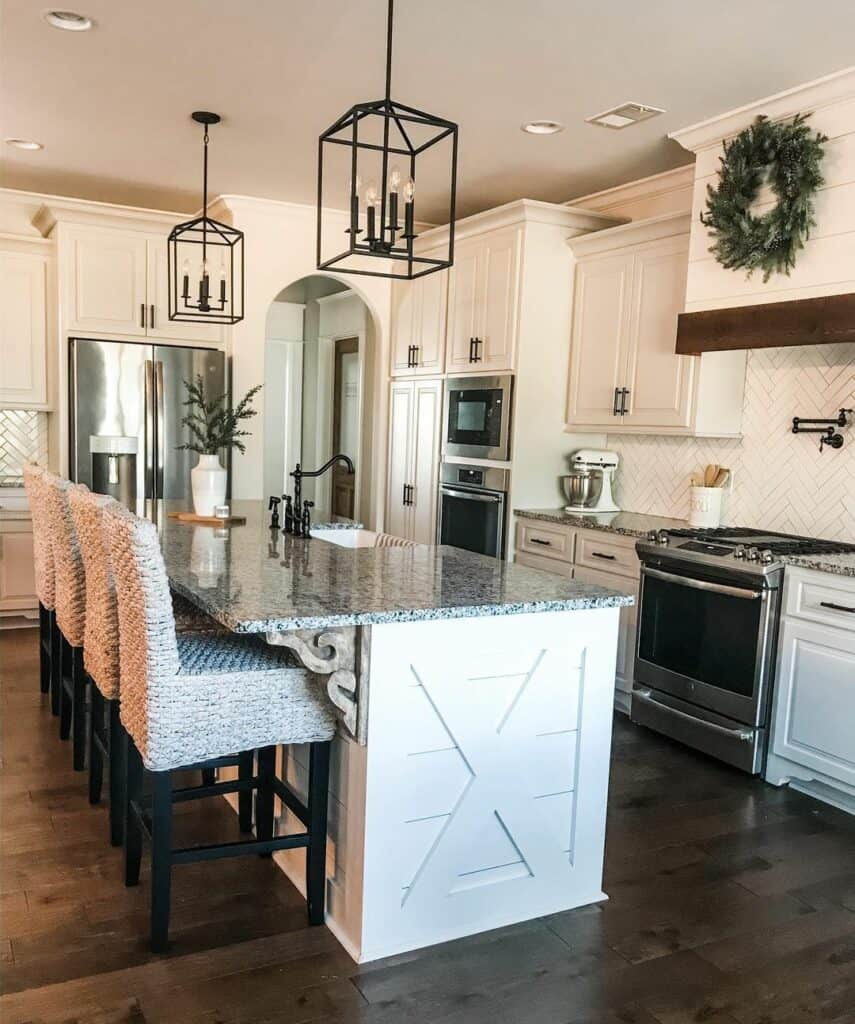 Credit: greeneacresfarmhouse
Shop the Look
Wrap-up
Elevate the charm of your farmhouse kitchen with the allure of double pendant lights. Whether you're aiming for a modern, rustic, or timeless look, these ideas offer the perfect inspiration to illuminate your culinary haven with style and grace. Discover the endless possibilities that come with two pendant lights hanging over your kitchen island and create a space that's not only functional but truly captivating.