7+ Jaw-dropping Farmhouse Living Room Accent Wall Ideas to Experiment With
Affiliate Disclosure: As an Amazon Associate we earn from qualifying purchases. Hence, if you click through and make a purchase, we will get a commission at no extra cost to you. For more info, read our full disclosure.
Welcome to the world of farmhouse chic! If you're looking to infuse some rustic elegance into your living room, you've landed in the right place. From verdant gallery walls to azure timber shelves, we've curated a list of accent wall ideas that promise to transform your space from 'meh' to 'marvelous'. Ready to embark on this design journey? Let's dive in!
Vintage Mirror Ensemble on a Verdant Wall
Step into a cozy living room where brown leather chairs bask under the glow of a contemporary gold chandelier. These chairs encircle a plush black leather ottoman coffee table. Vintage gold-framed mirrors come together, forming an eye-catching gallery against the lush green accent wall.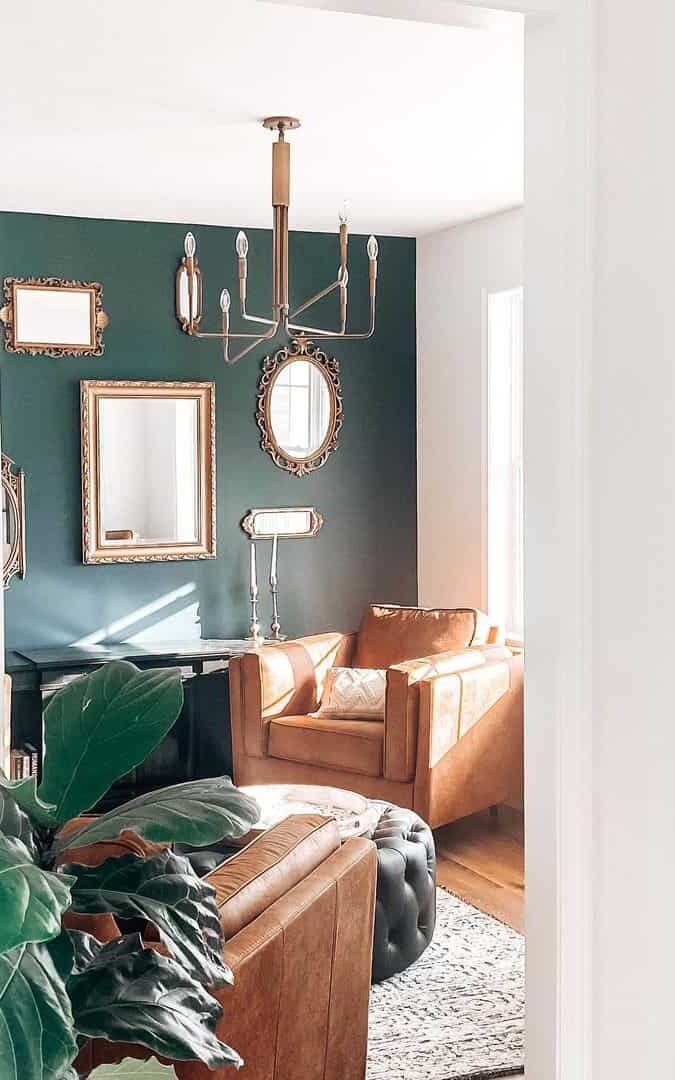 Credit: @ourmountaintopfarmhouse
Shop the Look
Azure Wall Paired with Timber Shelves
Imagine a living room where plants reign supreme, centered around a sleek black coffee table and a soft beige couch. Above the couch, chic black hexagonal shelves find their place next to a deep blue feature wall. Showcase your cherished décor items in shades of white, black, and gold on pale wooden floating shelves, all under the watchful gaze of a dual-head black wall lamp.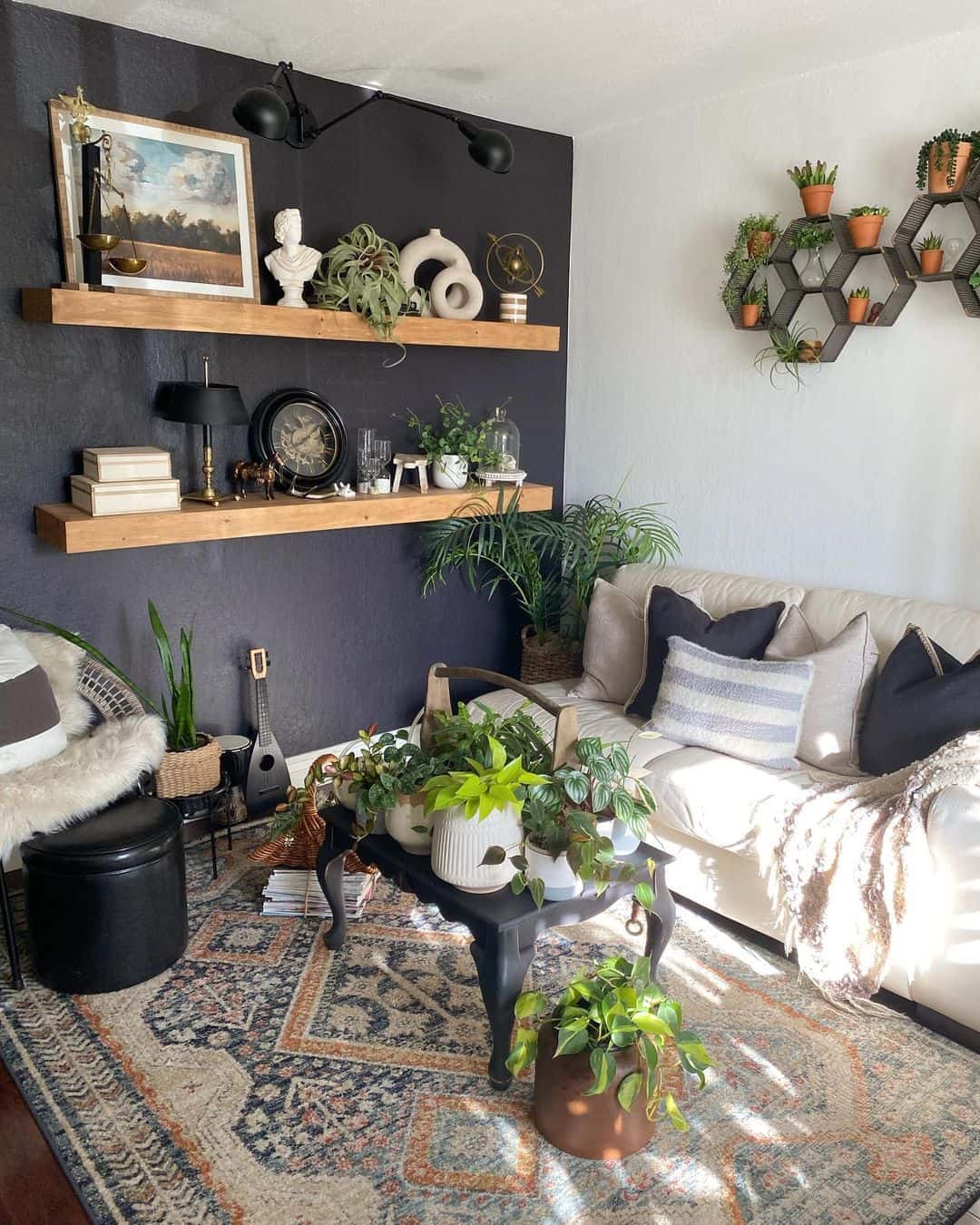 Credit: @yours.truly_home
Shop the Look
Monochrome Fireplace Elegance
Cherish family moments in a living space where a blend of natural wood and black metal coffee table takes center stage, complemented by a pristine off-white sofa. This setting is enhanced by a sleek black fireplace nestled within a crisp white shiplap wall. Adorn the fireplace with a rustic wood mantel and nostalgic ski-themed decorations.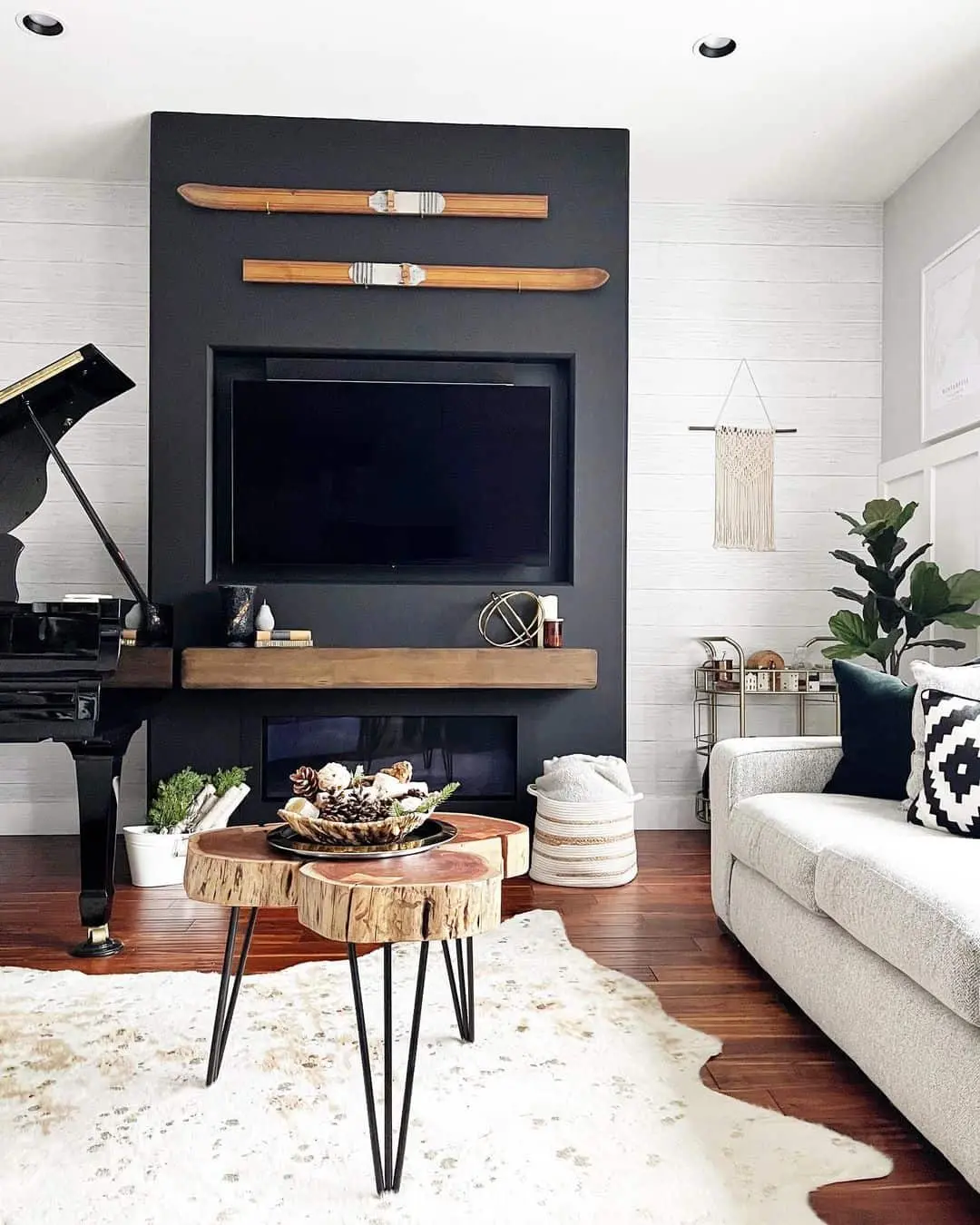 Credit: @wildrosecountryhome
Shop the Look
Monochromatic Wallpapered Retreat
Sink into a soft beige loveseat set against a backdrop of white and gray patterned wallpaper. A rich wooden coffee table stands out, crowned by dried hydrangeas resting in a pristine white vase. Add a touch of wilderness with antler decorations and a vintage brass photo frame.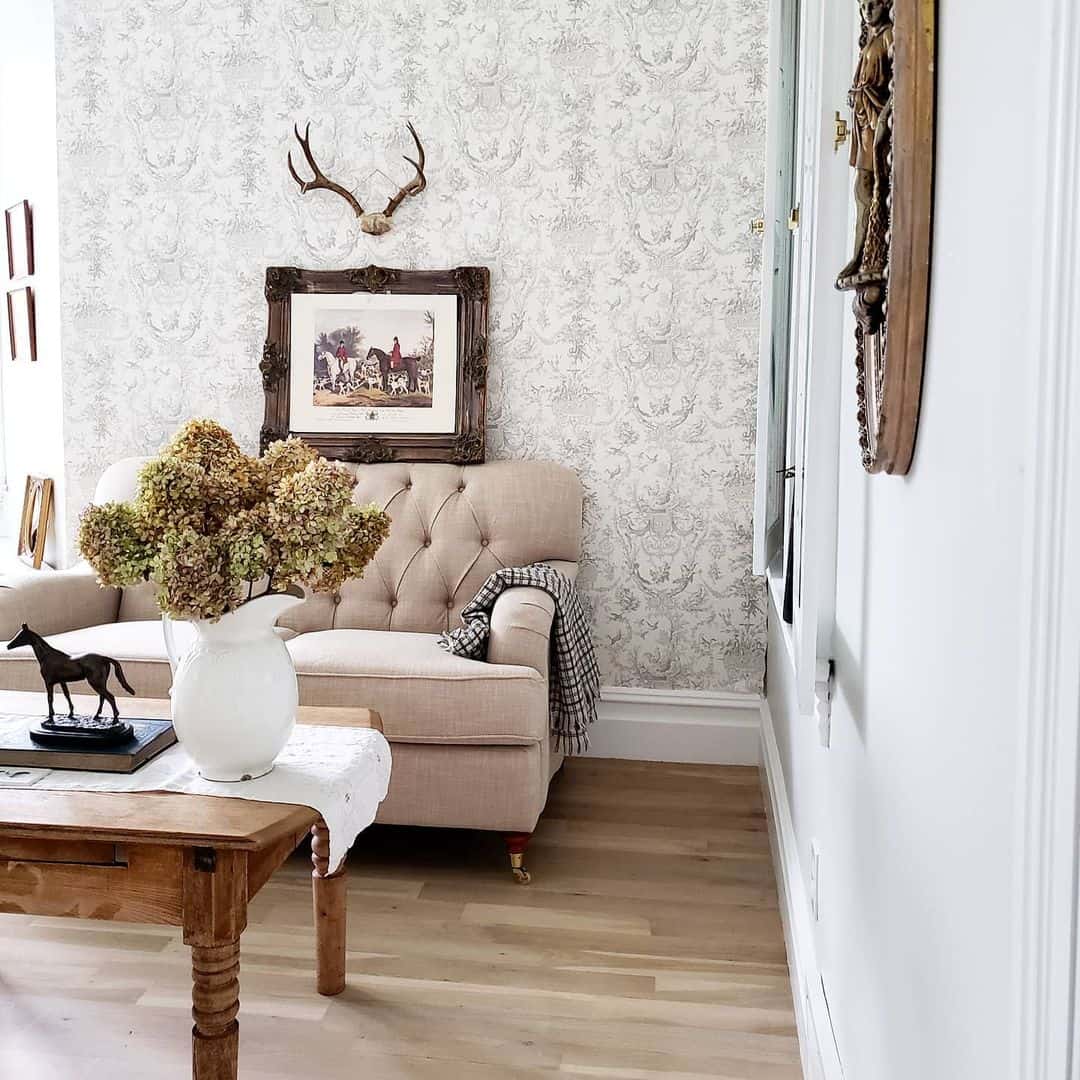 Credit: @HOLLIE_KELLER_
Shop the Look
Golden Fireplace Flanked by Cabinets
Experience warmth in a living room where a fireplace, adorned with a golden-hued mantel, becomes the focal point. Antique mirrors and greenery accessorize it, while matching cabinets on either side give an illusion of extended space. Ceramic accents and rustic touches elevate the room's charm, contrasted by contemporary black sofas.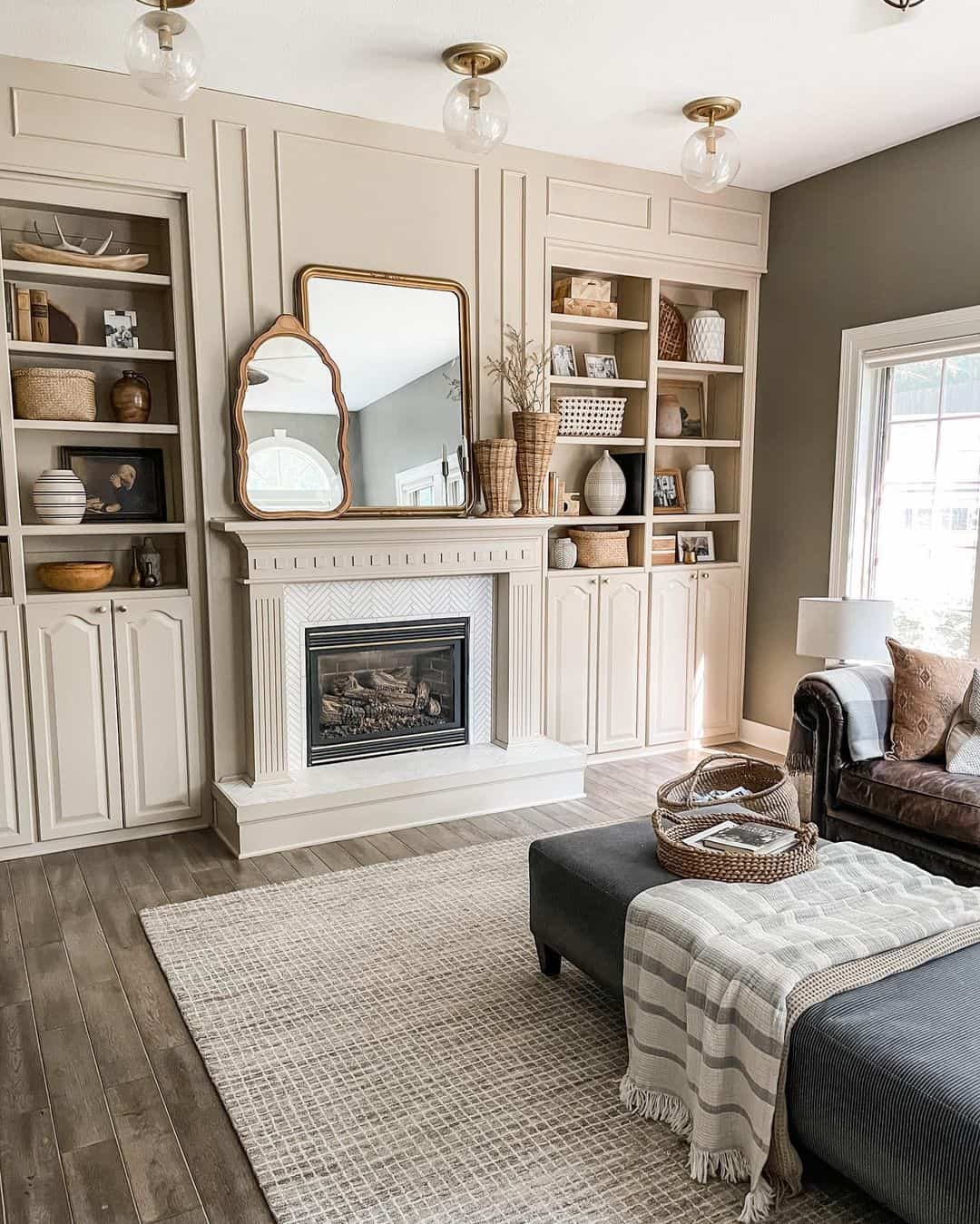 Credit: @e.lynndesign
Shop the Look
Noir Wall Inspiration for Living Spaces
A fusion of wood and black metal in a coffee table, illuminated by a grand white light, rests atop a monochrome rug. Complementing this are beige wooden chairs and a soft brown leather sofa, all set against a striking black backdrop.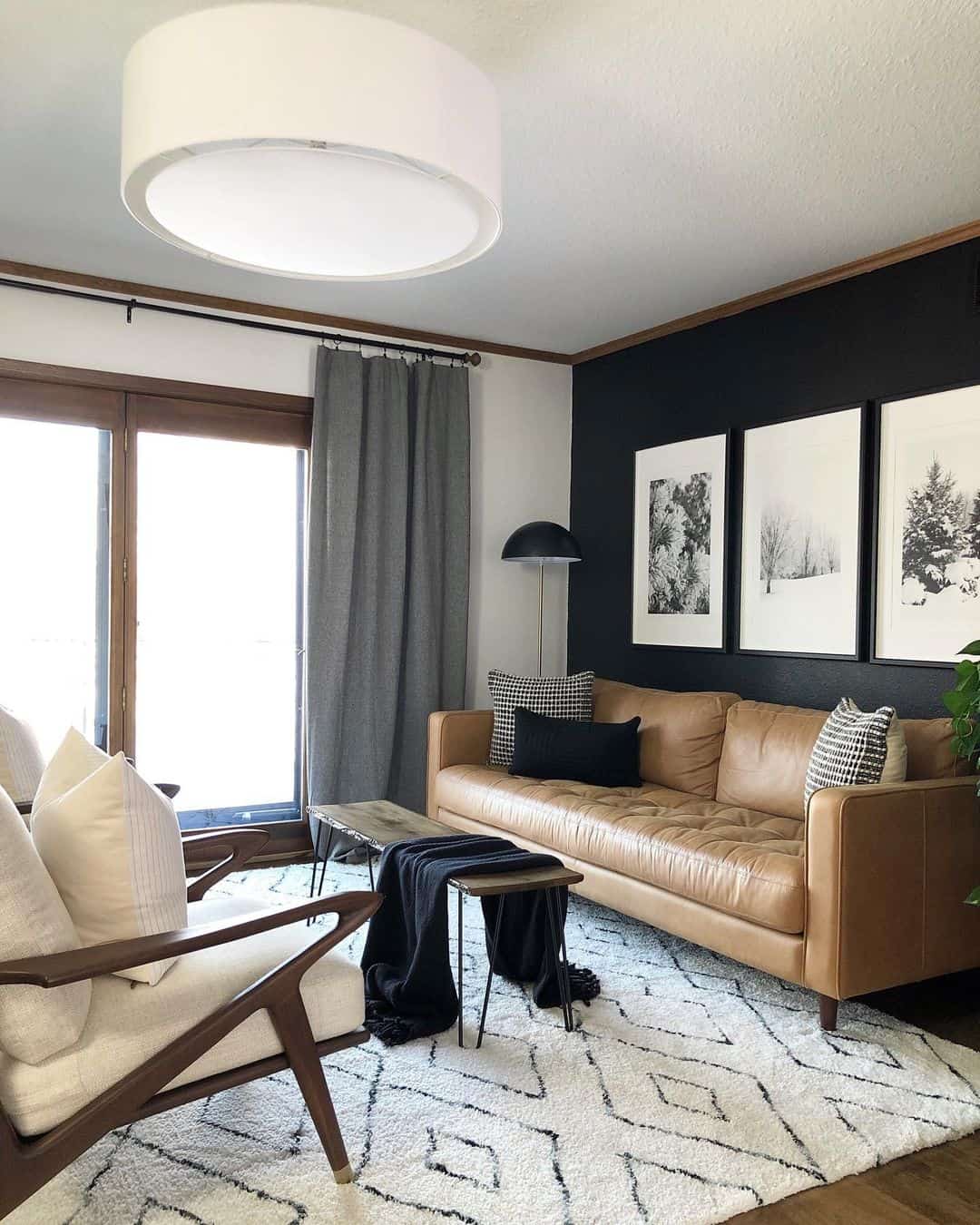 Credit: @katechipinski
Shop the Look
Checkered Charm with a Shiplap Fireplace
Discover a living room where a beige shiplap fireplace stands proud against a contrasting black buffalo check wall. A gray ottoman coffee table and matching sofa invite relaxation. Revamp your fireplace with a spring mantel in shades of black, green, and tan.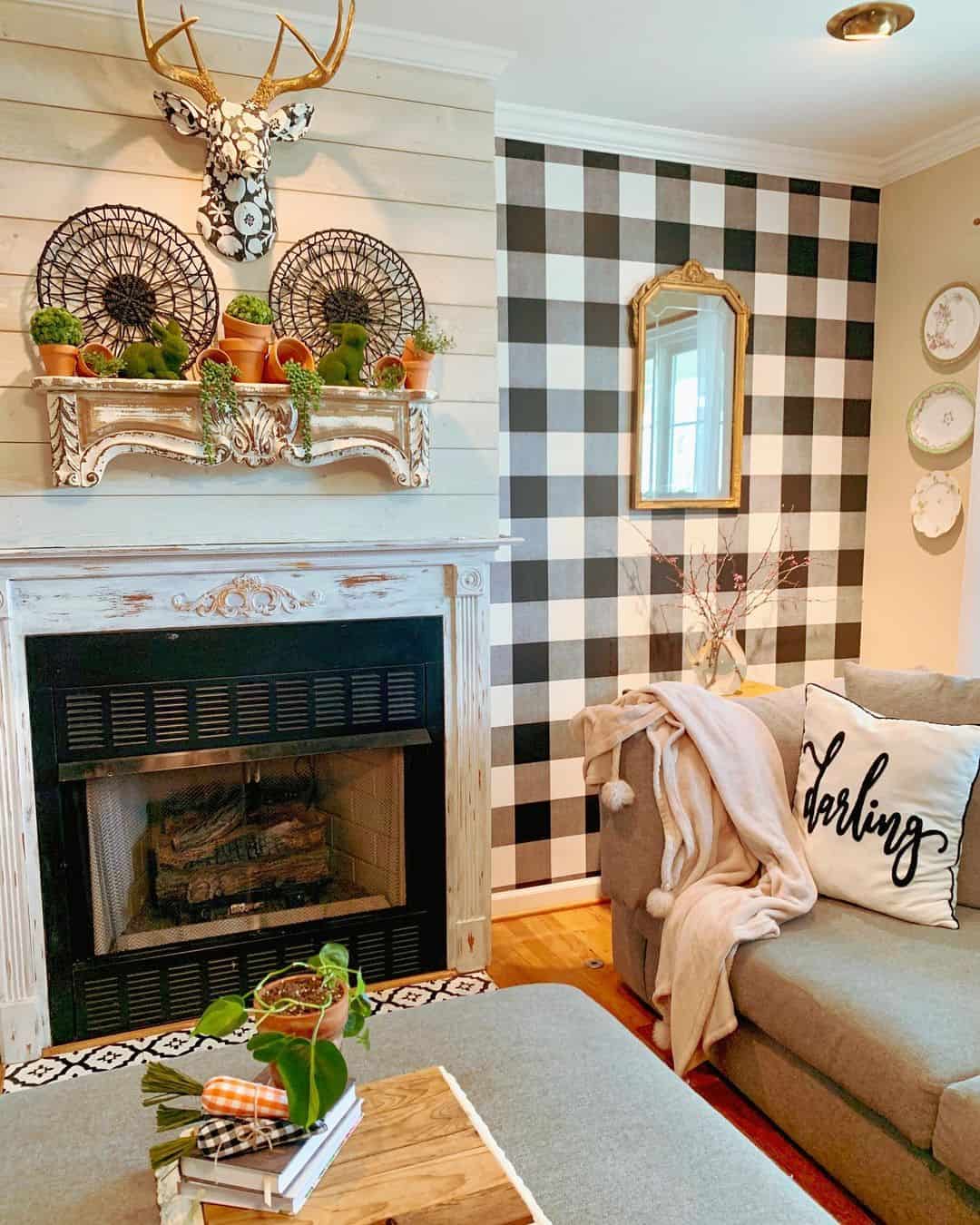 Credit: @margaretsdaughter_
Shop the Look
Botanical Brilliance Behind Leather Comfort
Revitalize your space with a luxurious brown leather couch, lit by a golden floor lamp. Paired with it is a round wooden coffee table with black metal accents, all set on a muted gray rug. Elevate the ambiance with a dark green botanical wallpaper, creating a captivating accent wall.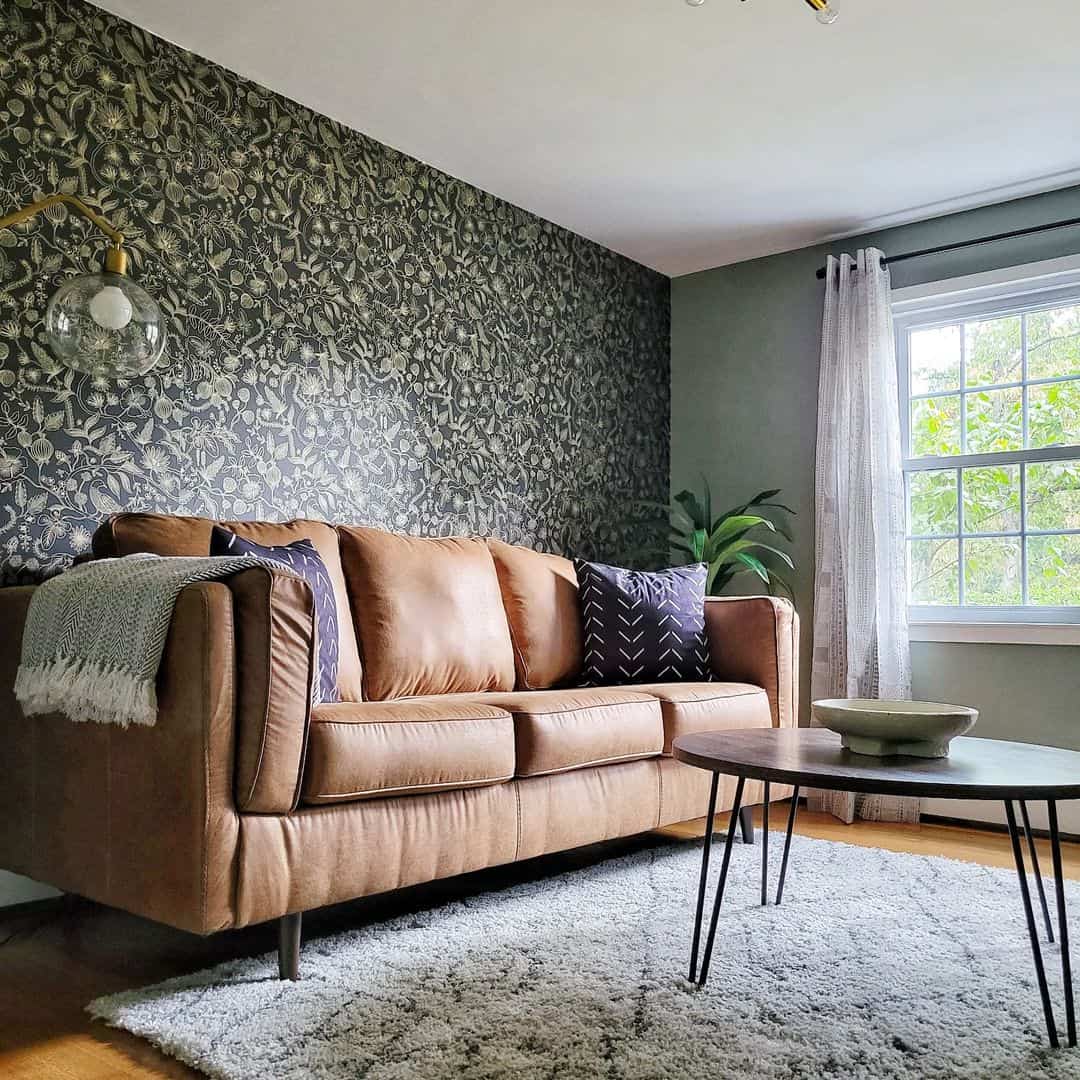 Credit: @driftscapedesigns
Shop the Look
Wrap-Up 
And there you have it! From botanical brilliance to vintage mirror ensembles, these farmhouse accent wall ideas are the perfect blend of rustic charm and modern flair. Remember, your living room is a reflection of your personality, so don't be afraid to experiment and make it uniquely yours. Happy decorating!