7+ Earth Tone Living Room Inspirations for a Nature-Inspired Farmhouse Space
Affiliate Disclosure: As an Amazon Associate we earn from qualifying purchases. Hence, if you click through and make a purchase, we will get a commission at no extra cost to you. For more info, read our full disclosure.
Transforming your living space into a nature-inspired farmhouse oasis is a design journey filled with warmth, comfort, and earthy charm. Earth tone living rooms exude a unique blend of rustic elegance and timeless appeal.
In this blog, we'll explore seven captivating inspirations to help you infuse the essence of nature into your home. From cozy cowhide rugs to rustic brick fireplaces, these ideas will guide you in creating a farmhouse living room that's as inviting as it is beautiful.
Cozy Earthy Living Room with a Stylish Cowhide Rug
In this inviting earth-tone living room, you'll find a tastefully decorated space that exudes warmth and comfort. A gray coffee table graces the room, positioned atop a vintage gray rug, while a pristine white sofa takes center stage.
Complementing the sofa, you'll discover light brown leather armchairs, elegantly arranged around a round black end table. To infuse personality into this cozy setting, a brown cowhide rug graces the floor in front of the chairs.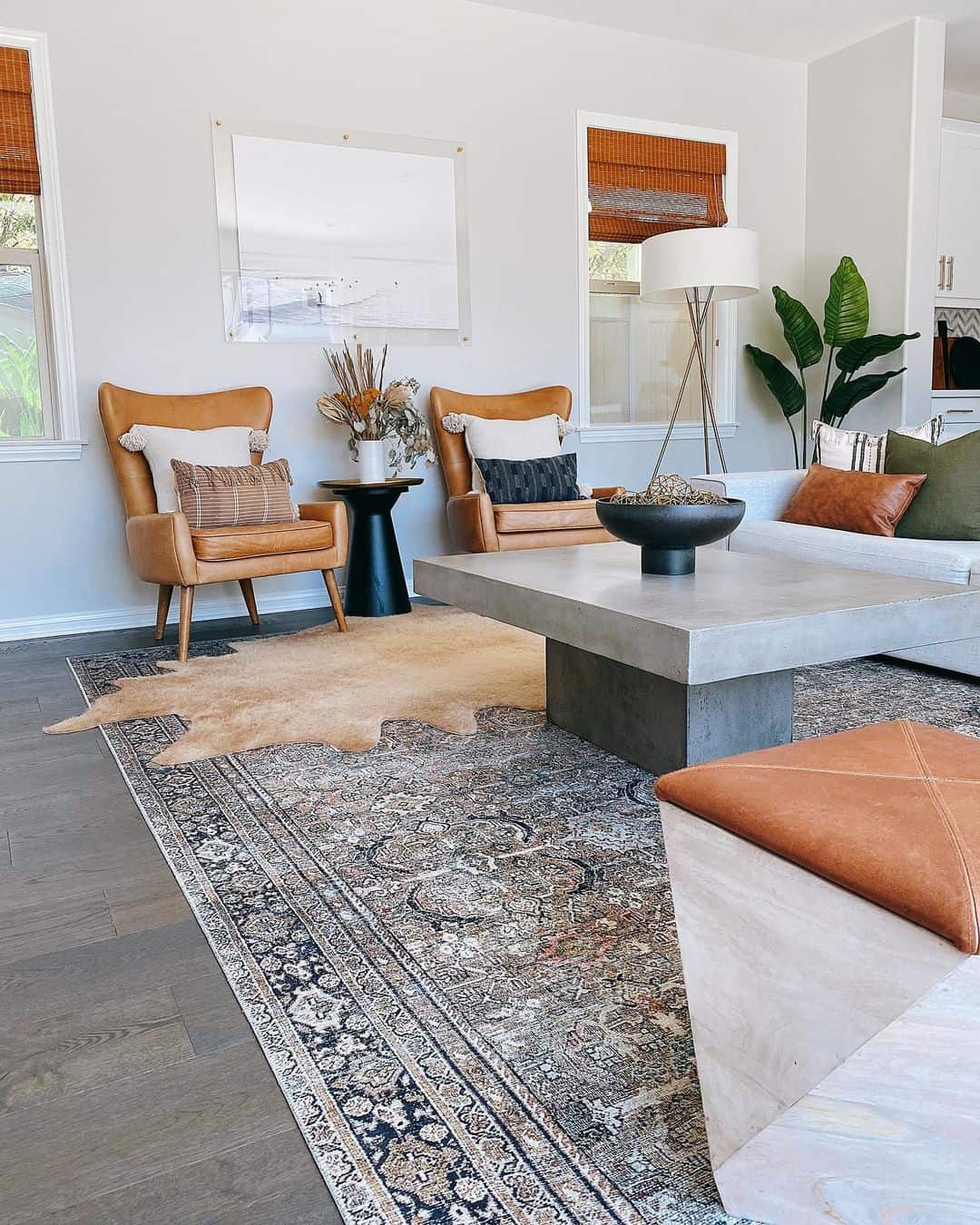 Credit: houseofhanes
Shop the Style
Rustic Brick Living Room Fireplace with Deer Head Accents
Step into this charming living room adorned with rustic elements. A stained wood coffee table, bathed in the gentle glow of a gray chandelier, is poised atop a beige rug. At the heart of the room, a brown leather couch and antique French chairs create an inviting seating area.
Accentuating the space, a floor-to-ceiling brick fireplace stands tall, adorned with deer head décor.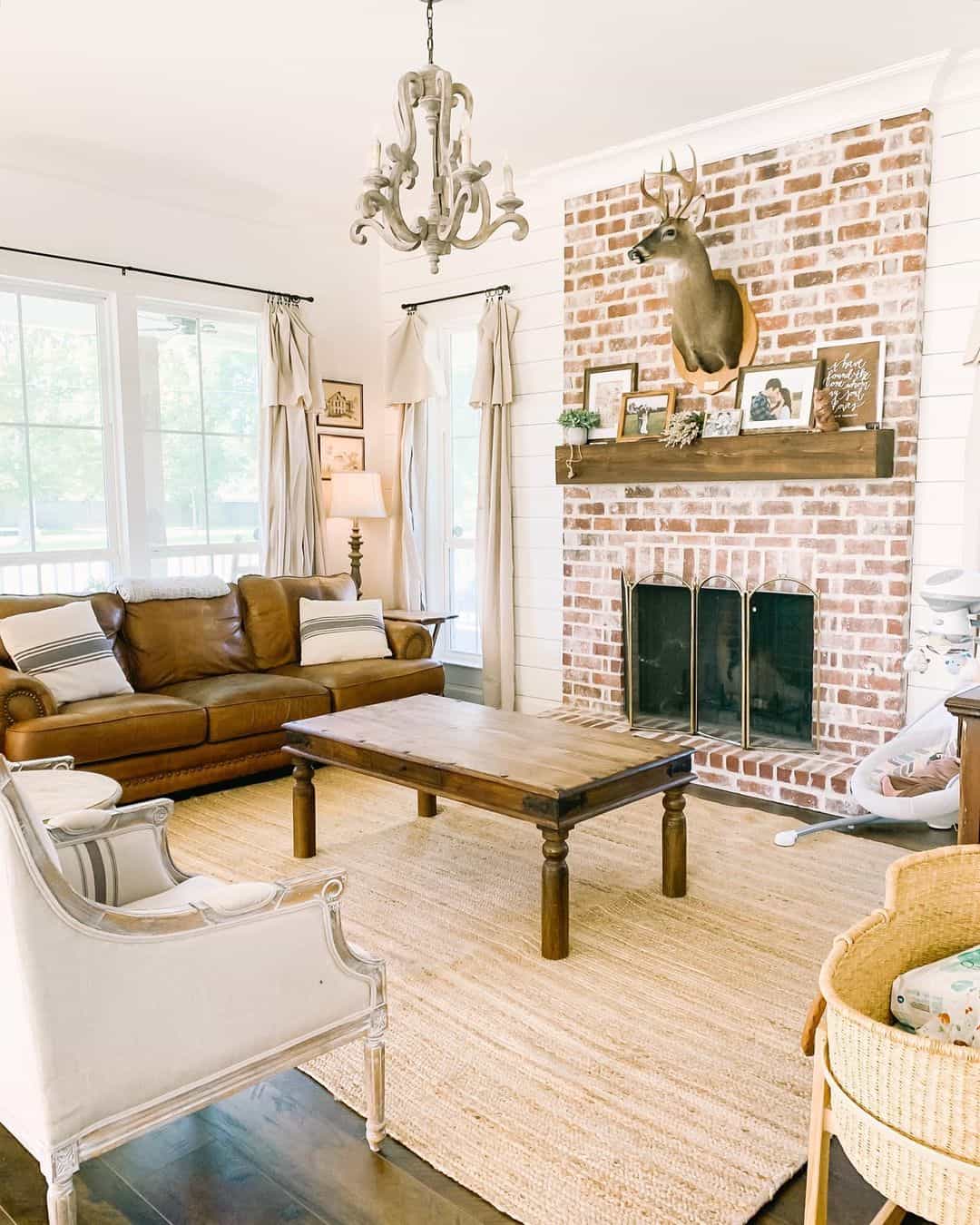 Credit: whitecottagecreek
Shop the Style
Earthy Living Room Enhanced by a Gray Vintage Area Rug
Welcome to an earthy oasis where timeless design meets natural charm. A stained wood coffee table is thoughtfully placed in front of an off-white sofa, nestled under the embrace of wood frame artwork.
A gray and wood accent chair finds its home in front of large, black frame windows, softened by billowing off-white drapes. Grounding the entire space is a stunning gray vintage rug, elegantly framing the central tableau.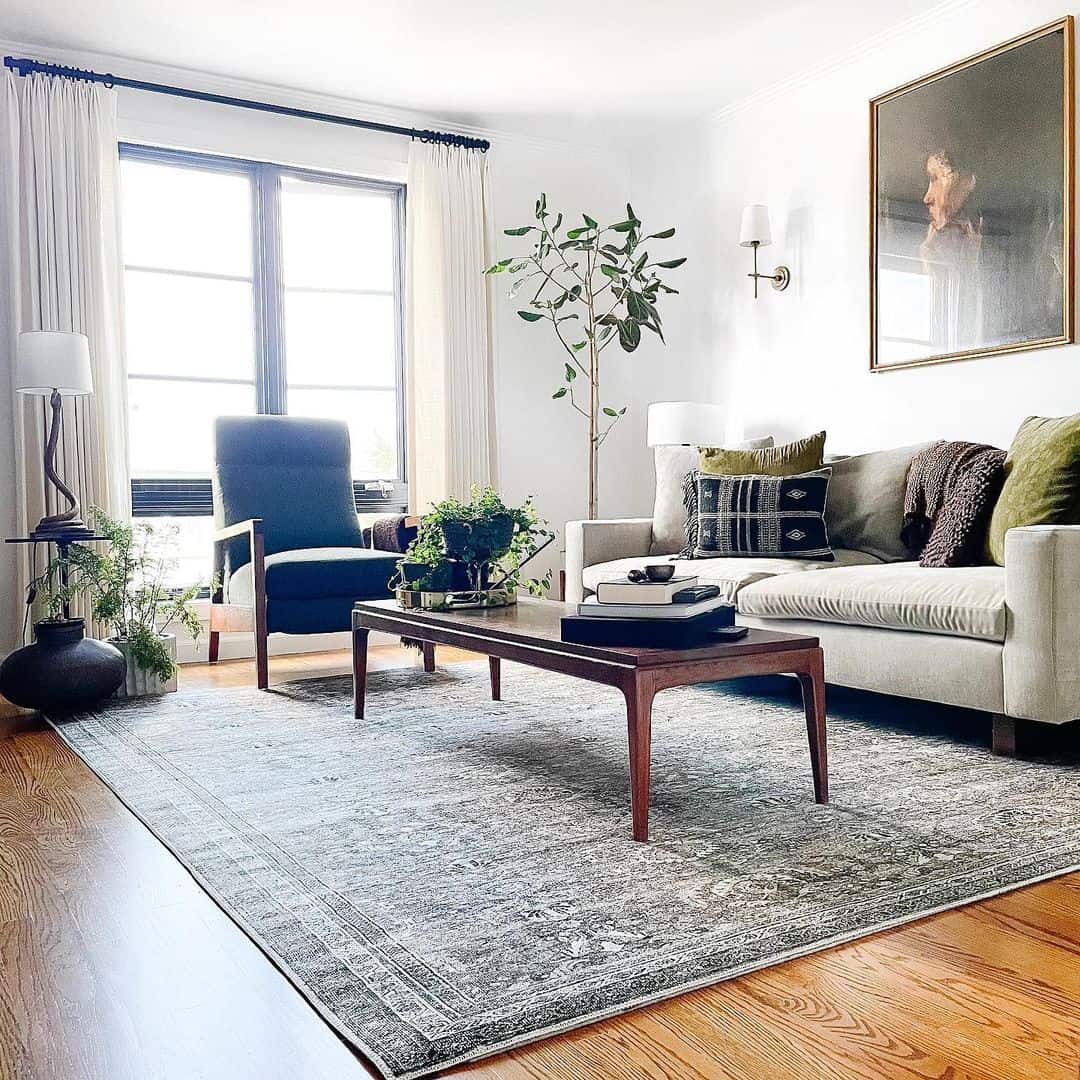 Credit: 136home
Shop the Style
Earthy Living Room Featuring a Green Velvet Sofa
Embrace the harmony of nature in this earth-toned living room, aglow with the gentle radiance of a beige glass chandelier. White and wood nesting coffee tables take their place atop a beige and green vintage rug, a fitting stage for a resplendent green velvet sofa.
Surrounding the sofa, lush greenery breathes life into the room, creating a seamless connection with the outdoors.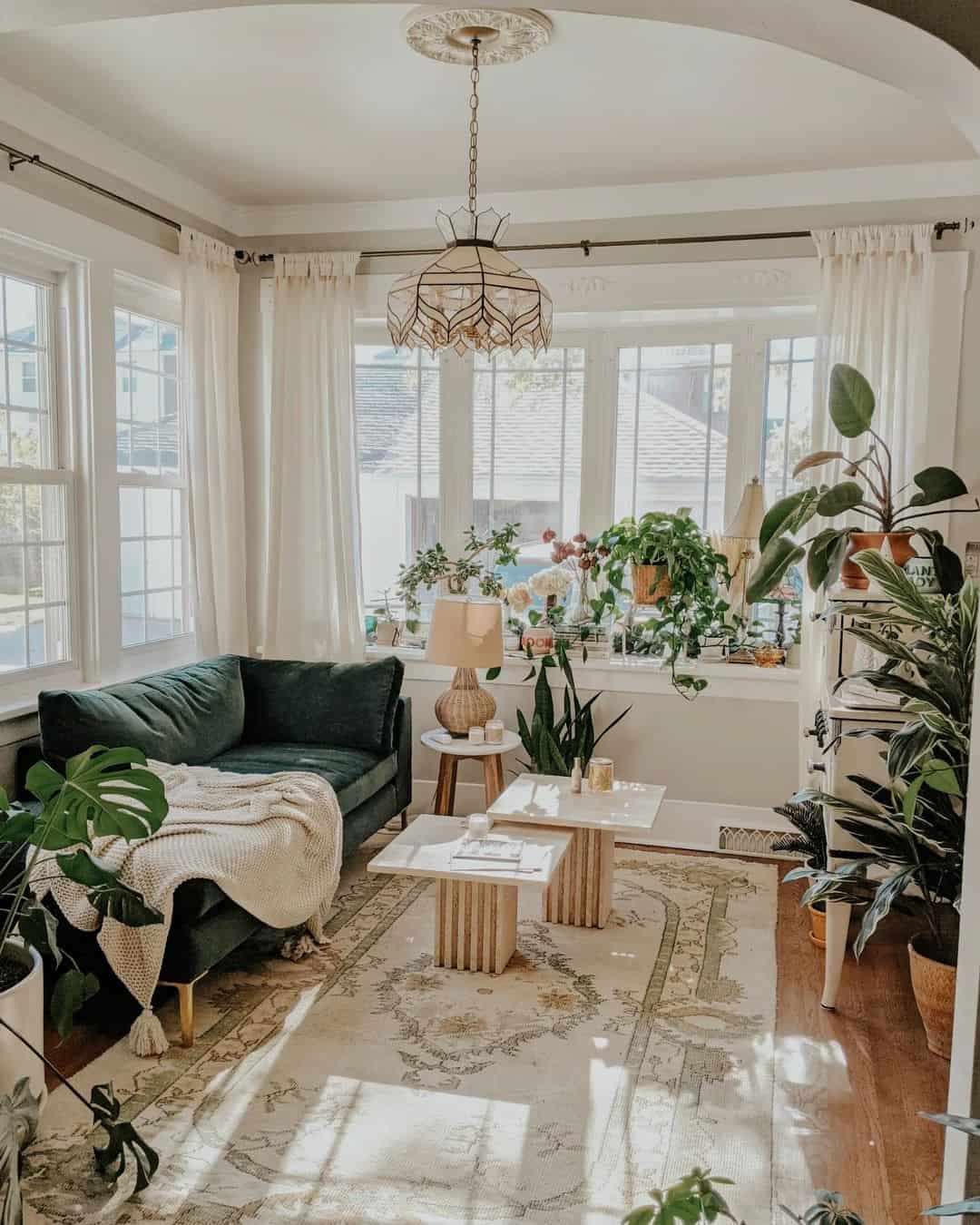 Credit: thelittledovehome
Shop the Style
Cottage Style Living Room Adorned with Gray Couches
Step into a cottage-style haven where comfort and style merge effortlessly. Brown leather couches find their home on a serene beige and gray rug, forming an inviting seating arrangement. A round wood and white metal coffee table adds a touch of whimsy, with an orange pumpkin for a pop of color.
Above one of the couches, a grand wood wall clock keeps time and serves as a striking focal point.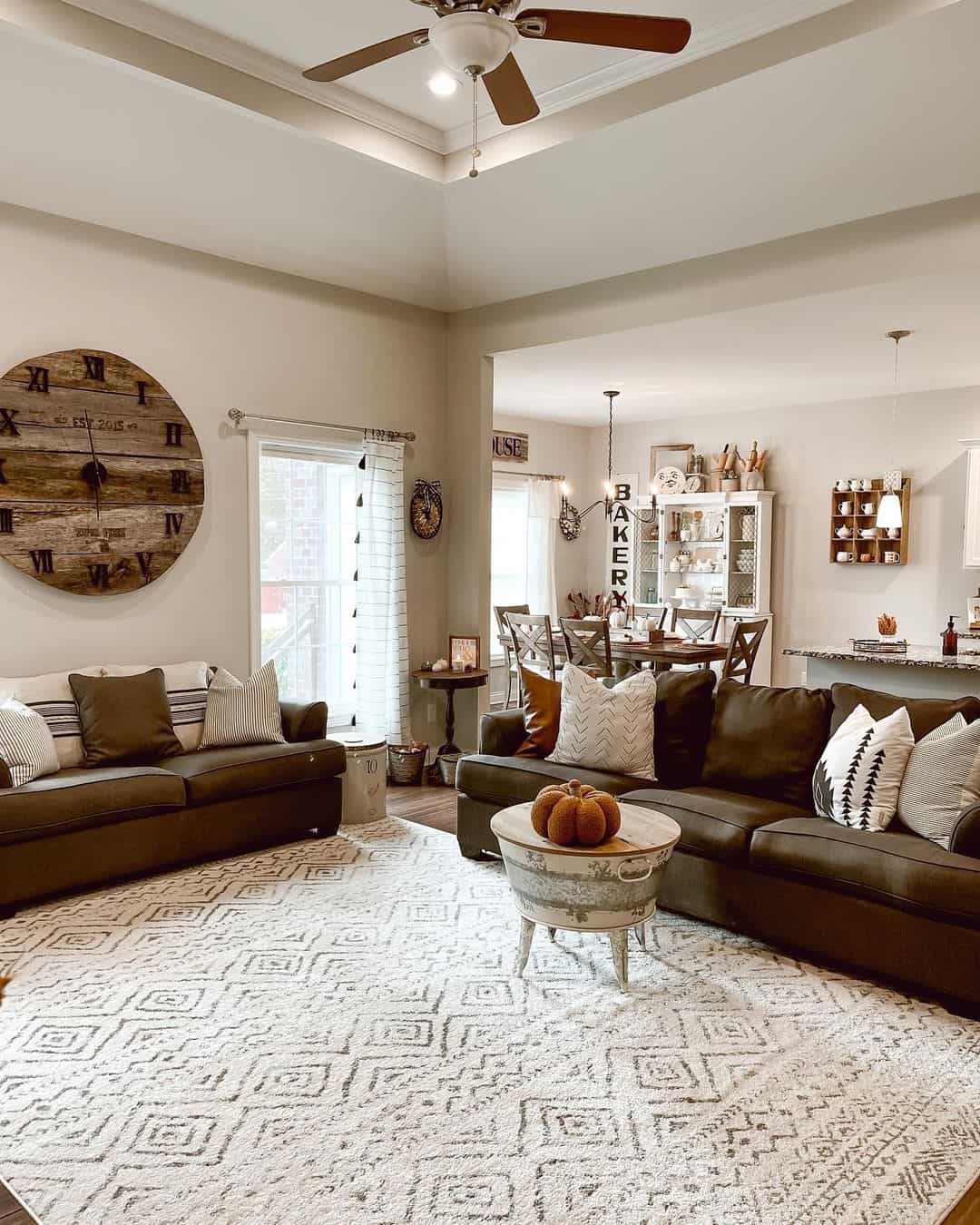 Credit: whiterosefarmhouse
Shop the Style
Beachy Boho Living Room Design Inspiration
Find inspiration in the rich, rustic orange hues of this beachy boho living room. A leather sofa adorned with white accent pillows takes center stage in this bright, white space.
Two windows, dressed in bamboo shades, frame a large woven wall basket, adding a touch of coastal charm reminiscent of summertime by the ocean.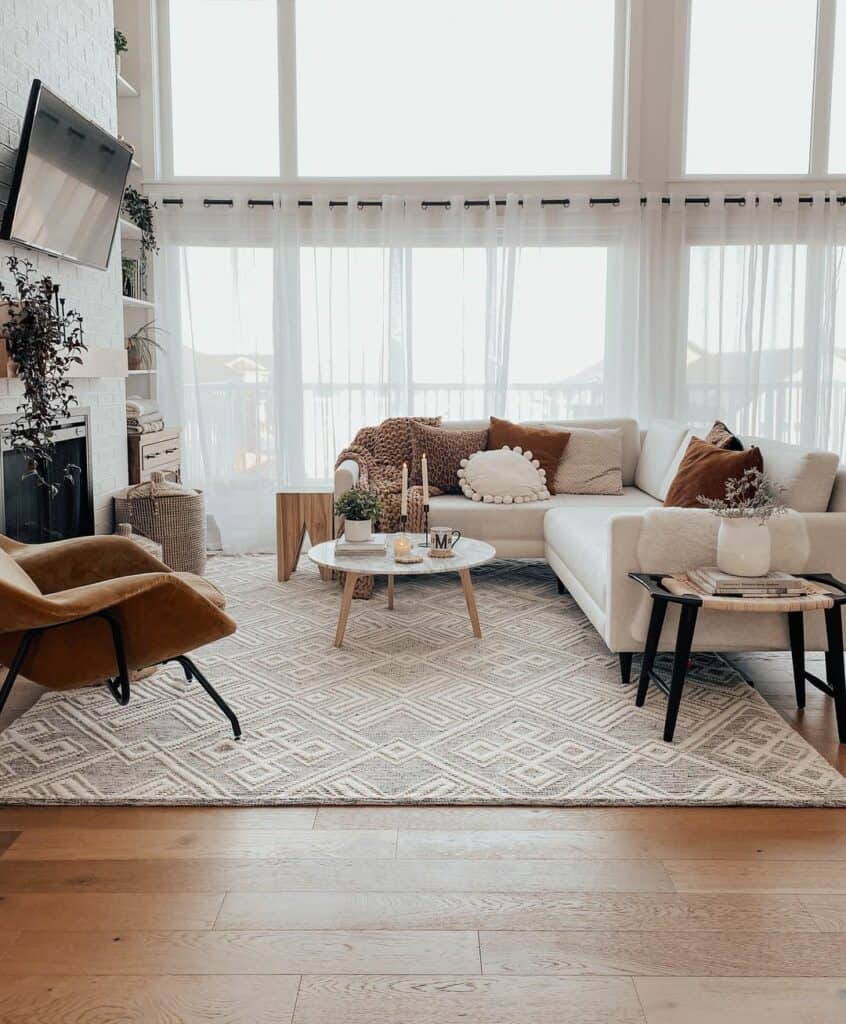 Credit: modernly_you
Shop the Style
Embrace Nature: Earth Tone Couch in Your Living Room
Discover simplicity at its finest in this neutral-toned living room. A stained wood coffee table takes its place on a timeless gray vintage rug. Adjacent to the table, a beige sofa basks in the soft glow of a black and beige floor lamp. To add a touch of natural beauty, a potted plant in a white planter perches atop a wooden stool.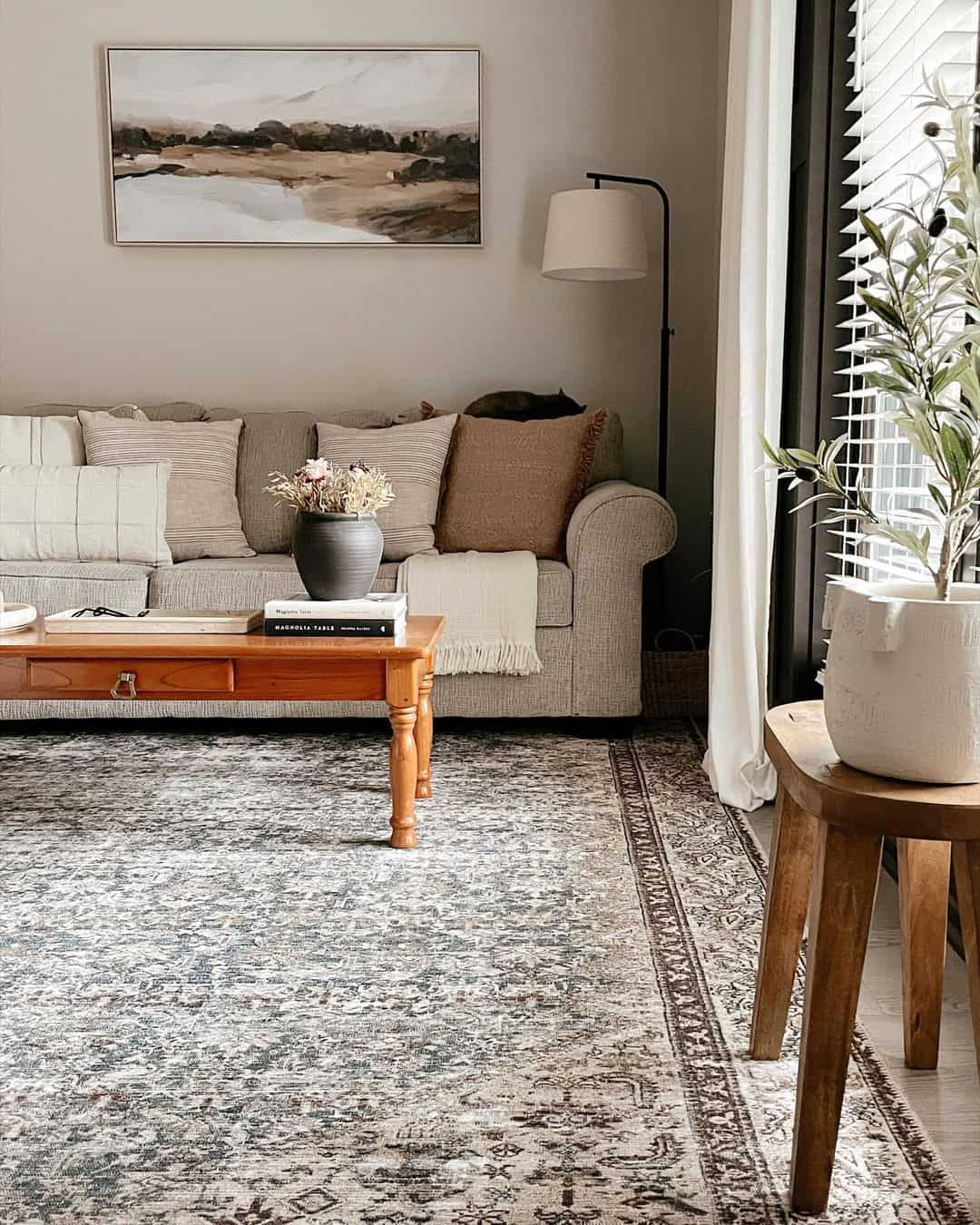 Credit: jordanyeattshome
Shop the Style
Simple Living Room Accentuated by Black Cane Chairs
Celebrate the beauty of simplicity in this serene living room. Black cane chairs are thoughtfully arranged in front of white-framed windows, dressed in elegant gray shades.
These chairs form an intimate seating area on a calming gray vintage rug, facing a chic blond wood coffee table. To bring a touch of the outdoors inside, an indoor tree thrives in a dark gray planter.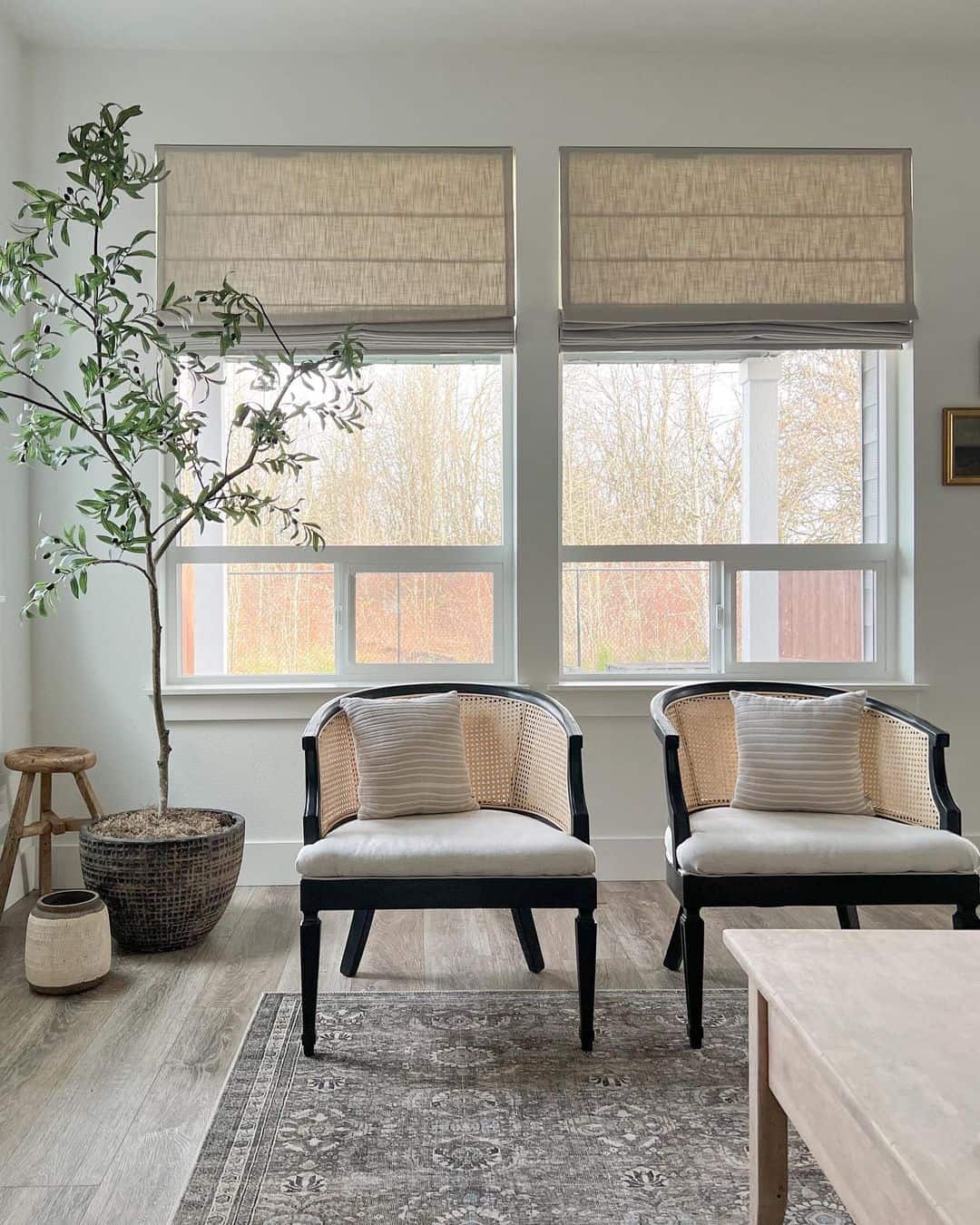 Credit: howell.home
Shop the Style
Wrap-up
Incorporating earthy tones and farmhouse elements into your living room can truly elevate the ambiance of your home. The inspirations we've shared open the door to a world of design possibilities, allowing you to craft a space that not only reflects your connection to nature but also envelops you in its soothing embrace.
Whether you choose the rustic charm of brick fireplaces or the simplicity of black cane chairs, these ideas serve as a springboard for creating a nature-inspired farmhouse haven where you can relax and rejuvenate.