7+ Must-Try Decorating Ideas for a Radiant Farmhouse Living Room
Affiliate Disclosure: As an Amazon Associate we earn from qualifying purchases. Hence, if you click through and make a purchase, we will get a commission at no extra cost to you. For more info, read our full disclosure.
Step into the warmth and charm of a radiant farmhouse living room, where cozy aesthetics meet rustic elegance. In this blog, we'll explore seven must-try decorating ideas that will transform your living space into a haven of comfort and style.
Whether you're a country dweller or an urbanite seeking that farmhouse flair, these ideas will breathe new life into your home.
Elevate Your Home with a Stacked Stone Fireplace
Discover the allure of a sunny gray living room graced by a stacked stone fireplace, crowned elegantly by a black wood mantel. Surrounding this focal point, find inspiration in gray sofas paired with a dark gray ottoman coffee table.
Unleash your creativity by adorning the space with a captivating gallery wall, refined silver accents, and a striking gold and black wall clock.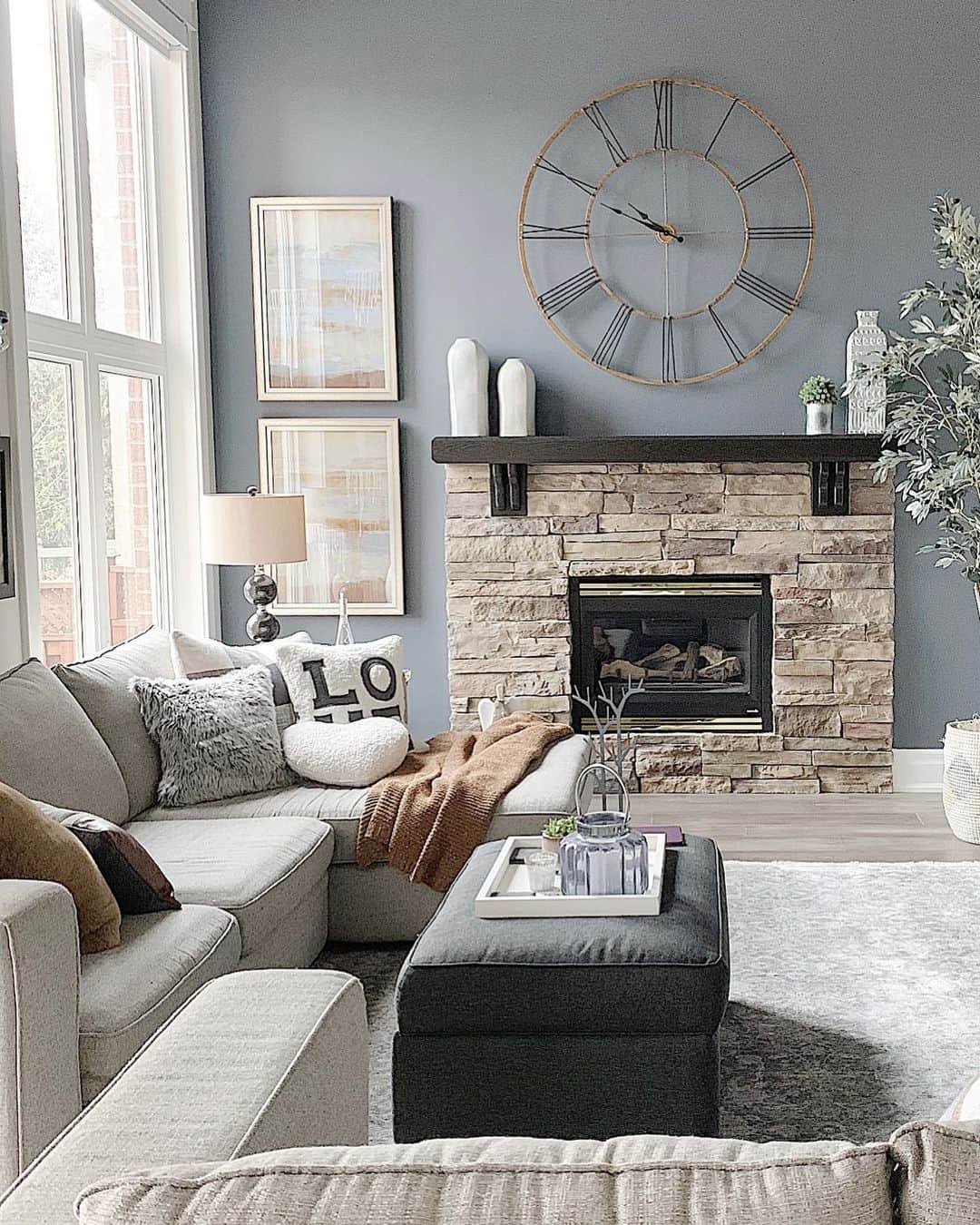 Credit: mysuburbannest
Shop the Style
Elegant White Sofas with Green Touches
In this expansive living room featuring cathedral ceilings, you'll find luxurious white slipcovered sofas elegantly complemented by a pristine white and silver coffee table. The sofas rest upon a charming gray vintage rug, positioned before tall black-framed windows adorned with billowing white curtains.
For a touch of natural freshness, the art of decorating this living space was as straightforward as incorporating vibrant green accent pillows and cozy quilts onto the sofas.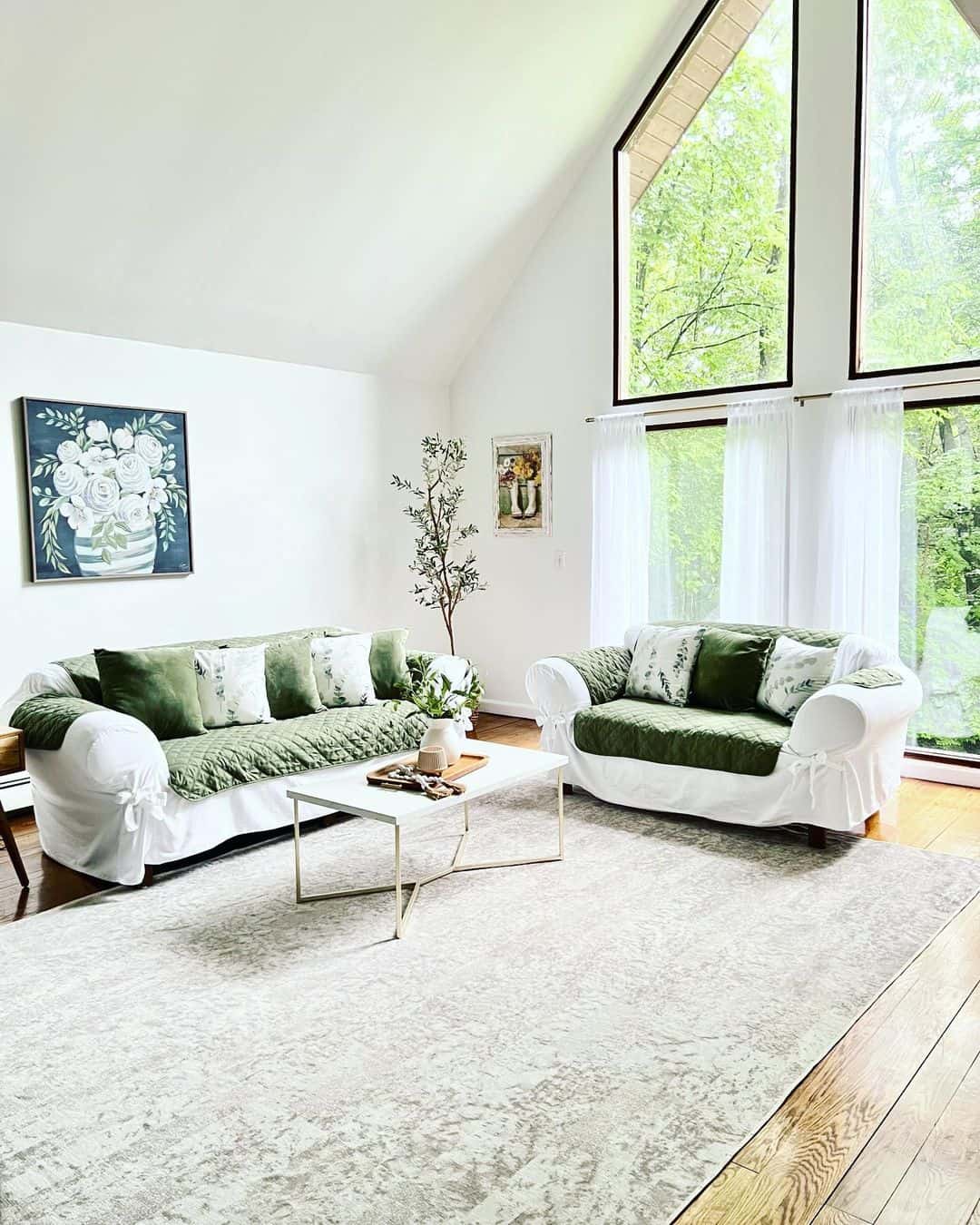 Credit: mymountainretreat
Shop the Style
Rustic Elegance: Live Edge Wooden Coffee Table
Indulge in your morning brew within the cozy confines of this living room, boasting a remarkable live edge wood and black metal coffee table as its centerpiece. Positioned gracefully in front of a plush cream couch, framed by captivating black artwork, this inviting space exudes warmth and style.
To further enhance the room's aesthetic, a wooden console table stands adjacent to the sofa, providing ample surface area for an array of white, gray, and beige decor elements.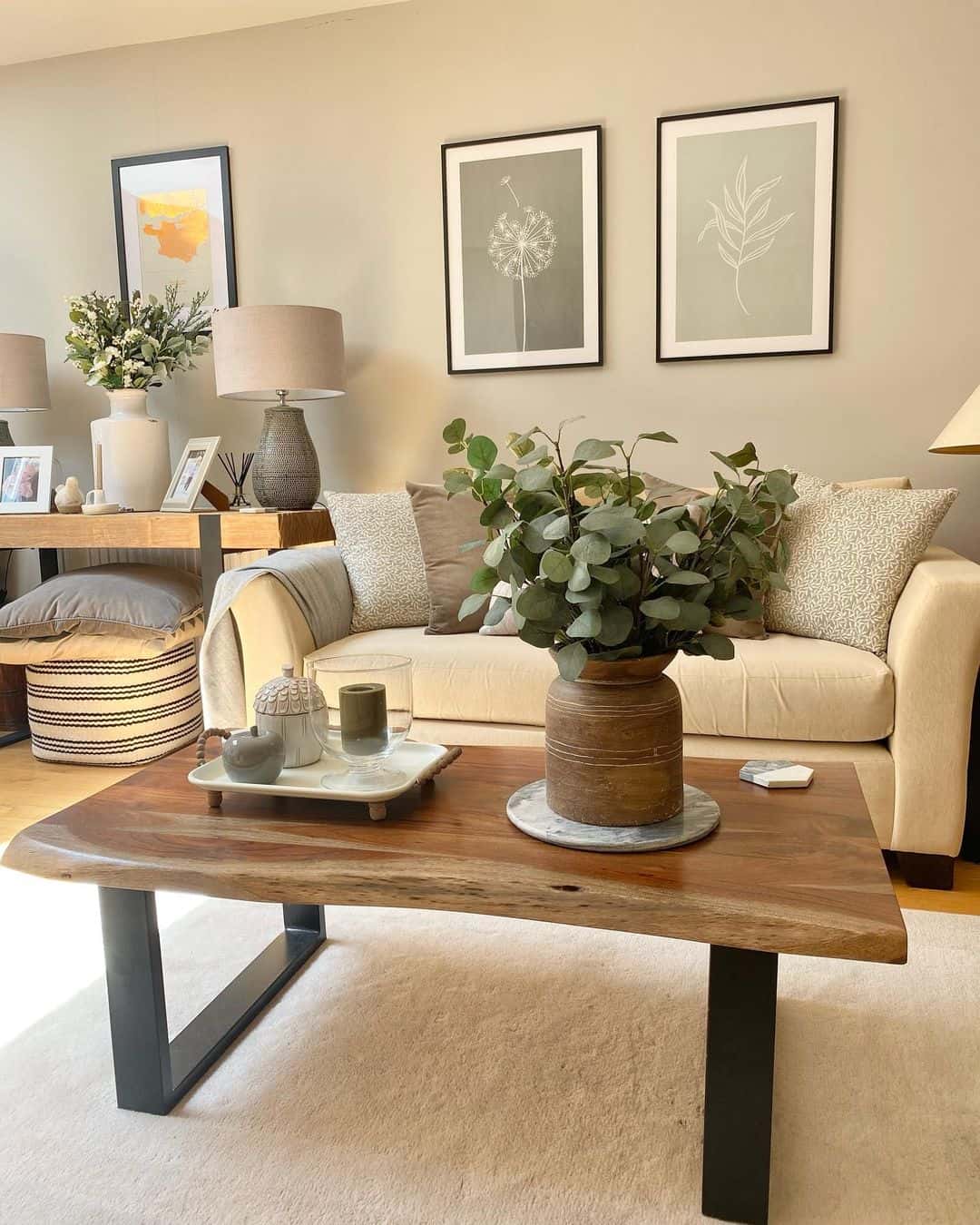 Credit: @oakenhome
Shop the Style
Achieve Style Above the Sofa with Wooden Shelves
Indulge in the beauty of a gray couch beneath exquisite wooden shelves adorned with elegant white, gold, and silver décor pieces. The couch is gracefully accompanied by a wood and white blanket ladder and a charming antique wooden end table.
Elevate any living room's charm with the addition of a striking black wagon wheel chandelier suspended above a beautifully stained wood coffee table.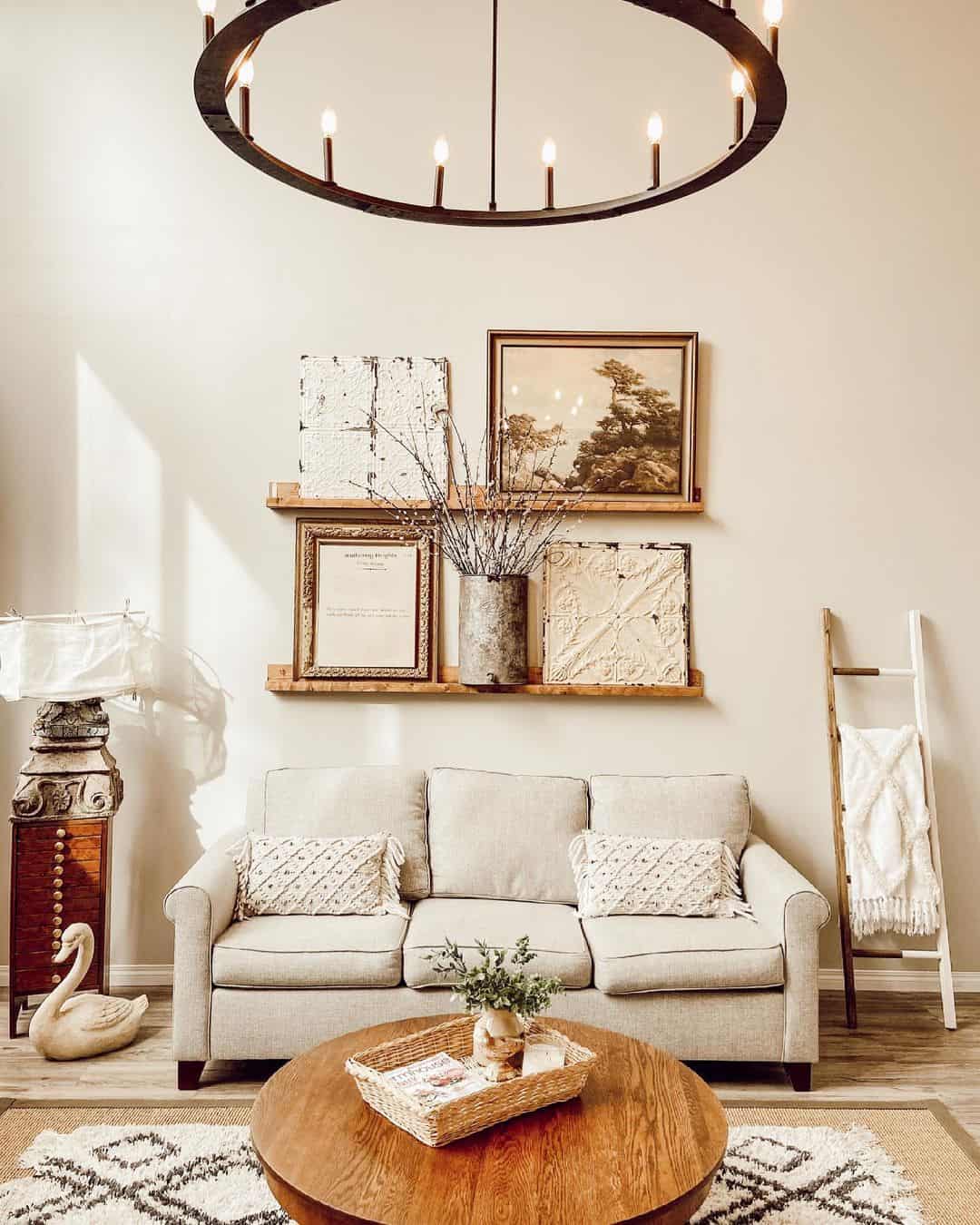 Credit: mylittleblackandwhitehouse
Shop the Style
Refresh Your Space with a Brown Leather Couch and Rattan Décor
Revitalize your living room with the inviting presence of a light brown leather sofa and its matching ottoman. This inviting ensemble graces a vintage brown rug, adjacent to a white-painted brick floor-to-ceiling fireplace.
Infuse character into the space with artful rattan wall décor and a tasteful wooden blanket ladder.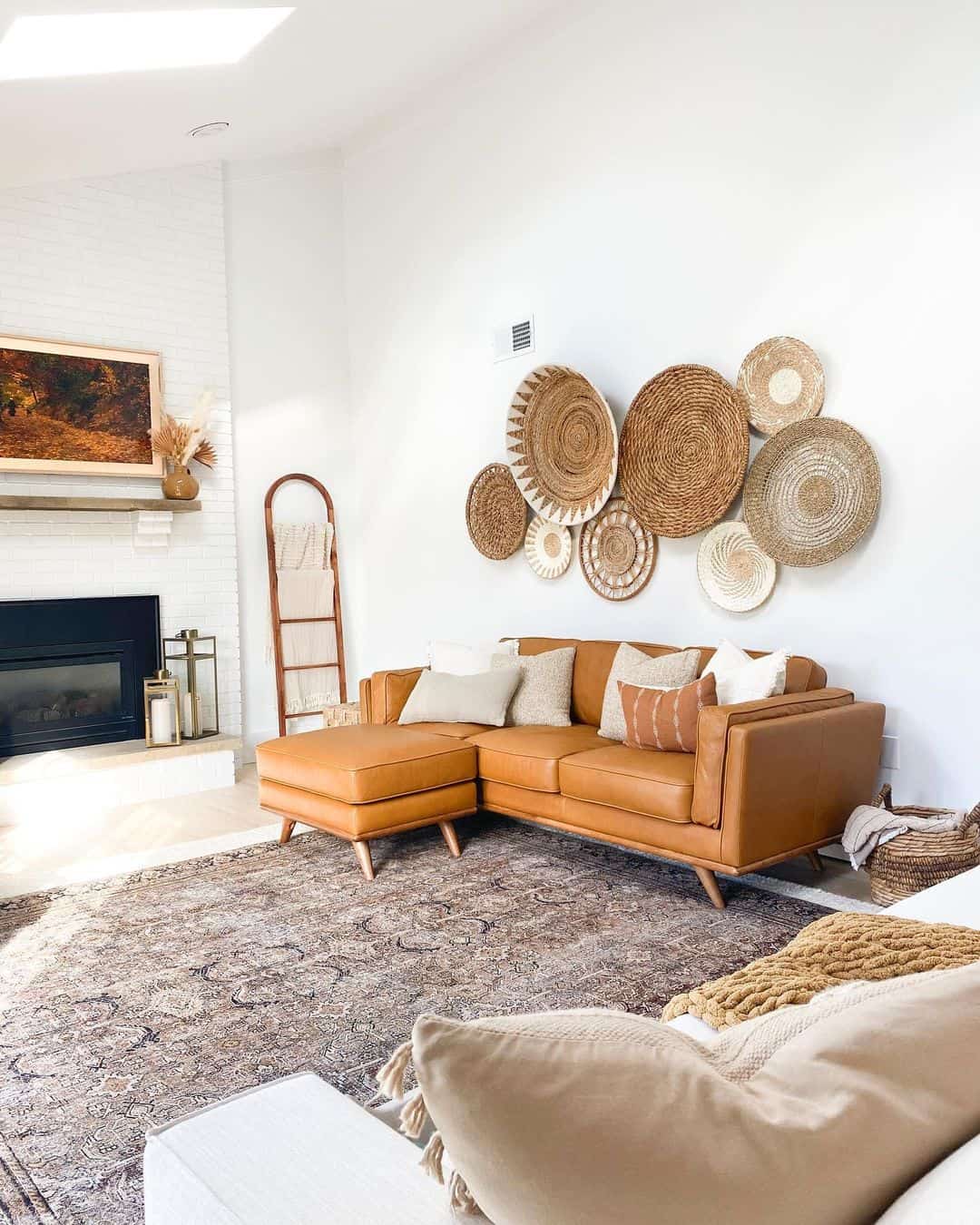 Credit: modernly_you
Shop the Style
Enhance Your Décor with a Gray Wood Frame Floor Mirror
A gray pouf ottoman finds its place beside a richly stained wood coffee table, positioned atop a stylish white and black rug. The ottoman creates a cozy atmosphere in front of a light wood and black metal ladder shelf, accompanied by a whitewashed wood console table.
The presence of a gray wood frame floor mirror adjacent to the shelf adds depth and style to the room.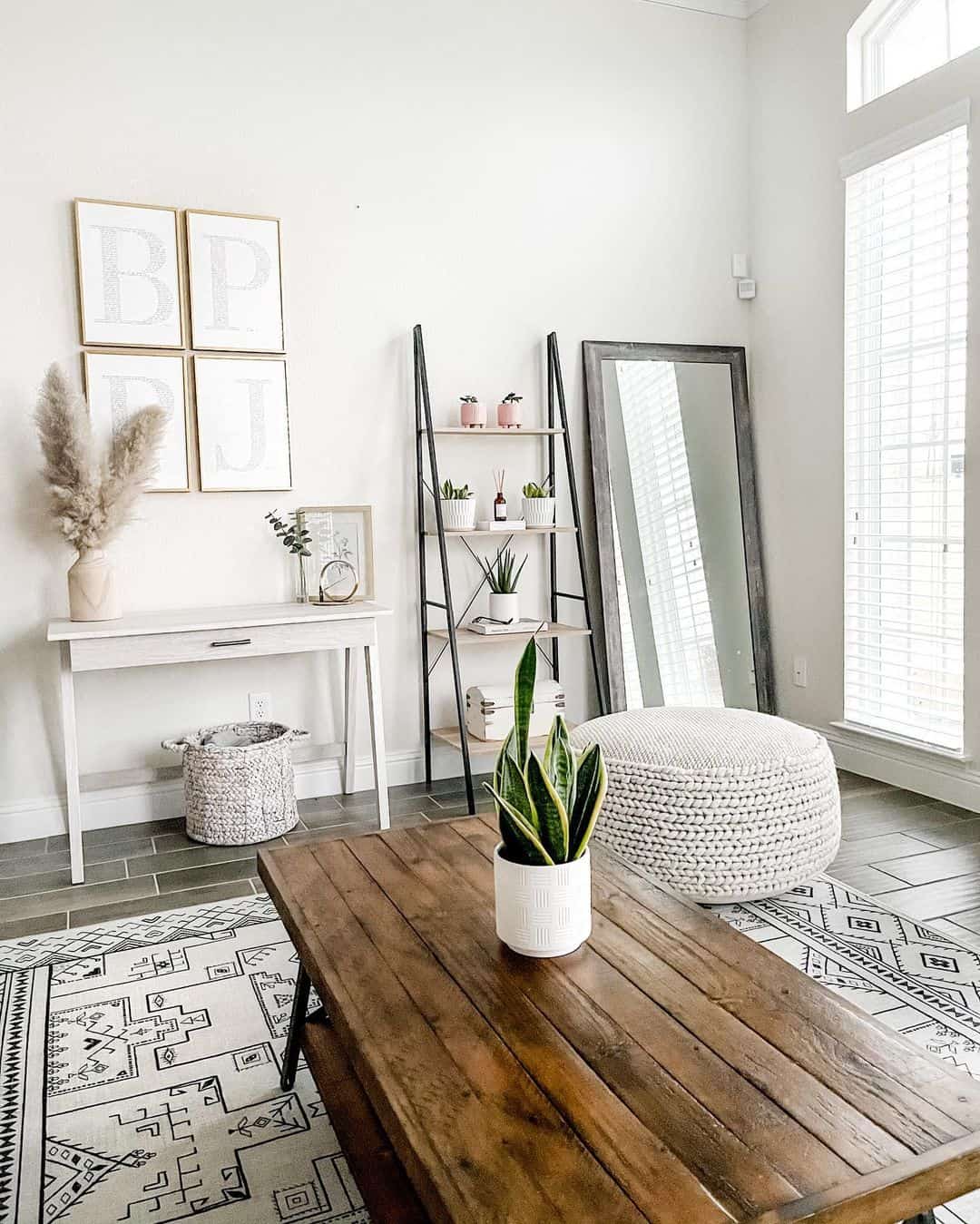 Credit: mintchaico
Shop the Style
Add Character with a White Faux Fireplace Mantel
Immerse yourself in the charm of a living room featuring a dark wood and plush green velvet chair beneath a captivating wood frame artwork. Add personality to the space with a white faux fireplace mantel, adorned with tasteful gray, beige, and white accents, all elegantly framed by an ornate gold mirror.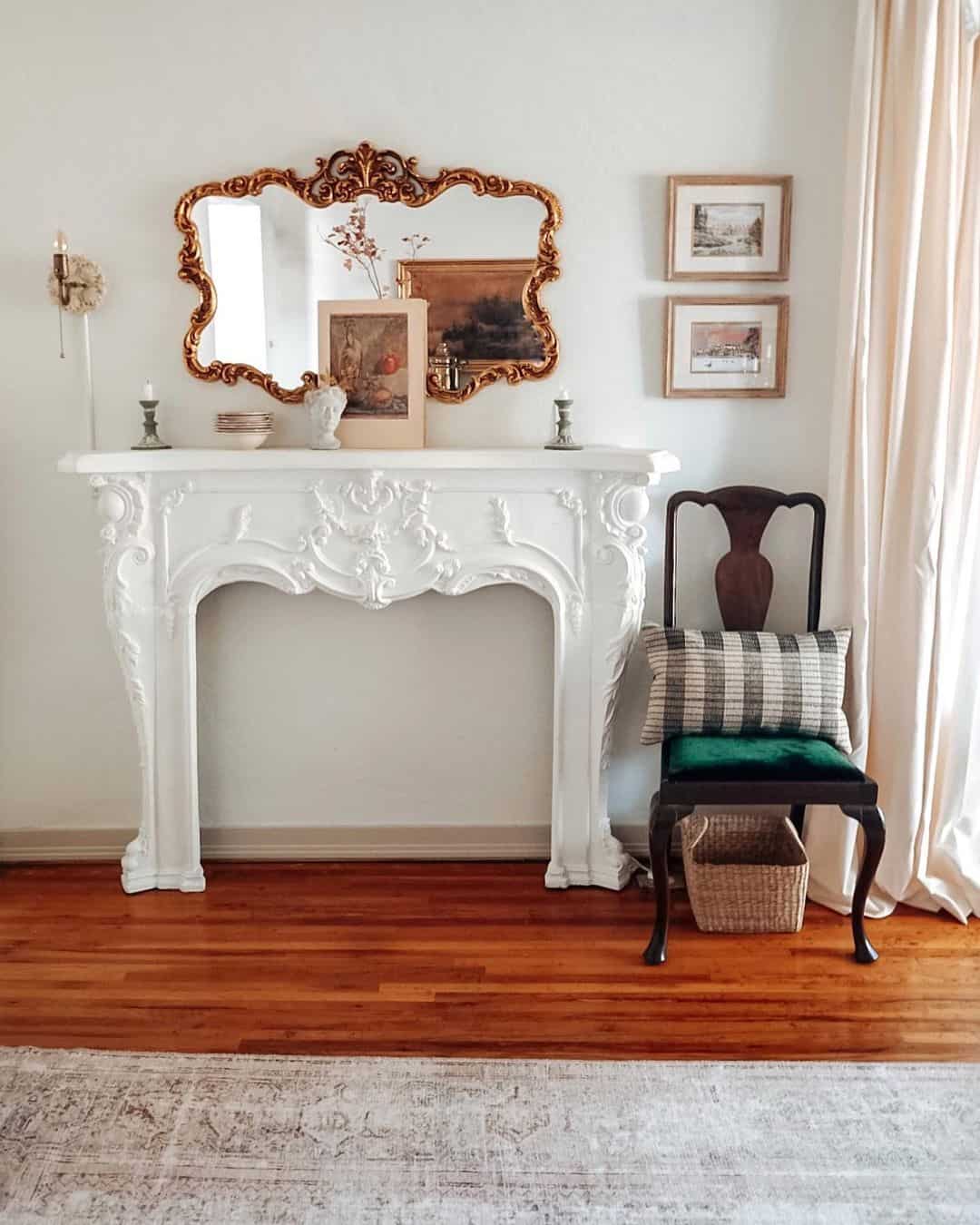 Credit: nicholnaranjo
Shop the Style
Elevate Your Living Room with Black Frame Wall Décor
A stunning white and black mosaic tile fireplace, adorned with stylish gray trim, serves as a captivating focal point for this living room. Flanking the fireplace, you'll find an indoor plant nestled in a white and black planter, accompanied by a chic tan woven and black metal chair.
Perfect the look with the inclusion of a striking black circular mirror and captivating black frame artwork.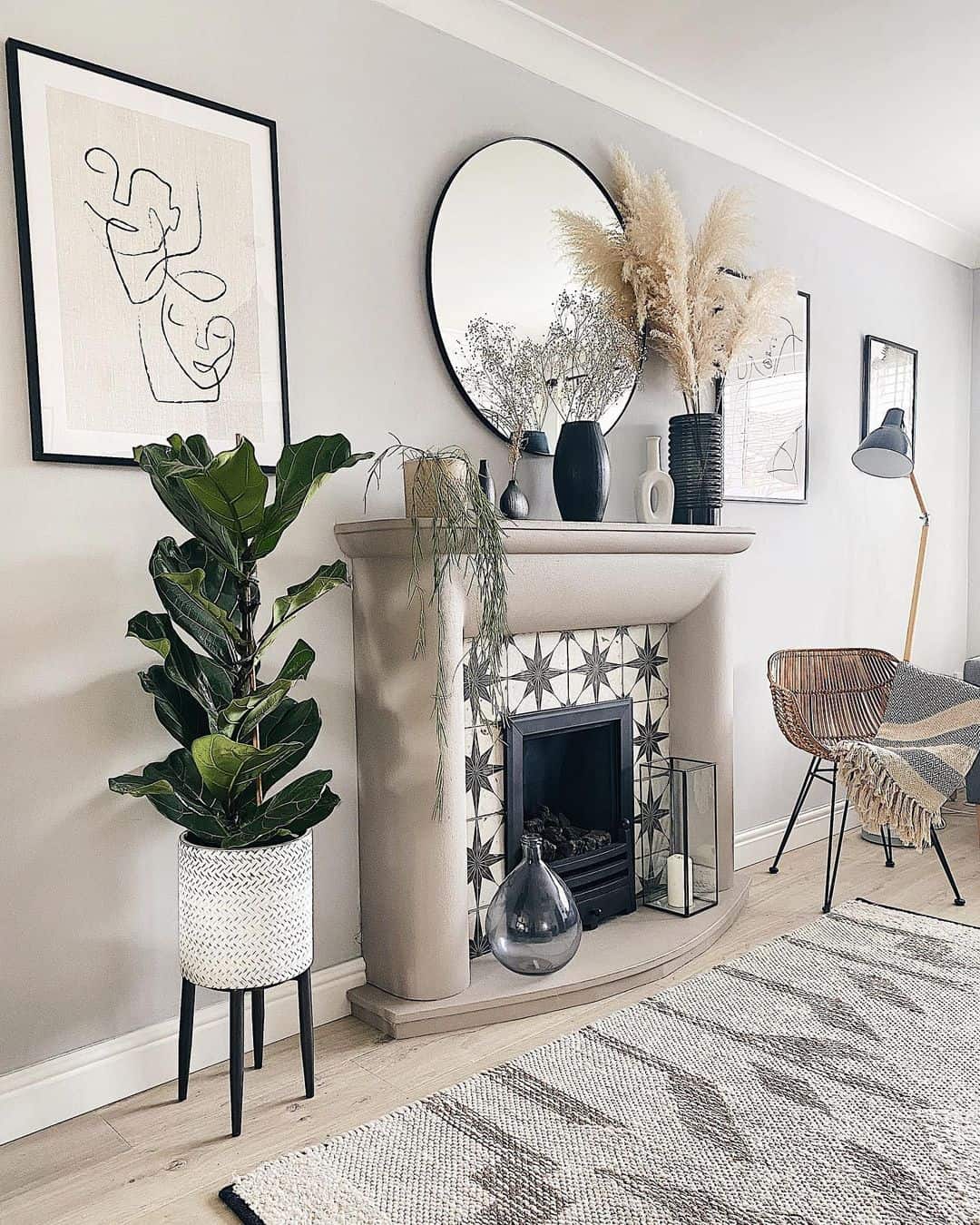 Credit: my_neutral_place
Shop the Style
Wrap-up
From reclaimed wood accents to vintage-inspired decor, these seven decorating ideas for your farmhouse living room are sure to infuse your space with character and personality. Embrace the beauty of simplicity, mix in some modern elements, and create a welcoming atmosphere that reflects your unique style.
With these tips in mind, your living room will radiate the timeless charm of a true farmhouse retreat.