7+ Striking Colors That Complement Navy Blue in Your Farmhouse Living Room
Affiliate Disclosure: As an Amazon Associate we earn from qualifying purchases. Hence, if you click through and make a purchase, we will get a commission at no extra cost to you. For more info, read our full disclosure.
When it comes to farmhouse-style living rooms, there's no denying the timeless allure of navy blue. Its rich, deep hue exudes elegance and sophistication. However, choosing the right complementary colors can make all the difference in achieving that perfect farmhouse ambiance.
In this blog, we'll explore seven striking colors that beautifully complement navy blue, helping you transform your living room into a cozy farmhouse retreat that's both inviting and stylish.
Gilded Spectacles and Rustic Navy Blue Cabinetry
Transform your living room into a whimsical haven by adorning a vertical white shiplap wall with oversized gold mirrored spectacles. Add an elegant touch with a white lamp and a rustic navy blue cabinet. Extend the inviting ambiance with a tall blue and white canister gracing the warm wood floor.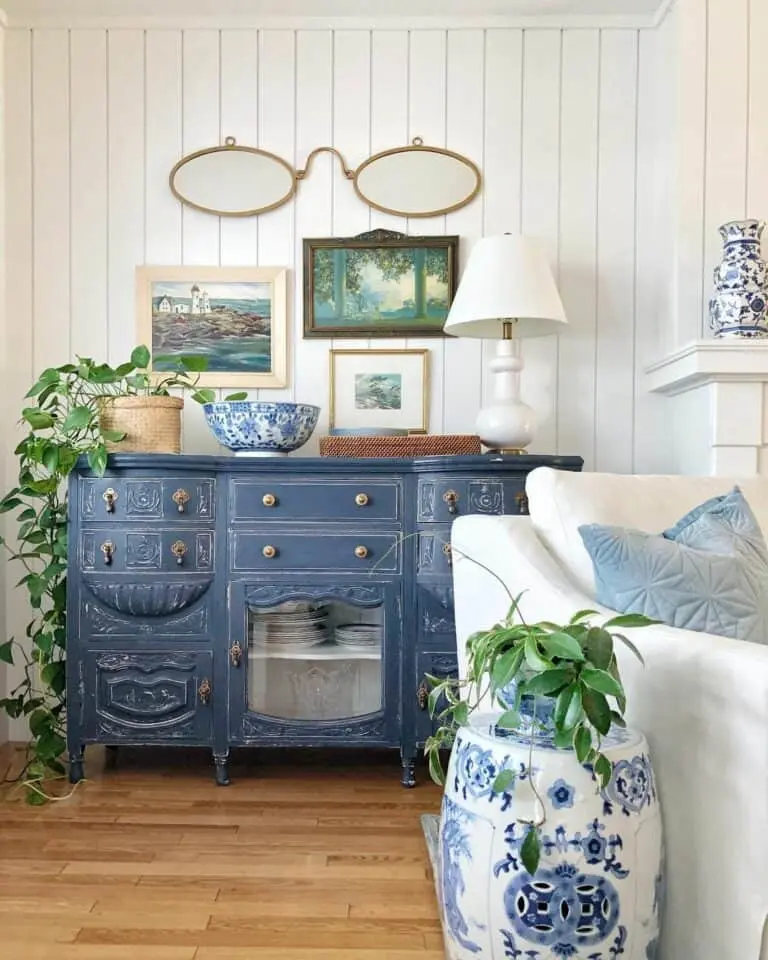 Credit: jogalbraithathome
Shop the Style
Harmonizing Gray and White Amidst Navy Blue
Embrace the beauty of spring by arranging delicate flowering branches and white tulips in exquisite blue and white ceramic vases. Enrich your space with light gray armchairs resting gracefully on a dark gray rug. Infuse a spirit of festivity by displaying a white tray adorned with charming blue and white ceramic Easter eggs on the lower shelf of a navy blue coffee table.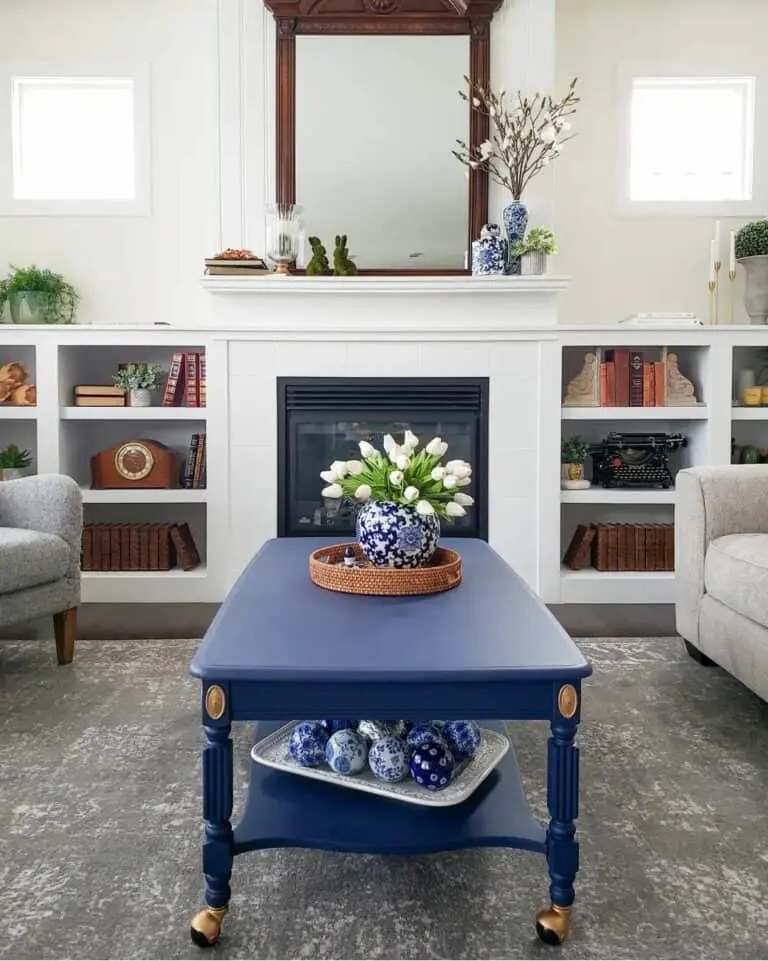 Credit: homewithmarieza
Shop the Style
Ravishing Pink and Green Accents in a Blue Living Space
Achieve a harmonious living room by adorning a warm blue wall with a striking green art piece. Elevate the energy with plush pink pillows atop a luxurious navy velvet couch. Ground the space with a stylish white rug featuring chic black diagonal lines.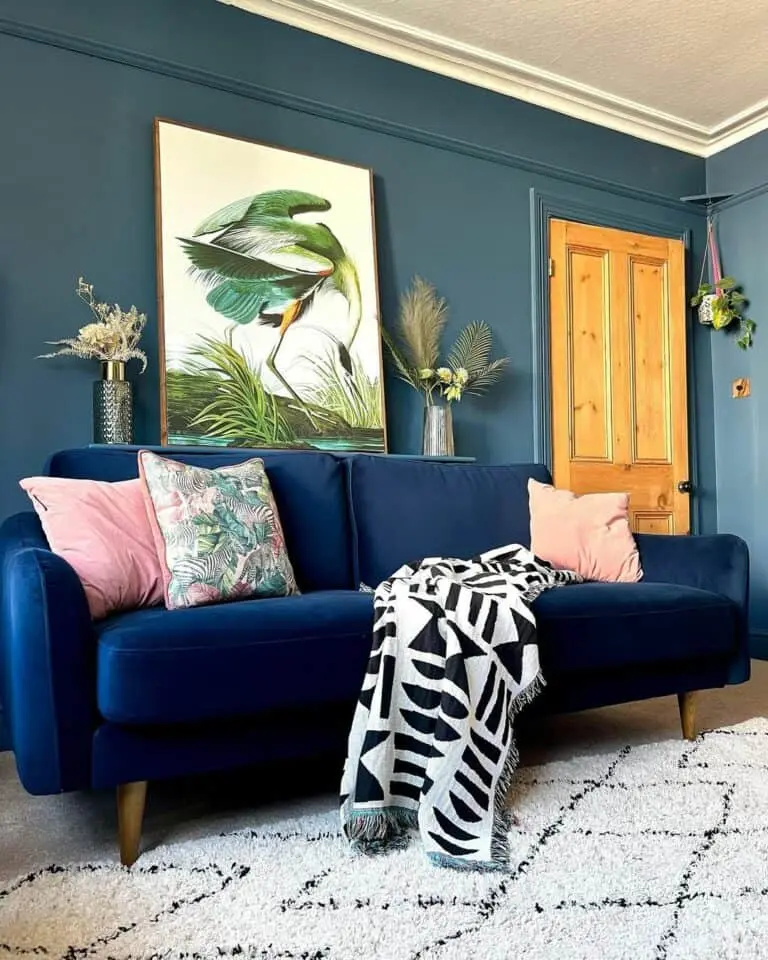 Credit: edwardian_vignette
Shop the Style
Elegant Navy Blue Sofa with White and Beige Cushions
Discover the art of space cohesion through thoughtful accessories. Position your navy blue couch against a crisp white wall on a soft beige rug. Enhance the aesthetic by adorning the couch with a mix of inviting white and beige throw pillows and blankets.
Complete the look with a sophisticated white coffee table, glistening gold accents, and tasteful wooden décor.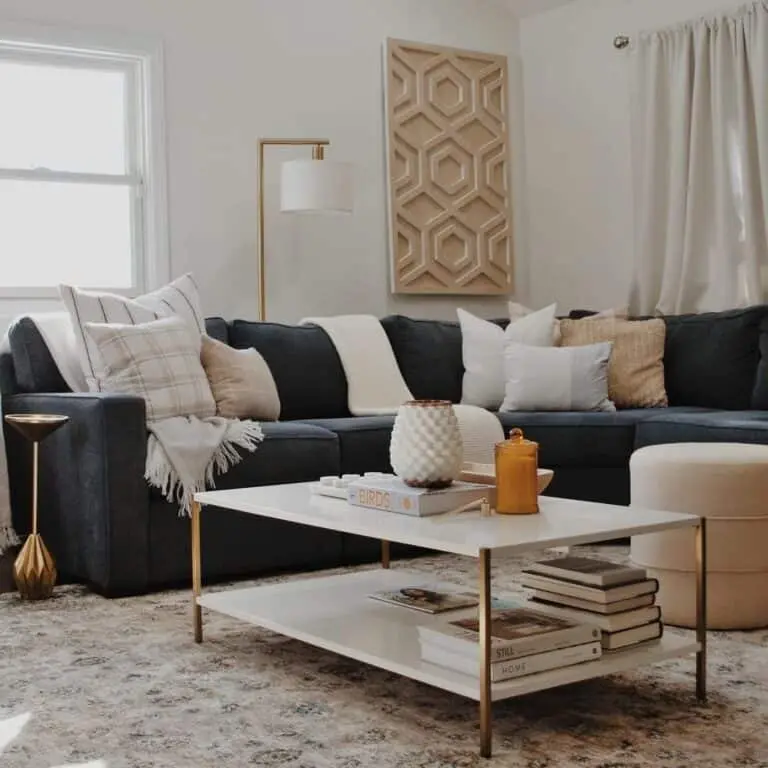 Credit: mulhollandpost
Shop the Style
Corner Retreat in Navy Blue, White, and Pink
Craft a serene corner retreat by adding a touch of charm with a delightful garland on a pristine white bedroom wall. Place a versatile wicker table beneath a floating wood shelf against a calming navy blue backdrop.
Infuse comfort with a blush pink pillow adorning a snug navy blue chair tucked into the corner. To tie it all together, introduce a navy blue ottoman atop a captivating red, blue, and white rug.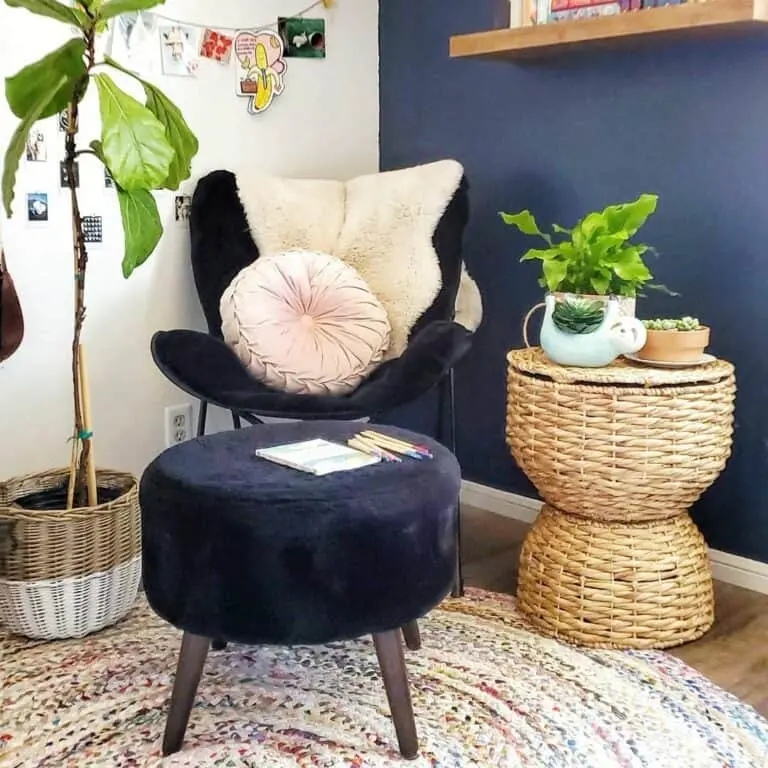 Credit: diybeautify
Shop the Style
Coastal Living Bliss with Beachy Blue Hues
Celebrate coastal living by adorning your pristine white living room wall with an enchanting seascape. Bring the beach indoors with a charming wicker end table atop a soft beige carpet. Create a coastal oasis by placing a tall, lush green plant behind a crisp white armchair adorned with navy blue and white pillows.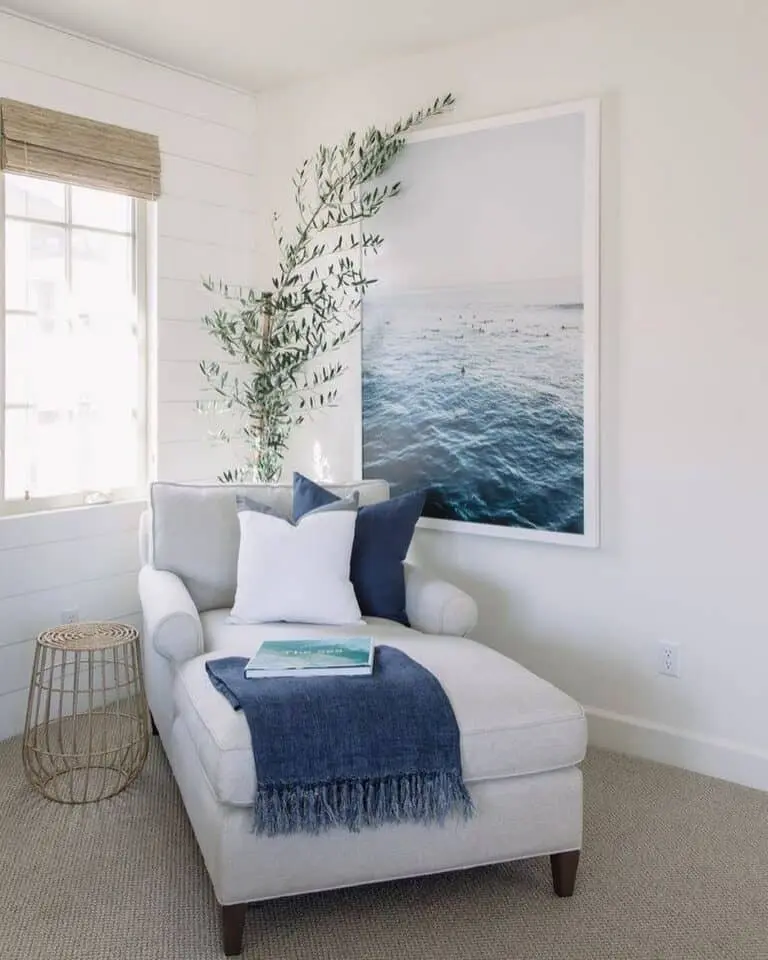 Credit: enrichedinteriorsbysarah
Shop the Style
Chic Blue Pillow Accents and Crisp White Decor
Infuse your living room with chic contrast by incorporating a small window into a bold navy blue accent wall amidst elegant white surroundings. Elevate the aesthetic with tasteful white décor and a rustic wooden sign displayed on a white cabinet against the striking accent wall.
To complete the look, adorn a white couch on a dark wood floor with a scattering of inviting blue pillows.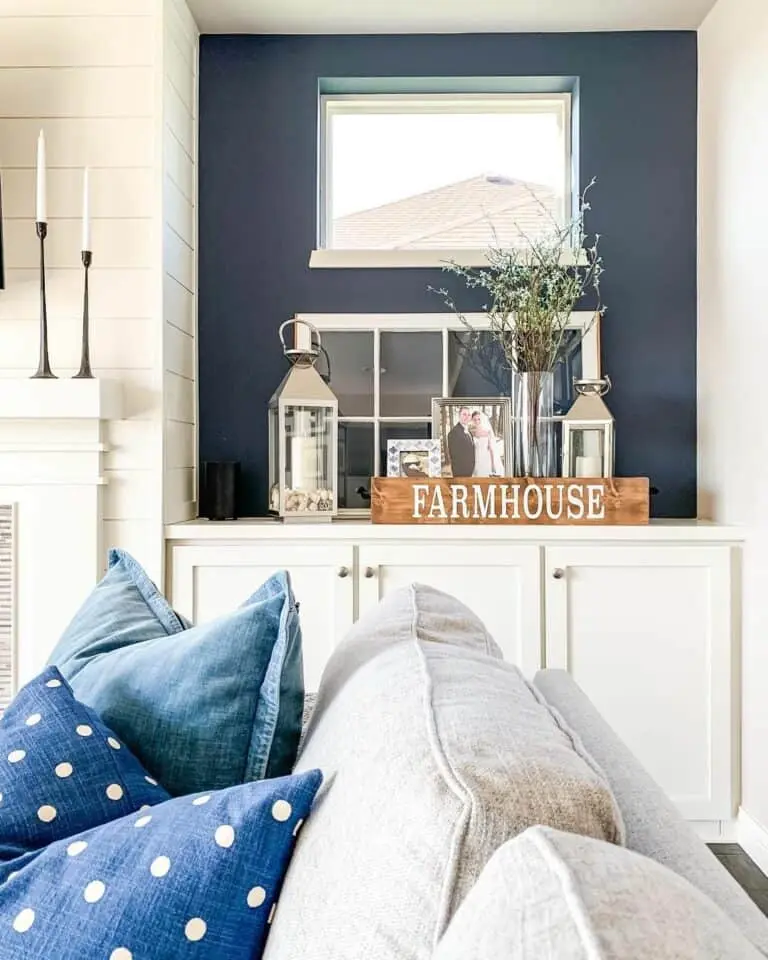 Credit: the.westnest
Shop the Style
Vibrant Sitting Room Infused with Magenta, Orange, and Navy Blue
Welcome your guests with vivid charm by showcasing a white sign adorned with vibrant purple lettering on a charming white shiplap bonus room wall. Create a lively atmosphere by placing a vibrant green houseplant near an eye-catching orange cup on a sleek white side table.
Elevate the vibrancy with the addition of striking magenta and orange throw blankets atop navy armchairs resting comfortably on a captivating purple and orange rug.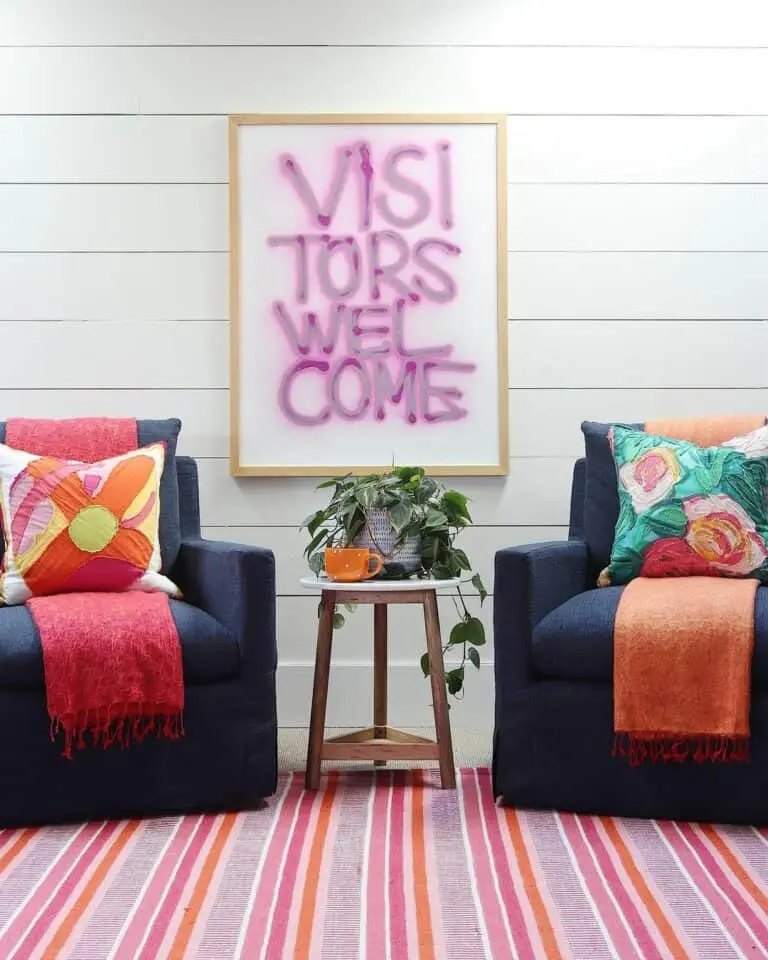 Credit: annlacouture6
Shop the Style
Wrap-up
Incorporating striking colors that harmonize with navy blue can breathe new life into your farmhouse living room. Whether you opt for earthy neutrals, vibrant accents, or soft pastels, the right combination will infuse your space with warmth and character.
Embrace the farmhouse charm by experimenting with these complementary colors and watch as your living room becomes a welcoming haven of style and comfort.