7+ Accent Colors That Harmonize With Beige For Your Farmhouse Living Room
Affiliate Disclosure: As an Amazon Associate we earn from qualifying purchases. Hence, if you click through and make a purchase, we will get a commission at no extra cost to you. For more info, read our full disclosure.
When it comes to creating a cozy and inviting farmhouse living room, choosing the right accent colors can make all the difference. Beige serves as the perfect canvas, offering warmth and versatility, and when paired with the right accent colors, it can truly elevate the ambiance of your space.
In this blog, we'll explore seven or more accent colors that harmonize beautifully with beige, helping you achieve that charming farmhouse look you've been dreaming of.
Enhancing Beige with Dark Accent Colors
Elevate your living room's style by incorporating dark accent colors that perfectly complement beige. In this inviting space, you'll find a round black wood coffee table positioned in front of a beige couch and gray accent chairs. Adding to the allure is a white marble tile fireplace seamlessly integrated into a striking dark blue feature wall, flanked by chic light wood floating shelves.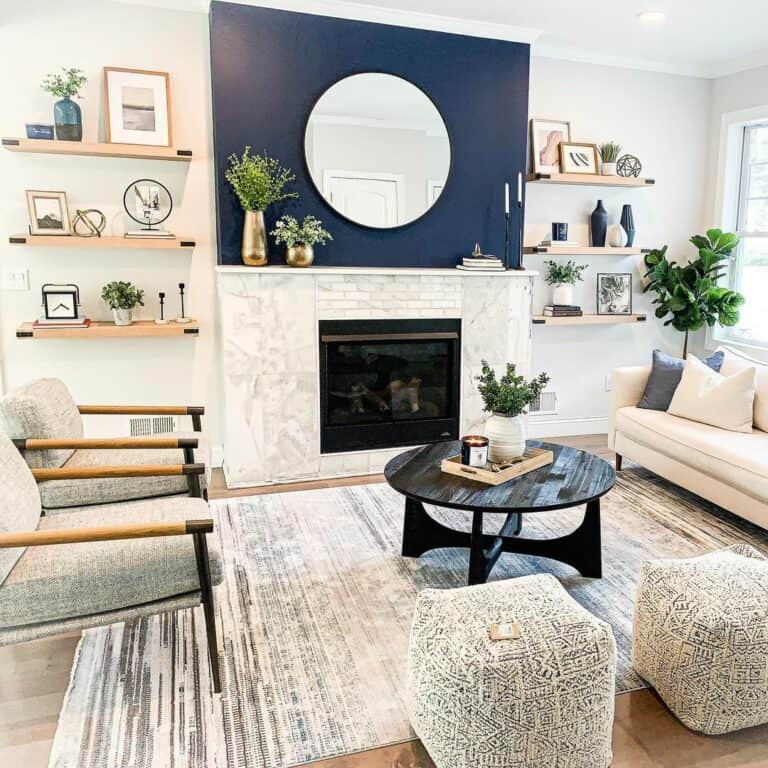 Credit: prettylittlehomesbykini
Shop the Style
Contemporary Elegance: Gray Accent Wall and Delicate Blues
Step into this predominantly white living room adorned with a dramatic dark gray accent wall behind pristine white cupboards. A faux fireplace graced with a white shiplap overmantel holds an array of slender tapered candlesticks and a sleek flat-screen TV. The comfort of a gray couch is accentuated by plush blue and white cushions, while the cupboards display gleaming silver lanterns and an artful vase of trailing vines.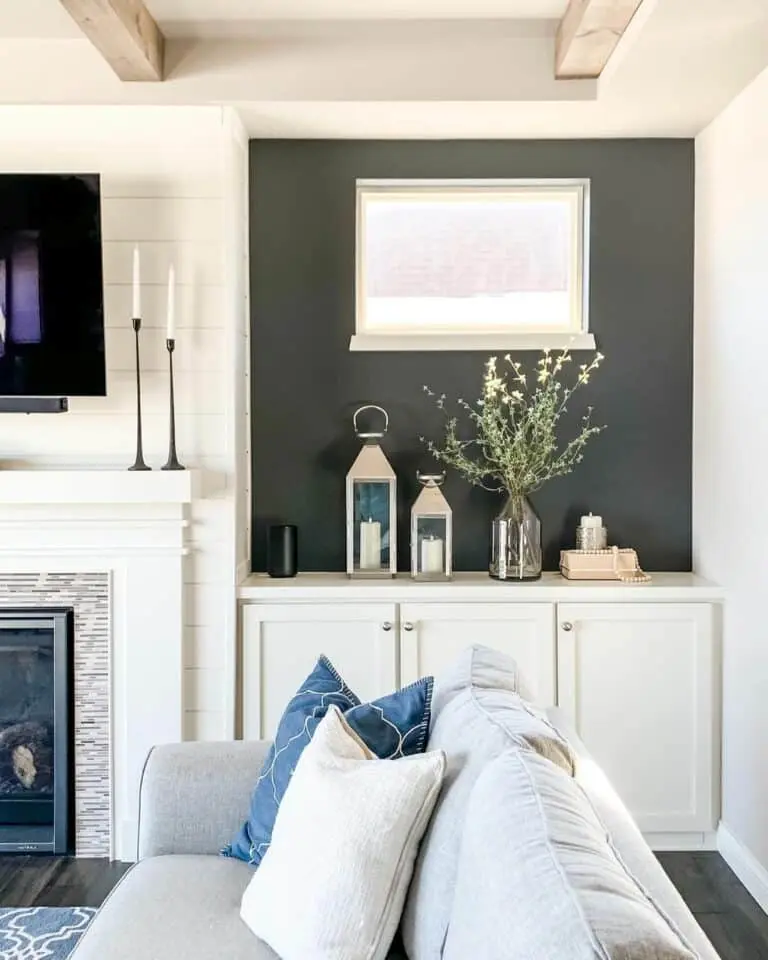 Credit: the.westnest
Shop the Style
Boho Chic with Macramé Wall Décor and Earthy Tones
A stained wood daybed, dressed in crisp white bedding, becomes the focal point, enhanced by a delightful assortment of gray and brown accent pillows. This daybed stands gracefully on beige carpeting against a captivating black feature wall. Infuse a funky boho vibe into the room by embellishing it with beige pampas grass décor and a captivating array of macramé wall hangings in gray, brown, and black, mirroring the hues of the throw pillows below.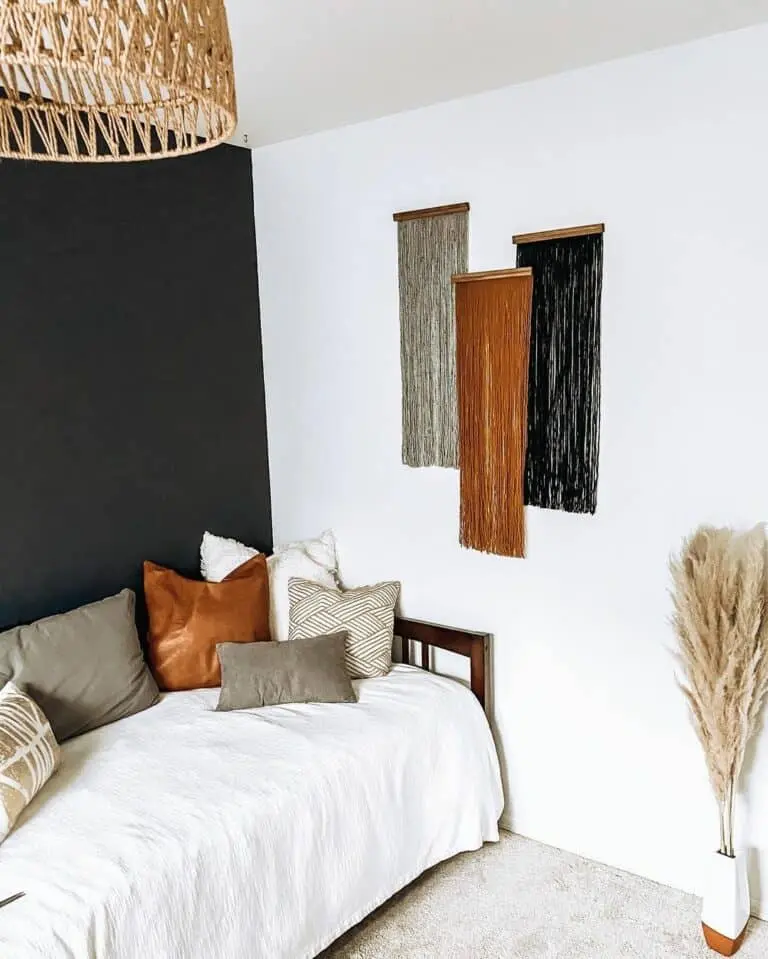 Credit: home.and.ro
Shop the Style
Coastal Charms: Living Room With a Gray Accent Wall
Discover the coastal allure in this living room, where a sophisticated gray feature wall beautifully complements a pristine white sofa set opposite chic gray accent chairs. Beige pouf ottomans create an inviting seating area in front of a sleek black fireplace seamlessly integrated into the feature wall. A wicker coffee table, atop a beige and white plaid rug, adds a touch of coastal elegance to the space.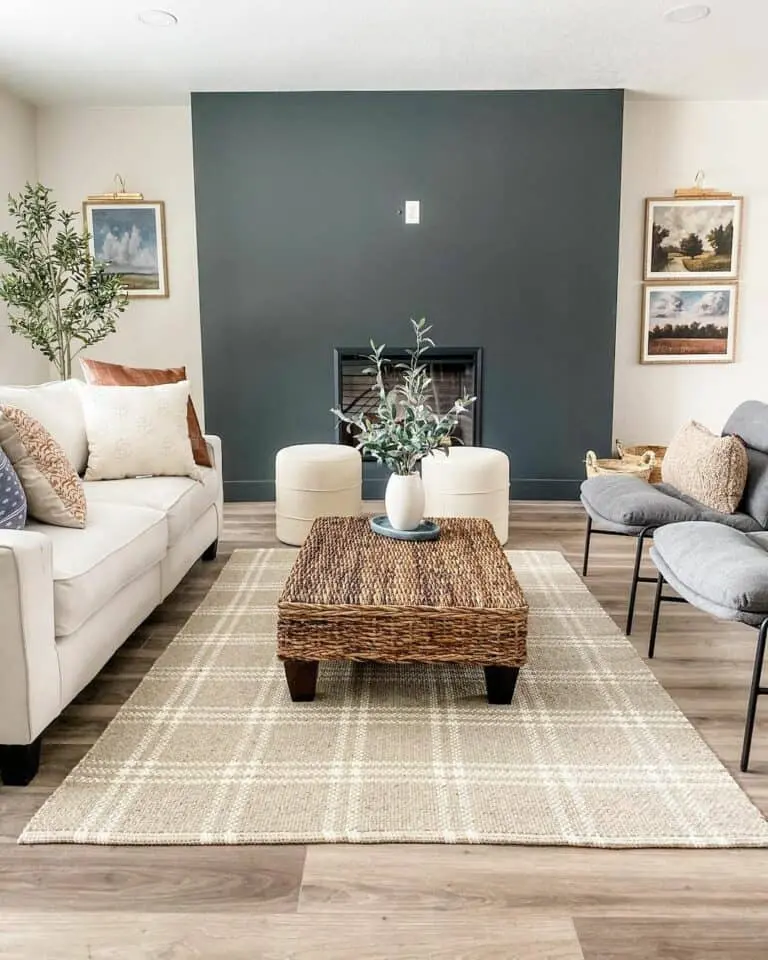 Credit: lonihaskellinteriors
Shop the Style
Inviting Warmth: Living Room With a Dark Green Accent Wall
Settle into comfort as a beige couch pairs harmoniously with a striking gray and black metal coffee table, situated atop a rustic brown vintage rug. The focal point of this living room is an alluring flatscreen TV mounted on a captivating dark green accent wall. An antique stained wood sideboard, positioned beneath the TV, introduces a timeless touch of vintage charm.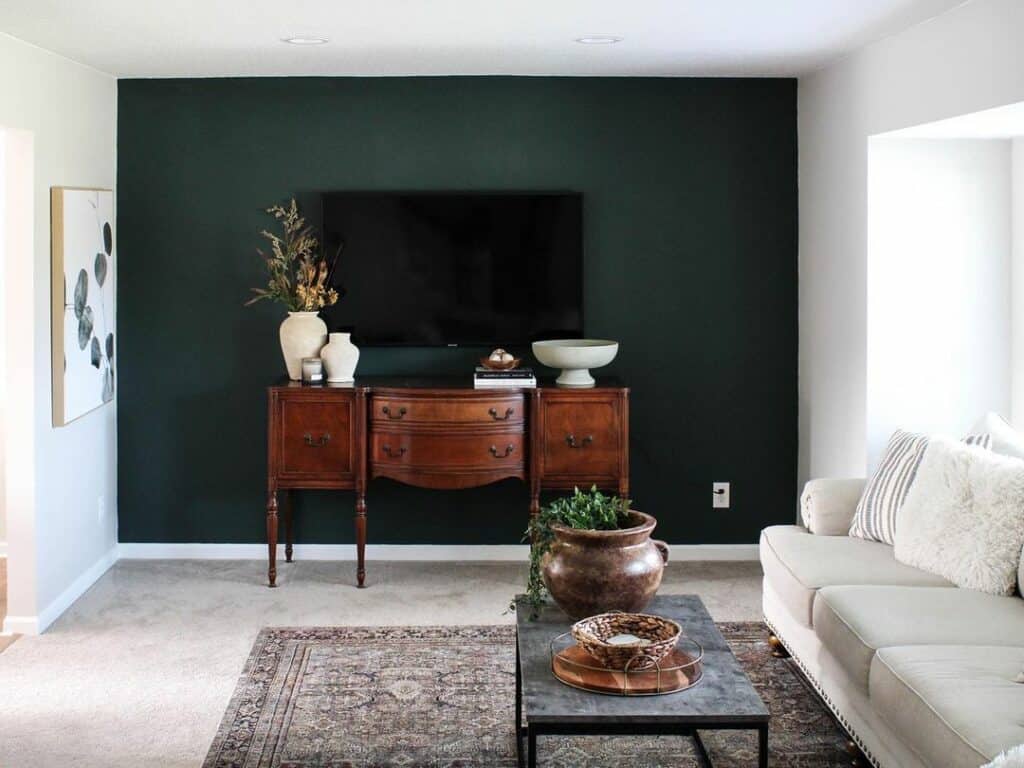 Credit: dickinsonhomedesign
Shop the Style
Elegant Entryway: Black Foyer Accent Wall and a Cozy Corner Chair
Take a moment of respite on a sumptuous beige tufted chair, boasting sleek black turned wood legs, atop a plush gray sheepskin rug. This inviting chair graces the entrance of a black accent wall adorned with tasteful wooden deer head décor. A touch of nature is brought indoors with a well-placed plant in a pristine white planter, enhancing the foyer's ambiance.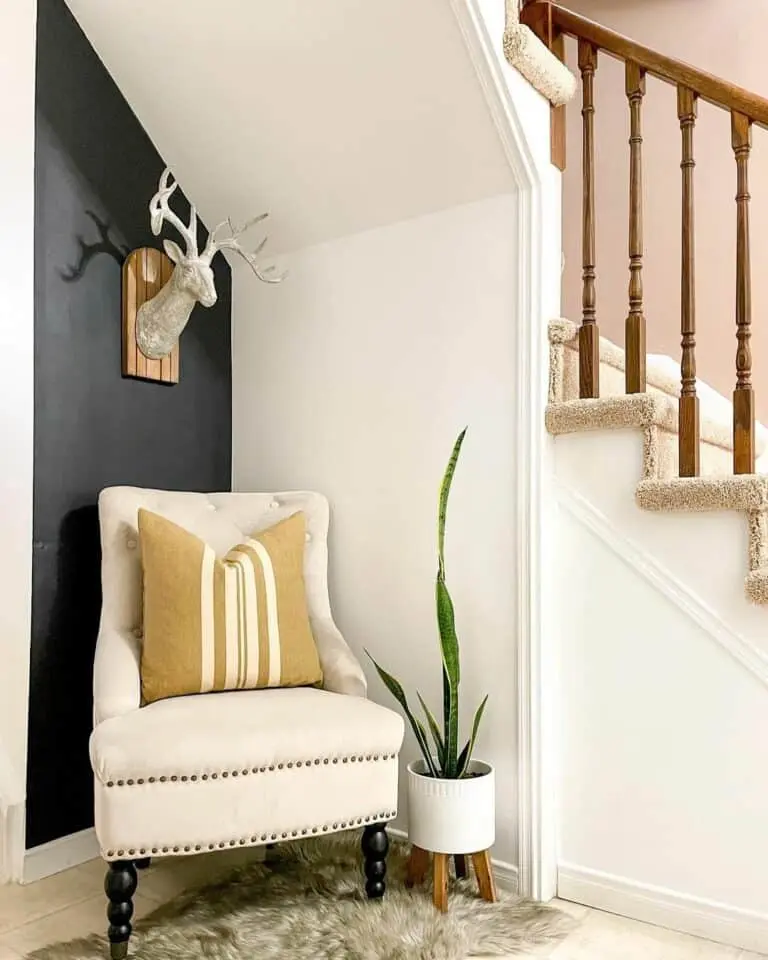 Credit: tarynfalconerdesignstudio
Shop the Style
Natural Harmony: Beige Wall With Green Decorative Paneling
This cozy family cabin is a testament to the harmonious pairing of beige and green as accent colors. In this inviting space, green takes center stage as decorative paneling on a beige wall, complete with a flatscreen TV, creating a picturesque mountain-inspired design. A small pine tree, nestled in a chic black and gray planter, finds its place alongside a charming stained wood fireplace beneath the TV.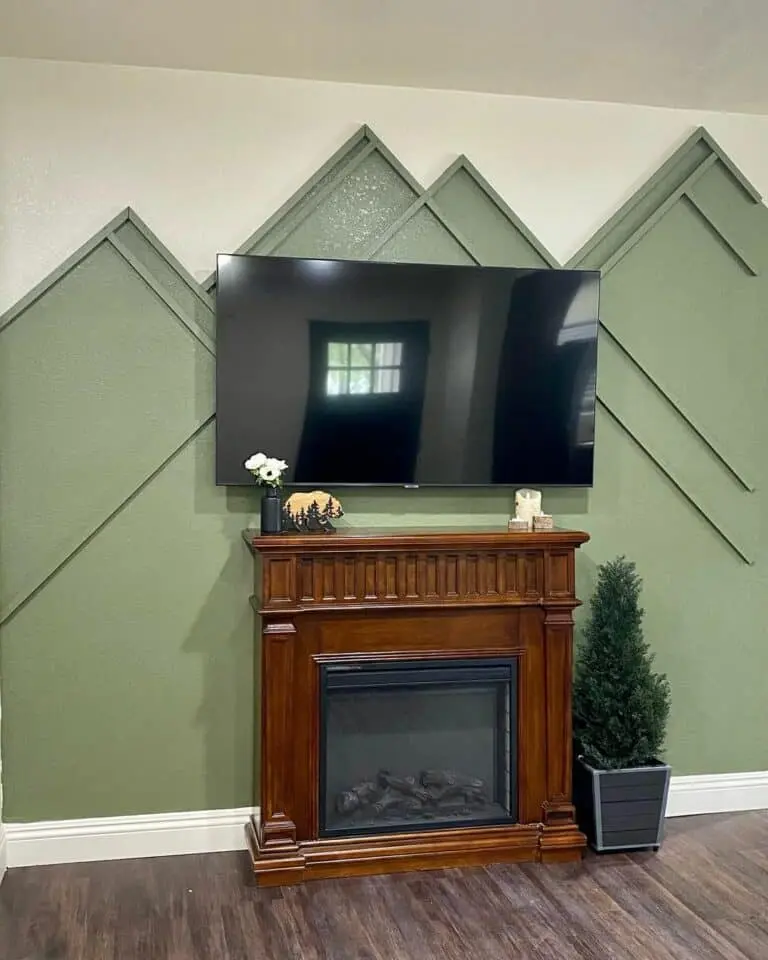 Credit: kh_decor
Shop the Style
Office Serenity: Beige Carpeted Office With Teal Shiplap Feature Wall
Step into a serene and sophisticated office setting where teal reigns as the perfect complement to beige carpeting. A pristine white and gold desk takes center stage against a visually appealing teal vertical shiplap feature wall. This elegant workspace is completed with a coordinating white and gold office chair, thoughtfully placed under minimalist light wood floating shelves.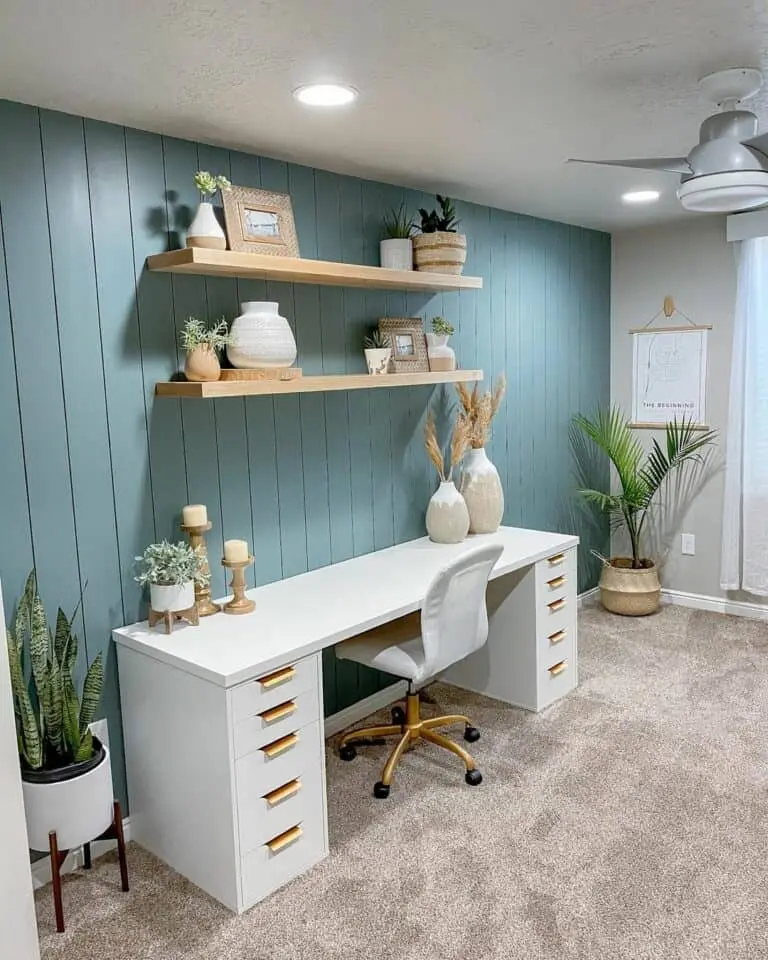 Credit: citygirlmeetsfarmboy
Shop the Style
Wrap-up
Incorporating the right accent colors into your farmhouse living room can breathe new life into your space. Beige, with its timeless charm, offers a wonderful backdrop, and by choosing the right complementary colors, you can create a warm and inviting atmosphere that's perfect for relaxation and gatherings.
Whether you opt for rustic earthy tones, calming blues, or vibrant greens, the key is to harmonize these accents with beige for a truly enchanting farmhouse look that reflects your personal style and personality.
So go ahead, experiment, and watch your farmhouse living room come to life with these stunning color combinations.