7+ Amazing Ideas to Use 'White Dove' by Benjamin Moore in Your Farmhouse-Style Home
Affiliate Disclosure: As an Amazon Associate we earn from qualifying purchases. Hence, if you click through and make a purchase, we will get a commission at no extra cost to you. For more info, read our full disclosure.
Transforming your farmhouse-style home with the right paint color can bring a breath of fresh air and timeless charm. Among the many options, 'White Dove' by Benjamin Moore stands out as a versatile and captivating choice.
With its soft elegance and neutral appeal, this paint can be the perfect canvas for creating a range of captivating interiors. In this article, we present seven amazing ideas to infuse the warmth and character of 'White Dove' into every corner of your farmhouse sanctuary.
Bedroom Elegance with Benjamin Moore White Dove Paint
A set of brown foliage stems graces a stone vase atop a live edge wood end table featuring hairpin legs. The backdrop of the board and batten accent wall, adorned with black farmhouse wall sconce lights, is adorned with the soothing hue of White Dove by Benjamin Moore.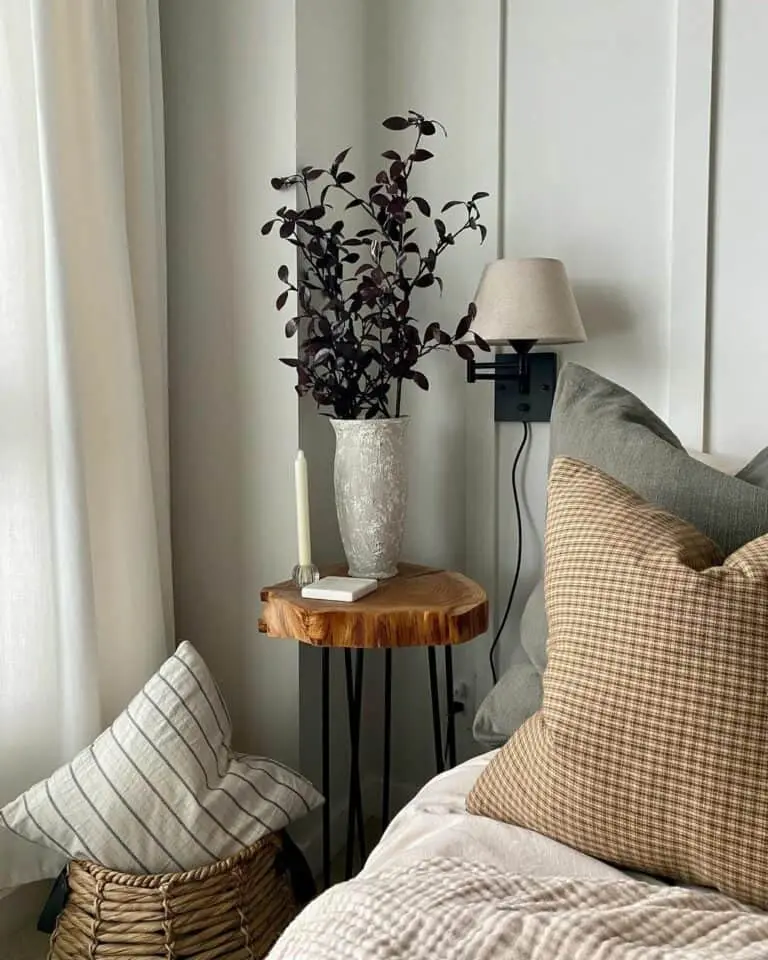 Credit: thisiswinnieshouse
Shop the Style
Sophisticated Dining Space Enhanced by Benjamin Moore White Dove Paint
In the formal dining area, a luxurious crystal chandelier casts its glow over a pristine white farmhouse dining table. The delicate shade of Benjamin Moore's White Dove paint envelops the space, offering an inviting and neutral ambiance. Complementing this elegance are the upholstered chairs and the French country area rug.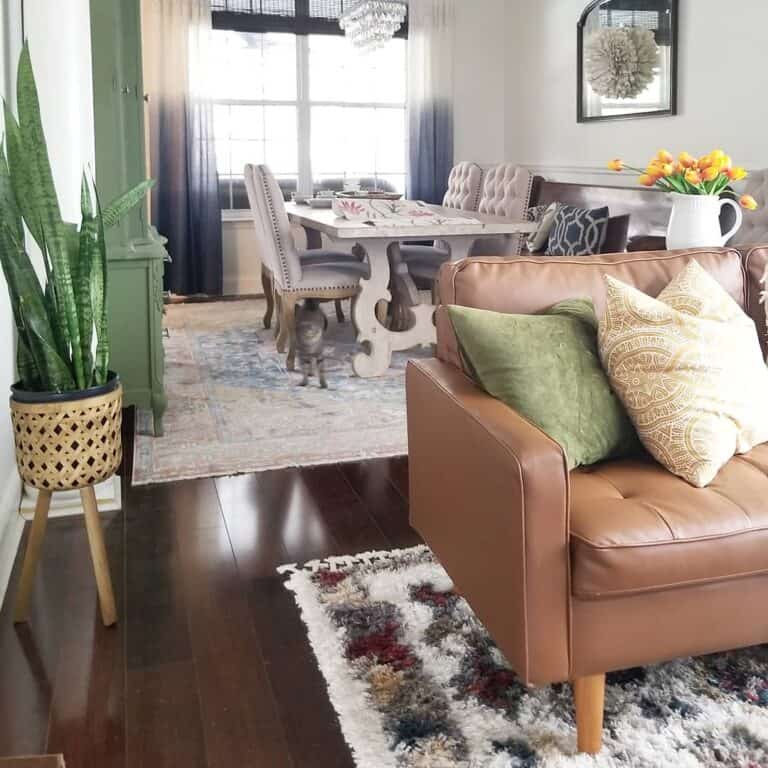 Credit: plantedandbloominggirl
Shop the Style
Farmhouse Charm with Benjamin Moore's White Dove Shiplap
The mudroom gains character through vertical white shiplap paneling, brought to life with the timeless hue of Benjamin Moore's White Dove. This paint choice, with its warm undertones, harmonizes seamlessly with the wicker plant basket, wooden broom, upper wall accents, and the tan-striped beach towel suspended along the wall.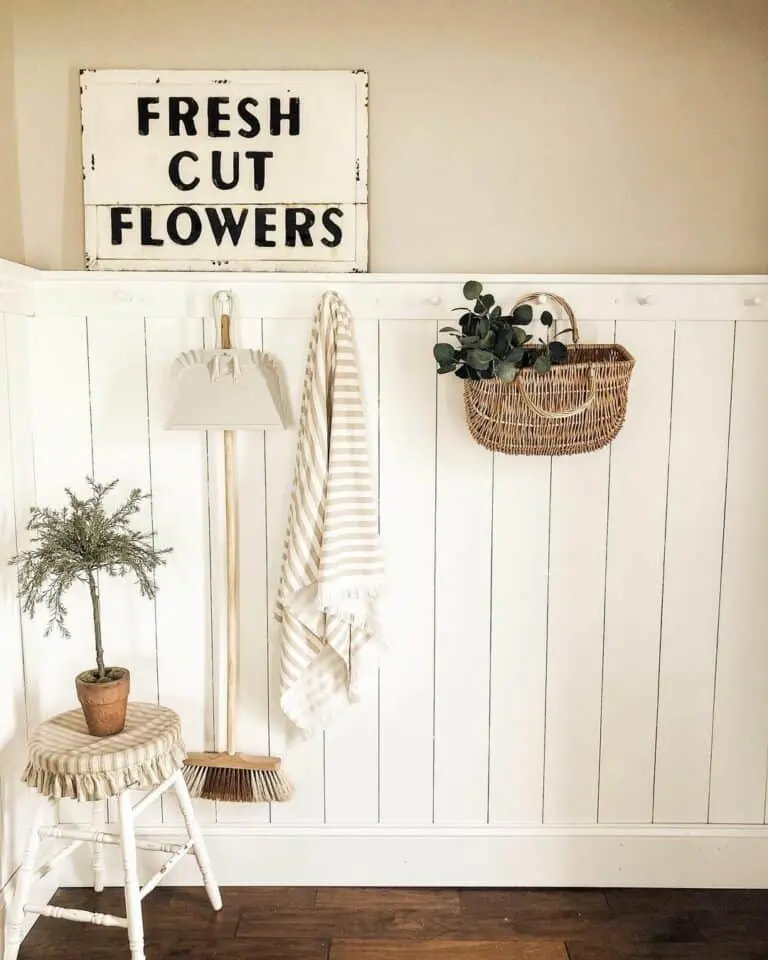 Credit: countyline_farmhouse
Shop the Style
Contemporary Refresh for a Farmhouse Master Bathroom
A pristine and rejuvenating coat of paint envelops the main walls of this neutral farmhouse bathroom. Contrasted by the black herringbone floor tiles, the raw wood cabinets, topped with bright white counters, radiate a crisp modern aesthetic. Adding a touch of opulence, the gold fixtures introduce a glamorous metallic sheen to the vanity.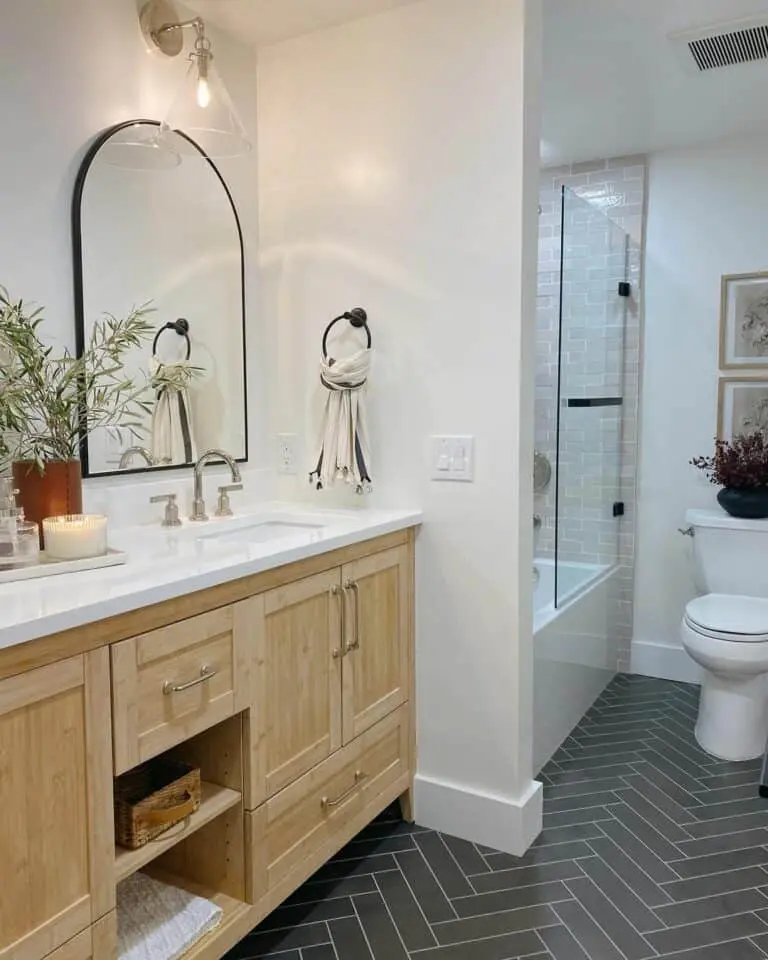 Credit: houseofhanes
Shop the Style
Embracing Warmth: White Shiplap Feature Wall Over the Fireplace
The charm of a shiplap panel feature wall gracing a white brick fireplace lies in its warm, neutral look, seamlessly integrating with the essence of this farmhouse living room. Enhanced by the inviting tones of the warm wood coffee table, flooring, candle holders, and woven baskets, the space exudes cozy rustic comfort.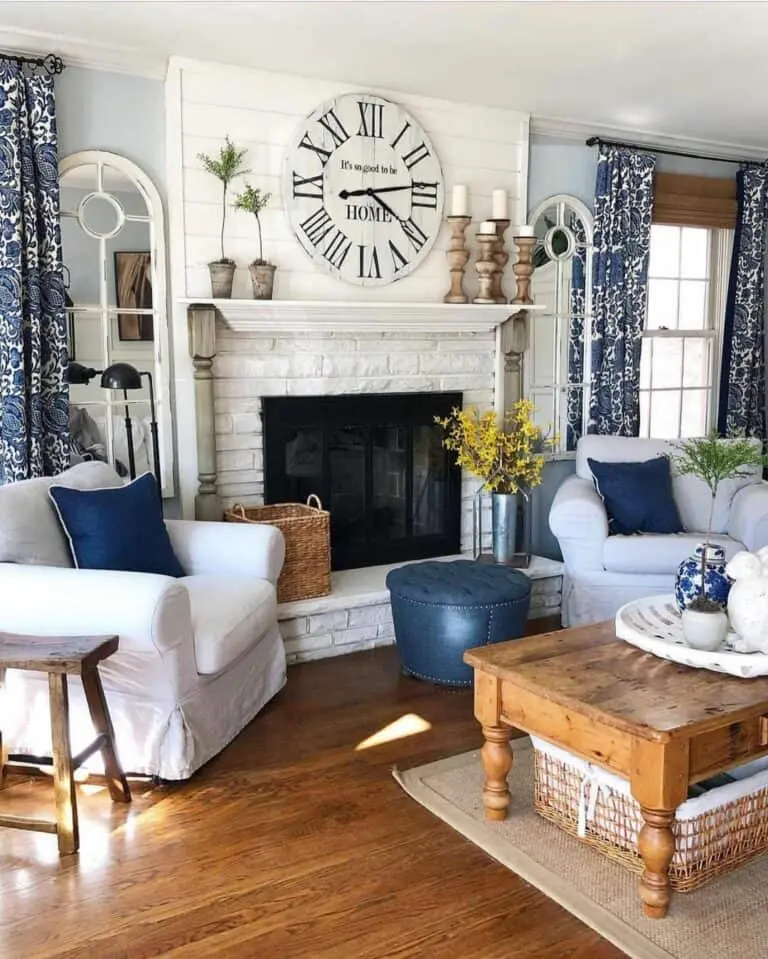 Credit: finishingtouchdecorbyjenny
Shop the Style
Bohemian Flair in the Farmhouse Living Room with Black Fireplace
Infused with a feminine boho sensibility, this farmhouse living room boasts shiplap paneling painted with the tranquil White Dove by Benjamin Moore. Acting as a versatile backdrop, the neutral paint harmonizes with the vibrant and inviting decor elements. The modernity of the black rattan chandelier and the black brick fireplace adds a striking contrast.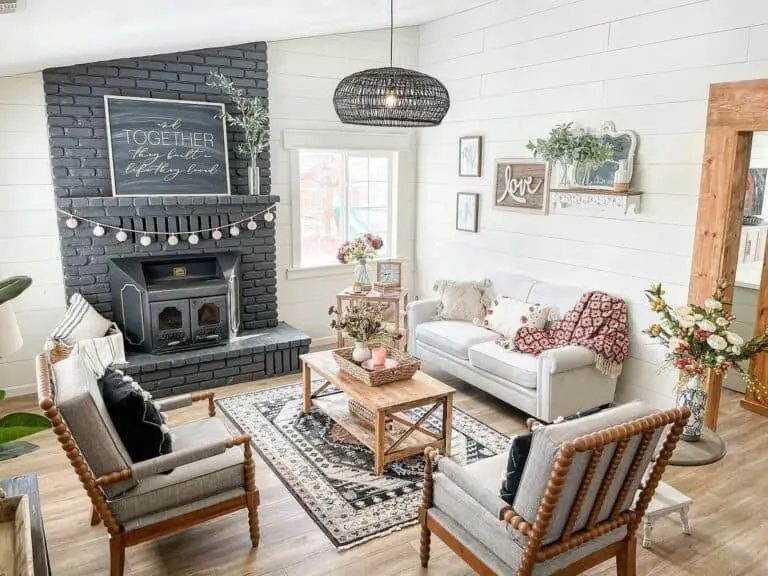 Credit: davia_at_home
Shop the Style
Kitchen Transformation: Benjamin Moore's White Dove Cabinets
Modern black countertops and hardware elegantly offset the warm white cabinet paint in this farmhouse kitchen. The nuanced shade, White Dove by Benjamin Moore, features a warm yellow undertone, beautifully complementing the rustic wood floors and ceilings that define this space.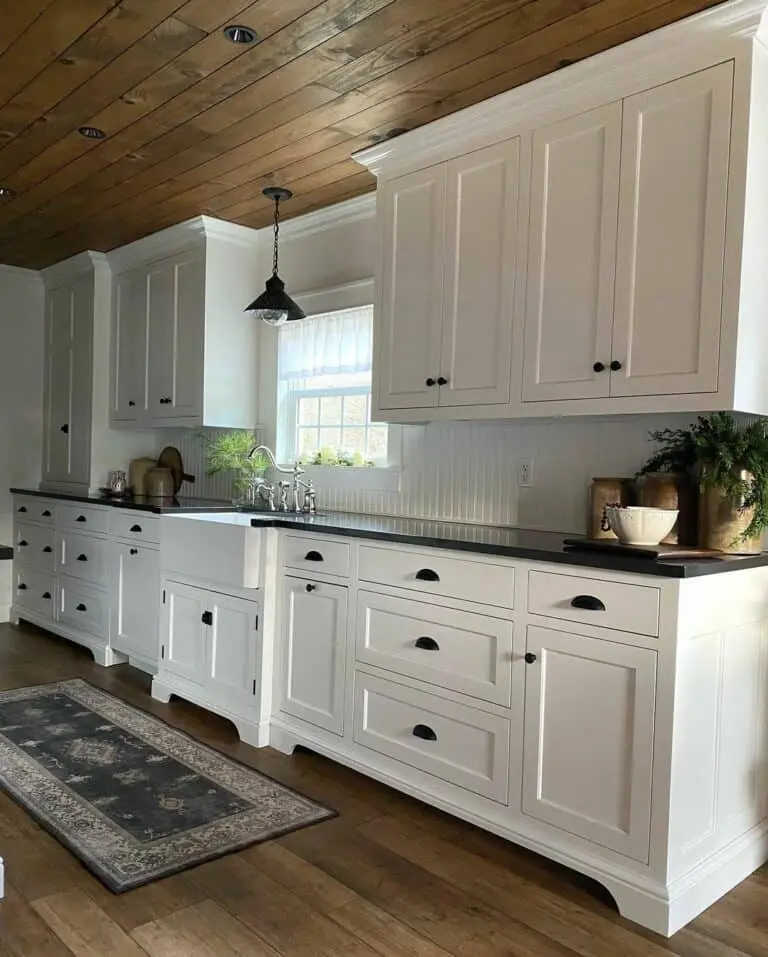 Credit: white_pine_cottage
Shop the Style
Modern Farmhouse Living: Elegance of White Walls
Against a backdrop of pristine white walls, a black dresser stands as a bold accent in this modern farmhouse living room. The purity of the paint color finds companionship with a white lounge set and a wooden coffee table adorned with terracotta candle holders and coasters. A coordinating black vase ties back to the bold dresser.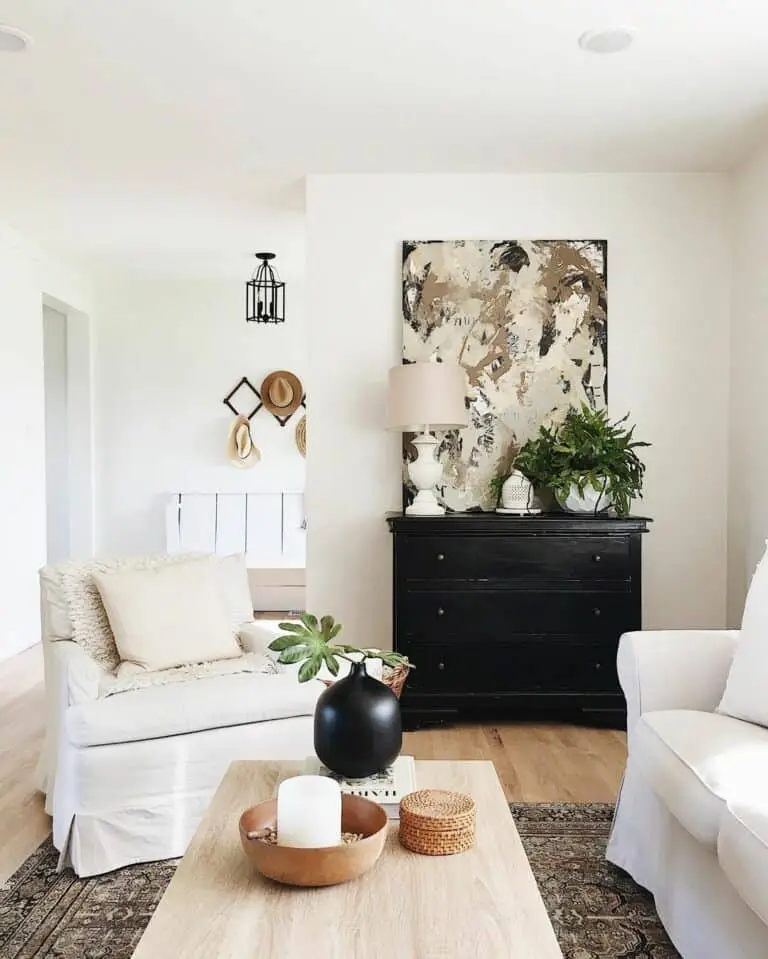 Credit: theprovidencecottage
Shop the Style
Conclusion
From the cozy allure of shiplap walls to the sophistication of formal dining spaces, the possibilities for using 'White Dove' by Benjamin Moore in your farmhouse-style home are truly endless. Whether you're aiming for a rustic, bohemian, or modern twist, this timeless shade seamlessly adapts to your design aspirations. By embracing the versatility of 'White Dove,' your farmhouse retreat can achieve a harmonious blend of elegance, comfort, and enduring beauty.