7+ Charming Two-Story Fireplace Ideas for Your Farmhouse Living Space
Affiliate Disclosure: As an Amazon Associate we earn from qualifying purchases. Hence, if you click through and make a purchase, we will get a commission at no extra cost to you. For more info, read our full disclosure.
Discover the perfect blend of rustic charm and architectural elegance with these captivating two-story fireplace ideas. If you're seeking to infuse your farmhouse living space with a touch of grandeur and coziness, these designs will certainly inspire you.
From whitewashed stone to classic brick, each fireplace presents a unique canvas for creating a warm and inviting atmosphere that will instantly transform your home.
Brick 2-Story Fireplace with Elegant Black Wood Mantel
Stephanie's creative touch brings forth a flat panel TV gracefully mounted onto a brick 2-story fireplace, adorned with a tasteful black painted wood mantel featuring intricate corbels. The fireplace takes center stage, flanked by tan arched window frame mirrors. This living room is elevated by taupe drapes that elegantly cover white picture windows.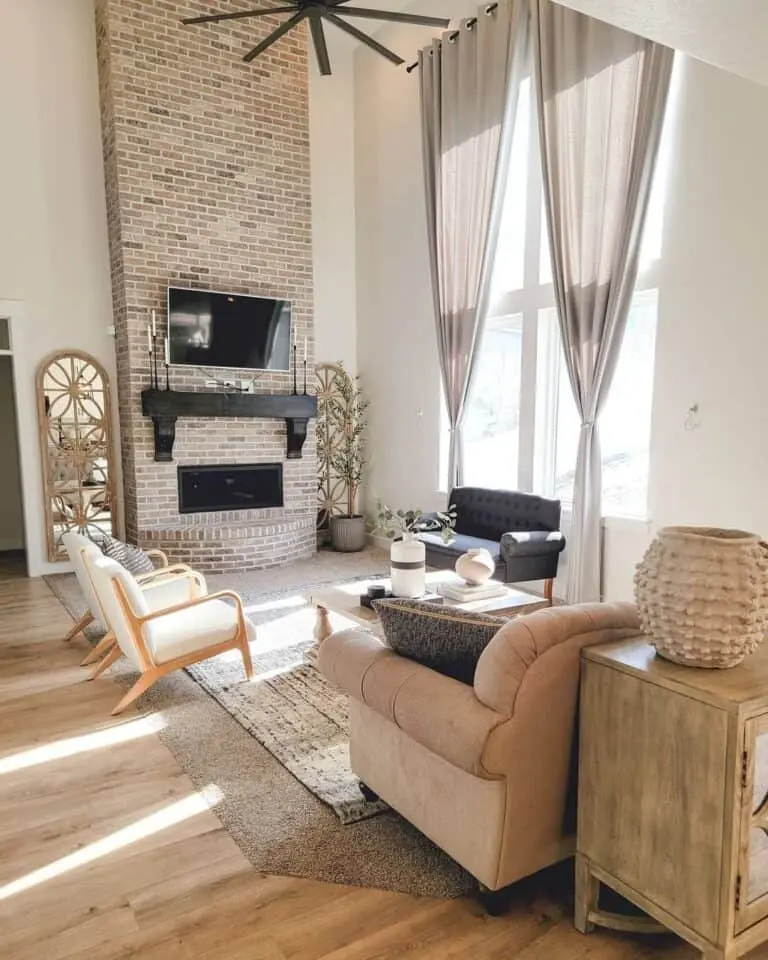 Credit: whitefancyfarmhouse
Shop the Style
Whitewashed Stone Fireplace in a Luxurious Living Room Setting
Black frame circle mirrors act as elegant companions to a floor-to-ceiling whitewashed stone fireplace, which also houses a flat panel TV for modern functionality. The cozy ambiance is enhanced by a beige egg chair positioned beside the fireplace. This arrangement offers a touch of luxury within the backdrop of the 2-story living room.
Credit: beautifullycuratedin
Shop the Style
Elevate Your Space with a White Painted Brick Floor-to-Ceiling Fireplace
A white-painted brick fireplace, stretching from floor to ceiling, becomes the focal point that bridges an open-concept living room and kitchen. A white slipcovered couch and a blond wood coffee table form a welcoming ensemble on a charming jute rug, all set under the gentle slope of a white shiplap ceiling.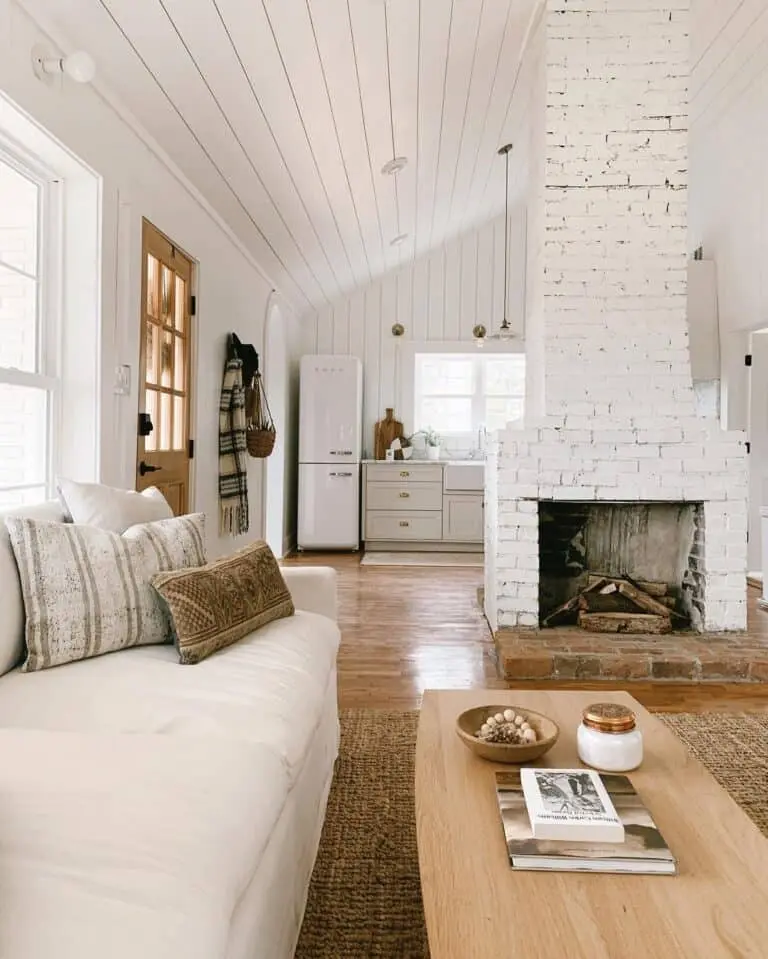 Credit: maggievollrath
Shop the Style
Gray Stone Fireplace Enhanced by Stained Wood Trim in a Refined Living Room
Within a living room boasting white sloped shiplap ceilings, an exquisite gray stone tile fireplace with stained wood trim stands as a testament to refined design. Balanced on either side are white slipcovered armchairs, adding to the room's sense of harmony and style.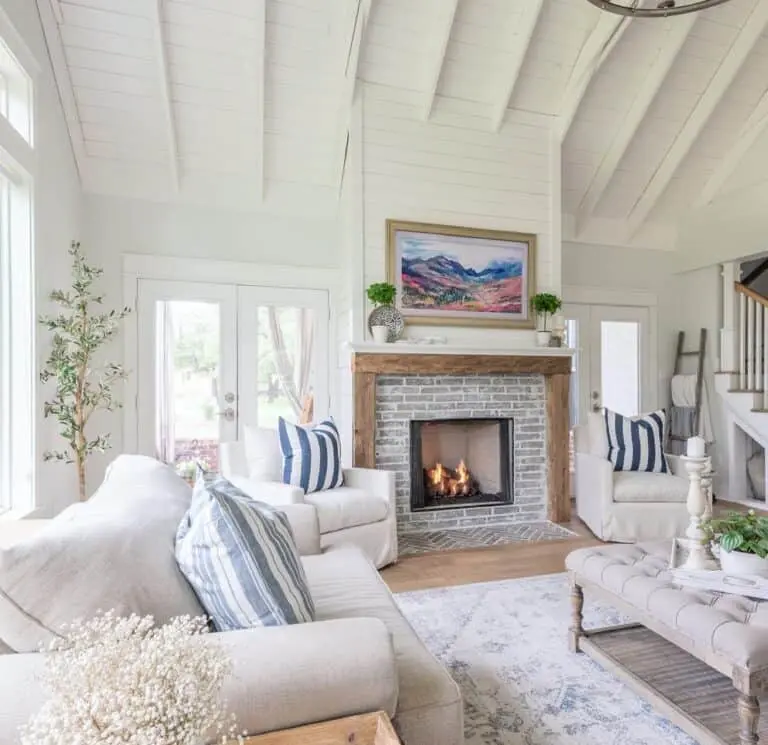 Credit: the.old.barn
Shop the Style
Chic Whitewashed Brick Fireplace with Light Wood Mantel
Discover the allure of a whitewashed brick fireplace adorned with a light wood mantel, seamlessly integrated into a wall adorned with floor-to-ceiling horizontal shiplap. A striking black chandelier hangs in perfect harmony before the fireplace, which is nestled beneath a captivating white vaulted ceiling featuring stained wood beams.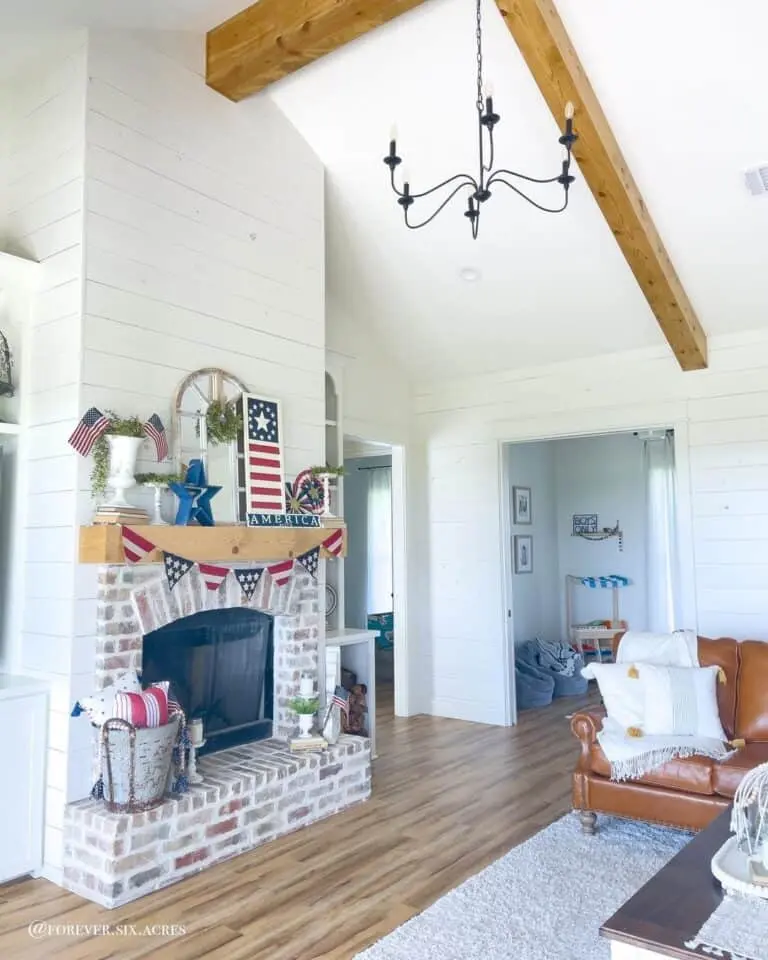 Credit: forever.six.acres
Shop the Style
Floor-to-Ceiling White Board and Batten Fireplace: A Design Gem
A thoughtfully designed gray stone tile fireplace with a stained wood mantel finds its home within a floor-to-ceiling white board and batten wall. The design echoes the style of Joanna Gaines and is completed by a brown leather sofa thoughtfully placed to complement the fireplace.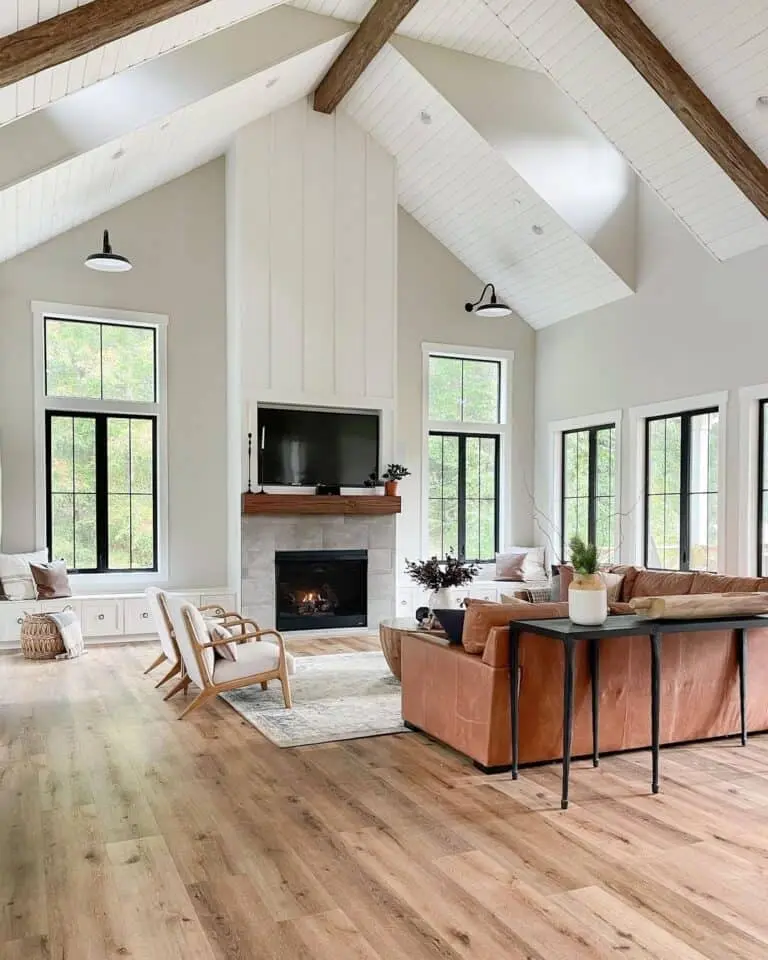 Credit: kristin_kgdesigns
Shop the Style
Gray Stone Fireplace with White Trim: Embrace Subtle Elegance
An understated gray uneven stone fireplace with white trim seamlessly becomes part of a muted green 2-story shiplap wall. A light gray slipcovered sectional couch awaits opposite the stacked log fireplace screen, offering a space of comfort and tranquility.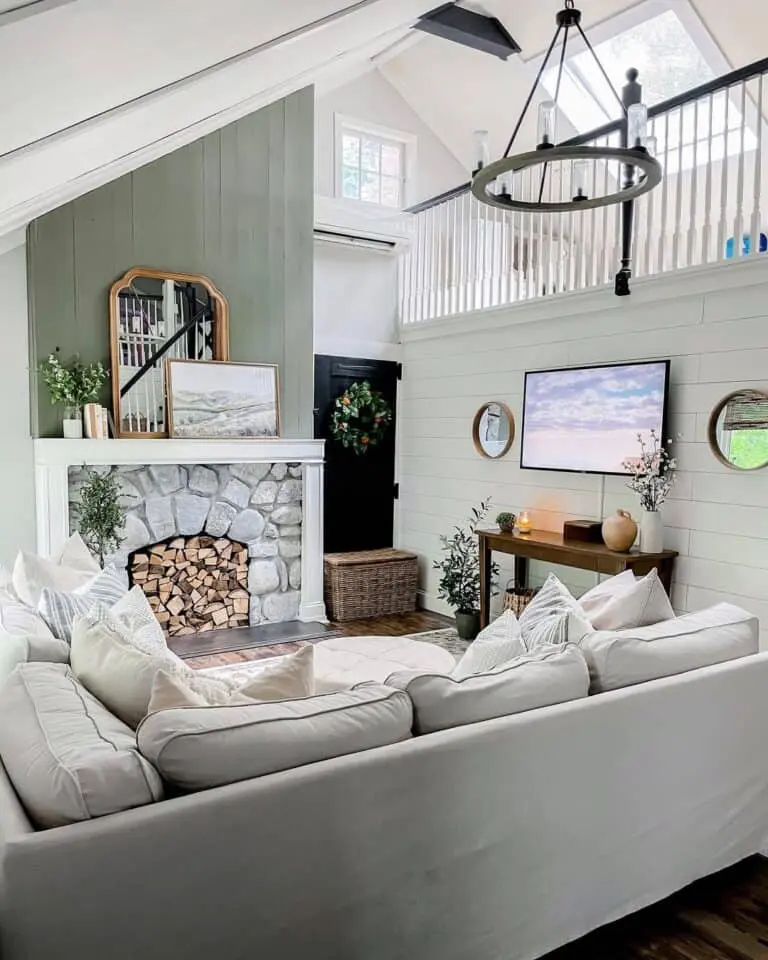 Credit: cignaturestylebychrissycig
Shop the Style
Elegant Gray Stone Two-Story Fireplace with TV Integration
Kirsten's design marvel features a flat panel TV mounted above a stained wood mantel on a sophisticated gray stone two-story fireplace. A well-lit scene unfolds, showcasing a light gray Chesterfield sofa and wood coffee table beneath the warm glow of a black wagon wheel chandelier. The enduring quality of stone amplifies the timeless appeal of this creation.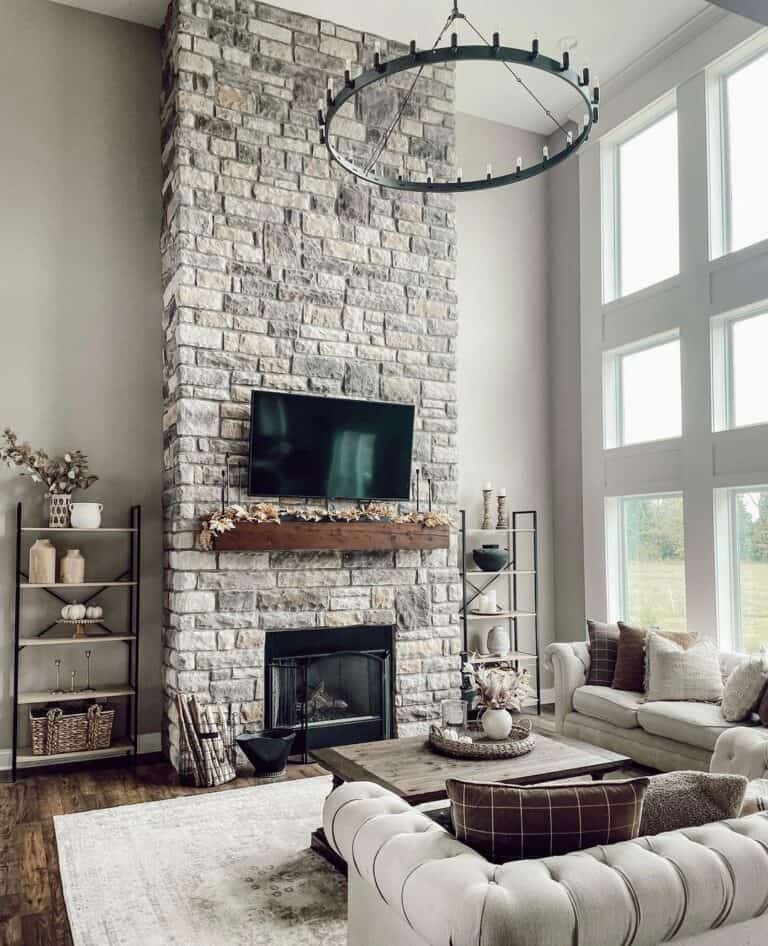 Credit: fiveacresonbrook
Shop the Style
Wrap-up
Elevate your farmhouse living space with the timeless allure of two-story fireplaces. These charming design ideas not only offer a visual focal point but also promise to enhance the ambiance of your home. Whether you opt for the rustic charm of whitewashed stone or the classic elegance of brick, the beauty and warmth of a two-story fireplace are sure to become the heart of your living area, creating memories and moments to cherish.