7+ Farmhouse Family Room Ideas Your Family Will Fall in Love With
Affiliate Disclosure: As an Amazon Associate we earn from qualifying purchases. Hence, if you click through and make a purchase, we will get a commission at no extra cost to you. For more info, read our full disclosure.
Welcome to the world of rustic charm and cozy corners! Farmhouse decor blends simplicity with soul, creating warm and inviting spaces where families love to gather. With a nod to nostalgia and a love for contemporary style, these seven farmhouse family room ideas strike the perfect balance. Read on and fall in love with the designs that capture the timeless appeal of rural living, beautifully merging it with modern comfort and functionality.
An Elegant Family Room with Wooden Clock, Brown Sofas, and a White Rug
Upon entering this homely space, your eyes are immediately drawn to a large wooden clock mounted on a light gray backdrop. A tasteful mix of grey, white, and brown cushions can be found scattered across the inviting brown sofas. To add a touch of brightness to the room, consider introducing a white rug over the dark wooden flooring.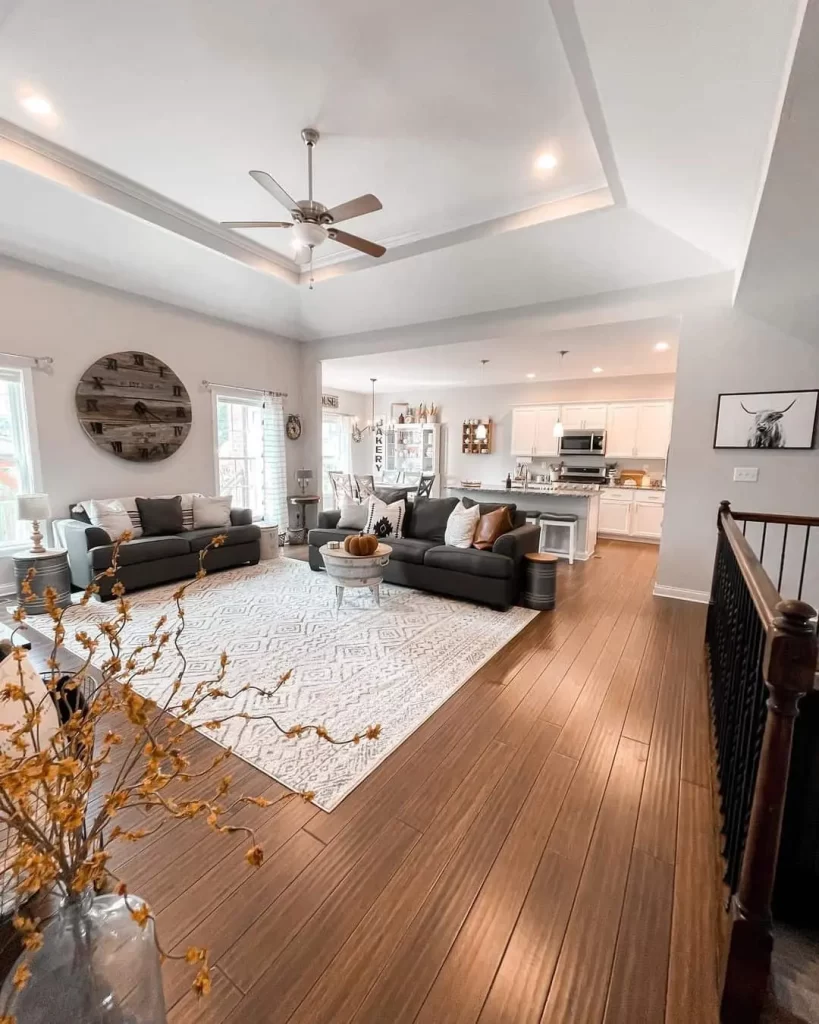 Credit: whiterosefarmhouse
Shop the Style
Contemporary Farmhouse Family Room Inspirations
The contemporary farmhouse family room showcases clean white shiplap walls complemented by a sparkling silver chandelier. Framed brown still-life artwork provides a focal point above the dark grey mantel. Arranged on a deep red rug, a pair of brown leather couches flanks a dark wood coffee table.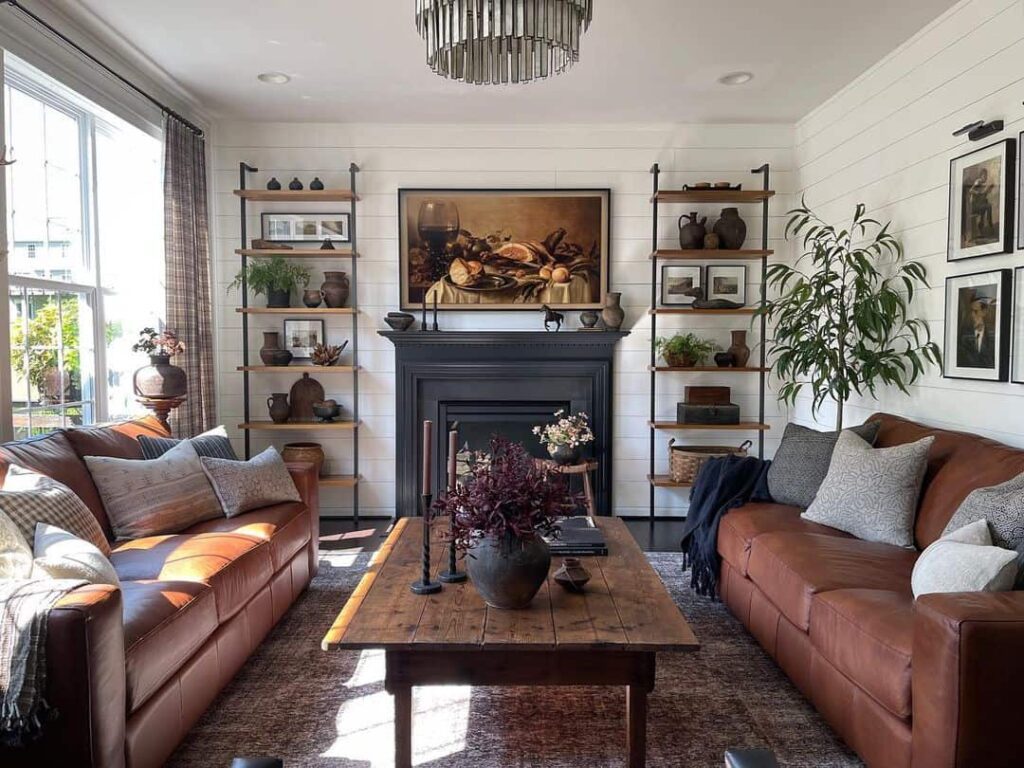 Credit: louisa_craven
Shop the Style
Cosy Neutral Living Room TV Wall Layout Ideas
The room features a TV neatly placed over a white brick accent wall housing a fireplace and a floating wood mantel. The mantel sports a beautifully draped garland, which echoes the olive branch decor spread throughout the room. A warm white paint on the walls pairs well with farmhouse-style sconce lights above the bookshelves.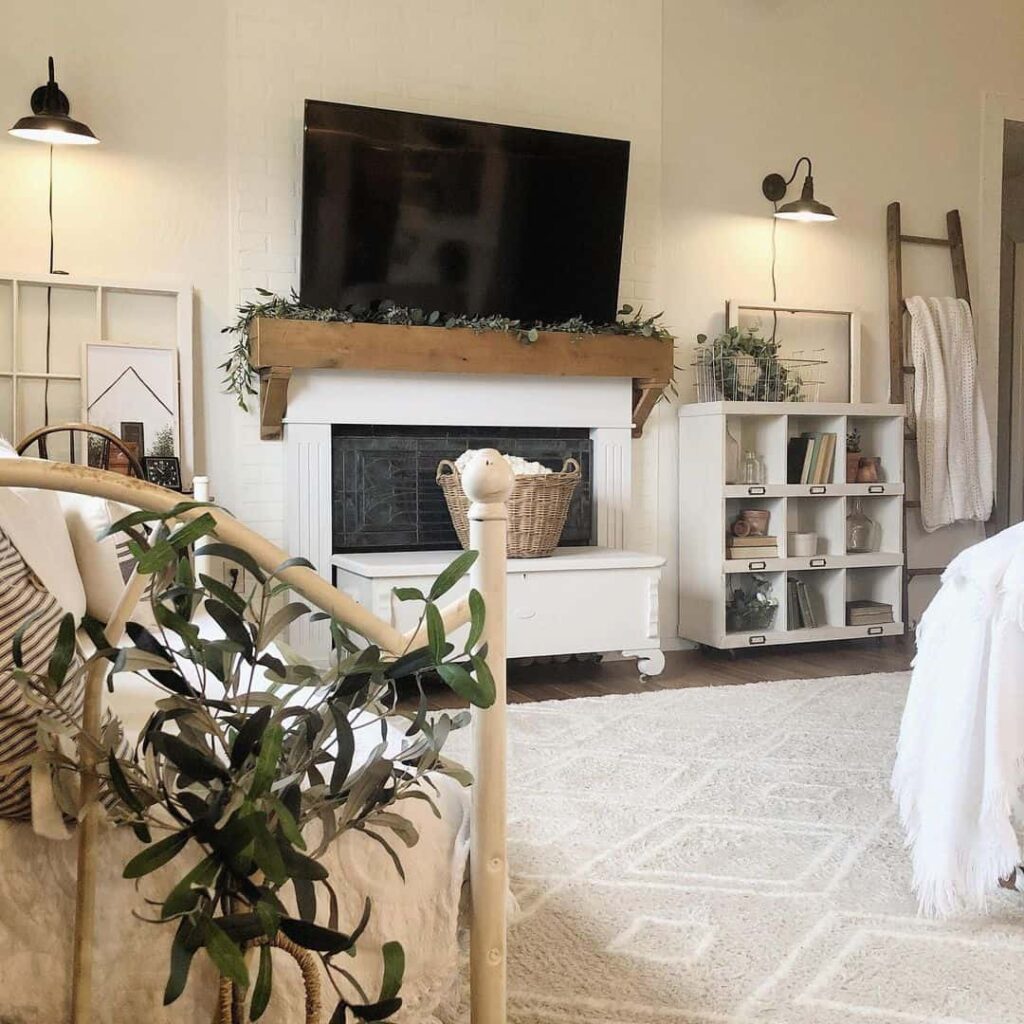 Credit: twelvetwo.at.home
Shop the Style
Family Room with a Striking Black Chandelier and Comfortable White Armchairs
Within this family room, a stunning black chandelier dangles above a brown wicker trunk. A white brick accent wall, embellished with a fireplace, stretches the length of one wall. Adding a pair of snug white armchairs would provide a perfect corner to unwind.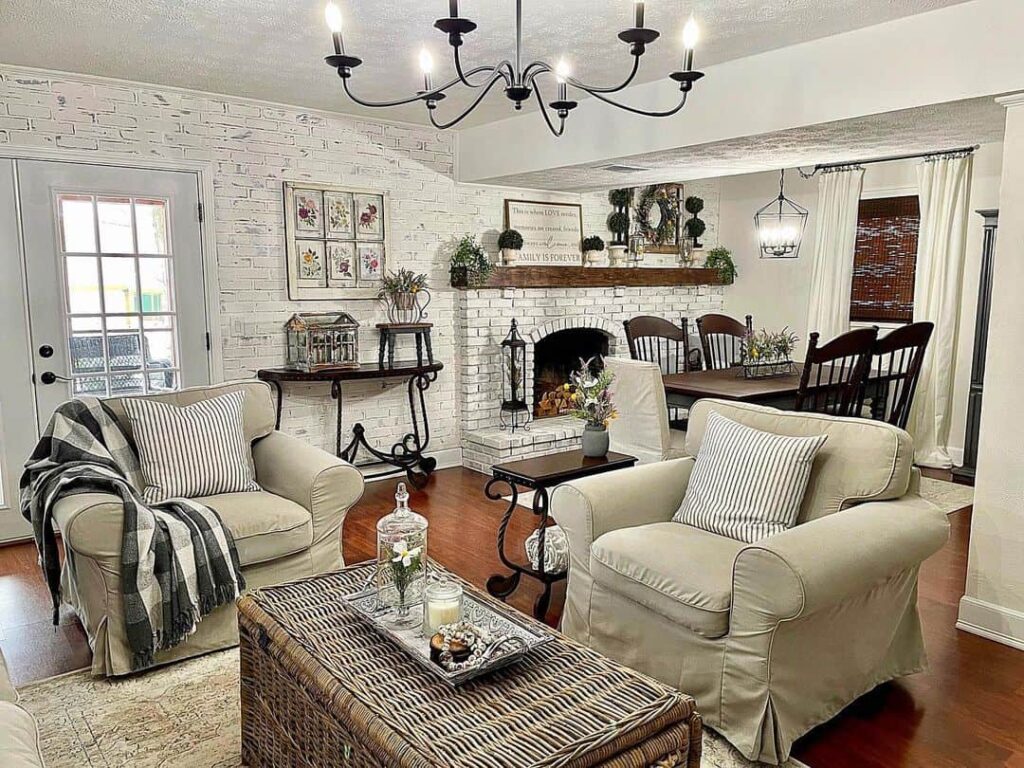 Credit: wheretwoaregathered
Shop the Style
Beige Family Room Enhanced with White Decor Elements
Adorning the walls of this beige family room are tasteful pieces of white decor. A soft white blanket cascades down the back of a plush beige sectional couch, which is garnished with light, neutral throw pillows. A white coffee table stands out against the beige rug on the warm wooden floor.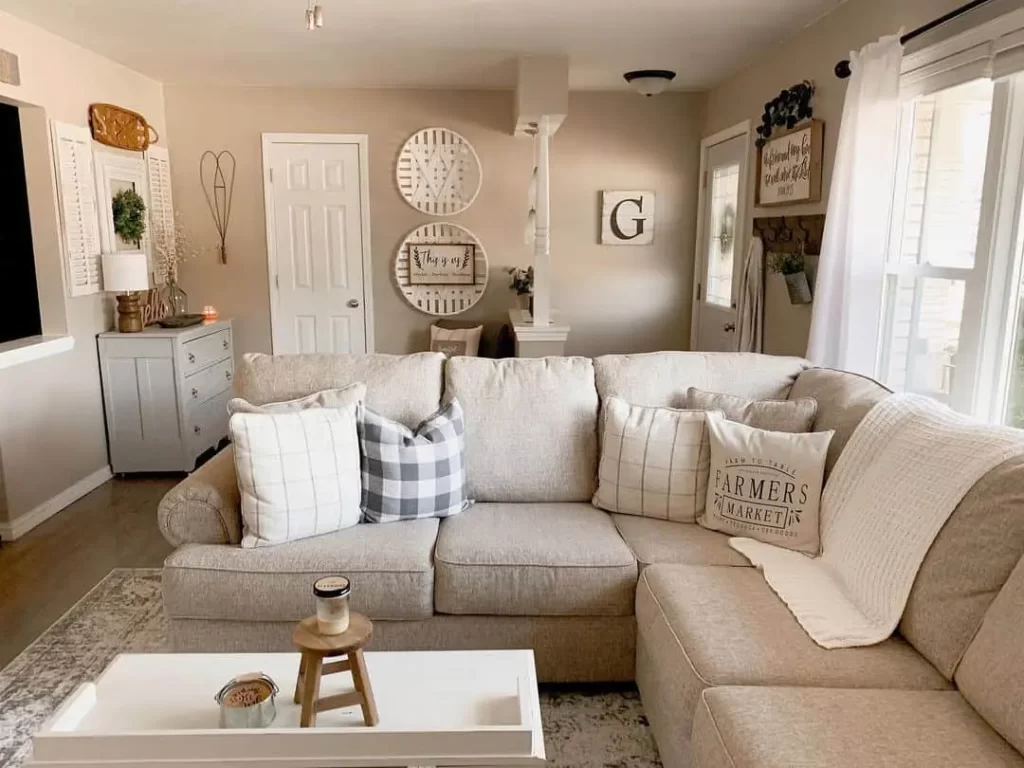 Credit: our.grace.filled.home
Shop the Style
Naturally Lit, Vaulted White Living Room
A classic white chandelier hangs elegantly over a white rug on the dark wood flooring of this family room. A flat-screen TV is mounted on a white shiplap wall, and white cushions are sprinkled over the white couches. Sunlight streaming through nearby windows bathes the room, highlighting the vaulted ceiling and white brick fireplace.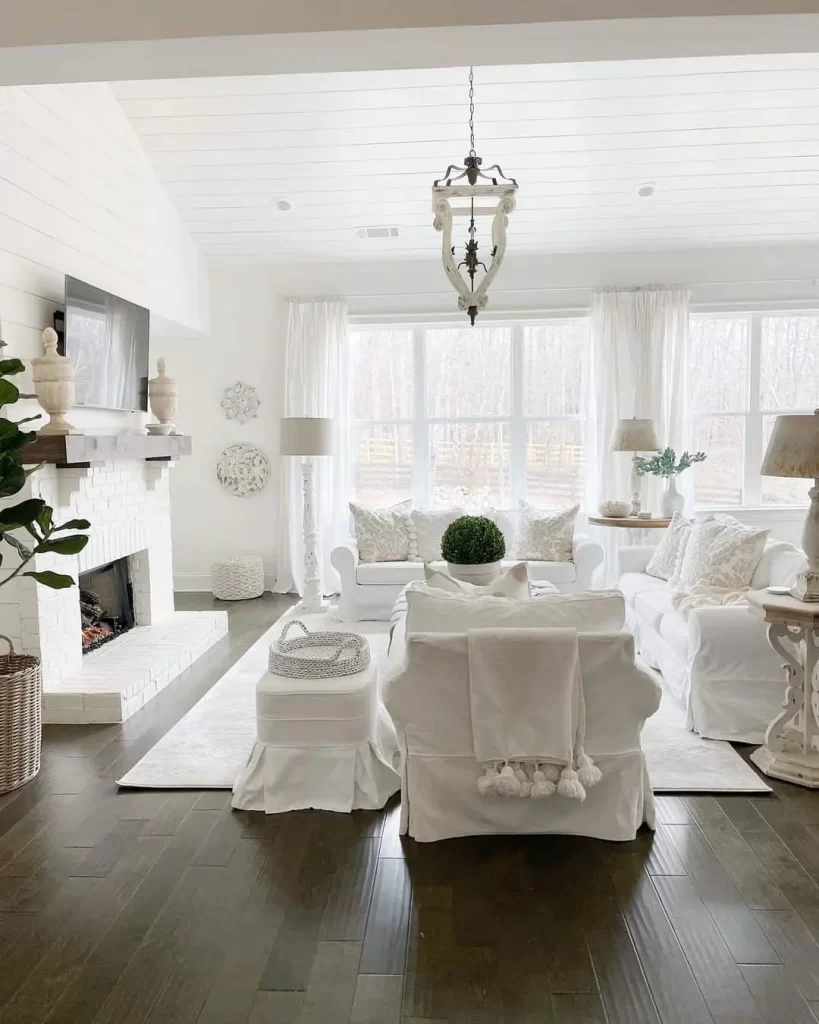 Credit: white.cottage.life
Shop the Style
Family Room Featuring a White Herringbone Coffee Table and a Grey Couch
Billowing white curtains frame a large window in the white-walled family room. A white chair, decorated with a pink textured pillow, is placed on the warm wooden flooring. A white herringbone coffee table sits pride of place in front of a grey couch on a white rug.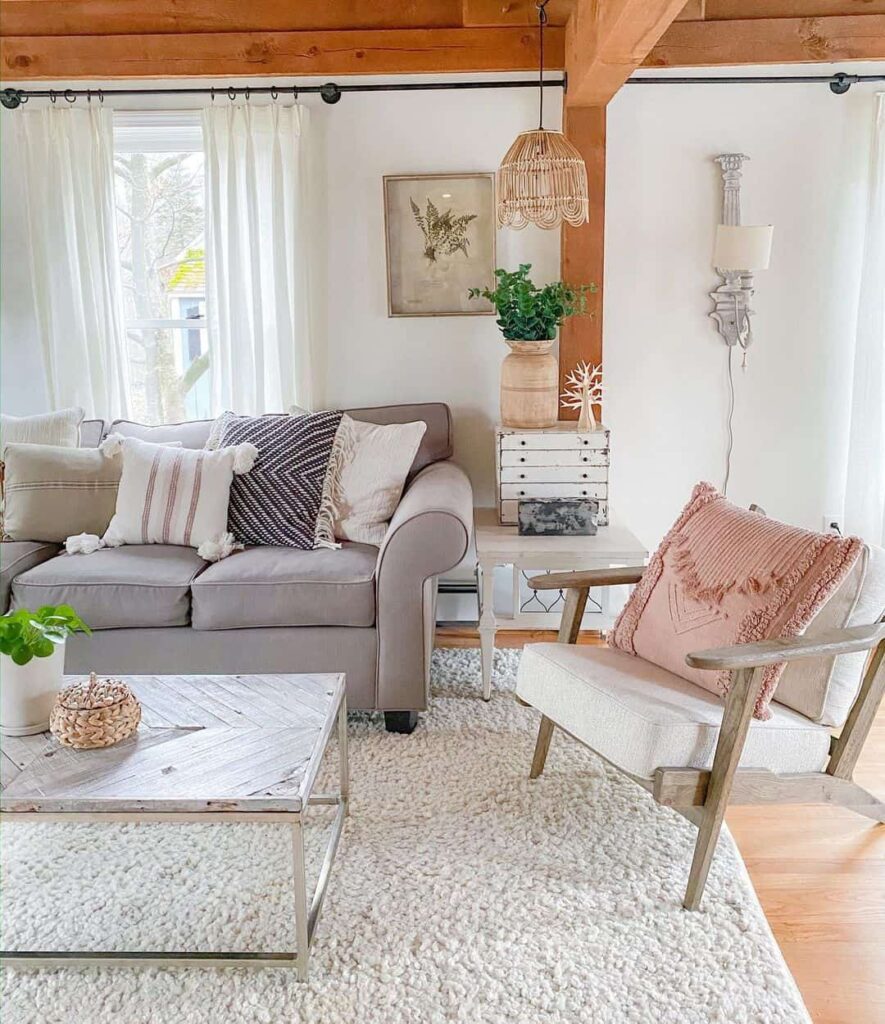 Credit: purplerosehome
Shop the Style
Neutral Family Room Accentuated with Large Windows
An array of large windows along the white walls of the family room flood the space with light, illuminating a wooden tray atop a low gray wooden coffee table. A pair of short gray stools rest on a light grey rug over the warm wooden floor, and a white armchair is conveniently placed next to a matching side table.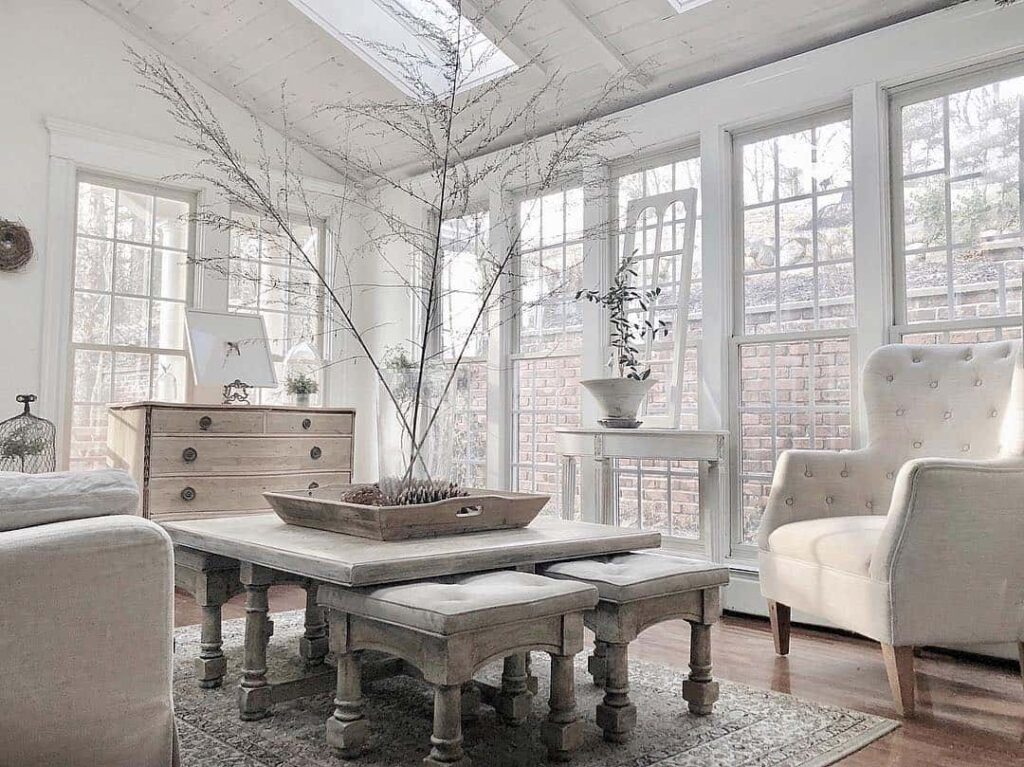 Credit: r.house__
Shop the Style
Conclusion
There you have it – seven enchanting farmhouse family room ideas designed to make your space an embodiment of comfort, warmth, and timeless elegance. From rustic wooden accents to soft neutral color palettes, each element contributes to a serene environment that your family will fall head over heels for. Remember, your family room is the heart of your home, and infusing it with a farmhouse flair can make it even more inviting, harmonious, and full of love. Happy decorating!