7+ Inspiring Black Décor Styling Ideas for Farmhouse Living Rooms
Affiliate Disclosure: As an Amazon Associate we earn from qualifying purchases. Hence, if you click through and make a purchase, we will get a commission at no extra cost to you. For more info, read our full disclosure.
Welcome to a world where timeless charm meets modern sophistication – the farmhouse living room. In this blog, we delve into the realm of black décor styling, where classic hues blend seamlessly with rustic aesthetics. Whether you're seeking to infuse bold elegance or subtle accents, these inspiring ideas will help you transform your farmhouse living room into a haven of style and comfort.
Discover the art of balancing black elements against the backdrop of cozy farmhouse vibes, creating spaces that tell stories of tradition and contemporary allure.
Reviving Vintage Charm: Farmhouse Living Room's Timeless Wood Furniture
A once-neglected dresser finds new life with a modern twist through sleek black paint and gleaming brass hardware. For an authentic farmhouse vibe, infuse the space with elegant brass candlesticks, a handwoven serving basket, and a stone vase teeming with evergreen stems.
Elevate the ambiance with a neutral area rug, a rustic wooden coffee table, and vintage-inspired pillows to capture the essence of a farmhouse living room.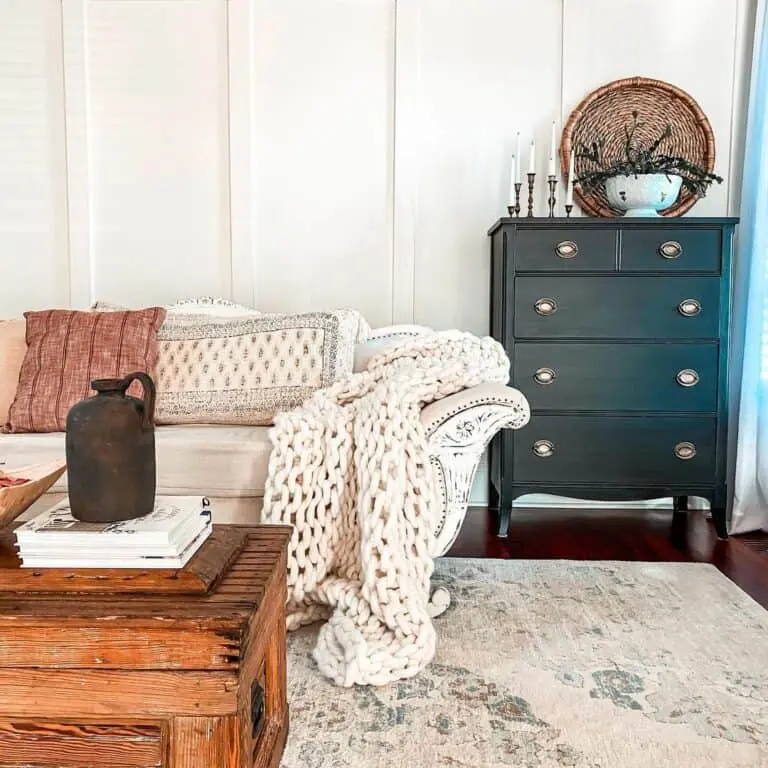 Credit: theclassiccottage
Shop the Style
Simplicity in Sophistication: Console Table Black Room Décor
Harness the power of minimalism in a living room by adorning the space between two vibrant windows with a captivating series of black-framed family gallery portraits gracing a rattan console table. Achieve a modern aesthetic by introducing a black stone vase embellished with lively evergreen stems and a refined stone table lamp.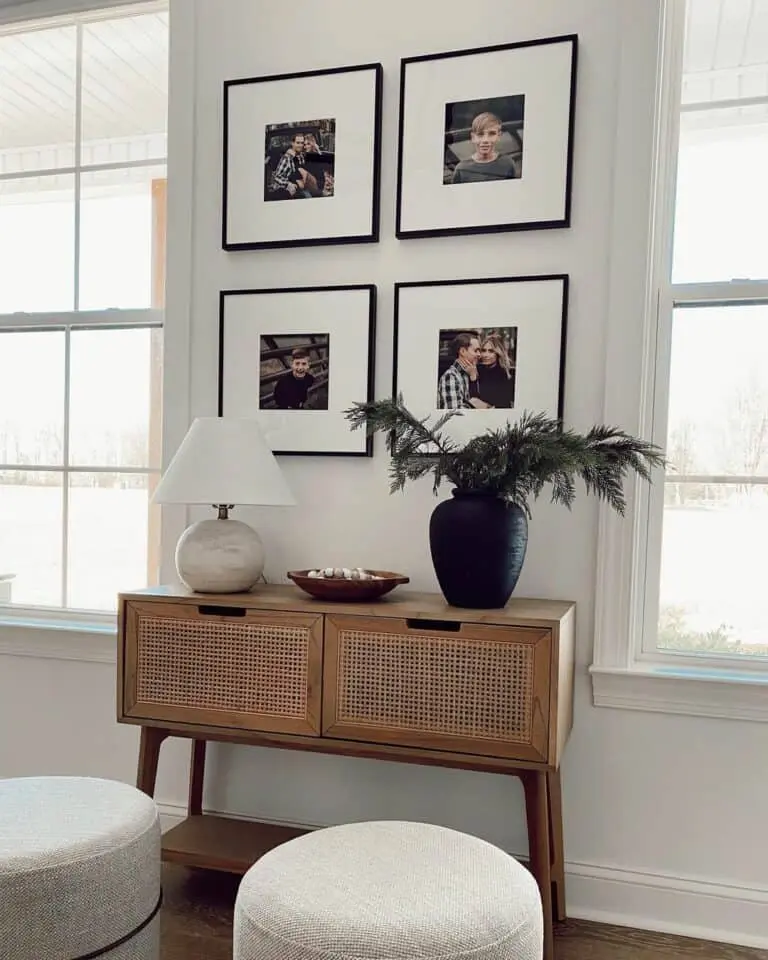 Credit: sosimplyjessica
Shop the Style
The Art of Minimalist Modernity: Black Media Center Design
Embrace a minimalist mindset as you integrate an ashy wooden media stand, complete with sliding barn wood cabinet doors. The transformation is complemented by a curated selection of books, a gilded paperweight, and a sleek black candle.
To elevate the modern minimalist feel, artfully arrange a set of black stone vases across the upper and middle shelves, achieving a harmonious and cohesive design.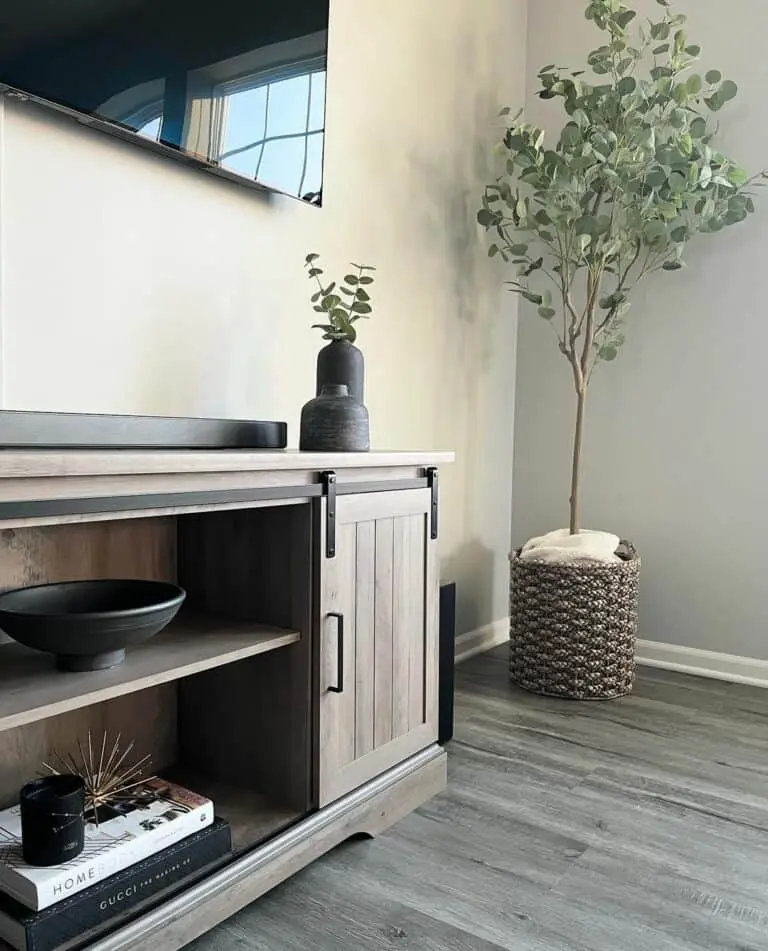 Credit: theamendolahouse
Shop the Style
Autumn's Embrace: Modern Entryway with Fall Elements
Embrace the transition of seasons with a bundle of wheat gracing a black entryway vase, resting effortlessly on a soothing light gray table. Modern entryways come alive with the incorporation of seasonal elements like vibrant plants and thoughtfully coordinated color schemes.
Achieve a touch of refinement with a wooden shelf, tastefully supported by sleek black brackets and anchoring itself against a pristine white wall.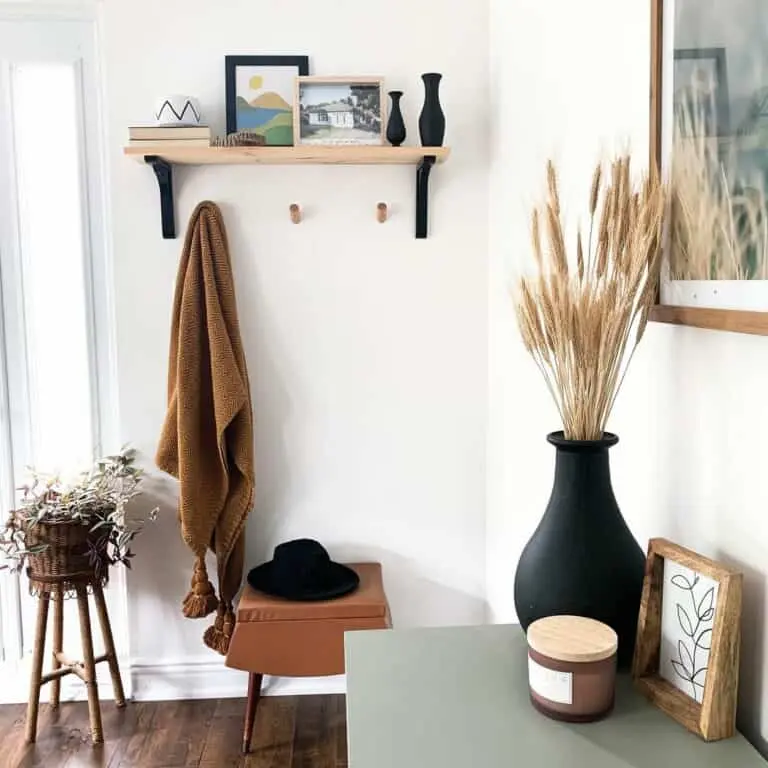 Credit: thenewoldsimcoe
Shop the Style
Harmonious Contrasts: Black and White Modern Fireplace Decor
A pristine white fireplace mantel transforms into a canvas of modernity, harmoniously adorned with ebony figurines and statues on one end, while delicate topiaries, a black stone pitcher, and ethereal white feather sculptures grace the other.
Achieve an exquisite balance by mounting a generously sized mirror framed in black at the center of the mantel, creating a captivating focal point.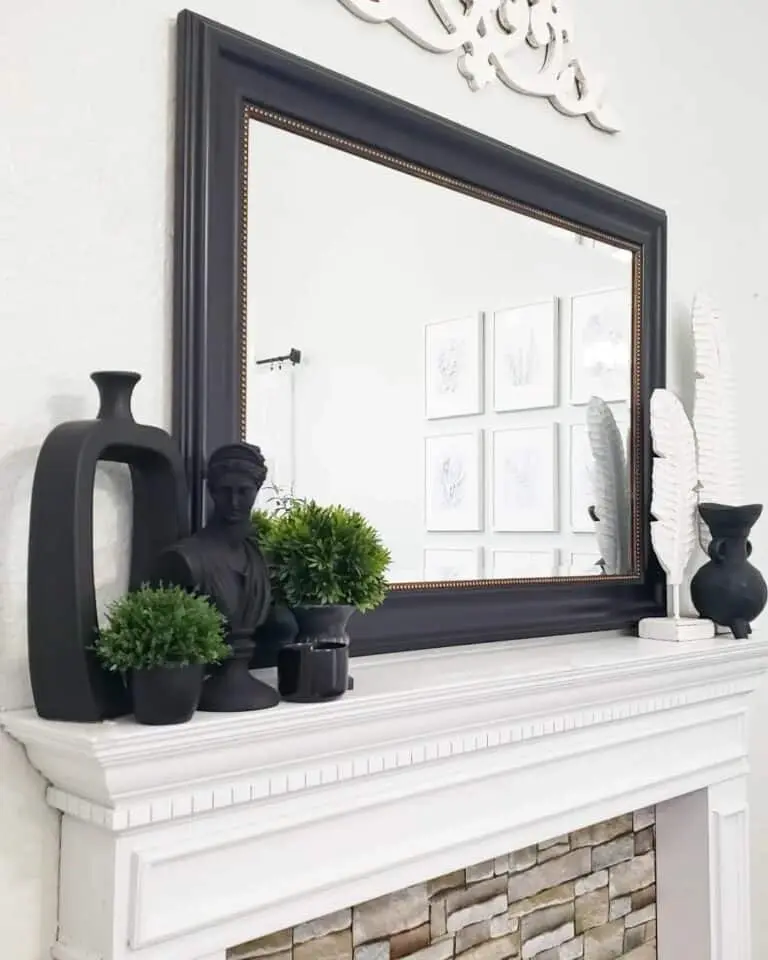 Credit: d.r.feelingsfordecor
Shop the Style
Monochromatic Elegance: Farmhouse Fireplace Decor
Embrace the warmth of summer with a delicate arrangement of fir, peonies, and roses cascading elegantly from the corner of a pristine white fireplace mantel. Vintage windows adorned with opulent gold frames and detailed black stenciled designs create a harmonious composition.
Elevate the ensemble by infusing vintage black elements like vases, hurricanes, and baskets, culminating in a polished and refined aesthetic.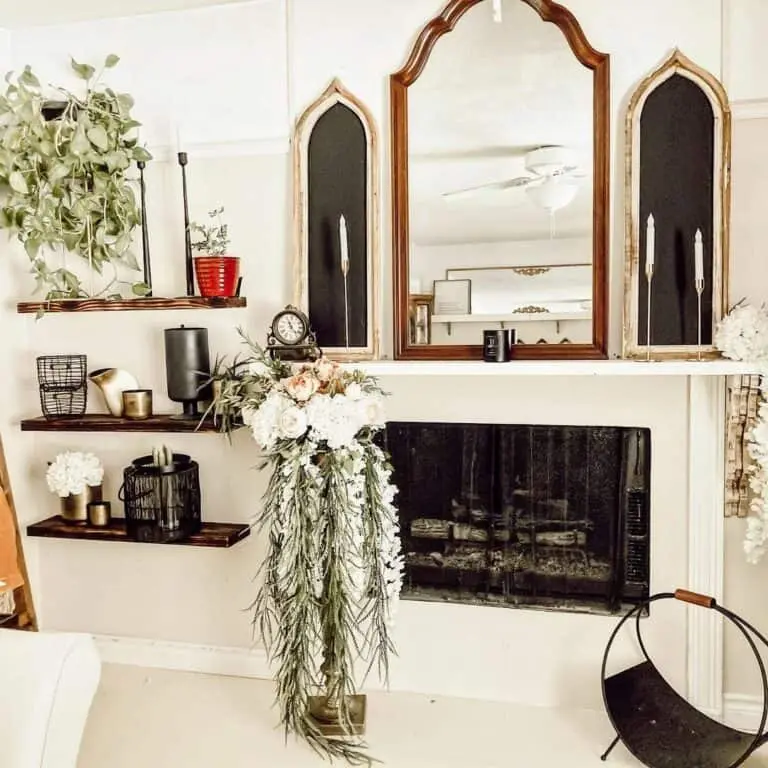 Credit: thyme_and_tinsel
Shop the Style
Bold Elegance: Black Farmhouse Vase Centerpiece for Wooden Coffee Table
Dominating the scene, a striking black vase commands attention atop a rustic wood coffee table, amplified by sleek black iron legs. Infuse farmhouse allure with delicately dyed pink baby's breath, a captivating book, a lavish wooden bead garland, and a modern white stone serving bowl.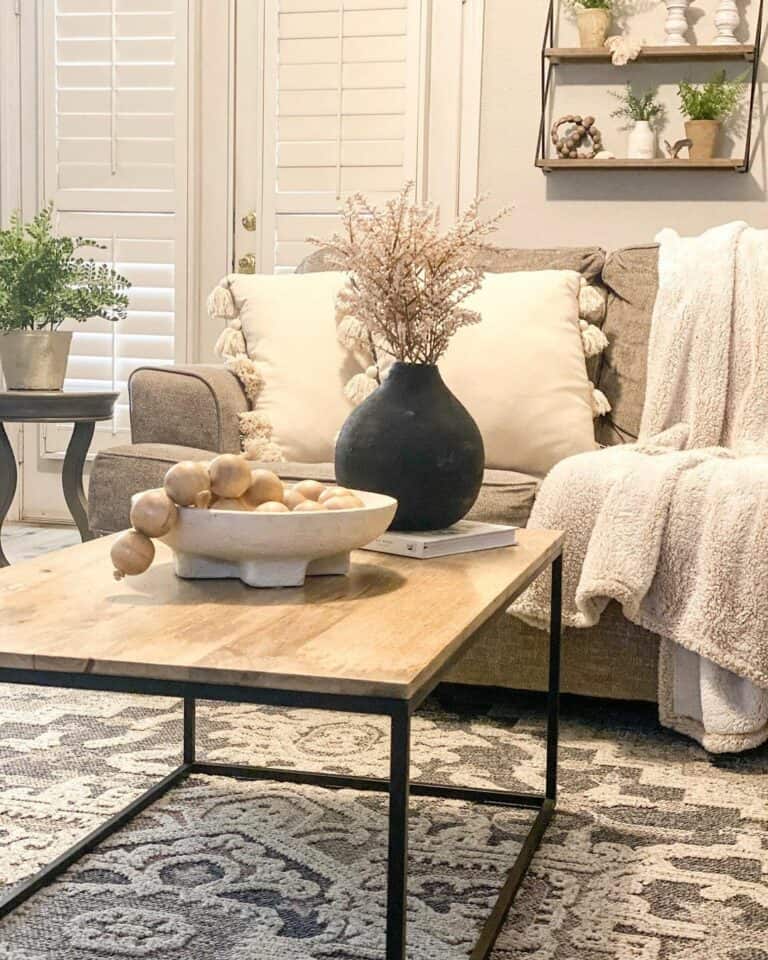 Credit: simply_grace_ful
Shop the Style
Harmonizing Elements: Black Vases Alongside Contemporary Wood Hutch
A contemporary bamboo wood hutch with intricate paneled doors finds its zenith with the addition of a striking black vase, home to dusty orange roses. A clear glass candle and illuminating table lamp complete the arrangement. To achieve equilibrium, introduce a smaller black vase adorned with delicate white flowers and a diminutive black serving bowl.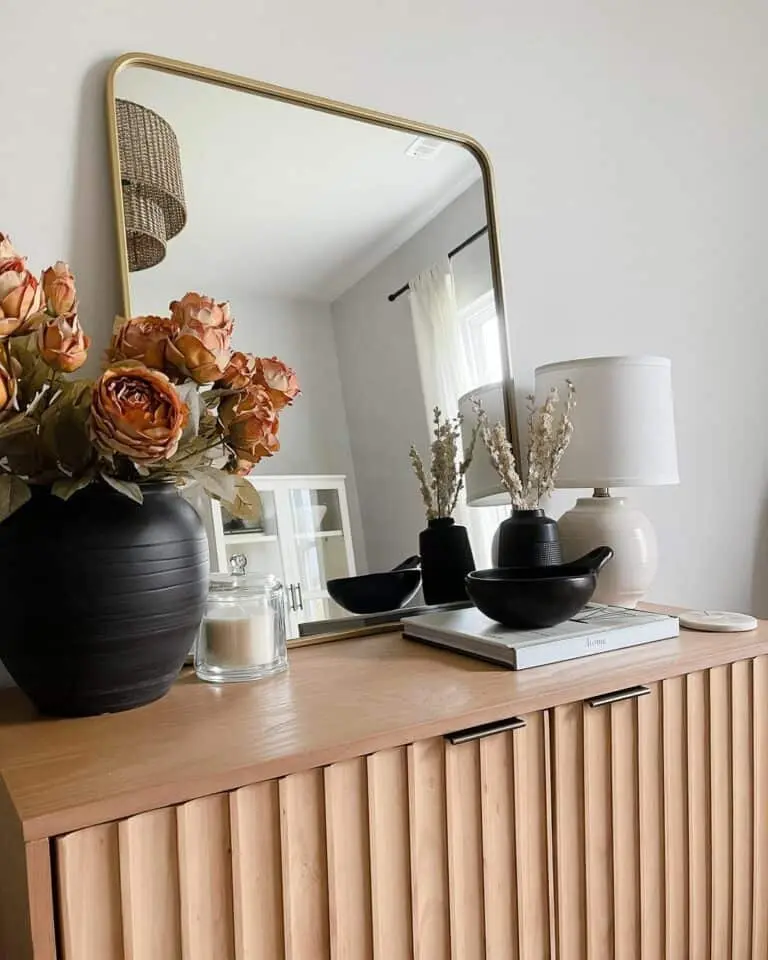 Credit: smc.living
Shop the Style
Wrap-up
As we conclude our journey through these captivating black décor styling ideas for farmhouse living rooms, we hope you've found inspiration to embark on your own design venture. Remember, the key lies in harmonizing the elegance of black with the heartwarming essence of farmhouse aesthetics.
Whether it's through bold focal points, delicate accents, or striking contrasts, black has the power to elevate and transform your space.
Embrace your creativity, experiment with textures, and curate a living room that mirrors your personal style while embracing the allure of the farmhouse.