7+ Striking Black and White Farmhouse Living Room Design Ideas
Affiliate Disclosure: As an Amazon Associate we earn from qualifying purchases. Hence, if you click through and make a purchase, we will get a commission at no extra cost to you. For more info, read our full disclosure.
Discover the timeless allure of black and white farmhouse living room designs that seamlessly blend rustic charm with modern aesthetics. The interplay of these classic hues brings depth and sophistication to your space, creating an atmosphere that's both cozy and elegant.
Whether you're aiming for a minimalist monochrome look or a bold contrast, these seven striking design ideas will inspire you to transform your living room into a captivating haven.
Emphasizing Elegance: White Ceilings and Exposed Black Beams
The juxtaposition of black-painted exposed beams against white ceilings creates a stunning visual in this living area, amplifying the sense of spaciousness in the vaulted ceiling. To embrace a modern farmhouse aesthetic, pair this with a bold black candelabra chandelier.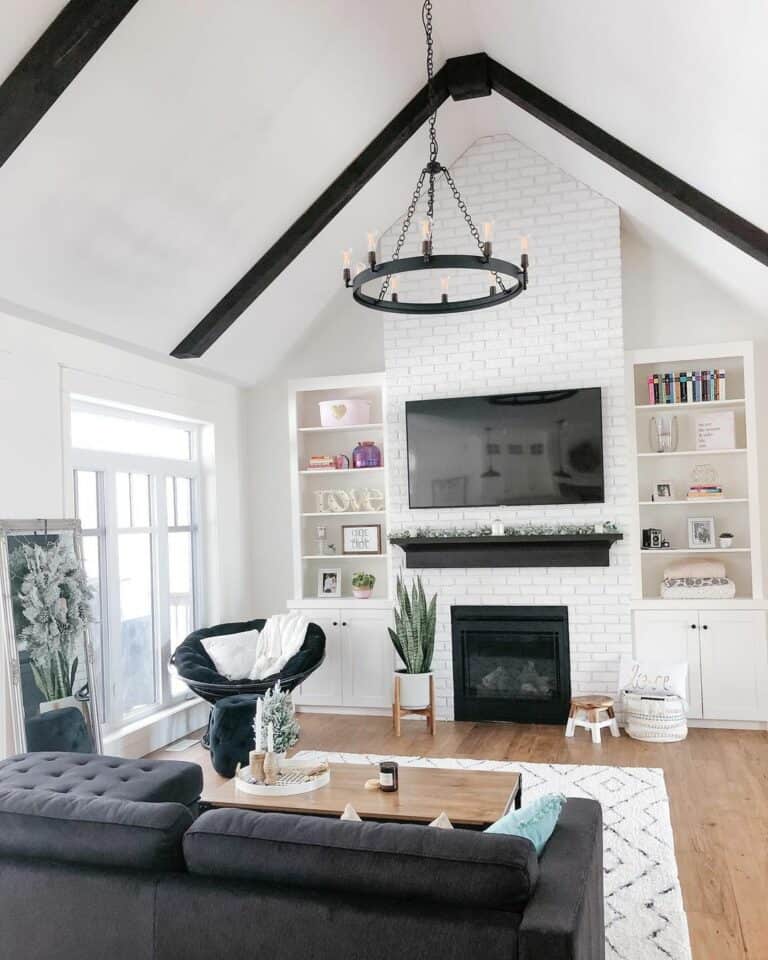 Credit: peachykeenfarmhouse
Shop the Style
Contemporary Boho Vibes: Neutral Accents for the Farmhouse Living Room
Infuse modern boho flair into your living room with a collection of patterned accent pillows, showcasing black and white color blocks and rugged leather sections. Elevate the comfort and texture by layering neutral patterned throws and rugs.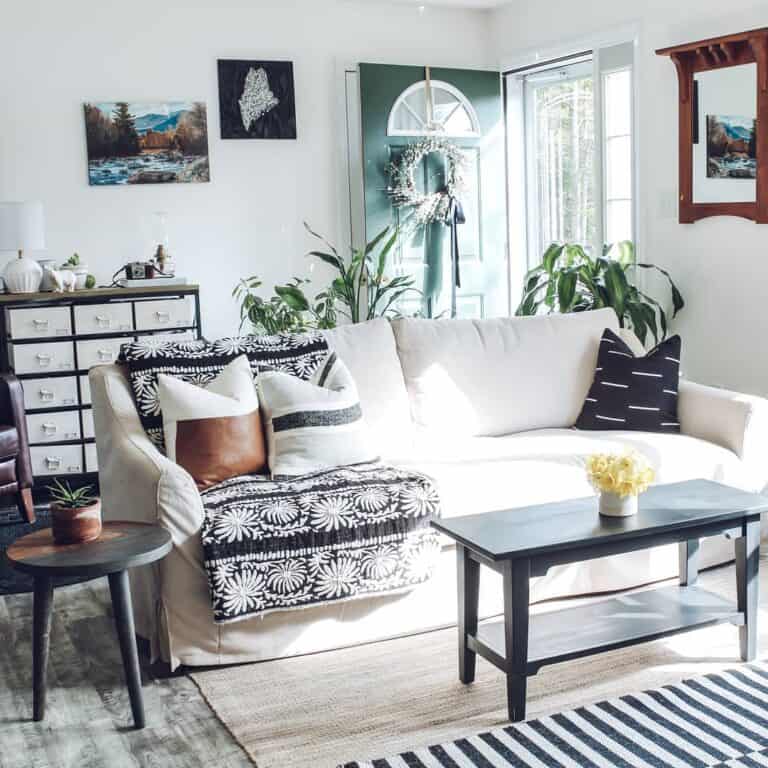 Credit: mainemadehome
Shop the Style
Industrial Chic Meets Plaid Charm: Black and White Farmhouse Decor
Indulge in an industrial farmhouse look with wire cage coffee and end tables that add a unique touch to the living room. The interplay of brown wood stain finish with black and white plaid decorations exudes warmth. Enhance the vintage feel with black and white floral curtains.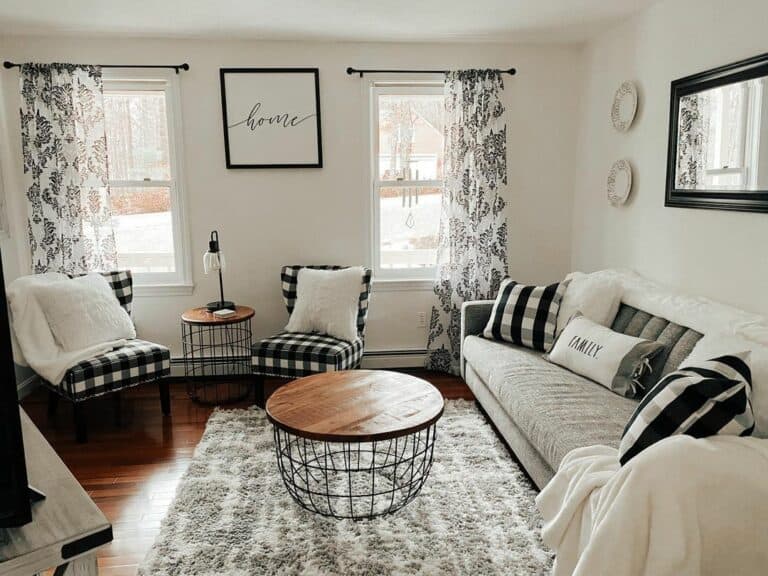 Credit: home_bycourt
Shop the Style
Monochromatic Fireplace Finesse: White Hearth and Black Accent Wall
Experience the allure of a cozy monochromatic living room, where a black-painted accent wall defines a contemporary farmhouse fireplace setting. Achieve a similar effect by curating a neutral gallery wall with vibrant metallic accents against the dark backdrop.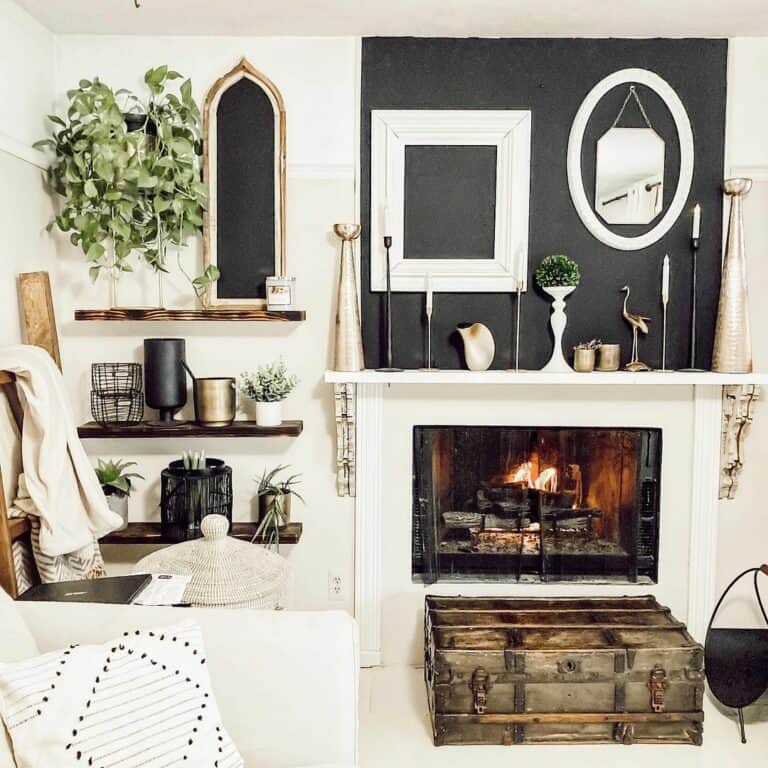 Credit: thyme_and_tinsel
Shop the Style
Boho Fusion: Farmhouse Living with Black and White Accents
Enhance the ambiance of your farmhouse living room by introducing boho-inspired elements. Incorporate dynamic patterned black and white accent pillows, add a rustic touch with woven storage baskets, and infuse a breath of nature with a potted aloe vera plant. Crown the arrangement with a reclaimed white coffee table resting gracefully on a geometric black and white area rug.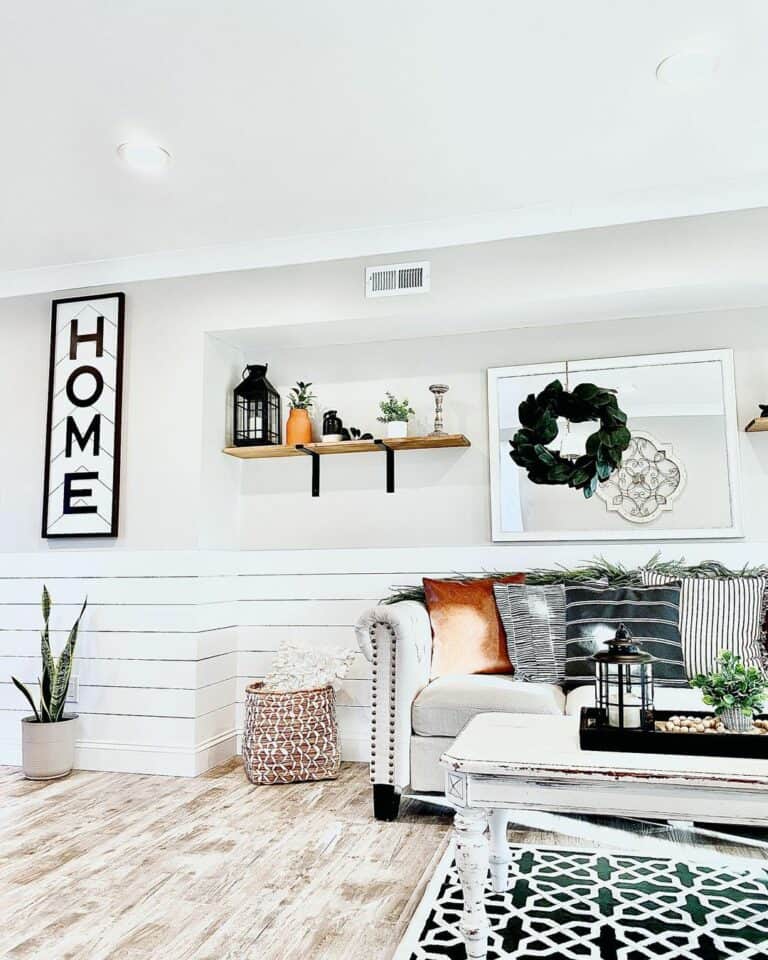 Credit: sabrina_king29
Shop the Style
Vintage Glamour: Black and White Living Room with a Classic Twist
Enter a world of refined vintage charm as you step into a formally elegant living space. Embrace the allure of a monochromatic color scheme that radiates sophistication. Experience a hint of opulence as a crystal chandelier graces the space above black armchairs adorned with plush white wedge cushions. The scene is perfected with the presence of a shaggy geometric black and white farmhouse rug that ties the ensemble together.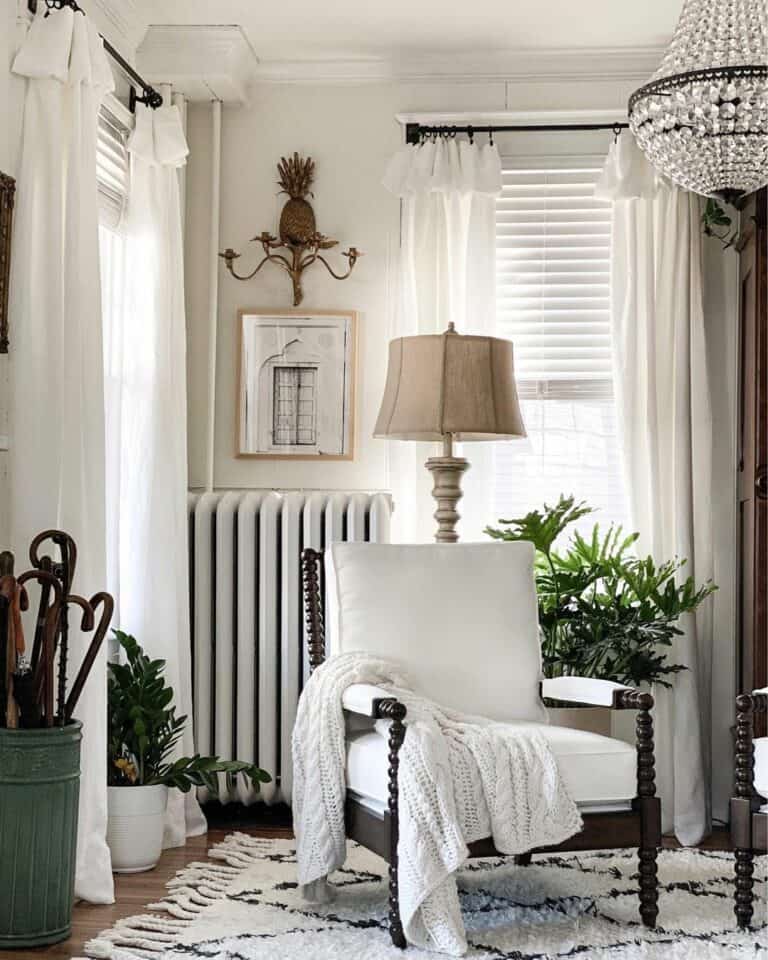 Credit: thecultivatedhome
Shop the Style
Modern Palette Harmony: Black and White Accents in a Farmhouse Living Room
Infuse modernity into your farmhouse living room by layering a black area rug beneath a modular cloud sofa. Adorn the neutrally painted wall with striking black and white portraits, and introduce a rustic note with a cool-toned wood end table that matches the gray undertones of the wood flooring.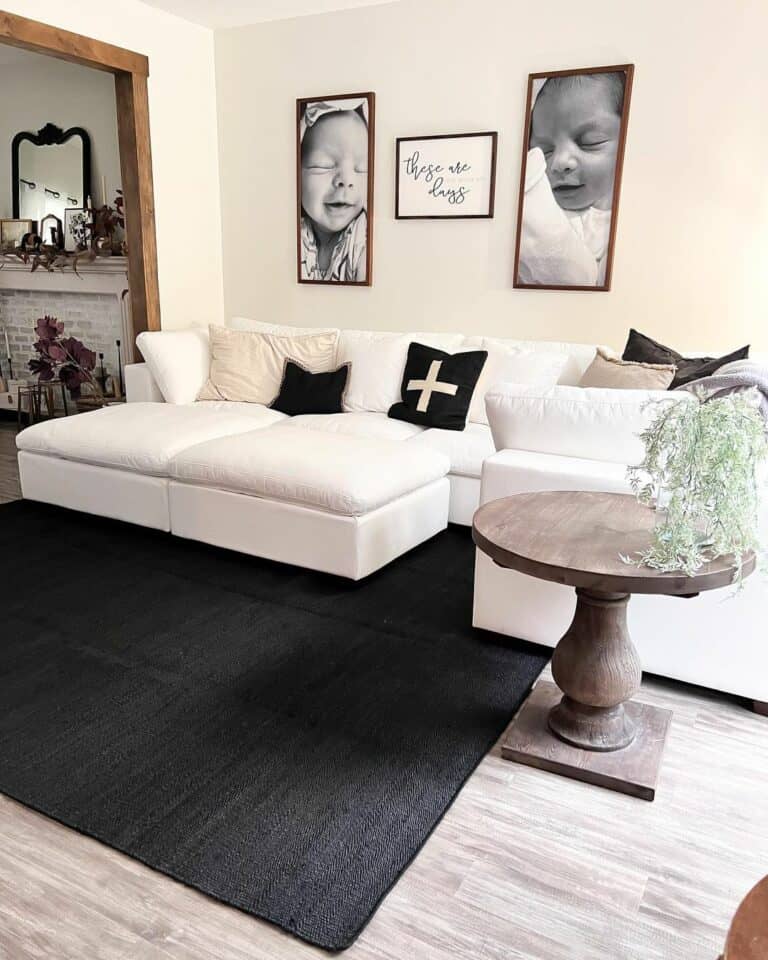 Credit: my.fauxfarmhouse
Shop the Style
Subtle Contrasts: Black Accents in a Contemporary White Living Space
Elevate the appeal of your tranquil white linen sofa by introducing geometric accent pillows that add a stylish dimension. This transformation is set against the backdrop of ashy gray wood flooring, creating a balanced visual contrast. Infuse a note of elegance by integrating black floor vases embellished with delicate white cherry blossom stems, seamlessly complementing the allure of black-framed portraits.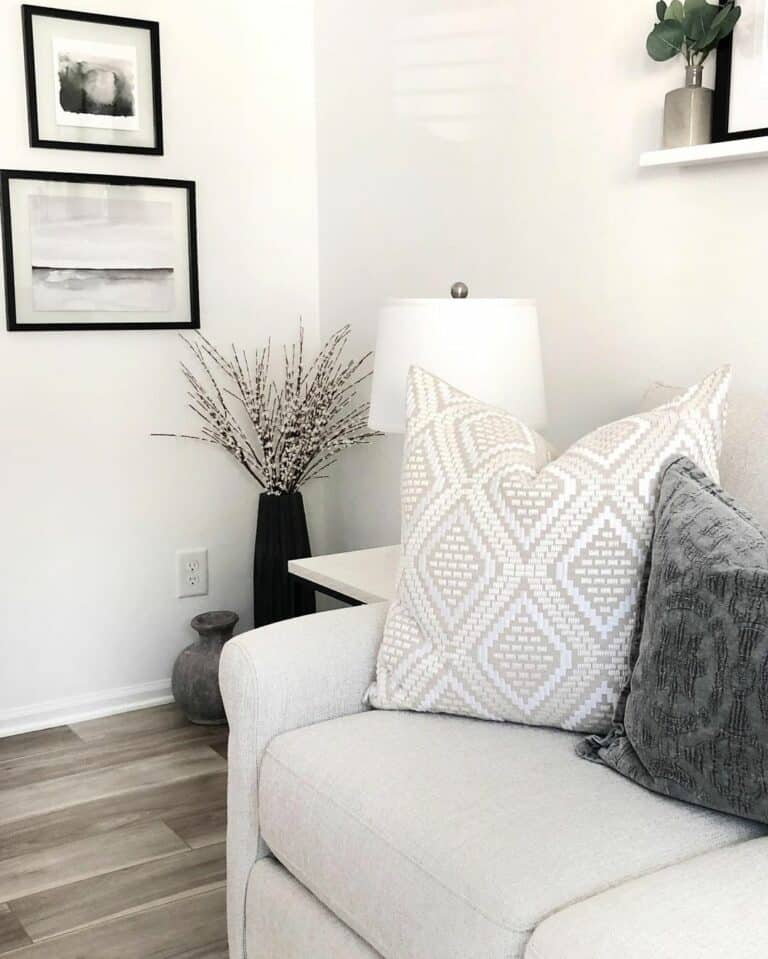 Credit: sent_fromhaven
Shop the Style
Wrap-up
Incorporating black and white elements into your farmhouse living room design can yield remarkable results, offering a versatile canvas to experiment with textures, patterns, and styles. Whether you prefer a more subdued ambiance or a dynamic visual impact, the harmonious interplay of these shades never fails to evoke a sense of timelessness and refinement.
Let these design ideas ignite your creativity and guide you towards crafting a stunning black and white farmhouse living room that truly reflects your personal style.