7+ Vibrant and Bold Blue Ideas for Farmhouse Living Rooms
Affiliate Disclosure: As an Amazon Associate we earn from qualifying purchases. Hence, if you click through and make a purchase, we will get a commission at no extra cost to you. For more info, read our full disclosure.
Embrace the charm of vibrant and bold blue hues as they take center stage in the heart of your farmhouse living spaces. With a touch of modernity and a dash of nostalgia, these captivating ideas bring a refreshing twist to the classic farmhouse aesthetic.
From cozy nooks to spacious lounges, discover how the versatile shades of blue can transform your living room into a haven of style and personality.
Navy Blue Living Room Inspiration with Indoor Fireplace
This charming navy blue living room exudes an ambiance of brightness and light. Complemented by a neutral-toned gray rug and armchairs, the inviting navy shades of the cushions and walls take center stage. The marble fireplace adds an ideal touch for snuggling up during chilly winter evenings.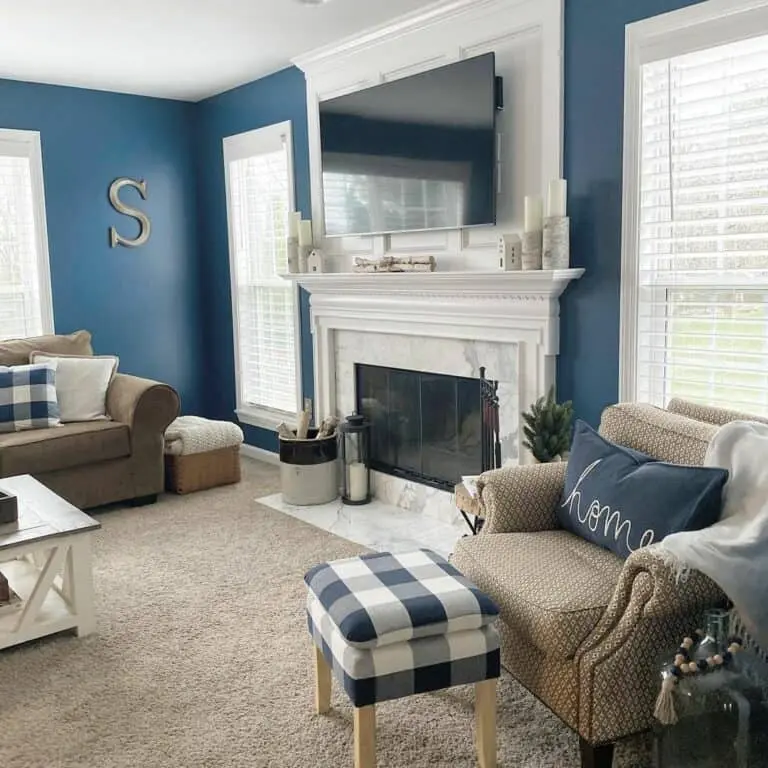 Credit: houseonwooster
Shop the Style
Elegantly Styled Aegean Blue Living Room
An exquisite blend of Aegean blue walls and refined portraits establishes an atmosphere of sophistication and elegance. Above an intricately patterned indoor fireplace, a round mirror with a black frame commands attention. Over a neutral-toned gray carpet, a soft wool rug adds an extra layer of comfort.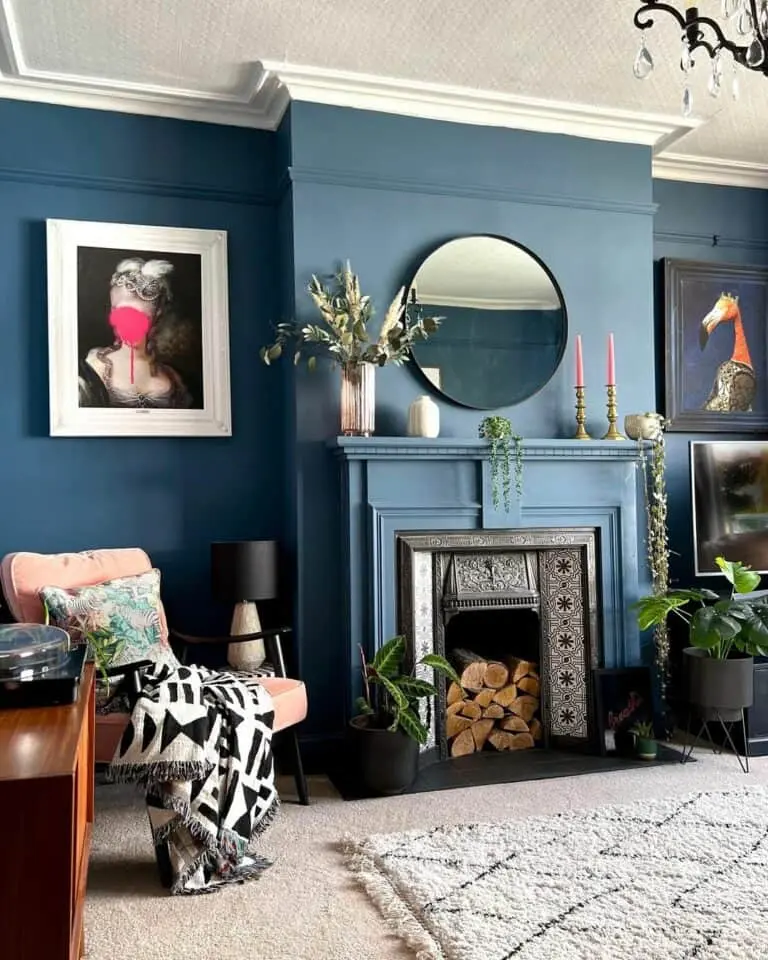 Credit: edwardian_vignette
Shop the Style
Embrace Classic French Design in Your Living Room
Indulge in the timeless charm of a French-inspired and blue-themed aesthetic within this sophisticated living room. The meticulously crafted blue wallpaper complements exquisite blue floral Roman blinds that grace a vaulted ceiling. Taking center stage is a deep navy sofa, complemented by a glass-topped coffee table. Adding to the ambiance, a delicate-toned carpet partially cloaks a rustic wooden floor.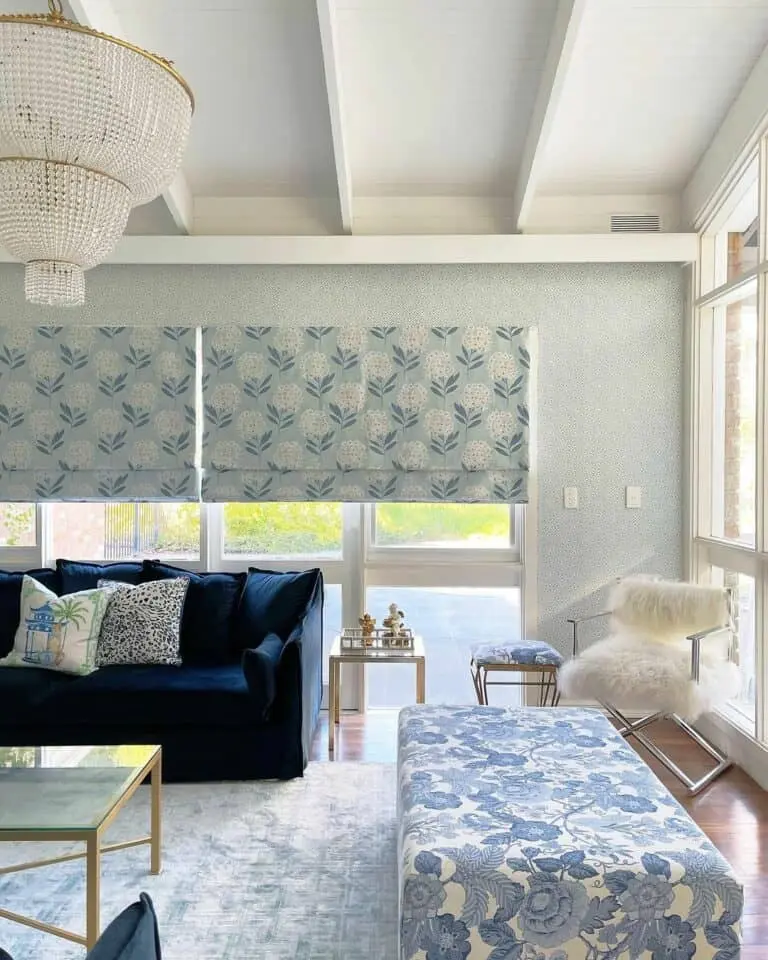 Credit: hamptonsdiaries
Shop the Style
Serene Family Living Room with Touches of Yellow
Nestled within a lovely family abode, adorned with a gray couch, stands a circular wooden coffee table. This table is adorned with lively yellow flowers in an elegant white vase, accompanied by pillar candles on silver candlesticks. Completing the ensemble, a quatrefoil-patterned blue and white rug graces the space beneath the couch and table, situated in front of a contemporary fireplace.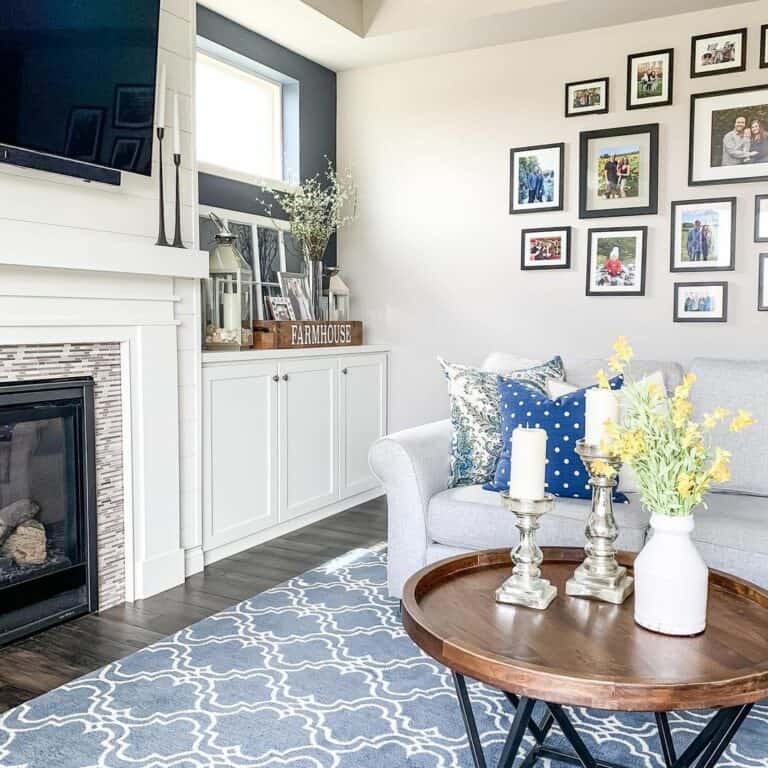 Credit: the.westnest
Shop the Style
Harmonious Blend of Blue, White, and Brown Tones
In this living room, you'll find a sectional couch in a rich navy blue hue, accompanied by a square coffee table in pristine white. A plush white armchair adds to the inviting setup. Adjacent to the armchair, an unfinished tree stump end table finds its place atop a brown oriental-style area rug.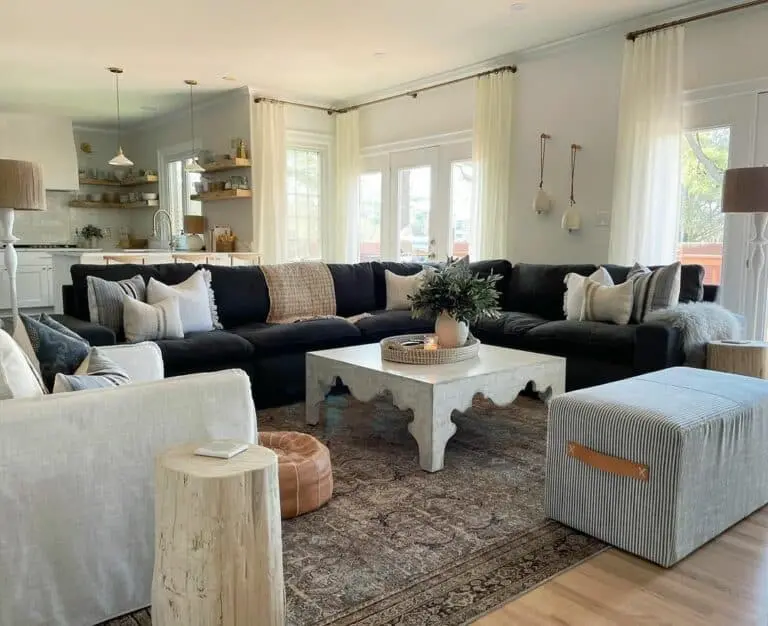 Credit: meganchasehome
Shop the Style
Blue Living Room with a Touch of Nature
Atop a rustic wooden dresser rests a vintage rectangular mirror, adding a touch of timeless charm. Delicate vases adorned with intricate floral patterns beautifully harmonize with the understated beige walls and the patterned armchair. Covering the dark oak floor is a straightforward yet elegant patterned rug.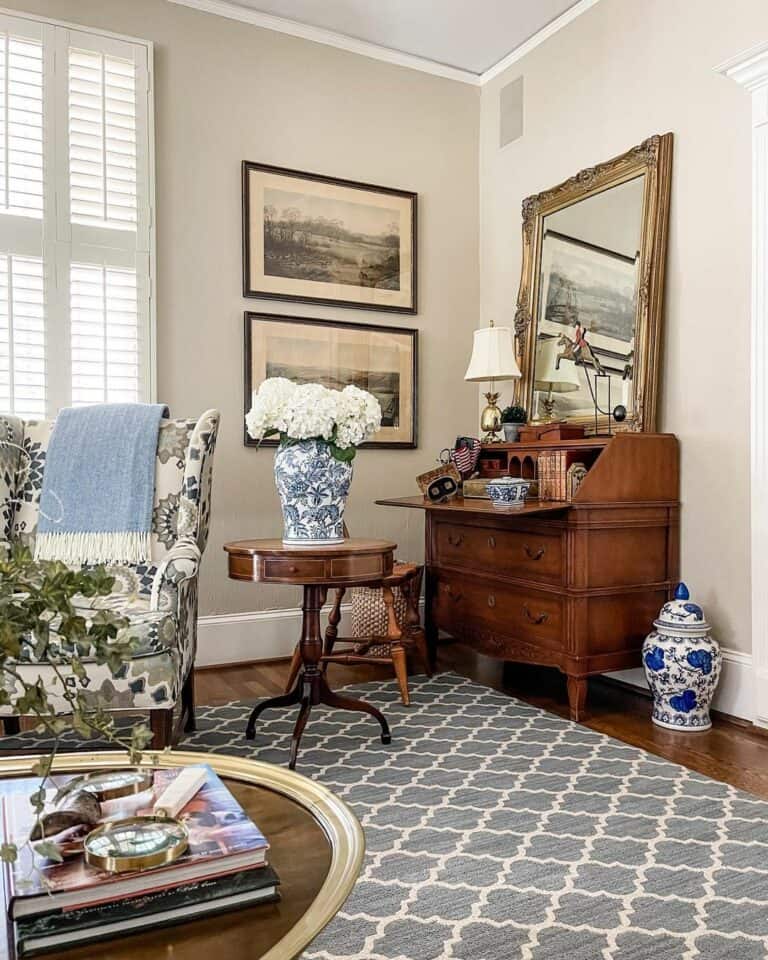 Credit: rachelrsimon
Shop the Style
Tall Red Flowers in Blue Vases
Standing within this living room, your gaze will be drawn to a large wicker basket graced with a brown wreath, resting upon a wooden mantel. A vivid blue blanket elegantly drapes over the back of a pristine white armchair. For an extra burst of vibrancy, contemplate introducing tall, vibrant red flowers within blue containers, infusing the room with a captivating pop of color.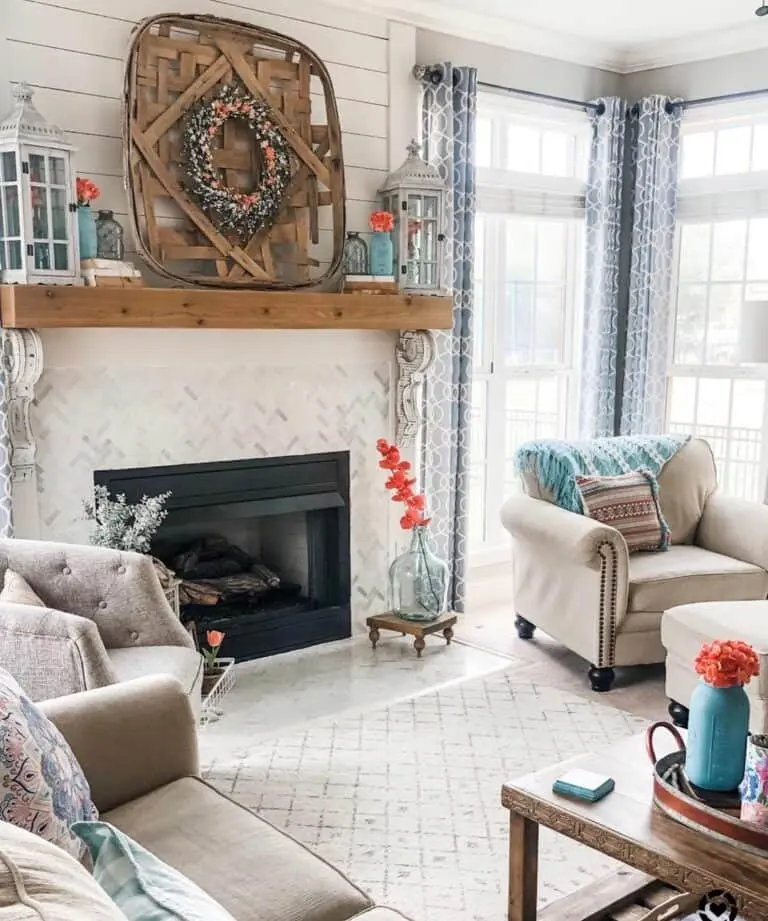 Credit: wilshire_collections
Shop the Style
Refreshing Blue Living Room Design
Emanating a refreshing coastal ambiance, this living room effortlessly captures a sense of oceanic ease with its invigorating blue tones. The vibrant blue walls serve as a perfect canvas for the white shelves, accentuating the diverse ornaments displayed upon them. Complementing this aesthetic, gray armchairs adorned with blue floral pillows introduce a tranquil seaside vibe that soothes the senses.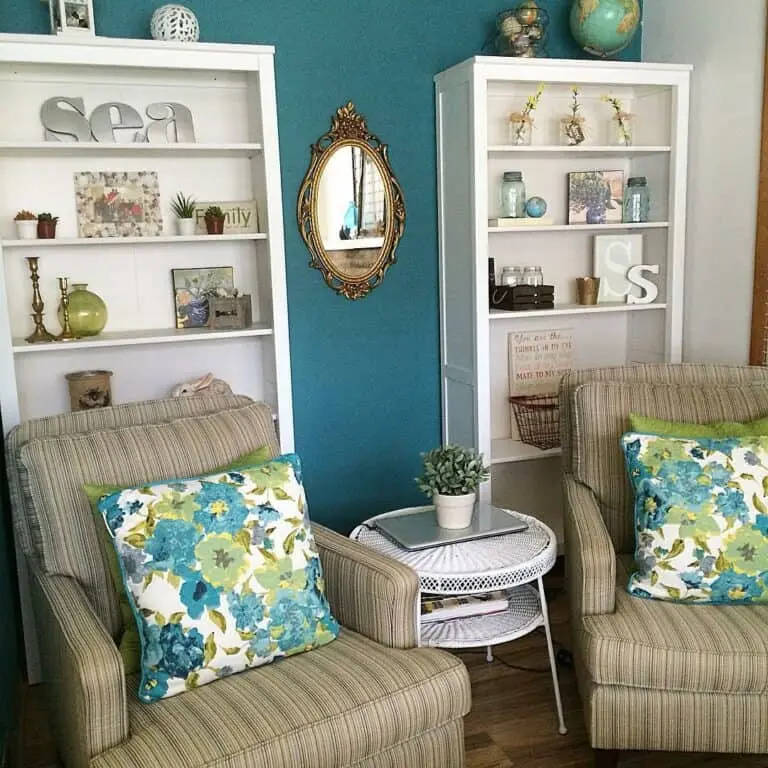 Credit: sweethoneycottage
Shop the Style
Wrap-up
Infusing your farmhouse living room with vibrant and bold blue elements has the power to redefine the way you experience your space. Whether you opt for rich navy tones or striking teal accents, these ideas offer a perfect blend of comfort, nostalgia, and contemporary flair.
Elevate your farmhouse aesthetic with these captivating blue-inspired designs that truly breathe life into your cherished living areas.