7+ Daybed Ideas for Your Farmhouse Living Room That Guests Will Adore
Affiliate Disclosure: As an Amazon Associate we earn from qualifying purchases. Hence, if you click through and make a purchase, we will get a commission at no extra cost to you. For more info, read our full disclosure.
Welcome to a world of farmhouse living room inspiration that promises both comfort and charm. Daybeds are versatile pieces that add a touch of coziness to any space, making them a perfect choice for farmhouse-style interiors.
In this blog, we present you with a curated collection of 7+ daybed ideas that will not only enhance your living room's aesthetic but also create a welcoming haven for your guests.
Whether you're looking to maximize seating or infuse your space with rustic allure, these daybed ideas are sure to captivate your imagination and transform your farmhouse living room.
A Rustic Touch: Wood Day Bench in the Farmhouse Family Room
Discover rustic elegance in the farmhouse family room as a harmonious blend of gray and wood elements takes center stage. Sink into comfort on white sofas surrounding a gray and wood ottoman coffee table.
Drawing the eye is a wood day bench adorned with taupe cushions, offering a cozy spot for relaxation. Adjacent to the bench, a rustic white floor lamp with a beige shade forms a perfect reading nook.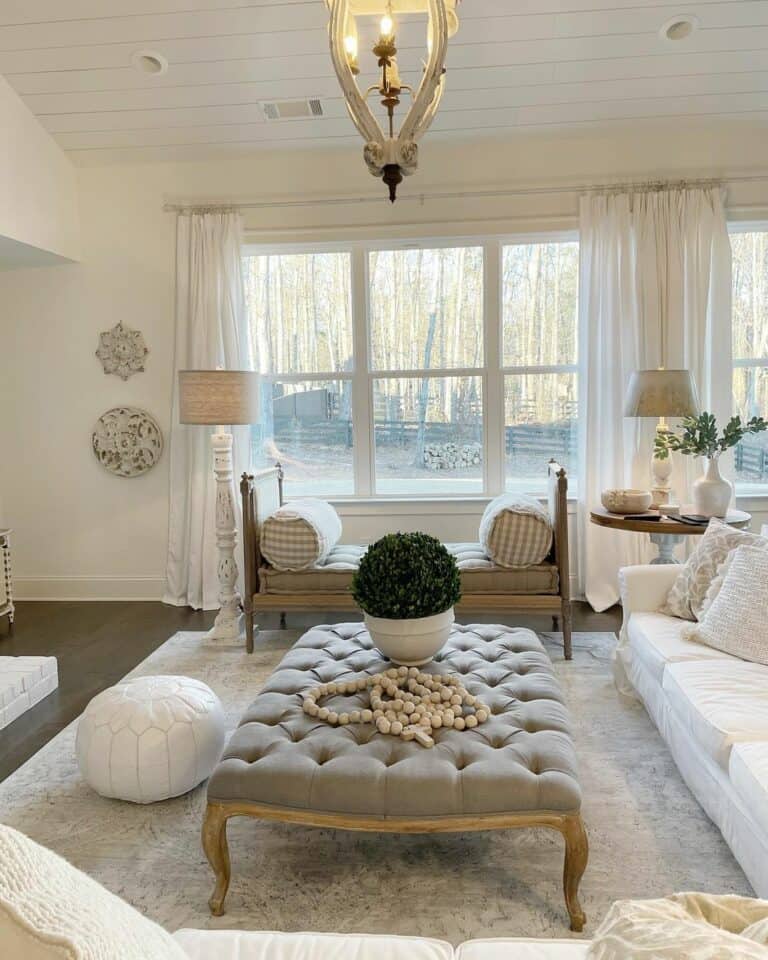 Credit: white.cottage.life
Shop the Style
Timeless Beauty: White Metal Daybed in the Living Room
Experience timeless beauty within the living room graced by a white metal daybed. Adorned with plush gray and beige pillows, the daybed invites you to unwind. An antique white hutch, adorned with a tasteful arrangement of white, tan, and green décor, stands gracefully beside the bed. Adding depth to the space, an array of antique oval mirrors emanates sophistication.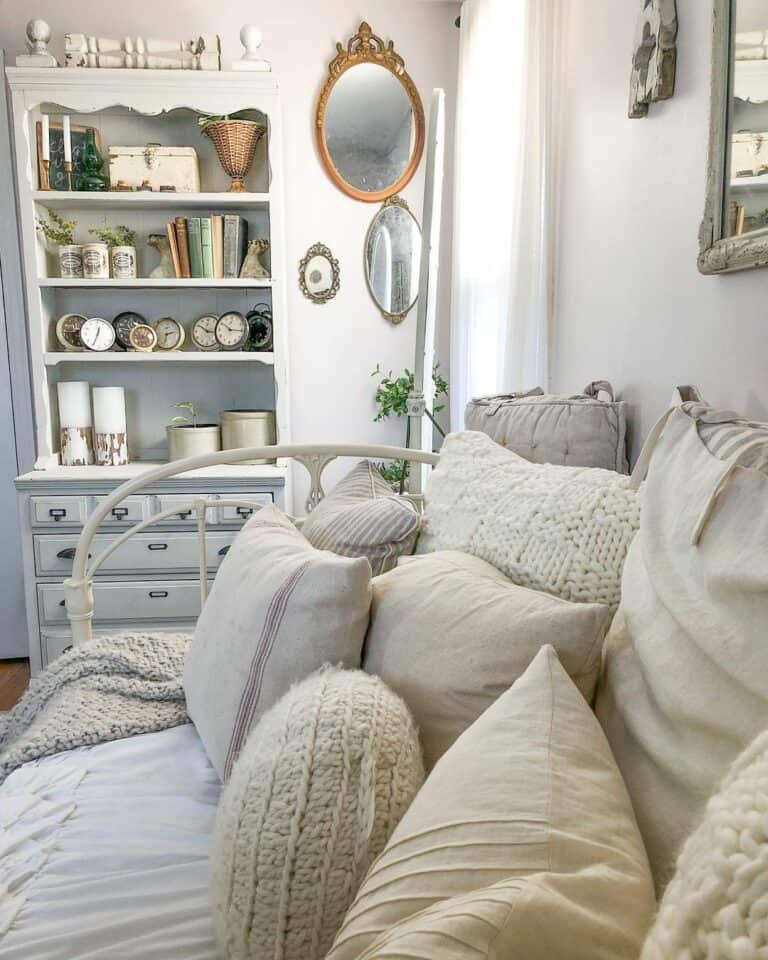 Credit: the.huber.homestead
Shop the Style
Tranquil Retreat: Guest Room With Black Metal Daybed
Step into a tranquil guest room that boasts a soothing blue-painted wood chair. Anchoring the space is an antique black metal daybed, adorned with pink flowers in a charming metal bucket planter atop a round white coffee table. Rustic white-painted wood doors stand as decorative accents behind the bed, adding to the room's allure.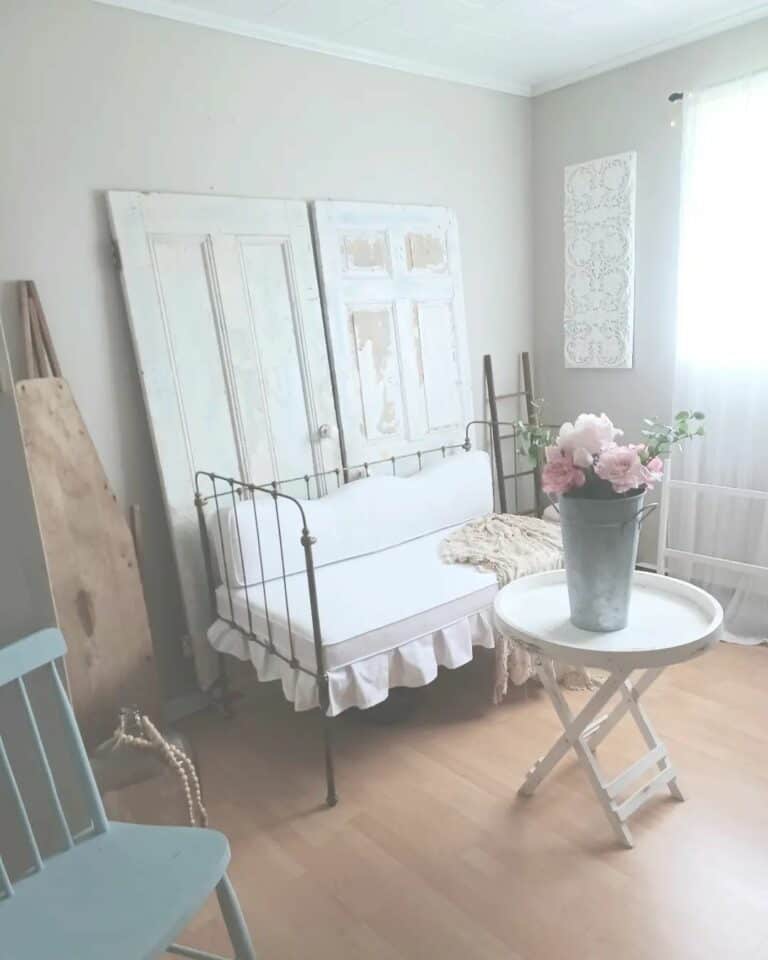 Credit: minas_farmhouse_
Shop the Style
Cottage Serenity: White-painted Wood Bench in the Living Room
Experience serene cottage vibes in the living room, graced by a white-painted wood bench. The bench showcases a white tufted seat cushion adorned with charming pink throw pillows. At its feet, a beige rug rests on white shiplap flooring, infusing coziness into the space. A white and pink floral chair, positioned before a graceful white fireplace mantel, offers additional seating.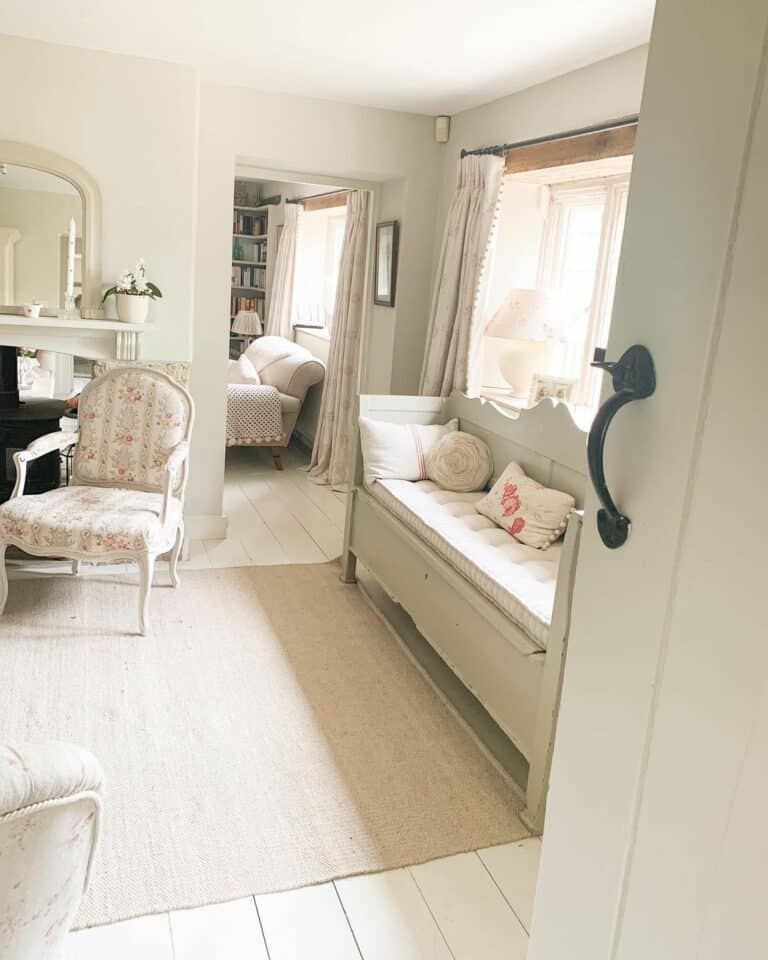 Credit: thelittlecornercottage
Shop the Style
Bohemian Bliss: Living Room With a Rattan Daybed
Immerse yourself in bohemian bliss within the living room featuring a captivating rattan daybed. Adorned with inviting beige and tan pillows, the daybed invites relaxation. Adjacent to it, a grand arched floor mirror is paired with a plush white sheepskin rug. Enhance the mirror's allure with beige pampas grass décor and a cozy rattan floor cushion.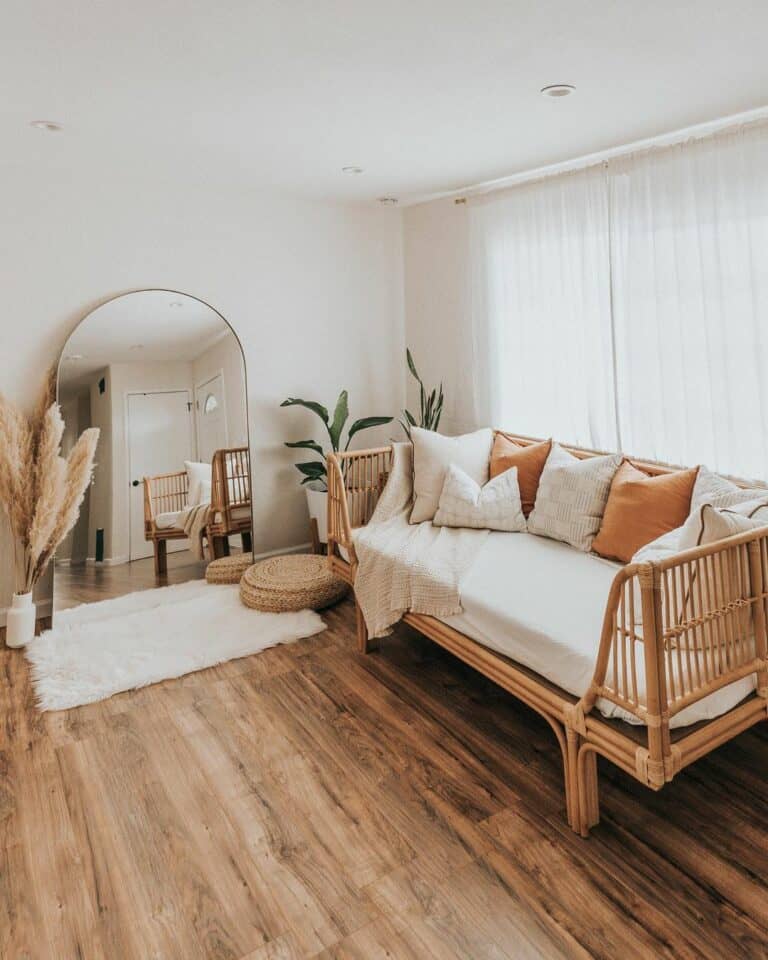 Credit: casa.almonte
Shop the Style
Modern Rusticity: Gray Metal Guest Bed With White and Pink Bedding
Welcome modern rusticity into your space with a gray metal guest bed dressed in white, pink, and beige bedding. Beneath a rustic white and tan wall sign, the bed exudes charm. Nearby, a white rug complements a small round wood and black metal accent table, creating a cozy corner. A white-painted wood end table adorned with tasteful teal décor adds a pop of color.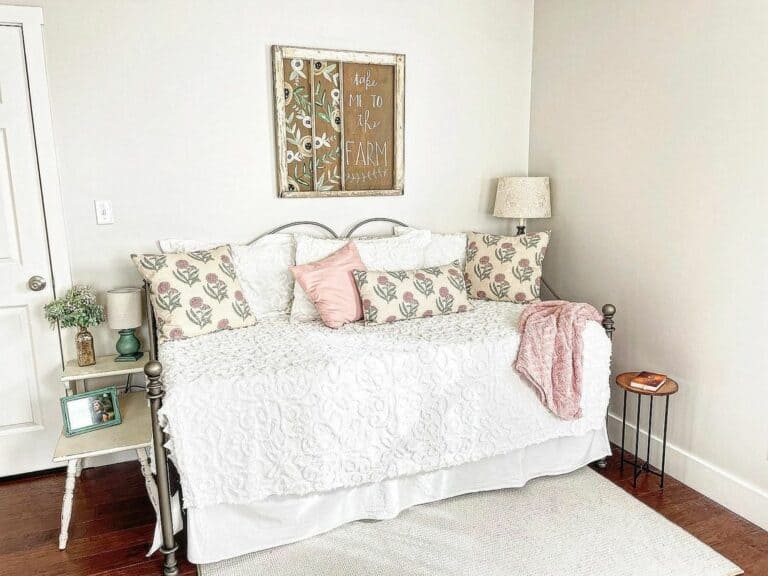 Credit: edwardsfarmstead
Shop the Style
Serene Comfort: Living Room With a White and Tan Day Bench
Relax in the tranquil embrace of a living room adorned with a white-painted wood day bench, graced by a soft tan cushion. Enhanced by a delicate beige and white pompom throw, the bench provides a snug sanctuary. Positioned elegantly before the bench, a white cane table holds a pristine white planter, adding a touch of sophistication. The space is bathed in abundant sunlight that filters through elegant gray frame windows accentuated with white trim.
Credit: r.house__
Shop the Style
Vintage Elegance: Mirrors on the Taupe Bedroom Wall
Indulge in vintage elegance as mirrors adorn the taupe bedroom wall. These vintage mirrors create an exquisite focal point above the bed. Resting on the bed, a white tray is surrounded by pink and gray bedding, accentuated by delicate floral elements.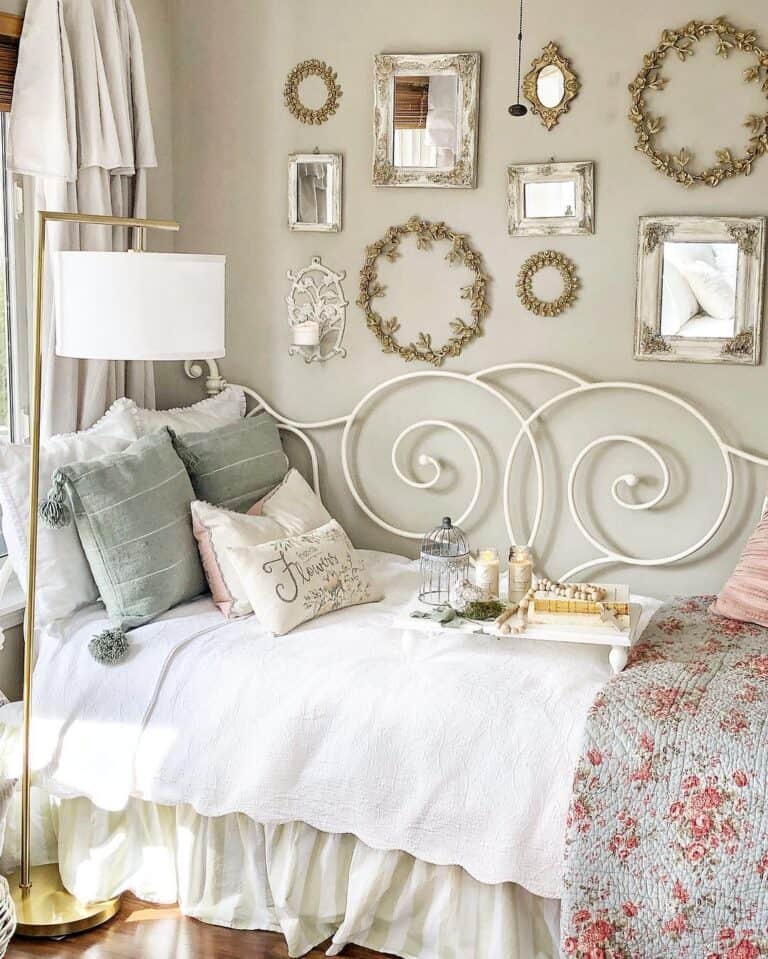 Credit: angieonarlington
Shop the Style
Wrap-up
As we conclude this exploration of daybed ideas for your farmhouse living room, we hope you've discovered inspiration to elevate your space's appeal. With a blend of comfort, style, and rustic charm, these daybeds offer more than just seating; they invite relaxation and conversation.
Whether it's the classic white metal daybed or the boho rattan version, each idea brings a unique touch to your farmhouse oasis.
By incorporating these ideas into your living room, you'll create a haven that not only captivates your guests but also becomes a cherished space for moments of tranquility and togetherness.