7+ Elegant Black And White Farmhouse Living Room Wall Décor Ideas
Affiliate Disclosure: As an Amazon Associate we earn from qualifying purchases. Hence, if you click through and make a purchase, we will get a commission at no extra cost to you. For more info, read our full disclosure.
When it comes to farmhouse living rooms, the classic combination of black and white never goes out of style. The timeless elegance and simplicity of this color palette can transform your space into a haven of charm and sophistication.
Whether you're aiming for a cozy retreat or a space that exudes understated grandeur, black and white wall decor ideas can effortlessly elevate your farmhouse living room.
In this article, we'll explore seven simple yet incredibly stylish ways to infuse this monochromatic duo into your interior, bringing a touch of elegance that stands the test of time.
A Dash of Black and White Plaid for a Seasonal Touch
Sheer white curtains elegantly drape from sleek black rods, framing the windows of this farmhouse-inspired living room. A rustic black farmhouse sign hangs proudly between the windows, while black and white buffalo check chairs, adorned with plush white pillows, rest below in an inviting arrangement.
On the opposing wall, a soft gray sofa finds its place amidst farmhouse frames and a circular mirror. Vibrant pops of orange and carefully curated pumpkin decor accentuate the seasonal display flawlessly.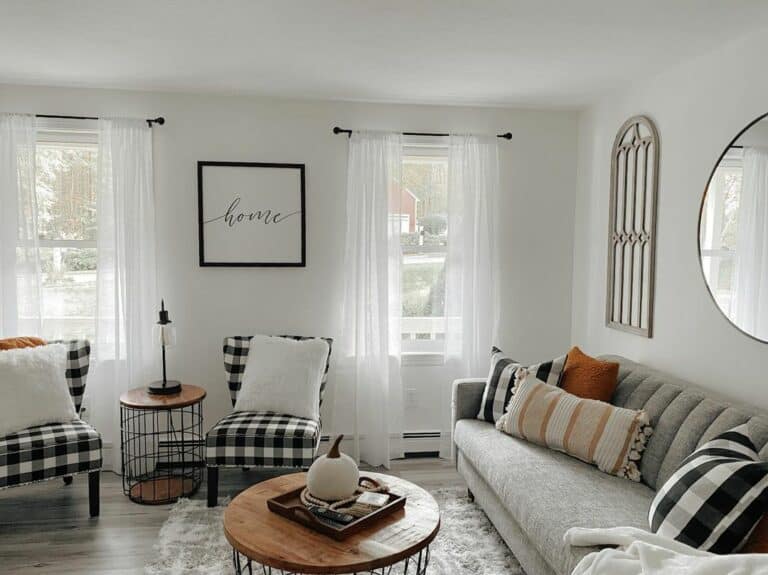 Credit: home_bycourt
Shop the Style
Gray and White Infused Country Elegance
A substantial framed poem takes center stage above a black farmhouse bench, creating a focal point in this cozy, classic living room. An array of gray and white pillows, featuring geometric prints and delicate fringe, graces the bench alongside a neatly stacked collection of books and a touch of verdant greenery. On either side of the bench, wicker baskets and potted plants add a touch of rustic charm.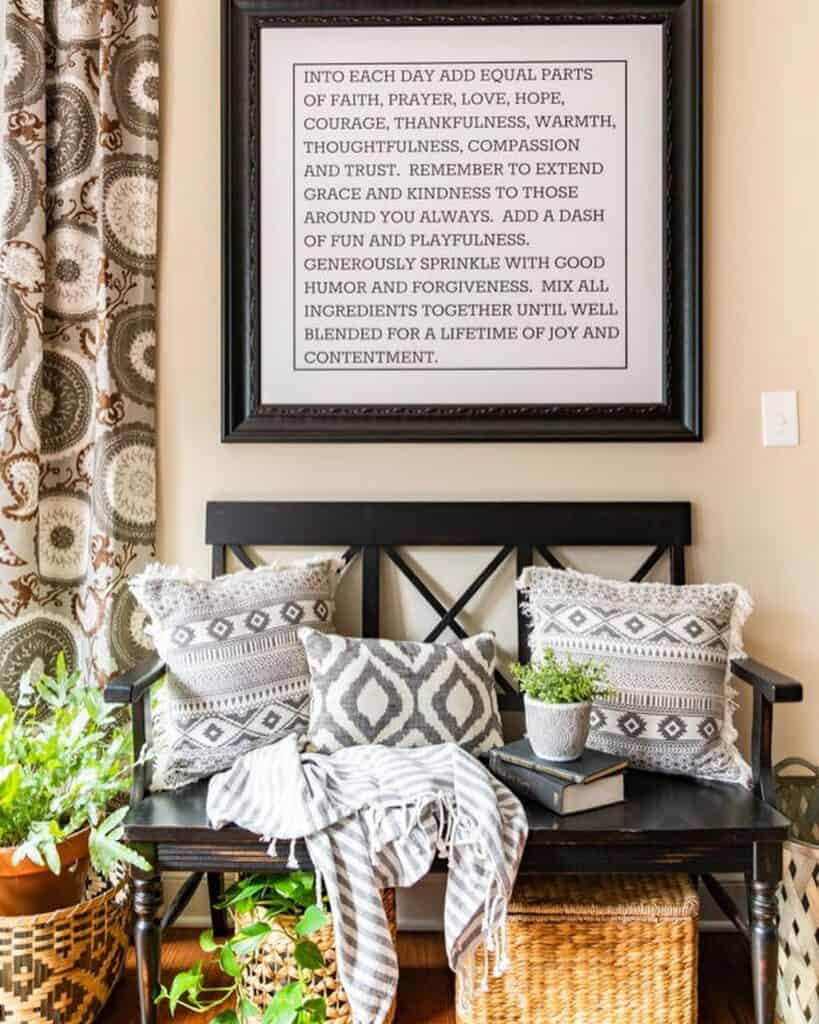 Credit: worthingcourtblog
Shop the Style
Harmonizing Vintage and Modern in Living Room Design
Nostalgic black and white images, bordered by sleek black frames, coexist harmoniously with rustic photographs framed in weathered wood. An eye-catching large cow painting shares the wall with the gray backdrop, positioned elegantly above a black leather sofa.
The sofa is adorned with black and white pillows boasting intricate paisley prints, seamlessly blending the contemporary and vintage elements into a cohesive whole.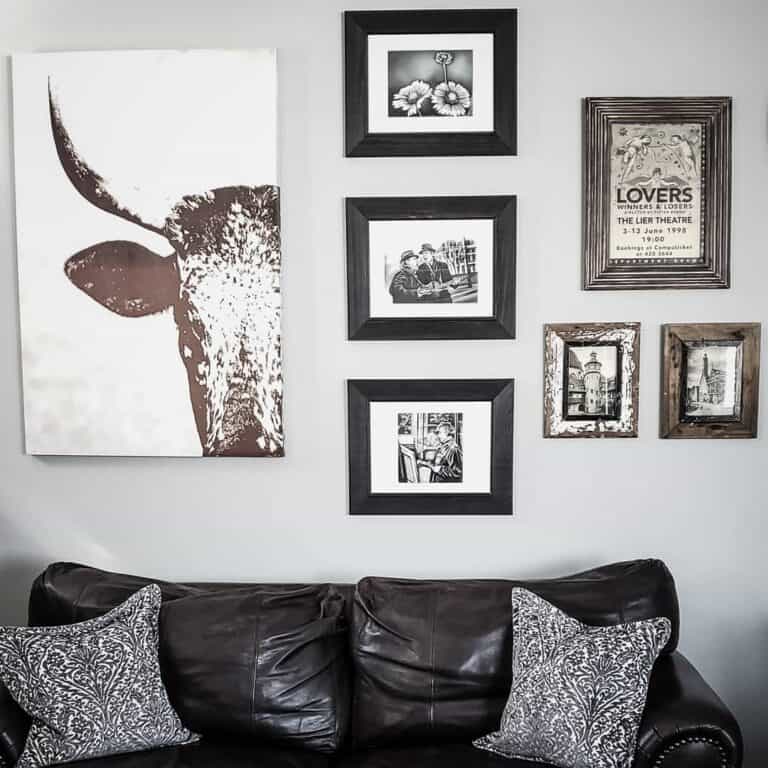 Credit: homewithmarieza
Shop the Style
Modern Rustic Fusion Inspires Living Room Ambiance
A collection of black and white photographs, encased in sleek black frames, graces the wall above a wooden chair adorned with brown leather, complemented by black and white floral accent pillows. Below, a wooden dresser sits beneath a rectangular mirror adorned with a lavish gold frame.
A striking contrast is achieved with a large black lamp featuring a pristine white shade, stacked books, and a white planter brimming with delicate pink flowers—a harmonious blend of rustic and modern aesthetics.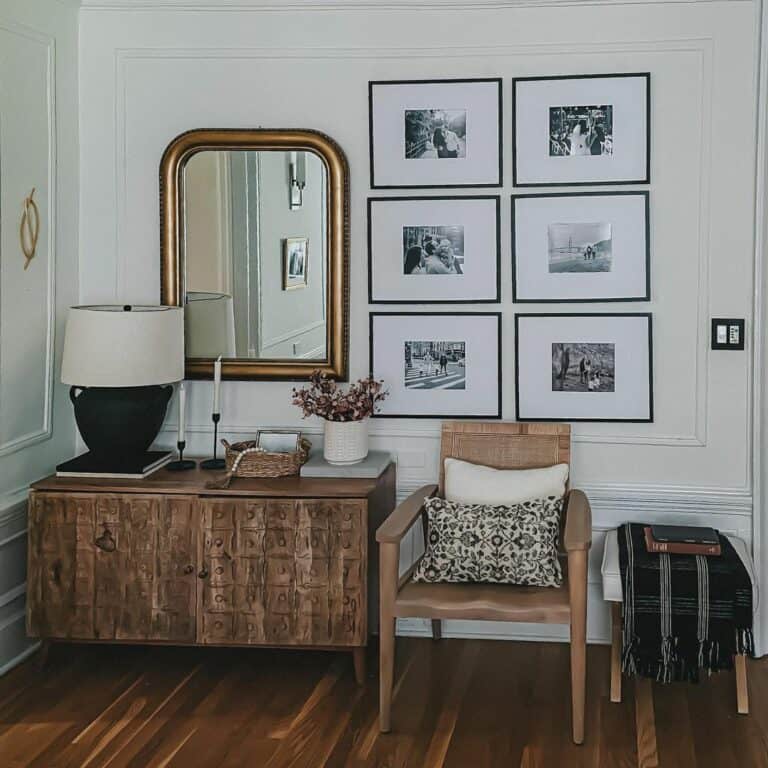 Credit: cityloveletter
Shop the Style
Transitional Fusion in Neutral Living Room Decor
A series of black and white family photos adorn the wall above a comfortable beige couch, accompanied by generously sized black and white pillows. A rustic wooden stool stands alongside the couch, thoughtfully adorned with stacked books, a black vase filled with verdant blooms, and a white candle, seamlessly achieving a transitional design.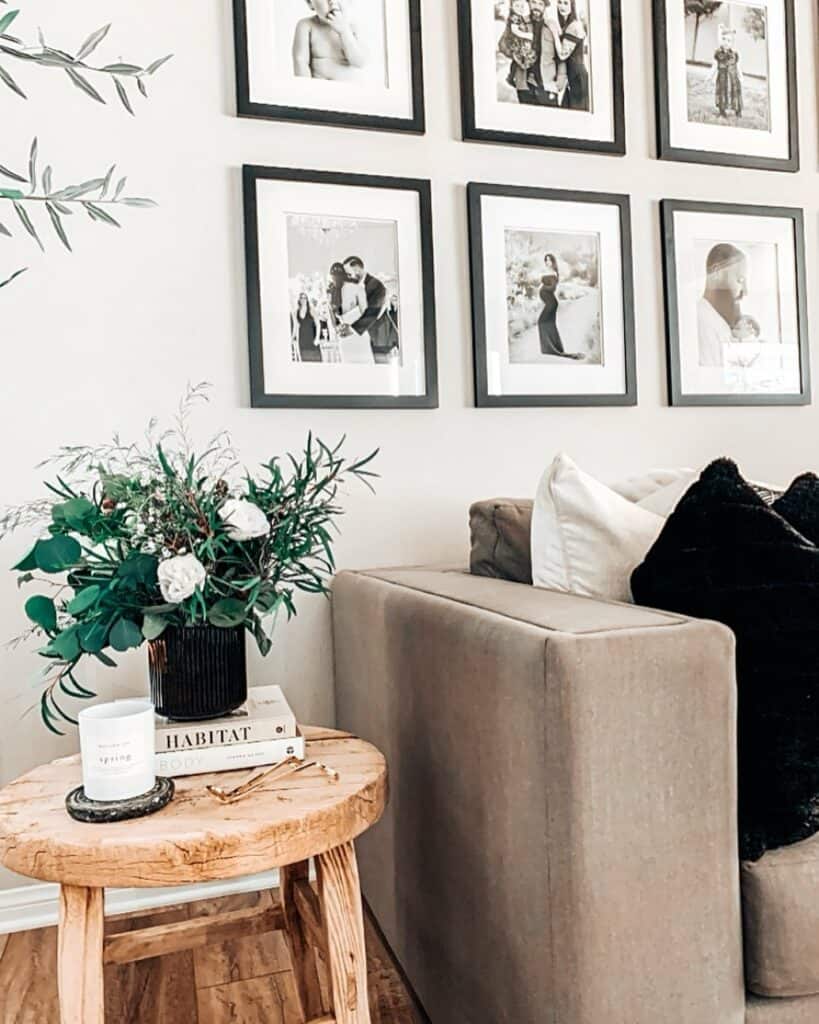 Credit: hannah_naylor_
Shop the Style
Striking Balance with Black, White, and Yellow Room Decor
A captivating black and white farmhouse clock graces the wall between wooden candle sconces, providing an elegant backdrop behind a pristine white sofa. A central wicker basket takes the stage, showcasing a wooden tray with a graceful white pitcher vase, brimming with sunny yellow flowers.
An intimate touch is added with a charming lantern candle holder. The strategic use of bright yellow accents, as seen in the throw pillows, unifies the room's decor with flair.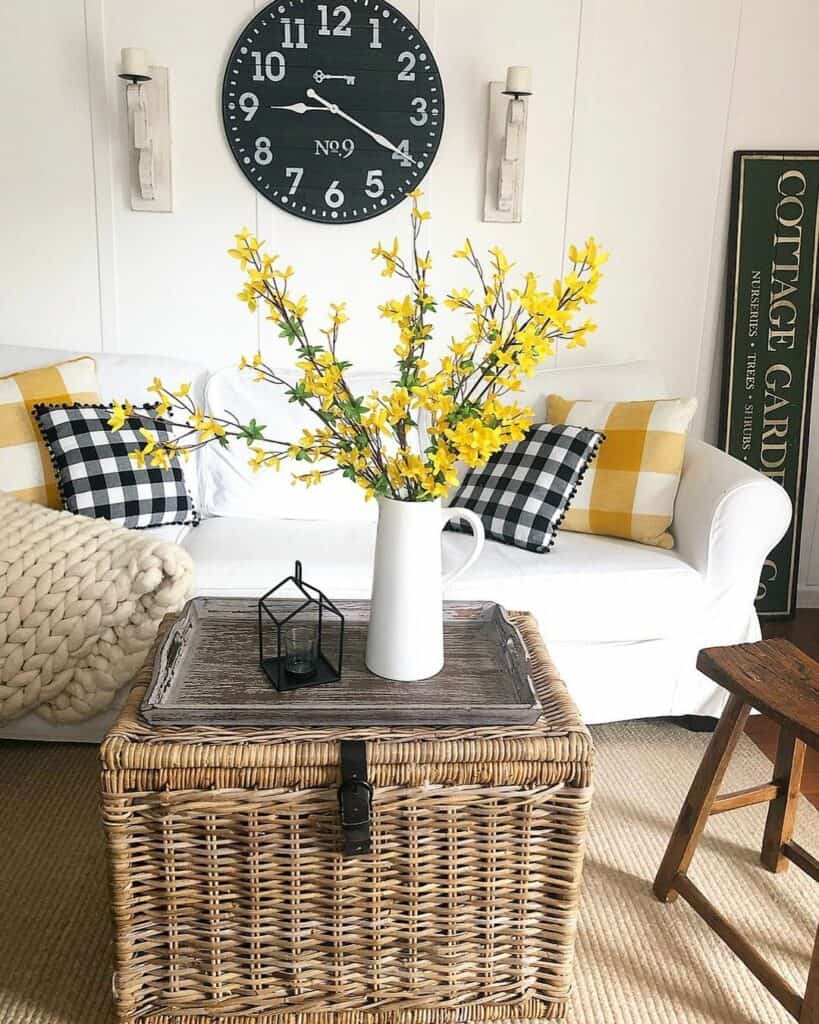 Credit: finishingtouchdecorbyjenny
Shop the Style
Elevating Beige Living with a Chic Black and White Gallery Wall
Against a neutral backdrop, bold black and white photos encased in sleek black frames command attention. A beige sofa below provides a canvas for coordinating brown, gray, and black and white accent pillows.
An expansive wicker basket elegantly presents a black and white throw, while a refined white vase accompanied by a petite tree adds a touch of sophistication. A beige and gray rug ties the ensemble together, defining the space in front of the sofa.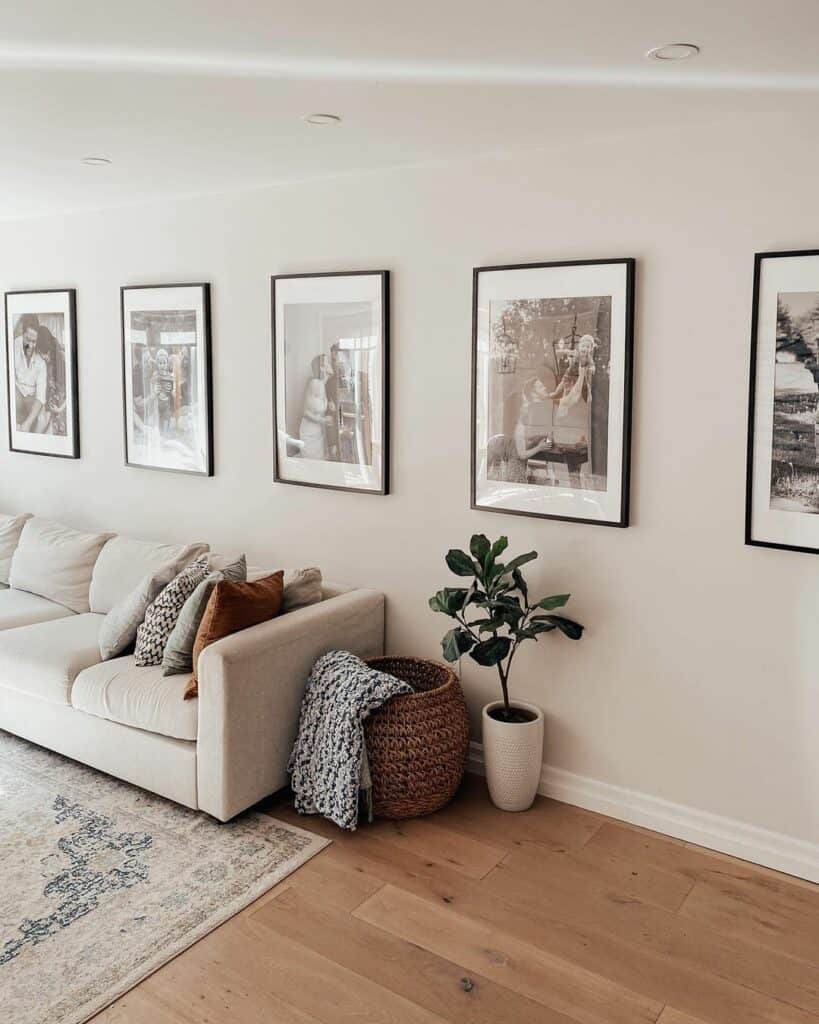 Credit: thesamesstyle
Shop the Style
Rustic Console Table Adorned with Springtime Blossoms
Two grand black and white photos adorned with silver frames take pride of place above a wooden entryway table. White candle holders, each cradling a brown candle, flank the photos in an exquisite arrangement.
Additional framed photos contribute to the tableau, while two generously proportioned clear vases, brimming with delicate pink blooms, frame the scene, casting a soft and inviting ambiance reminiscent of spring.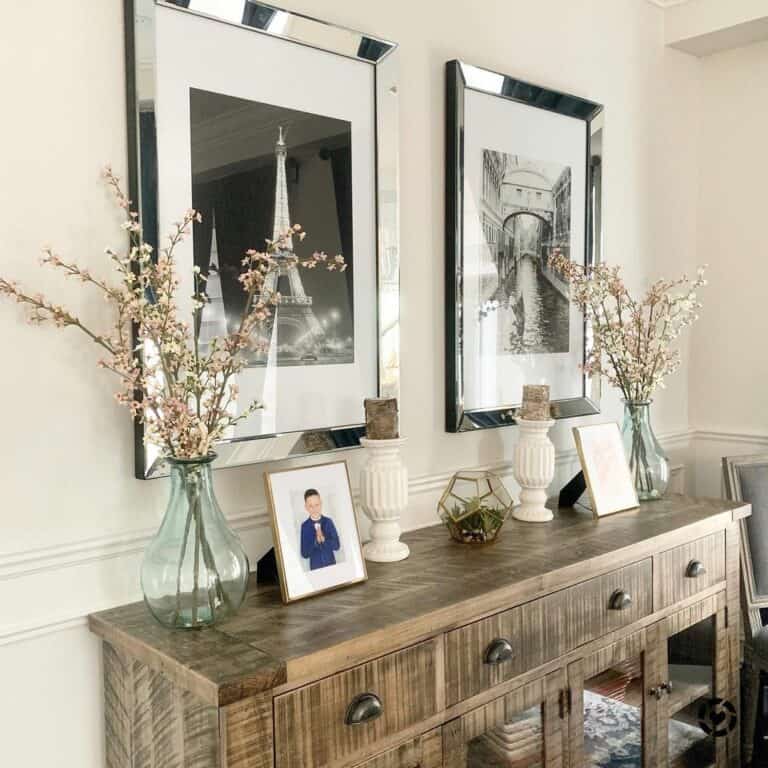 Credit: my_love_4_decor
Shop the Style
Wrap-up
Incorporating black and white wall decor into your farmhouse living room design opens the door to a world of possibilities. From the clean lines of black frames against white walls to the delicate balance of monochromatic artwork, these ideas offer a spectrum of choices for creating an atmosphere that is both inviting and sophisticated.
As you explore the various options, remember that the beauty of black and white lies in its adaptability – whether you lean towards a modern farmhouse aesthetic or a more traditional charm, these design concepts can seamlessly meld into your vision, enhancing the character and allure of your living space.