7+ Design Ideas for Farmhouse Living Rooms with French Doors
Affiliate Disclosure: As an Amazon Associate we earn from qualifying purchases. Hence, if you click through and make a purchase, we will get a commission at no extra cost to you. For more info, read our full disclosure.
Farmhouse living rooms exude a unique blend of warmth, comfort, and rustic charm that captivates homeowners and designers alike. When combined with the timeless elegance of French doors, these spaces truly come alive with character and style.
Whether you're a fan of traditional, modern, or eclectic design, the integration of French doors can elevate your farmhouse living room to new heights.
In this article, we're excited to present seven exceptional design ideas that seamlessly merge the allure of farmhouse aesthetics with the sophistication of French doors, creating inviting and inspiring spaces that reflect your personal taste and embrace the beauty of the indoors and outdoors.
A Touch of Farmhouse Elegance: White Doors Enrich the Living Room
Incorporating the essence of farmhouse style, this living room boasts the presence of robust, white-framed French doors. Adorned with generous, clear window panes, these doors effortlessly complement the pristine white walls. The natural appeal of wooden beams and flooring harmonizes seamlessly with the surrounding palette of neutral and gray-toned furniture.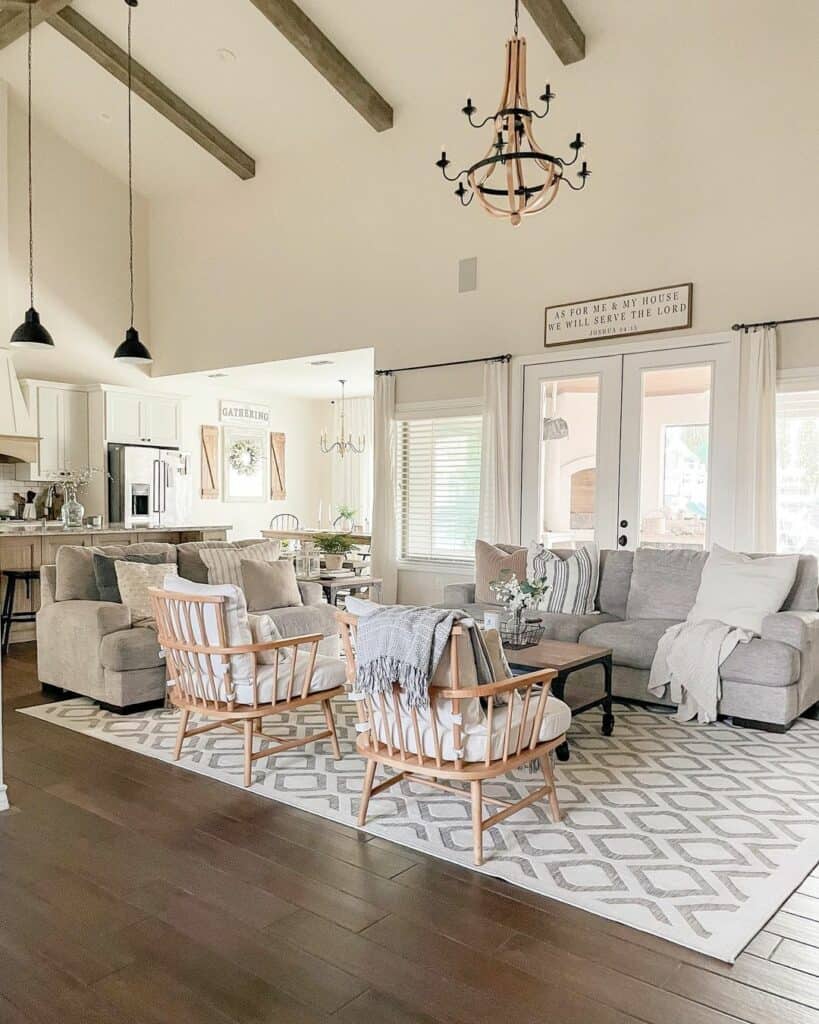 Credit: arlynmdesigns
Shop the style
Dynamic Contrast: Dark Wood and White Accents Transform the Living Space
Within this residence's living area, a dynamic interplay between light painted walls and dark wood elements takes center stage. The charm of the French doors and hardwood floors is amplified by the rich dark wood tones.
Striking crossbeams in dark wood adorn the vaulted ceiling, creating a captivating contrast to the brilliant white Christmas tree, while a classic white sofa and traditional rug anchor the room.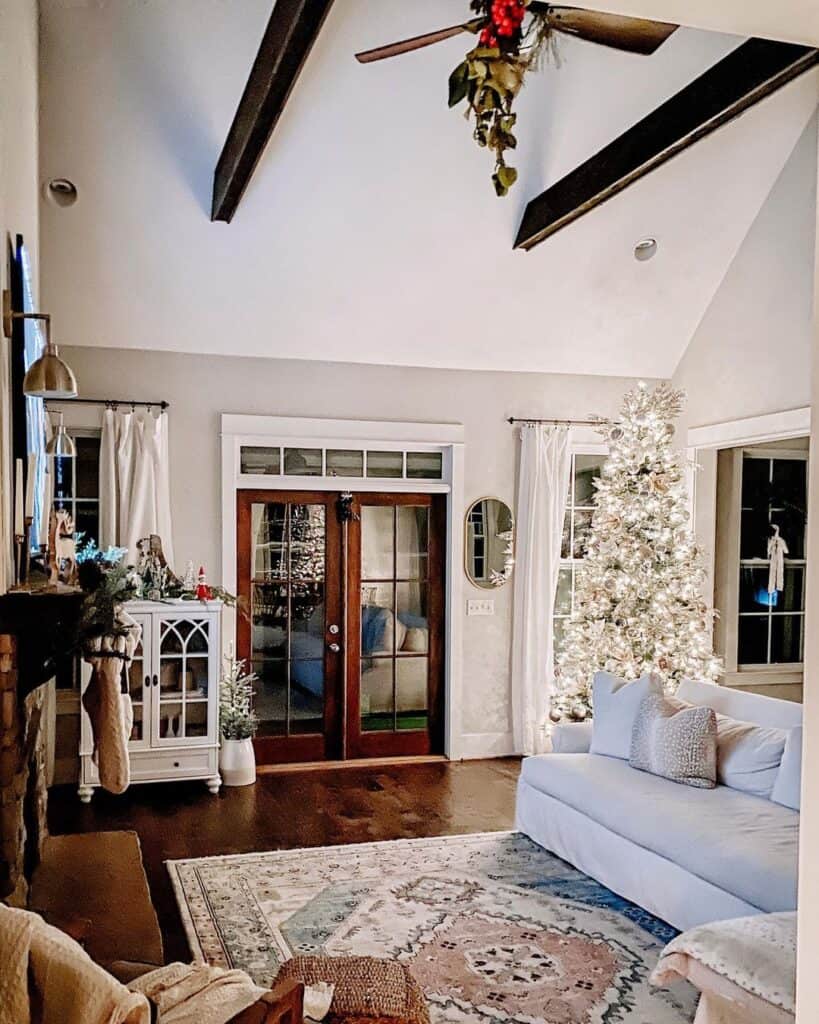 Credit: southernlifestyled
Shop the style
Contemporary Chic: Black French Doors Illuminate the Modern Living Room
Infusing a contemporary flair, this space features bold, black-framed French doors, a striking contrast against the pristine white living room with its soaring vaulted ceilings.
The doors' sleek design, embellished with clear small window panes and slender black grids, beautifully counterpoints the immaculate white walls. Their modern aesthetic finds harmony with the light wood flooring and white furnishings.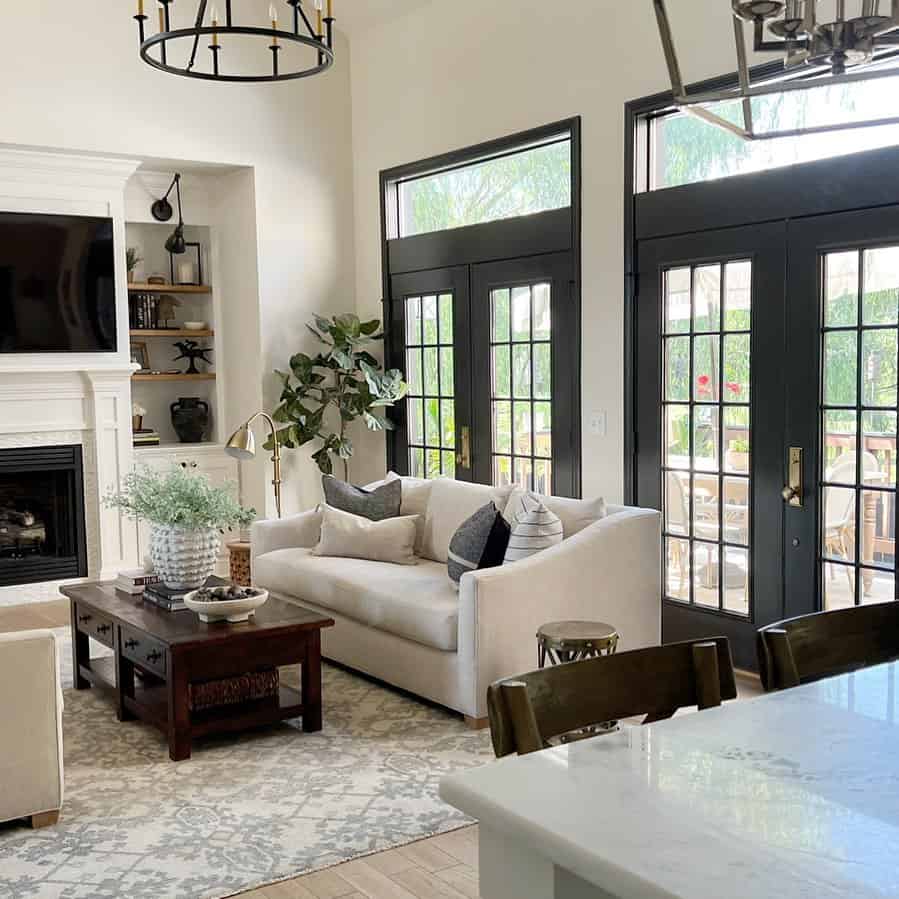 Credit: decorkateky
Shop the style
Elegance Redefined: White Double Barn Doors and Natural Flourishes
Exuding an air of refined elegance, this neutral-toned living room is graced by white double barn doors on a sleek black rail, providing a captivating entry to an adjacent space. Plush armchairs in soft neutrals, adorned with accent pillows and a cozy dark knitted blanket, encircle a light wood side table adorned with vibrant greenery.
Abundant natural light floods the room through nearby windows, highlighting the presence of towering green plants.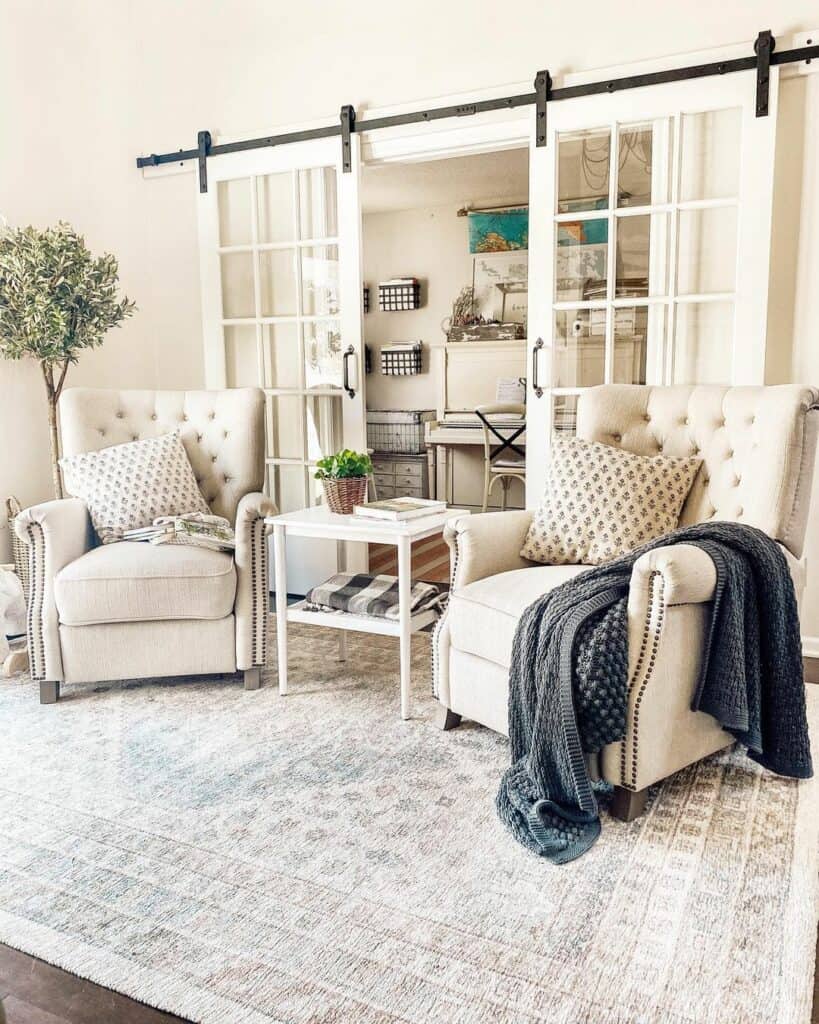 Credit: our.simplehectic.home
Shop the style
Fusion of Tradition and Modernity: White French Doors Frame the Farmhouse Vignette
Artfully dividing the farmhouse living room from a neighboring dining area, a sliding French door graced with pristine white frames evokes a sense of classic charm with a modern touch.
Delicate clear window panes and subtle white grids on the door effortlessly harmonize with the inviting wooden floor and surrounding white walls. A dash of contemporary sophistication is introduced through the addition of a sleek black door knob.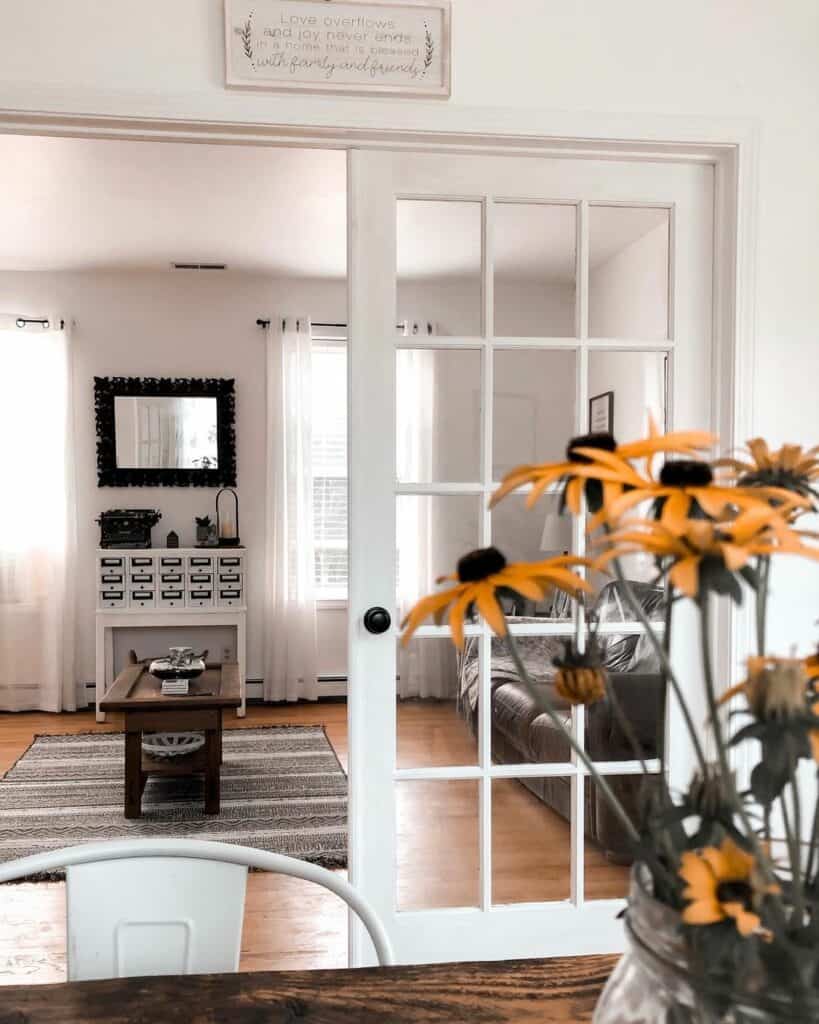 Credit: ramirezsgocountry
Shop the style
Timeless Symmetry: Dark Gray French Doors Elevate the Farmhouse Ambiance
Serving as the focal point of this farmhouse living room, dark gray French doors with intricate glass panels command attention. Their distinguished color and balanced symmetry create a captivating juxtaposition against the light wood herringbone flooring.
Through the open doors, a cozy Christmas-themed living room beckons, inviting all into its heartwarming embrace.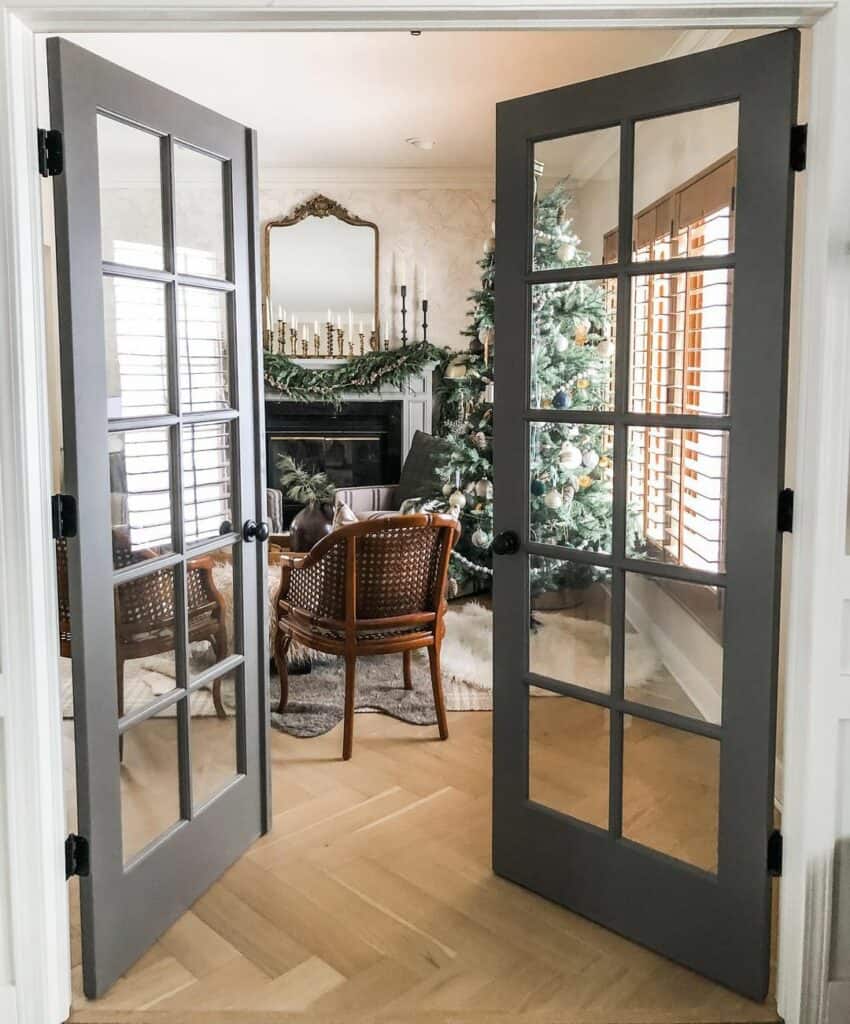 Credit: e.lynndesign
Shop the style
Subdued Sophistication: Gray Living Room Enhanced by White French Doors
Elevating the allure of this living room are the French doors, adorned with crisp white frames. These doors, featuring petite black window panes and delicate white grids, seamlessly complement the room's gray-hued walls.
The ensemble of surrounding furniture, blending shades of white, gray, and wood, forms a harmonious composition against the backdrop of a muted gray carpet.
Credit: lonihaskellinteriors
Shop the style
Rustic Charm and Modernity: Wooden French Doors Define the Farmhouse Haven
Taking center stage within this farmhouse living room are the wooden-framed French doors, characterized by dainty window panes and delicate wooden grids. Against the backdrop of serene white walls, these doors stand out as a beacon of rustic elegance.
Their warm, natural appeal resonates with the wooden floors and harmonizes seamlessly with the surrounding collection of gray-toned furniture.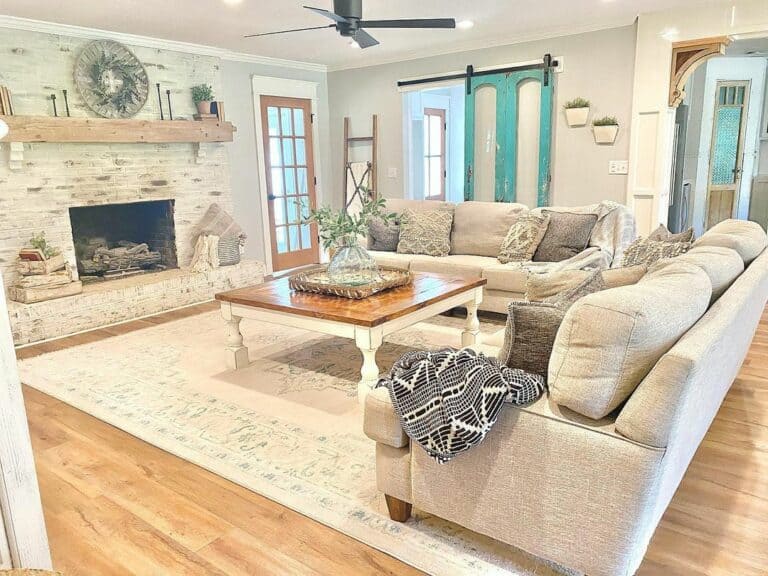 Credit: our_reclaimed_home
Shop the style
Wrap-up
As we conclude this exploration of farmhouse living rooms adorned with the timeless elegance of French doors, it's evident that the marriage of these two design elements offers a symphony of charm and sophistication.
The array of styles and approaches showcased here underscores the versatility of these spaces, proving that the rustic comfort of a farmhouse ambiance can coexist harmoniously with the refined allure of French doors.
Whether it's the fusion of contrasting elements or the celebration of natural light, these design ideas provide a canvas for your creativity to flourish, crafting living rooms that are not just beautiful, but also a true reflection of your personality.