7+ Modern Farmhouse Living Room Décor Updates
Affiliate Disclosure: As an Amazon Associate we earn from qualifying purchases. Hence, if you click through and make a purchase, we will get a commission at no extra cost to you. For more info, read our full disclosure.
In the realm of interior design, the modern farmhouse style has swiftly emerged as a timeless and inviting aesthetic. Blending rustic charm with contemporary elements, it offers a delightful fusion of comfort and elegance.
If you're seeking to infuse your living space with this captivating vibe, you're in for a treat. In this article, we'll delve into seven remarkable modern farmhouse living room decor updates that will transform your space into a cozy haven while maintaining a touch of modernity.
Inviting Grey Farmhouse Aesthetic for Open-concept Living Room
Discover the perfect balance of warmth and style in this open-concept living room. Brown and black accents are seamlessly integrated into a soothing color scheme. Pull up a seat to the wooden kitchen island, adorned with three elegant gold pendant lights suspended above.
The island stands before white cabinets, and a clear vase of greenery adds a fresh touch. To the side, a modern black sliding barn door stands ajar, inviting you to explore further.
In the heart of the room, wooden chairs rest on a soft beige rug, adorned with grey pillows featuring delicate floral prints. A substantial wooden coffee table proudly displays an open book, ready to captivate wandering eyes.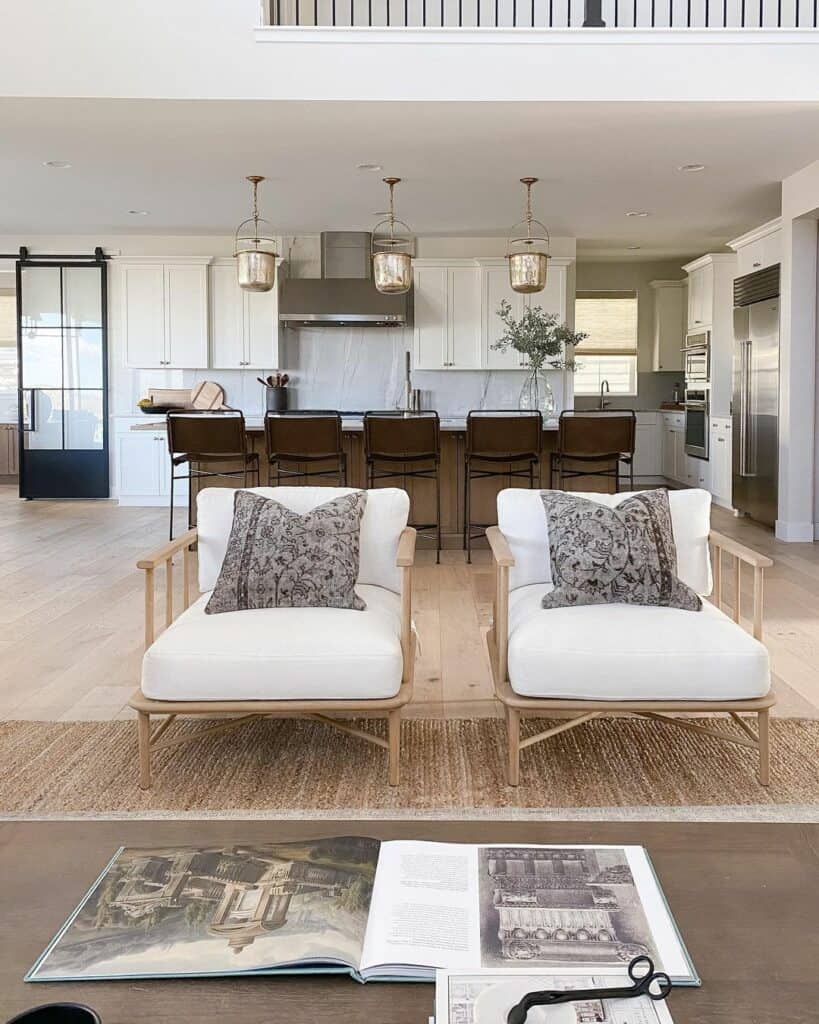 Credit: copper.on.pine
Shop the Style
Serene White and Wood Fusion in a Modern Living Room
Step into tranquility with the fusion of white and wood in this modern living room. Sink into the embrace of a white sofa and its matching chair, both adorned with textured white accent pillows. A beige rug softens the grounding presence of dark hardwood floors. At the room's center, a wooden and white coffee table, embellished with an inviting stack of books and a wicker handbag or pristine white tulips.
Graceful decor elements adorn corners, including a white table featuring a round wicker lamp with a gentle glow, accompanied by a white shade. Nearby, a white body mirror adds dimension to the space.
A wooden table, surrounded by wicker chairs, rests behind the sofa, gently illuminated by a pendant light. An homage to farmhouse aesthetics graces the wall through a well-placed farmhouse frame, with its matching sign echoing the theme.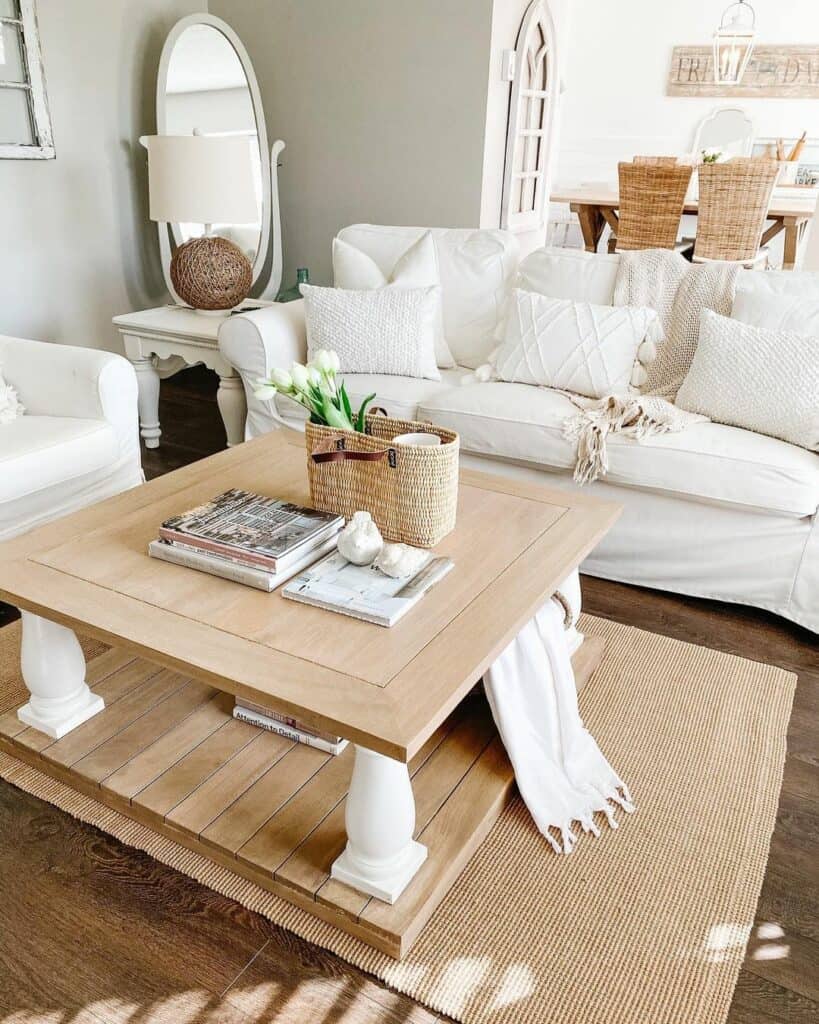 Credit: thewhitewoodcottage
Shop the Style
Contemporary Farmhouse Charisma for your Living Room
Elevate your living room with a contemporary farmhouse decor that blends classic elements with modern charm. Above a pristine white sofa, an engaging black and brown abstract print draws the eye. Accent pillows in brown, gray, striped, and red paisley motifs adorn the sofa, infusing visual interest.
A wooden stool stands as an understated companion, draped with a cozy black and white plaid blanket. The wooden coffee table, elegantly centered on a paisley rug boasting black, white, and brown tones, showcases a carved wooden bowl cradling a lively green plant.
A collection of books and other farmhouse-inspired decor elements add the final touch.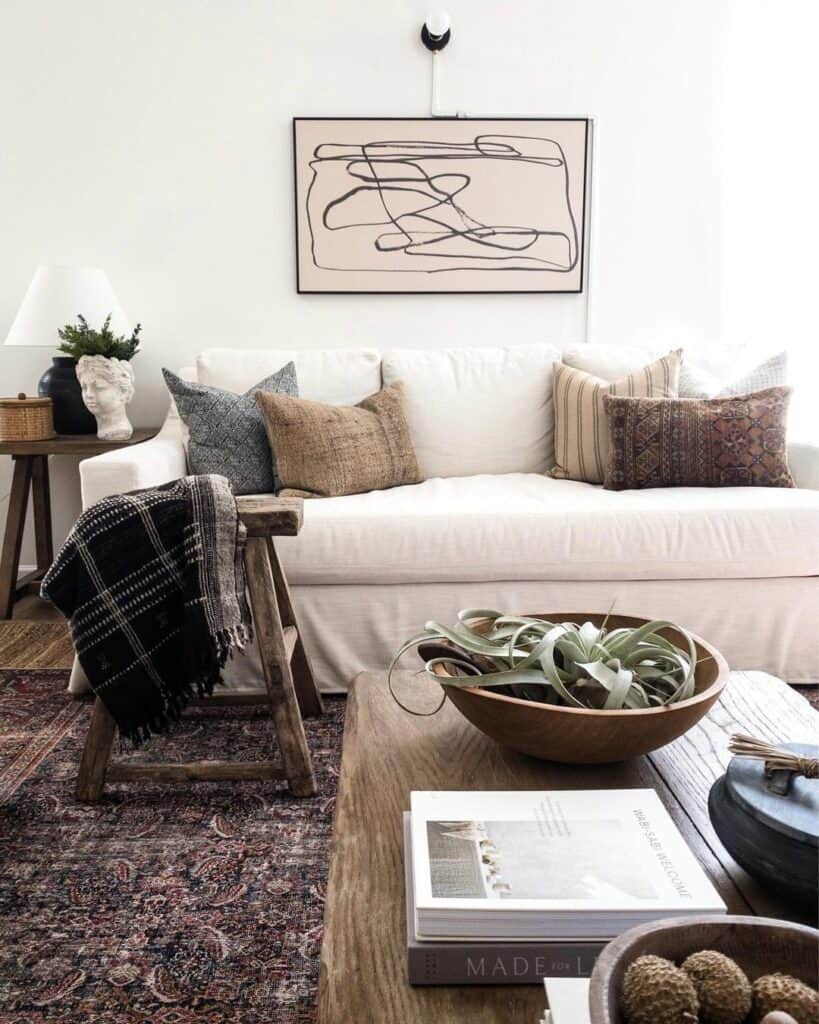 Credit: house_of_7feathers
Shop the Style
Embracing Cozy Farmhouse Vibes in your Living Room Decor
Wrap yourself in the embrace of cozy farmhouse decor in this inviting living room. White curtains and white wooden blinds delicately filter the light streaming through the windows, creating an ambiance of comfort. A neutral grey sofa stands against this serene backdrop, adorned with accent pillows in beige, black, and dark gray tones.
An orange throw casually drapes over the sofa, adding a touch of warmth. A wooden stand proudly presents a brown pot of dried flowers, complemented by a grey lamp adorned with a white shade. Reflective beauty graces the space with a black-framed mirror.
At the heart of the room, a white coffee table takes center stage, adorned with a delicate beaded garland, a stack of inviting books, and the gentle glow of candles.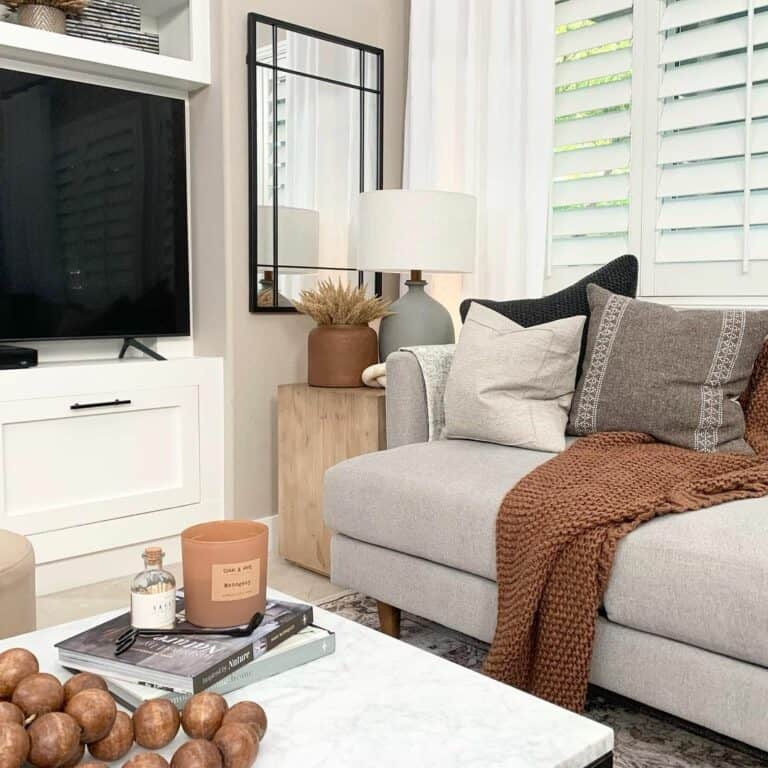 Credit: jaimebydesign
Shop the Style
Modern Farmhouse Infusion in the Living Room
Experience the modern farmhouse charm that defines this living room's ambiance. White curtains and blinds frame a large window, welcoming natural light into the open-concept kitchen and living space. Gray sofas offer a comfortable haven, accentuated by black and white striped and yellow striped pillows.
The wooden and black coffee table holds a metal basket, cradling a clear vase adorned with delicate white flowers, alongside an engaging book waiting to be explored.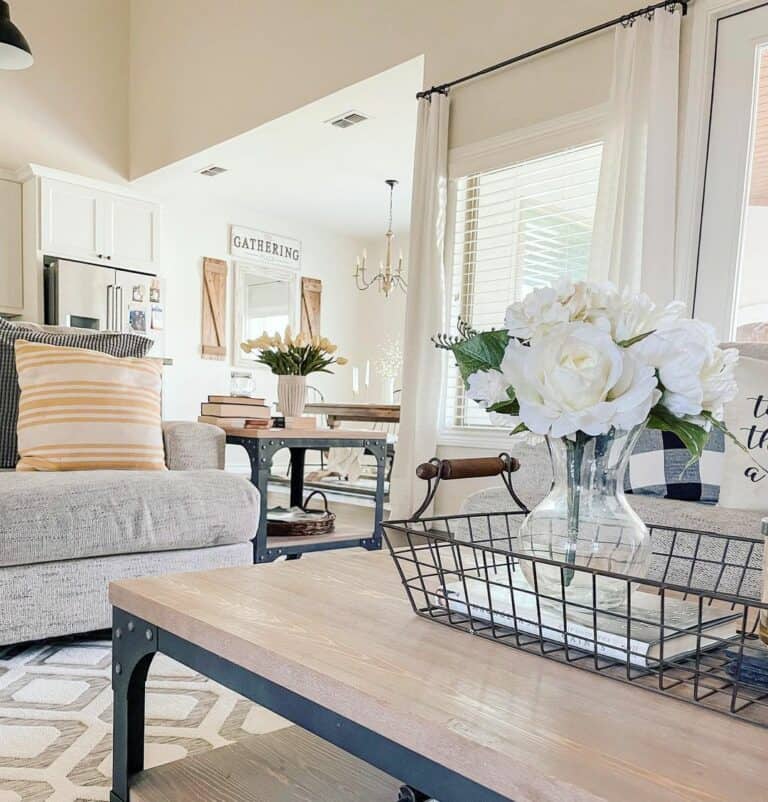 Credit: arlynmdesigns
Shop the Style
Enriching Living Rooms with Wooden Farmhouse Accents
Embrace the soothing presence of wooden farmhouse accents in this inviting space. A tall tree stands proudly within a wicker basket, offering a touch of nature's elegance. Adjacent to a wooden shiplap fireplace that elegantly cradles a large TV, a black and white-framed photo captures a moment in time.
A wooden chair, featuring a white cushion adorned with a subtle gray accent pillow, serves as an inviting nook. A black stool and a gray sofa grace the nearby area, resting on a comforting brown and beige rug. Greeting all who enter, a black pendant light hangs with understated allure.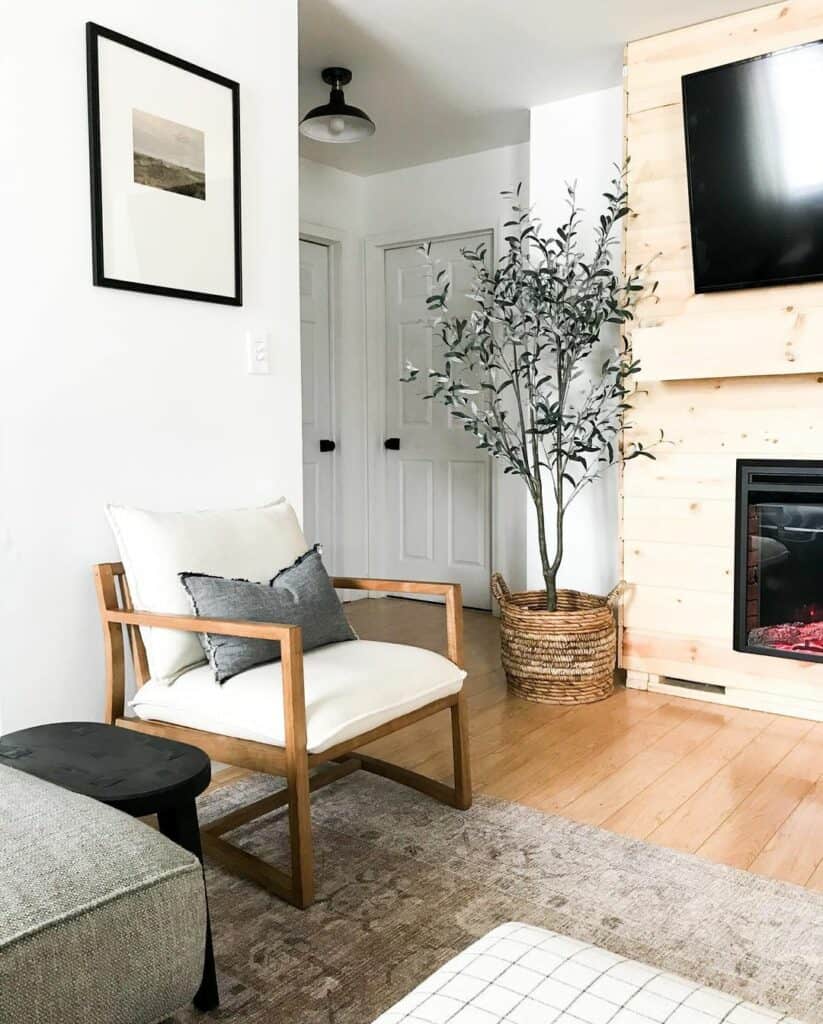 Credit: thewallshouse
Shop the Style
Elevate Your Space with Modern Neutral Living Room Decor
Elevate your space with modern neutral living room decor that epitomizes understated sophistication. A white board and batten wainscoting wall becomes the canvas for a tasteful display of wooden-framed black and white photos, adding a personal touch. A beige sofa anchors the room's design, dressed in the comfort of white and beige geometric pillows.
A central wooden table, thoughtfully adorned with stacked books, a black candle, and a white vase brimming with greenery, exudes a sense of curated charm. In one corner, a potted olive tree in a gray stone planter breathes life into the atmosphere.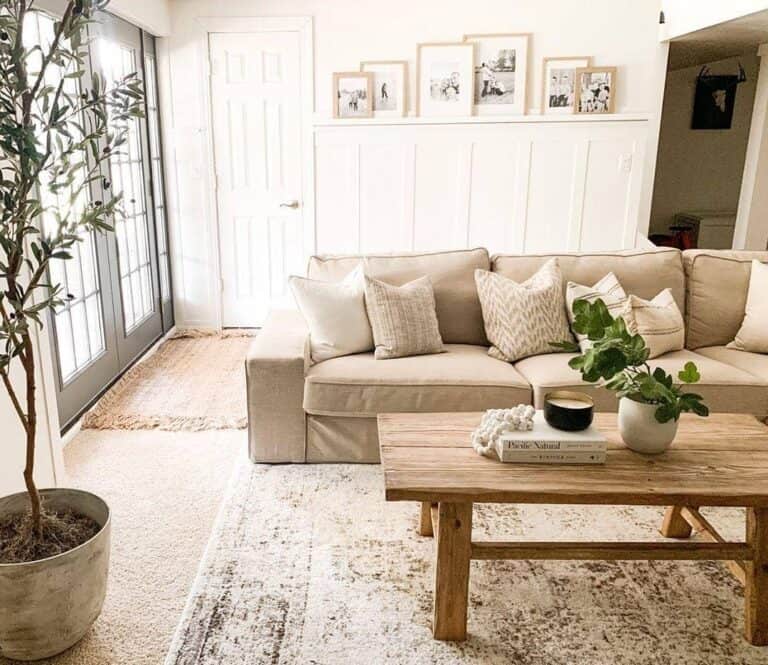 Credit: wv_modernfarmhouse
Shop the Style
Harmonious Modern Living Room Decor
Discover the art of balance through harmonious modern living room decor. A brown leather sofa takes center stage against a backdrop of pristine white paneled walls. A black stand hosts a sleek black and white lamp and a fragrant black candle.
A red and beige plaid throw casually rests on the arm of the sofa, adding a touch of coziness. Softness envelops the floor in the form of a beige carpet, while a round glass and black metal coffee table graces the center.
A brown basket houses a white vase embellished with a vibrant display of red and green flowers. Recessed lighting delicately illuminates the space, creating an inviting ambiance.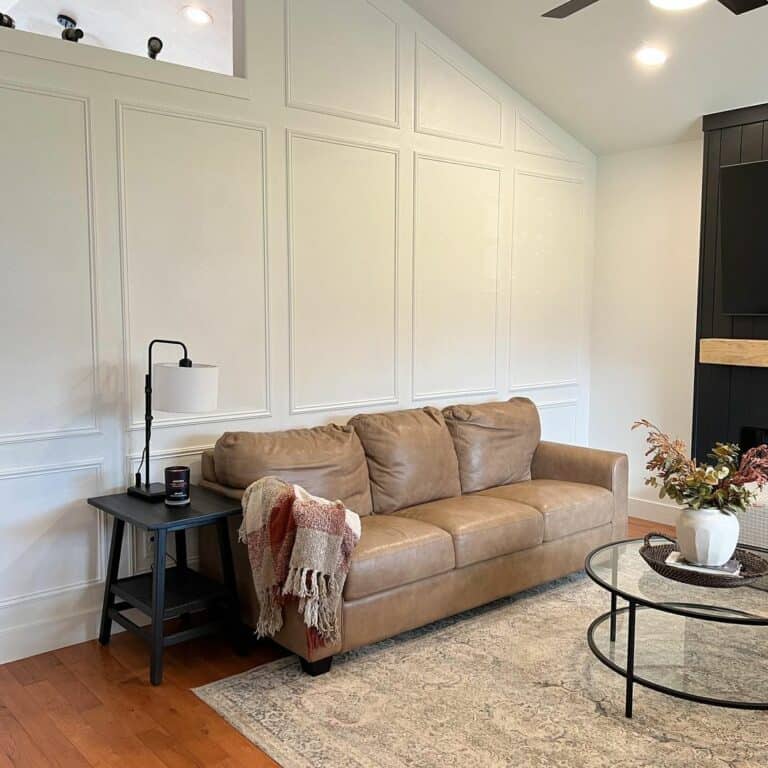 Credit: yesseniaghome
Shop the Style
Wrap-up
Elevating your living room with modern farmhouse decor is a journey of creativity and authenticity. By incorporating the right elements, textures, and colors, you can create an inviting atmosphere that perfectly balances comfort and style.
Whether it's embracing natural materials, playing with neutral tones, or adding rustic accents, these updates have the power to rejuvenate your space and redefine its character.
With these seven modern farmhouse living room decor ideas, your home will radiate warmth and charm, welcoming both residents and guests with open arms.