7+ Layout Ideas for Small Farmhouse Living Rooms with TV to Optimize Space
Affiliate Disclosure: As an Amazon Associate we earn from qualifying purchases. Hence, if you click through and make a purchase, we will get a commission at no extra cost to you. For more info, read our full disclosure.
Embracing the cozy charm of a farmhouse style doesn't mean sacrificing functionality, especially in smaller living spaces. If you're looking to make the most of your compact living room while incorporating a television, you're in the right place.
In this article, we'll explore seven ingenious layout ideas tailored to small farmhouse living rooms with TVs. Discover how to optimize space without compromising on the rustic elegance that defines farmhouse aesthetics.
Charming Farmhouse-style Small Living Room
An inviting farmhouse-style living room is anchored by a striking hardwood floor. Positioned behind a polished teak coffee table, a snug white sofa beckons you to relax. A modest cabinet finds its place beneath a wall-mounted TV, completing the cozy setup.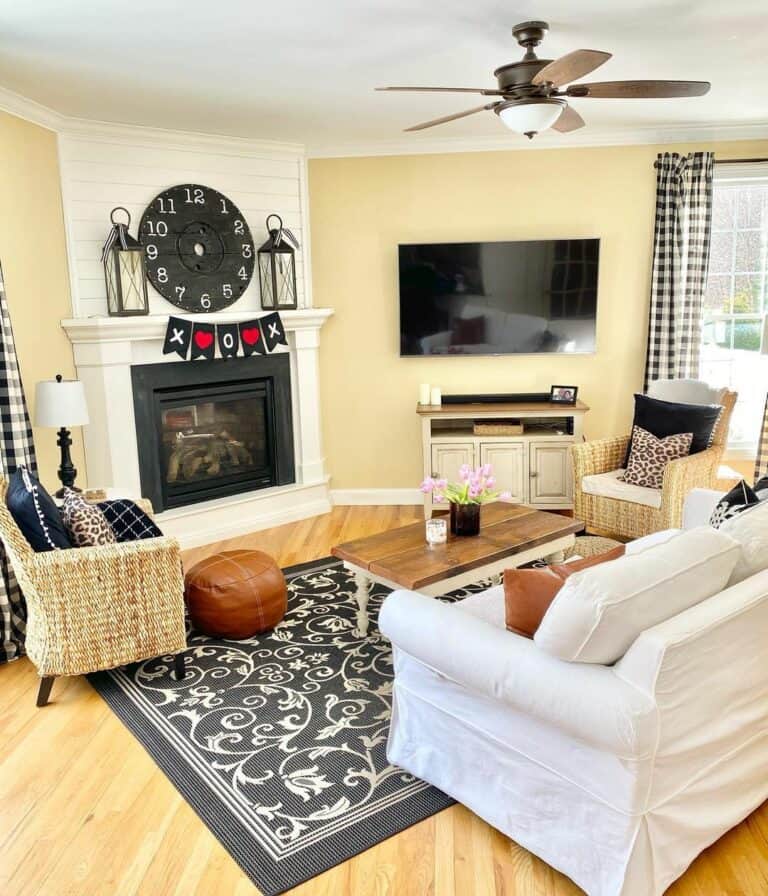 Credit: house_of_jase
Shop the Style
Contemporary Take on Farmhouse Style in the Living Room
Encompassing an expansive open floor plan, this design showcases stunning wood floors that seamlessly blend with a captivating stone fireplace. Above the fireplace, a TV takes center stage, flanked by two black leather sofas and a plush gray ottoman.
The arrangement is harmonized by a generous jute rug, while the warm color palette pays homage to the very essence of modern farmhouse style.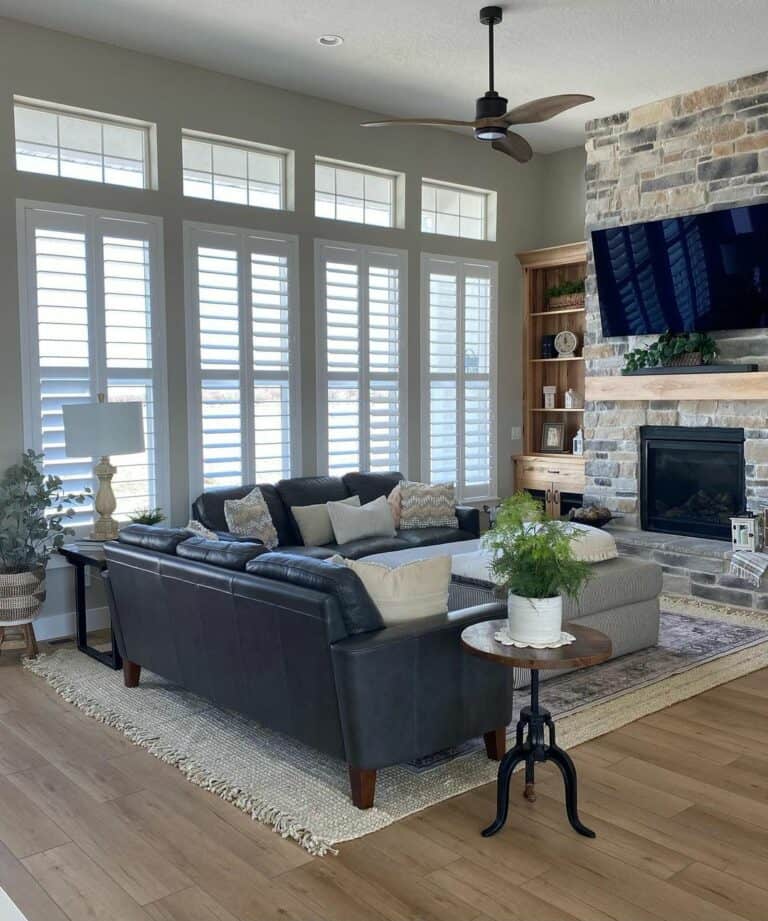 Credit: fromcitytosticks
Shop the Style
Serene Small Living Room Featuring a Light Blue Cabinet
Exuding warmth and a welcoming ambiance, this freshly adorned living room introduces a gentle light blue cabinet amidst a backdrop of soft cream tones. Charming potted plants grace the cabinet's top, beautifully complementing the ashwood coffee table positioned opposite.
Cream-colored sofas and armchairs provide an inviting haven for relaxation, all anchored around a wall-mounted TV.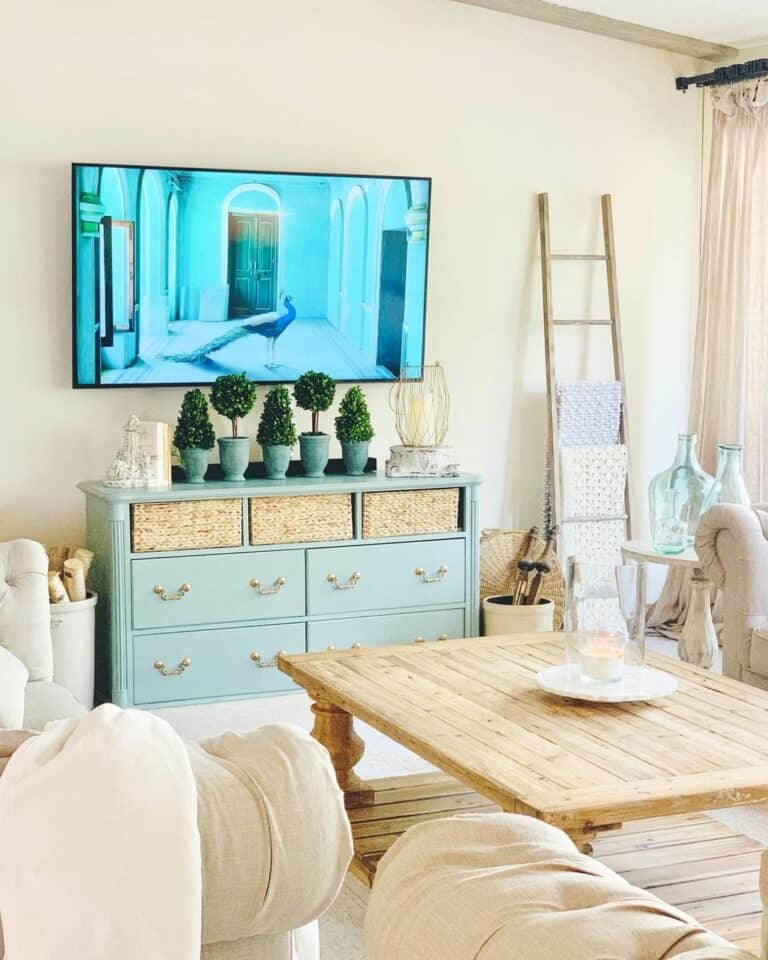 Credit: copperpointhome
Shop the Style
Inviting Neutral Living Room Highlighting an Entertainment Center
Bathed in understated elegance and basked in the glow of natural light, this neutral-toned living room emanates a truly inviting atmosphere. A touch of freshness is introduced through faux flowers and a tasteful gray coffee table. Atop a robust white cabinet, the TV finds its perch, doubling as storage for snug blankets and decorative throw pillows.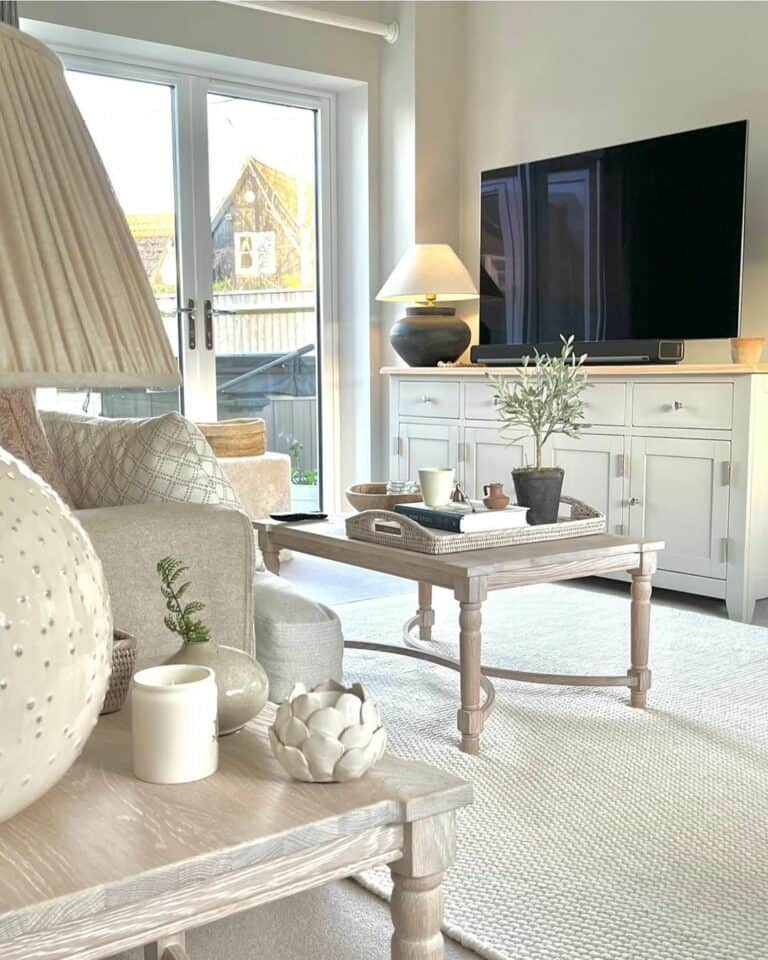 Credit: homeonthemeadow
Shop the Style
Timeless Farmhouse-inspired Living Room with Television
Embodied with rustic charm, this interpretation of the traditional farmhouse style unfolds gracefully through its white tones, textural elements, and organic wood accents. Taking the spotlight is an entertainment center, thoughtfully paired with a glass-top coffee table.
Throughout the room, carefully curated décor accents contribute to an atmosphere that feels like a warm embrace.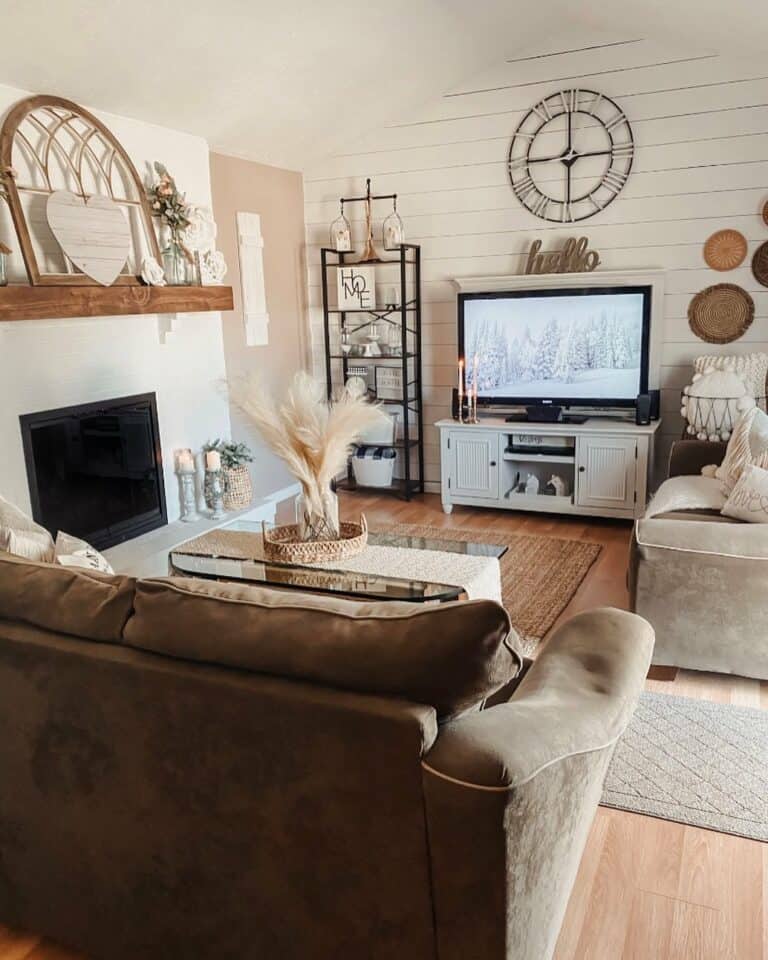 Credit: themerrymorriscottage
Shop the Style
Cozy Farmhouse Living Room Arrangement with Television
Within this rustic farmhouse-style living room, open shelves stand ready to showcase decorations and house entertainment essentials. At the core of these shelves rests the TV, its presence assured and complemented by a gleaming polished wooden floor.
Soft beige tones harmonize seamlessly with the natural wood elements, amplifying the rustic allure intrinsic to farmhouse design.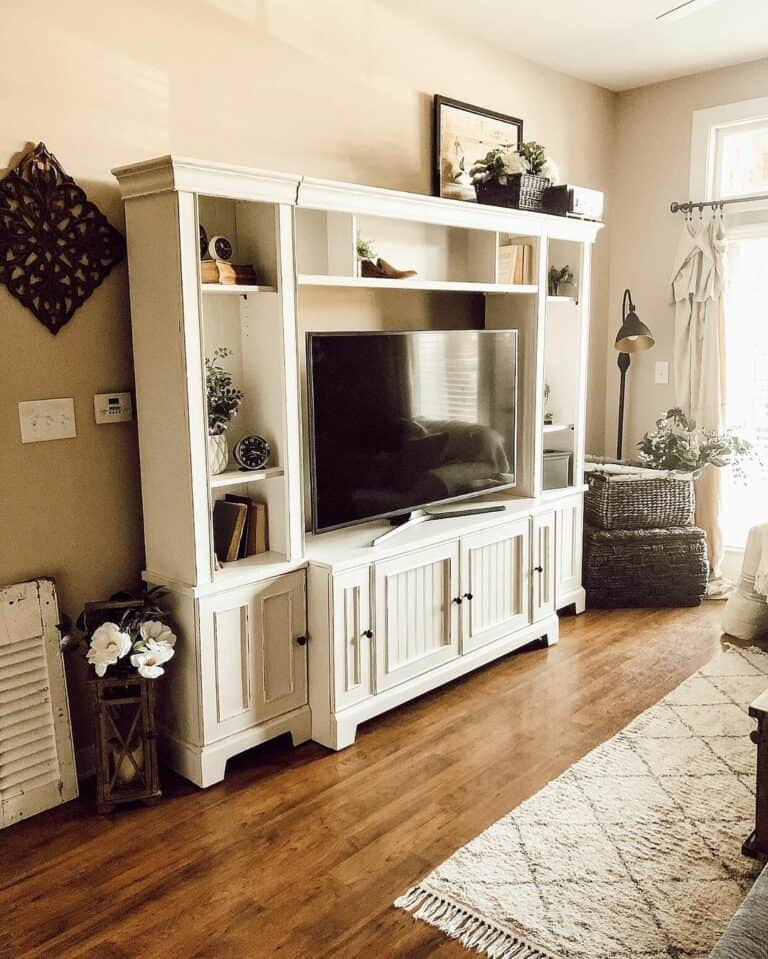 Credit: the.vintagefarmhouse
Shop the Style
Intimate Narrow Living Room Adorned With TV and Spring Décor
In a small yet flourishing living space, blush-colored furnishings come together with a patterned floral area rug, creating an enchanting tableau. Anchoring the room is a TV mounted on the far wall, flanked by vintage window panes that whisper of bygone eras.
Adding to the room's charisma, a rustic wooden ladder leans against the wall, accompanied by an antique accent chair.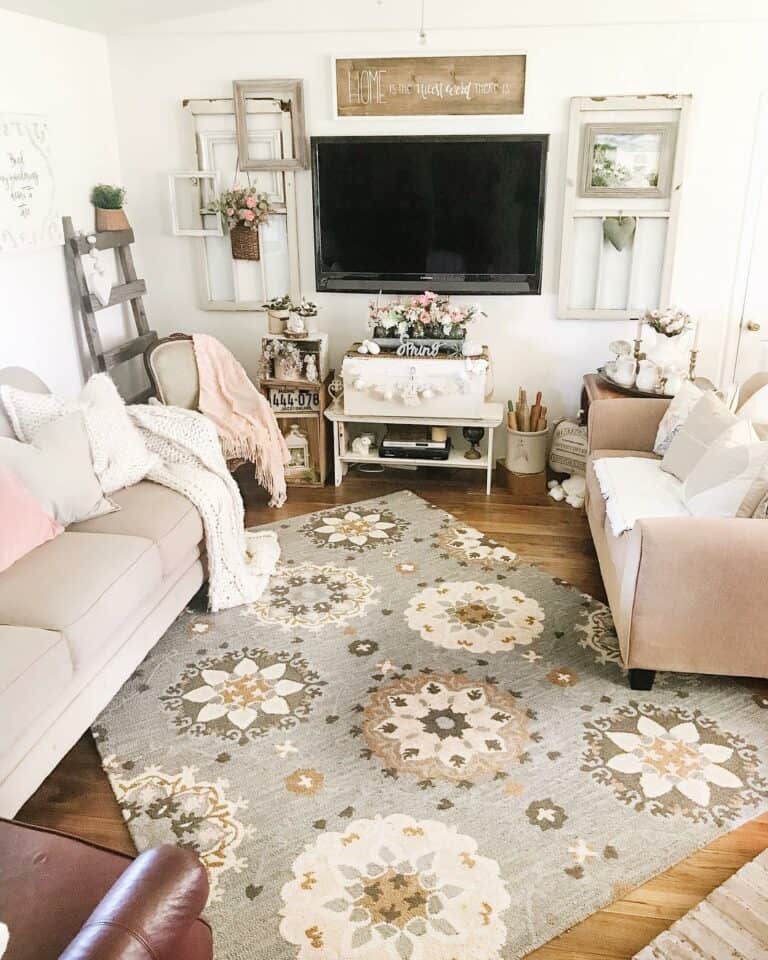 Credit: rekindledsigns
Shop the Style
Holiday Cottage-themed Small Living Room Design With Television
A grand vertical brick chimney envelops both a fireplace and a wall-mounted TV in its embrace. Positioned between two gray sofas and an armchair, an oak coffee table exudes a serene sense of refinement. Classic cottage-style elements, such as mounted deer figurines, infuse the room with an evocative charm that harks back to times gone by.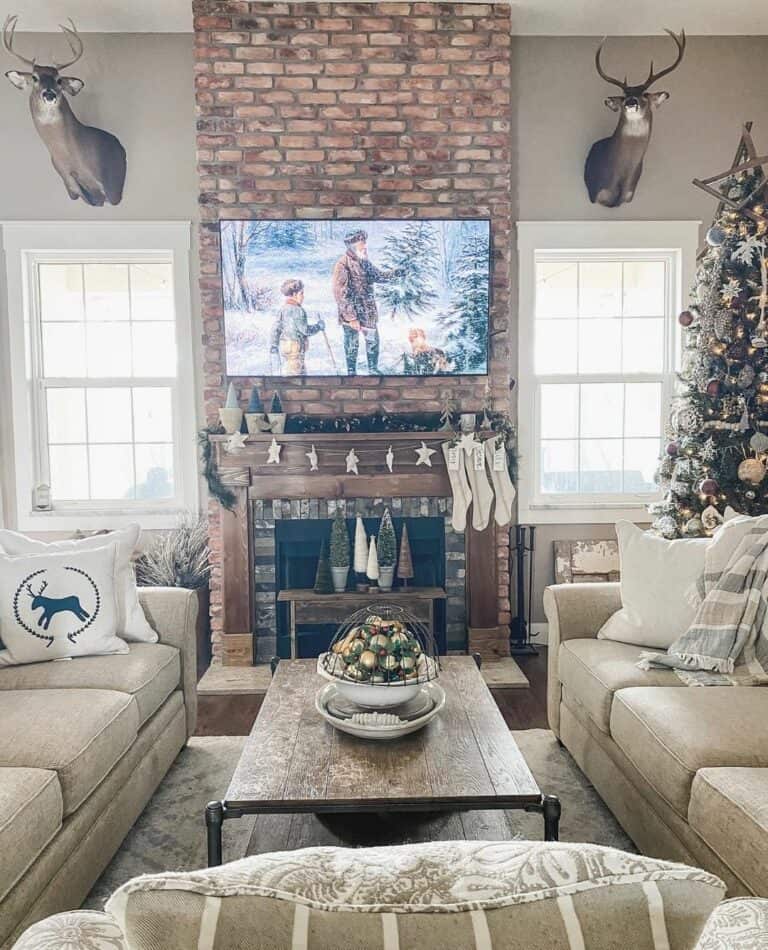 Credit: cottonandrust
Shop the Style
Wrap-up
When it comes to small farmhouse living rooms, creative design can truly amplify the space you have available. The fusion of rustic charm and modern technology is entirely possible, and these layout ideas exemplify just that.
From strategic furniture placement to clever storage solutions, each layout serves as a testament to the harmony between style and functionality.
Whether you're looking for a cozy nook or an open and airy arrangement, these ideas offer a roadmap to creating a small farmhouse living room that's big on both comfort and character.