7+ Opulent Living Room Ideas for a Luxurious Farmhouse Setting
Affiliate Disclosure: As an Amazon Associate we earn from qualifying purchases. Hence, if you click through and make a purchase, we will get a commission at no extra cost to you. For more info, read our full disclosure.
Step into the world of refined comfort as we unveil a collection of 7+ opulent living room ideas tailor-made for those seeking a touch of luxury within the rustic charm of a farmhouse setting. From sumptuous furnishings to elegant design choices, we'll guide you through the art of transforming your farmhouse living space into a haven of indulgence.
Creating a Contemporary Living Room with Rustic Elements
Elevate your modern living space with a touch of warmth by seamlessly blending contemporary design elements with rustic charm. Imagine a wooden mantel adorning a sleek gray fireplace wall. Add vintage chairs and a rustic wooden coffee table to the sitting area to create an inviting atmosphere.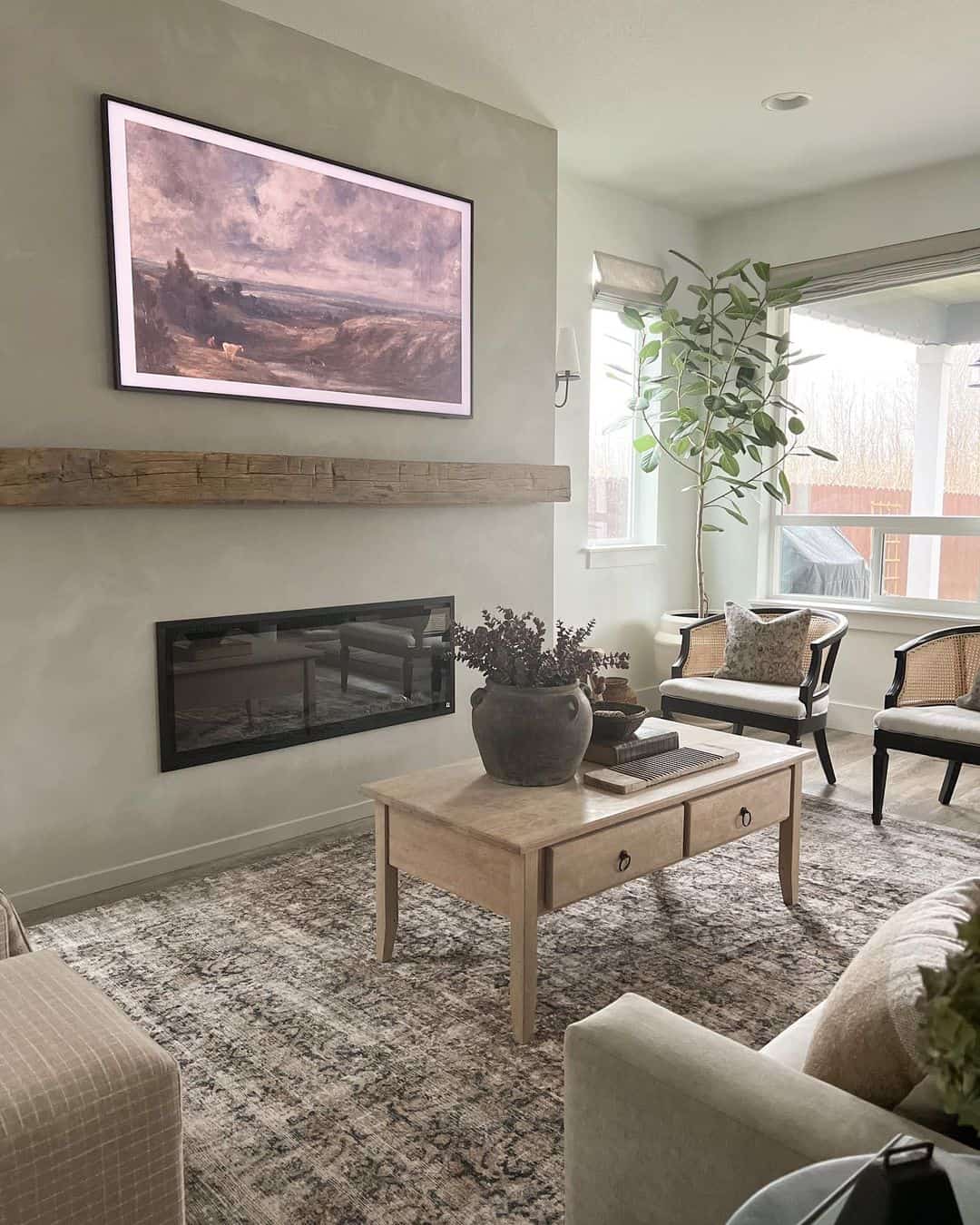 Credit: @howell.home
Shop the Look
Traditional Spring Decor in the Living Room
Step into this inviting living room adorned with pristine white walls, elegant white wainscoting, and a soft gray rug gracing the light wood floor. Delicate pink flowers in a glass vase complement the décor atop a light ash coffee table. A white sofa sits gracefully by the window, adorned with exquisite light blue curtains.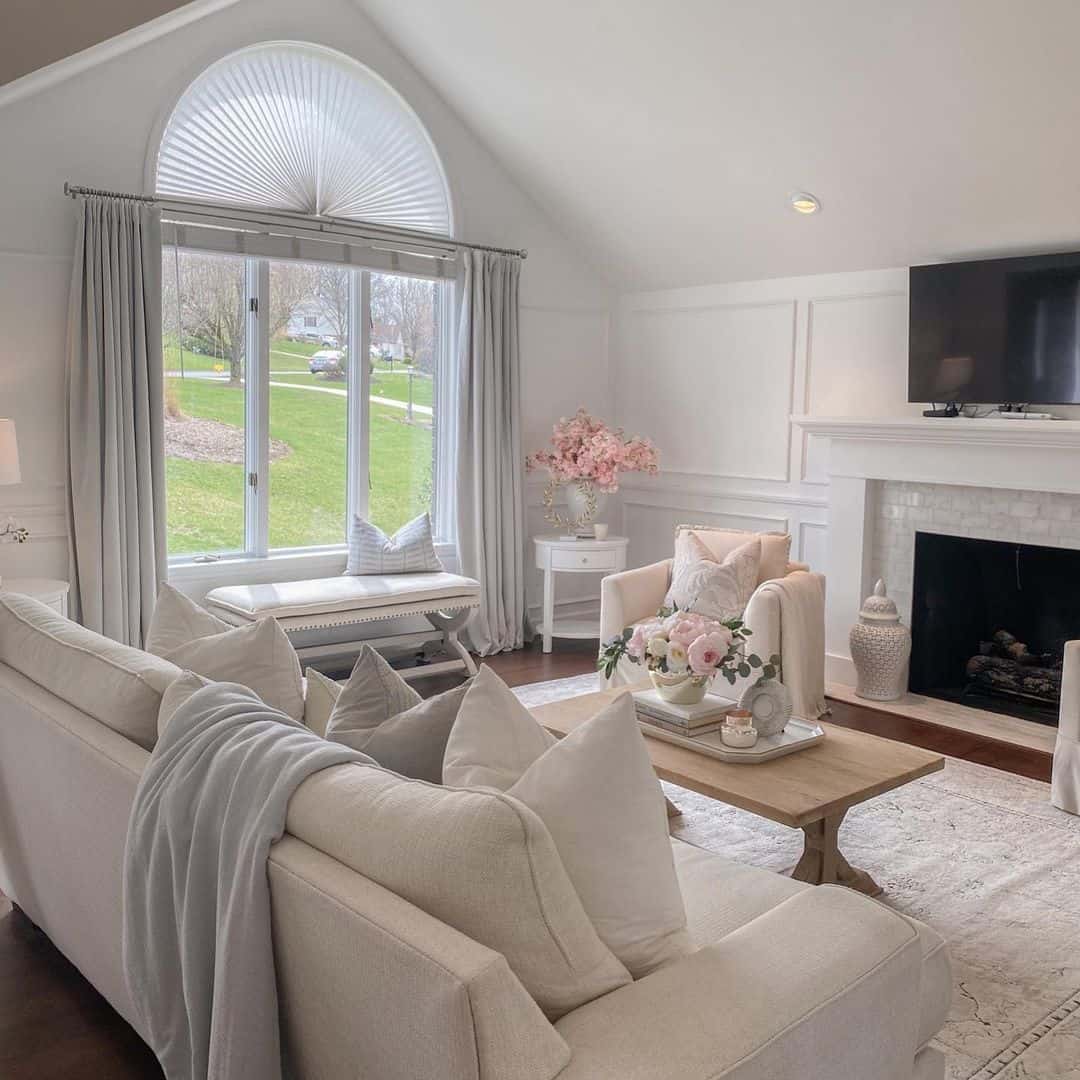 Credit: @leahmichelledesign
Shop the Look
Floor-to-Ceiling Stone Fireplace Wall in a Modern Luxury Setting
Behold a vision of modern elegance in this luxurious living room, featuring a full wall of windows that bathes the space in natural light. Towering ceilings frame a floor-to-ceiling stone fireplace wall. Maximize the ample space with a generous sectional sofa and a sleek white console table.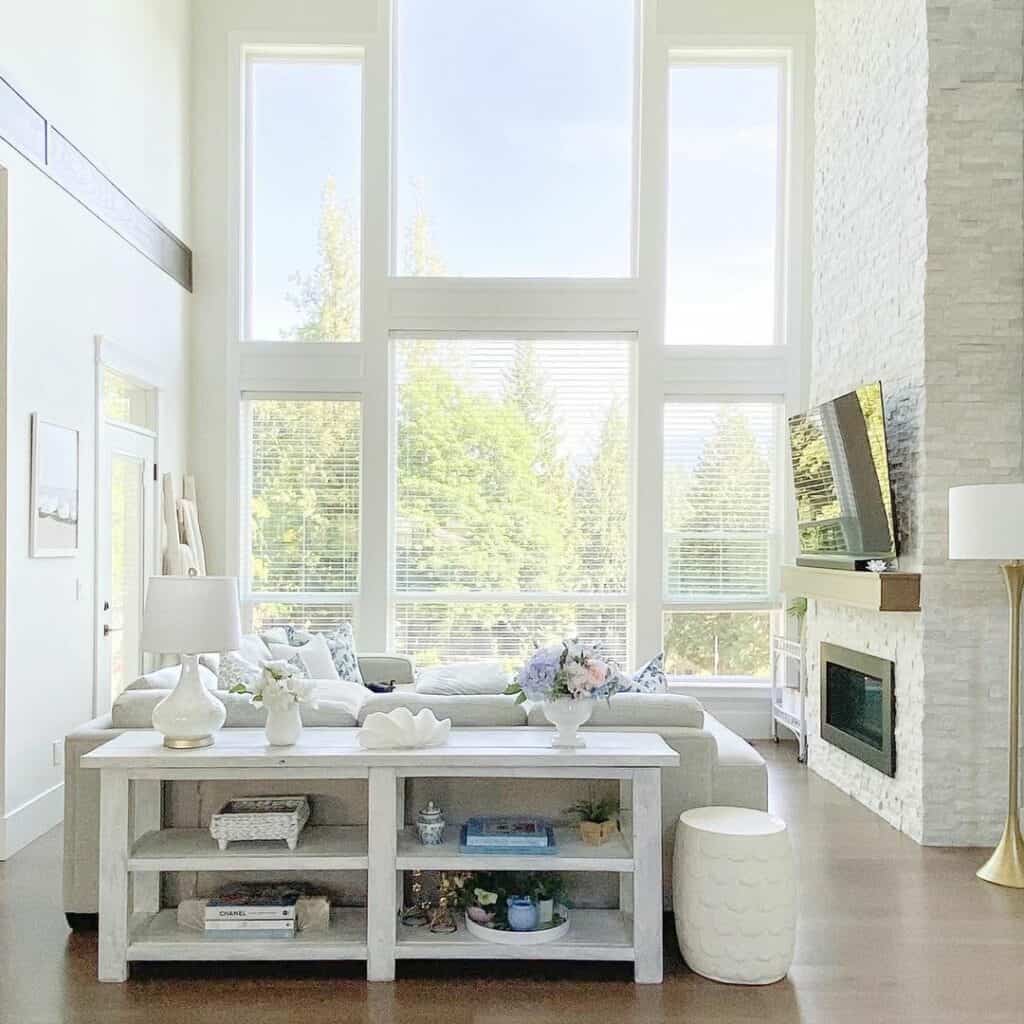 Credit: beachybluehome
Shop the Look
Cozy Living Room Nook Enhanced by a White Brick Fireplace
Sink into the comfort of a cozy living room nook, accentuated by a pristine white brick fireplace. Behind a wooden armchair adorned with white cushions, you'll find standing shelves. Keep essentials close at hand with a circular black nightstand placed next to the chair.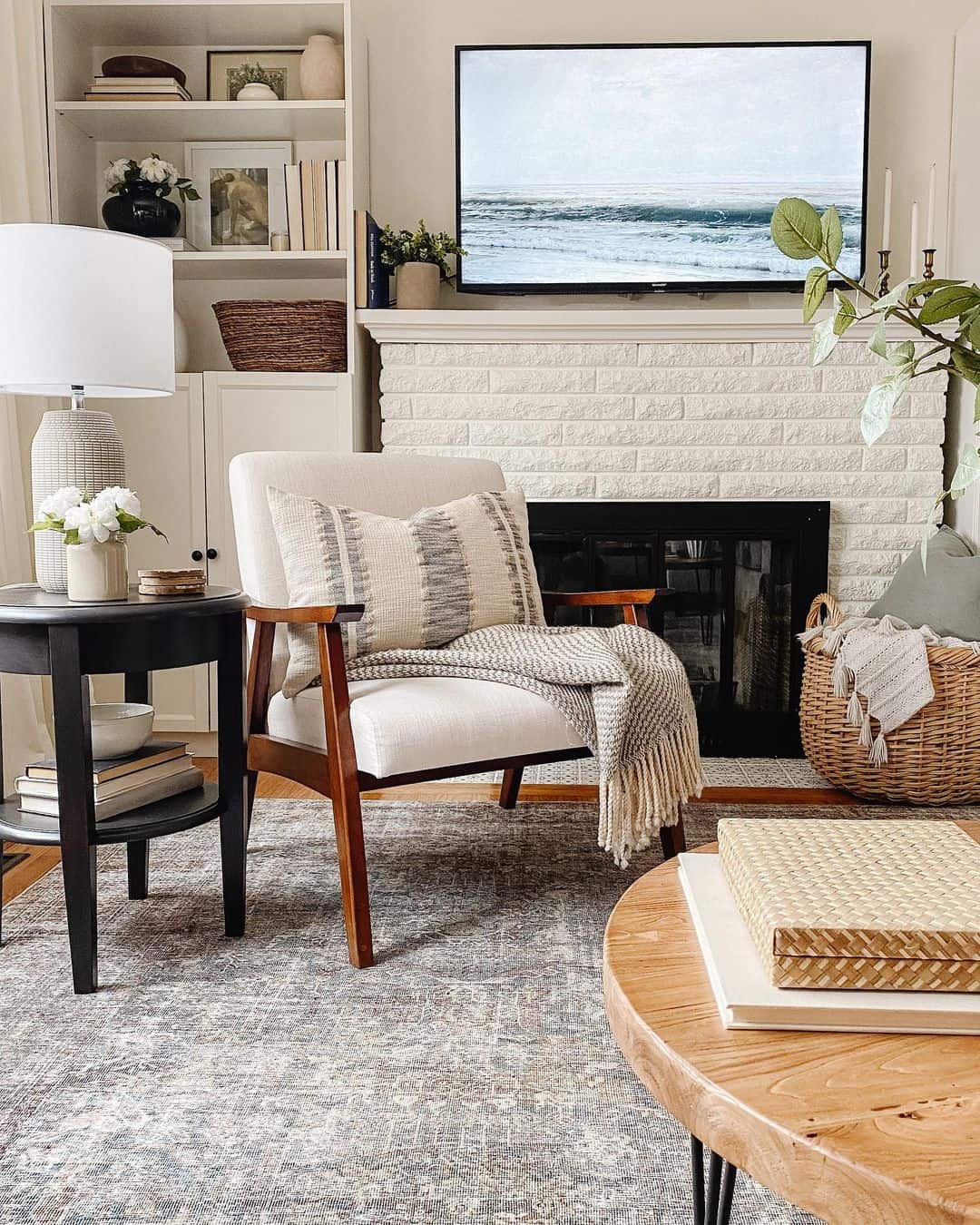 Credit: lexstyleanddesign
Shop the Look
Rustic Elegance with Layered Rugs and a Wooden Sideboard
Embrace the opulence of rustic charm as you integrate layered rugs and a serene neutral-toned sofa into your interior decor. A rustic wooden sideboard takes its place against the backdrop of adjacent white walls, adorned with the intricate detailing of wainscoting and wall panels.
Elevate the allure of the space with the addition of patterned pillows and the graceful draping of a tasseled blanket over the sofa.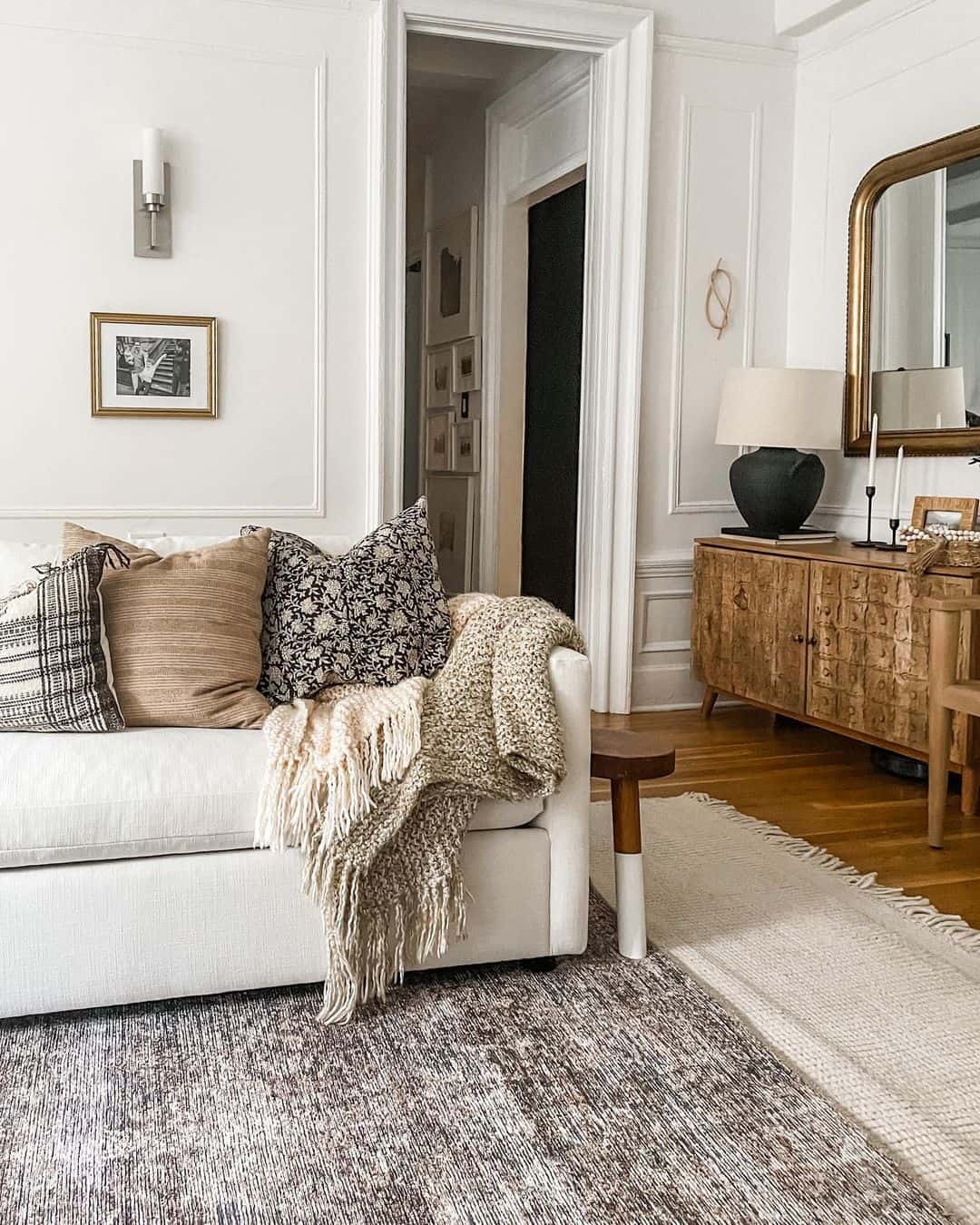 Credit: cityloveletter
Shop the Look
Reading Corner Adorned with a Gallery Wall
Set aside a charming corner to curate a gallery wall adorned with vintage paintings and captivating frames. A cream-colored armchair is nestled in the corner beneath a brass standing lamp. Complete the look with a petite wooden side table positioned next to the fireplace.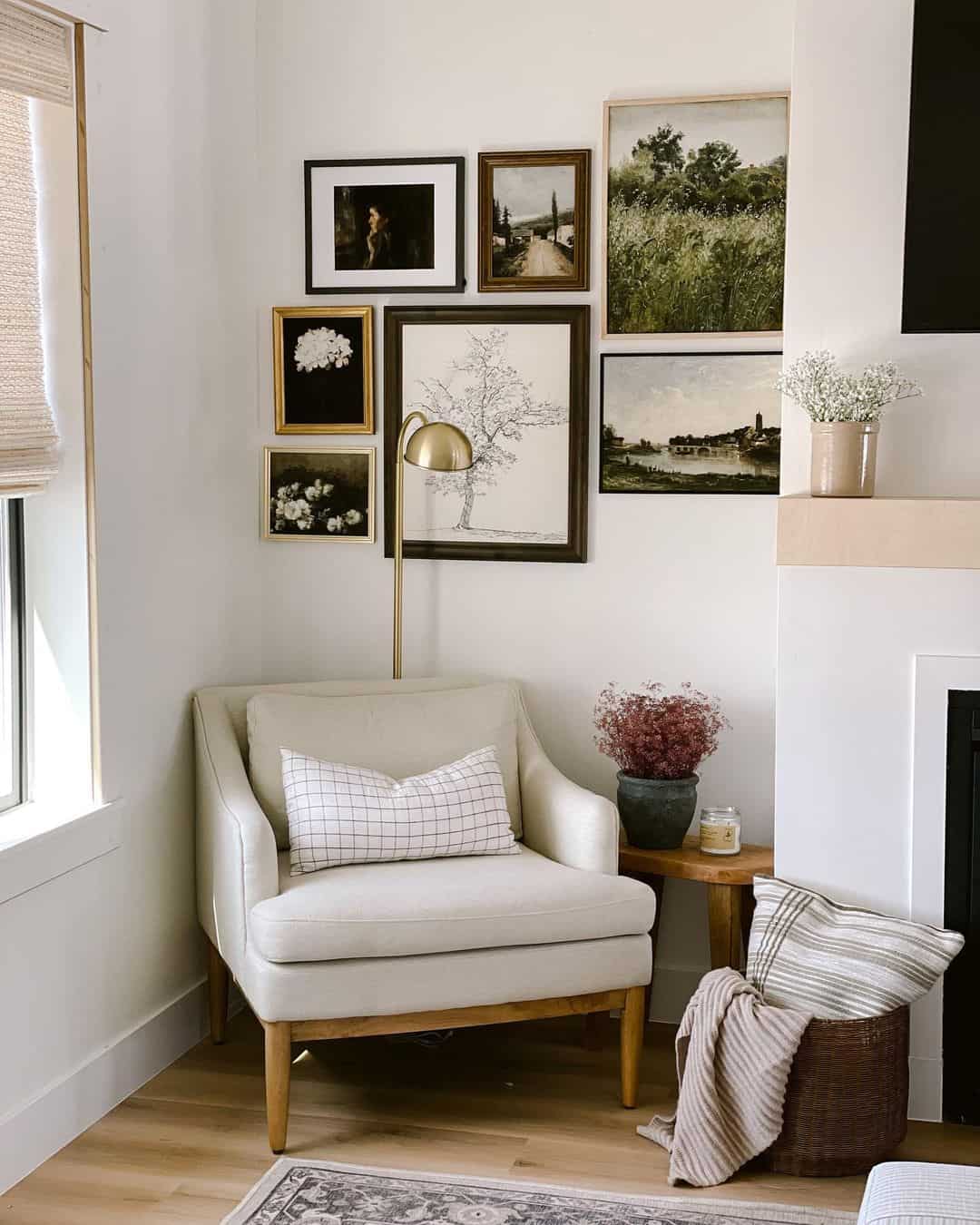 Credit: lori.dail
Shop the Look
Elegance in Every Detail: Ceiling Medallion and Linear Chandelier
Discover captivating details in every corner of this living room, framed by ornate crown molding. A white ceiling medallion serves as a stunning backdrop for a black and brass linear chandelier. The soft beige walls beckon stylish seating, featuring a white sofa with a chaise and two cane webbing slipper chairs.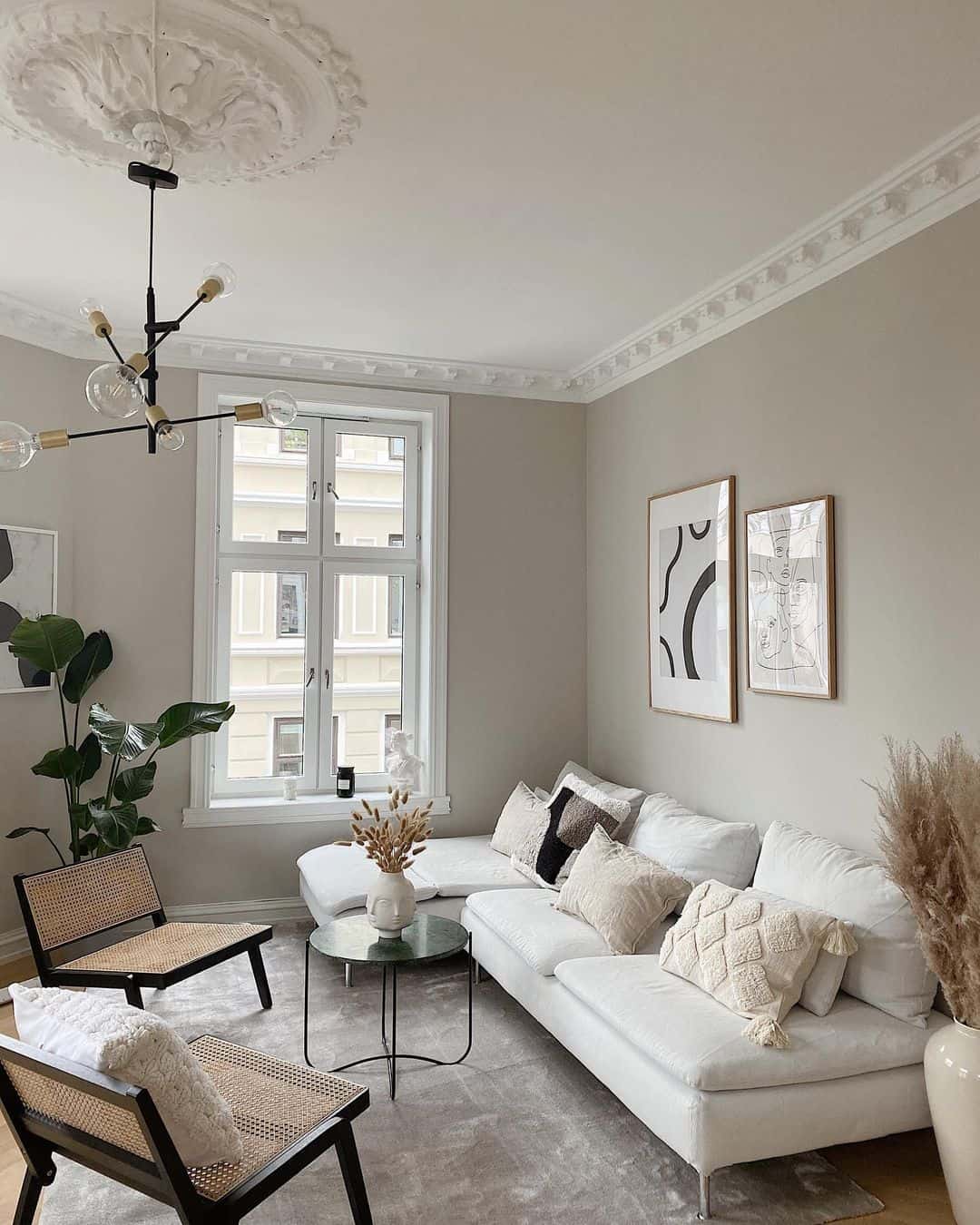 Credit: homewithmila
Shop the Look
Creating Timeless Elegance: Gray Sofas in Luxurious Living Room Decor
Elevate your living room into a haven of enduring sophistication with the addition of plush gray roll-arm sofas, gracefully positioned atop a cream-colored rug. A square white coffee table takes center stage, skillfully dividing the sofas and serving as a focal point before a pristine white fireplace mantel.
Infuse a touch of opulence into the ambiance with the presence of an intricately designed fireplace cover adorning the gray tile backdrop.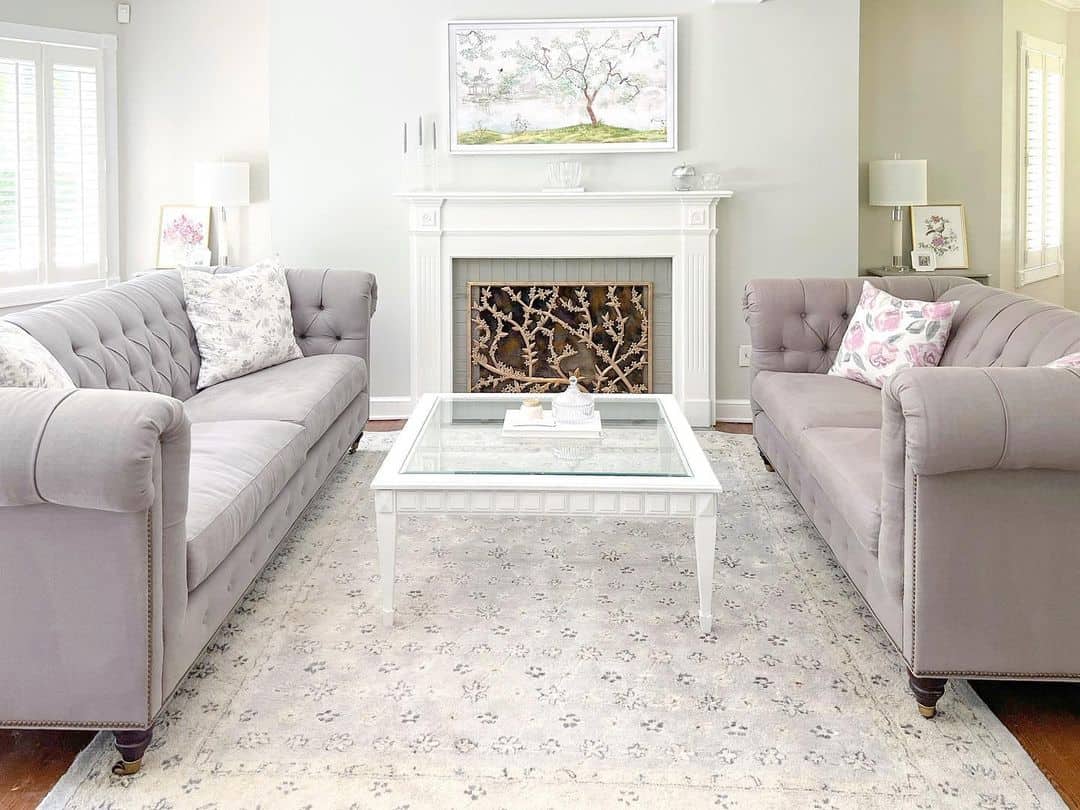 Credit: housewifehospitality
Shop the Look
Wrap-up
Incorporating opulence into a farmhouse setting opens up endless possibilities for creating a warm, inviting, and lavish living space. Whether it's the addition of plush furnishings, elegant design elements, or a fusion of both, these 7+ opulent living room ideas demonstrate that you can infuse your farmhouse with luxury while preserving its authentic charm. So, elevate your farmhouse retreat and indulge in the beauty of opulent living.