7+ Bold Lighting Ideas to Illuminate Your Farmhouse Living Room with Unique Style
Affiliate Disclosure: As an Amazon Associate we earn from qualifying purchases. Hence, if you click through and make a purchase, we will get a commission at no extra cost to you. For more info, read our full disclosure.
Are you ready to transform your farmhouse living room into a captivating haven of warmth and style? Lighting can be the key to unlocking the full potential of your space, adding a touch of unique flair that sets it apart.
In this blog, we'll explore seven bold lighting ideas that will illuminate your farmhouse living room with unmatched style and personality. From rustic chandeliers to modern fixtures, get ready to infuse your space with light and character.
Illuminating Your Living Room with Iron Candelabra Chandeliers
Enhance the ambiance of your living room with the timeless elegance of iron candelabra chandeliers. These fixtures infuse a touch of industrial farmhouse aesthetics into your space. Break the monotony of cool white tones by complementing them with a rustic brick fireplace, tan leather recliner sofas, and a plush beige shag rug.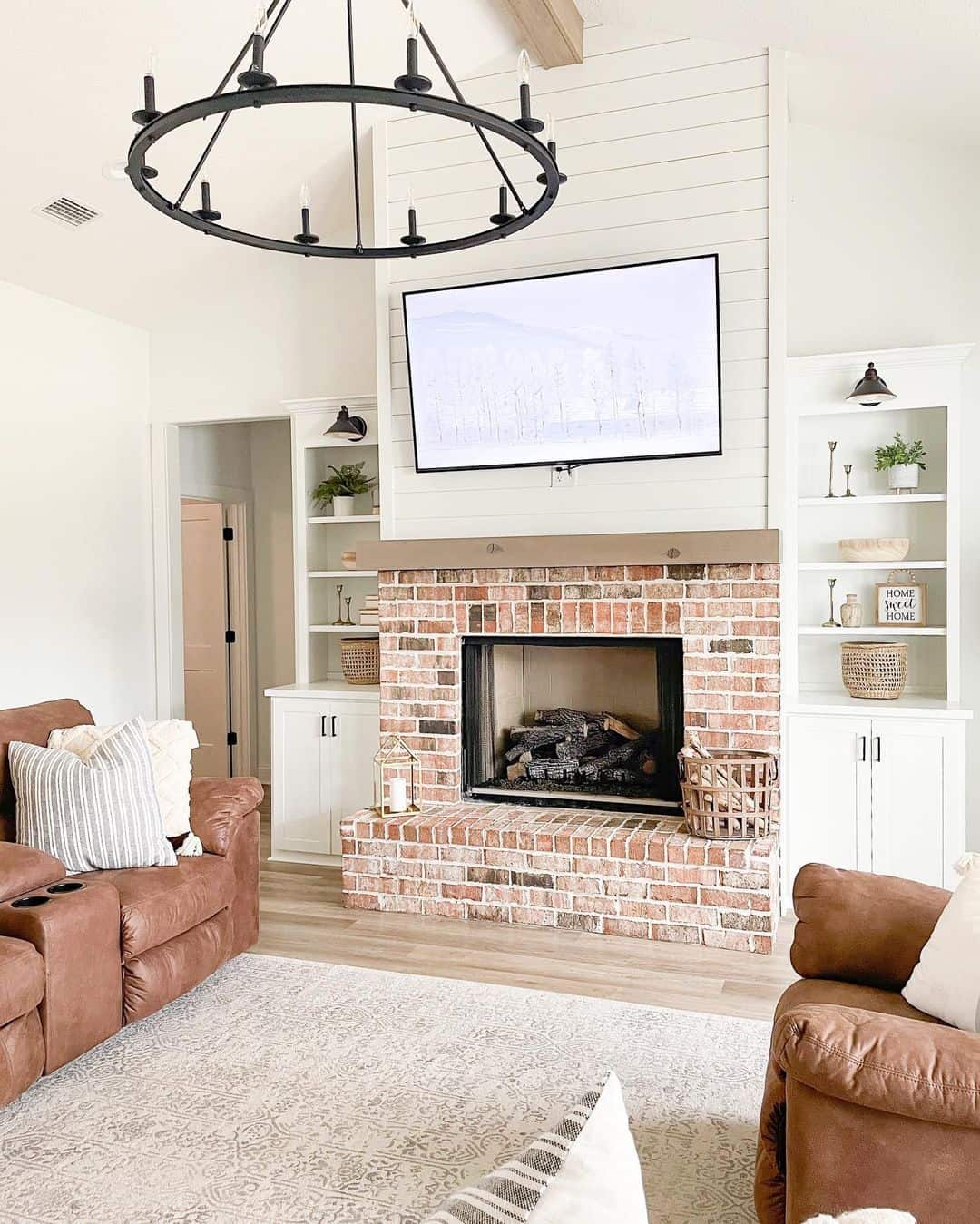 Credit: @styled_by_jadeleah
Shop the Look
Elevate Your Living Room with Industrial Farmhouse Light Fixtures
Transform your bright white living room into a stylish haven with the addition of a striking black iron candelabra chandelier. Pair it with a collection of small black-framed wall mirrors and a wooden coffee table boasting black iron legs.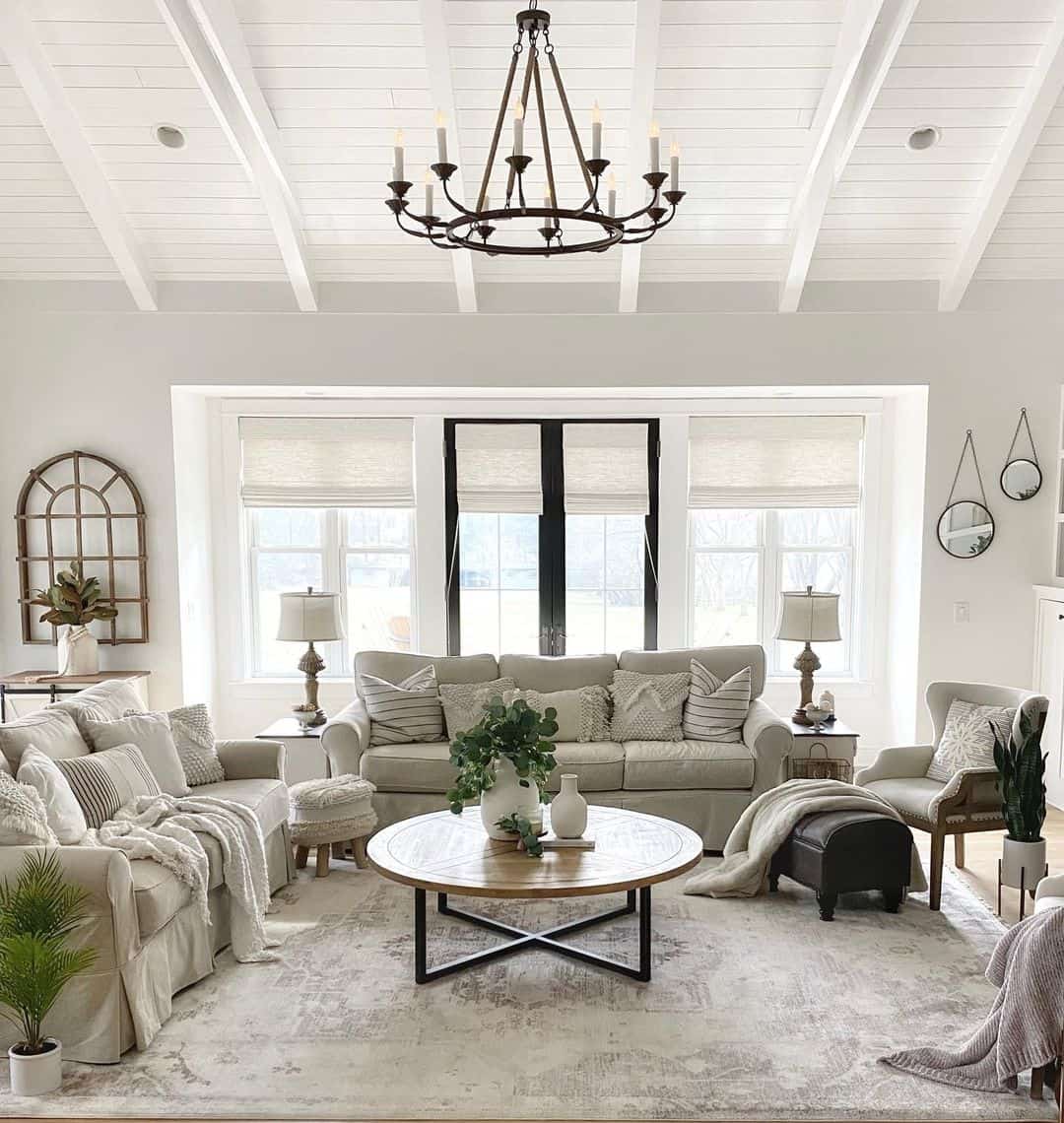 Credit: @graciousspaces
Shop the Look
Modernizing Your Living Space with Neutral Farmhouse TV Wall Ideas
Immerse your living room in a modern farmhouse and rustic ambiance. The mounted black and white lamps on the neutral-colored TV wall introduce an element of chicness, while the dark wood cabinets make a bold statement.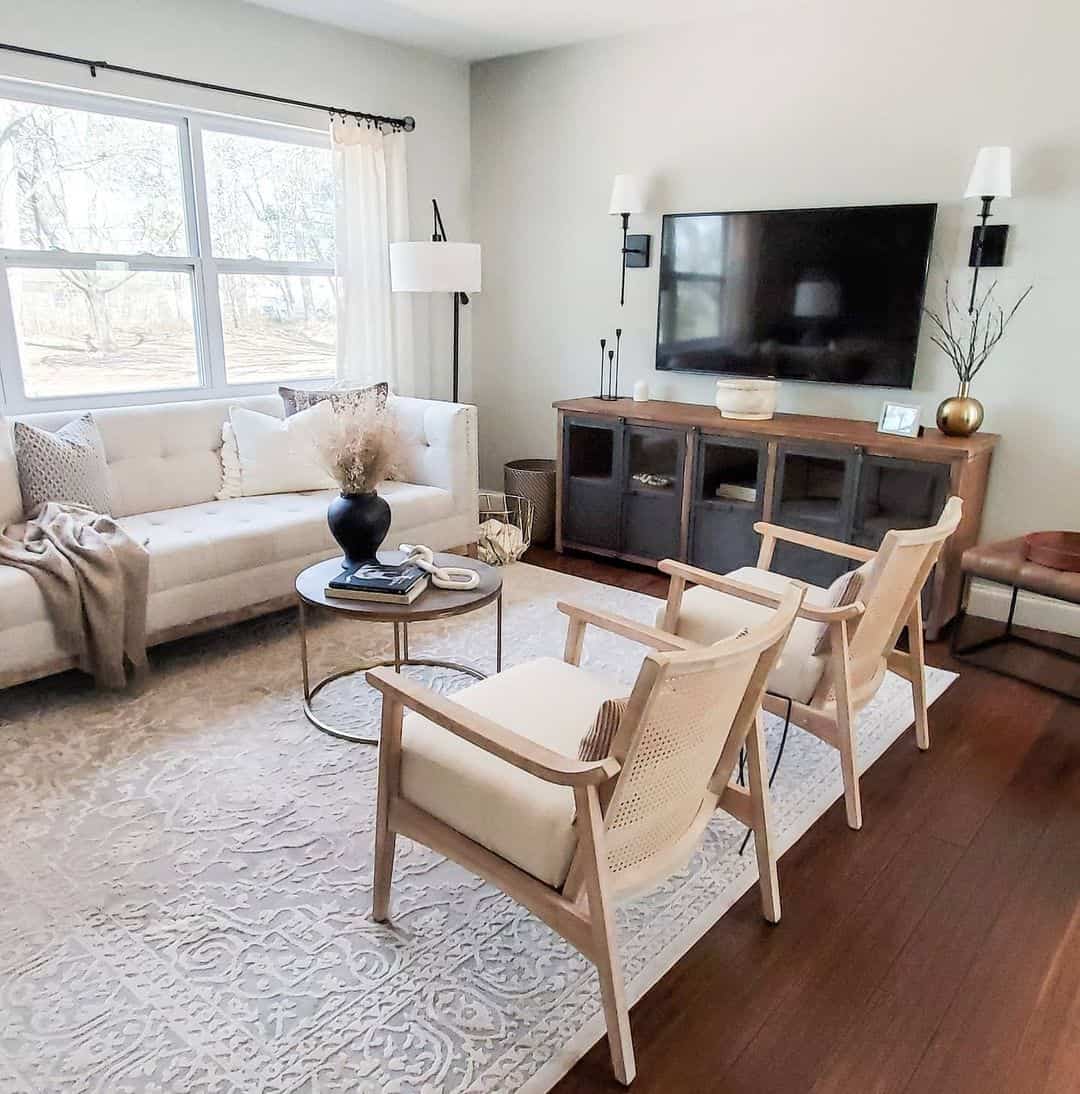 Credit: @ourhomeonbridge
Shop the Look
Farmhouse Flair: Black Metal Floor Lamp Lighting
A black metal tripod floor lamp takes center stage beside a monochromatic farmhouse portrait in a contemporary living room. Create a cozy reading nook by pairing the lamp with a comfortable leather chair featuring a plaid tassel blanket.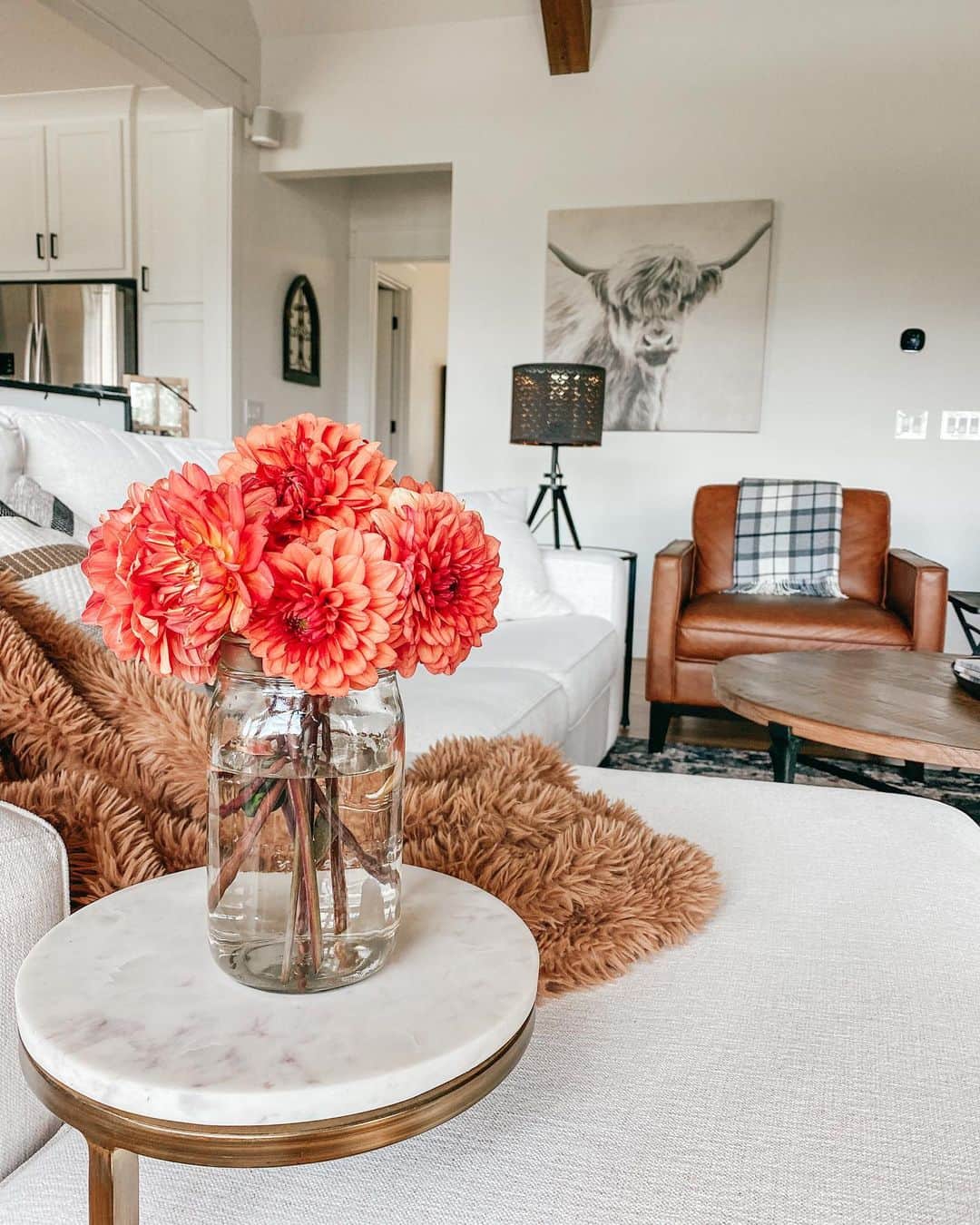 Credit: @farmhouseonwaters
Shop the Look
Embrace Natural Living Room Lighting Through French Windows
Invite a flood of natural light into your rustic living room through French windows adorned with white drapes. The warm outdoor lighting beautifully complements the cozy aesthetics of wooden flooring and a vaulted ceiling. Enhance the scene with a modern black leather sofa adorned with boho-farmhouse linens.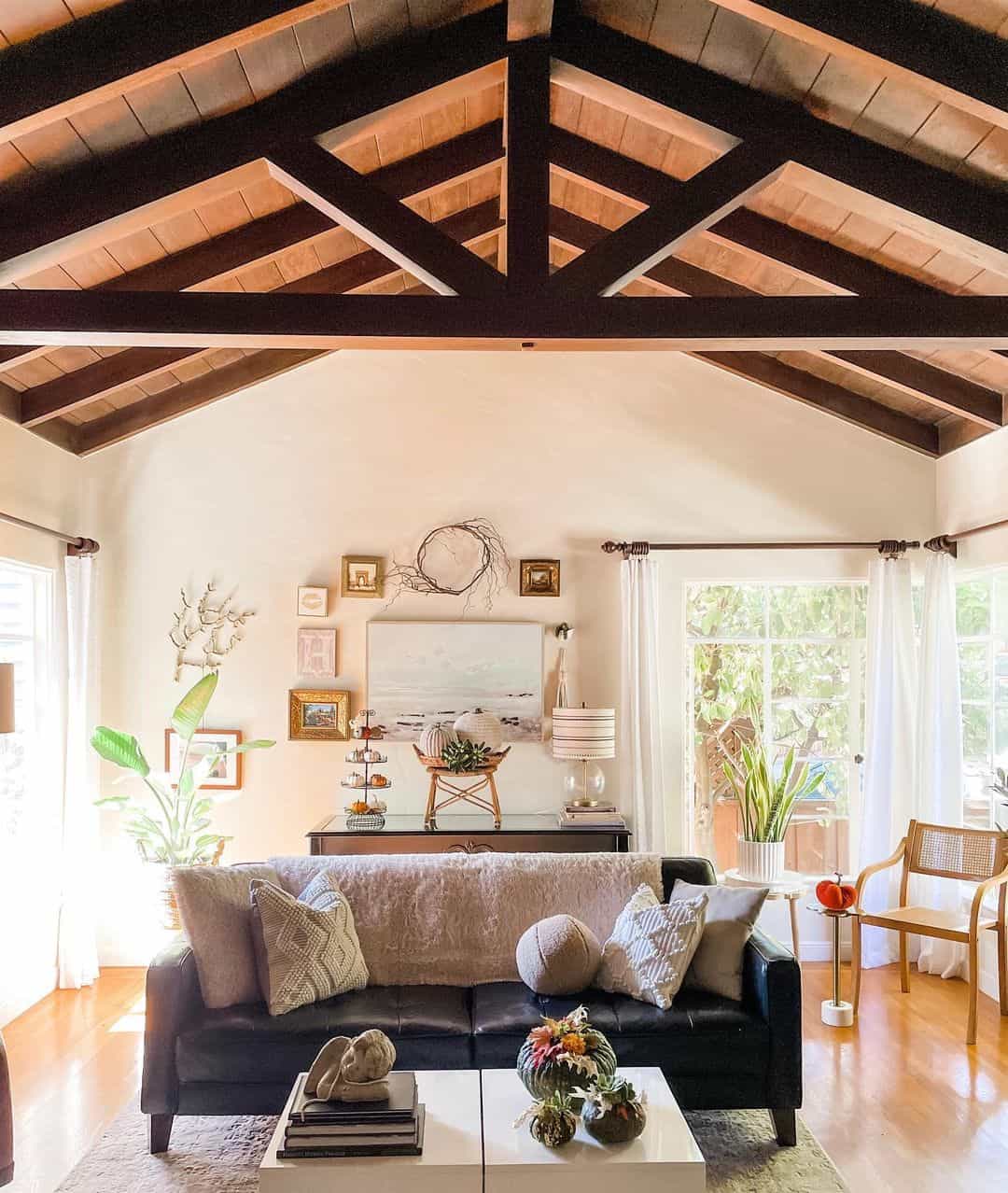 Credit: @michellesmediterraneanhouse
Shop the Look
Creating an Airy Living Room with Abundant Natural Lighting
Create an airy and well-lit living room by inviting abundant natural light through tall windows dressed in soft beige drapes. The luminous space accentuates a white sofa embellished with farmhouse pinstriped pillows. Enhance comfort with a petite white table lamp gracing a modern wood end table, providing the perfect reading nook. Complete the look with a rustic woven tray centerpiece adorning the coffee table.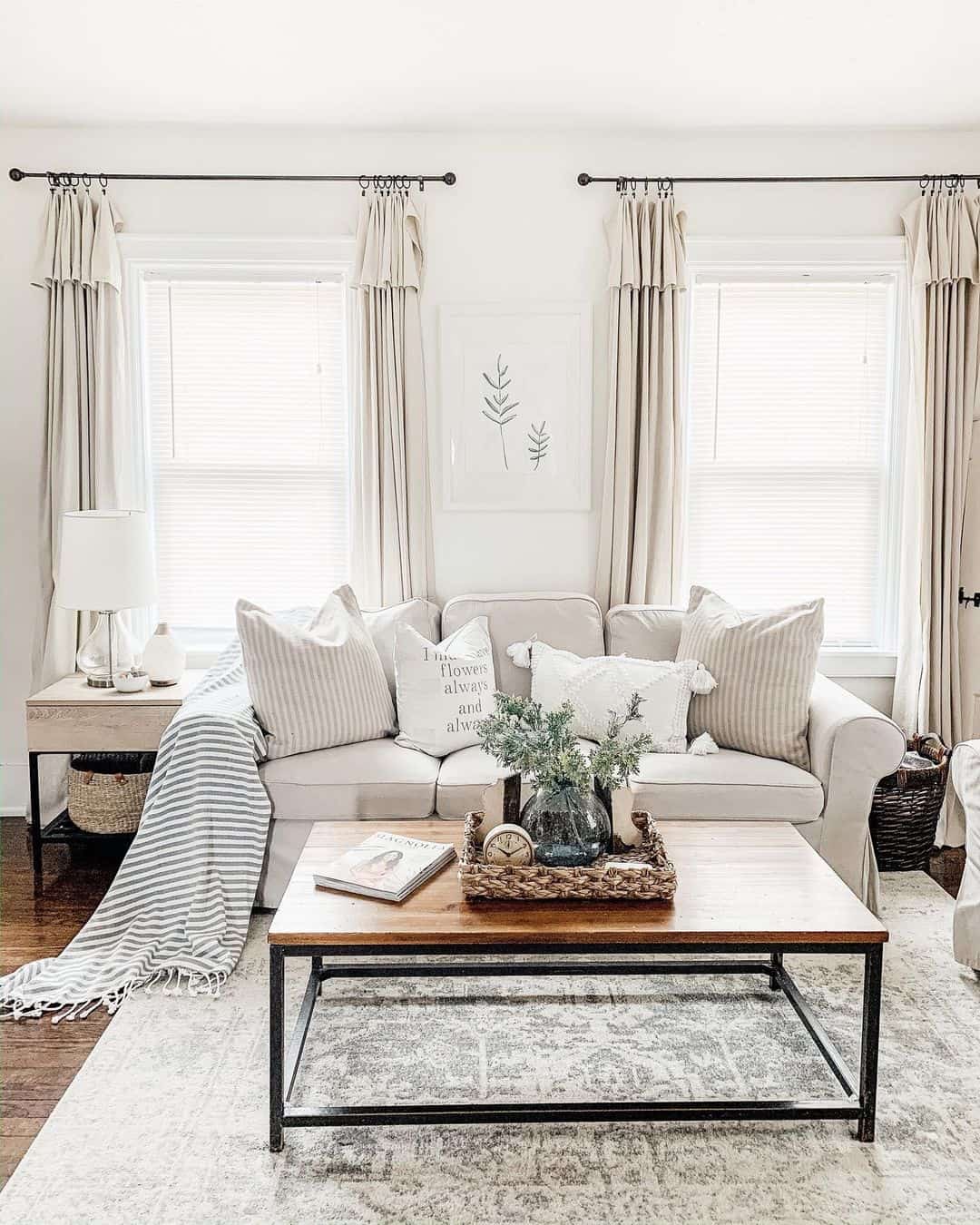 Credit: @michealadianedesigns
Shop the Look
Timeless Elegance: Black Chandelier Lighting for a Low Ceiling Living Room
Introduce timeless charm to your living room with a black metal chandelier suspended above a rustic, white-painted wood coffee table. It stands proudly before a white slipcovered couch adorned with inviting white and gray throw pillows. A tan vintage rug anchors the space, completing the inviting ambiance.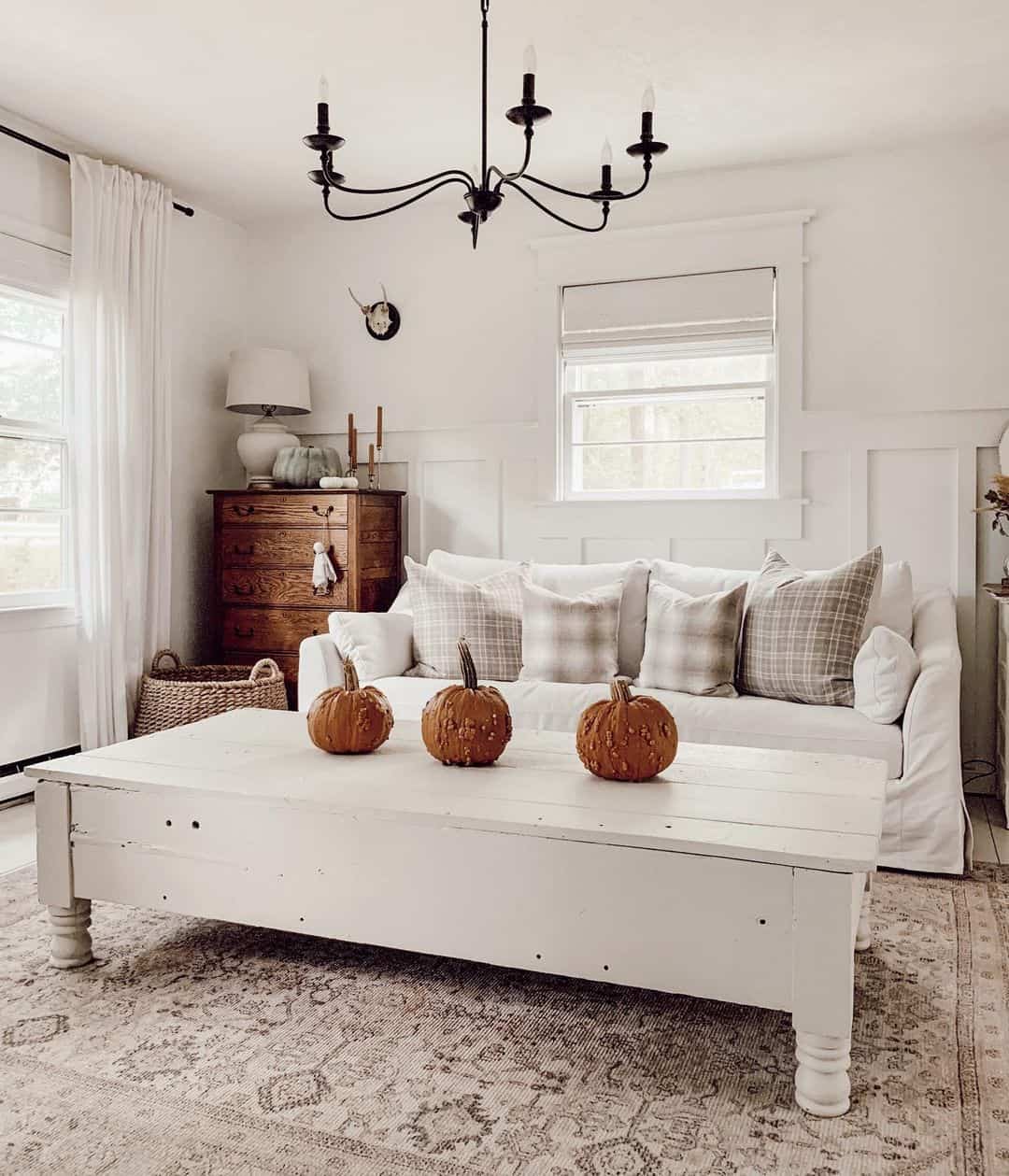 Credit: @margaretashleighh
Shop the Look
Contemporary Comfort: Modern Black Ceiling Fan in a Neutral Living Room
Enhance contemporary comfort in your neutral living room with a modern black ceiling fan light fixture. Suspended above a wooden farmhouse coffee table, it introduces a rustic twist with its wooden blades. Complete the look with a matching wood armchair featuring soft white cushions, creating an inviting and cozy atmosphere.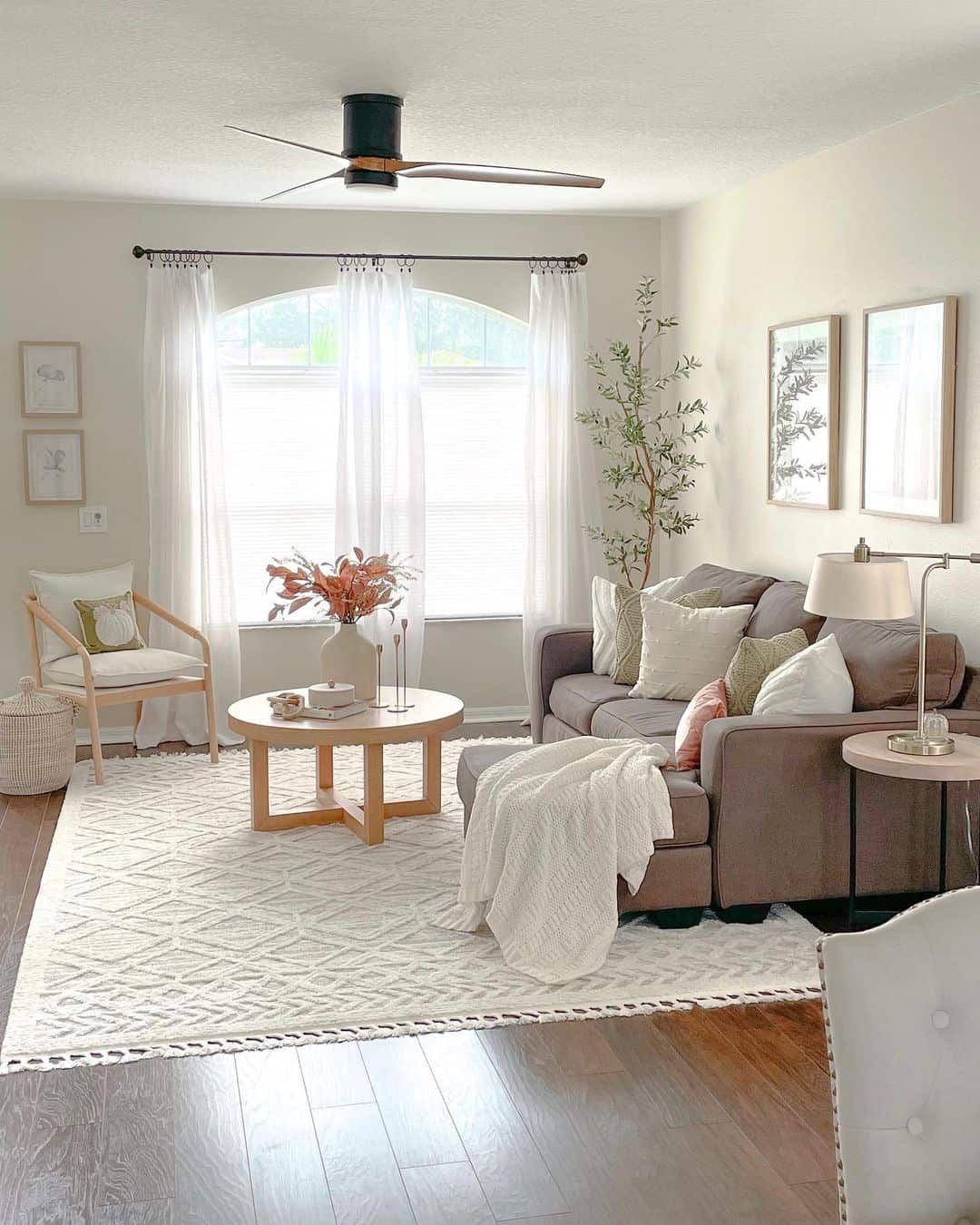 Credit: @nita_home
Shop the Look
Wrap-up
Elevating your farmhouse living room with distinctive lighting choices can breathe new life into your decor. The right lighting not only brightens up your space but also enhances its charm and ambiance. By exploring these seven bold lighting ideas, you can transform your living room into a cozy retreat that reflects your unique style and personality.
Don't be afraid to mix and match styles, experiment with different fixtures, and let your creativity shine as you light up your farmhouse haven.