7+ Elegant Bookcase Ideas to Showcase Décor in Your Farmhouse Living Room
Affiliate Disclosure: As an Amazon Associate we earn from qualifying purchases. Hence, if you click through and make a purchase, we will get a commission at no extra cost to you. For more info, read our full disclosure.
Welcome to a world of timeless charm and sophistication! If you're seeking to elevate the aesthetics of your farmhouse living room, you've come to the right place. In this article, we'll explore seven-plus elegant bookcase ideas that not only provide functional storage but also serve as exquisite showcases for your decor.
Transform your living space into a haven of style and creativity with these carefully curated bookcase inspirations.
A White Living Room Enhanced by a Repurposed China Cabinet
In this cozy country-inspired living room, white and brown harmoniously converge to create an inviting atmosphere. The centerpiece is a repurposed china cabinet filled with a collection of brown books, accompanied by beige decor accents and amber glass bottles.
A simple yet elegant touch is added with a white balcony door adorned with sheer curtains, while a delicate beige chandelier illuminates the space.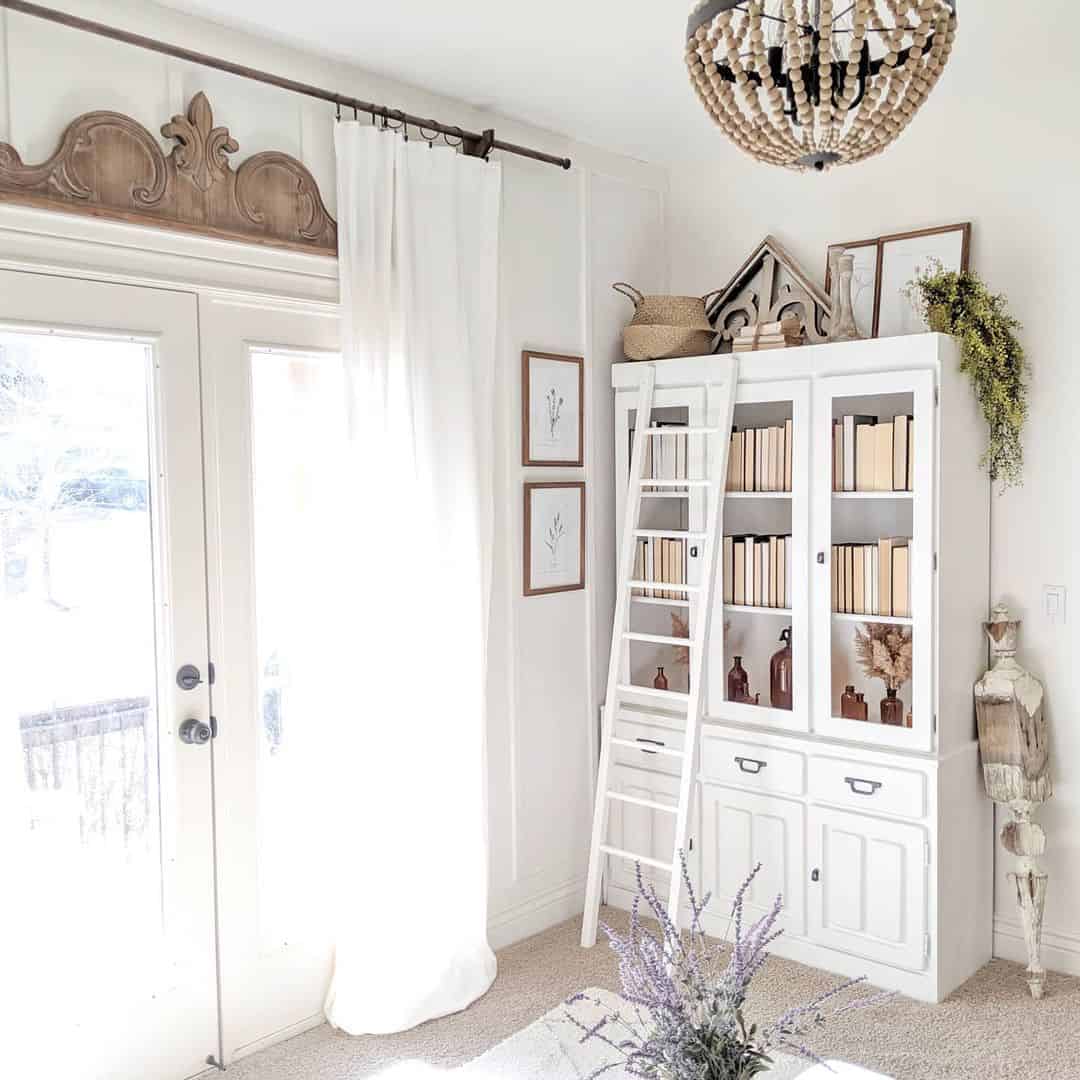 Credit: thriftyandchicdecor
Shop the Look
Farmhouse Living Area Featuring Open-Faced Bookcase Arrangements
This farmhouse living room exudes rustic charm with a white bookcase positioned beside a stone fireplace featuring white grout. A clever design choice involves arranging the books with their pages facing outward, resulting in a cohesive color display when various books stand side by side. To complete the farmhouse aesthetic, consider adding understated figurines in neutral tones.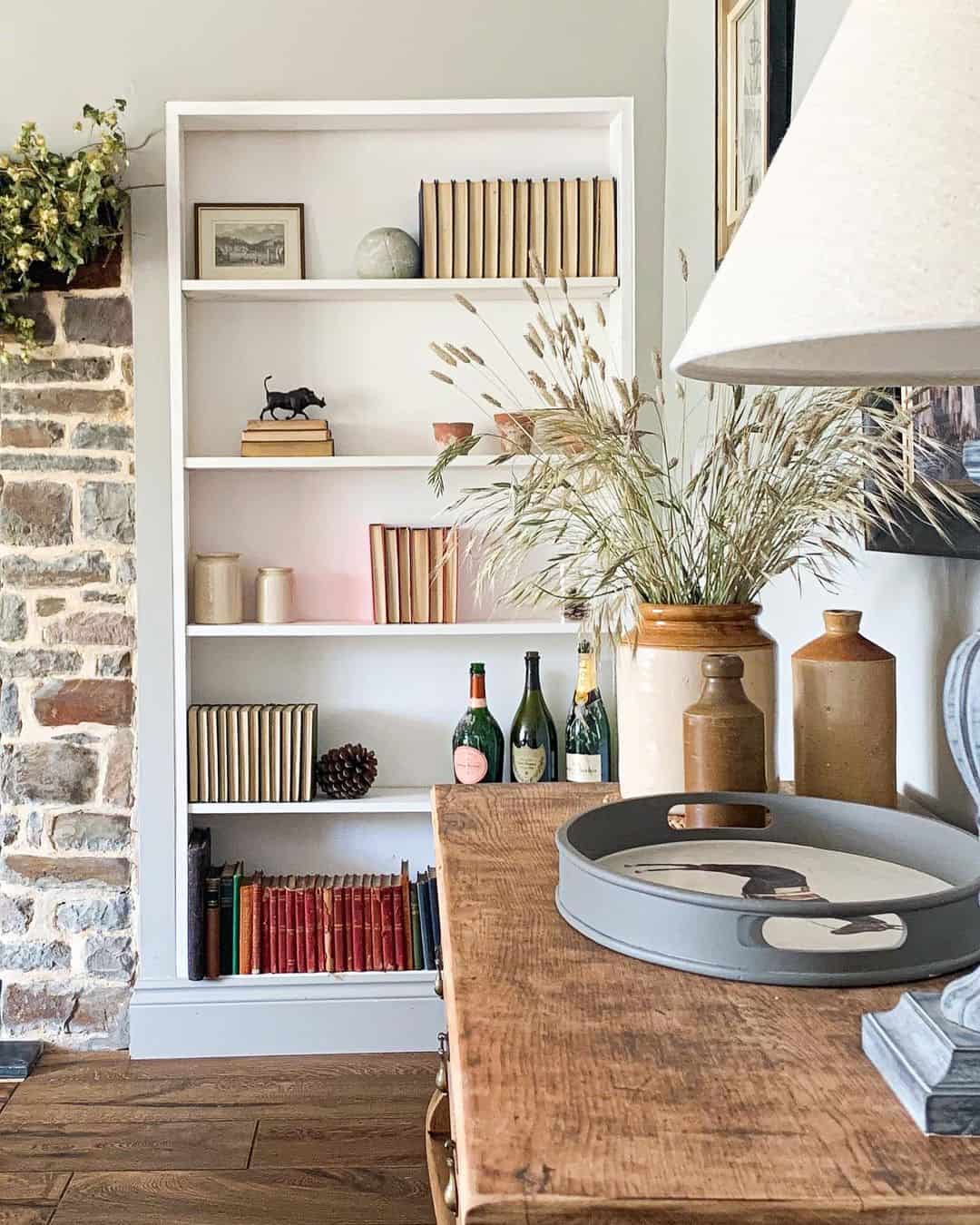 Credit: figtree.farm
Shop the Look
Contemporary Black Bookcase Illuminated by Farmhouse Sconce Lights
Incorporate a touch of contemporary elegance into your living space with a sleek black bookshelf situated alongside a bay window and an upholstered seating bench featuring elegant gold legs. Elevate your reading nook's ambiance by installing a black farmhouse sconce light accented with gold detailing.
Enhance the overall atmosphere by stringing boho outdoor lights across the space, complementing the main chandelier.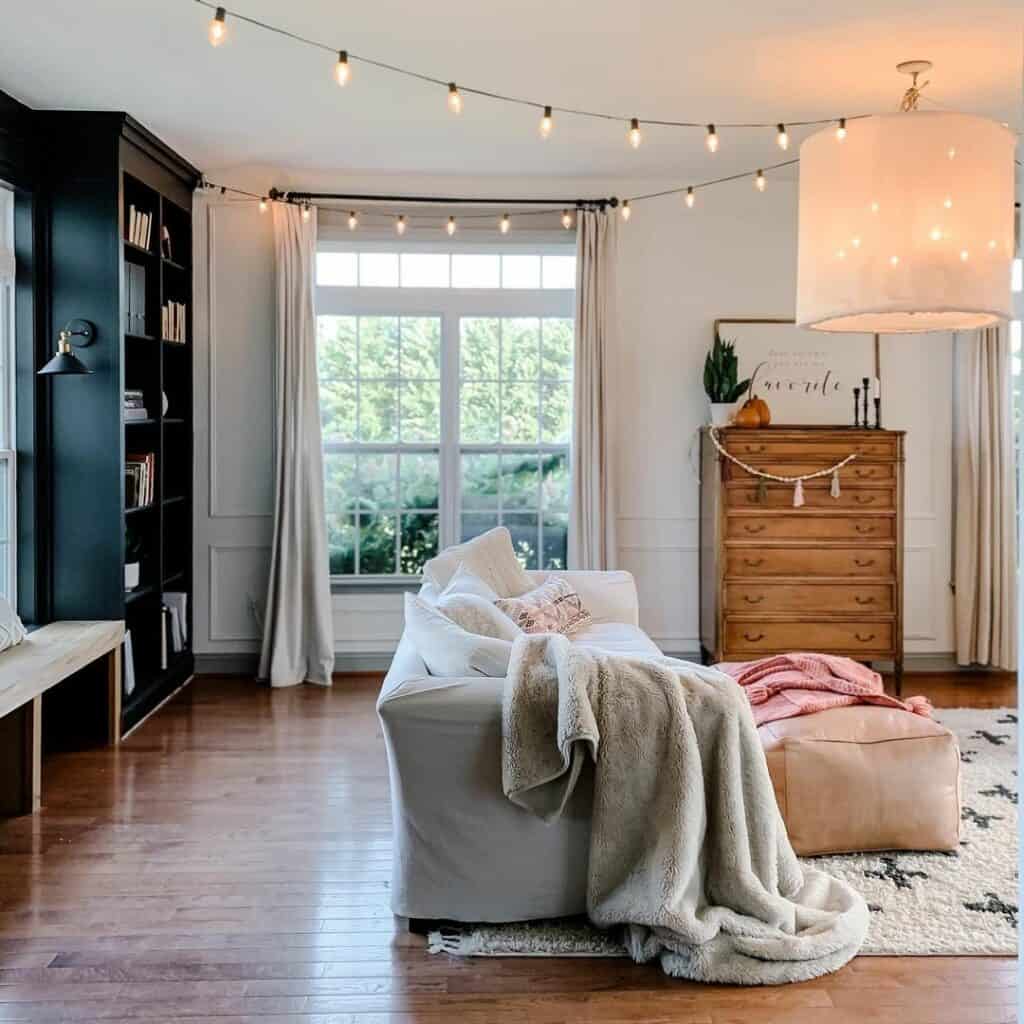 Credit: the.simple.farmhouse
Shop the Look
Open-Faced Bookcase in a Contemporary Farmhouse Living Area
This modern farmhouse living room is thoughtfully designed, featuring a set of open-faced bookshelves adorned with an assortment of neutral decor pieces. White vases, wooden serving bowls, books, and woven storage baskets beautifully complement the room's white and black seating decor, creating a visually cohesive and inviting environment.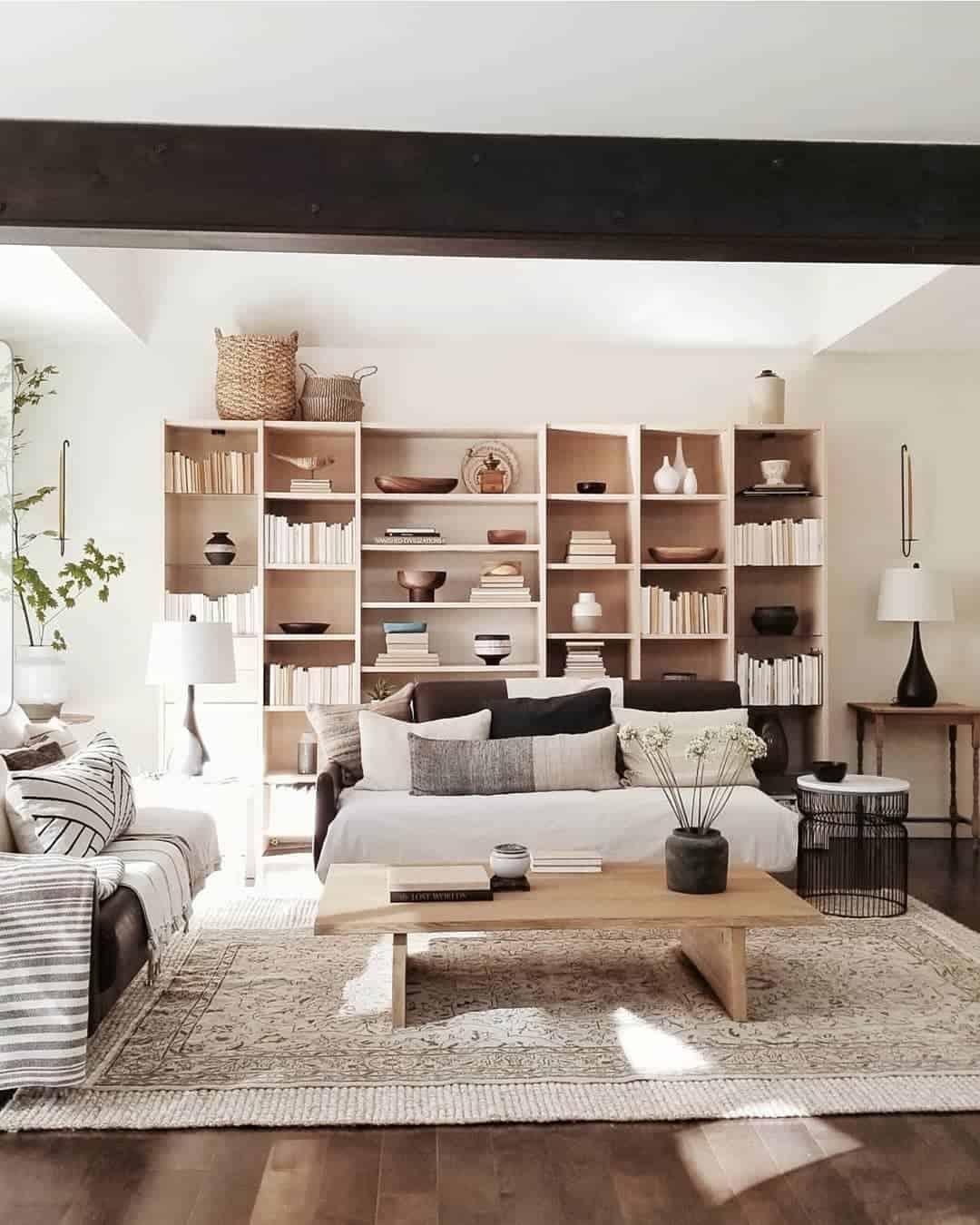 Credit: jultompa
Shop the Look
Vintage Living Room with Corner Bookcase Layouts
For smaller living spaces, maximize functionality with a corner bookcase layout, as exemplified here. Open shelving snugly fits against the walls, leaving ample room for a small end table housing a reading lamp.
Enhance the cozy ambiance with a vintage sofa adorned with white faux fur throws and pillows, creating an inviting spot for relaxation.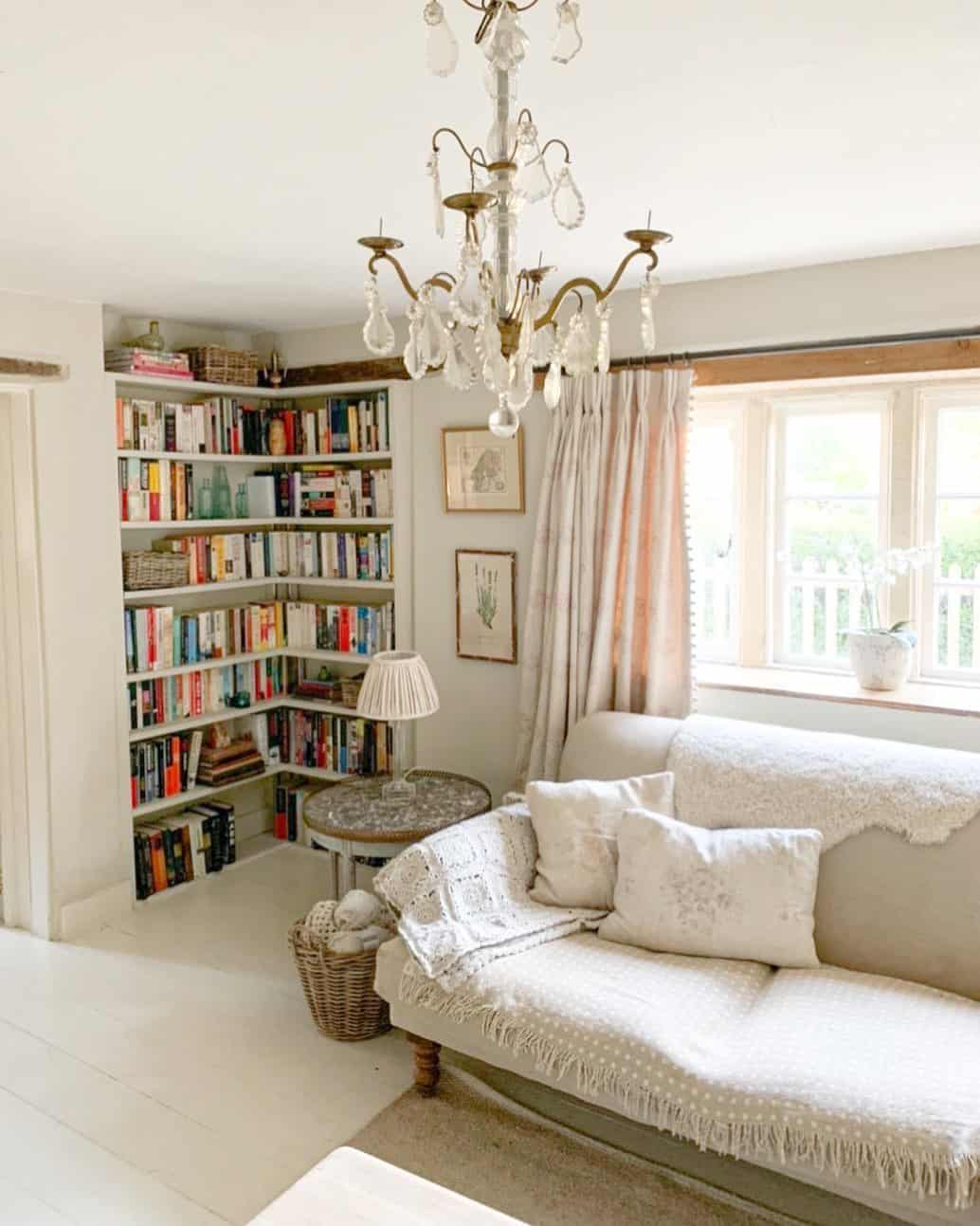 Credit: thelittlecornercottage
Shop the Look
Farmhouse Living Room Enriched with Natural Wood Bookcases
Transform your farmhouse living room by introducing a wooden open-faced bookcase positioned next to a rustic hollow window frame. Adorn the bookcase with decorative elements such as a boho pom-pom garland and woven baskets for a charming and inviting display. To add a touch of nature, incorporate cascading green succulents interspersed among the books.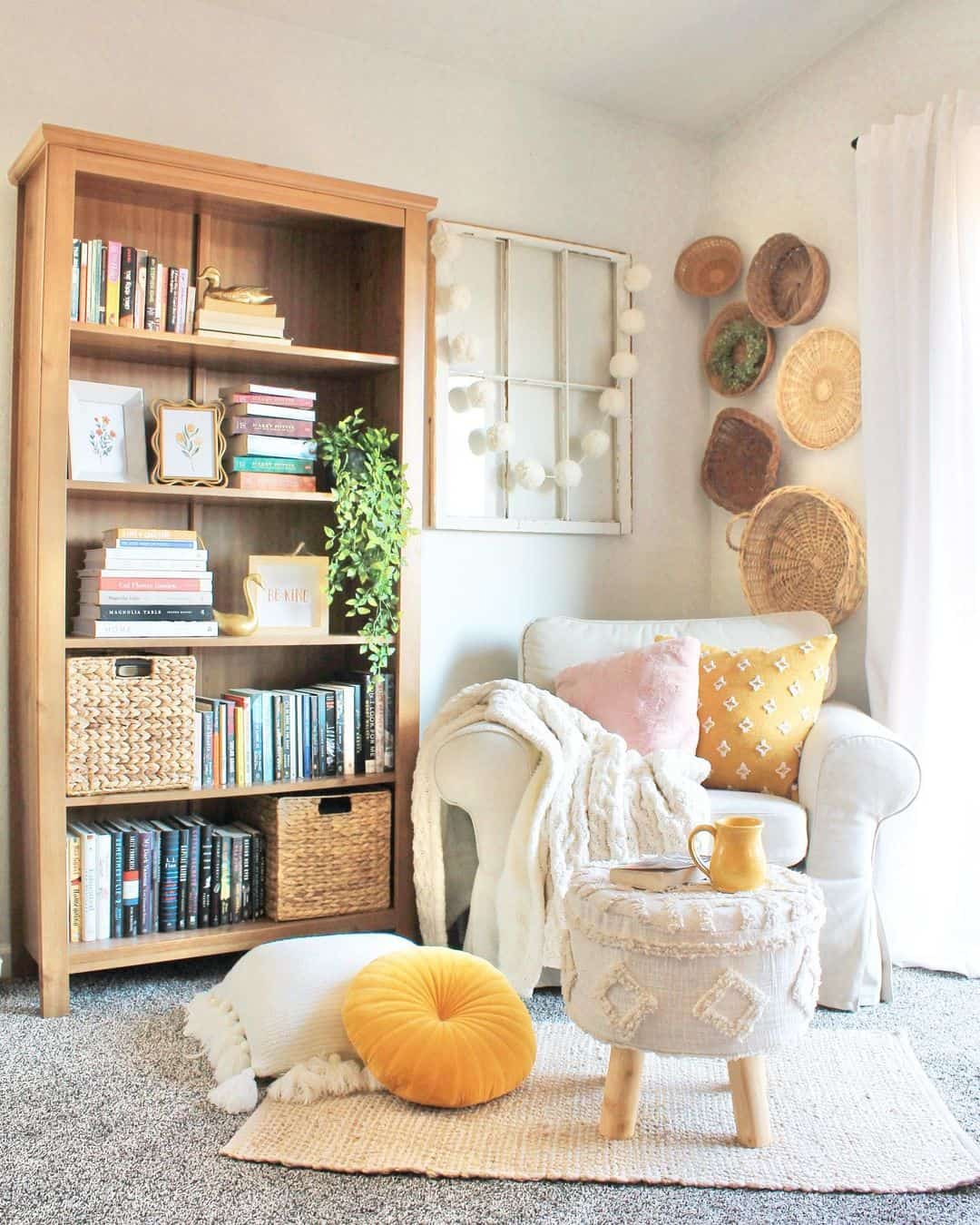 Credit: kaitsnest
Shop the Look
Rustic Brick Fireplace Accompanied by a Vintage White Wood Bookcase
Infuse a sense of vintage charm into your living space with a white wood bookcase boasting an elegantly arched top. This piece harmoniously complements the rustic white-washed brick fireplace installed adjacent to it.
Optimize your display by arranging books with their pages facing outward, showcasing consistent colors, and consider adding rustic storage bins and vases for a balanced aesthetic.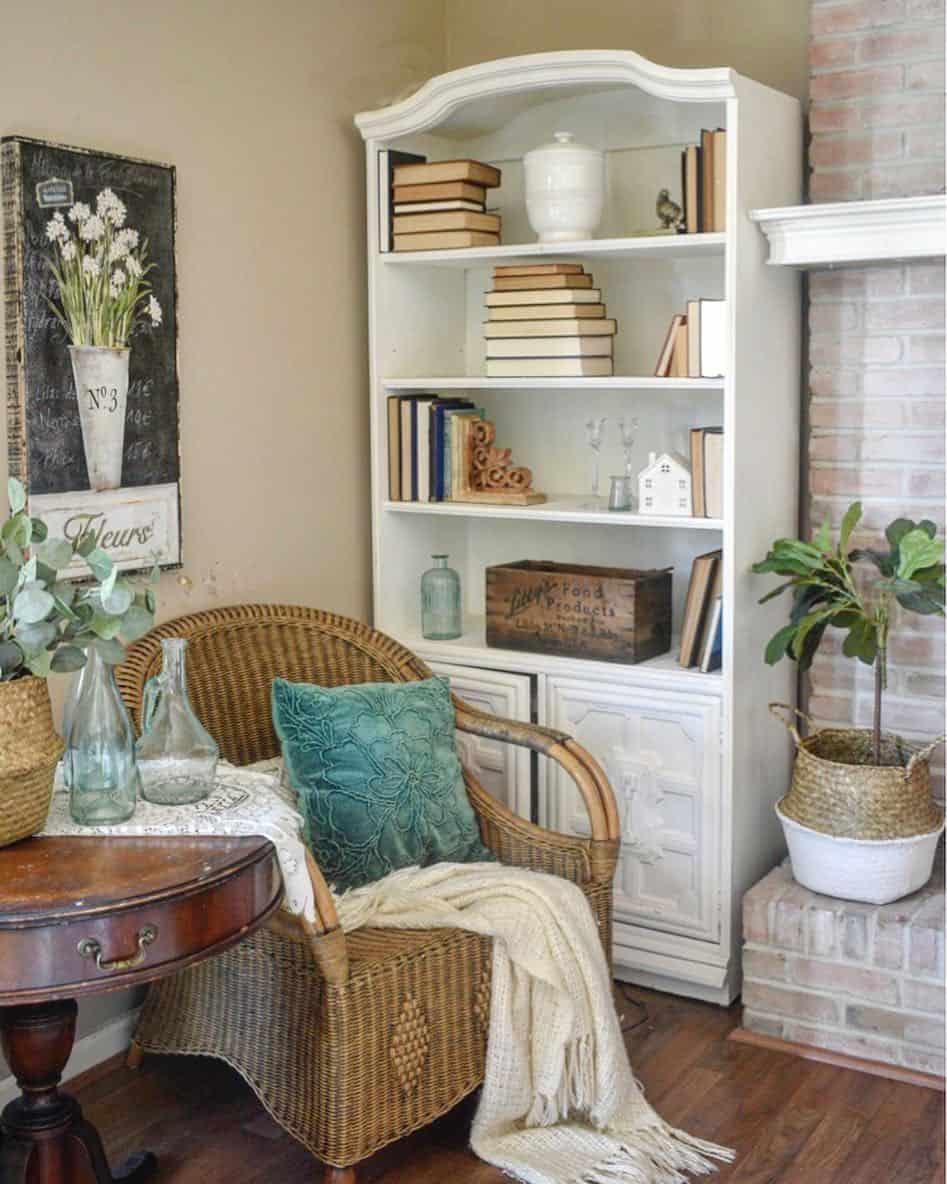 Credit: houseonheatherfield
Shop the Look
Elegant Living Room with Sets of White Open-Faced Bookcases
Enhance the sophistication of your formal living area with a set of white open-faced bookcases designed to beautifully showcase and organize your book collection. The white finish seamlessly complements the gray sofas in this farmhouse living room, while a black and white plaid ottoman, complete with a matching white serving tray, adds a touch of character to the space.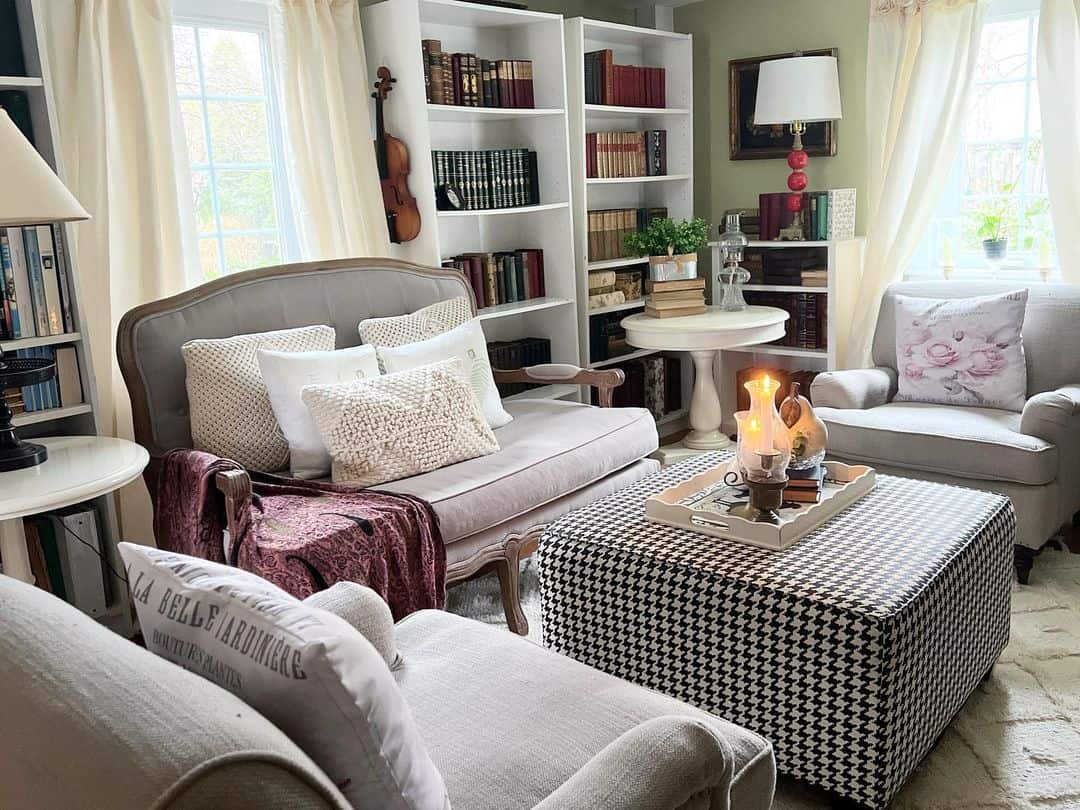 Credit: farmhousefourwinds
Shop the Look
Wrap-up
Incorporating an elegant bookcase into your farmhouse living room can be a game-changer, allowing you to infuse personality, elegance, and organization into your space. Whether you opt for natural wood, vintage white, or contemporary black, these bookcase ideas offer versatile ways to display your decor items while enhancing the overall charm of your home.
So, unleash your inner designer, and let your farmhouse living room reflect your unique style with these stunning bookcase inspirations.