7+ Cozy Farmhouse Living Room Ideas with Dual Sofas for Ultimate Comfort
Affiliate Disclosure: As an Amazon Associate we earn from qualifying purchases. Hence, if you click through and make a purchase, we will get a commission at no extra cost to you. For more info, read our full disclosure.
When it comes to creating a warm and inviting living space, few styles rival the cozy charm of a farmhouse-inspired design. Farmhouse living rooms exude comfort, character, and a sense of timelessness. And what's better than one sofa for lounging? Two! Dual sofas not only offer ample seating but also add symmetry and balance to your farmhouse haven.
In this article, we'll explore seven cozy farmhouse living room ideas that incorporate the elegance and comfort of dual sofas to elevate your home's aesthetic and provide the ultimate in relaxation.
Vintage-Inspired White Sofas for a Charming French Cottage Vibe
The addition of white slipcovers to these sofas imparts a vintage charm that harmonizes beautifully with the French cottage ambiance of the living room. Keep the color palette fresh and neutral by incorporating a gray area rug, gray and white striped throws, and soft pillows.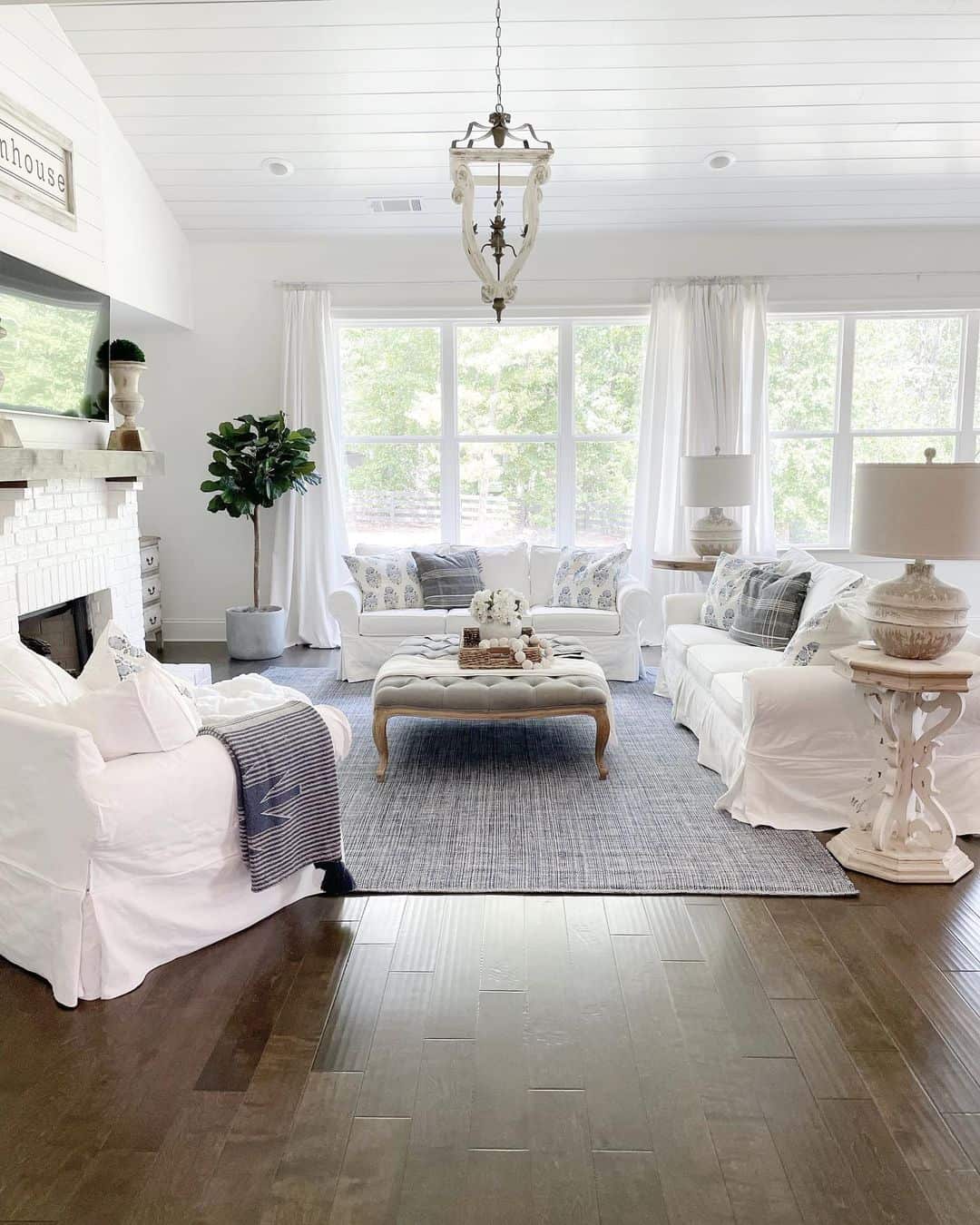 Credit: white.cottage.life
Shop the Look
Contemporary Neutrality in the Living Room: Matching Gray Sofas
A spacious modern farmhouse living room is tastefully adorned with two symmetrical stone gray sofas positioned across from each other. Create a cohesive look by placing a neutral farmhouse rug and a sleek black iron coffee table in between. Ottomans can be used as separate seating pieces.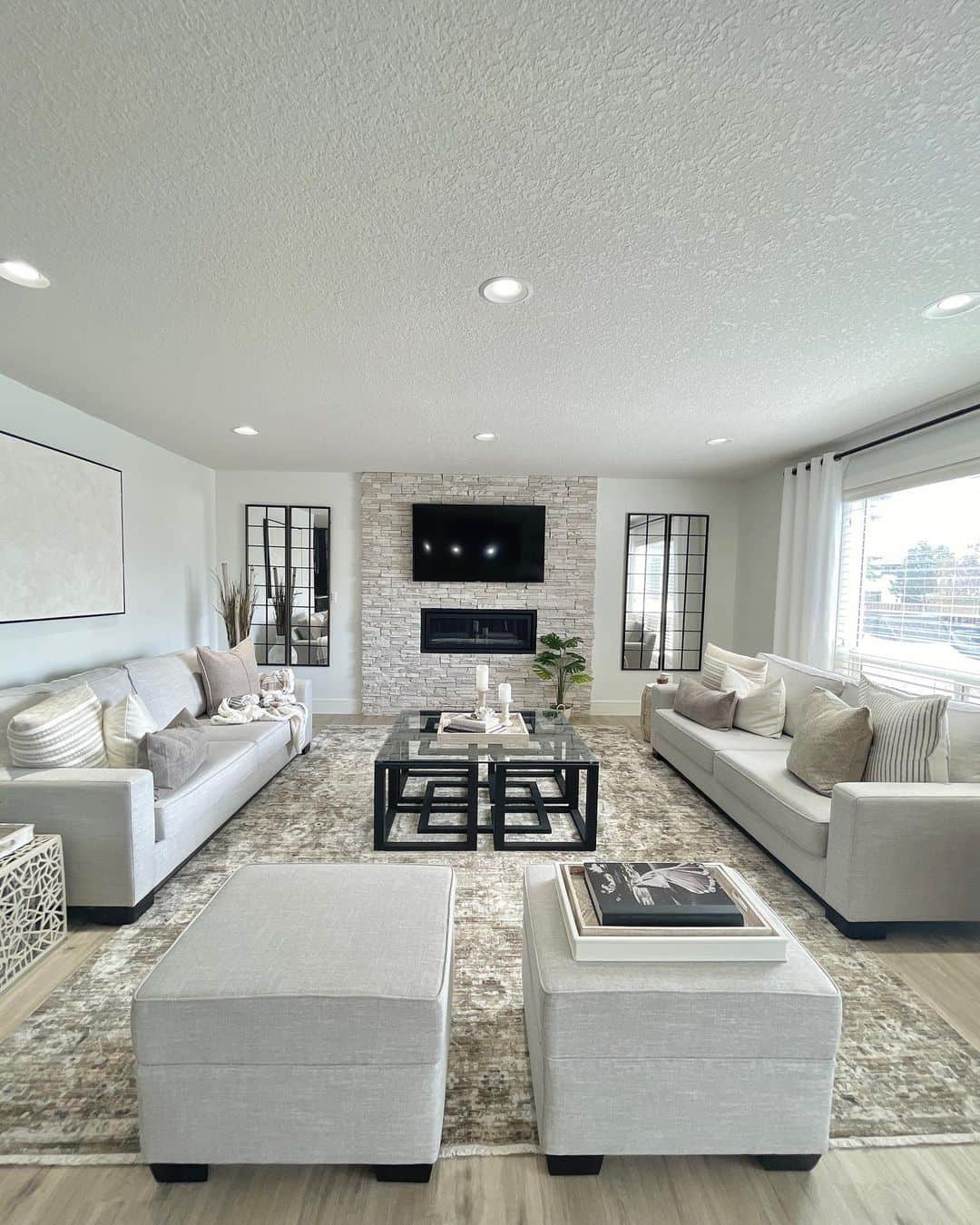 Credit: urban.homeology
Shop the Look
A Touch of Elegance: Twin French Upholstered Sofas for a Glamorous Farmhouse
Achieve understated glamour in your farmhouse living room with the addition of French upholstered beige sofas, complemented by a plush shag area rug and an upholstered ottoman nestled in between. Elevate the setting with a faux fur throw cascading over the ottoman, accompanied by a wooden tray hosting a floral centerpiece.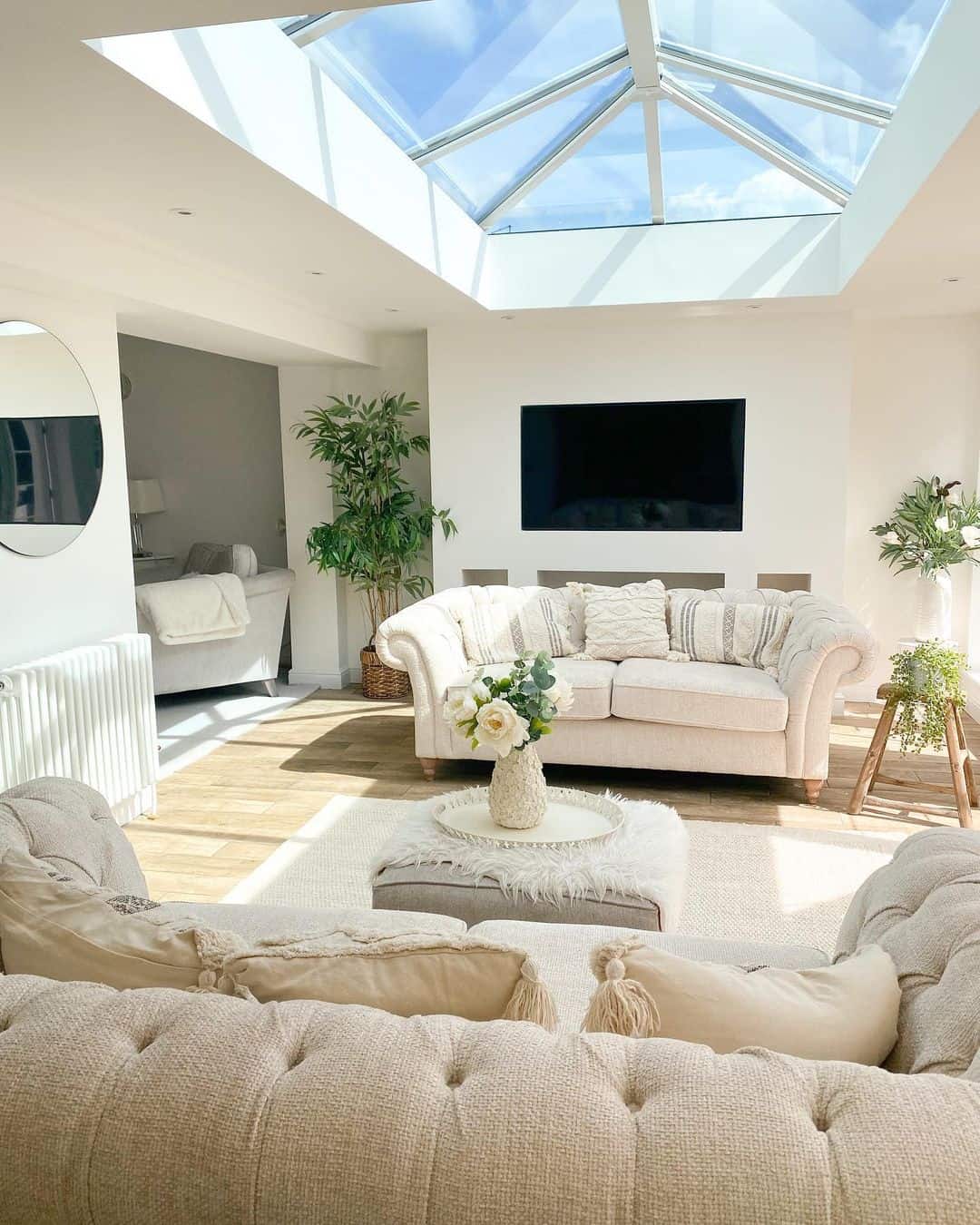 Credit: ourchaletbungalow
Shop the Look
Pairing Gray Elegance: French-Style Upholstered Living Room Sofa Ensemble
Create a cozy and elegant atmosphere in a neutral cottage rustic living room with L-shaped gray French upholstered sofas. Enhance the vintage appeal with a glass orb table lamp, a white antique wall mirror, and antique wall art. Finish the look by layering a gray and white area rug over the wooden floors.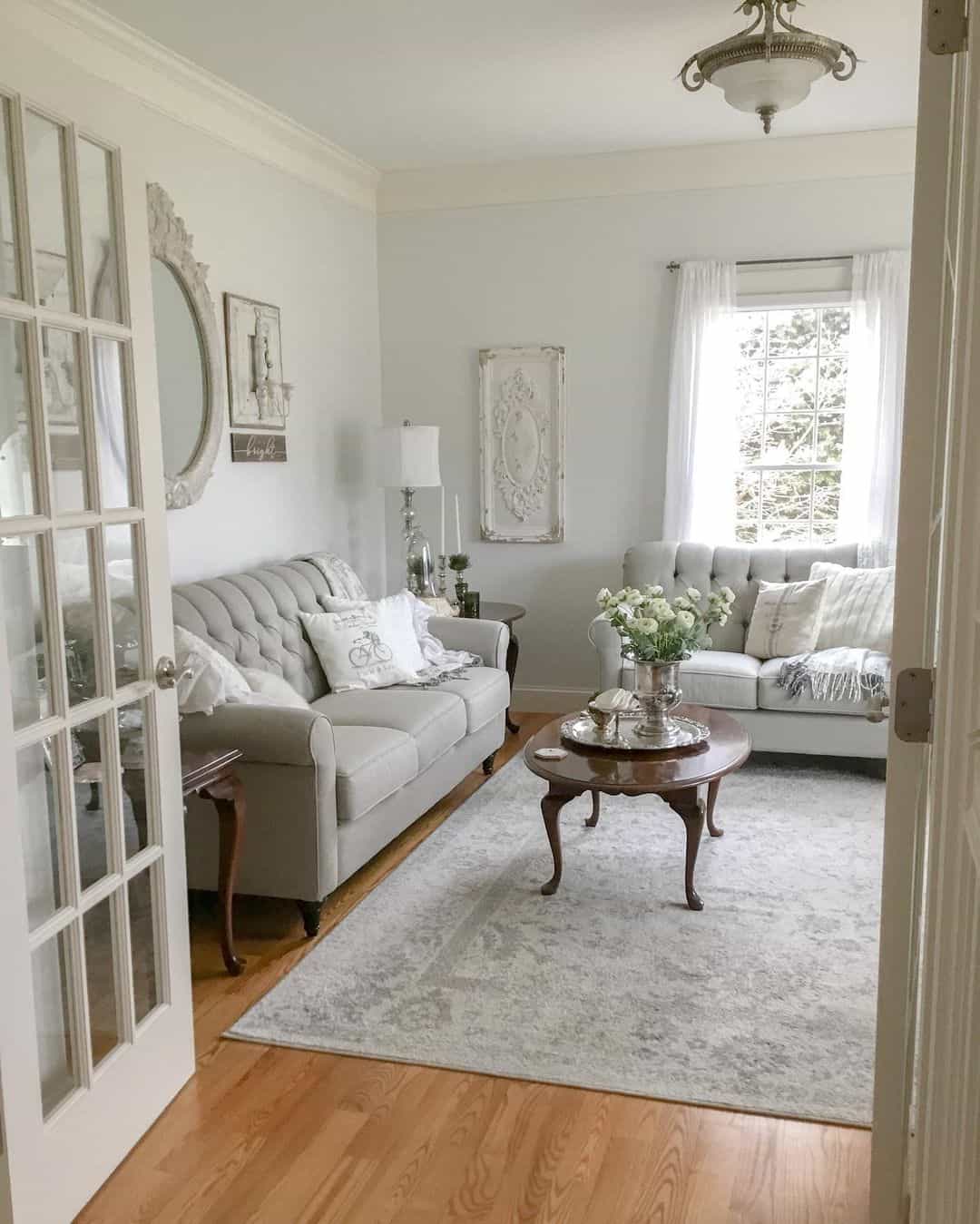 Credit: ourhomeoffnottingham
Shop the Look
Monochromatic Sophistication: Farmhouse Living Room With Two Sofas
Frame your farmhouse living room with matching gray sofas featuring rolled arms and studded upholstery. Define the space with a black and white geometric farmhouse rug adorned with tasseled edges. Elevate the aesthetic with a rustic wood coffee table, a stylish centerpiece, and an industrial table lamp on a matching end table.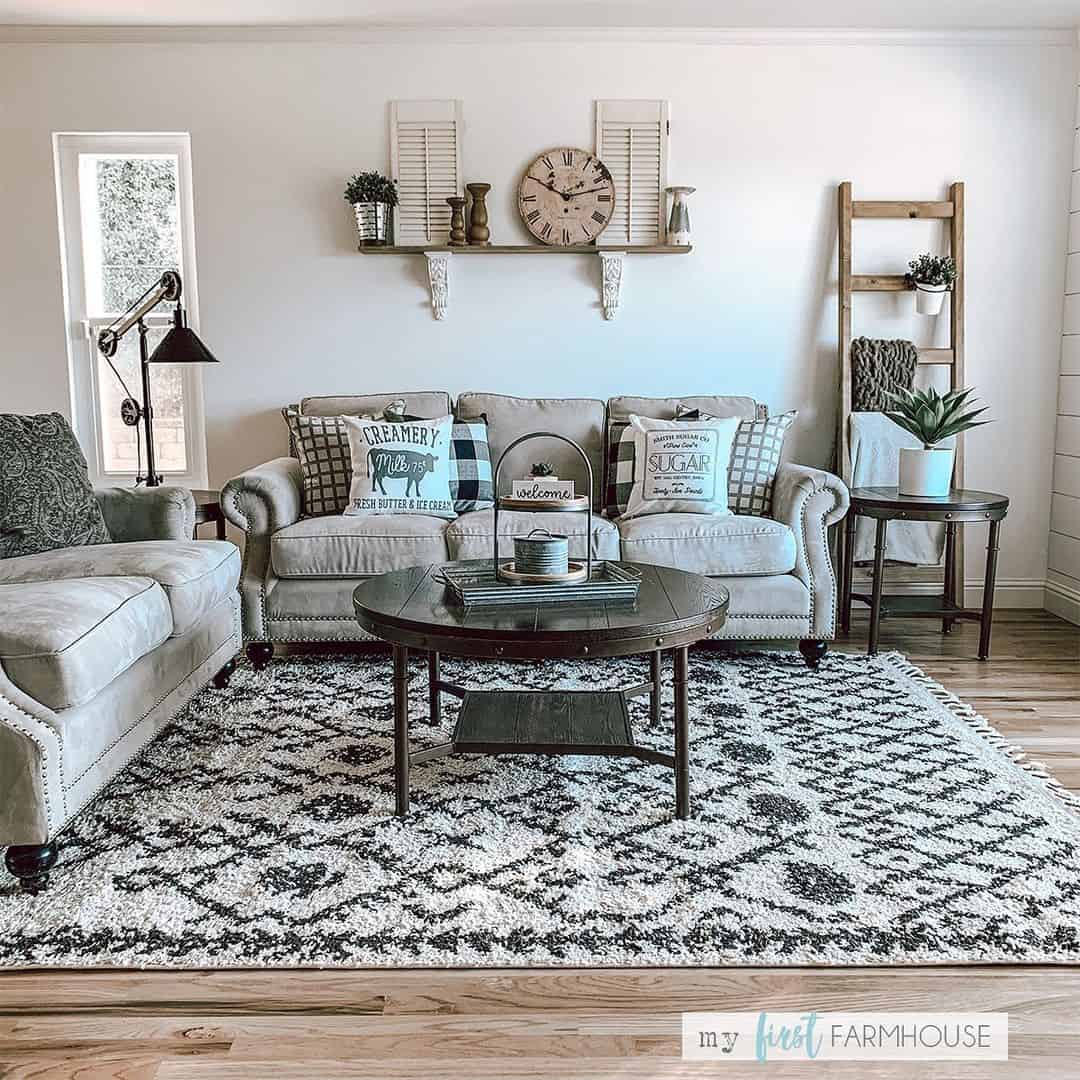 Credit: myfirst_farmhouse
Shop the Look
A Fusion of Neutrals: Mix-and-Match Living Room Sofas with a Boho-Farmhouse Twist
Infuse boho flair into your farmhouse living room by incorporating a pair of sofas adorned in neutral earth tones, such as tan leather and white upholstery. Complement them with a coordinating wood armchair featuring white cushions. Enhance the decor with tall dried grasses, woven wall baskets, and geometric shelves.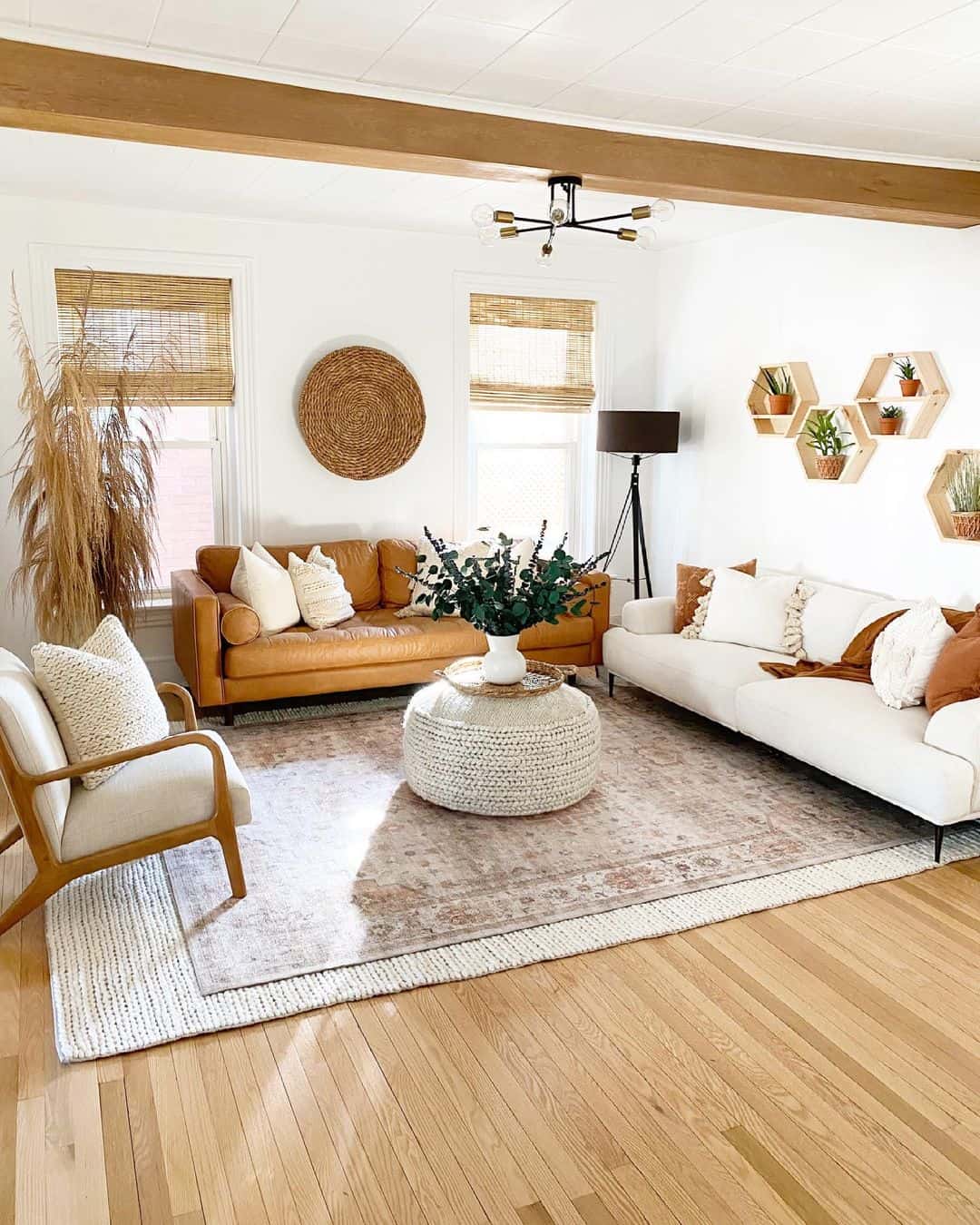 Credit: modernly_you
Shop the Look
Mirrored Elegance in a Cozy Modern Farmhouse Living Room
Transform a small farmhouse living room with vaulted ceilings by placing two mirrored beige sofas and a dark wood coffee table in the center. Elevate the style with neutral gray and white pillows, accented by a touch of color from red foliage displayed in a black vase.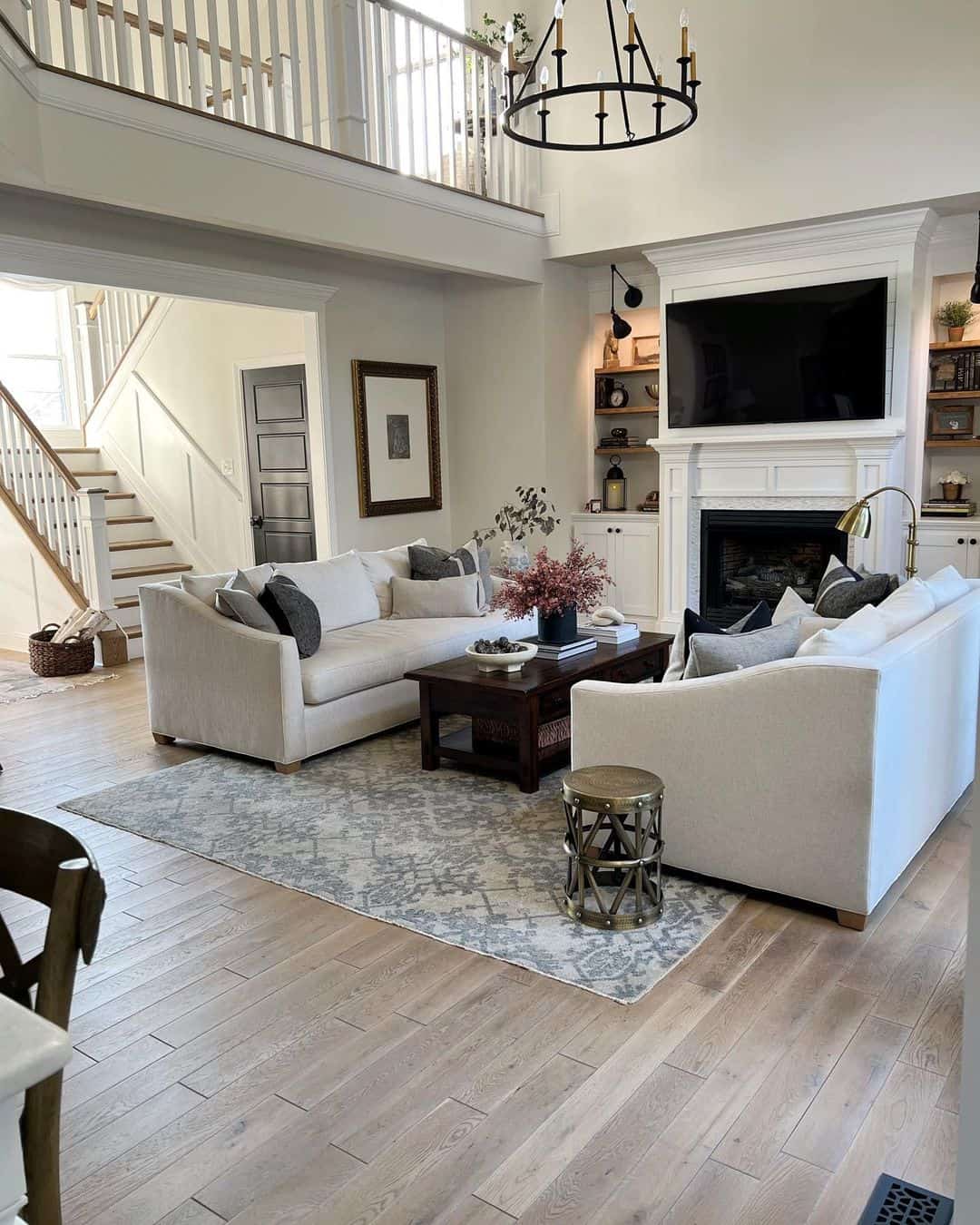 Credit: decorkateky
Shop the Look
Grandeur in the Living Room: Two Matching White Sofas
In a spacious modern living room, two matching white sofas mirror each other on opposite sides, creating a symmetrical arrangement. A bold industrial wagon wheel chandelier hangs overhead. Complete the seating area with two wood armchairs featuring inviting white cushions.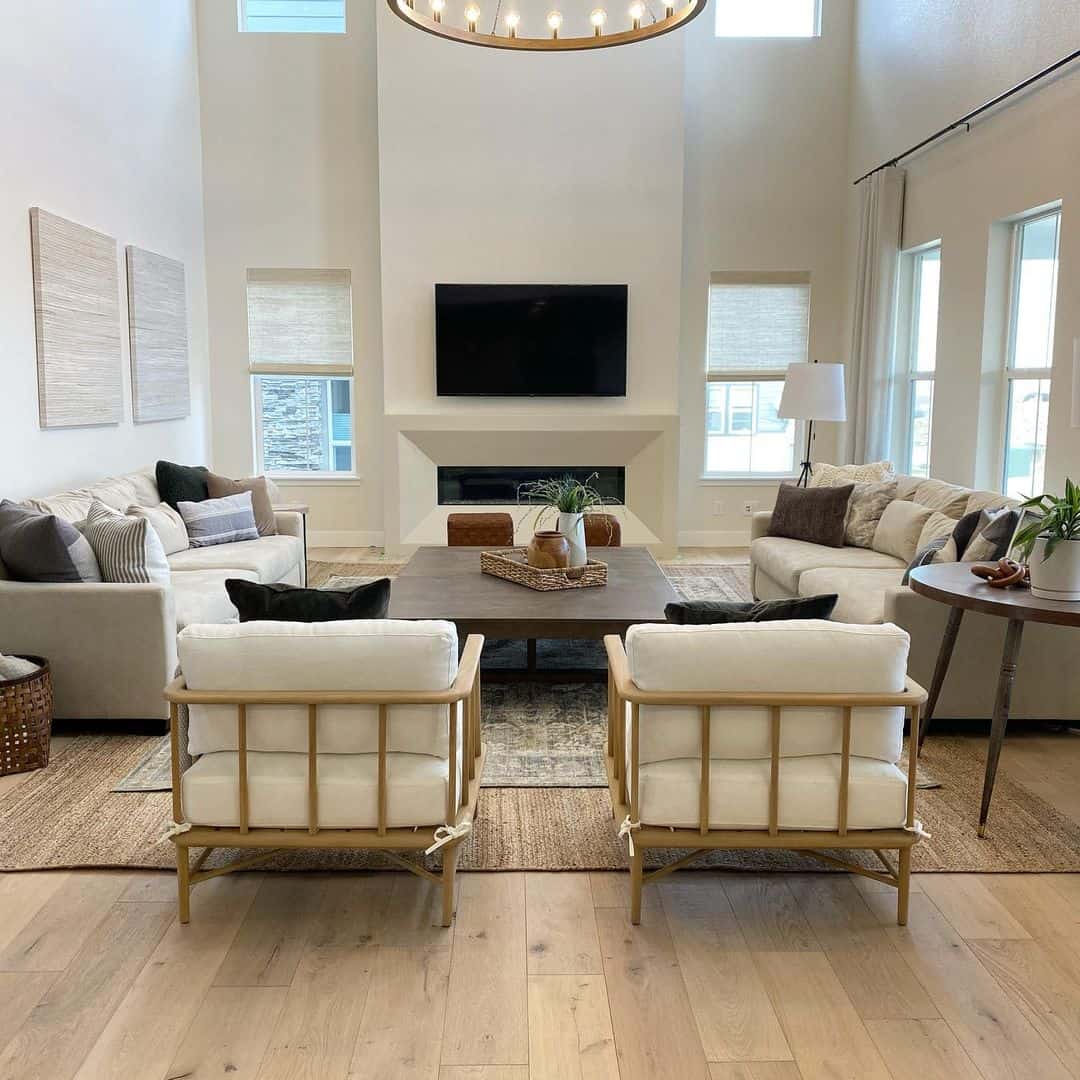 Credit: copper.on.pine
Shop the Look
Wrap-up
Incorporating dual sofas into your farmhouse living room can be a game-changer, infusing your space with both comfort and style. Whether you prefer a rustic, vintage look or a more modern farmhouse vibe, the versatility of dual sofas allows you to create a cozy haven that suits your personal taste.
From neutral palettes to pops of color, from classic elegance to boho-chic, these ideas demonstrate that the possibilities are endless.
Embrace the charm and comfort of farmhouse living with dual sofas and transform your living room into a welcoming retreat for you and your guests.