7+ Gorgeous Home Décor Ideas to Perfectly Adorn Your Farmhouse Living Room
Affiliate Disclosure: As an Amazon Associate we earn from qualifying purchases. Hence, if you click through and make a purchase, we will get a commission at no extra cost to you. For more info, read our full disclosure.
Welcome to a world of farmhouse-inspired elegance and creativity! Your living room is a canvas awaiting your personal touch, and we're here to provide you with seven-plus gorgeous home decor ideas that will transform it into a cozy haven.
From rustic accents to timeless charm, we've got you covered with inspiration to make your farmhouse living room truly remarkable.
Modern Farmhouse Living Room Decor with a Neutral Palette
In this modern farmhouse-inspired living room, a serene black and white color scheme takes center stage. The decor includes charming rattan pendant lights, a rustic wood mantel, and woven baskets alongside wooden stools for added character. To create a cozy ambiance, a gray sofa is adorned with white faux fur throws and pillows, all centered around a solid wood coffee table.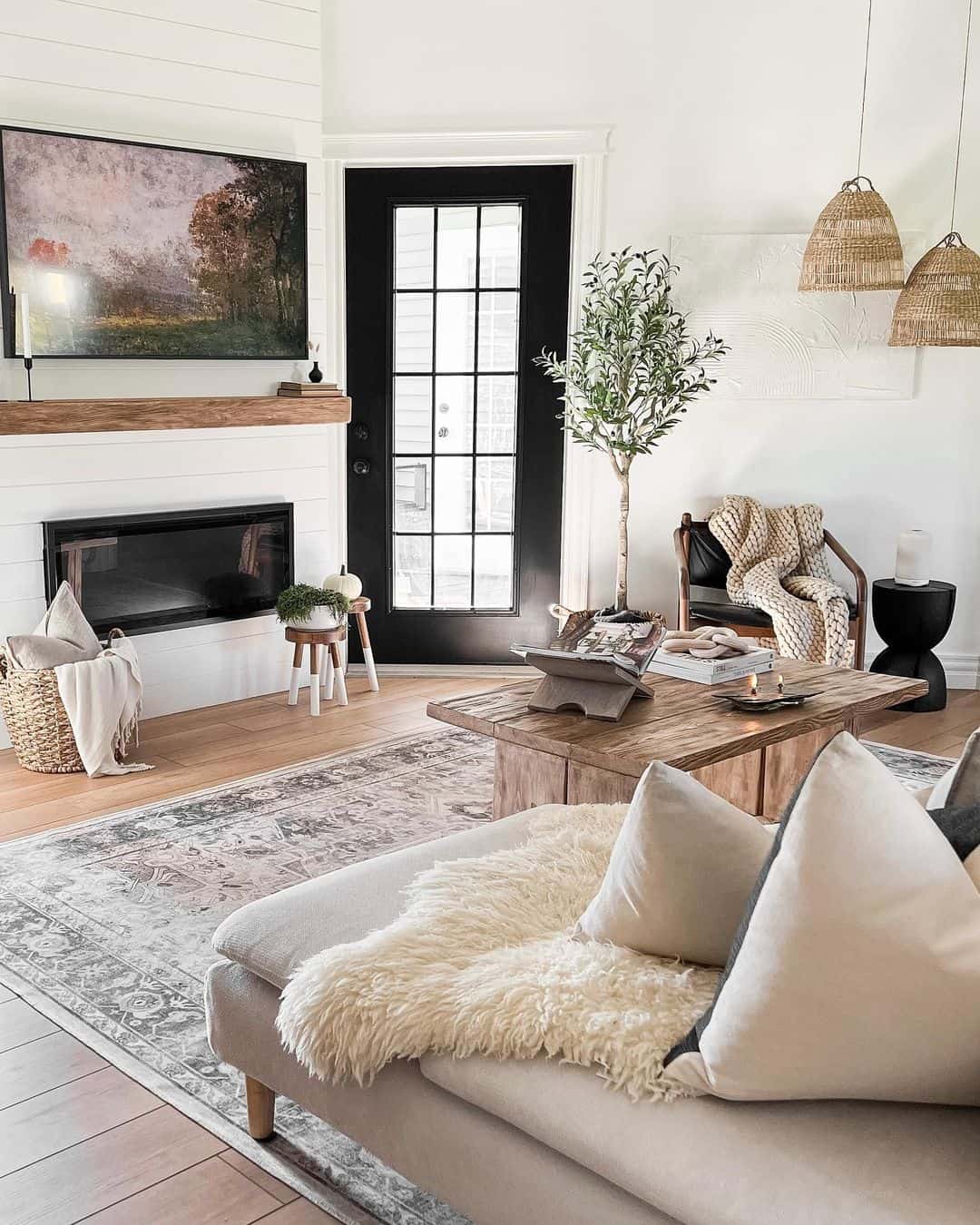 Credit: sagephillipshome
Shop the Look
Boho Farmhouse Chic: Gray and White Living Room Decor
For those seeking a boho farmhouse aesthetic, consider introducing a gray and white geometric runner to complement gray upholstered ottomans, as showcased here. The Moroccan pattern on the tassel runners, combined with indoor greenery, infuses a boho flair into the contemporary gray and white farmhouse decor.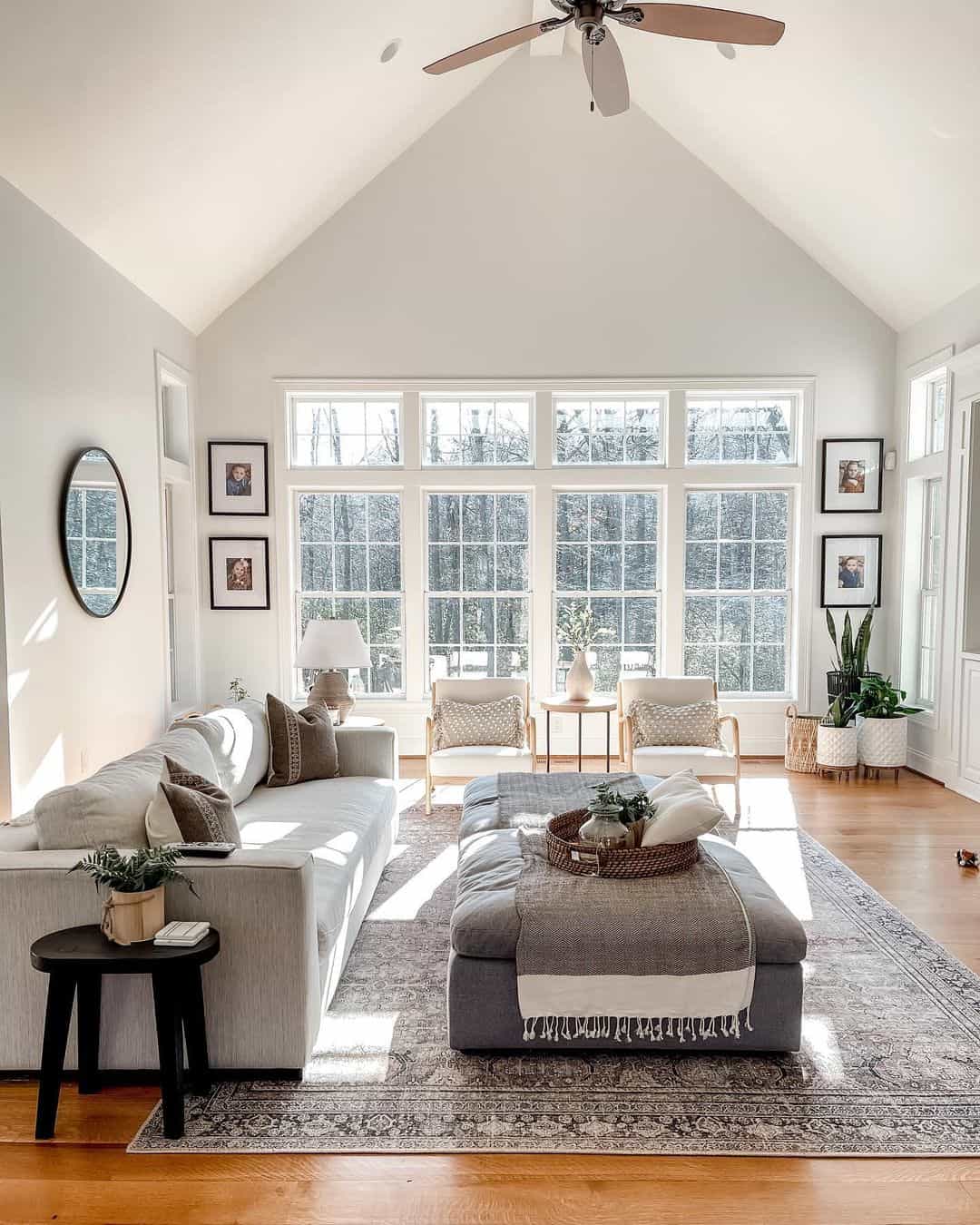 Credit: spikedteaandpeonies
Shop the Look
White Sectional Harmony with Farmhouse Accents
This inviting living room boasts a white shiplap wall adorned with a wood-framed gallery wall. A slipcovered white couch is elegantly accented with white and gray throw pillows. A round woven tray, housing a potted ivy plant, a candle, and a wooden box, graces the center of the round coffee table.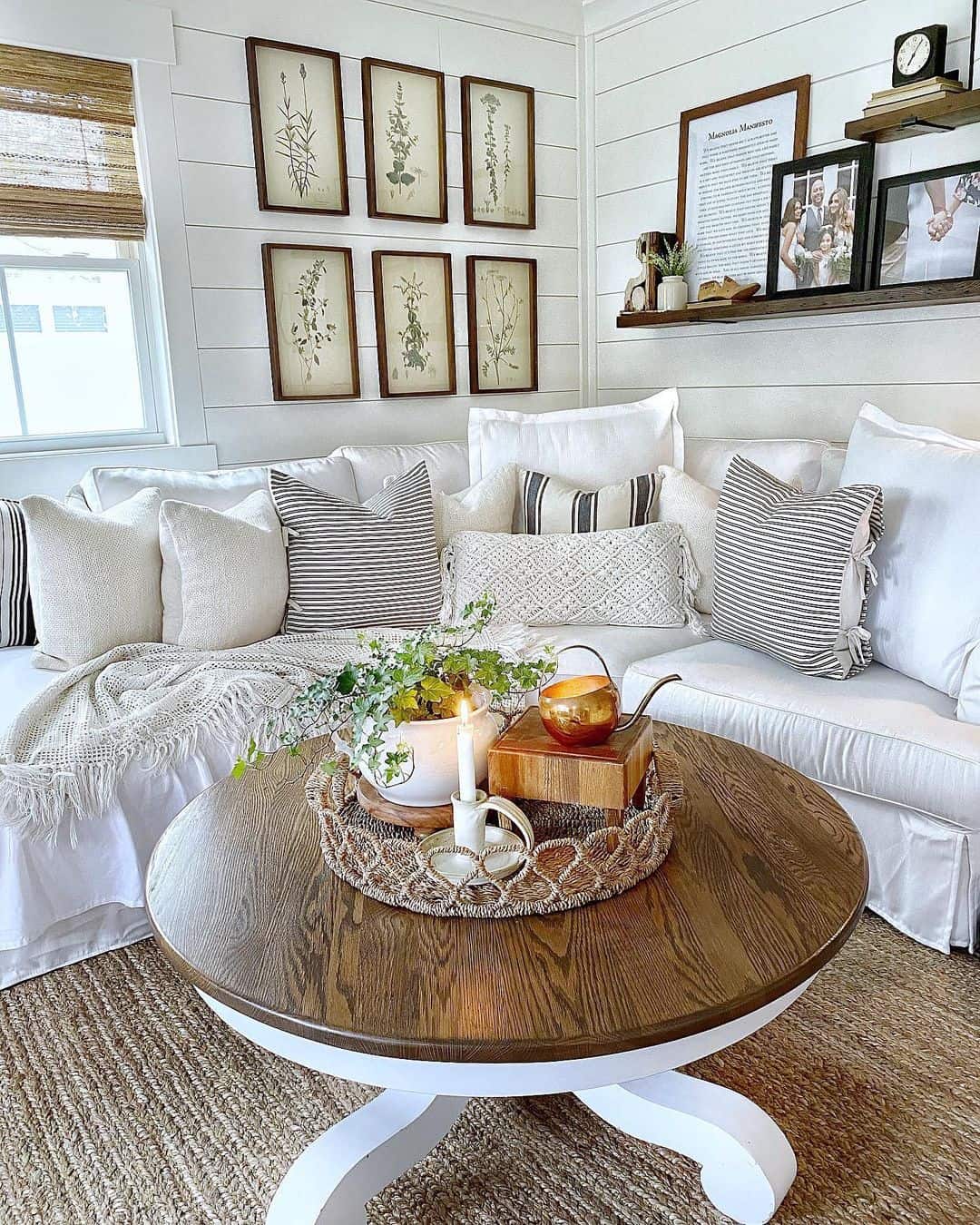 Credit: vintagevaultannapolis
Shop the Look
Graceful Gray and White Feminine Living Room
Soft gray French upholstered sofas are paired with farmhouse-style gray and white throws in this luminous living room. The ensemble harmonizes with pearl gray wall paint, crisp white drapes, French cottage wall art, and an antique mirror, creating an elegant and inviting space.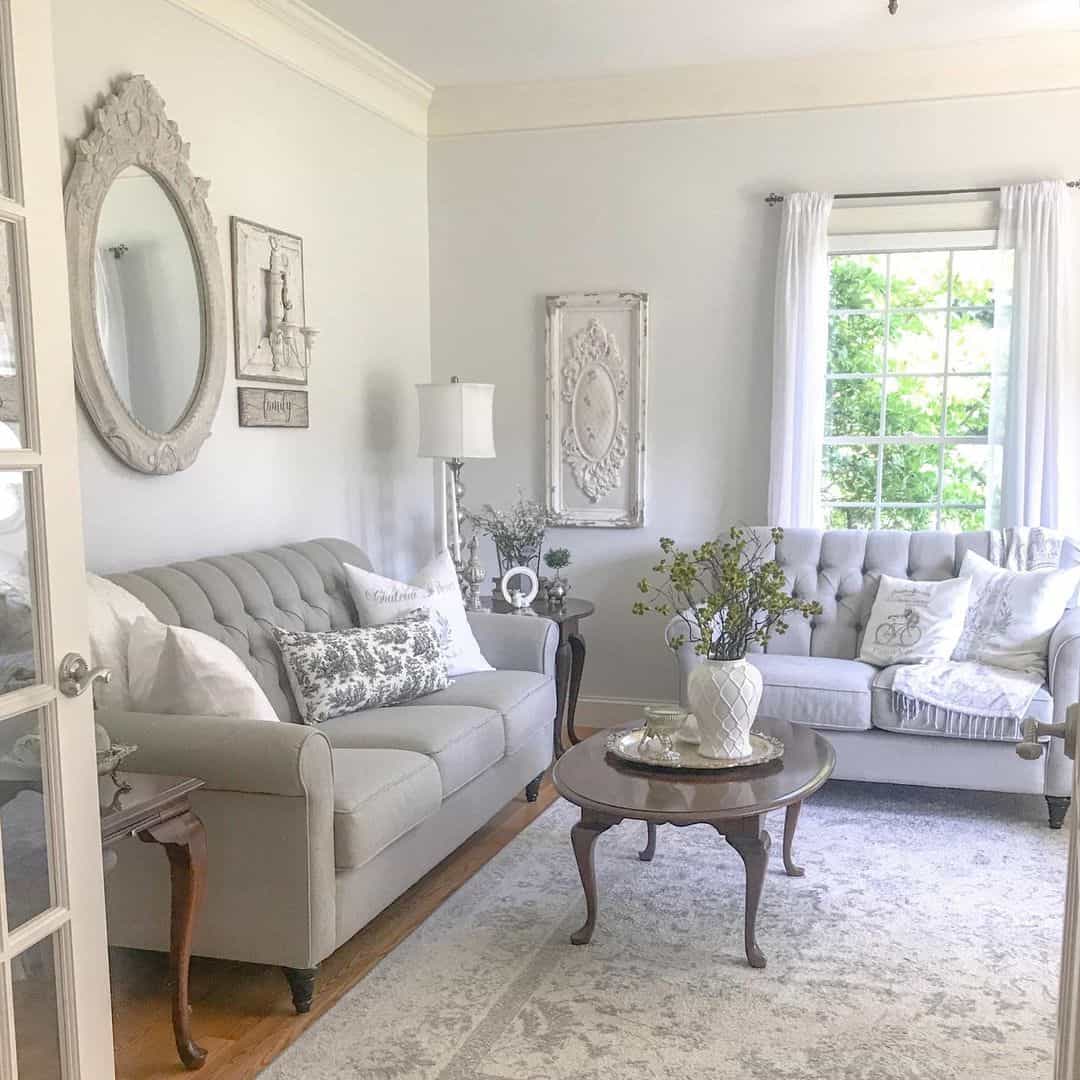 Credit: ourhomeoffnottingham
 Shop the Look
Infusing Rustic Charm into Modern Home Decor
An antique hutch adorned with intricate carvings introduces a subtle boho touch to this living room wall. Further rustic accents come in the form of a black modern vase displaying warm burgundy eucalyptus stems and a wooden serving tray holding evergreen potpourri alongside a tree in a woven basket.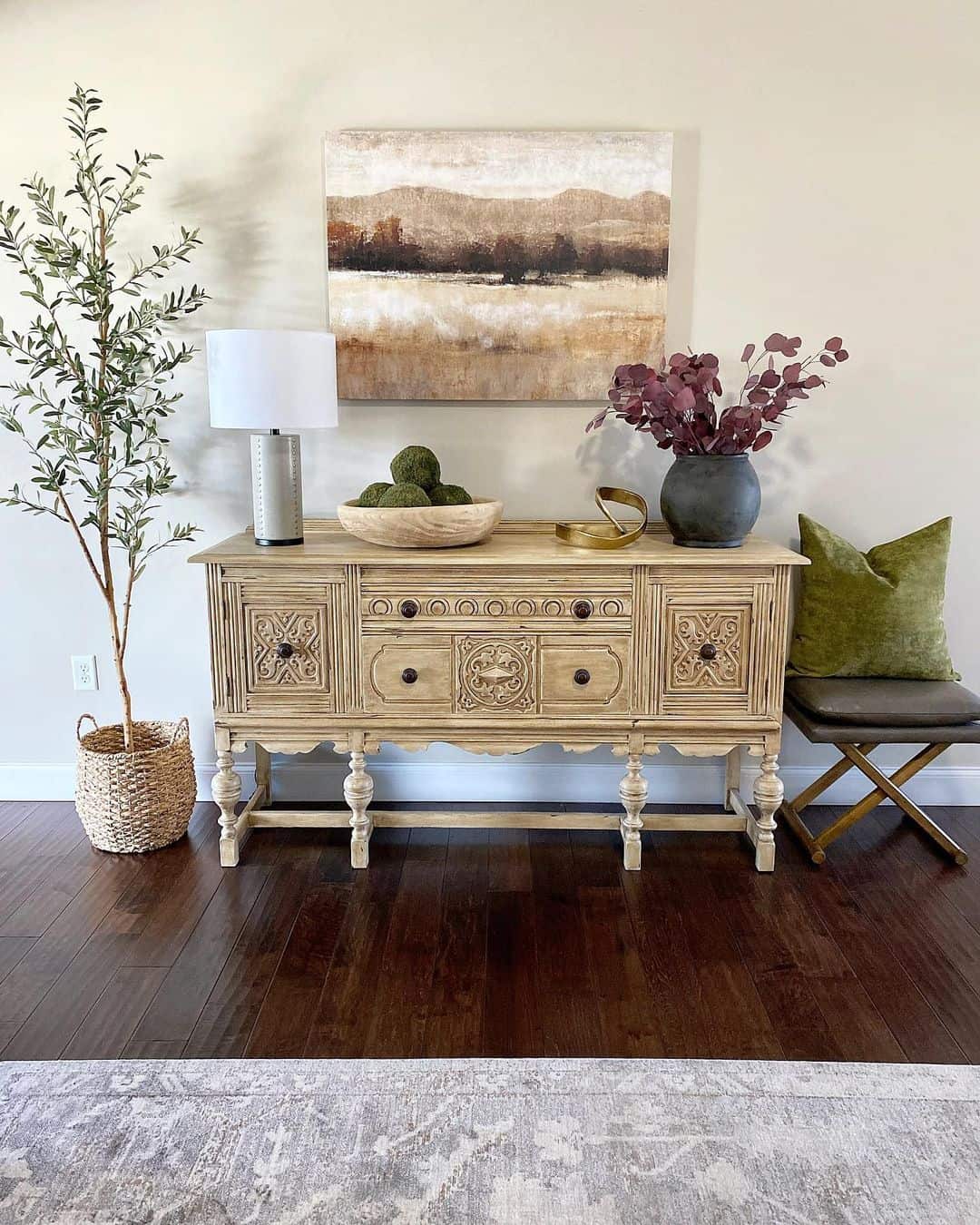 Credit: ourhouseofthree
Shop the Look
Embracing Organic Elements in Your Farmhouse Living Space
To infuse an organic vibe into your neutral modern living area, consider a natural wood floating mantel, indoor plants, and a raw wood coffee table. Gray and white sofas are adorned with cozy neutral throws and pillows, perfectly complementing the pale gray wall paint.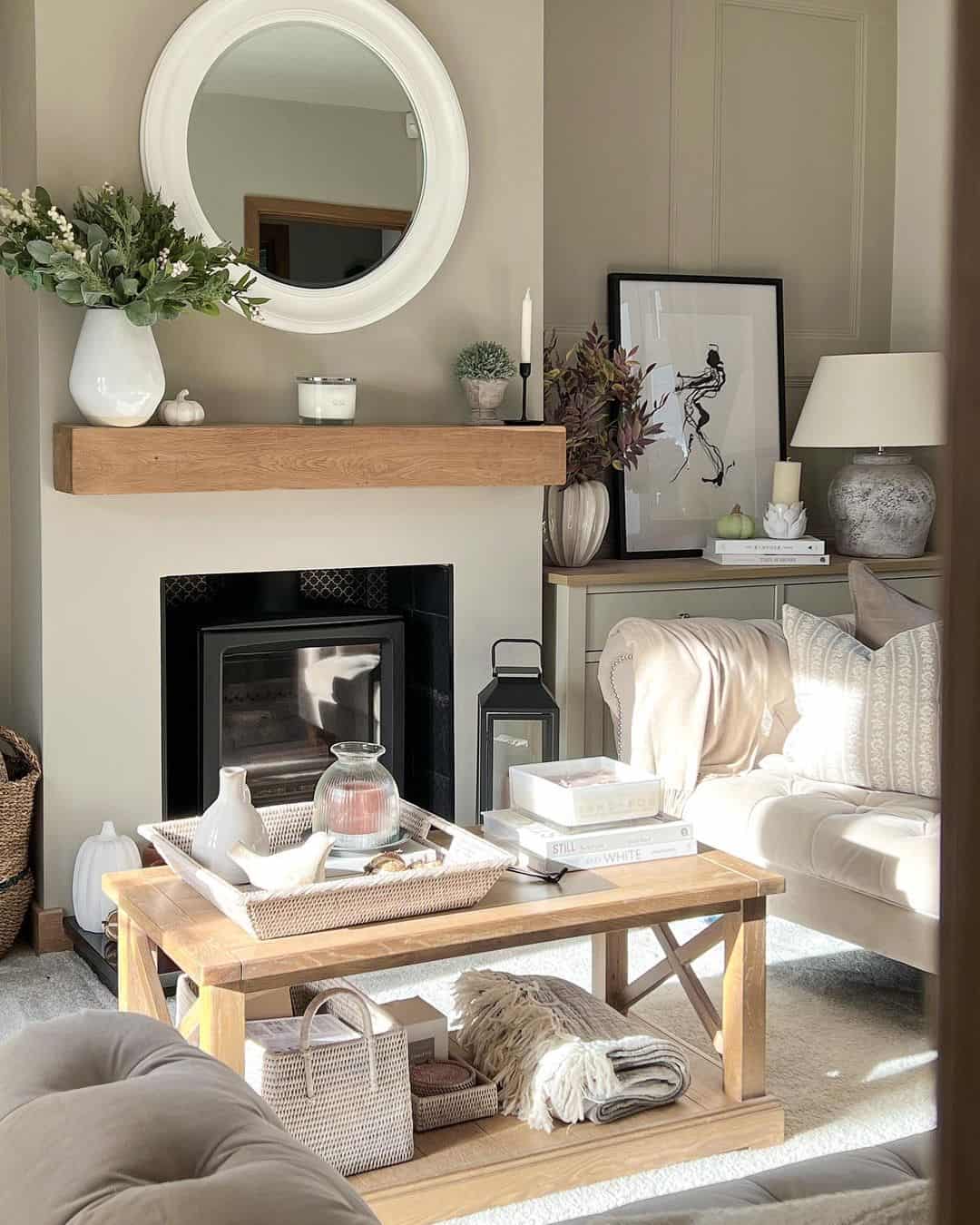 Credit: our_dunmow_home
Shop the Look
Illuminating Your Beige Living Room with Vibrant Farmhouse Decor
A foundation of warm beige wall paint and rich wood flooring sets the stage for this inviting neutral living room. To balance the warm tones, opt for a cool gray sofa set, white florals, and blue and white throw pillows. A natural wood mantel adds an extra touch of rustic charm.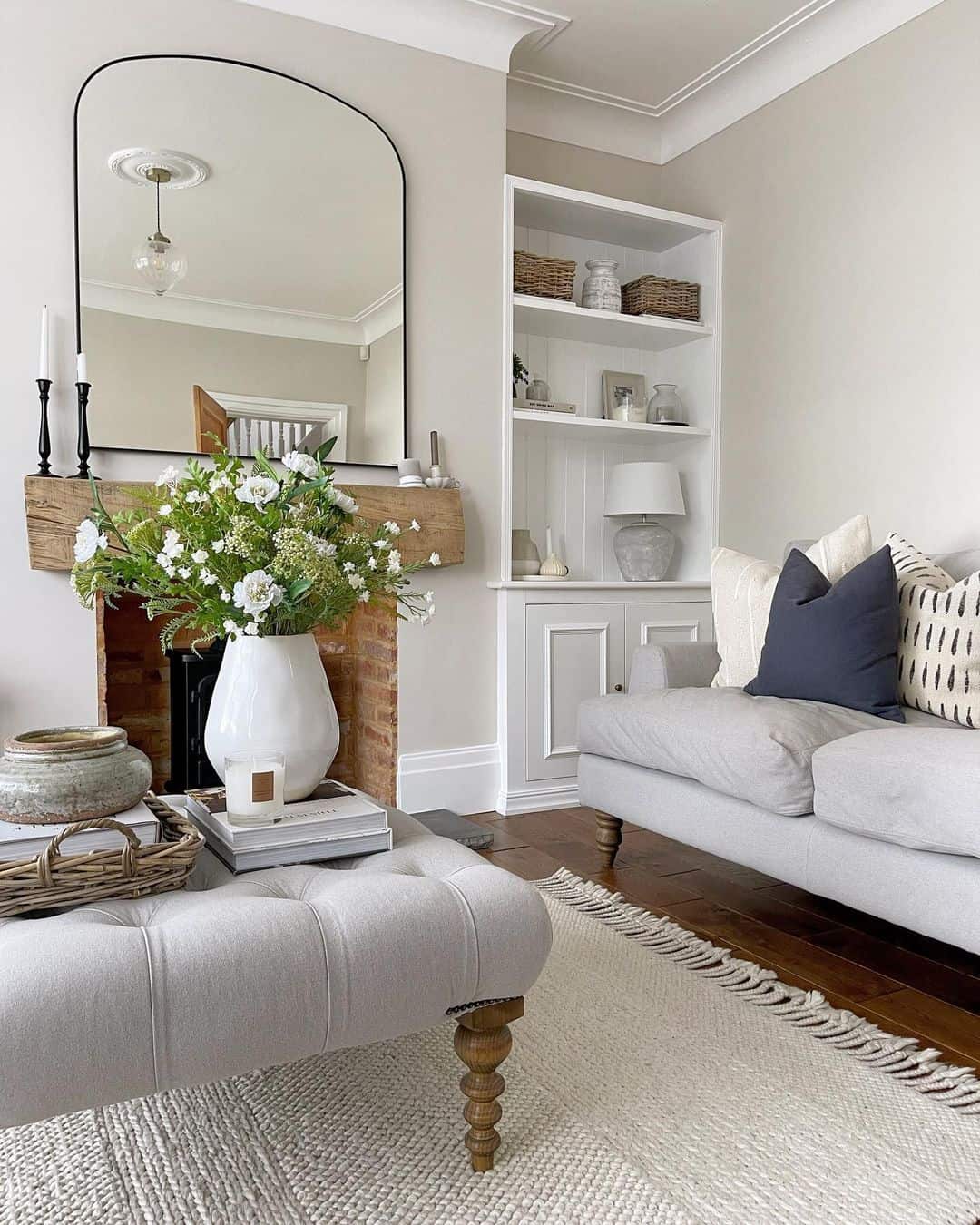 Credit: rachelsorbyhome
Shop the Look
Traditional Farmhouse Elegance for Your Living Room
Traditional elegance takes center stage as a gracefully designed wood-framed arching mirror graces a white fireplace mantel, adorned with a collection of pillar candles, topiaries, and candlesticks. To enhance this enduring aesthetic, incorporate a set of neutral beige French upholstered armchairs. These pieces not only elevate the classic look but also emphasize and embrace the room's warm undertones.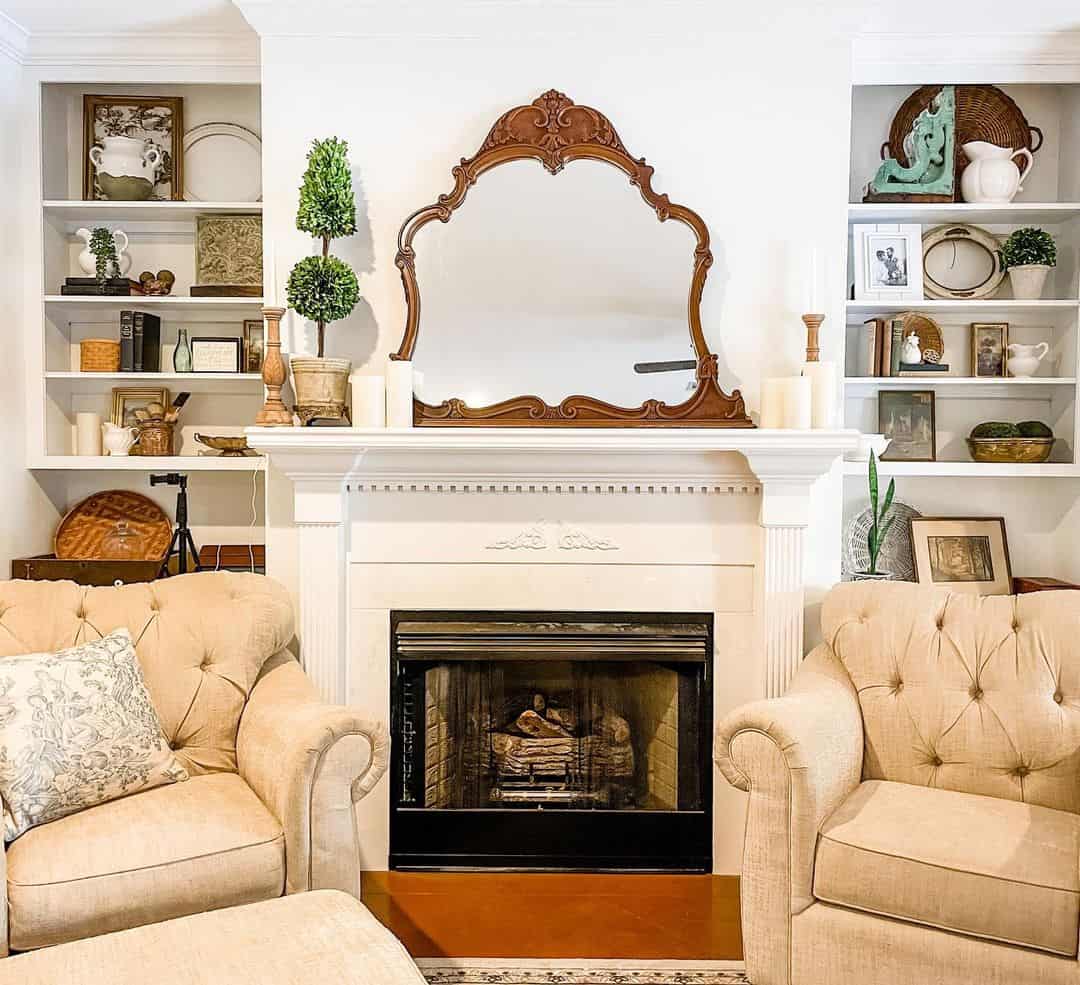 Credit: paintedfarmhouse
Shop the Look
Wrap-up
With these captivating home decor ideas, your farmhouse living room is poised to become a space that radiates warmth, style, and personality. Whether you're drawn to rustic elements or a touch of timeless elegance, there's something for everyone to adore.
So, roll up your sleeves, channel your inner decorator, and bring these ideas to life to create the farmhouse living room of your dreams.