7+ Chic Bookshelf Ideas to Display Your Favorites in Your Farmhouse Living Room
Affiliate Disclosure: As an Amazon Associate we earn from qualifying purchases. Hence, if you click through and make a purchase, we will get a commission at no extra cost to you. For more info, read our full disclosure.
Welcome to our guide on enhancing the charm of your farmhouse living room with chic bookshelf ideas. Farmhouse decor embodies a timeless and inviting aesthetic, and what better way to complement it than with beautifully curated bookshelves?
In this blog, we'll explore seven-plus inspiring ideas to transform your space into a cozy haven that not only showcases your favorite reads but also adds character and warmth to your farmhouse living room.
Stylish White Built-in Shelves Adorned With Books
In this exquisite setting, a white brick fireplace takes center stage, complemented by a stained wood mantel and tastefully adorned with white and beige accents. Adjacent to the fireplace, a two-toned white desk pairs harmoniously with a chic white and chrome office chair. Elevate the ambiance by arranging a collection of books along these elegant white built-in shelves.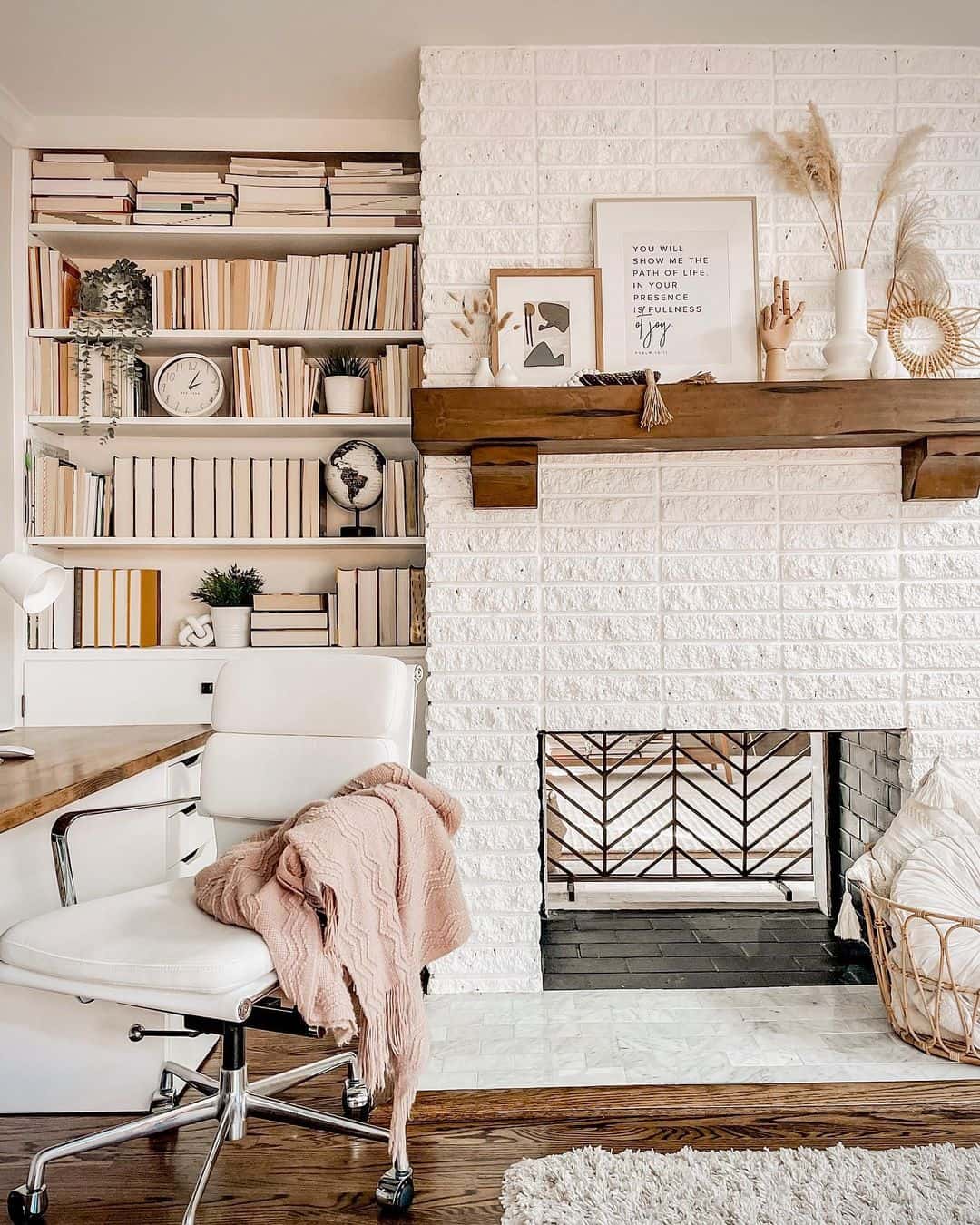 Credit: finding_beauty_here
Shop the Look
Elegant Stained Wood and Black Metal Bookshelf Display
Enhance your living space with a captivating stained wood and black metal bookshelf, ideal for showcasing your beloved book collection. This stylish bookshelf is expertly mounted beside a pristine white fireplace mantel, seamlessly integrated into a charming white shiplap feature wall. A round wood mirror crowns the ensemble, positioned above a wooden bench in the background.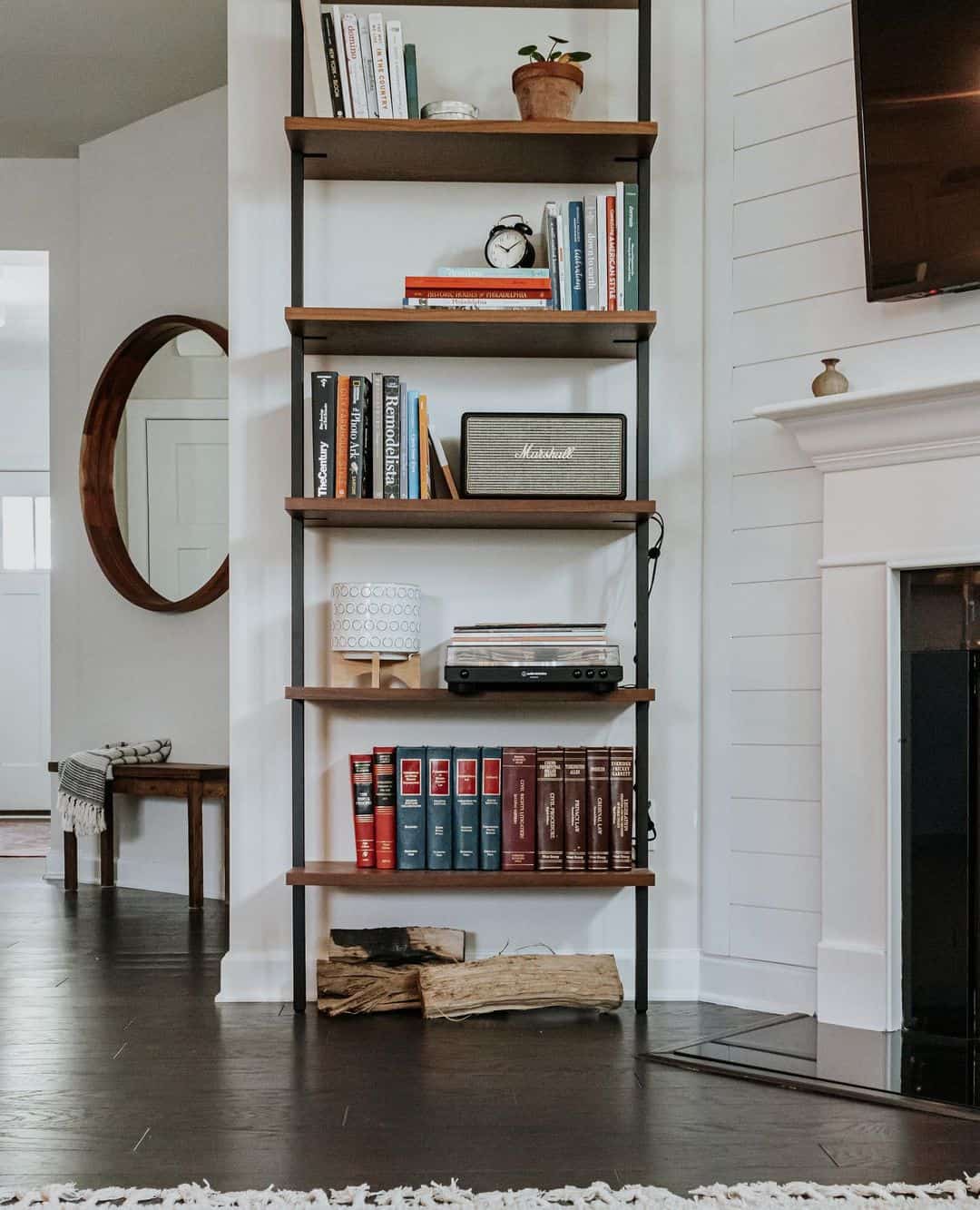 Credit: decorhint
Shop the Look
Earthy Vibes: Stained Wood Bookcase with Greenery
Step into this inviting living room adorned with earthy elements. A round white and wood coffee table stands proudly, surrounded by lush green velvet chairs and a comforting gray sofa. The table rests atop a soothing beige rug, beneath a captivating rattan pendant light.
Infuse a touch of nature into your decor with a stained wood bookshelf, thoughtfully styled with books and vibrant greenery in white planters.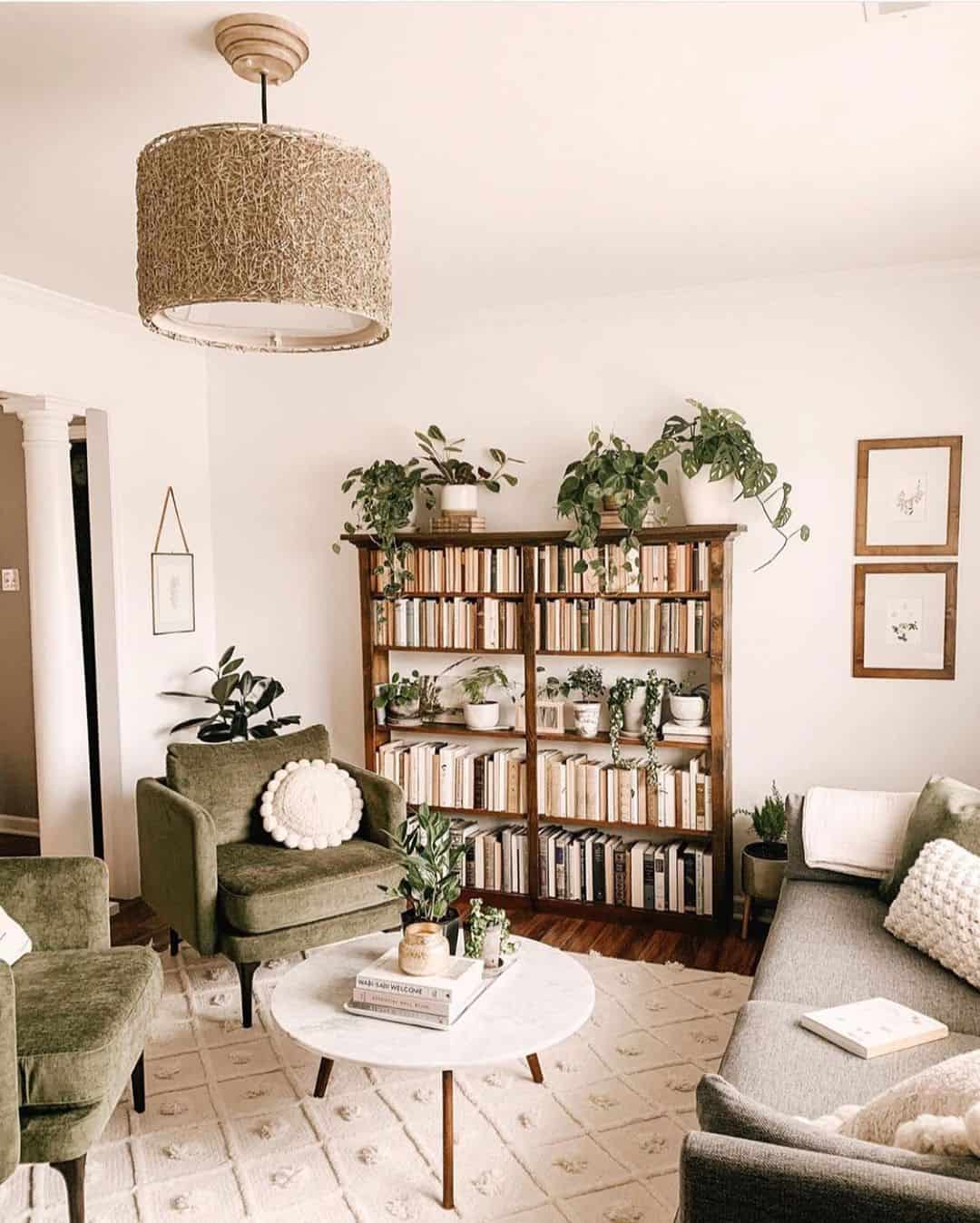 Credit: burnetts.bungalow
Shop the Look
Cozy Reading Nook with White Built-in Shelves
Escape into a cozy reading nook where an antique trunk coffee table is accompanied by inviting beige chairs. Behind this tranquil scene, white built-in shelves proudly display color-coordinated books, adding depth and character to the room. For the ultimate in relaxation, snuggle up in a plush brown leather corner chair, complemented by a matching ottoman set.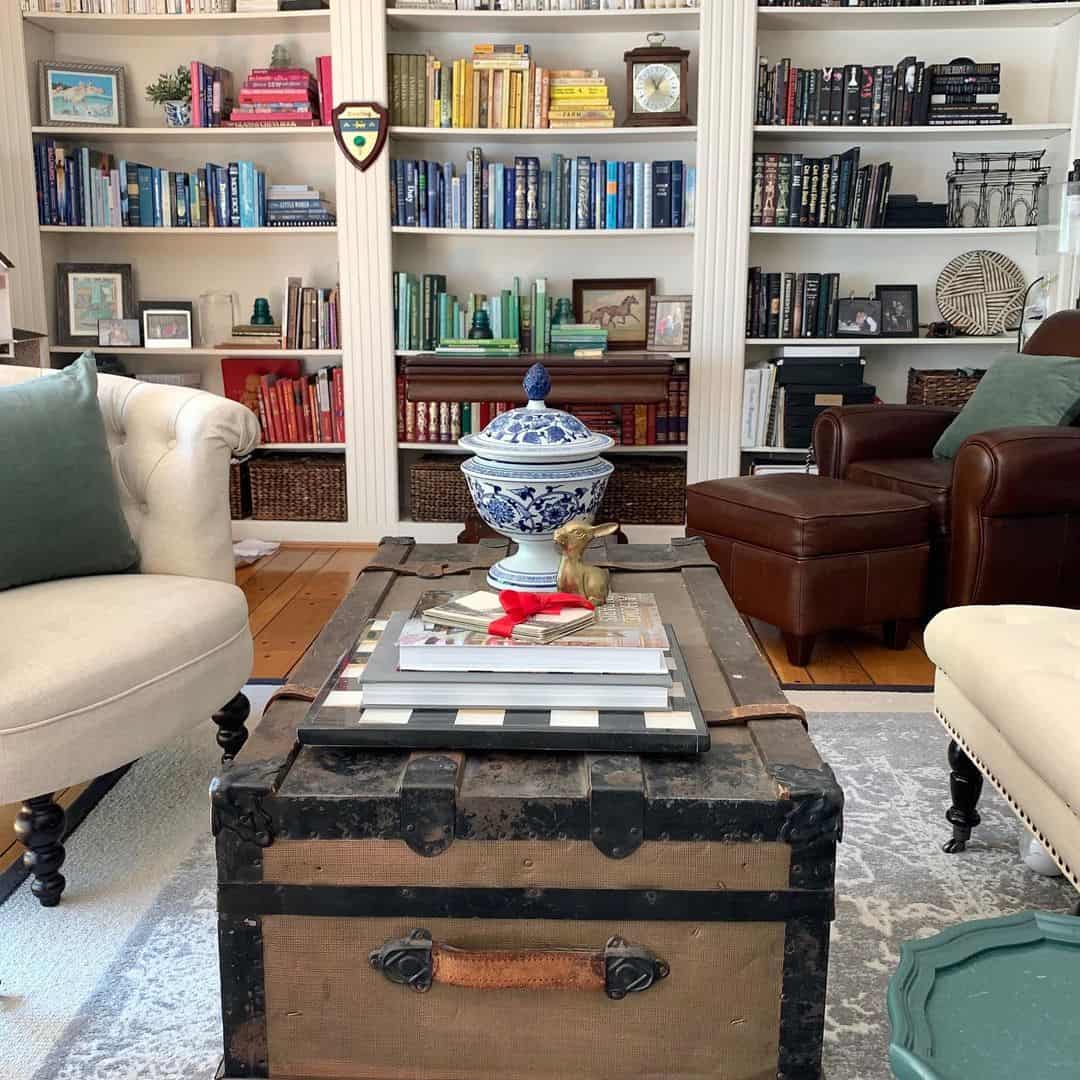 Credit: mylifefromhomeblog
Shop the Look
Enchanting Stained Wood Bookshelves with a Rolling Ladder
Discover an adorable reading nook featuring a gray armchair atop a round vintage rug in white and gray hues. This cozy corner is flanked by built-in stained wood bookshelves, complete with a convenient wood rolling ladder. Prepare your home for the holiday season by adorning the ladder with a festive pine garland.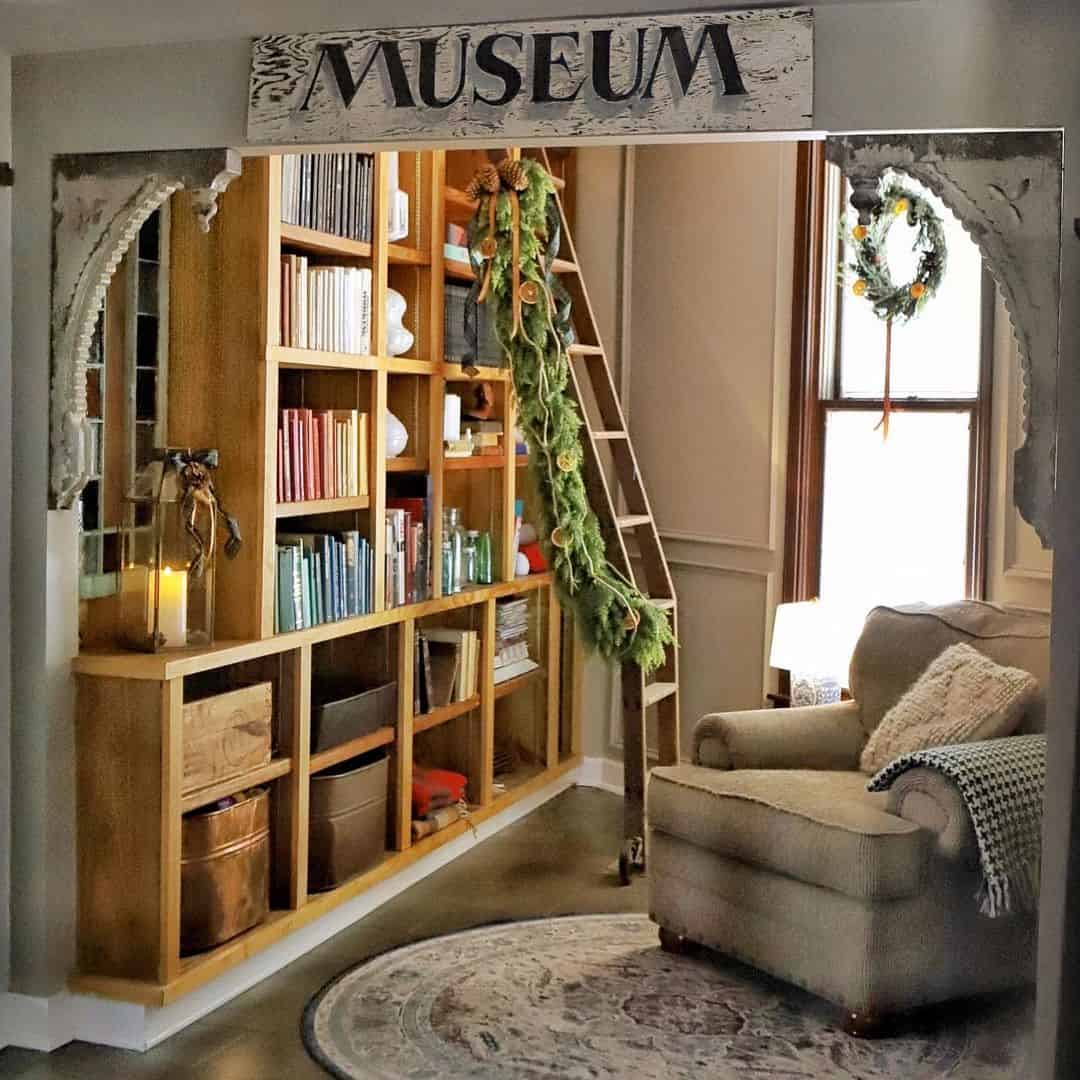 Credit: baker_nest
Shop the Look
Whimsical White Bookcase with Artfully Arranged Books
Create a cozy corner that exudes "home sweet home" vibes, enhanced by the presence of greenery in charming white metal and wood planters. These delightful plants find their place on a serene gray carpet, beside a white bookcase thoughtfully adorned with carefully curated, color-coordinated books.
To inject an extra dose of personality, consider an eye-catching white, pink, and aqua gallery wall adjacent to the bookcase.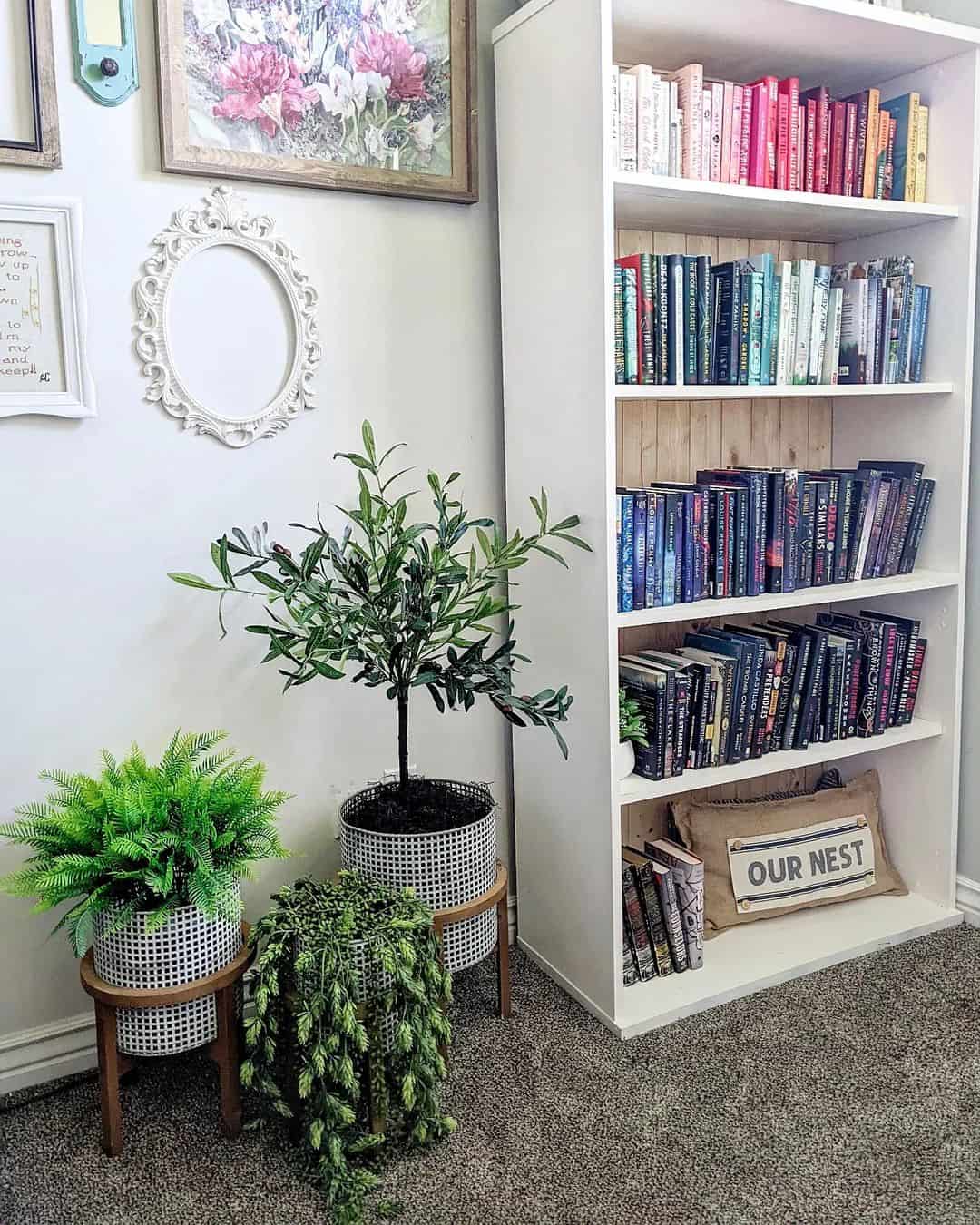 Credit: alloftheabovebyem
Shop the Look
Contemporary Living Room with Stained Wood Floating Shelves
Embrace contemporary farmhouse aesthetics in this captivating living room. A white fireplace featuring a stained wood mantel serves as the focal point. Against a backdrop of a stylish dark blue accent wall, a greige couch is artfully positioned in front of a window. Elevate the design with wooden floating shelves, gently illuminated by a gleaming gold sconce.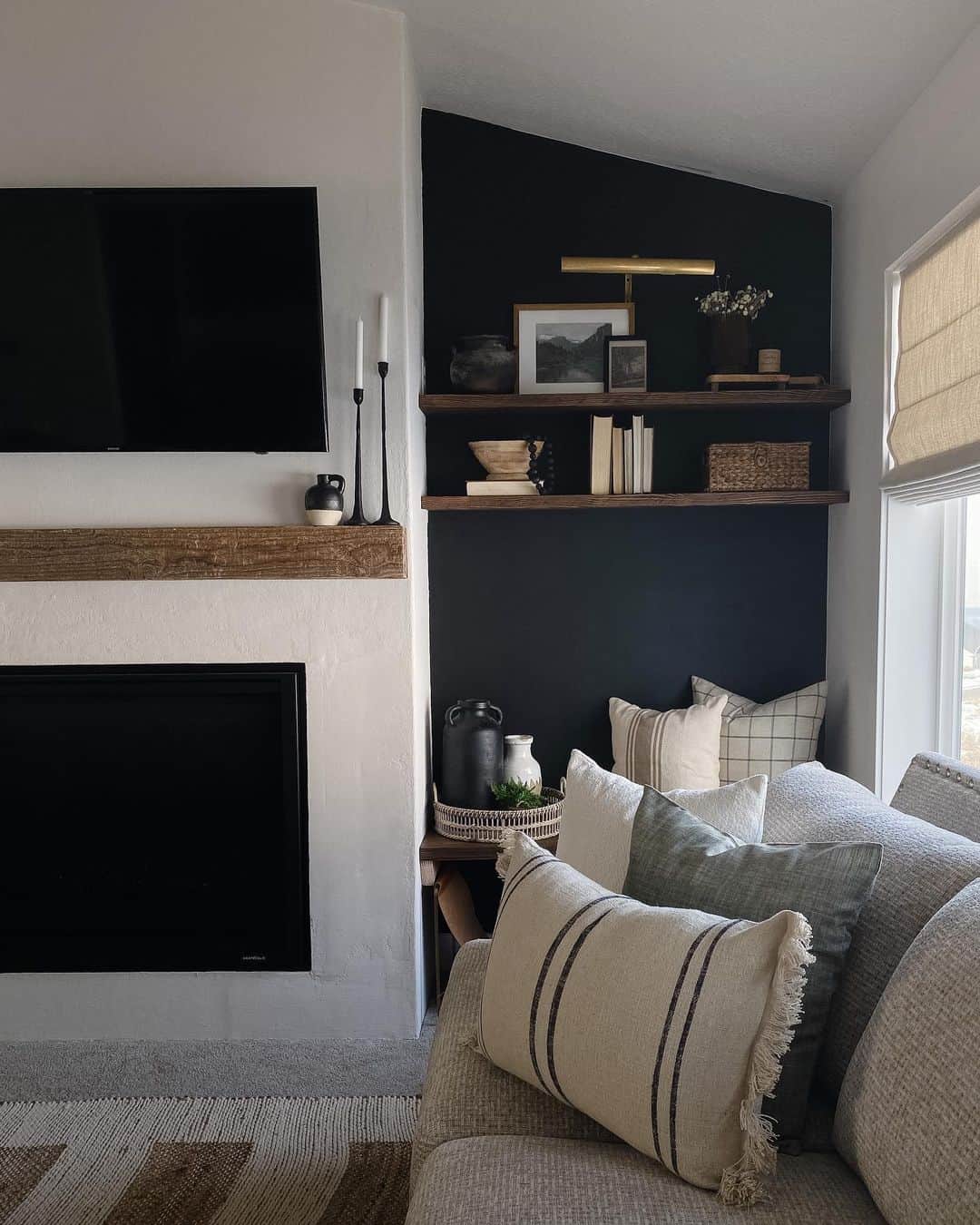 Credit: homeoncastlerock
Shop the Look
Inviting White Built-in Living Room Shelves
Experience the charm of this inviting living room adorned with white built-in bookcases. These shelves serve as the perfect canvas for tan, white, and black decor accents. An elegantly designed wood spindle chair takes center stage, facing a white-painted wood chest coffee table that sits before an antique black dresser. Ground the space with a striking red vintage rug gracing the beige tile flooring.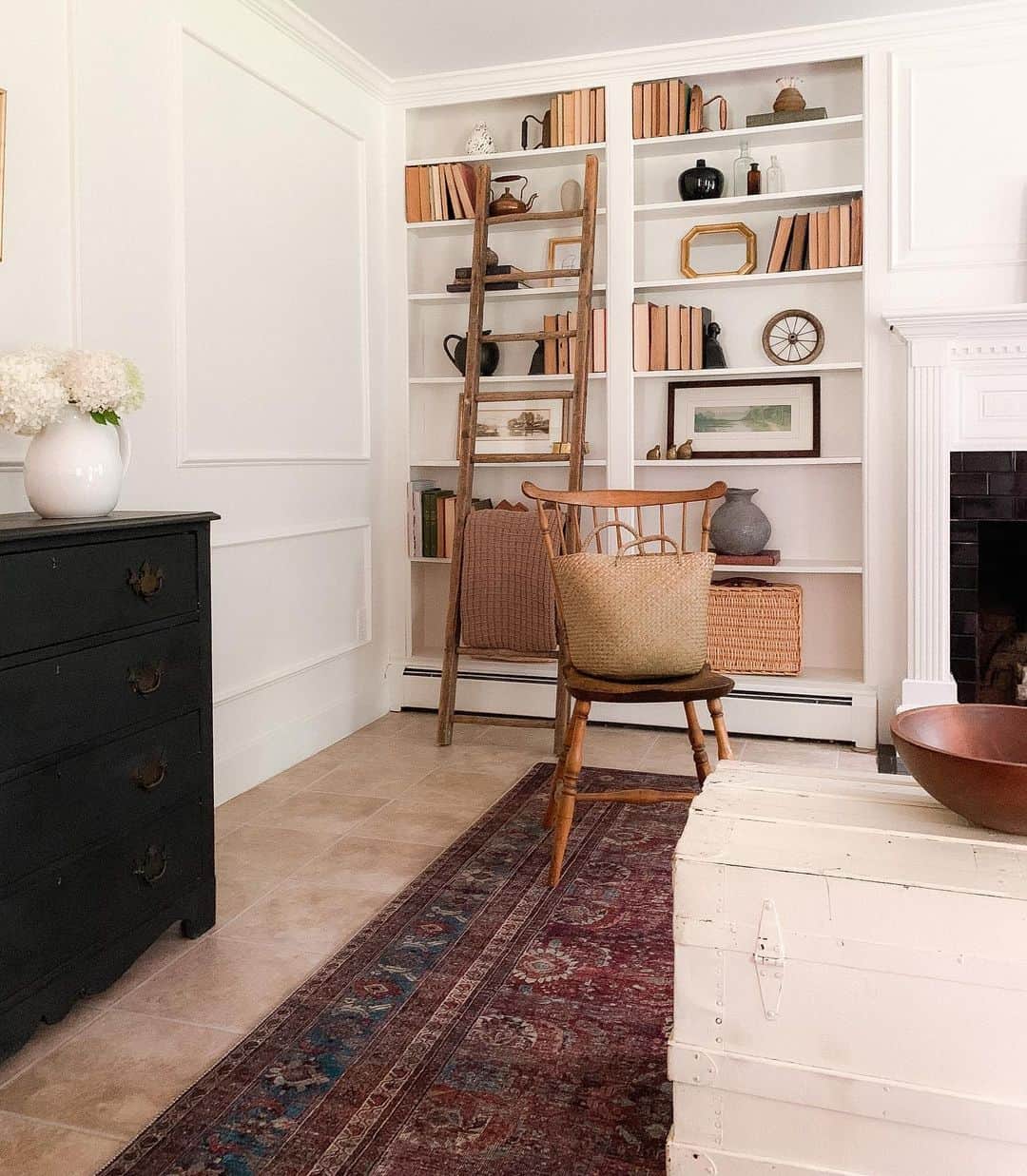 Credit: the_ct_colonial
Shop the Look
Wrap-up
Incorporating chic bookshelves into your farmhouse living room design is a delightful way to infuse both functionality and style into your space. Whether you opt for rustic wooden shelves, modern industrial designs, or a blend of both, you'll find that your books and decor items can become the focal point of the room.
By following the creative ideas we've shared, you can create a farmhouse living room that's not only a reflection of your personal taste but also a welcoming retreat for both you and your guests.