7+ Vibrant Living Room Color Ideas for a Modern Farmhouse Design
Affiliate Disclosure: As an Amazon Associate we earn from qualifying purchases. Hence, if you click through and make a purchase, we will get a commission at no extra cost to you. For more info, read our full disclosure.
When it comes to creating a modern farmhouse design in your living room, color plays a pivotal role in setting the mood and style. Gone are the days of traditional, muted farmhouse hues; today's farmhouse aesthetics embrace a vibrant and contemporary twist.
In this blog, we'll explore seven exciting and vibrant living room color ideas that will breathe new life nto your modern farmhouse space, infusing it with energy, character, and a touch of elegance.
Elegant Slate Gray Accent Wall
When working with a color as bold as slate gray, it's essential to use it strategically, such as on an accent wall that won't overwhelm the entire room. In this design, slate gray serves as the backdrop for a striking backless clock, which stands out beautifully against a stone fireplace surround. The choice of paint is expertly complemented by light gray sofas, a sleek black hutch, and tasteful beige décor.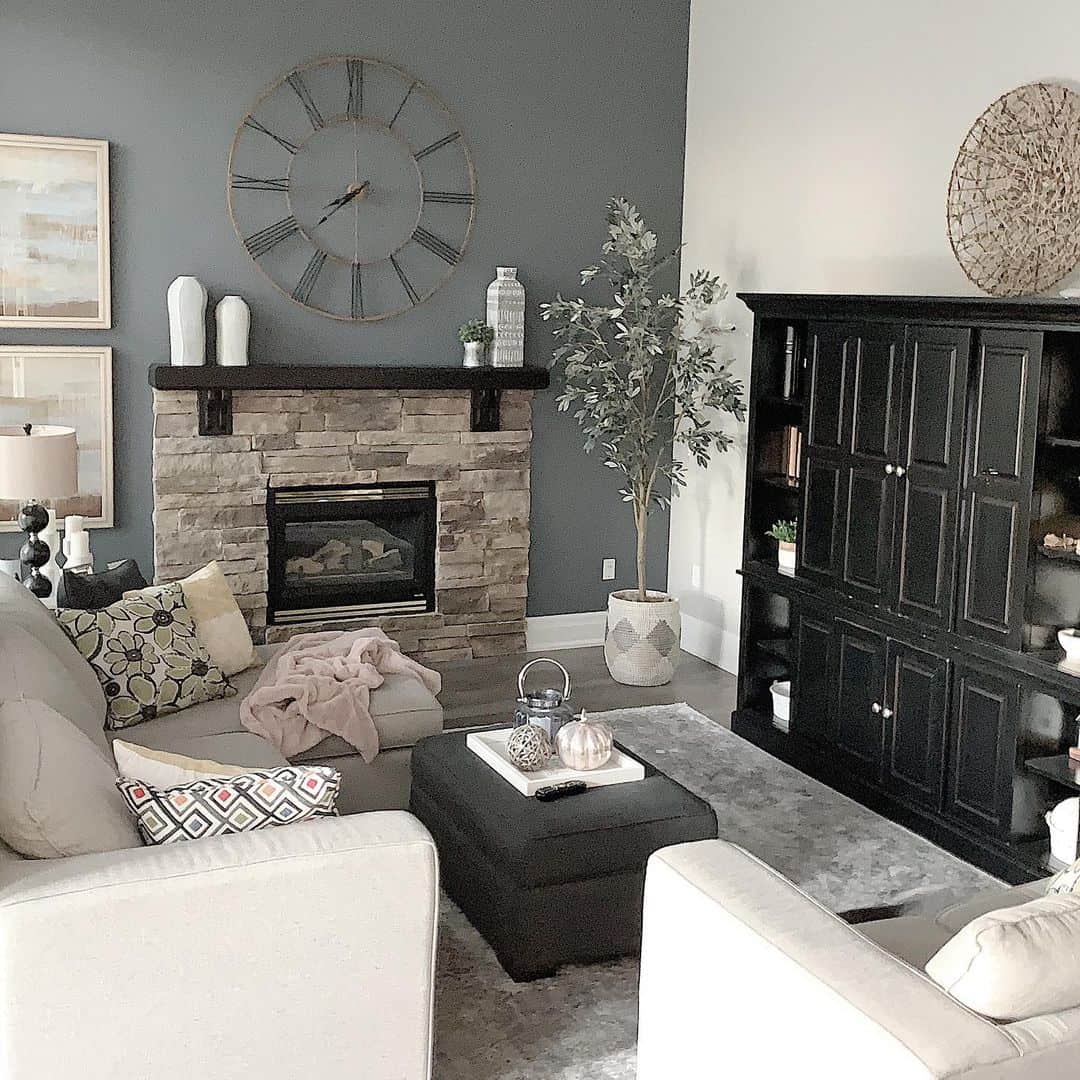 Credit: mysuburbannest
Shop the Look
Farmhouse Chic in Beige
A soft beige palette sets the tone for this charming farmhouse living room. Shades of gray, beige, and cream harmonize within the color scheme, while a carefully chosen purple velvet lounge chair adds a touch of sophistication.
Metal flower baskets with cool tones adorn the walls, flanking a weathered paint clock, enhancing the delicate hue of the statement chair. Neutral living rooms like this provide an ideal backdrop for showcasing standout furniture pieces in vibrant colors.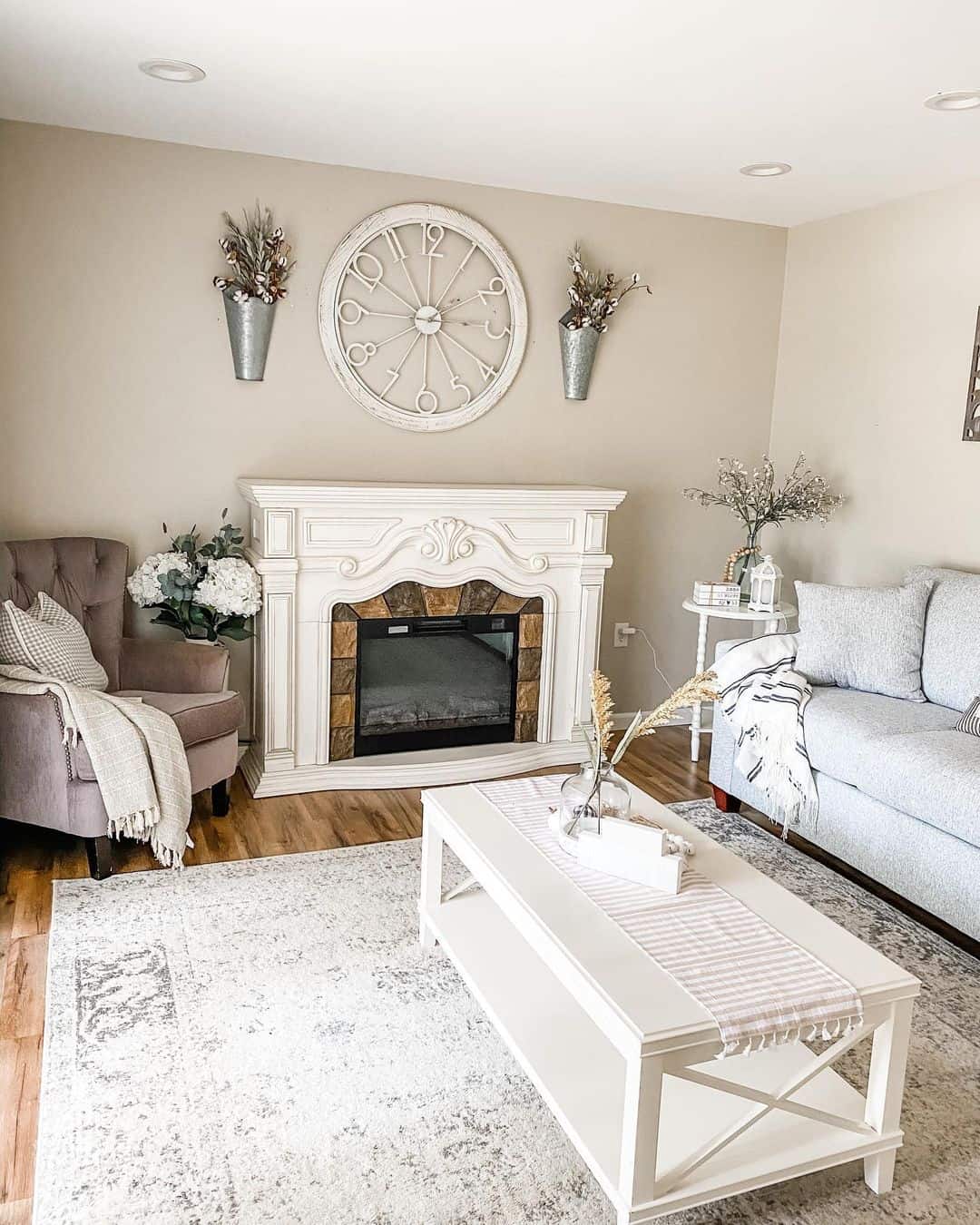 Credit: irinashome
Shop the Look
Inviting Mustard Accents
This vintage-inspired sitting room comes to life with the introduction of mid-century modern velvet mustard chairs. The pairing of navy and mustard creates a visually pleasing harmony, further emphasized by a blue and white striped area rug beneath the seating area.
Subtle farmhouse-inspired elements are thoughtfully scattered throughout the room, providing the perfect finishing touches.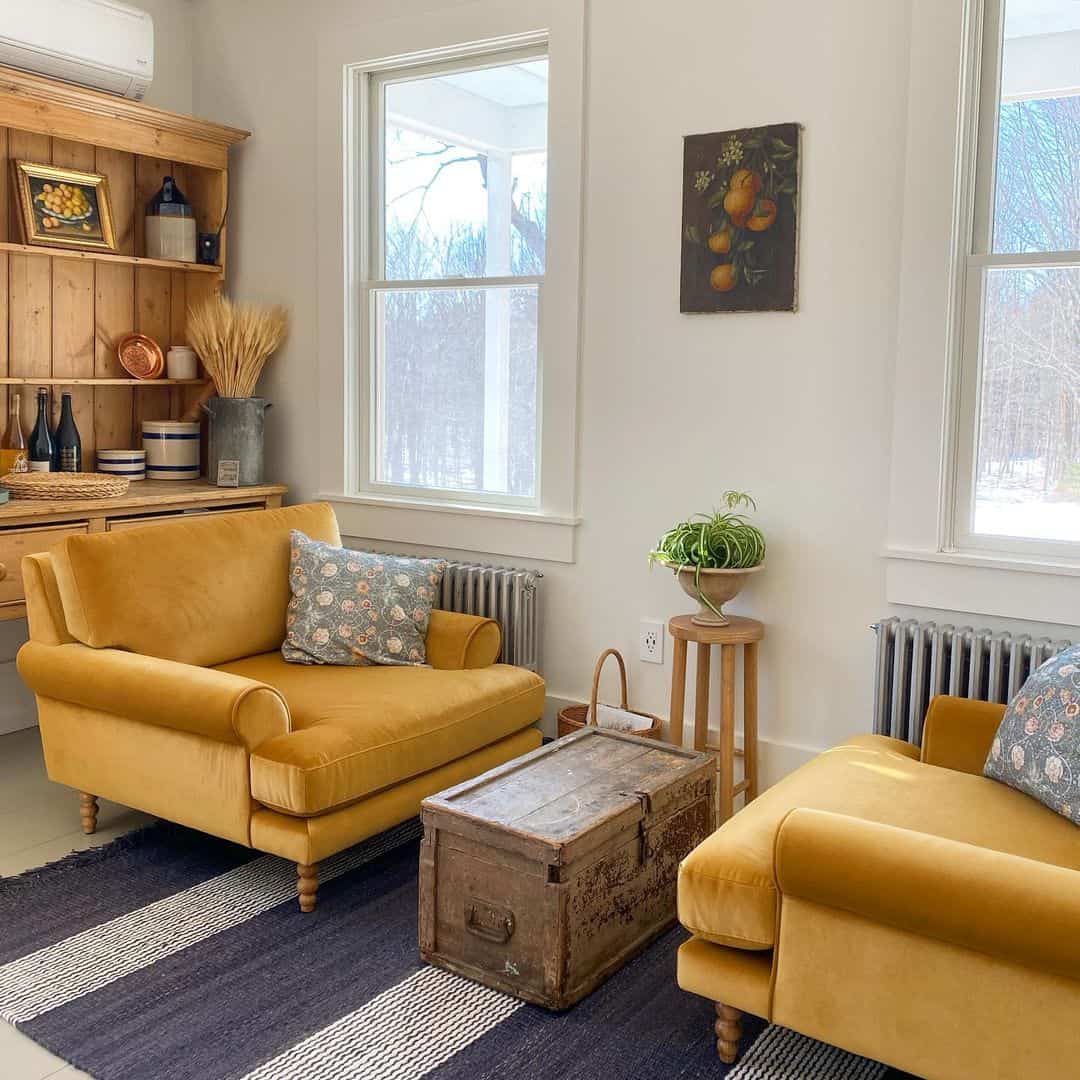 Credit: roscoefarmhouse
Shop the Look
Timeless Charm with White and Warm Tan
To prevent white furniture and walls from feeling overly sterile, consider painting your living room walls in a soothing sandy tan hue. When combined with a light brown linen couch and repurposed antique furnishings, this color choice revitalizes the space, infusing it with both cleanliness and warmth. This color scheme works wonders in farmhouse-themed or coastal-inspired living rooms.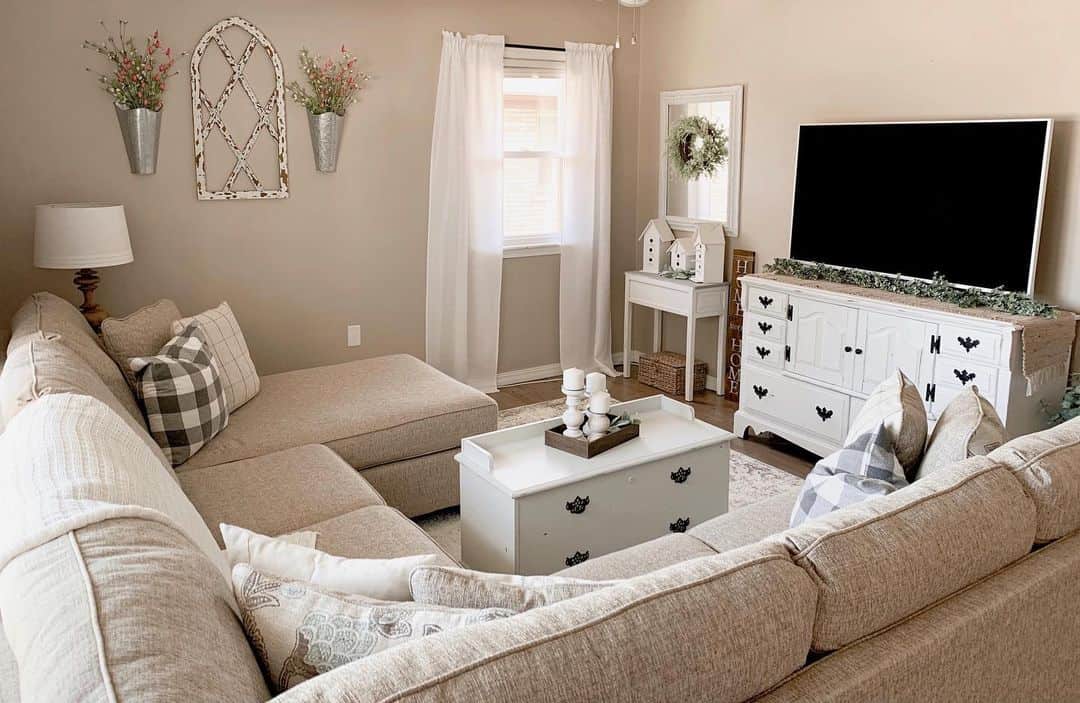 Credit: our.grace.filled.home
Shop the Look
Subdued Elegance in Off-white
This living room boasts an off-white paint color that isn't quite deep enough to be greige or gray. It seamlessly blends with the light gray area rug beneath the off-white furniture. The room's focal point is a distressed fireplace mantel showcasing an antique mirror.
The subtle color palette ensures that all eyes are drawn to the fireplace, serving as the inspirational centerpiece for the room's aesthetic.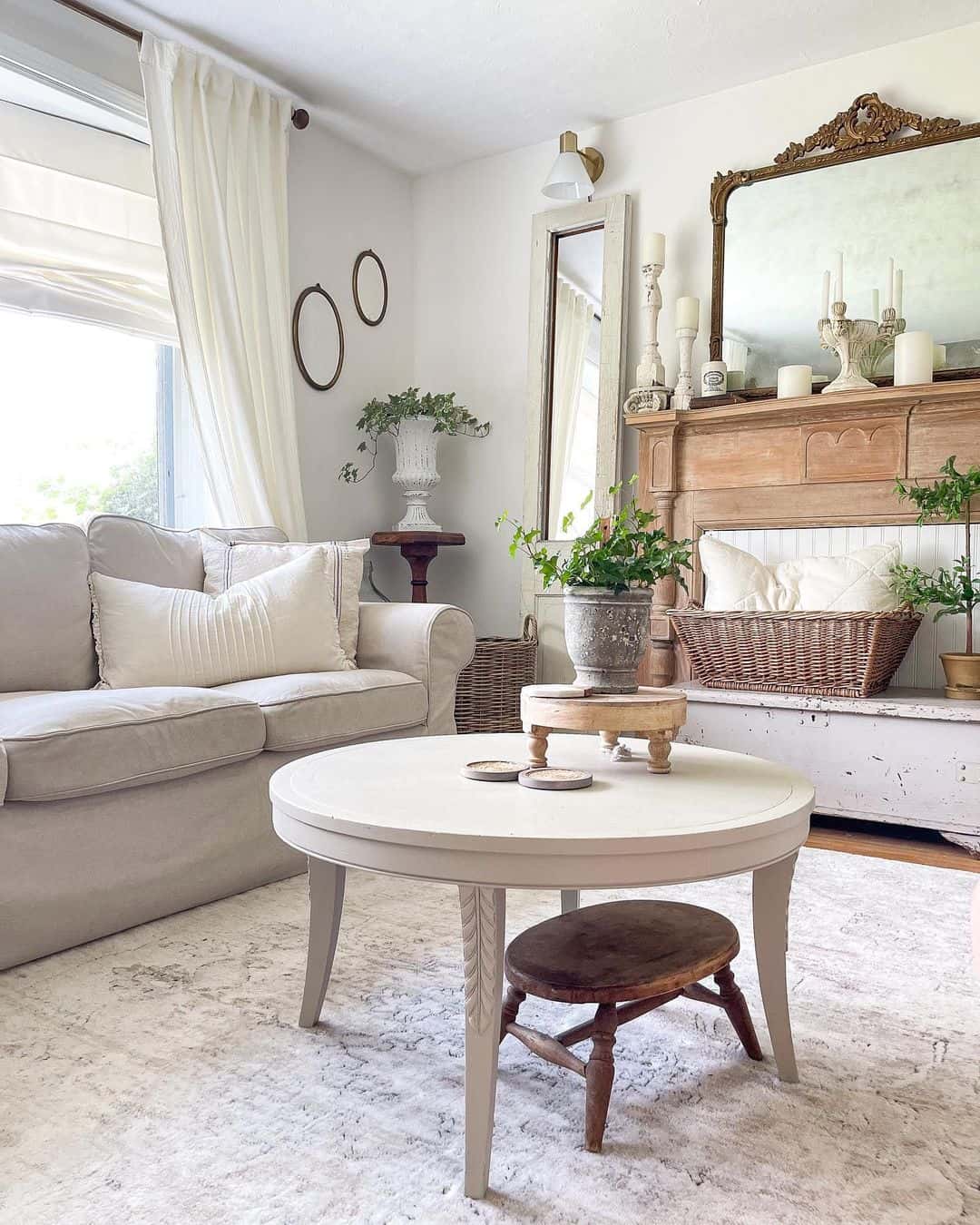 Credit: the.huber.homestead
Shop the Look
Cozy Living in Pale Gray
A pale gray paint choice harmonizes with the off-white sofas in this inviting seating area, creating a cozy ambiance. In a space with a farmhouse theme, the pale gray walls effortlessly blend with any décor, thanks to their cooling contrast against rich brown wood.
If you have statement artwork or furniture that deserves the spotlight, a light gray shade like this ensures they take center stage.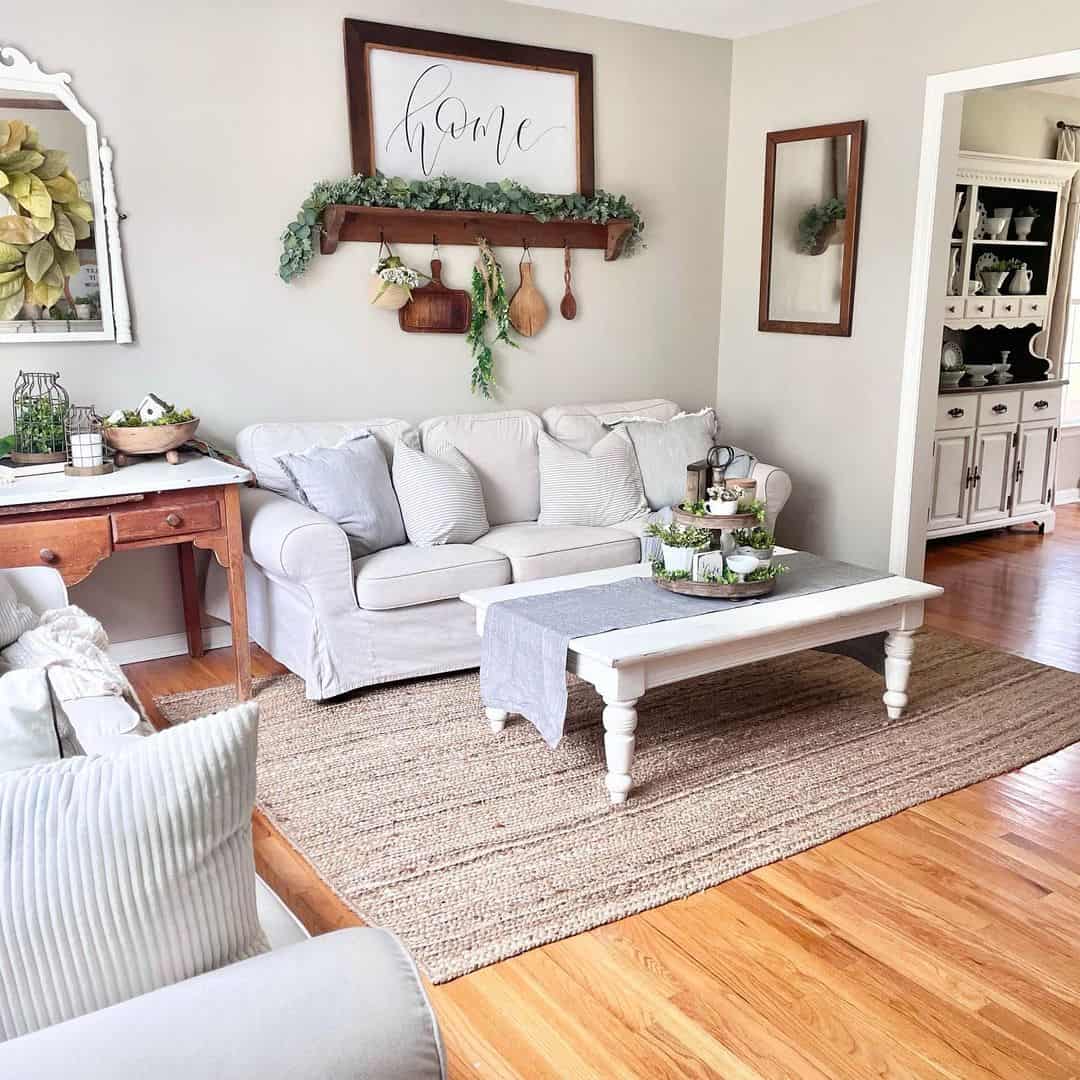 Credit: prettyandprintedshop
Shop the Look
Greige Delight in Farmhouse Living
Greige, a modern paint color blend of tan and gray, has found its way onto the walls of our living spaces. Its subtle nature makes it a versatile match for a variety of décor styles. Flourishing within a farmhouse aesthetic, the greige walls in this room complement deep gray sofas, reclaimed wood textures, and subtle yet impactful orange Fall decorations.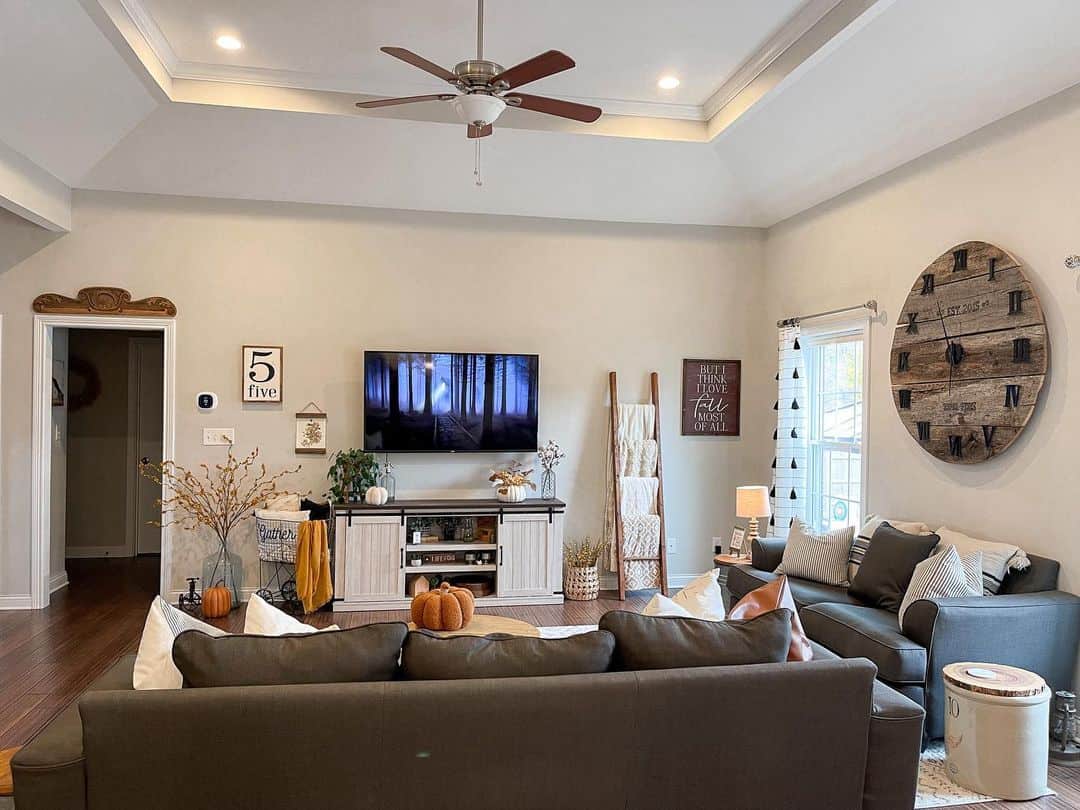 Credit: whiterosefarmhouse
Shop the Look
Eclectic Vintage Boho Living Room
Step into the world of this charming and eclectic vintage boho living room. It seamlessly blends vintage décor elements with the free-spirited, bohemian style that's sure to captivate.
The room showcases a diverse collection of vintage furniture and décor pieces, including distressed flooring, a rustic wooden coffee table, a vintage rug adorned with faded colors, ornate gold-framed mirrors, and an elegant brass chandelier.
The color palette, characterized by muted and warm shades of brown, beige, and dusty rose, sets the stage for an inviting and cozy atmosphere. The result is a space brimming with character and a genuine lived-in feel.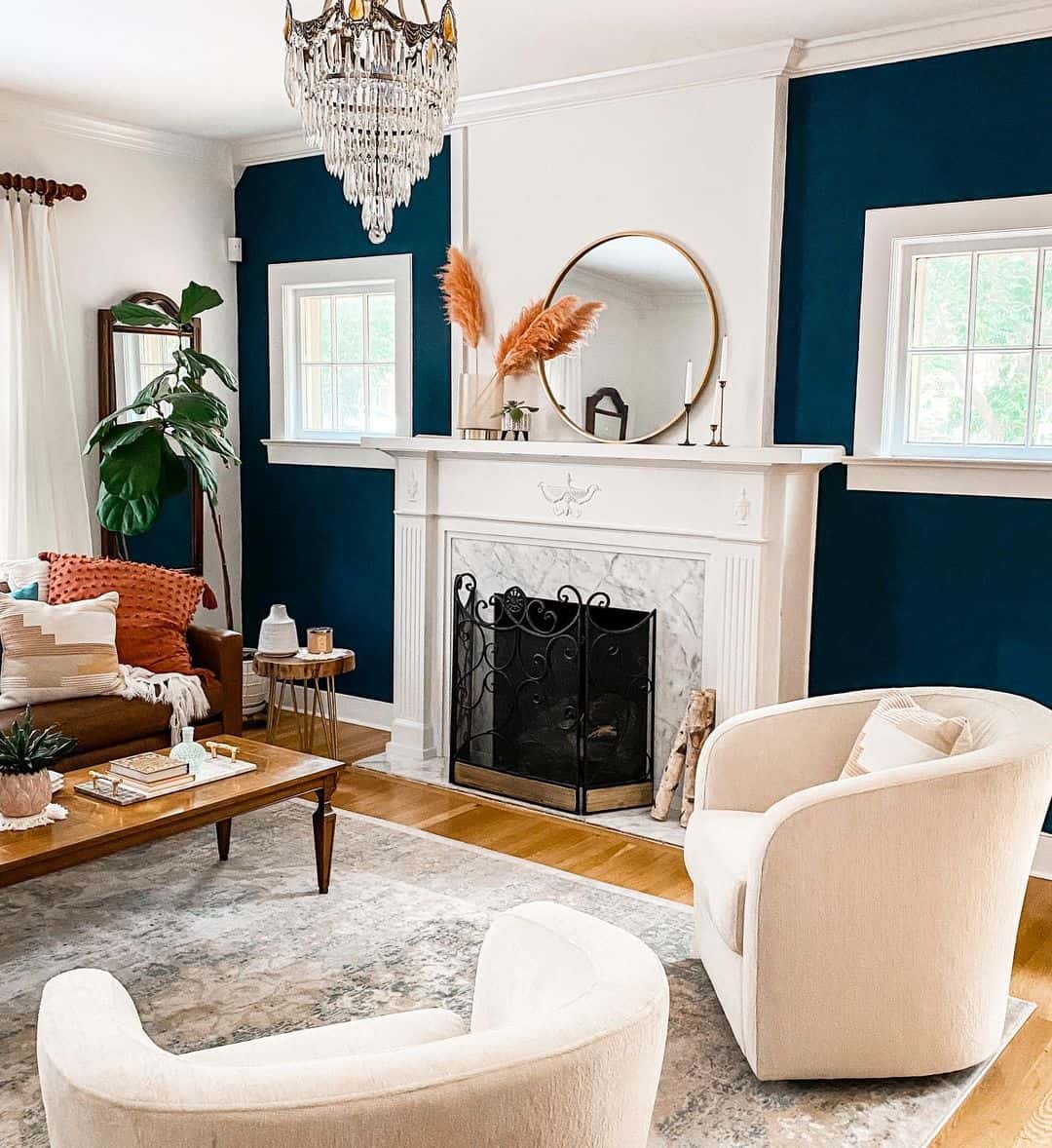 Credit: victorycottage
Shop the Look
Wrap-up
Incorporating vibrant colors into your modern farmhouse living room design can transform it from the ordinary into the extraordinary. These seven color ideas offer a fresh perspective on farmhouse aesthetics, adding a modern and lively dimension to your space.
Whether you choose bold, rich tones or soft, pastel hues, the key is to infuse your personal style and creativity into the design.
With the right color palette, your living room can become the heart of your modern farmhouse, radiating warmth, sophistication, and a welcoming ambiance.