7+ Jaw-Dropping Ceiling Lighting Ideas for Your Farmhouse Living Room
Affiliate Disclosure: As an Amazon Associate we earn from qualifying purchases. Hence, if you click through and make a purchase, we will get a commission at no extra cost to you. For more info, read our full disclosure.
Transforming your farmhouse living room into a cozy and inviting space involves more than just furniture and decor. The right ceiling lighting can add that extra touch of charm and ambiance that makes your room truly special.
In this blog, we'll explore seven jaw-dropping ceiling lighting ideas that will elevate your farmhouse living room to new heights. Whether you're aiming for a rustic, vintage, or modern look, these lighting ideas are sure to inspire and captivate.
Boho-inspired Pendant Lighting for a Neutral Living Room
Elevate your neutral living space with the charm of boho-inspired pendant lights. A beaded pendant light featuring a gold frame adds a delightful boho touch. This lighting style harmonizes beautifully with the vintage trunk coffee table and indoor succulents, infusing an organic allure into your living area.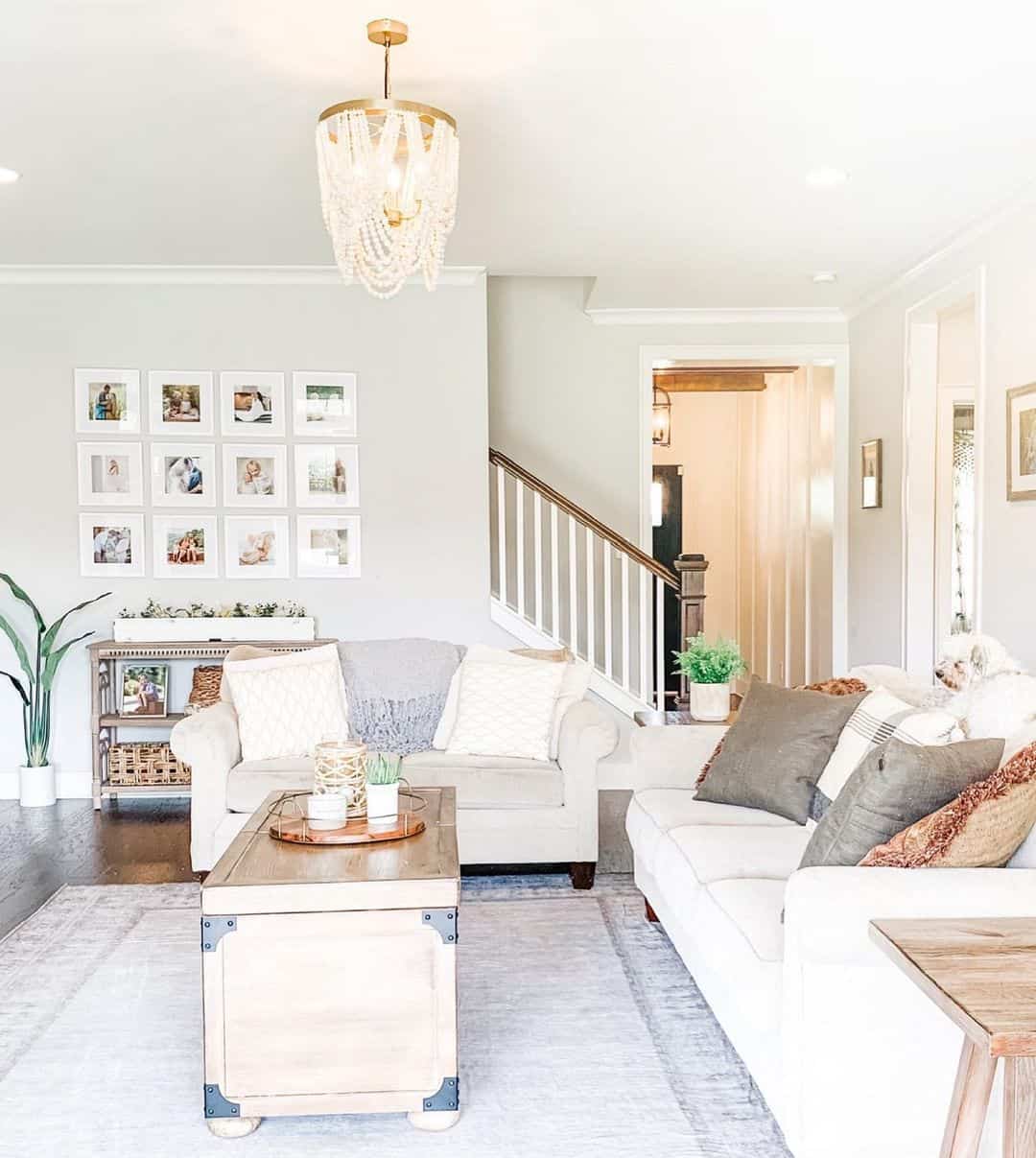 Credit: kelsimsavage
Shop the Look
Dramatic Chandelier for Vaulted Shiplap Ceilings
Make a striking statement in your vaulted farmhouse living room by adorning the ceilings with an industrial candelabra chandelier, boasting black iron framing. Enhance your evening ambiance with recessed lighting integrated into the shiplap paneling along the room's perimeter.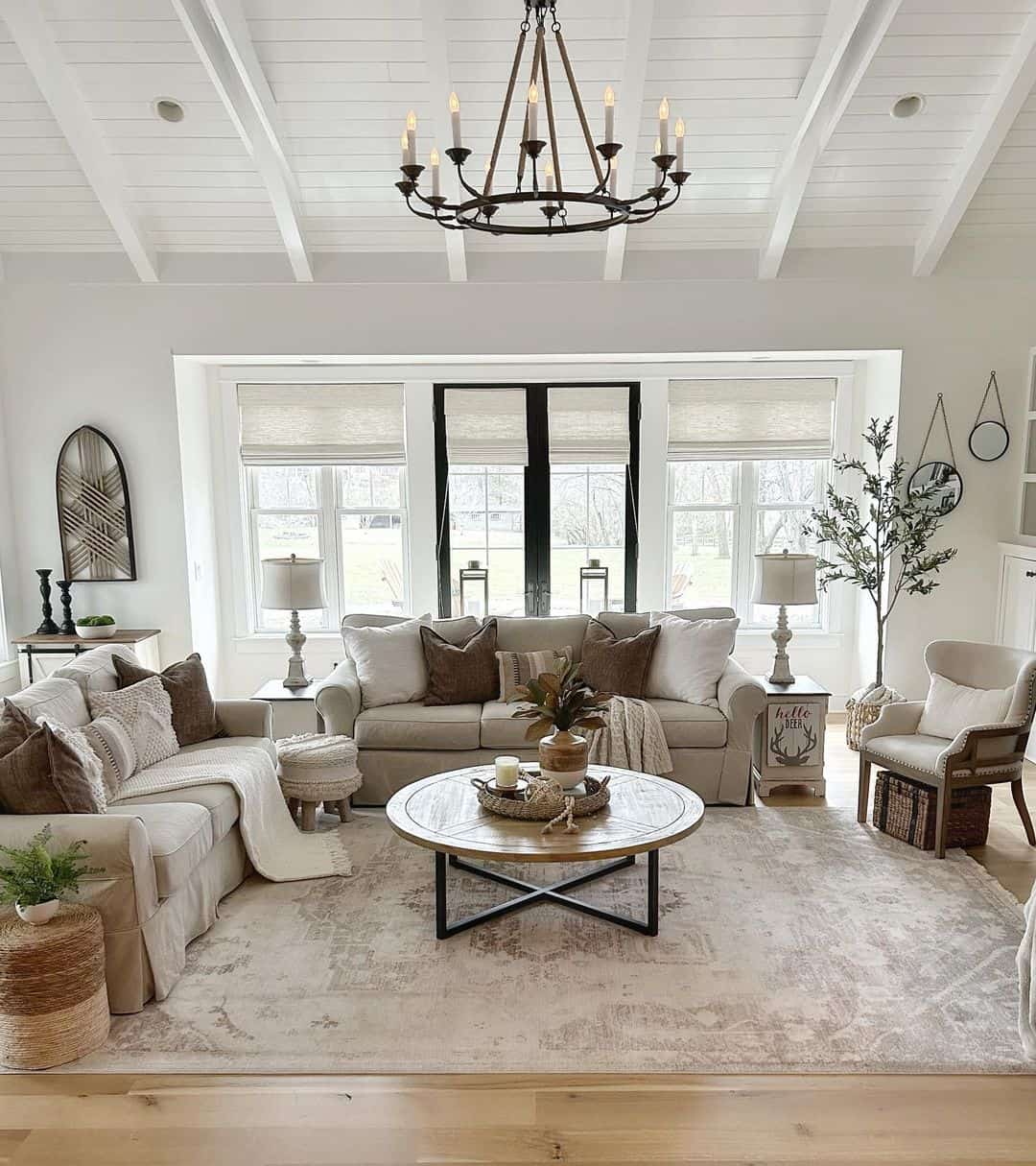 Credit: graciousspaces
Shop the Look
Grand Chandeliers for an Industrial Farmhouse Lounge
Anchor your neutral farmhouse lounge with an oversized industrial iron chandelier adorned with faux candelabra candlesticks. Complement the scene with a classic farmhouse rug, leather sofa, and white linen couch. The interplay of bright white paint and exposed beams accentuates your soaring vaulted ceilings.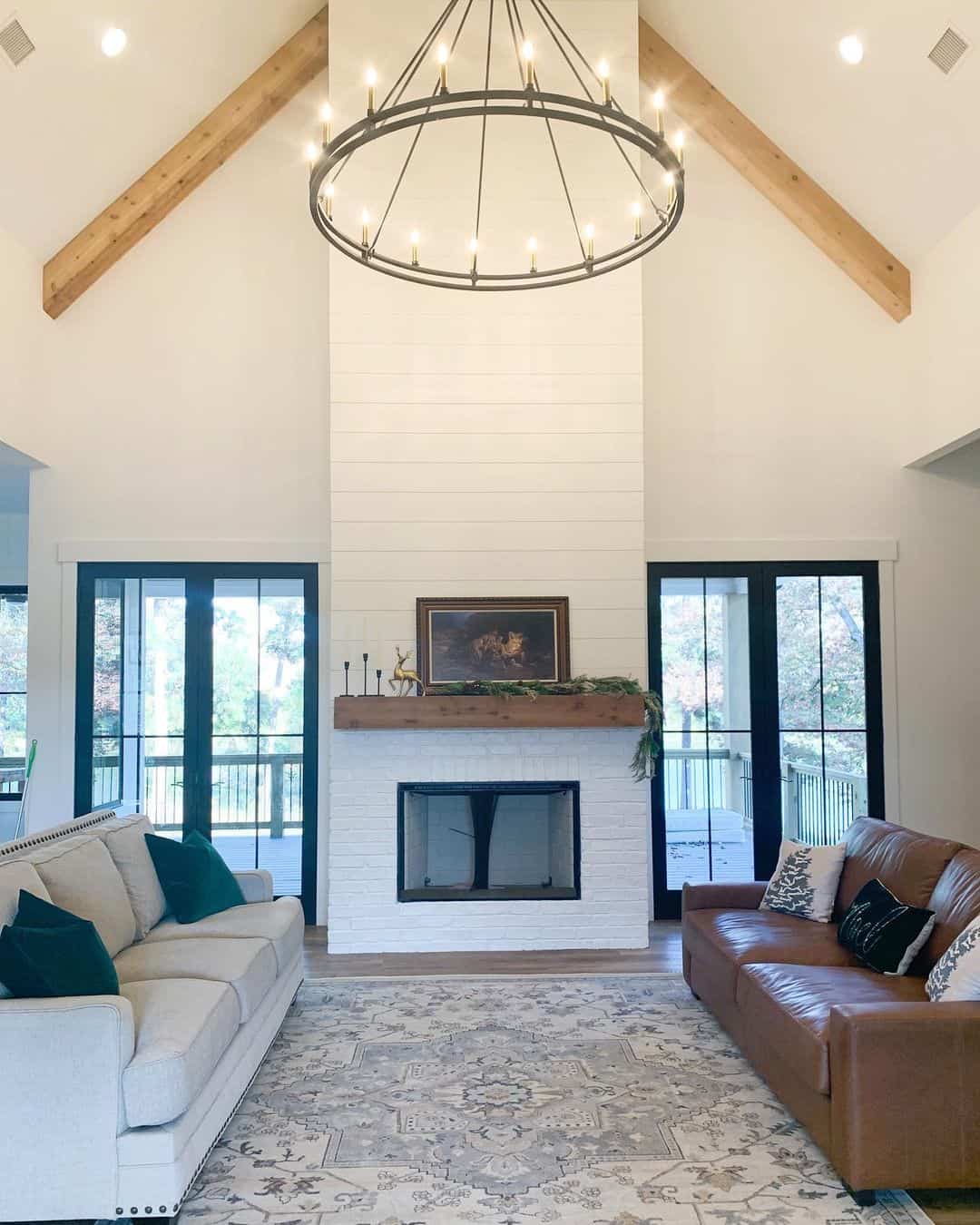 Credit: farmhouseofgrace
Shop the Look
Vintage-inspired Ceiling Fixtures for a Cozy Living Room
Elevate the charm of your vintage living area with a brown French upholstered sofa and a candelabra chandelier adorned with a brown metallic shade. A farmhouse area rug, layered over dark wood flooring, harmonizes with the floral arrangements, throw pillows, and autumnal décor.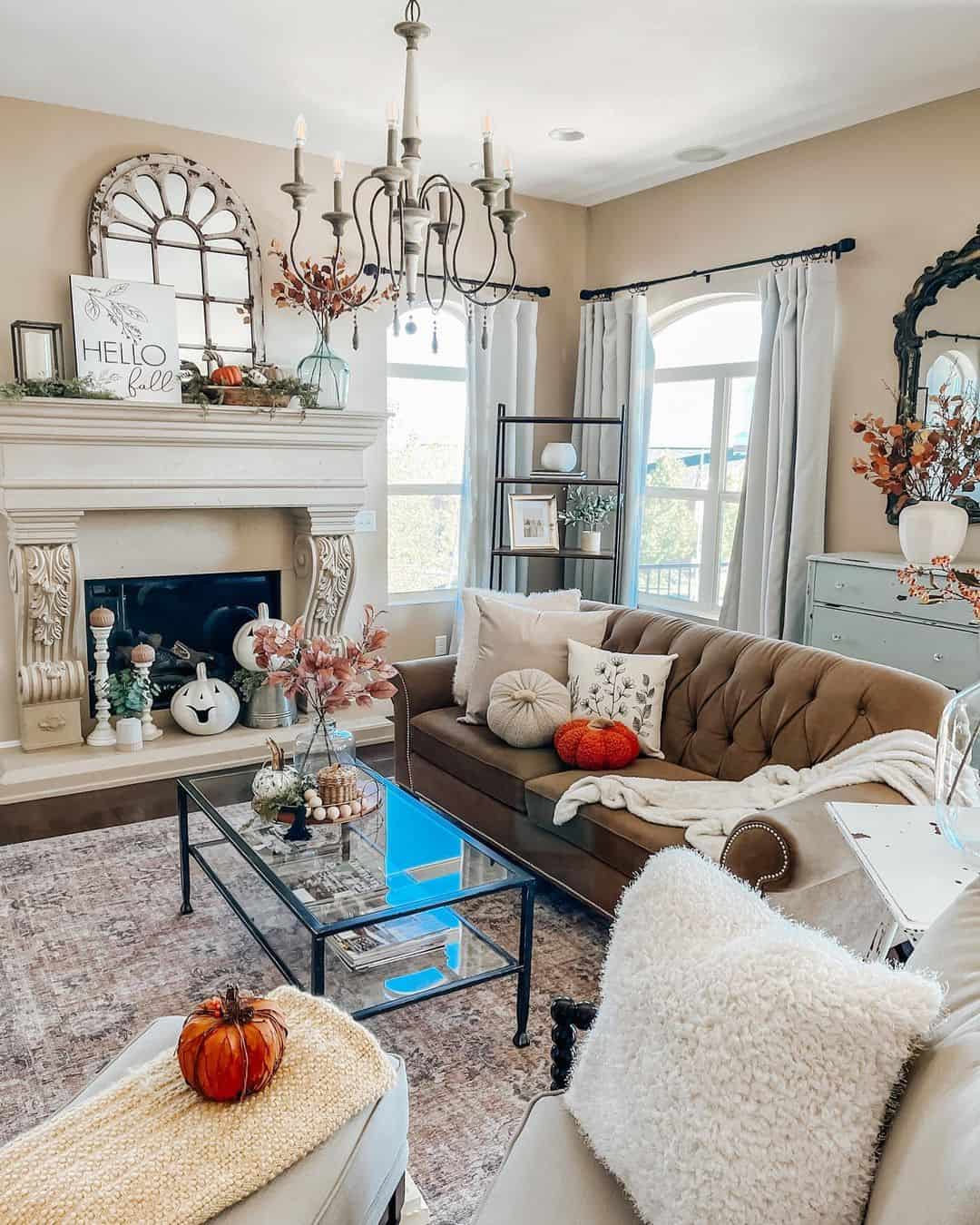 Credit: thepinklemon
Shop the Look
Industrial Candelabra Lighting for Tall Ceilings
A grand stone fireplace mantel, complete with an extended hearth and a flatscreen TV, directs attention upwards to a vaulted wood paneled ceiling adorned with exposed farmhouse beams. To further emphasize the height of your ceilings, incorporate a black industrial candelabra chandelier.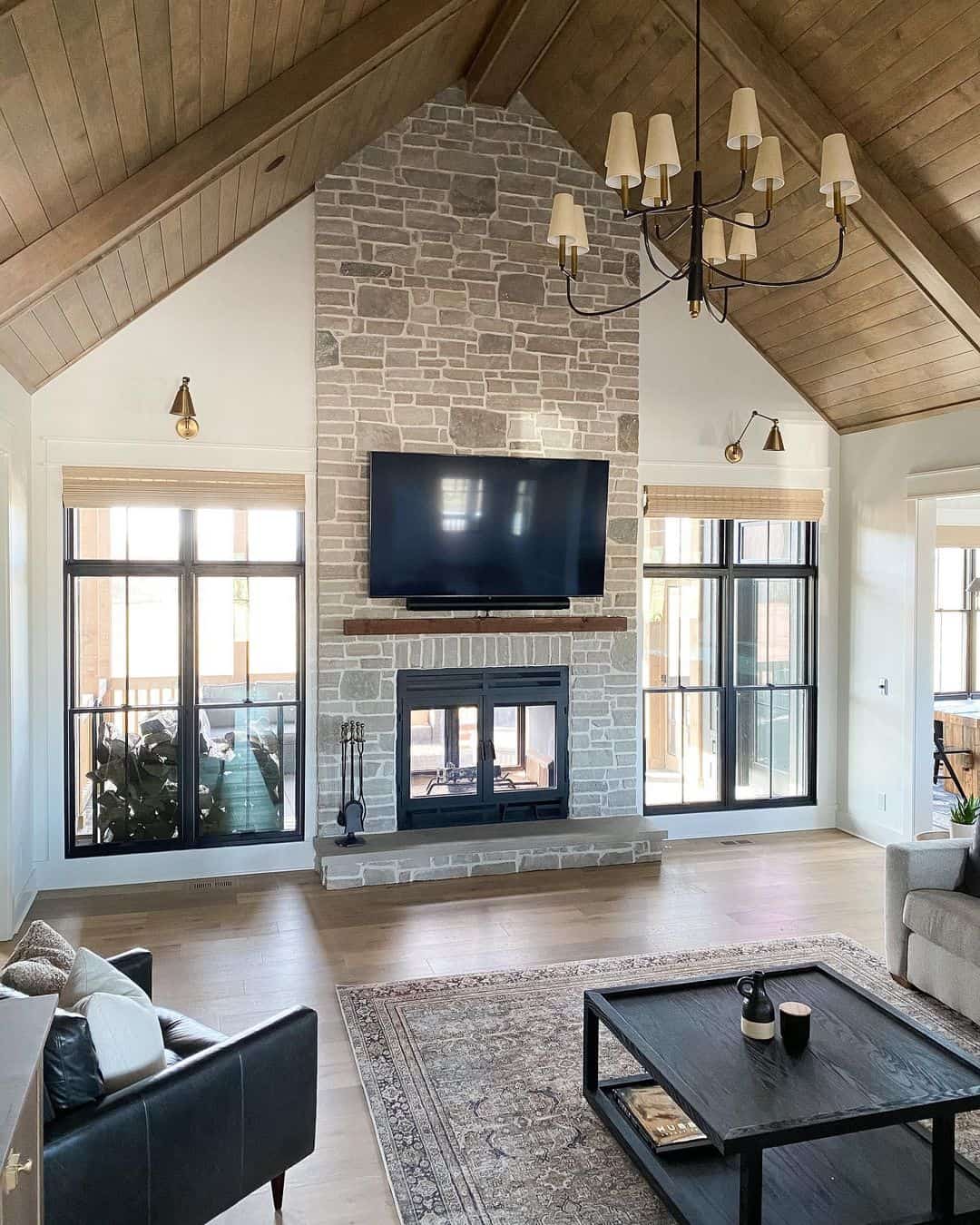 Credit: our.edith.house
Shop the Look
Striking Light Fixtures for Vaulted Ceilings
For a farmhouse look that commands attention, opt for an oversized industrial chandelier featuring bold black iron framing and faux candles. Hang it low over a warm neutral lounge space, allowing it to cascade from an exposed wood beam against white vaulted ceilings.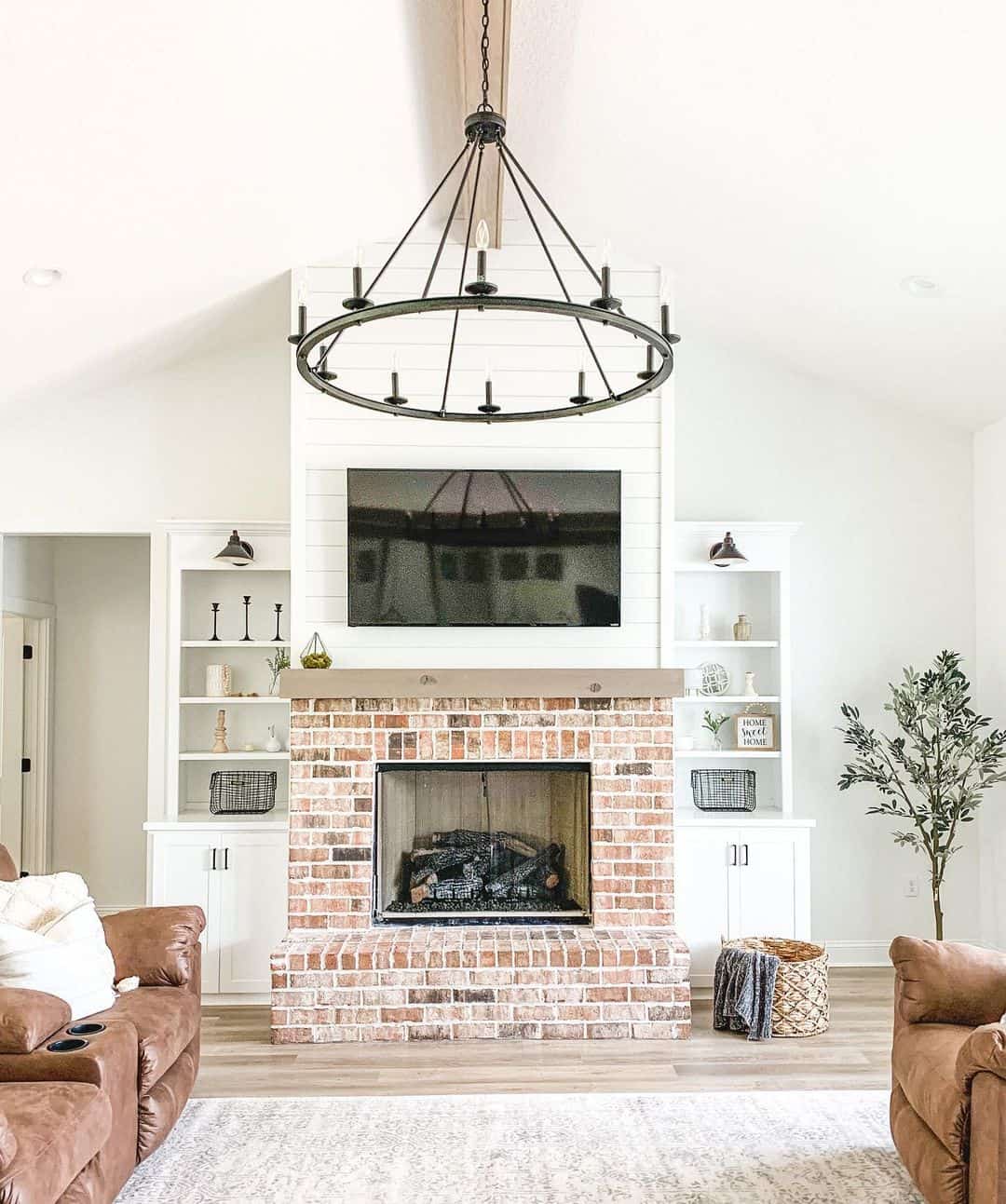 Credit: styled_by_jadeleah
Shop the Look
Farmhouse Chandelier with Gold Accents
Infuse brightness into your bright living room with a gold chandelier featuring elegant white shades. This lighting choice complements the neutral white and gray farmhouse décor. Below, a natural wood coffee table is adorned with pampas grass, black vases, and a white serving bowl.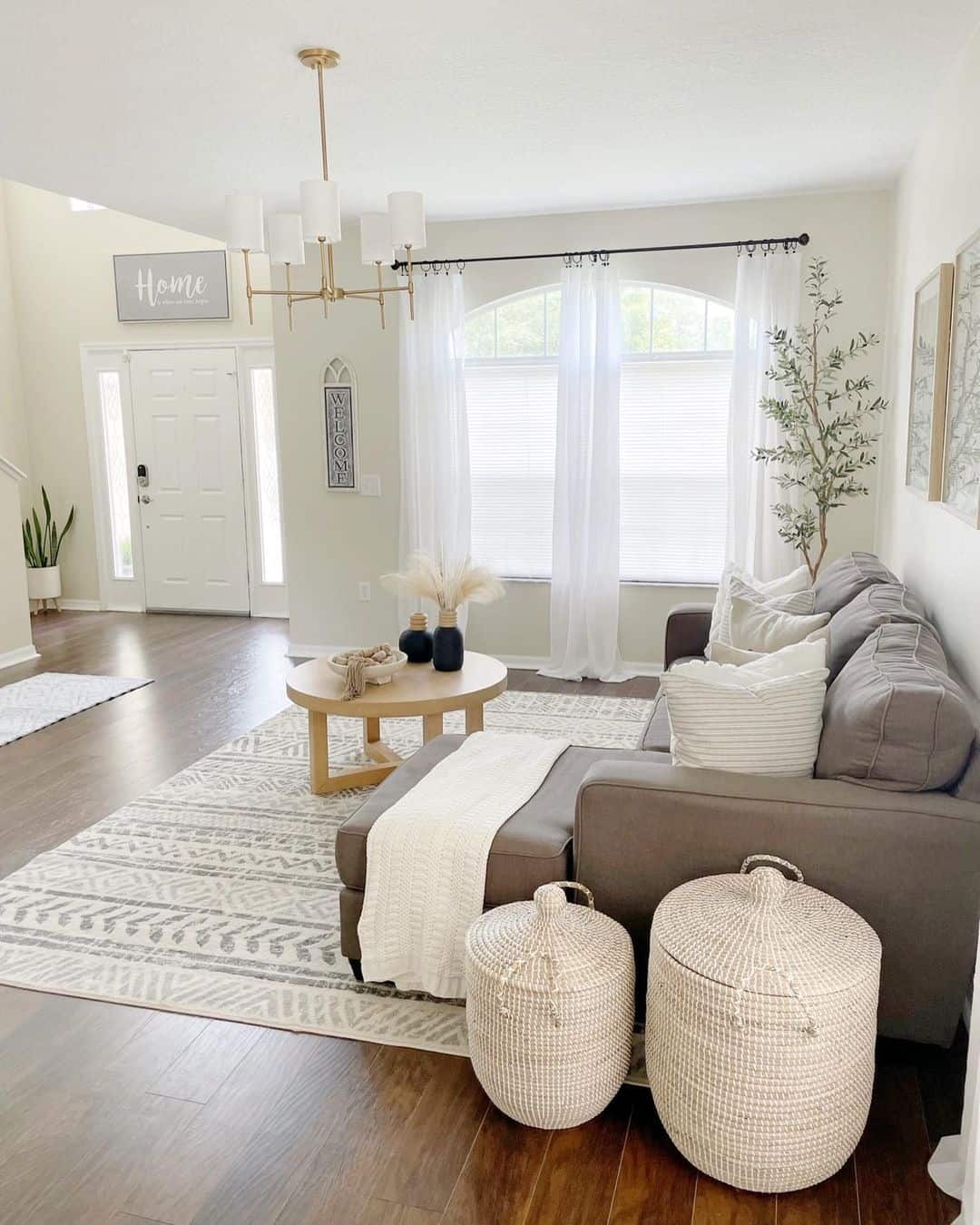 Credit: nita_home
Shop the Look
Pendant Lighting for Low Ceilings
In a living space with lower ceilings, consider a pendant light with a short beaded frame and vintage aesthetics. This lighting choice seamlessly aligns with the farmhouse style. To augment the illumination, incorporate recessed lighting in the spaces surrounding the exposed beams.
Credit: homelifewithnicc
Shop the Look
Wrap-up
Lighting plays a pivotal role in setting the mood and atmosphere of your farmhouse living room. With the right ceiling lighting, you can create a warm and inviting space that exudes charm and elegance.
From industrial chandeliers to vintage-inspired fixtures, these seven jaw-dropping lighting ideas offer a diverse range of options to suit your style and preferences.
So, don't overlook the power of ceiling lighting when designing your farmhouse living room—it's the finishing touch that brings everything together.