7+ Creative Rectangle Layout Ideas to Revamp Your Farmhouse Living Room
Affiliate Disclosure: As an Amazon Associate we earn from qualifying purchases. Hence, if you click through and make a purchase, we will get a commission at no extra cost to you. For more info, read our full disclosure.
Are you looking to breathe new life into your farmhouse living room? If so, you've come to the right place! In this blog, we're about to unveil seven-plus creative rectangle layout ideas that will completely transform your living space.
From timeless elegance to modern charm, these ideas are designed to inspire and revamp your farmhouse living room, making it the heart of your home once again.
Captivating High-Ceiling Farmhouse Living Room
Step into this high-ceiling living room where bright white tones harmonize effortlessly with rich ashwood shades, fashioning an exquisite modern farmhouse ambiance. The addition of built-in shelves not only enhances storage space but also contributes to an overall sense of openness. Gracing the room's center is a rustic wooden coffee table, nestled between two elegantly gray sofas.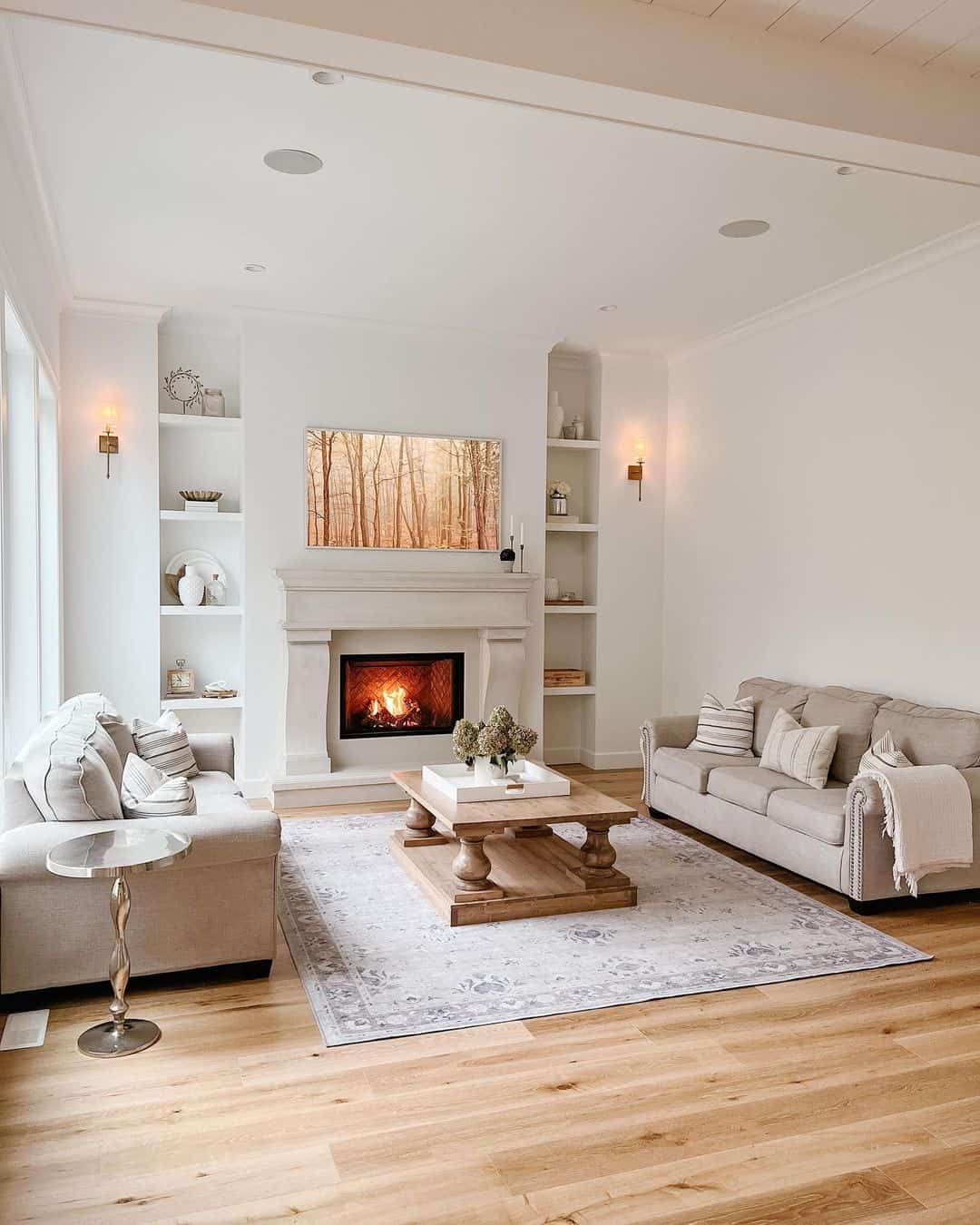 Credit: maisonwithcoco
Shop the Look
Minimalist Elegance in a High-Ceiling Living Space
Behold this minimalist high-ceiling living room adorned with functional furniture and unadorned decor. The pristine white walls serve as a perfect backdrop for a plush gray couch and a luminous wooden coffee table. A soft, inviting rug adorns the floor, creating an atmosphere of pure simplicity.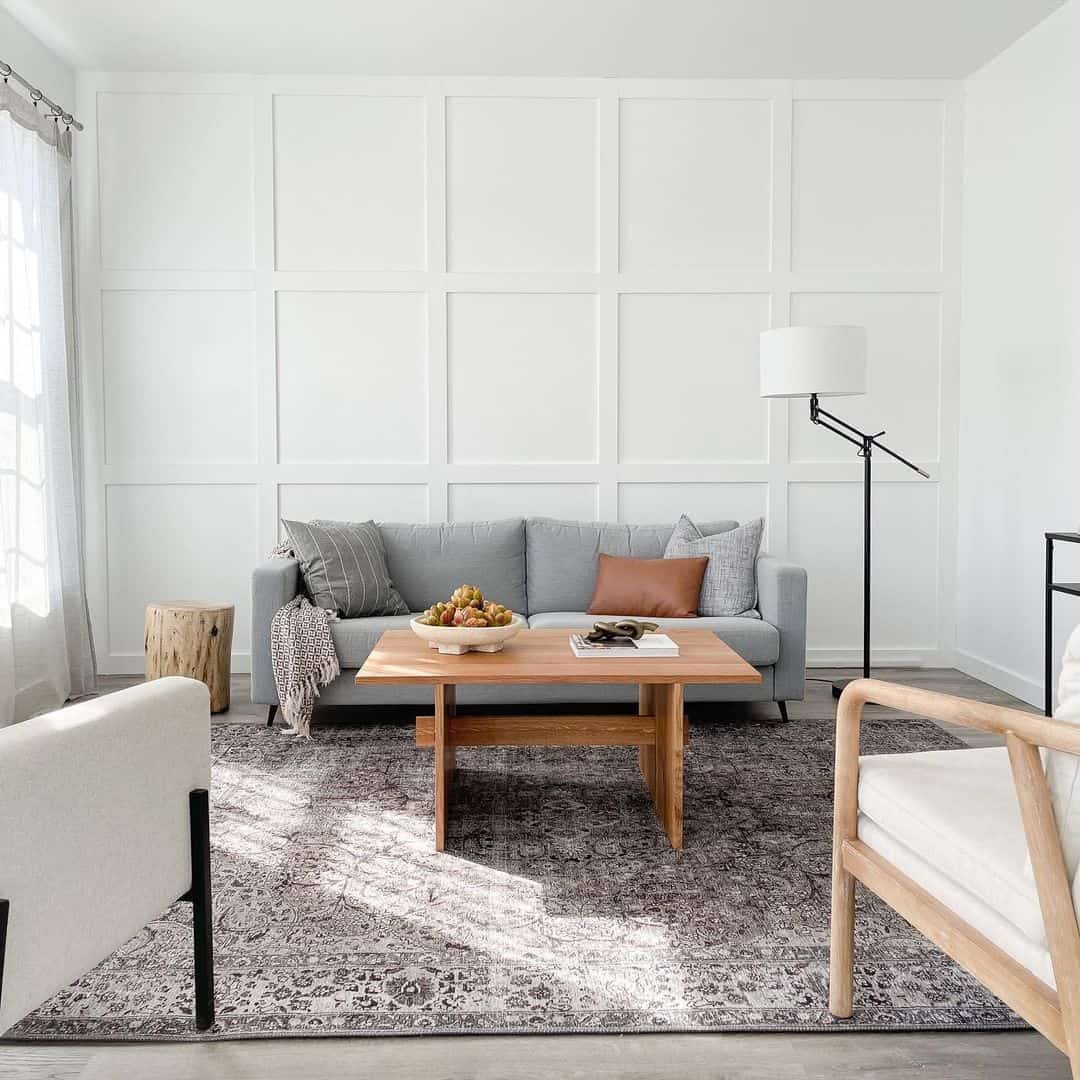 Credit: everyday_modern_life
Shop the Look
Creamy Comfort with White Fireplace Accents
Experience the plush comfort of this living room, where smooth cream walls play host to a captivating white fireplace, imparting both texture and depth. The focal point of the room, a black-framed wooden coffee table, rests atop a soft gray rug. A collection of inviting white sofas and a tasteful gray armchair beckon friends to gather and indulge in favorite shows.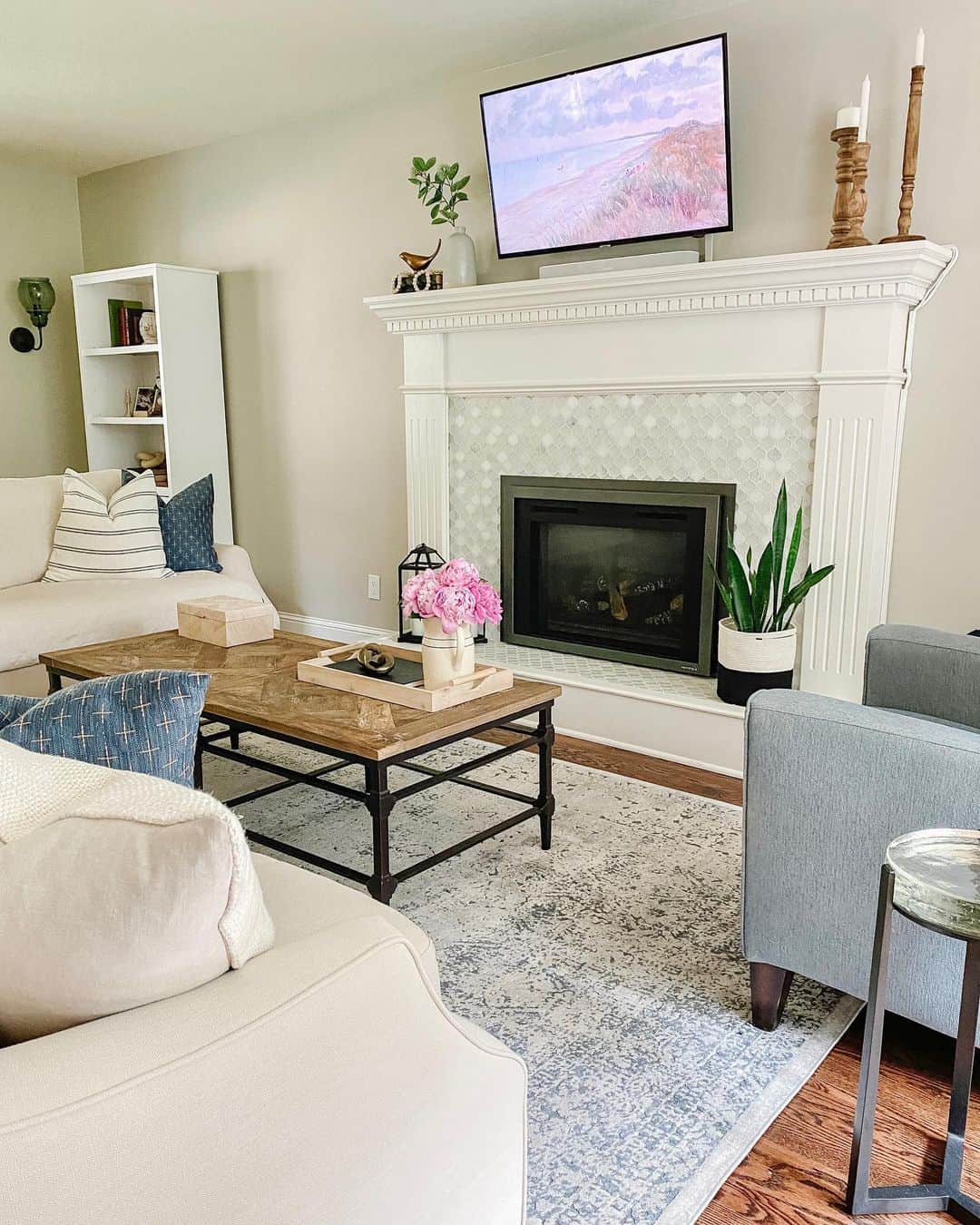 Credit: thebluesprucedhome
Shop the Look
Farmhouse-Style Charm with Exposed Natural Wood Beams
In this unique farmhouse-style living room, exposed natural wood beams grace the ceiling, complementing a set of inviting brown sofas. A pristine white fireplace serves as a canvas for fresh greenery and a vintage art piece. The room is enveloped by a warm, diamond-patterned rug, creating a cozy and welcoming atmosphere.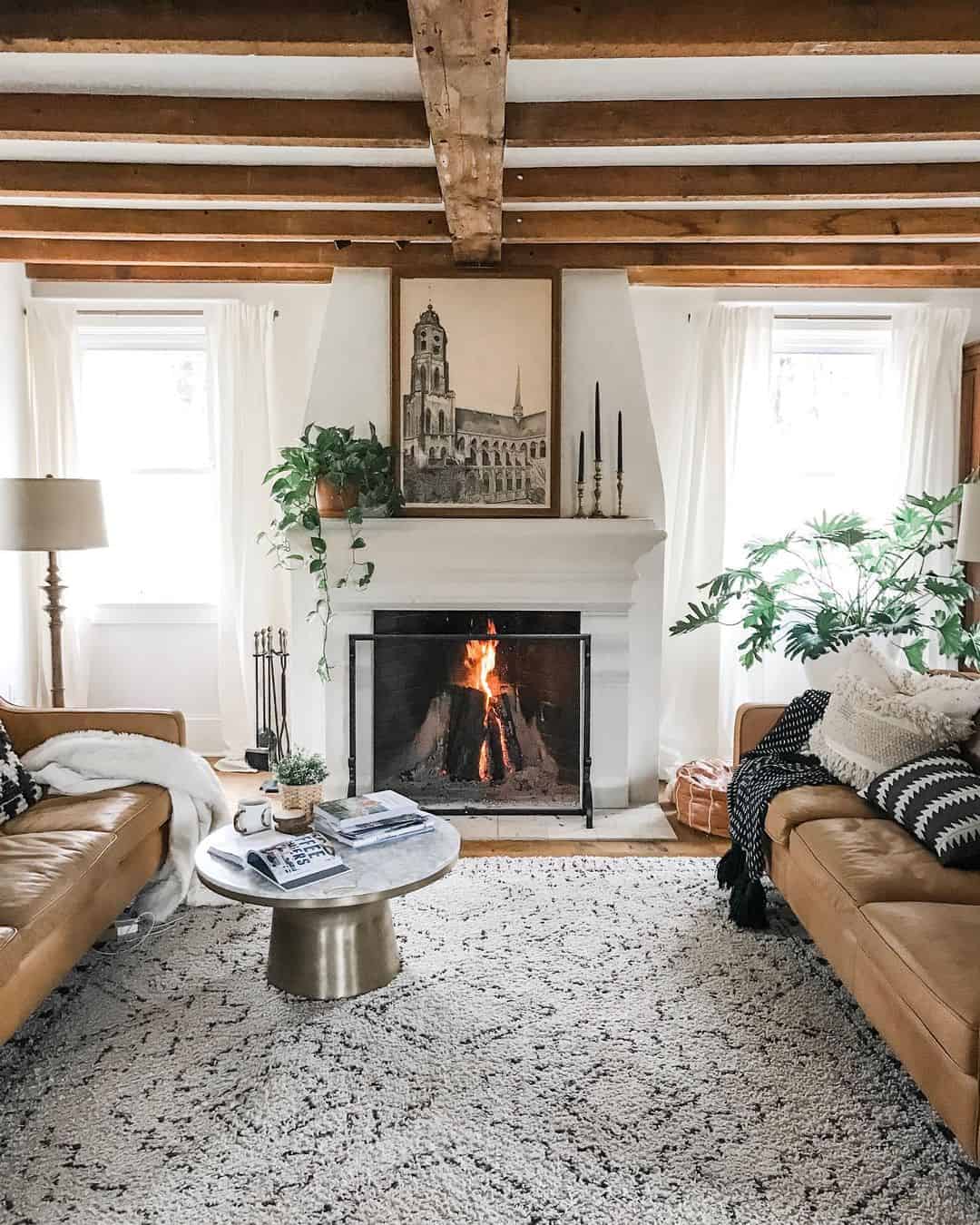 Credit: skiesofparchmentblog
Shop the Look
Cozy Cottage-Style Living with White Brick Fireplace
The centerpiece of this cozy cottage-style living room is a charming white brick fireplace. Abundant natural light floods the room, enhancing its bright and airy feel. An ensemble of plush sofas and armchairs surrounds the space, inviting relaxation and conversation.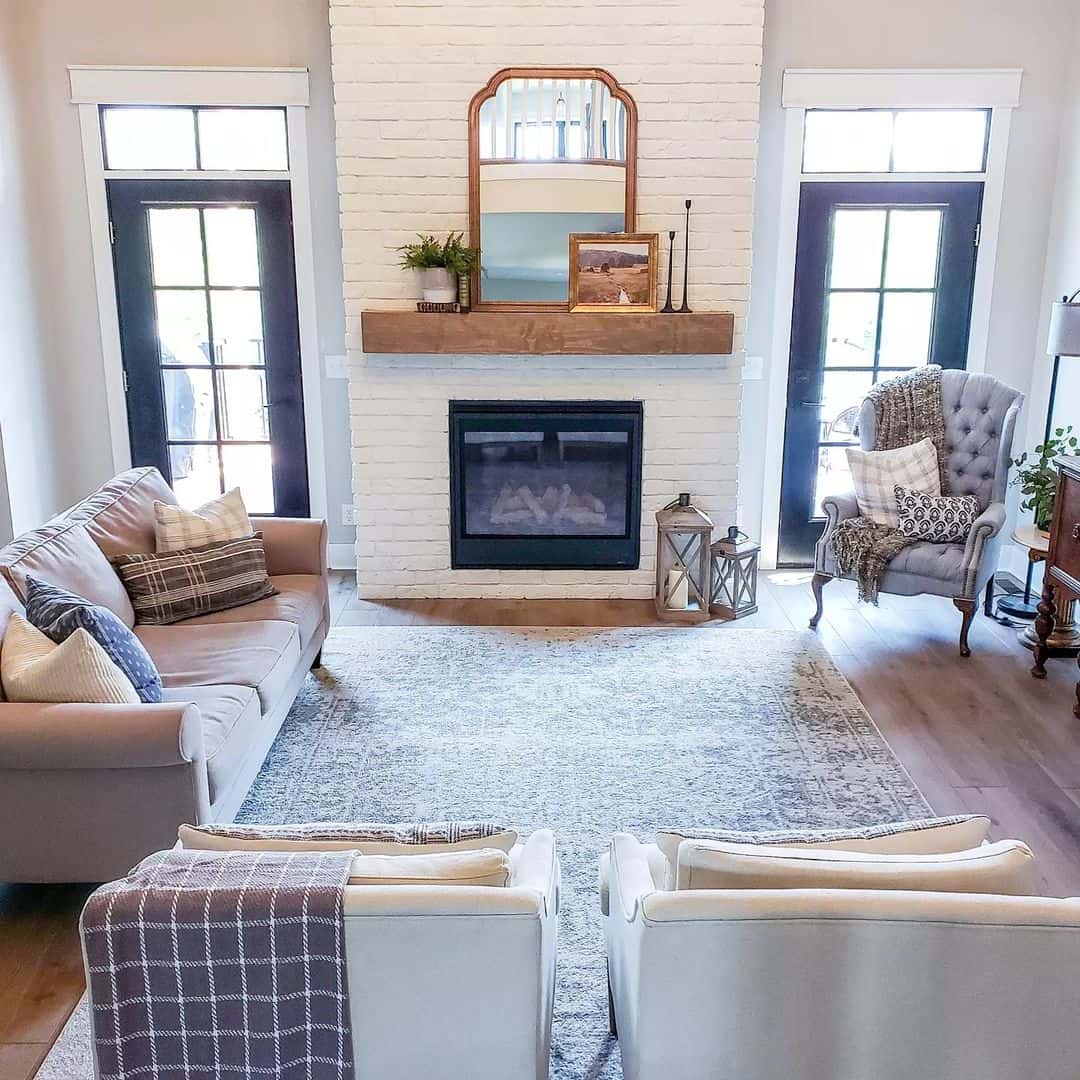 Credit: homeonspringwood
Shop the Look
Timeless Beauty in a Rectangle Living Room Layout
This living room showcases timeless elegance with white shiplap walls as a backdrop for natural-toned furnishings. Rich, natural wood flooring is complemented by a captivating patterned rug. The comfortable gray sofa and classic white indoor fireplace evoke a sense of traditional charm.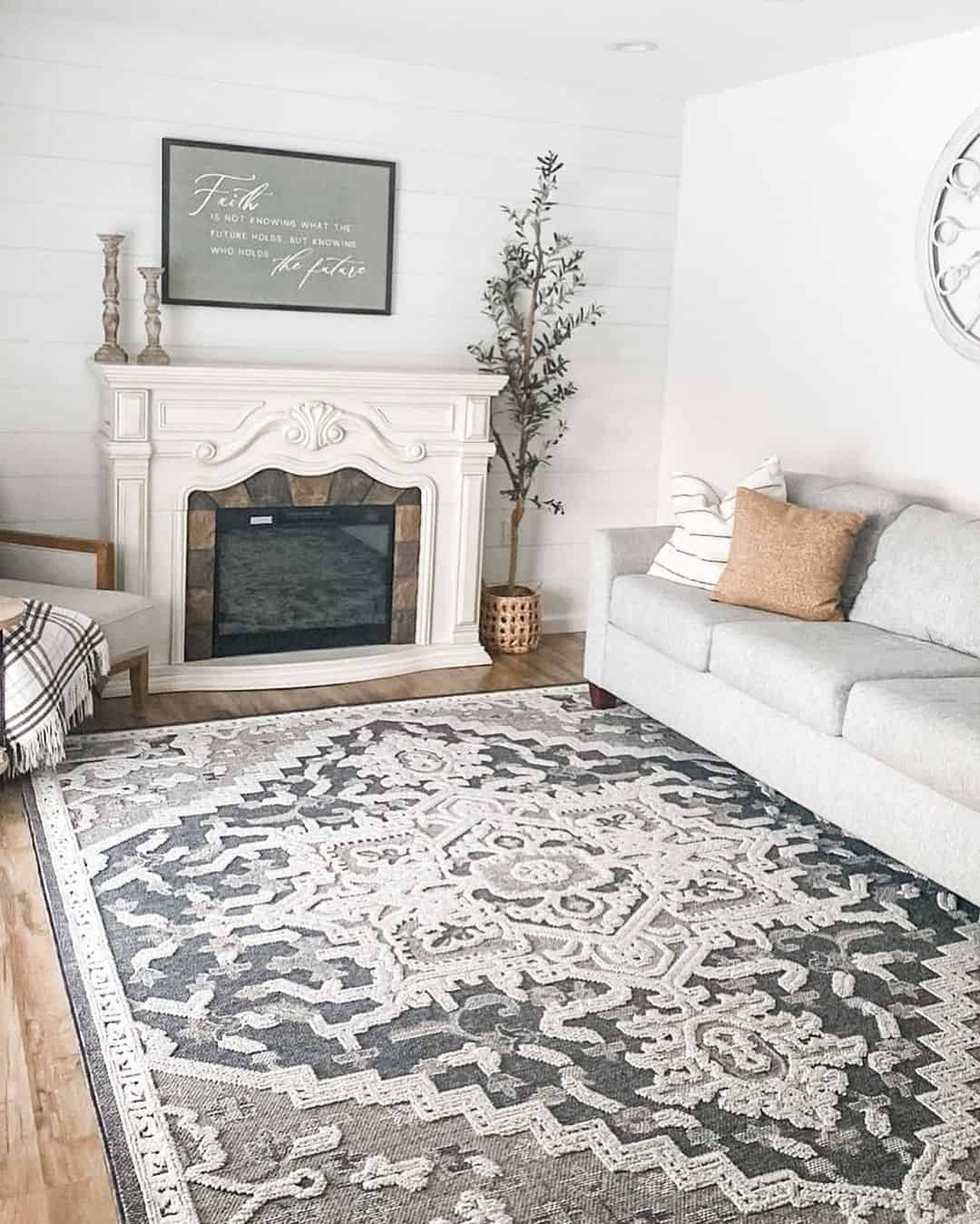 Credit: irinashome
Shop the Look
A Unique Entertainment Setup: Framed TV Over Stone Fireplace
An L-shaped gray couch graces the soft gray rug, creating an open and inviting ambiance in this room. Soft, muted color palettes on the walls and decor pieces emphasize the room's airy nature. The distinctive feature here is a framed TV installed above the rustic stone fireplace, completing this unique arrangement.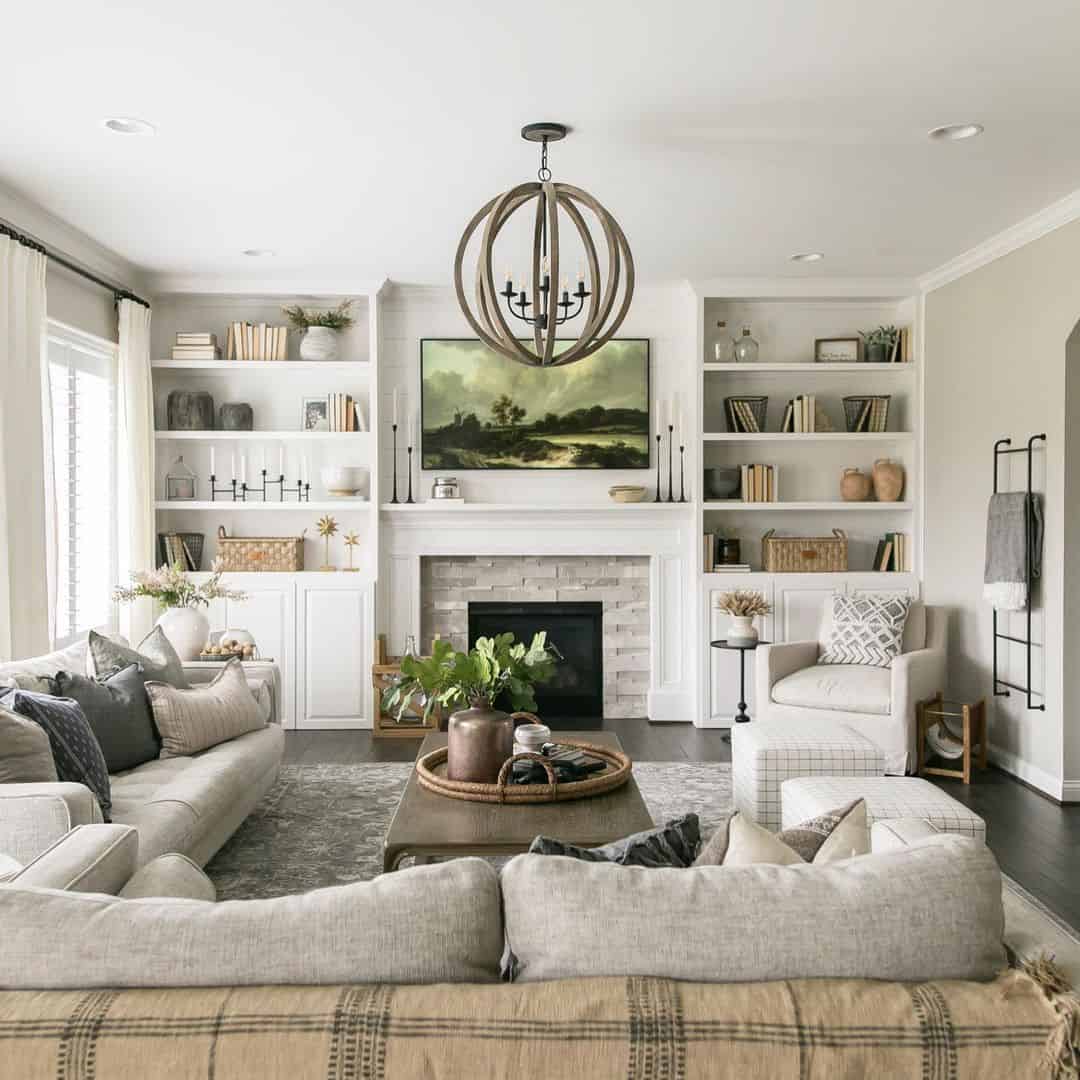 Credit: our.dwelling.place
Shop the Look
Comfortable Farmhouse-Style Living with Light Walnut TV Console
Welcome to this comfortable farmhouse-style living room adorned with dark natural wood flooring and understated cream walls. A TV is thoughtfully mounted over a light walnut console. The simple, neutral tones and a touch of green from a potted plant complete the inviting ambiance of this space.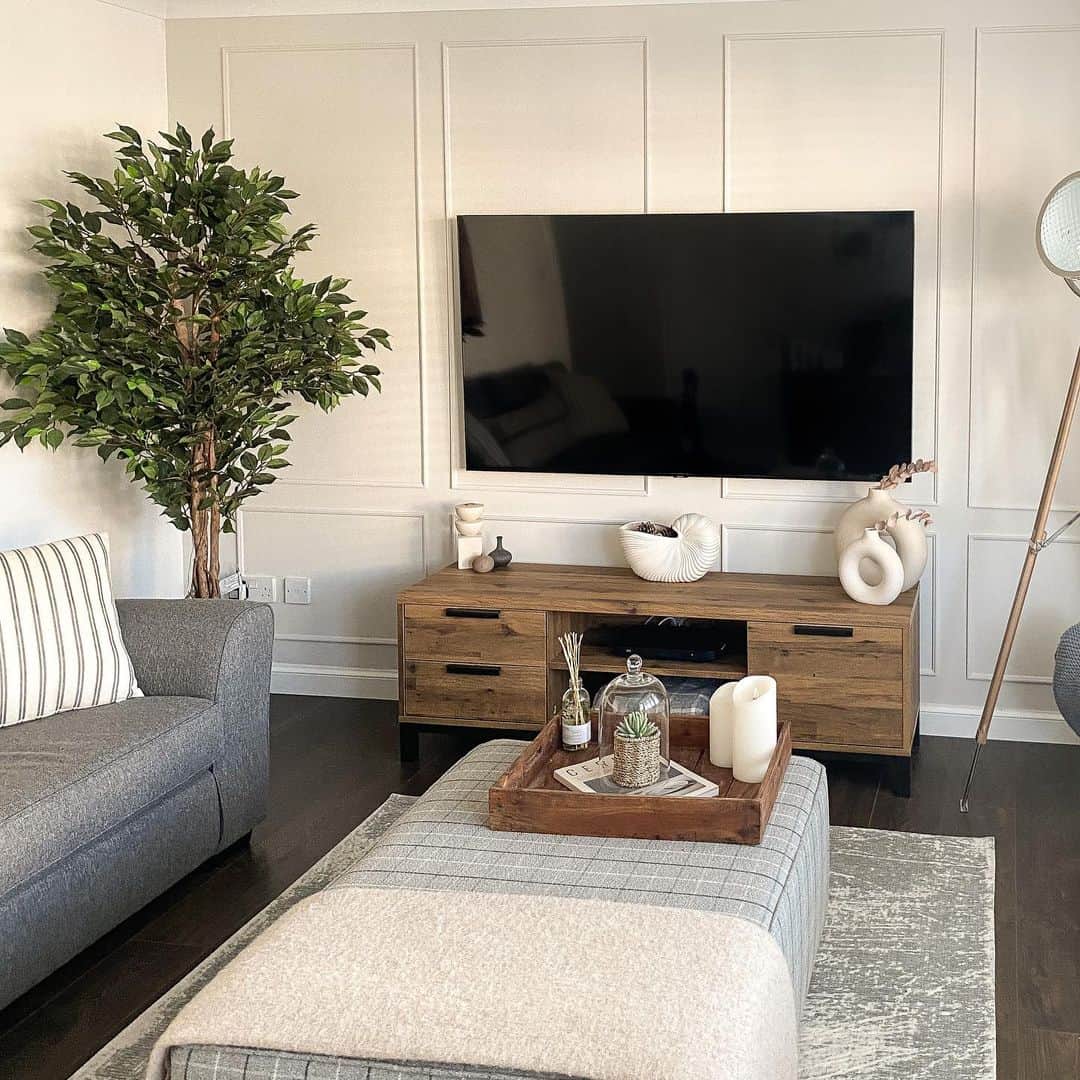 Credit: wrightathomescotland
Shop the Look
Wrap-up
With these seven-plus creative rectangle layout ideas in your toolkit, your farmhouse living room is on the cusp of a remarkable transformation. Embrace the elegance of timeless design, the allure of modern minimalism, or the cozy charm of cottage-style living.
The possibilities are endless, and your unique style will shine through. Say goodbye to mundane and hello to the extraordinary as you revamp your farmhouse living room into a haven of comfort and style.