7+ Unique Ceiling Ideas to Elevate Your Farmhouse Living Room's Ambiance
Affiliate Disclosure: As an Amazon Associate we earn from qualifying purchases. Hence, if you click through and make a purchase, we will get a commission at no extra cost to you. For more info, read our full disclosure.
Transforming your farmhouse living room into a haven of style and comfort starts from the top down. When it comes to creating a warm and inviting atmosphere, the ceiling is often an overlooked canvas for design.
In this blog, we'll explore seven unique ceiling ideas that can elevate your farmhouse living room's ambiance, adding character, charm, and a touch of individuality to your space. From exposed beams to creative lighting solutions, these ideas are sure to inspire and enhance your farmhouse retreat.
A Rustic Transformation: Exposed Wood Beams and Wagon Wheel Charm
In this modern farmhouse living room, rustic charm takes center stage with the introduction of exposed wood ceiling beams and a striking wagon wheel chandelier. Adding to the appeal is a contemporary black and white painting gracing the stone fireplace, while a natural wood floating mantel ties the entire look together, harmonizing with the wood beams and a stylish black chandelier.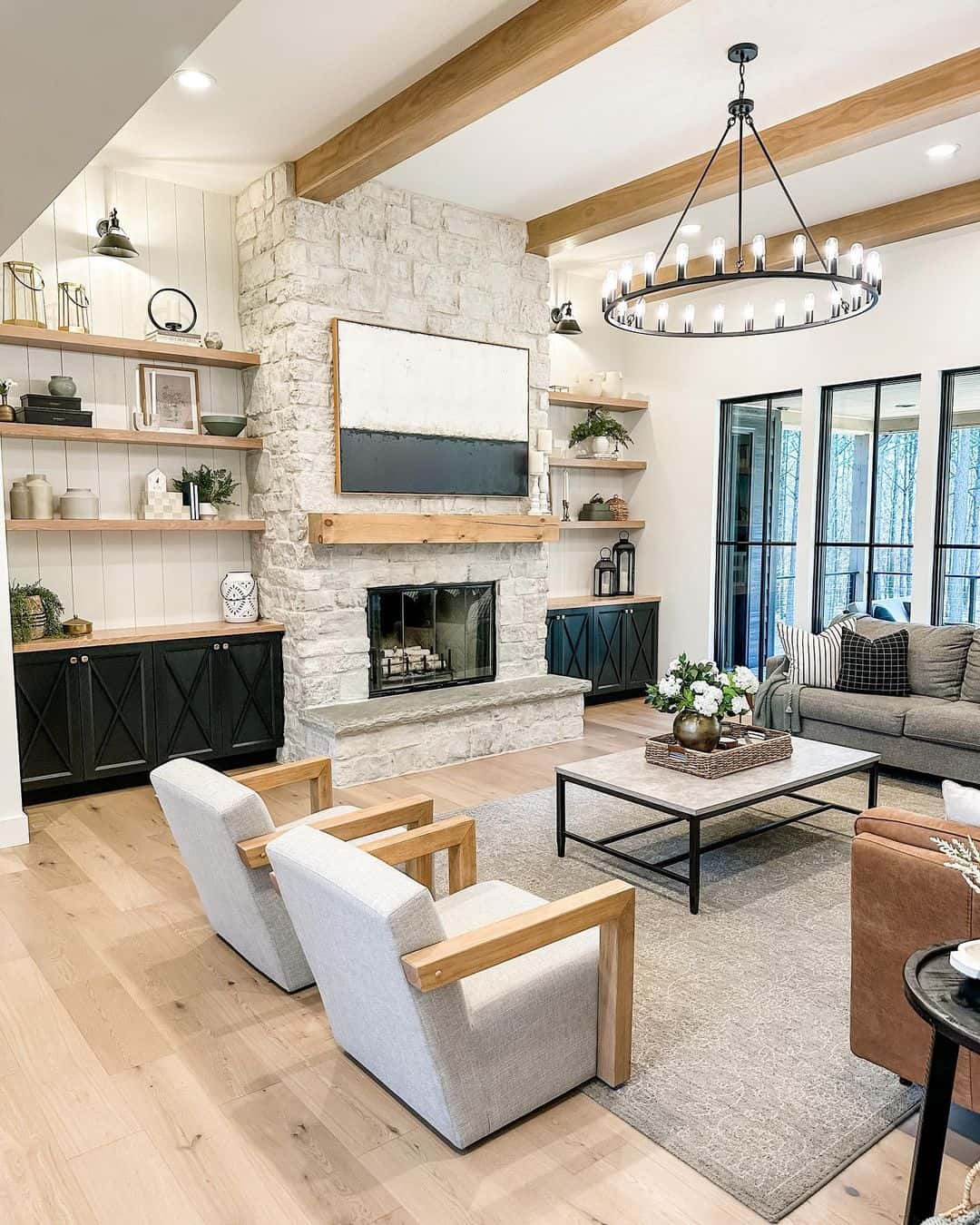 Credit: @ourforevertnfarmhouse
Shop the Look
Industrial Elegance: White Shiplap Ceilings and Bold Industrial Lights
Transform your open farmhouse living room into a haven of industrial elegance. Bright white shiplap paneled ceilings set the stage, elegantly complemented by a bold black industrial candelabra chandelier. Complete the aesthetic with a generously sized iron wall clock and sleek black window framing, achieving a monochromatic industrial look.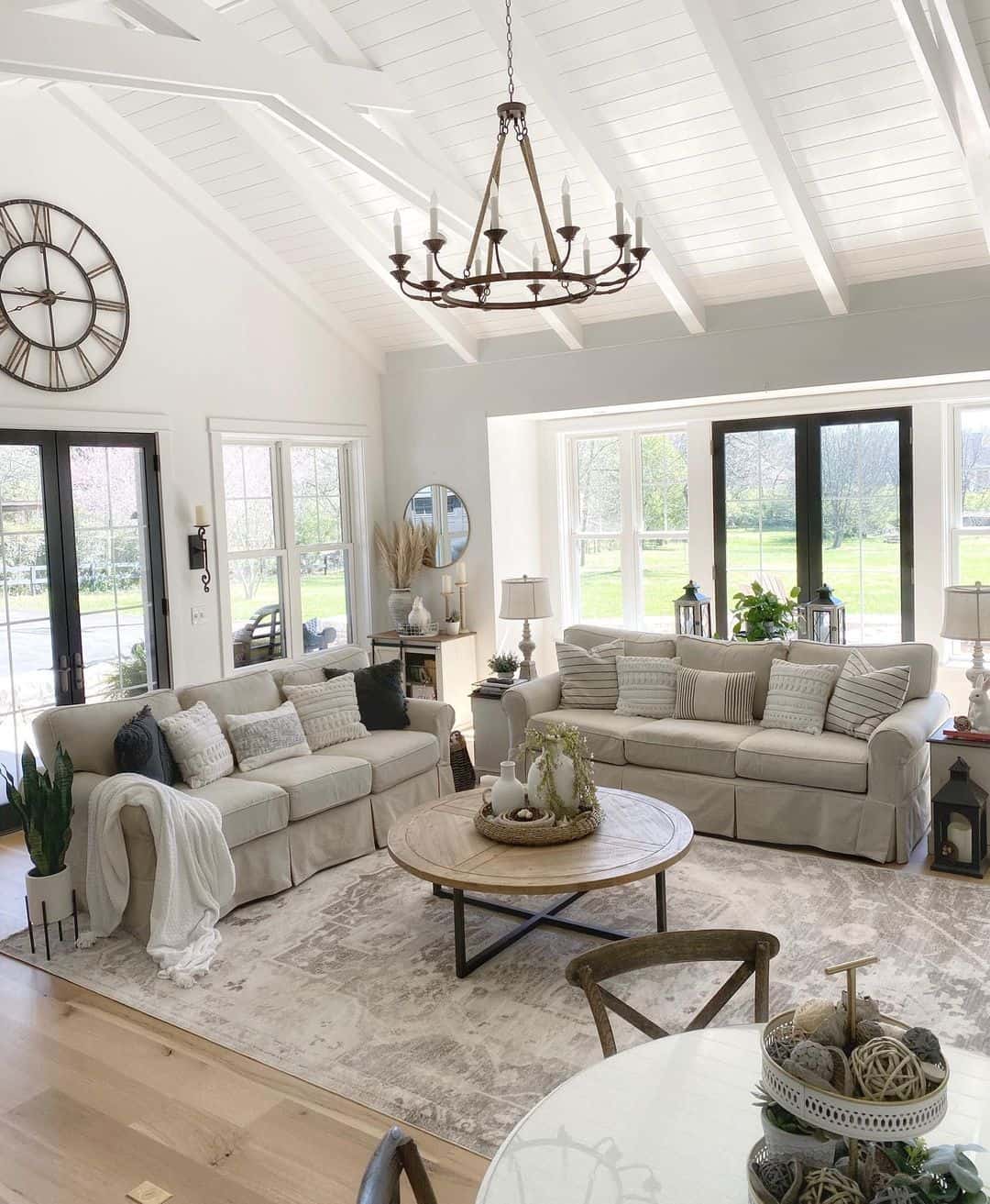 Credit: @graciousspaces
Shop the Look
Elegant Design: Modern Living Room with Crown Molding
In this tastefully designed living room, the ceiling takes center stage with a vintage glass pendant light elegantly framed by ornamental crown molding. This exquisite detail sets it apart from the soft beige wall paint below. The room's ambiance is further enhanced by a plush gray sofa set and a vintage wood-burning fireplace, creating a modern farmhouse aesthetic.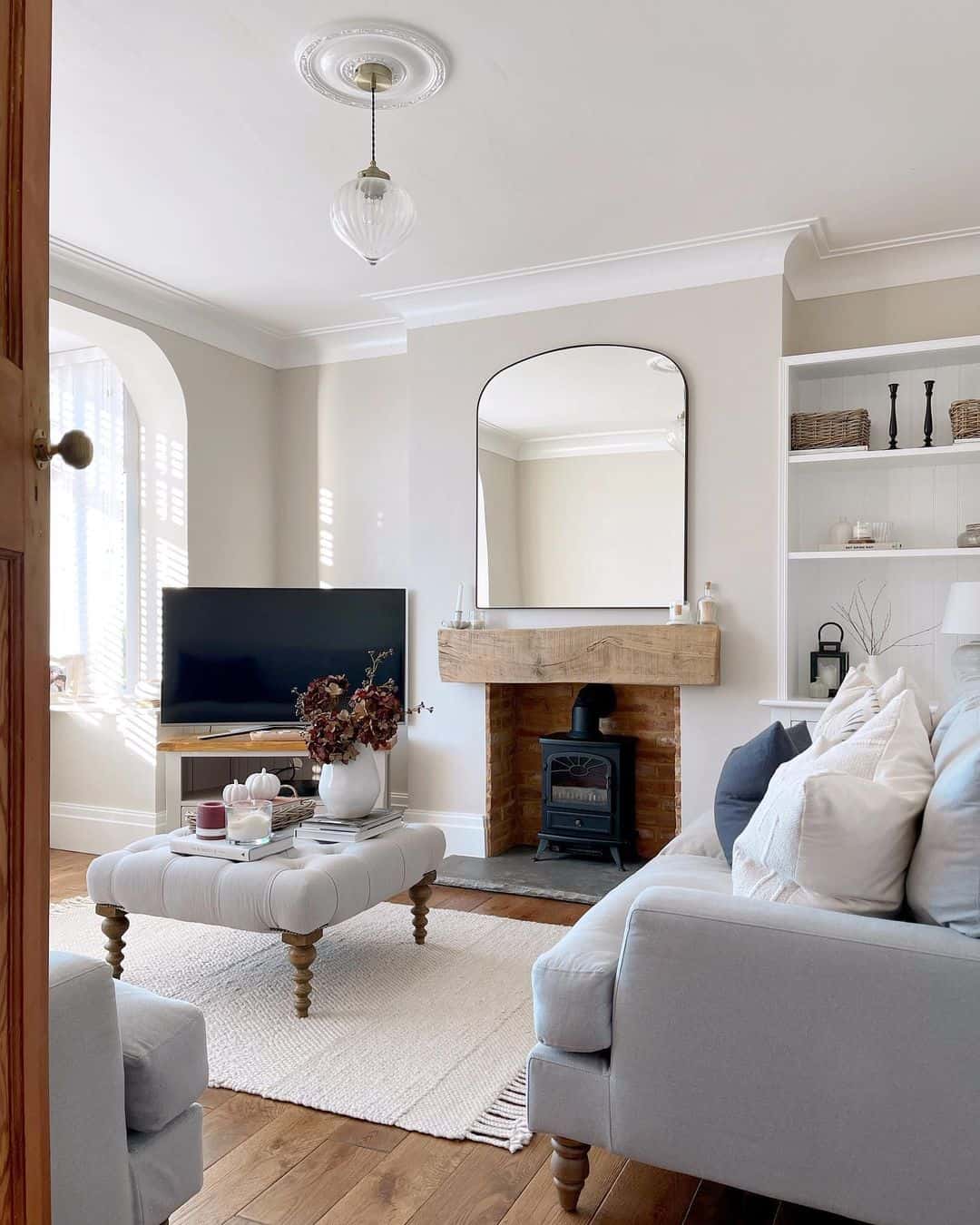 Credit: @rachelsorbyhome
Shop the Look
Luxurious Radiance: Wood Paneled Vaulted Ceiling and Exposed Trusses
Indulge in opulence as a tiered wagon wheel light bathes an industrial farmhouse living room and dining area in warm, radiant illumination. The natural wood trusses and paneled wood ceilings seamlessly mirror the warmth of the wood flooring. Keep the color palette understated with deep sofas and dining chairs for a touch of luxury.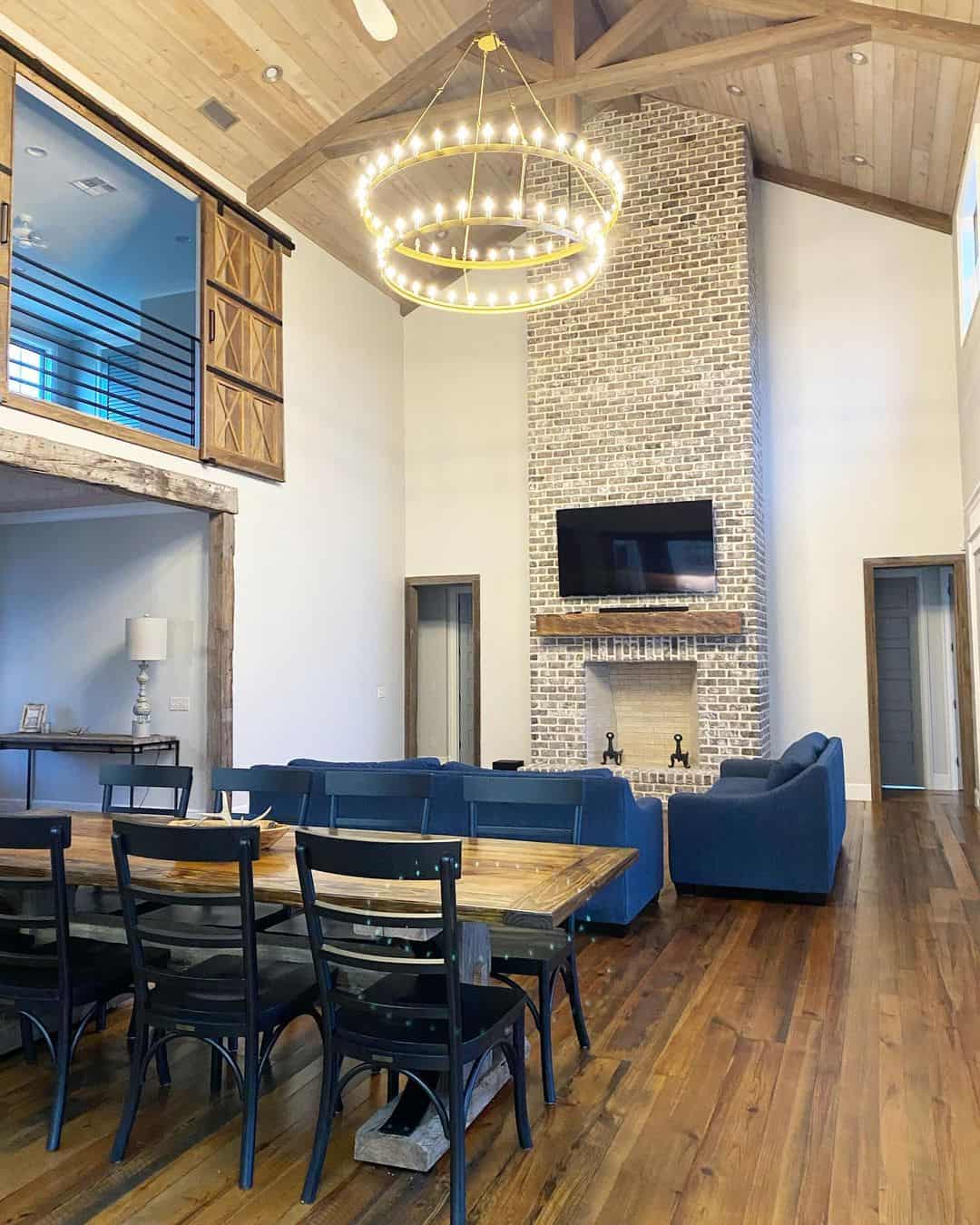 Credit: @southgeorgiafarmhouse
Shop the Look
Autumnal Coziness: Classic Brick Fireplace and Fall Décor
Embrace the cozy charm of autumn in this inviting living room featuring slanted ceilings and a classic brick fireplace. Positioned between two white shelves adorned with a delightful array of Fall decorations against light tan walls, the fireplace mantel comes alive with autumn foliage. The atmosphere is further enriched by medium-toned laminate flooring.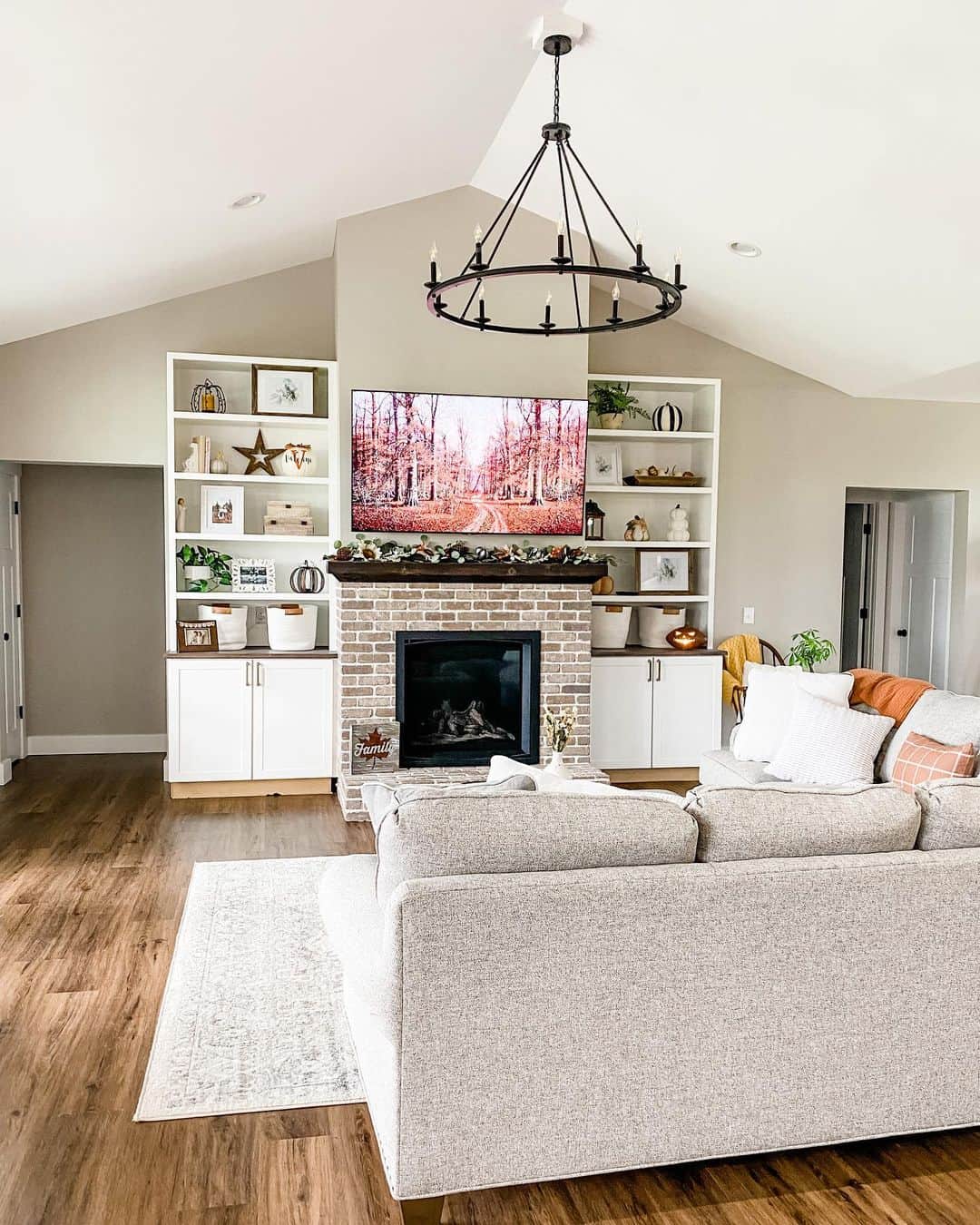 Credit: @thevalvanohomestead
Shop the Look
Timeless Elegance: French Country Living Room in Natural Light
Elevate your cottage farmhouse living room with timeless elegance, featuring exquisite white crown molding and a vintage brass pendant light suspended from the center of the ceiling. Enhance the decor with a French country area rug in soft white and grey hues, perfectly complementing the French upholstered gray sofas for a cohesive design.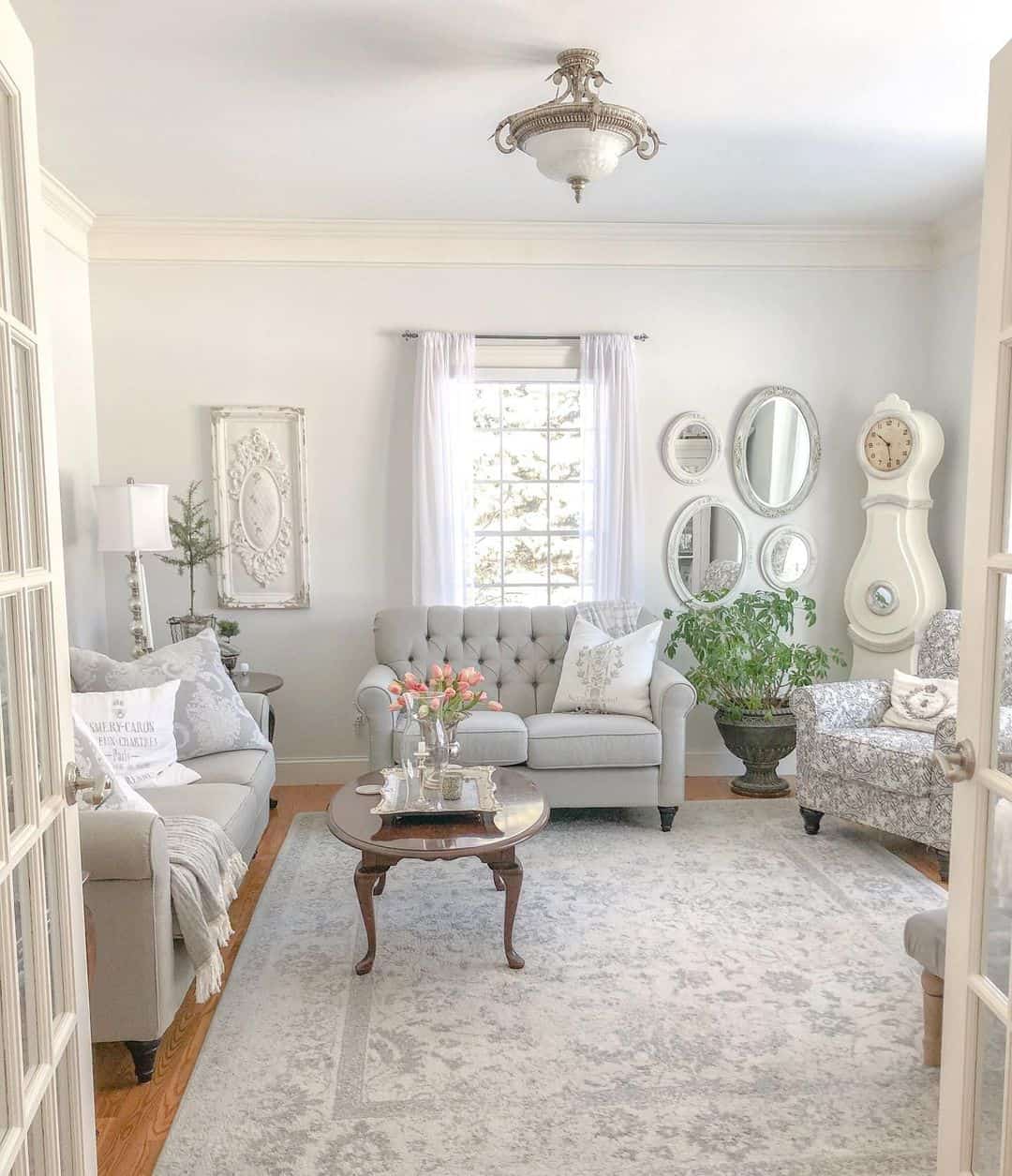 Credit: @ourhomeoffnottingham
Shop the Look
Boho Chic: Mini Sputnik Chandelier and Wooden Accents
Channel a bohemian-inspired aesthetic in your living room with hexagonal wood floating shelves harmonizing with an exposed wood beam traversing the center of a white shiplap paneled ceiling. Adorn the space with a petite Sputnik light fixture and complete the look with a leather sofa, a white cotton sofa, and a wooden armchair featuring inviting white cushions.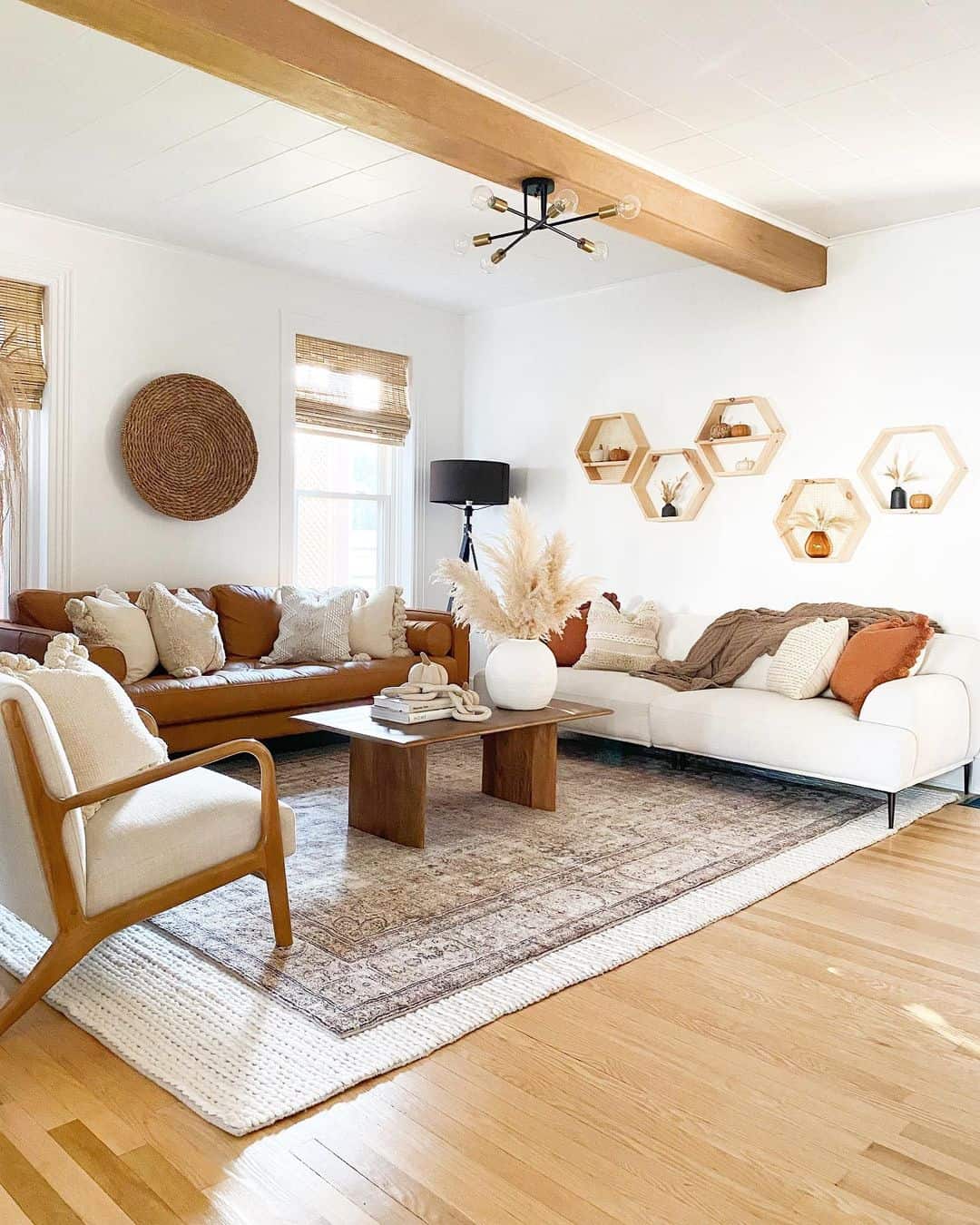 Credit: @modernly_you
Shop the Look
Farmhouse Retreat: Cozy Living Room with Exposed Wood Beams
Step into a cozy farmhouse retreat where natural wood beams grace the serene white living room ceiling. Elevate the ambiance with a glamorous pendant light adorned with exquisite crystal beading, perfectly complementing the high-end finish of the stone fireplace and the inviting white board and batten accent wall.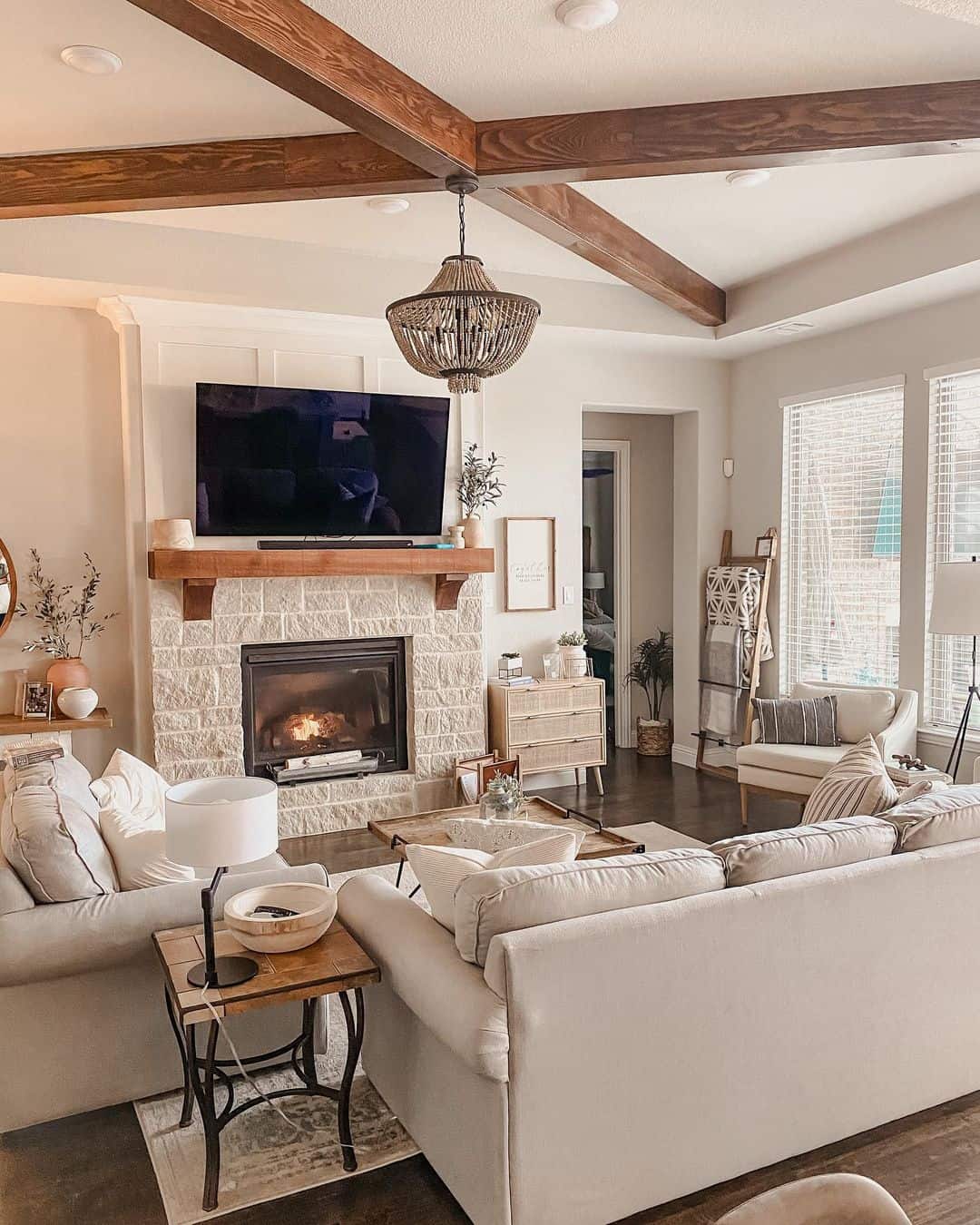 Credit: @homelifewithnicc
Shop the Look
Wrap-up
Incorporating unique ceiling designs into your farmhouse living room can be a game-changer, breathing new life into your space and enhancing its overall ambiance. Whether you opt for the rustic charm of exposed beams or the contemporary allure of creative lighting fixtures, these ideas offer endless possibilities for personalizing your living room.
Don't underestimate the impact of a well-designed ceiling – it can be the crowning glory that ties your farmhouse aesthetic together, creating a cozy and welcoming atmosphere for you and your guests.