7+ Chic Living Room Entertainment Center Designs for Your Farmhouse
Affiliate Disclosure: As an Amazon Associate we earn from qualifying purchases. Hence, if you click through and make a purchase, we will get a commission at no extra cost to you. For more info, read our full disclosure.
Welcome to a world of rustic elegance and charm as we explore seven chic living room entertainment center designs tailored for your farmhouse-style sanctuary. In this blog, we'll take you on a journey through the artful fusion of modern functionality and timeless farmhouse aesthetics.
Get ready to discover inspiration for transforming your living space into a cozy haven where entertainment meets sophistication.
A Creative White Fireplace Centerpiece
An artistic arrangement unfolds as a beige sofa graces a red and purple vintage rug, strategically positioned to engage with an enchanting white living room entertainment wall. This wall stands as a canvas of creativity, boasting a pristine white fireplace framed by the elegance of white and wood open shelving units.
To welcome the vibrant spirit of spring, a burst of greenery takes center stage in front of white bay windows, adorned with the graceful flow of white curtains.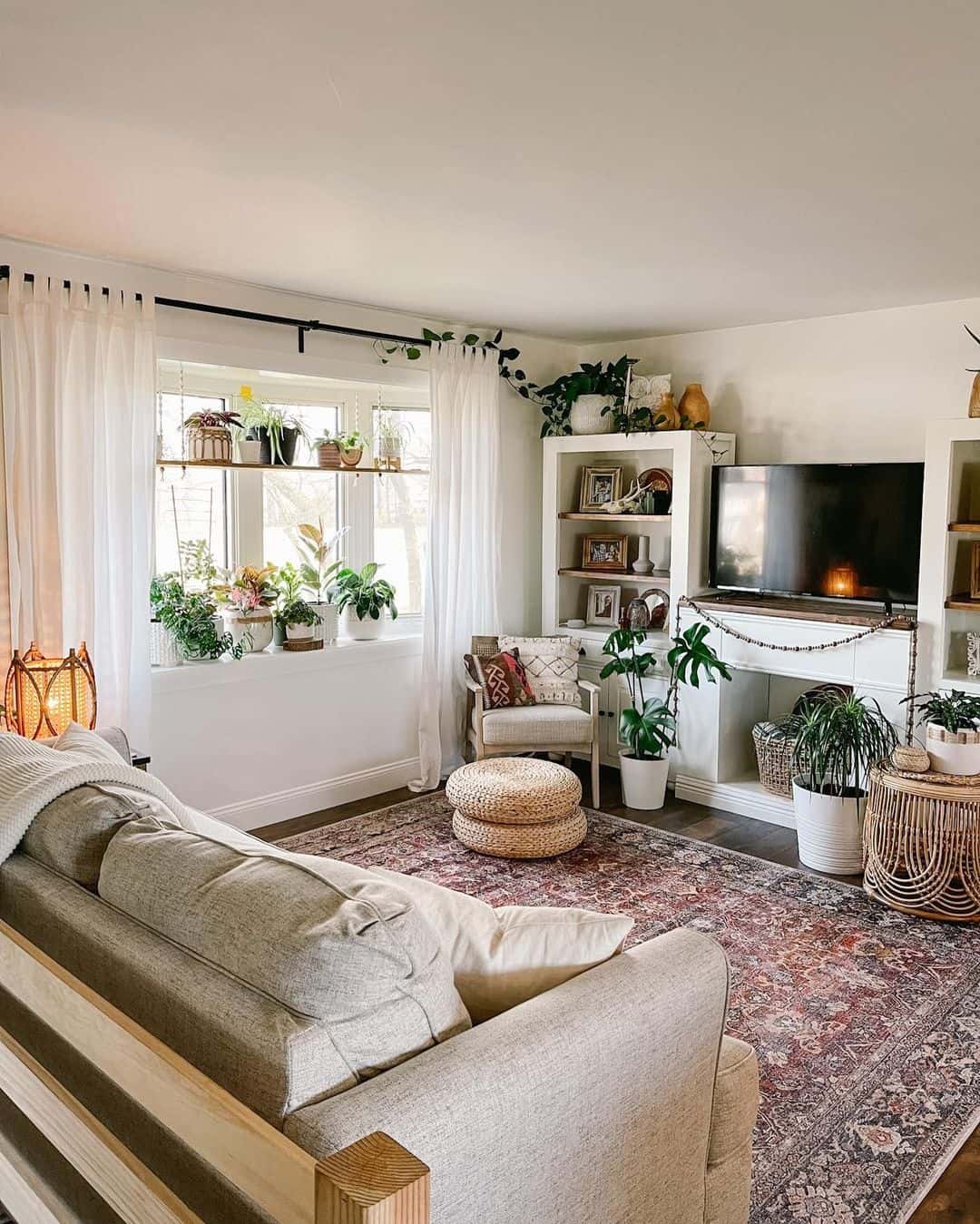 Credit: holdenlainedesign
Shop the Style
Modern Entertainment Bliss with Cane Shelving
A symphony of contemporary design unfolds as we embrace the vision of flanking black and tan cane open shelving units around a white fireplace, adorned with sophisticated white trim.
The room harmonizes with the presence of gray and dark wood living room chairs encircling a coffee table crafted from the interplay of wood and black metal, all resting atop a textured brown and white rug. Infusing warmth and personality, inviting brown leather sofas embrace each side of the table.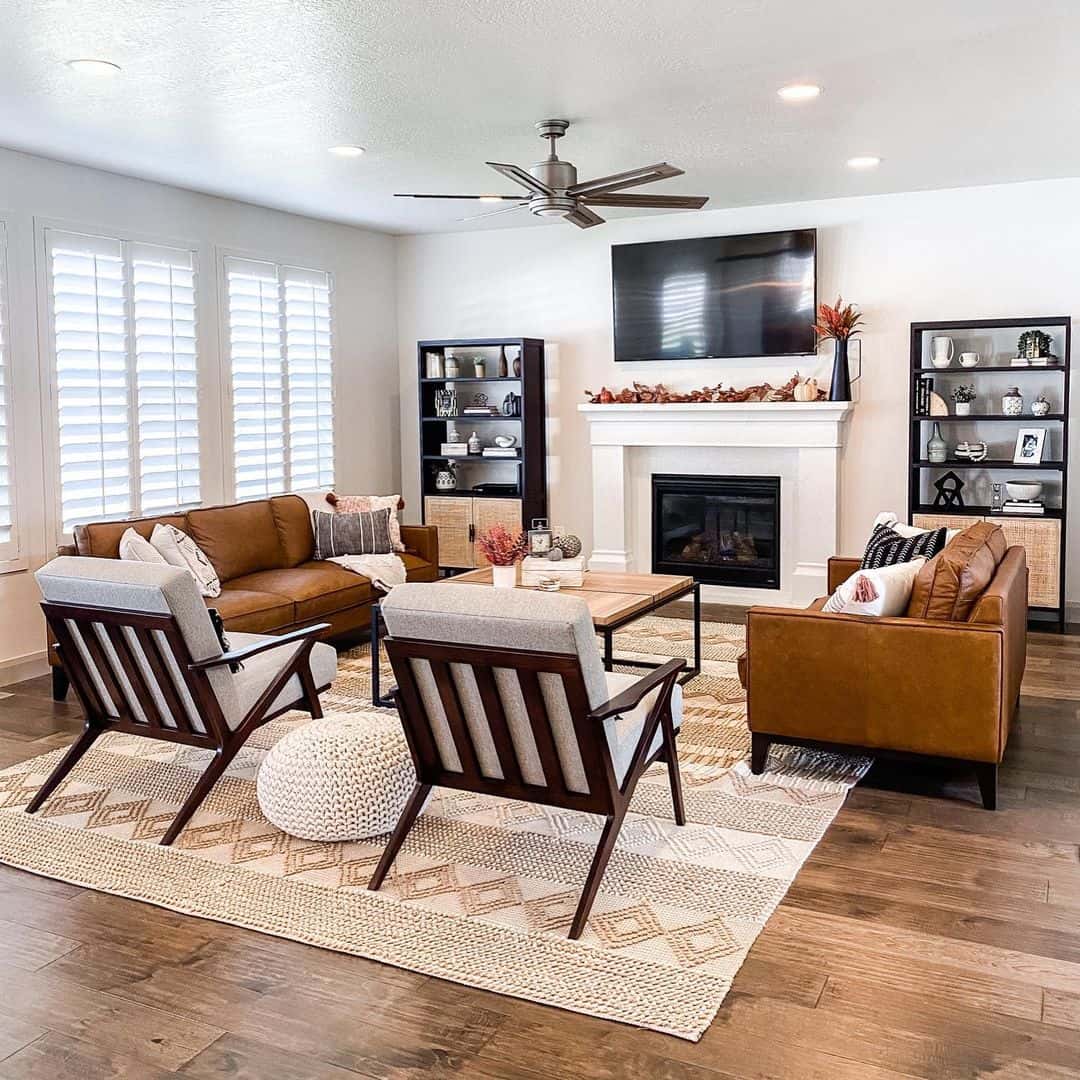 Credit: ourmontclairhome
Shop the Style
Farmhouse Chic in TV Entertainment Design
In this neutral farmhouse living room, creativity reigns supreme as a compact gray accent cabinet transforms into an ideal TV entertainment center. Two neutral chairs, adorned with alluring dark blue accent pillows and matching poufs, stand sentinel on either side of the entertainment center.
The stage is set with a round frosted glass-top coffee table, anchoring the space on a neutral area rug. The canvas of the white wall above the TV comes alive with tastefully framed prints, while warm wood flooring guides the creative journey throughout. On the TV screen, a captivating landscape scene unfolds.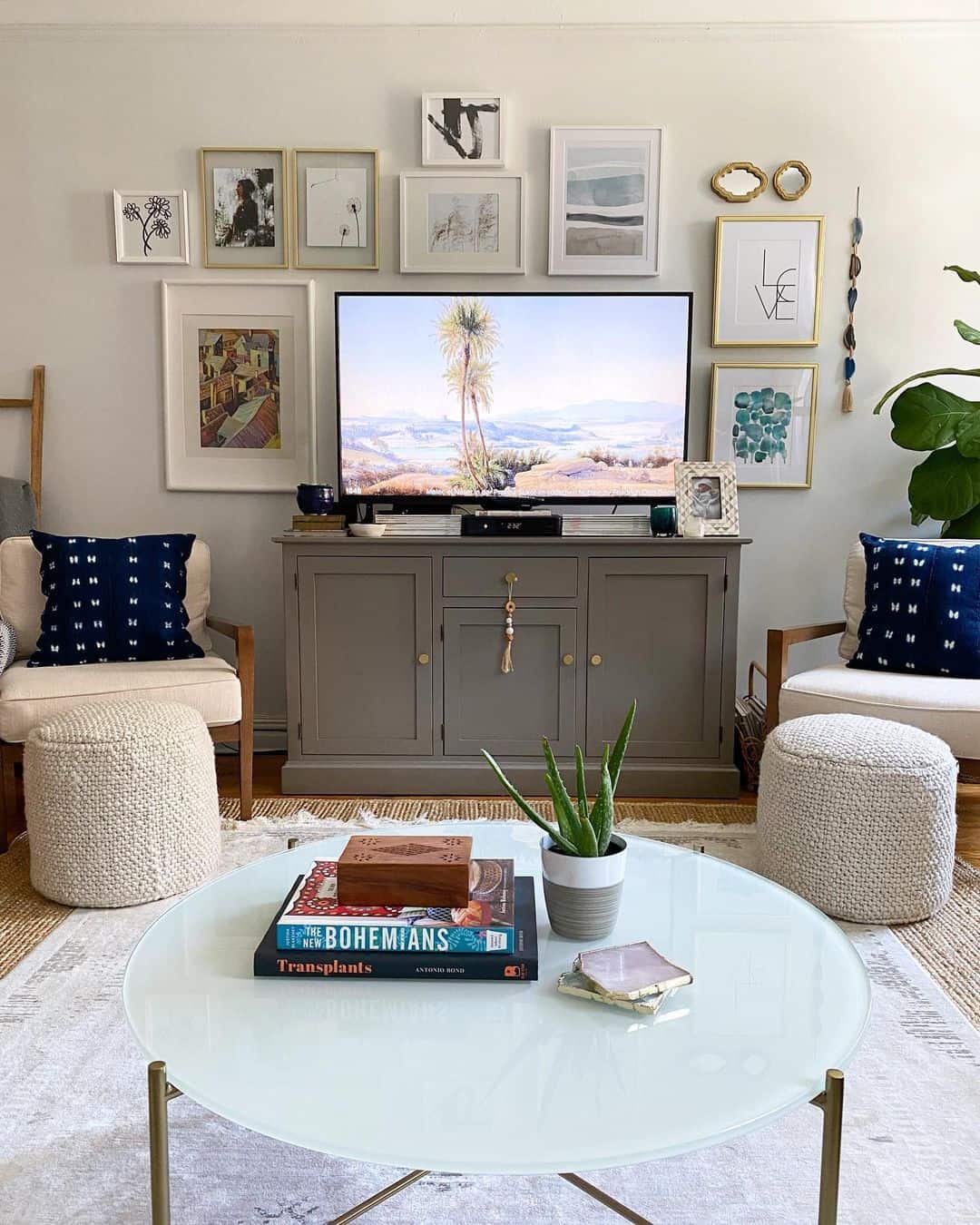 Credit: sweet_domicile
Shop the Style
Minimalist Marvel with Black Cane TV Stand
At the heart of innovation lies a tan cube coffee table, poised elegantly before a sleek black cane media console, which cradles a wall-mounted black TV. Illuminated by a chic black and wood floor lamp, a stylish green velvet sofa takes center stage in this living room masterpiece.
Elevate your creative expressions by fashioning an antique gold-framed gallery above the sofa.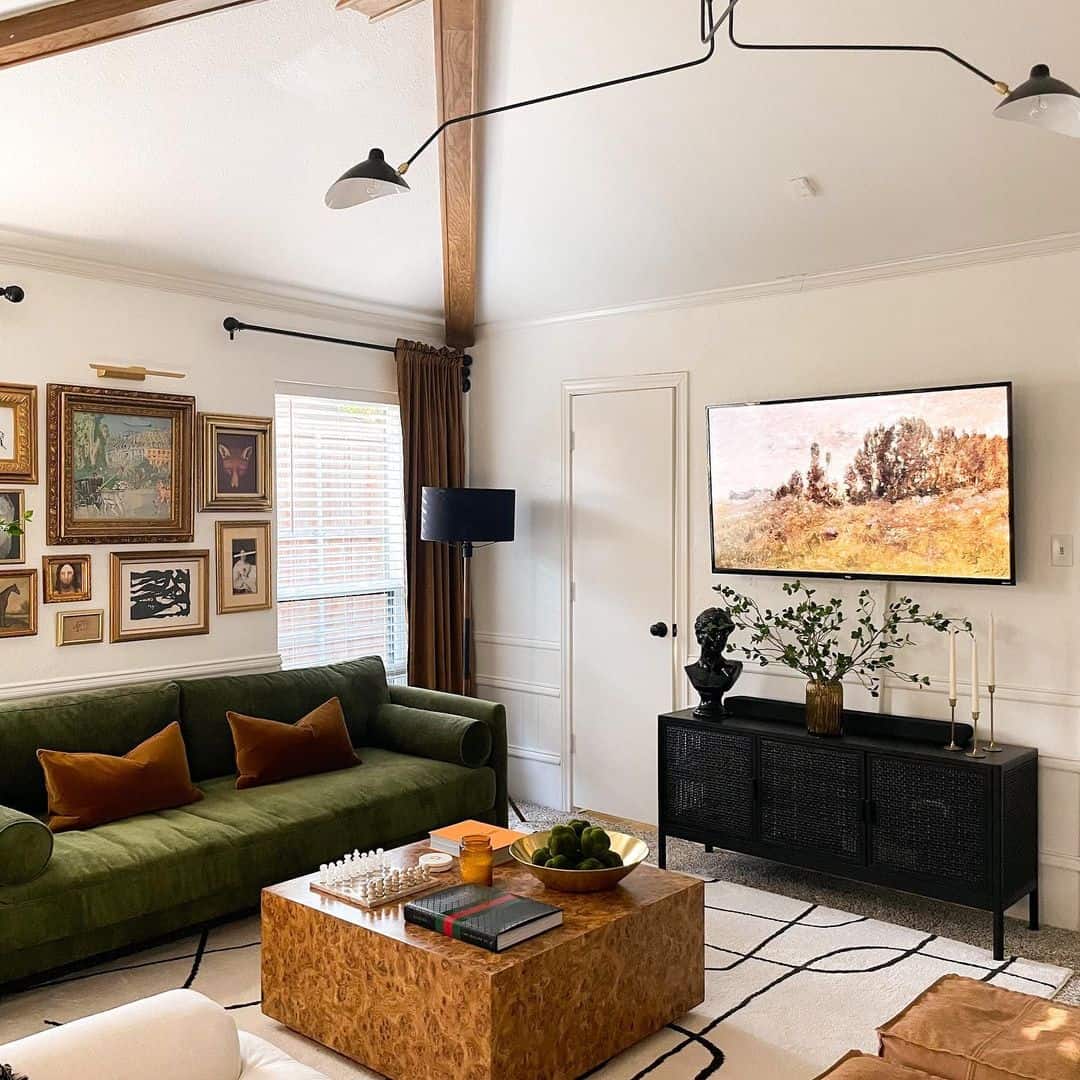 Credit: thegratzlife
Shop the Style
Bohemian Rhapsody with Wall-mounted TV
In this boho-inspired living room, creativity flows freely as a flatscreen TV assumes a central position above a pristine white fireplace adorned with a stained wood mantel. A black and glass coffee table, perched gracefully on a white rug, resonates with the gentle radiance of a rattan floor lamp.
The artistic spirit thrives with a black and glass etagere adorning the wall, a blank canvas for the expression of chic décor.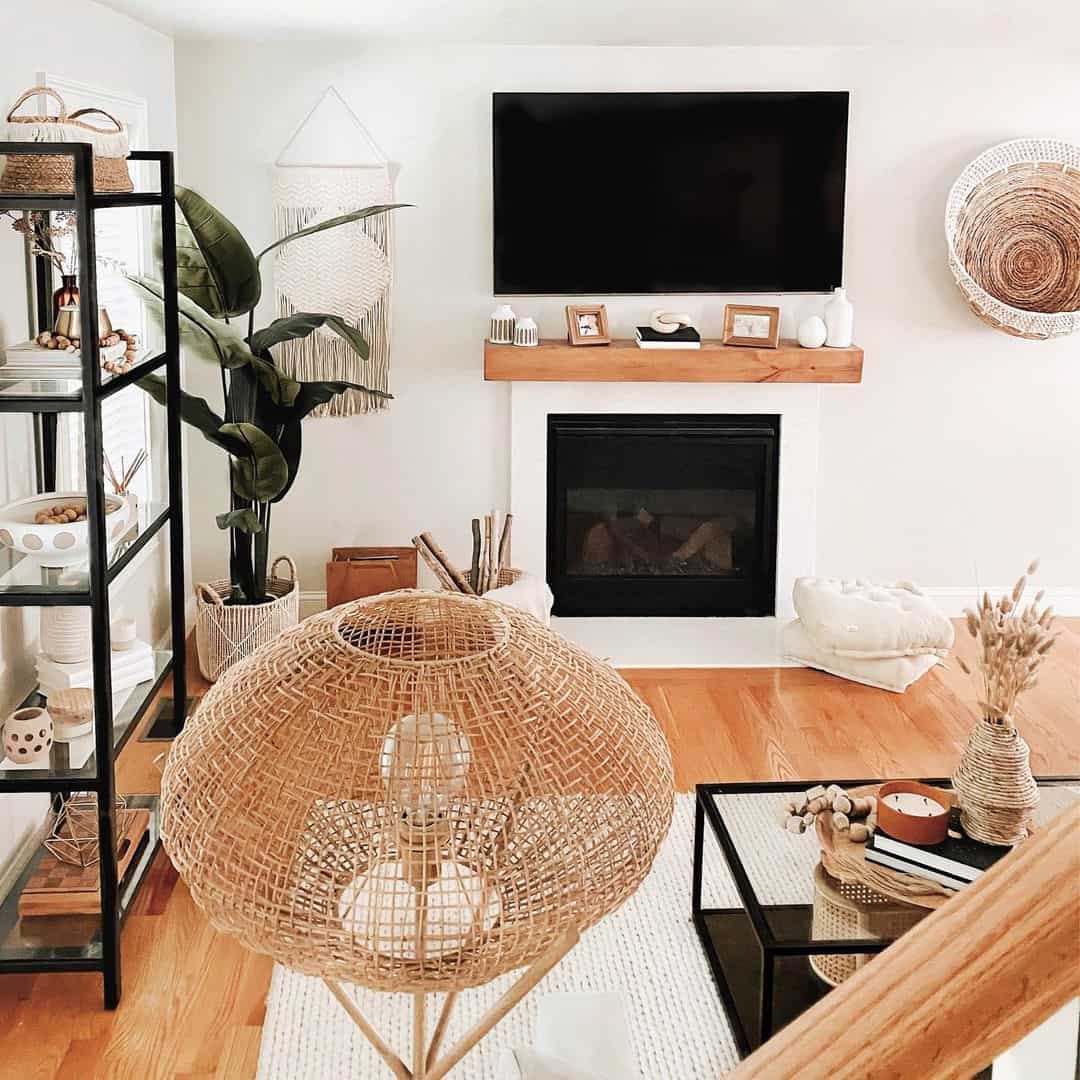 Credit: jaimelyncarney
Shop the Style
Modern Elegance Unleashed in a White Entertainment Center
Indulge your creative senses while reclining on a gray sectional sofa adjacent to a white marble and black metal coffee table. This table graces the room's epicenter, positioned before a sleek white living room entertainment center, which serves as the blank canvas for your artistic visions.
Sunlight streams through windows adorned with the elegance of white shutters and curtains, illuminating the room with creative brilliance.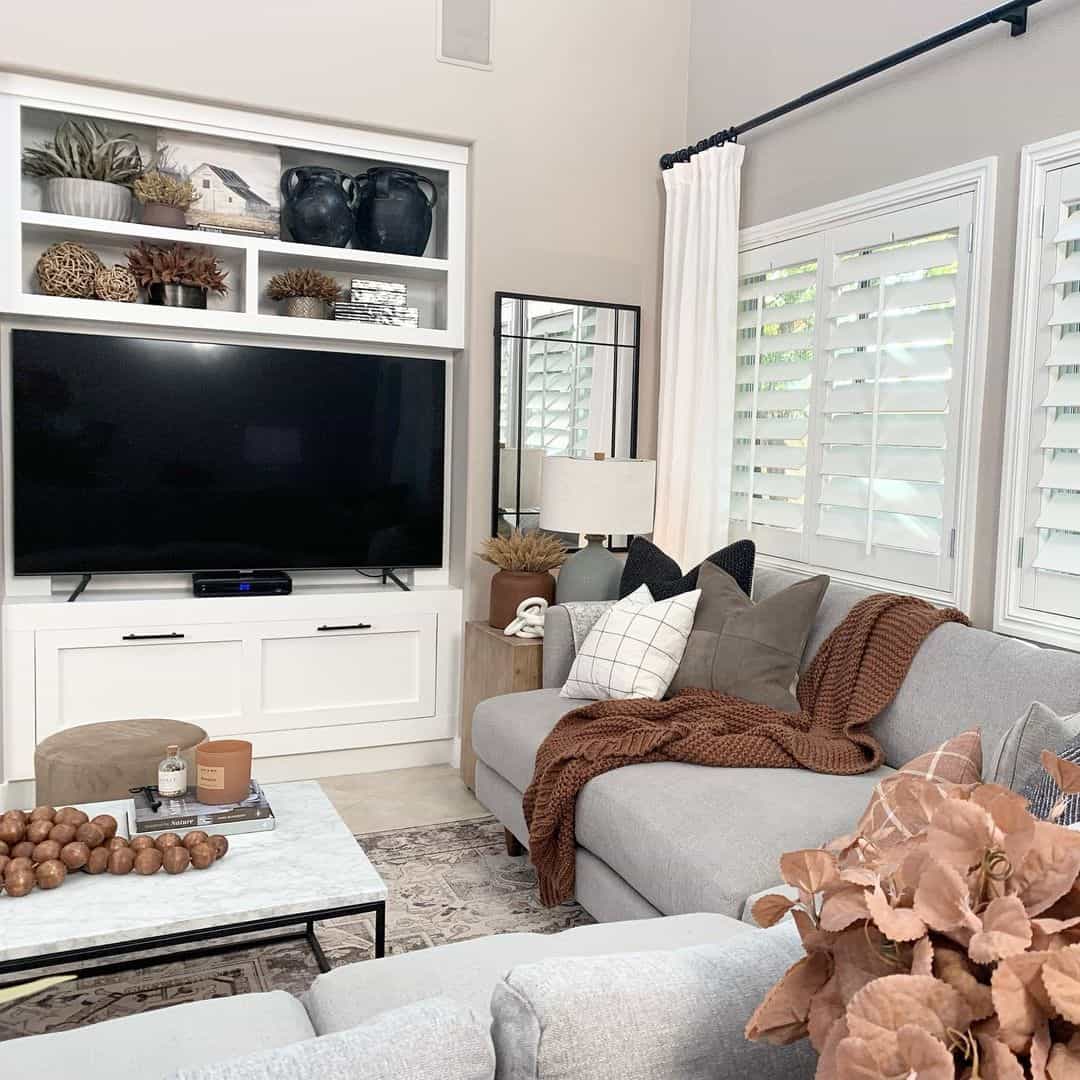 Credit: jaimebydesign
Shop the Style
Farmhouse Charm Meets Creative Stained Wood TV Cabinet
Embark on a creative journey as you immerse yourself in your favorite shows, framed artistically by a black flatscreen TV mounted above a beautifully stained wood media console. The console itself is a work of art, graced with lush greenery and accentuated by the interplay of white, black, and gold décor.
To amplify your creative expressions, consider crafting a wood-framed gallery around the TV, shaping your living space into an artistic masterpiece.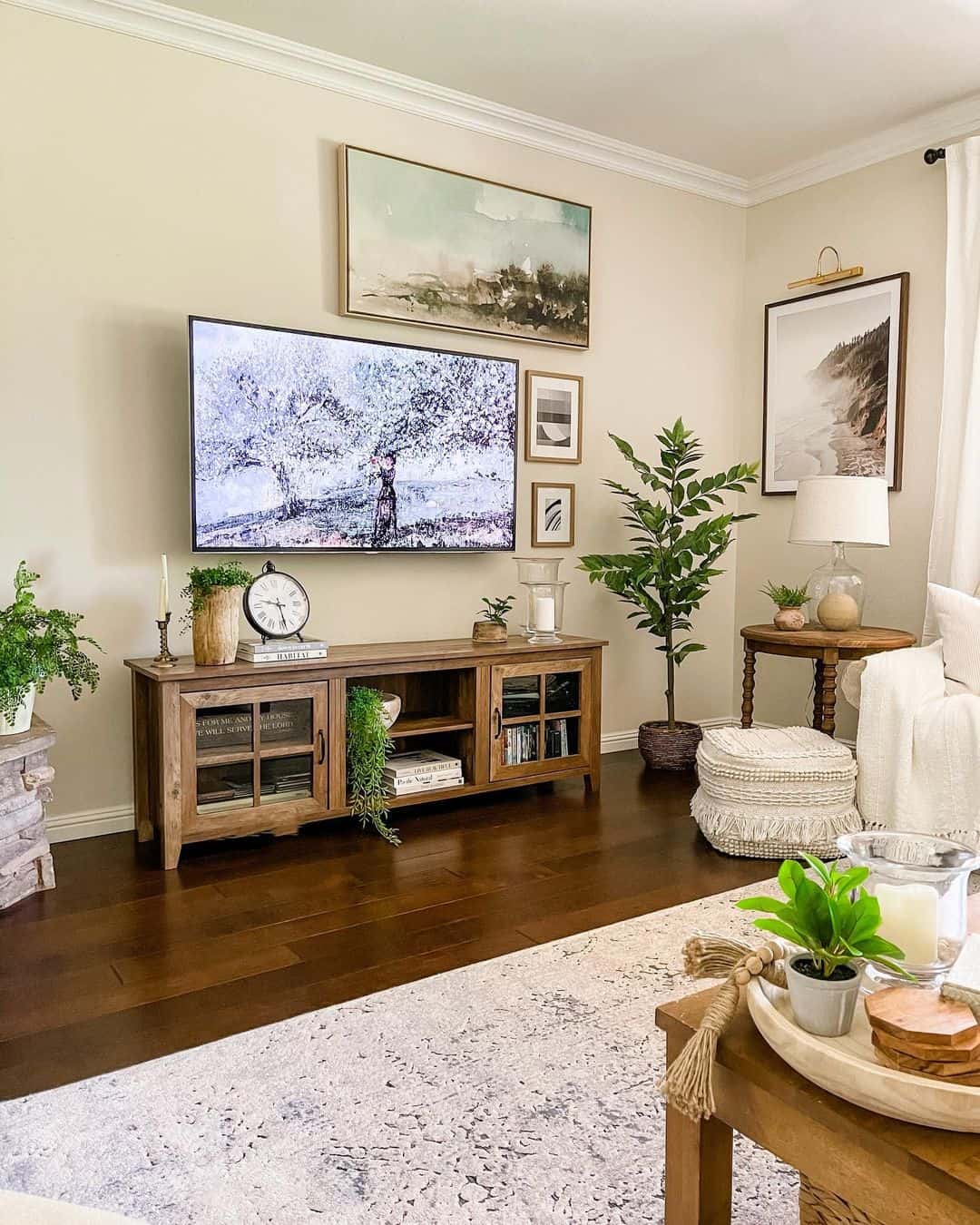 Credit: thejoyfuldecorator
Shop the Style
Farmhouse Wall Decor Ideas for a White Living Room
In this cozy white living room, we explore enchanting farmhouse wall décor ideas. Three wicker baskets gracefully adorn a pristine shiplap wall, suspended above a white console table and a sleek flatscreen TV. Adjacent to this, a harmonizing bookcase proudly displays rows of books, embellished with two elegantly framed artworks atop.
Another wall is adorned with four carefully framed images, adding personality to the room's aesthetics. A welcoming beige sectional takes center stage, resting gracefully atop a soothing blue rug. Complementing this arrangement, a round ottoman sits elegantly in front, with a white chair and matching ottoman nearby.
Between the sofa and chair, a white stool offers its presence, while stylish blue paisley accent pillows add a touch of charm to the sofa. The room is further elevated by the presence of a modern farmhouse fan, bringing both comfort and style to this inviting space.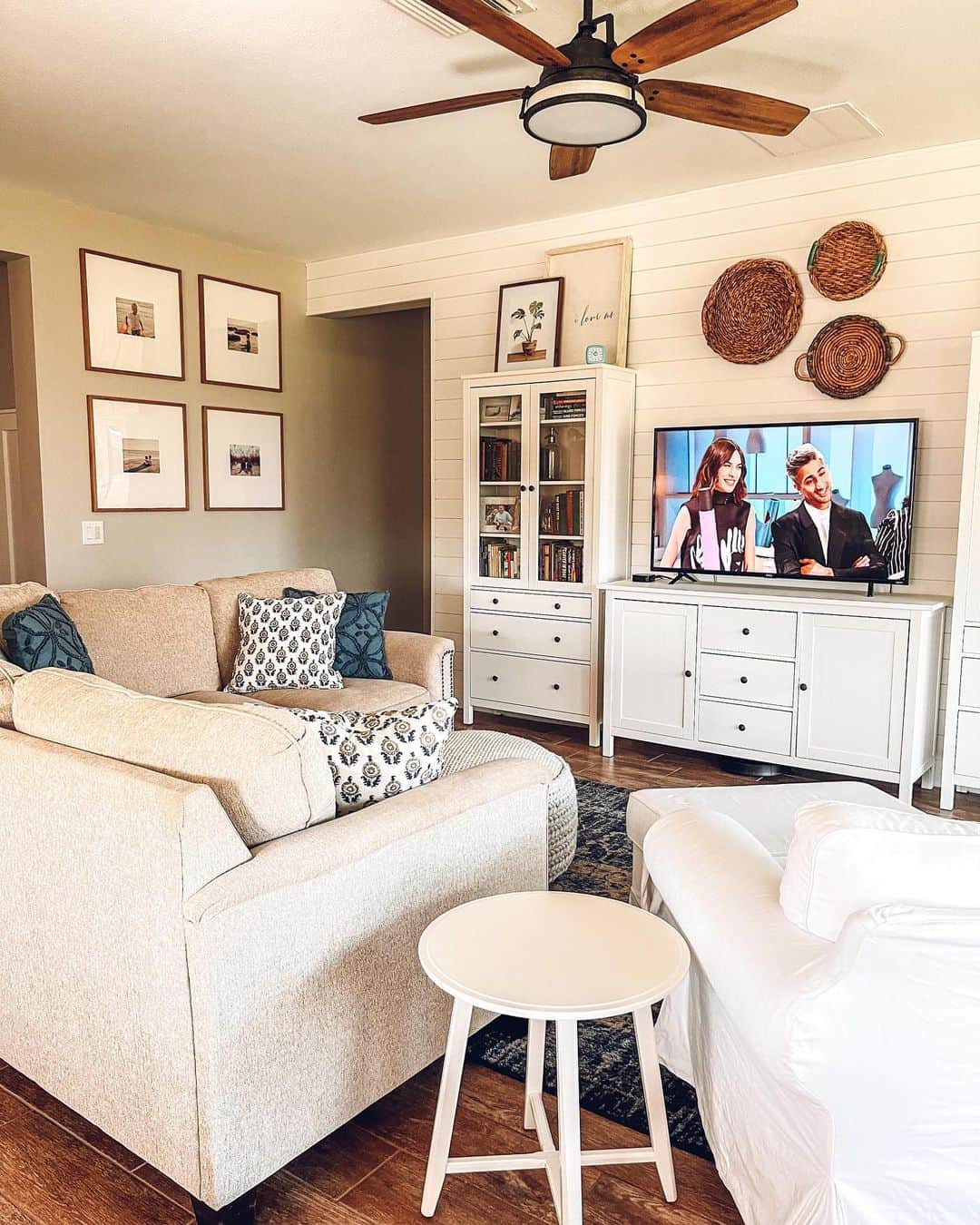 Credit: theboyerhome
Shop the Style
Wrap-up
Incorporating a chic entertainment center into your farmhouse living room can truly elevate its ambiance. From stained wood cabinets to minimalist white designs, there's a perfect fit for every farmhouse enthusiast.
These seven captivating designs demonstrate how innovation and tradition seamlessly merge to create a captivating living room. Now, it's your turn to infuse your farmhouse with charm, style, and entertainment flair!