7+ Farmhouse Living Room Entertainment Wall Ideas to Highlight Your TV
Affiliate Disclosure: As an Amazon Associate we earn from qualifying purchases. Hence, if you click through and make a purchase, we will get a commission at no extra cost to you. For more info, read our full disclosure.
Every farmhouse living room deserves an entertainment wall that effortlessly marries function and style. And while the TV is undoubtedly the star of the show, the stage it's set upon and the supporting acts around it are equally crucial.
From wooden cubes to modern media stands, these TV wall ideas seamlessly blend rustic charm with contemporary elegance, ensuring your living room is not just a place to binge-watch your favorite shows, but a cozy retreat you're proud to showcase.
Rustic Cube Shelf Embracing the TV
In this delightful gray playroom, a light wood cube shelf takes the spotlight, accentuated by a lush plant set in a gray planter. Tidily placed seagrass belly baskets and clean white fabric bins fill the cubbies, while a sleek black TV stands proudly above.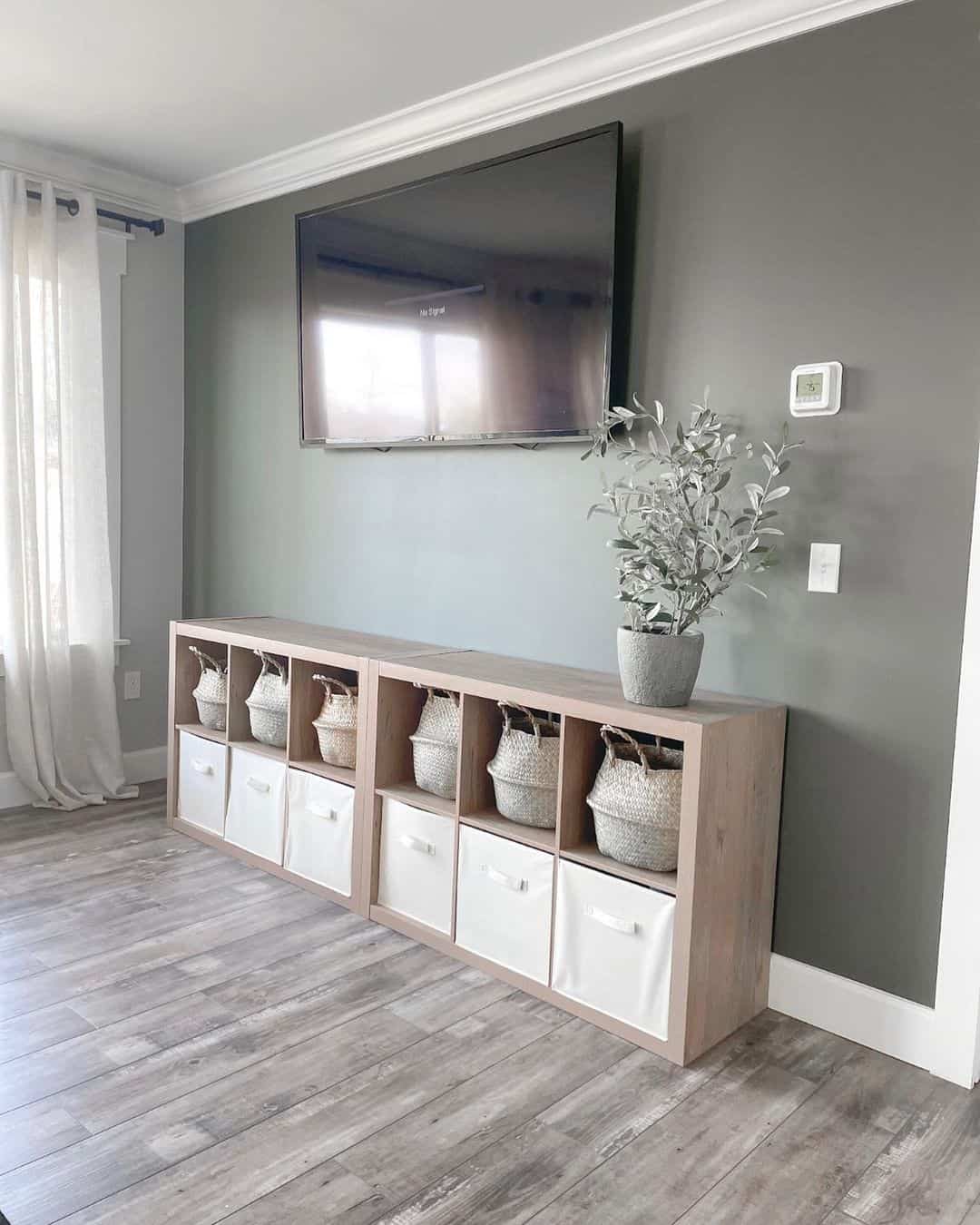 Shop the style
Chic White Farmhouse Flair for Your TV
Underneath a striking black wall-mounted TV lies a pristine white farmhouse media cabinet. This design masterpiece is beautifully surrounded by lively greenery in a woven planter, and a touch of elegance is brought in with black lantern décor. Don't forget to add personality with a rustic wood-framed sign, pristine white picture frames, and tiny potted plants.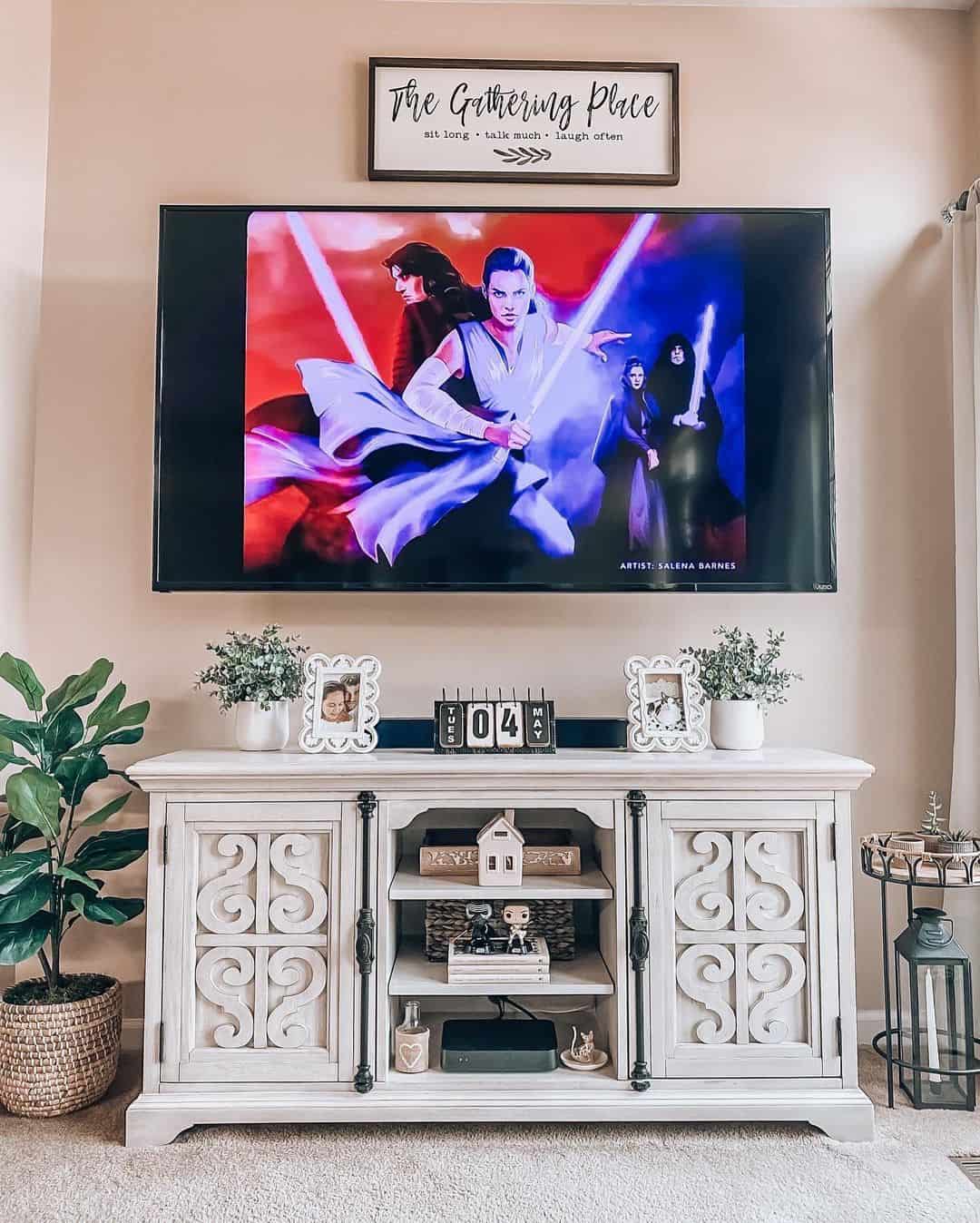 Shop the style
Inviting Gray-toned Farmhouse Lounge with TV Magic
Dive into a relaxed ambiance with this farmhouse living room. A plush ivory sofa, illuminated by a unique black wagon wheel chandelier, faces a glossy black TV affixed to a calming gray wall. The room's charm is enhanced by a warm beige stone fireplace, crowned with a rich wooden mantel.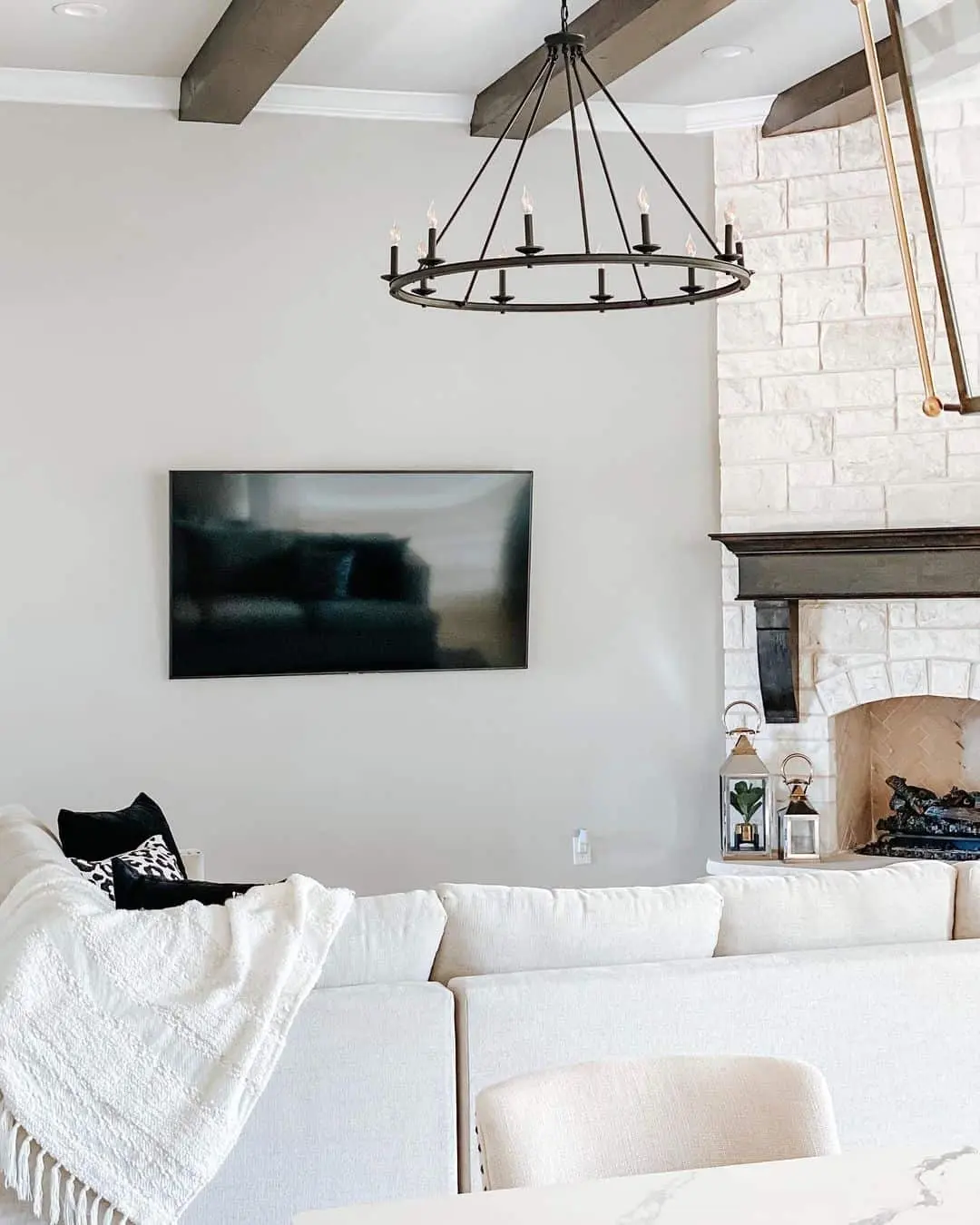 Shop the style
Stark Contrast: Wood Meets Metal Underneath Your TV
An epitome of simplicity meets style, this entertainment wall features a black TV perfectly balanced above a blended stained wood and a sleek black metal media console. The gray fabric drawers sandwiched between white books and sophisticated black decor, beckon attention. To elevate the scene, consider adding green companions in beige planters.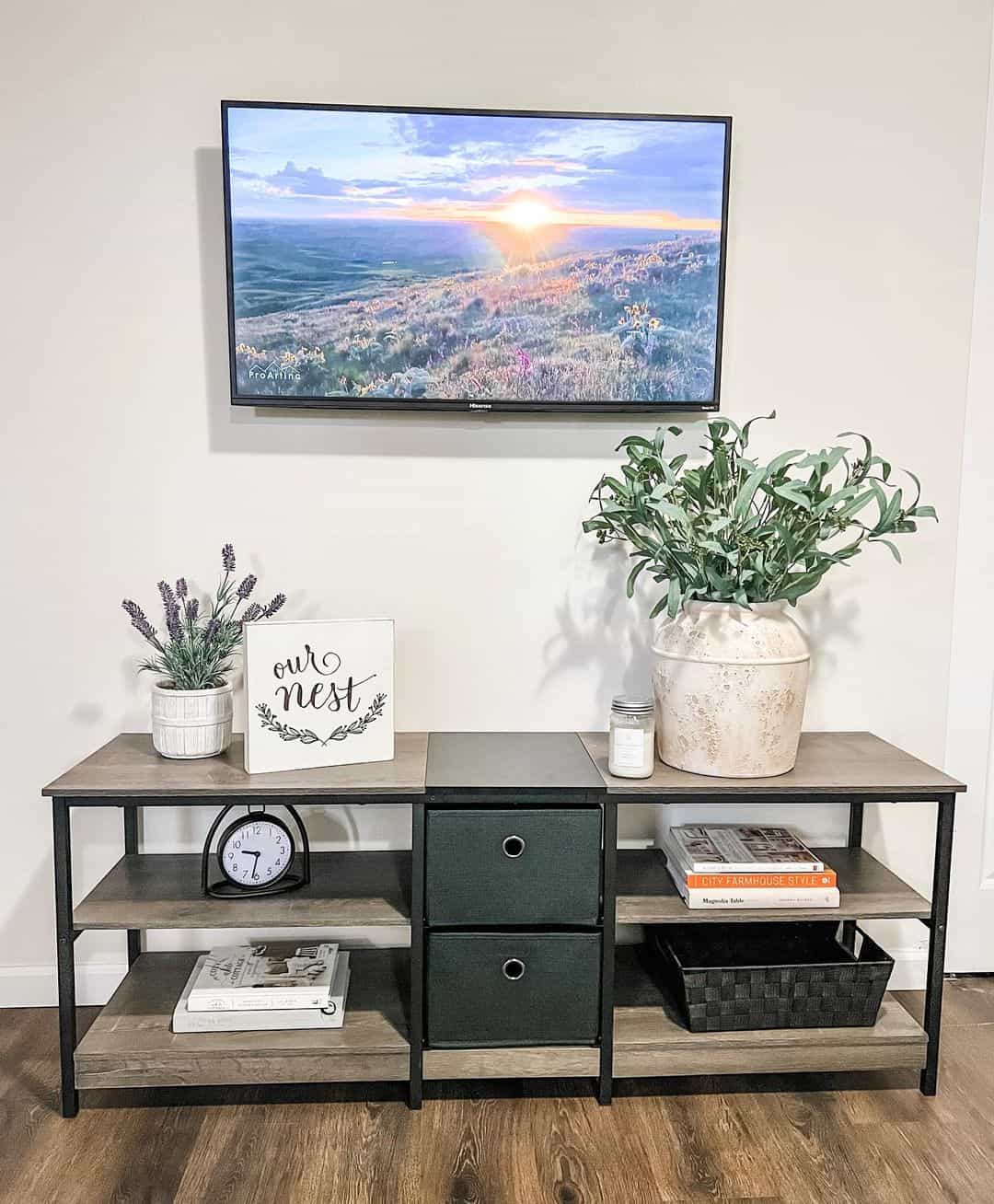 Shop the style
Whitewashed Elegance on Your TV Wall
Venture into a rustic setting where a whitewashed wood media cabinet nestles beneath a contemporary black TV. As a dash of vintage charm, white window frame mirrors embellished with green wreaths stand guard on either side. Crowning the setup, a wood-framed sign gracefully resides above the TV.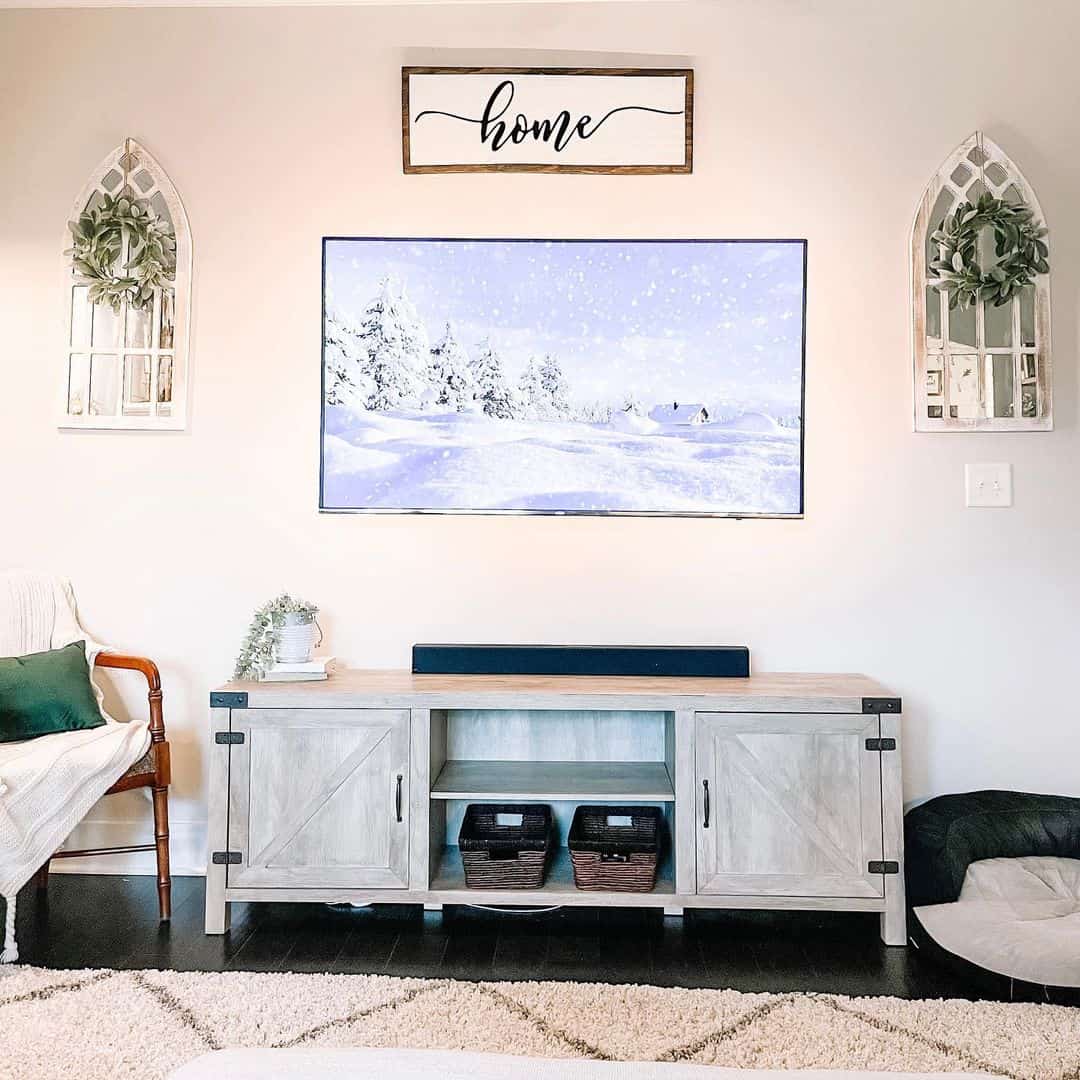 Shop the style
Minimalistic Mastery: Wood Meets Metal Showcase
This entertainment nook exudes simplicity and style, boasting a wood and black metal TV cabinet resting on classic stained wood flooring. Above lies a silver-framed TV artistically presenting artwork. Adding to the allure are a wood and black metal ladder for your cozy blankets and a majestic indoor tree in a woven white and tan planter.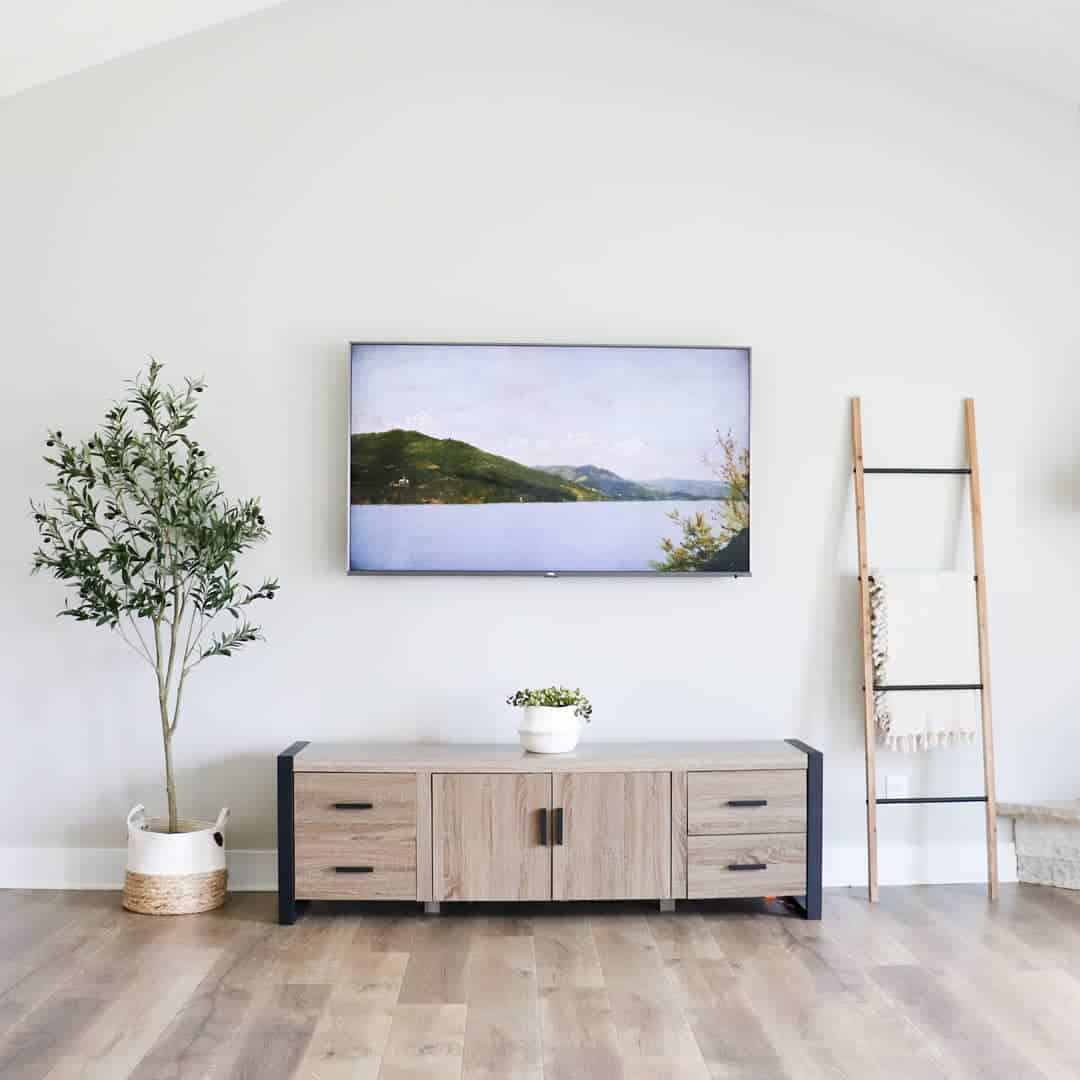 Shop the style
Cozy Corner with Navy Blue Charm
Relax in style on a luxurious brown leather recliner paired harmoniously with a gray sectional. The centerpiece? A contrasting navy and beige TV console supporting a gleaming black TV. Enhance your lounging experience with a gray and black round coffee table, beautifully spread over a vintage gray rug.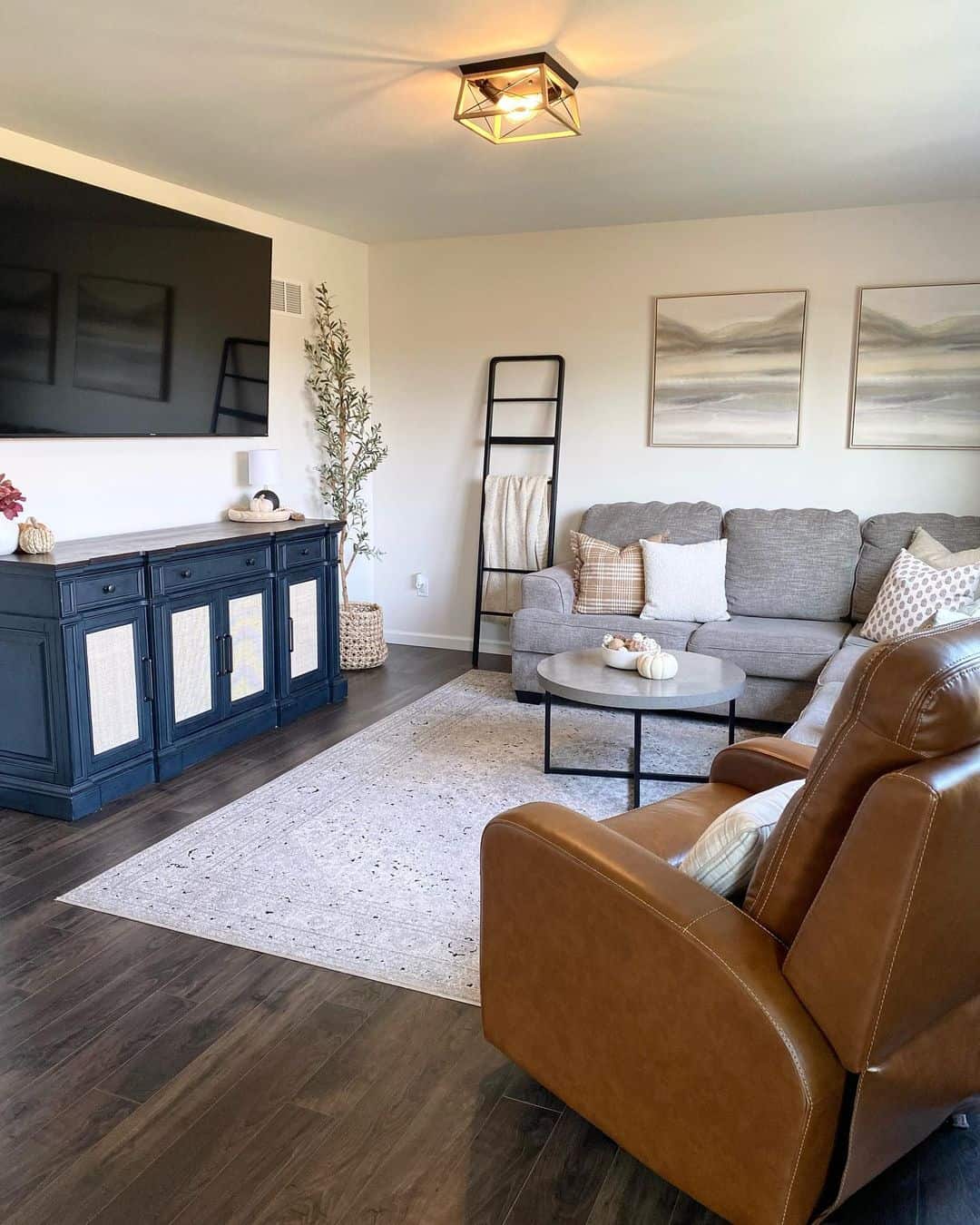 Shop the style
Contemporary Vibes: Modern Stand for the TV Enthusiast
Step into modern farmhouse elegance as this living room showcases a state-of-the-art media stand adorned with geometric paneled doors and touches of gold. The stand hosts a delightful array of decor—topiary shrubs, tulip vases, ambient table lamps, and a serene statue. Floating above is a vast TV screen, inviting everyone for a cinematic treat.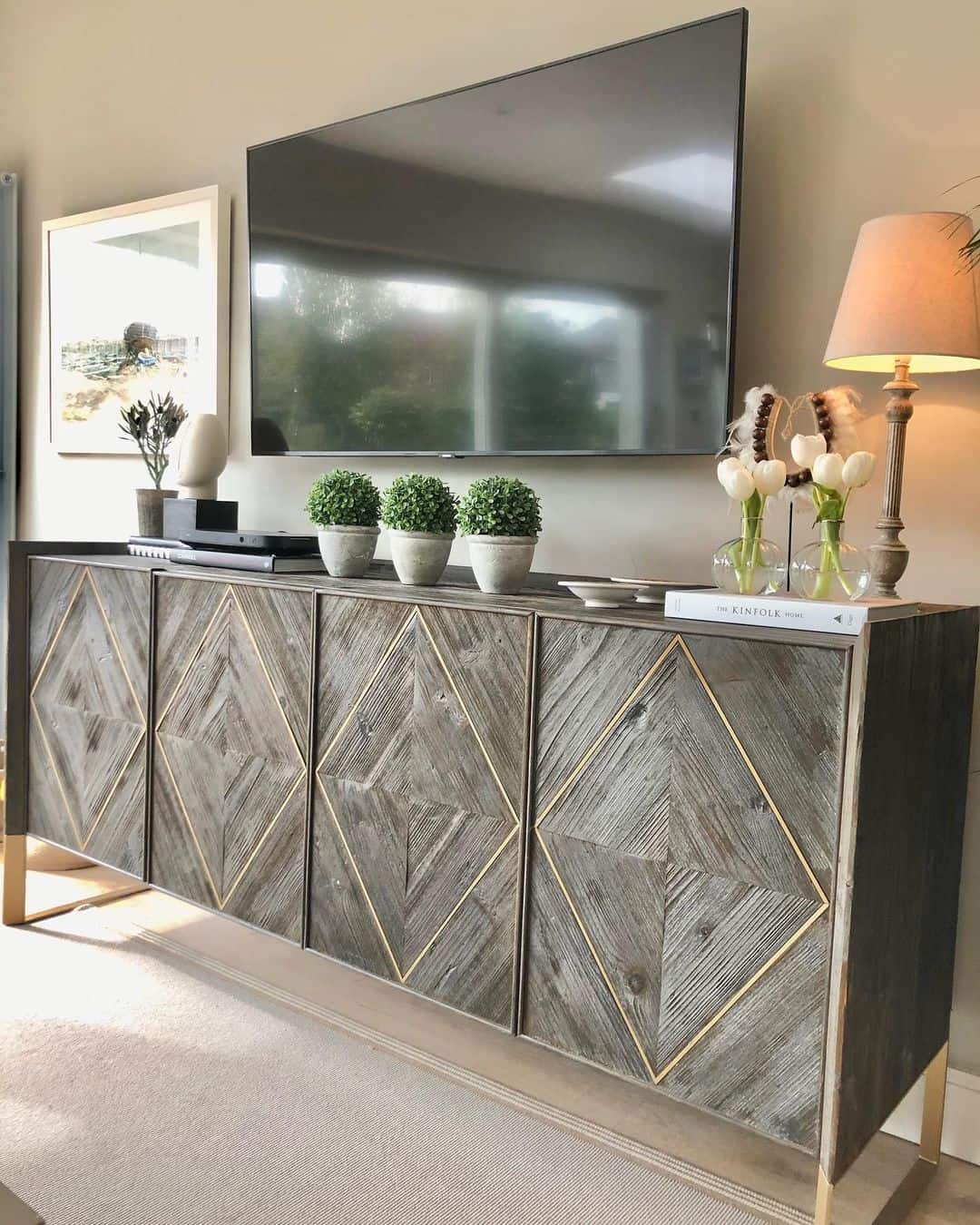 Shop the style
Wrap-Up
Your farmhouse living room is an extension of your personality, and the entertainment wall plays a pivotal role in reflecting that. Whether you lean towards the minimalistic or adore the more opulent, there's an idea here for every taste.
Remember, it's all about creating a harmonious blend of comfort, style, and functionality. So pick your favorite, pull inspiration, and get started on creating an entertainment wall that is as unique as you are.