7+ Breathtaking Coastal Farmhouse Kitchen Ideas to Refresh Your Space
Affiliate Disclosure: As an Amazon Associate we earn from qualifying purchases. Hence, if you click through and make a purchase, we will get a commission at no extra cost to you. For more info, read our full disclosure.
Transforming your kitchen into a coastal farmhouse oasis is a timeless and refreshing idea. Combining the serenity of the coast with the rustic charm of a farmhouse, these kitchen designs offer a unique and inviting ambiance that can breathe new life into your space.
In this blog, we present seven breathtaking coastal farmhouse kitchen ideas that will inspire you to create a culinary haven that's both stylish and cozy.
Inviting Farmhouse Kitchen Adorned with Golden Oak Stained Flooring
Step into an inviting kitchen that beautifully blends different wood tones with calming white shades, capturing the enduring charm of a traditional farmhouse kitchen. Delicate, cloud-like cushions grace round stools tucked snugly beneath a sleek marble kitchen island. Sunlight streams in through large windows, accentuating the serene white tones that grace the cabinets and walls.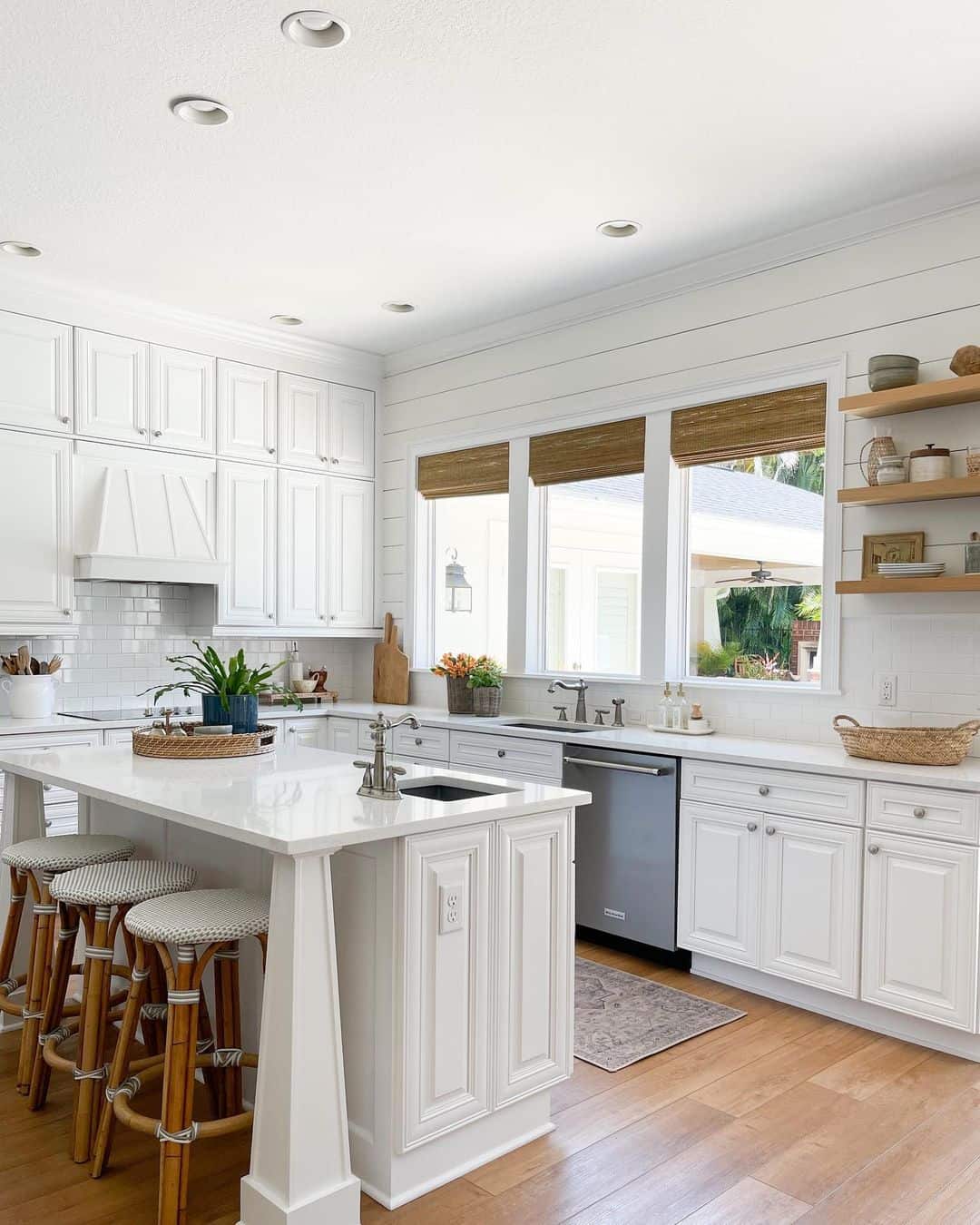 Credit: oakandpalmhome
Shop the Look
Farmhouse Kitchen Infused with Bohemian Flair and Italian Marble Countertops
Welcome to a coastal-style kitchen with a fresh, summery vibe, showcasing a pristine Italian marble countertop and two woven cane seats neatly tucked beneath it. The tranquil white tones of the cupboards harmonize with the rustic hues of the natural wooden flooring, enhancing the distinct beauty of the gray subway tile backsplash.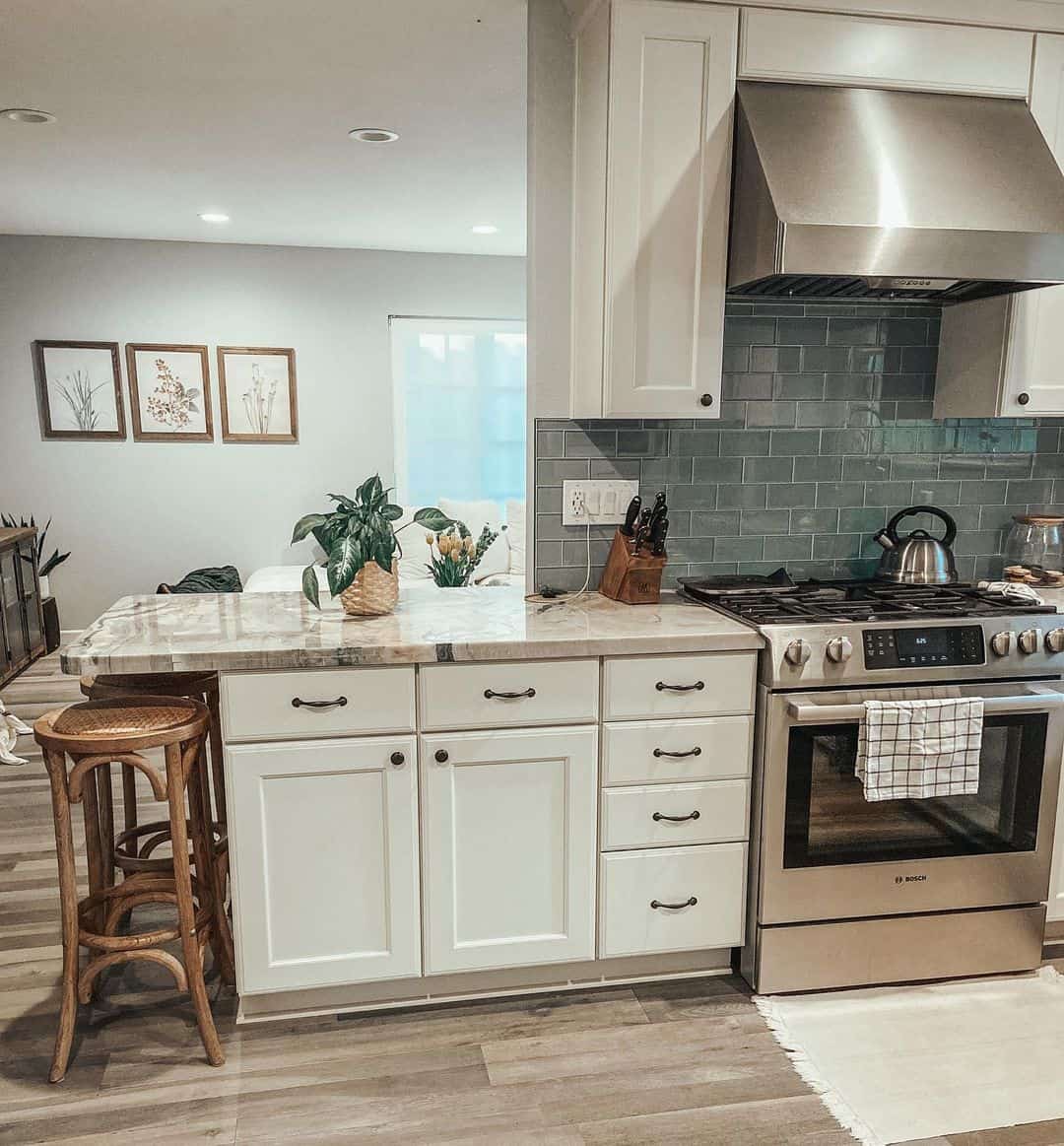 Credit: myhomeinlittlesquares77
Shop the Look
Tranquil Coastal Farmhouse Kitchen with Wooden Framed Lighting
This unassuming coastal farmhouse kitchen embraces an open concept, emphasizing minimalism. Milky white colors grace the walls and cabinets, with earthy gray tones and wooden decor providing a complementary contrast. Comfortable chairs adorned with soft, pillowy cushions are neatly tucked beneath a marble countertop, all encompassed by sustainable natural wood flooring that captures the relaxing neutral tones expected of a farmhouse kitchen concept.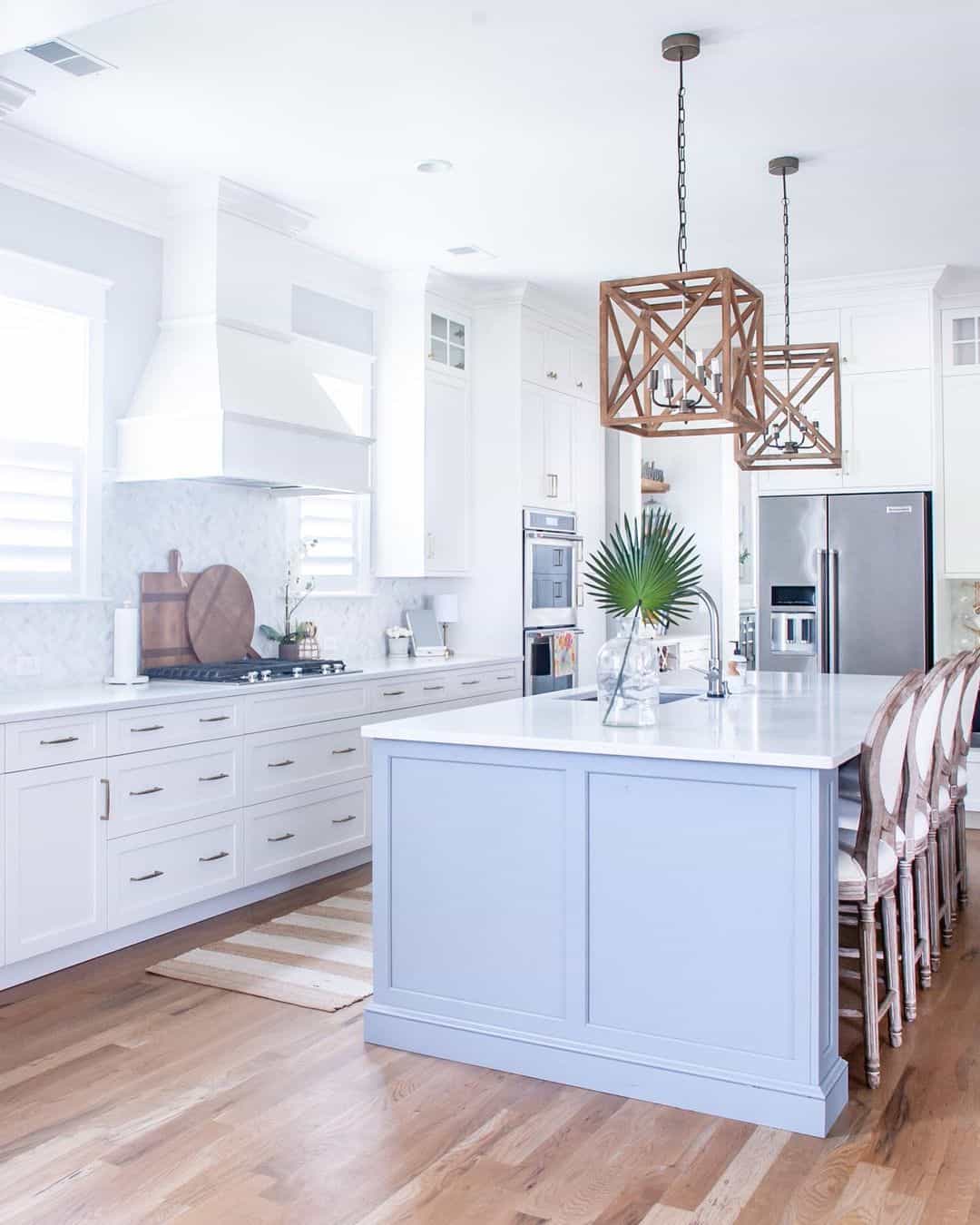 Credit: homebykmb
Shop the Look
Bright White Kitchen Enhanced by Brass Light Fixtures and Marble Countertops
A gleaming, polished marble countertop takes center stage, providing an inviting space for four rustic wooden chairs where lively dinner conversations unfold among cherished guests and gracious homeowners. Gracefully suspended brass light fixtures cast warm, natural tones that harmonize with the surrounding natural wood flooring and unadorned white cabinets, collectively crafting the quintessential ambiance of a traditional farmhouse kitchen infused with the beauty of natural wood elements.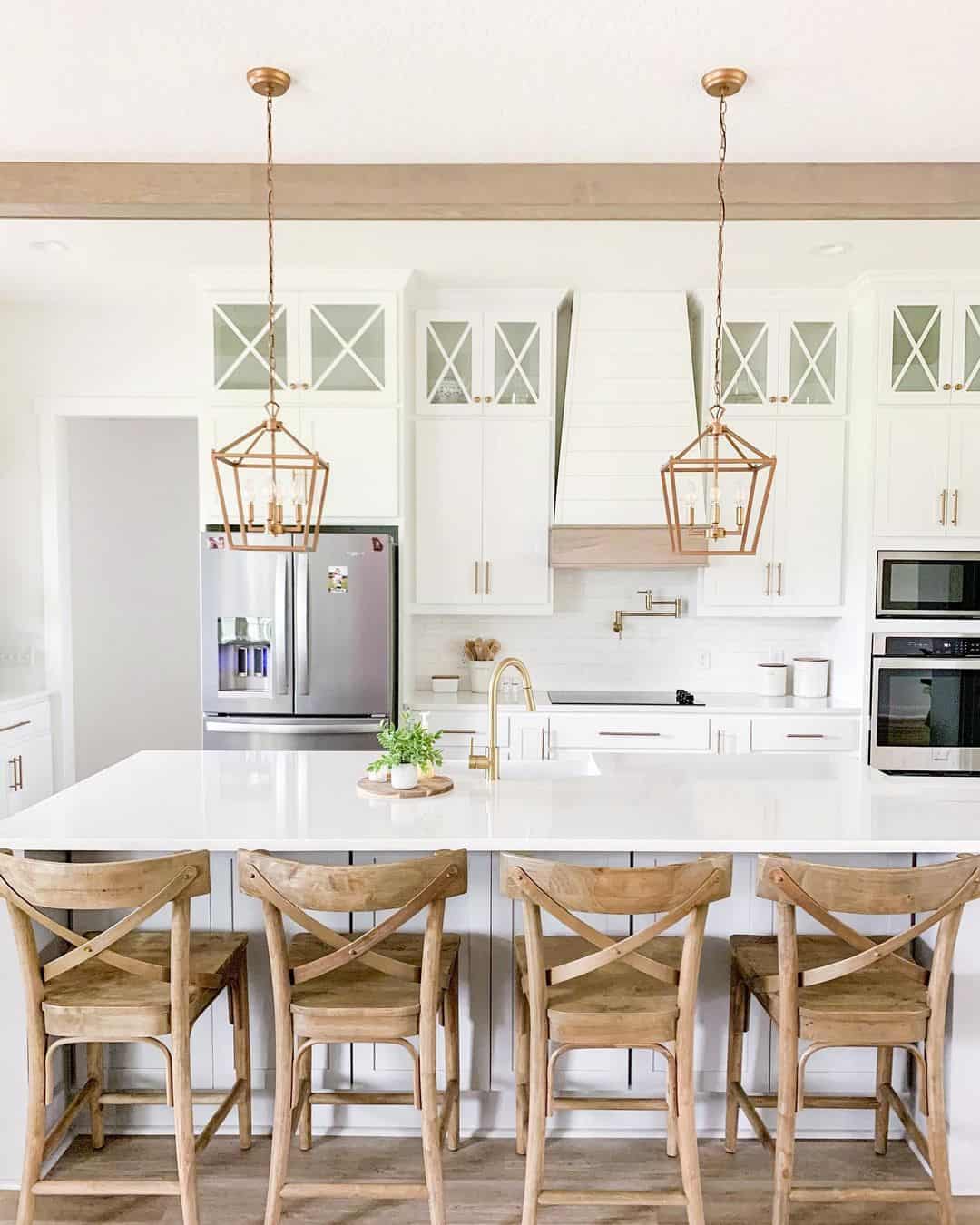 Credit: styled_by_jadeleah
Shop the Look
Farmhouse Kitchen by the Coast with Maple Wood Flooring
Step into an exquisite coastal farmhouse kitchen adorned with artfully woven cane light fixtures that gently illuminate the fresh, cool, white tones throughout the room. The introduction of maple wood shelves provides not only a burst of picturesque color but also a delightful textural contrast against the backdrop of brick-patterned walls. Complementing the coastal aesthetic are the nautical-themed decorations gracing the pristine white countertop, evoking the refreshing sensation of a cool sea breeze by the coast.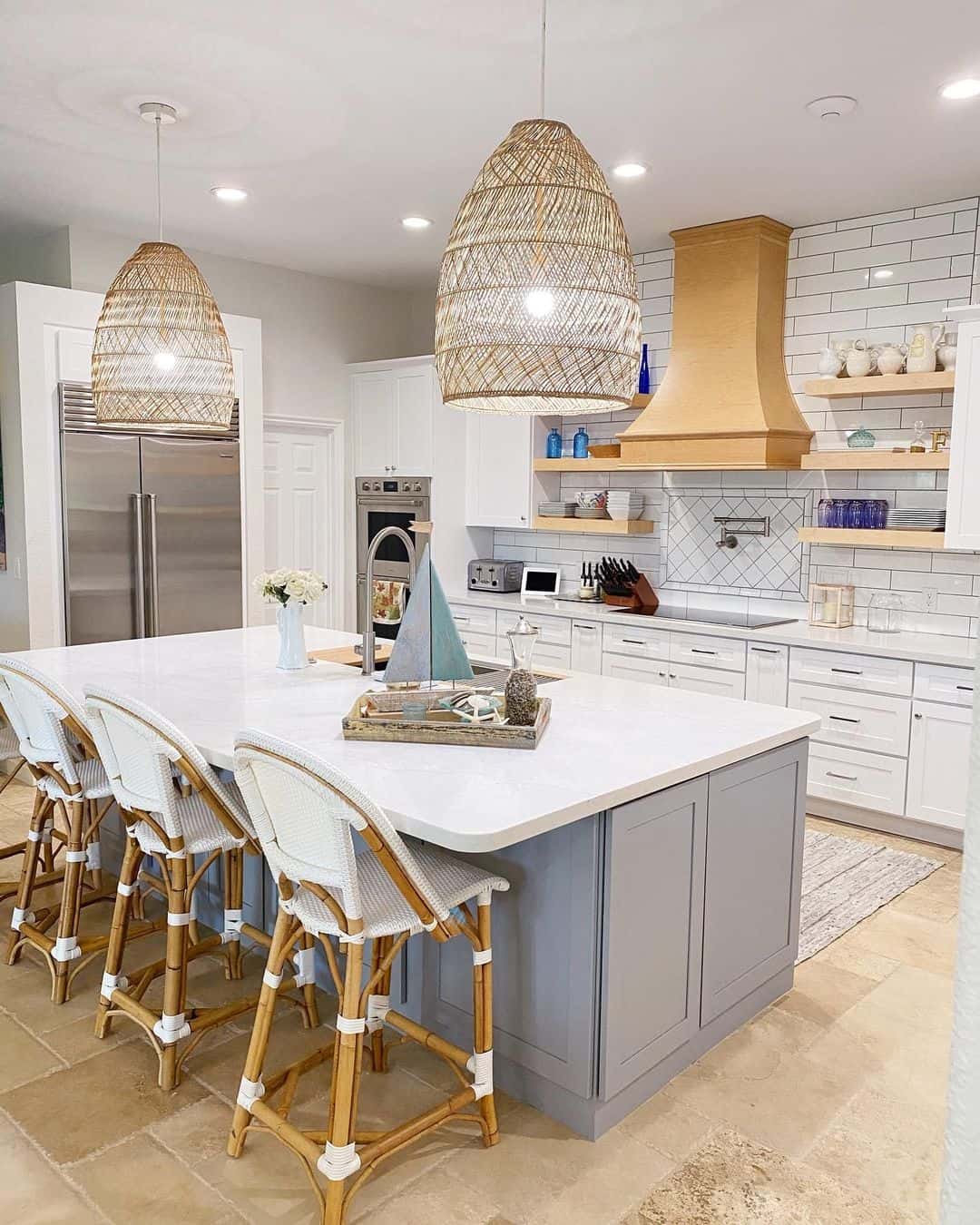 Credit: sueandherhome
Shop the Look
Navy and Brass Kitchen
Experience a stylish fusion of wood and navy blue hues in this contemporary coastal farmhouse kitchen. The reclaimed wood flooring boasts various shades, creating a vivid tapestry of sustainability and rustic beauty. Overhead, brass light fixtures, adorned with intricate raindrop patterns, along with nautical-themed lamps, cast a soft glow over a white marble kitchen island. The prominent use of blue on the cabinets and table accentuates the coastal aesthetic, culminating in a captivating coastal farmhouse kitchen style.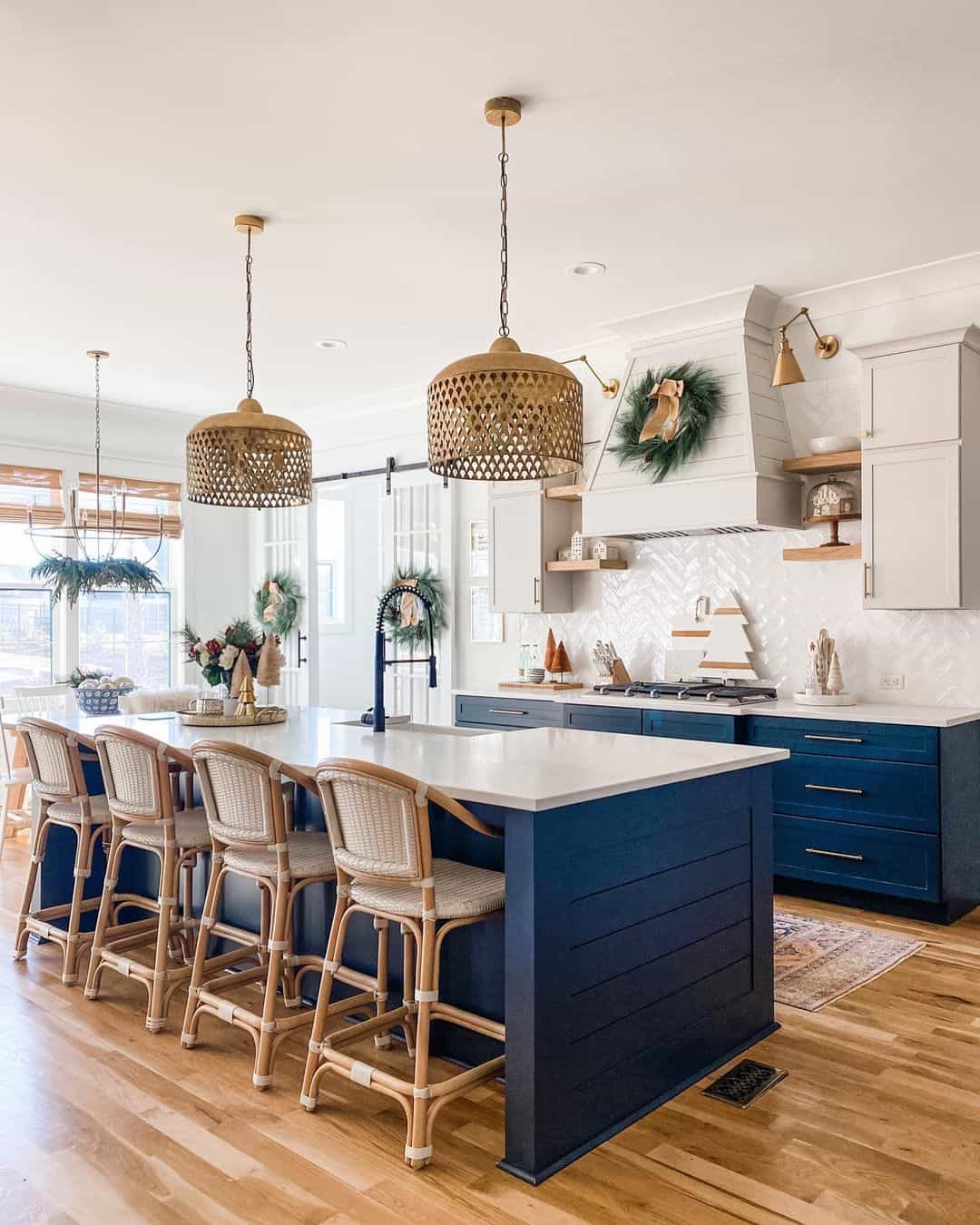 Credit: kasiaizabella
Shop the Look
Coastal Nautical Kitchen with Blue and White Accents
Immerse yourself in the charm of a coastal farmhouse kitchen adorned with white and blue porcelain plates that gracefully decorate the walls. These plates, in harmony with the brass light fixtures, create the ambiance of a captain's quarters embellished with treasures acquired while sailing the high seas. The marble-lined kitchen island serves as an immaculate backdrop for various decor pieces thoughtfully placed around the room, and the blue and white plaid cushions adorning the patterned chairs infuse a light and airy coastal feel, allowing you to gaze outside the window and feel the coastal bliss.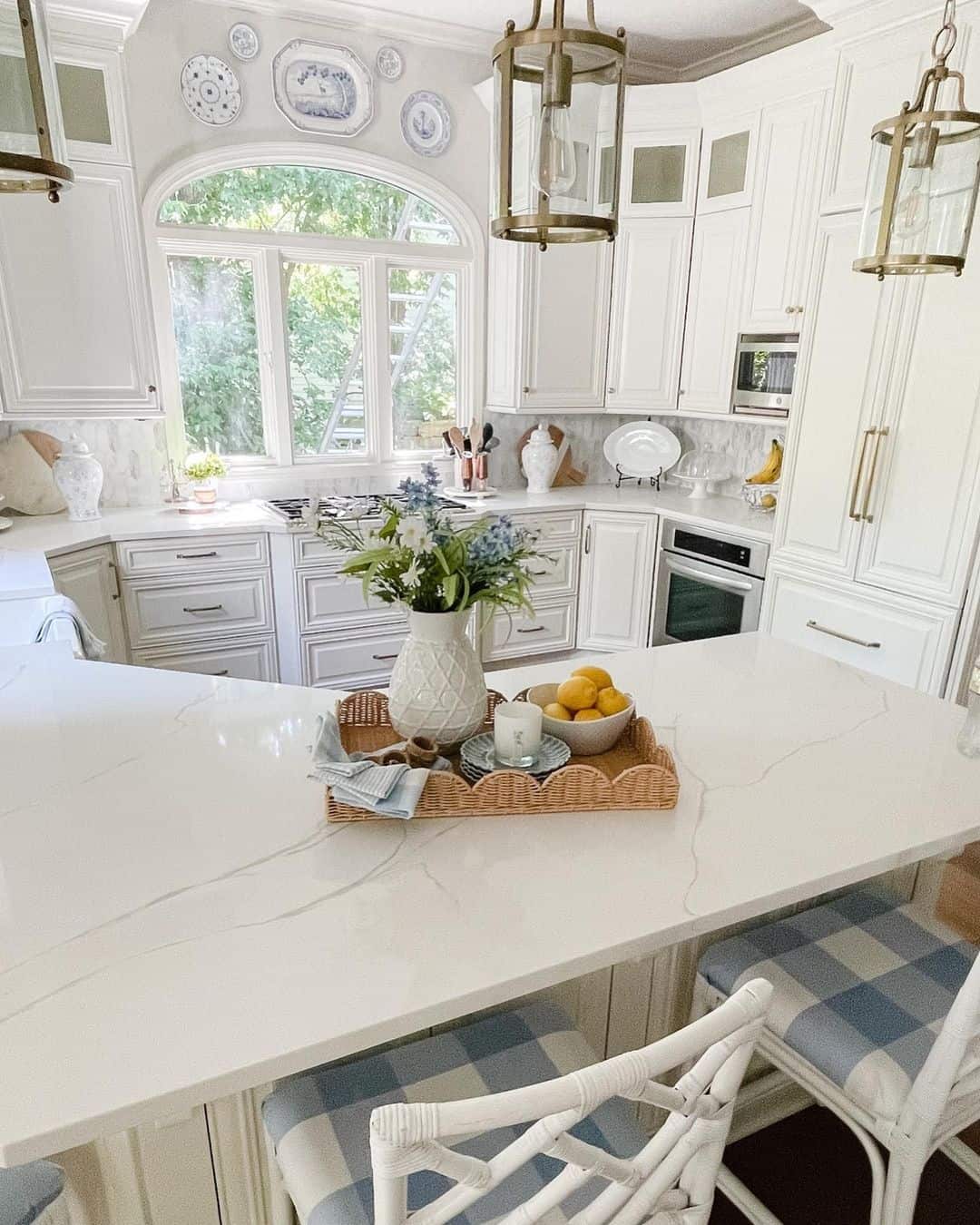 Credit: cindyritchiehome
Shop the Look
Charming Coastal Farmhouse Kitchen Design
Welcome to an endearing cottage kitchen that embodies all the essential elements of a coastal farmhouse. White cabinets provide a clean backdrop for charming floral decor and a nautical-themed tablecloth. A gray and white herringbone backsplash by the window creates the delightful illusion of seaside living, perfectly complemented by the use of butcher block counters that bring together the essence of this coastal farmhouse kitchen.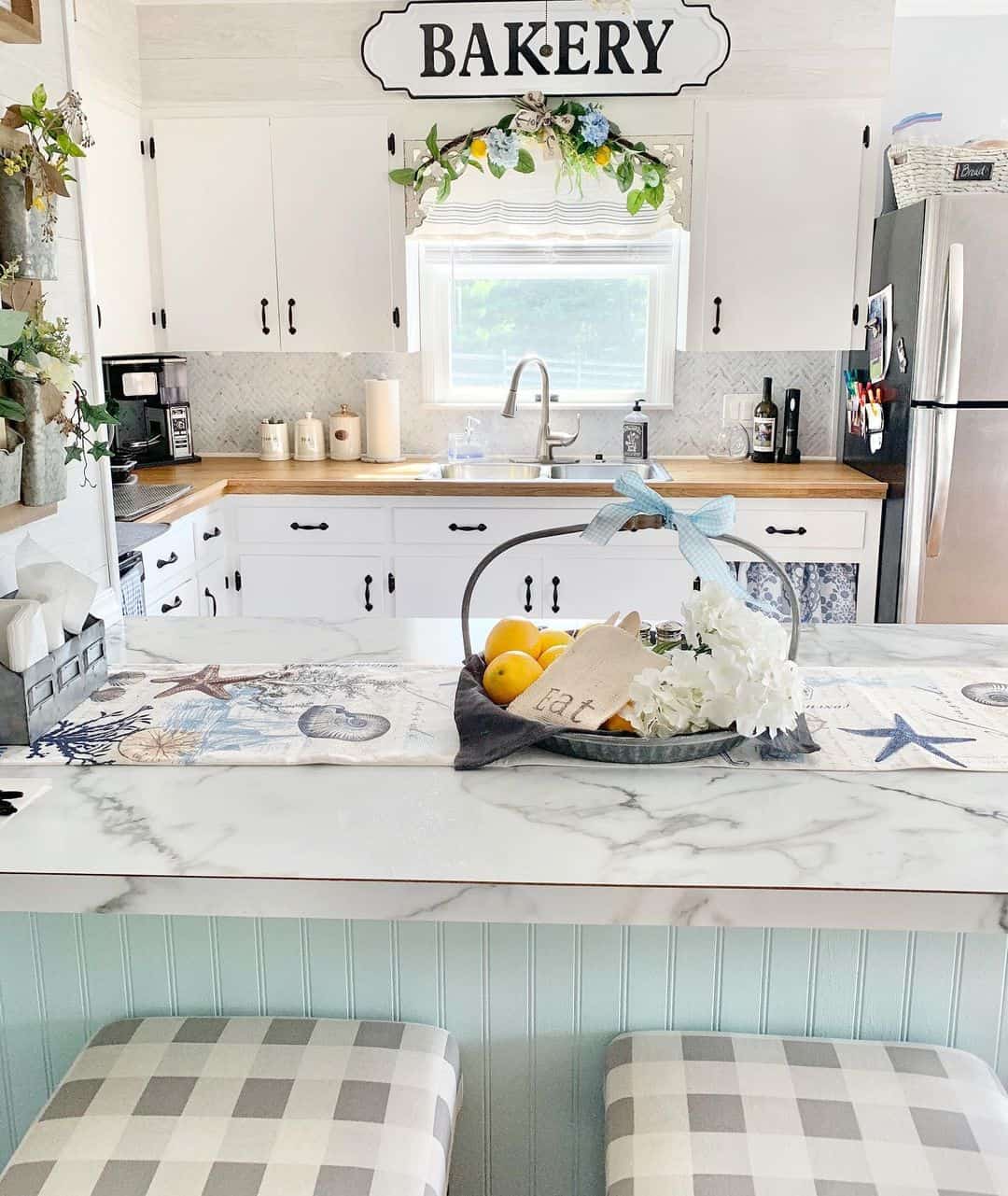 Credit: theholidayhousedecor
Shop the Look
Wrap-up
These coastal farmhouse kitchen ideas offer a harmonious blend of coastal elegance and farmhouse warmth, making them perfect for a refreshing makeover. From the choice of colors to the materials used, these designs encapsulate the essence of tranquility and comfort. Implementing these ideas will not only refresh your kitchen but also infuse it with a timeless charm that you and your guests will adore.