7+ Radiant Summer Farmhouse Kitchen Ideas That Stand Out
Welcome to "7+ Radiant Summer Farmhouse Kitchen Ideas That Stand Out," where we unveil the charm and warmth of summer-infused farmhouse kitchens. This guide will take you on a visual journey, showcasing a selection of unique and captivating design ideas that will inspire you to create your dream kitchen.
From vibrant accents and fresh florals to rustic touches and light-filled spaces, we've curated a collection that combines the best of farmhouse aesthetics and the lively energy of summer.
Captivating White Summer Blooms in Glass Vases
Elevate your kitchen ambiance with the allure of black pendant lights gracefully suspended above delicate white summer flowers showcased in transparent glass vases. Adorning a pristine white island, silver candlesticks hold flickering white candles on a contrasting black tray. Completing the scene, a sleek black clock graces the purity of a white wall.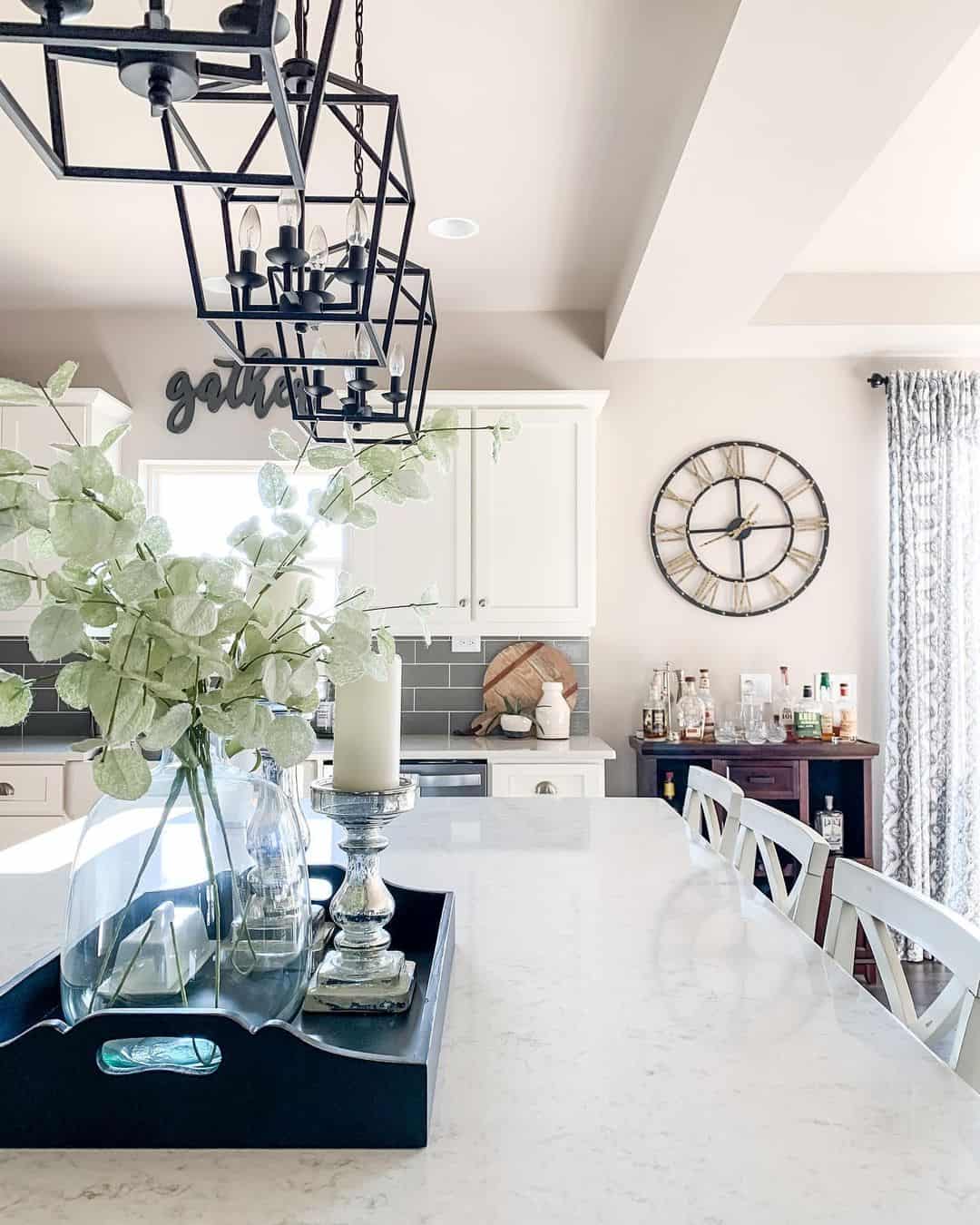 Credit: the.westnest
Shop the Look
Purple Blossoms and the Star-Spangled Banner
In this kitchen, a striking black pendant lamp adds an elegant touch, illuminating a white kitchen counter perched atop pristine white cabinets. A wicker basket filled with vibrant purple blossoms takes center stage on the white kitchen island. Adjacent to a glass bottle, the American flag stands proudly, while wooden stools offer cozy seating on the rich, dark wood floor.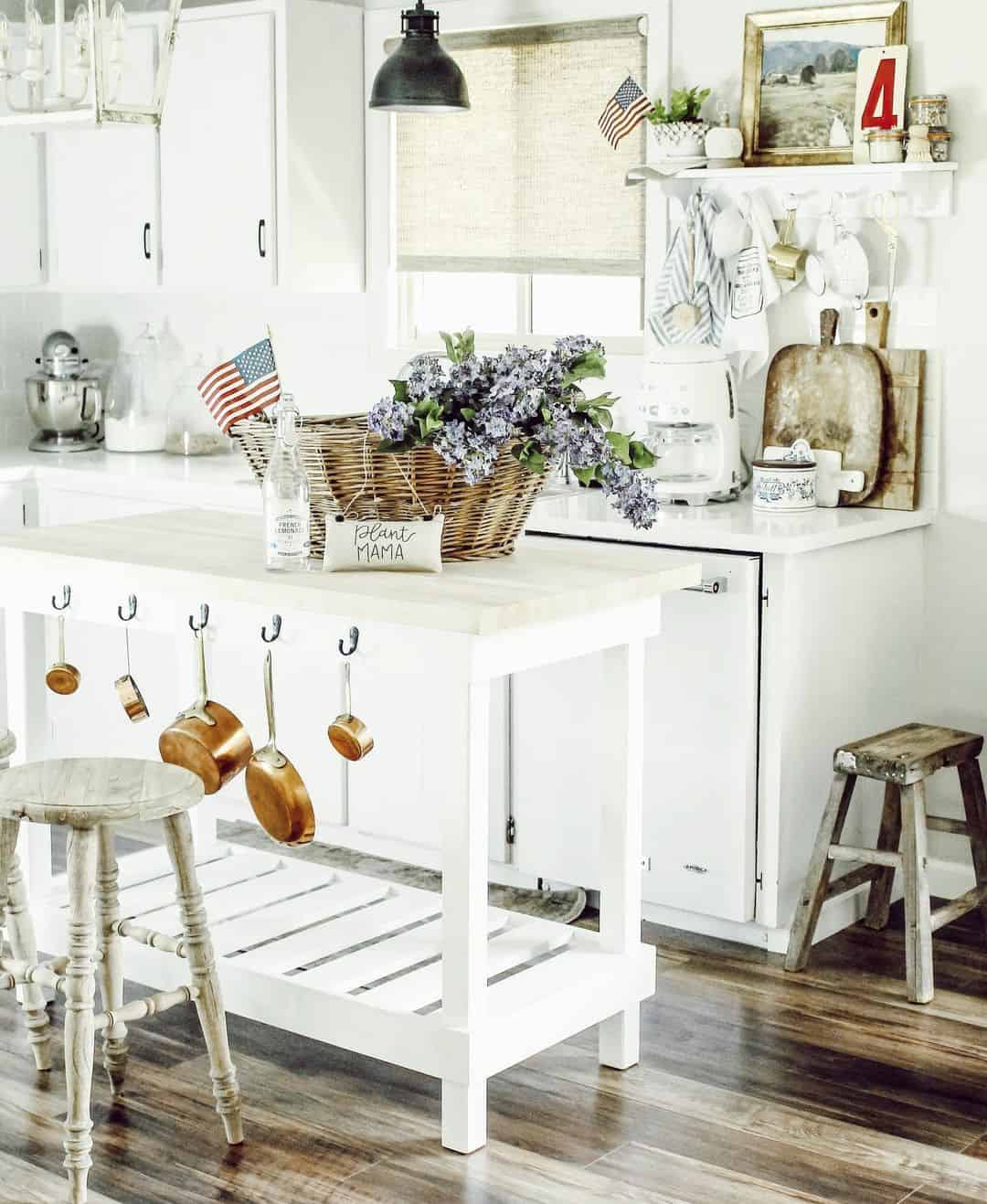 Credit: thecoefam
Shop the Look
Pristine White Daisies in a Galvanized Container
Step into a kitchen exuding rustic charm, featuring an arrangement of white daisies in a galvanized pail artfully placed on a wooden countertop against a backdrop of black cabinetry. Adorning the pristine white walls, a captivating picture provides an artistic touch, harmonizing with the white island graced by another galvanized pail and set against a light wood floor.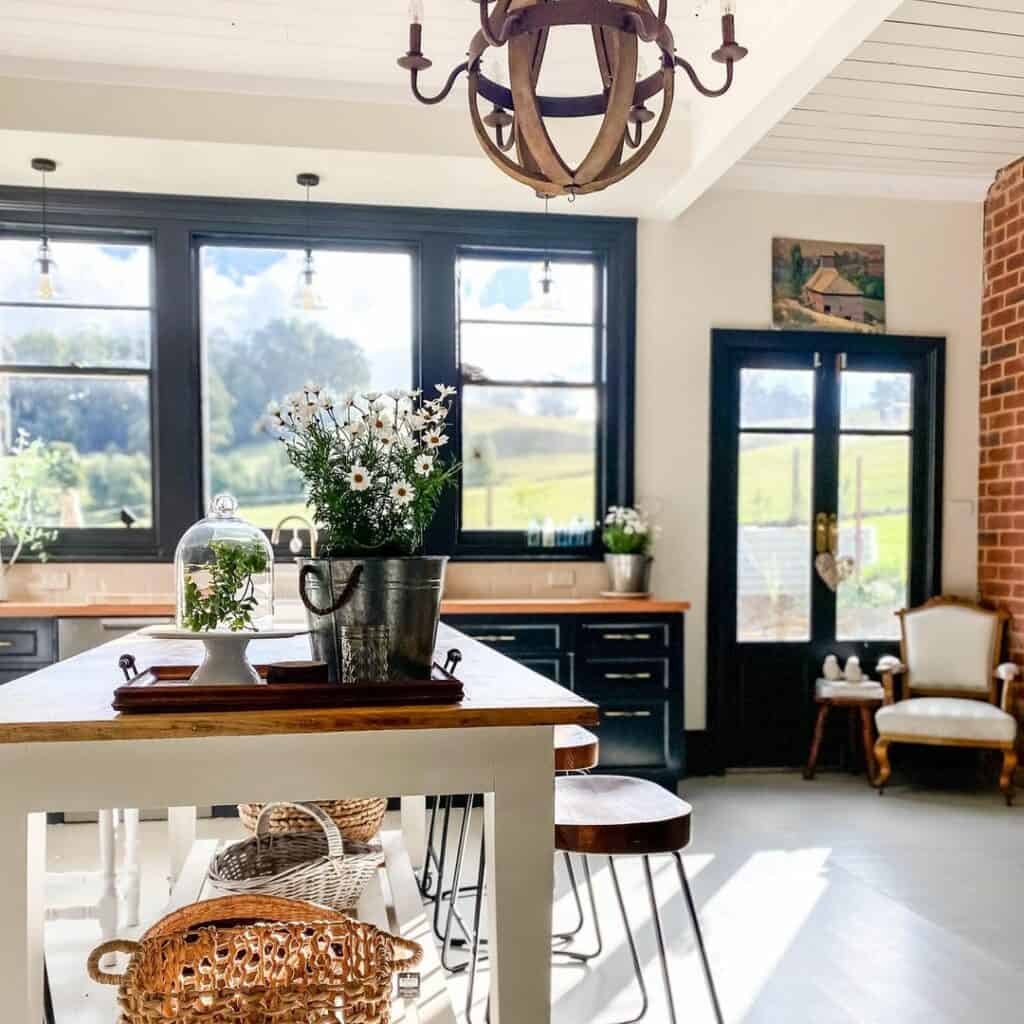 Credit: our.vintage.farm
Shop the Look
A Canopy of Summer Foliage on a Petite Wooden Ladder
Breathe in the essence of summer as vibrant foliage cascades from a dainty wooden ladder suspended from the kitchen ceiling. Galvanized pots proudly display lush green stems against a soft, light grey wall. On the light gray countertop, a delicate bouquet housed in a white pot offers a refreshing contrast.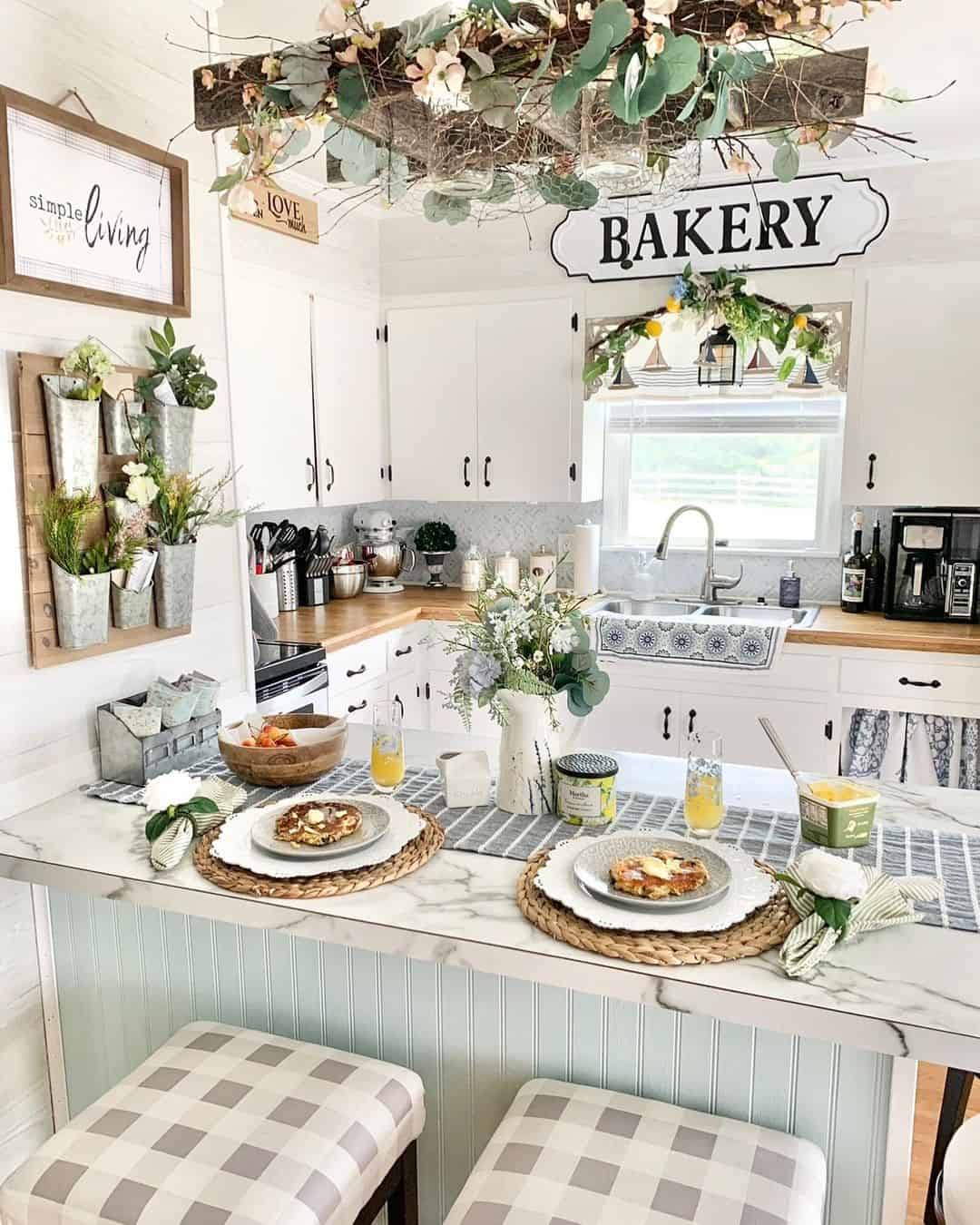 Credit: theholidayhousedecor
Shop the Look
Green Tranquility and Delicate White China
Embrace tranquility with a terracotta pot cradling a thriving green plant adorning a rustic wooden kitchen table. Above, an arrangement of white mugs hang elegantly from the white wall, complementing the charm of a white potted plant. The white shelves come alive with green foliage emerging from a white pitcher.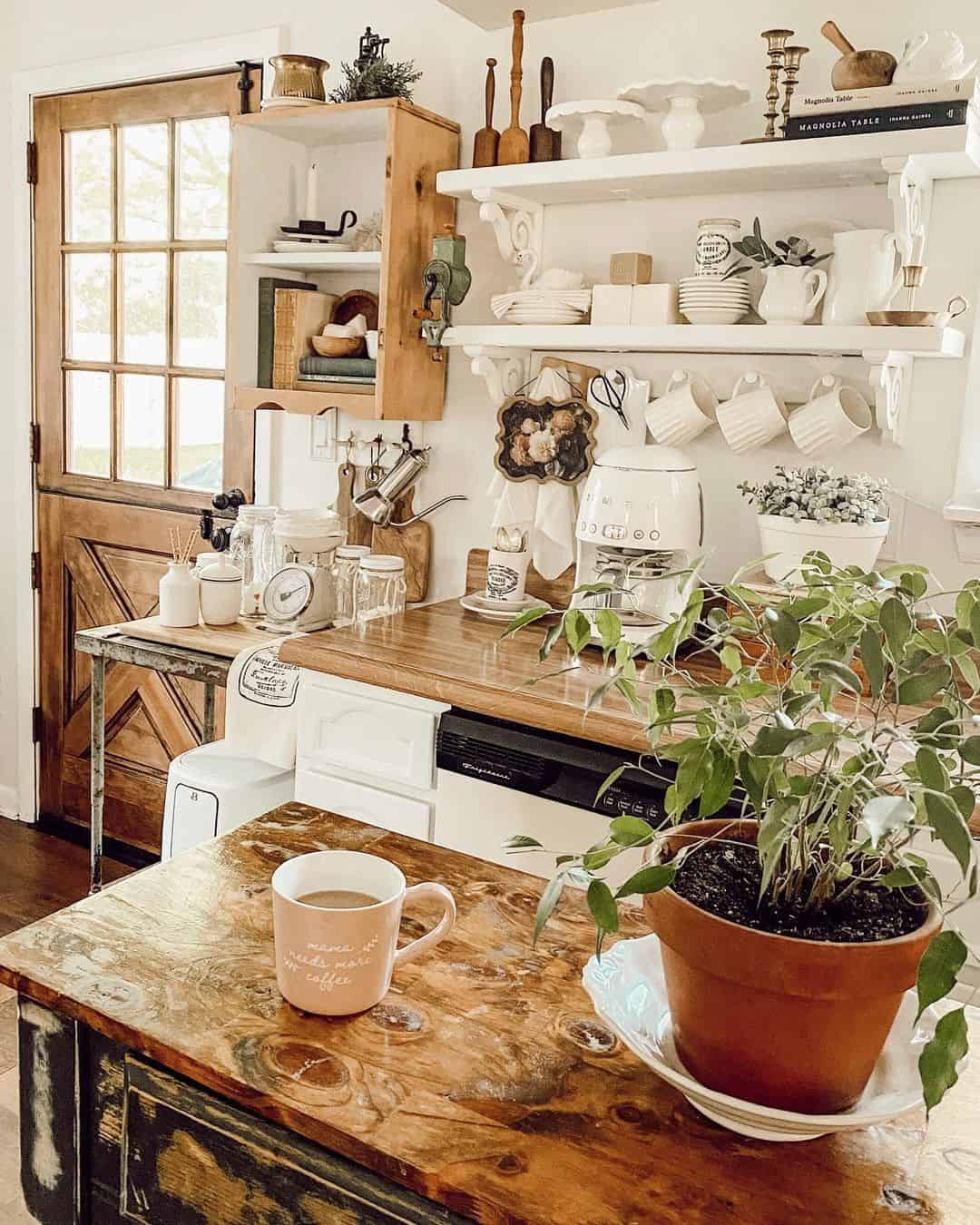 Credit: we_dabble
Shop the Look
Luminous Yellow Highlights in a White Farmhouse Kitchen
Immerse yourself in the radiant ambiance of a white farmhouse kitchen adorned with vivid yellow accents. White bar stools, with inviting backs, line up along a pristine white marbled island countertop, accompanied by a row of placemats. A stainless steel range elegantly nestles between white cabinets, marrying comfort and functionality.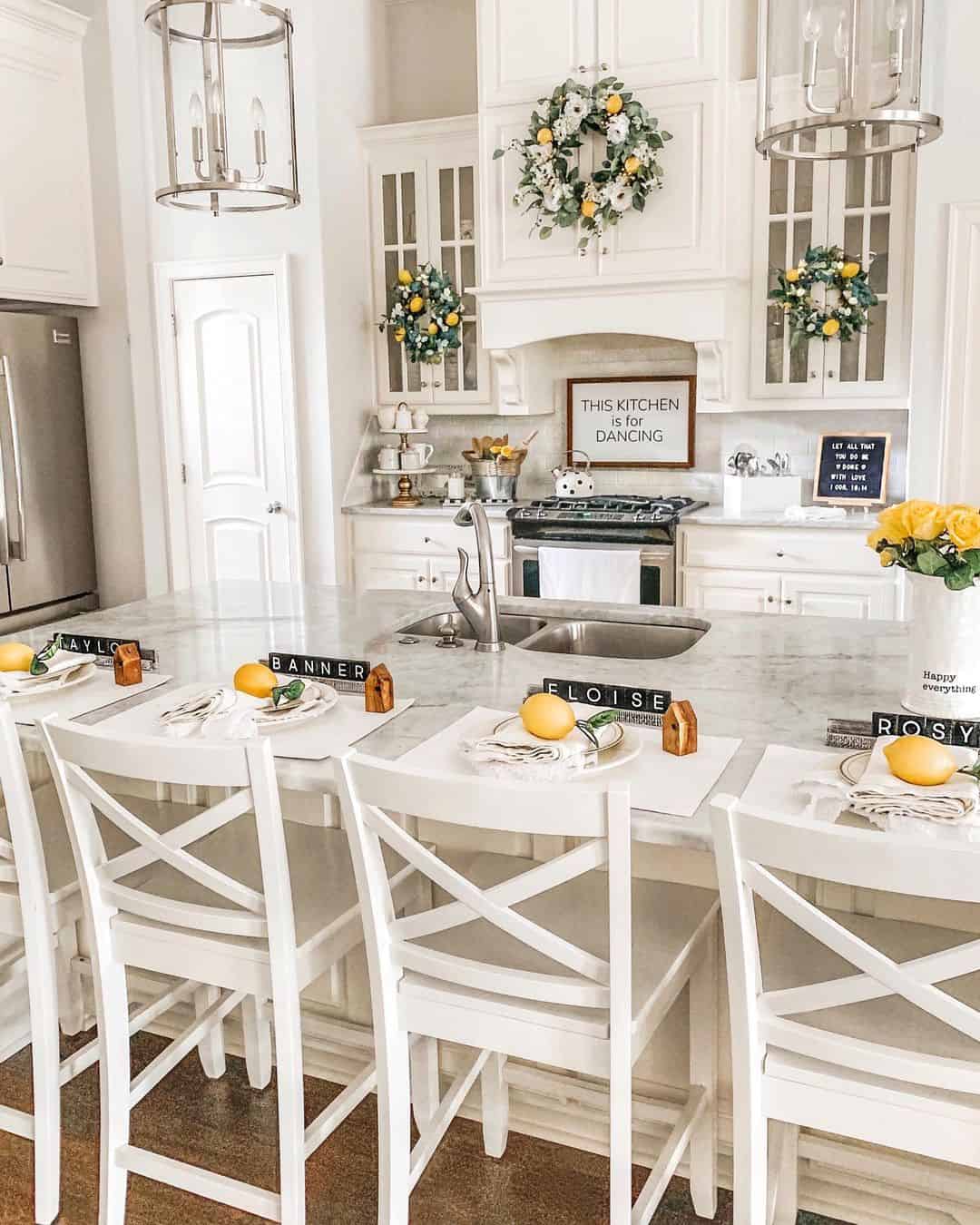 Credit: heatherbuglane
Shop the Look
White Blossoms in a Charming Wicker Basket
A charming vignette unfolds in this kitchen, with white blossoms lovingly arranged in a wicker basket, resting gracefully on a warm brown countertop. Large glass jars find their place beneath a white cabinet, complementing the stainless steel refrigerator. Rustic wicker chairs offer a cozy seating arrangement on the rich, dark wood floor.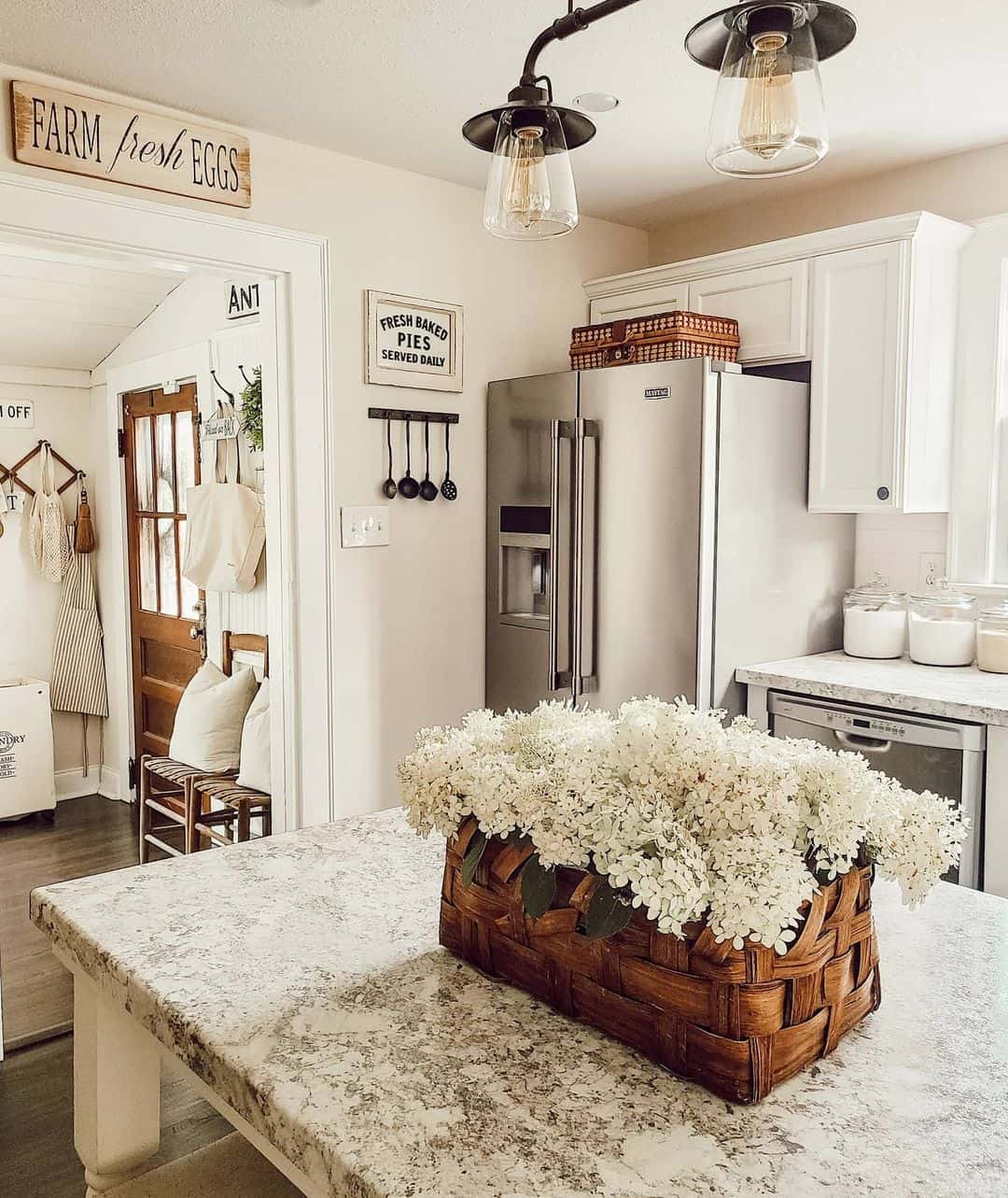 Credit: thetedescofarm
Shop the Look
Elegance Amidst White Summer Bouquets
Embrace elegance with rustic window decor gracing a serene light gray kitchen wall. White crockery adorns the black countertop, harmonizing with the pristine white cabinets. The kitchen island takes center stage with an opulent bouquet of white summer flowers showcased in a delicate white vase, all set against a warm wood floor.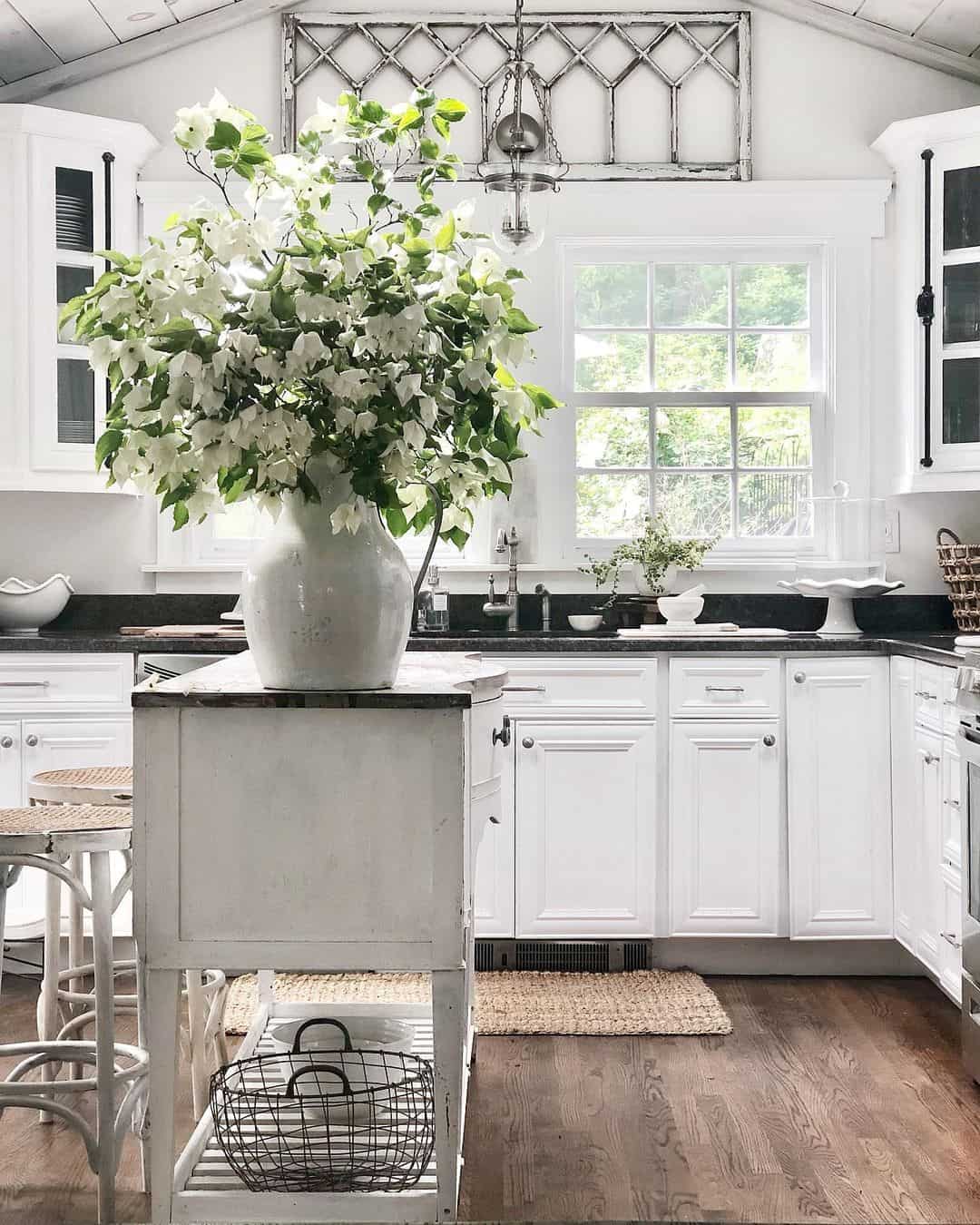 Credit: r.house__
Shop the Look
Wrap-up
As we conclude our exploration of "7+ Radiant Summer Farmhouse Kitchen Ideas That Stand Out," we hope you've found inspiration to elevate your kitchen space. Summer is a time for joy, and what better way to celebrate it than by creating a kitchen that exudes warmth and vitality? With these ideas in mind, you can craft a kitchen that's not just functional but also a beautiful extension of the season. Let your creativity flourish and your space shine with the spirit of summer!