7+ Farmhouse Living Room Rug Ideas to Wrap Your Feet in Cozy Country Style
Affiliate Disclosure: As an Amazon Associate we earn from qualifying purchases. Hence, if you click through and make a purchase, we will get a commission at no extra cost to you. For more info, read our full disclosure.
The farmhouse style is more than just a trend; it's a lifestyle that brings warmth, comfort, and a touch of rustic charm to your living space. Whether you're in the heart of the countryside or nestled in a bustling city, you can infuse your living room with the cozy country style that makes everyone feel at home.
Rugs play a crucial role in achieving this look, adding texture, color, and a sense of welcoming coziness. In this blog post, we'll explore 7+ farmhouse living room rug ideas that will wrap your feet in comfort and style. Let's dive into these inspiring designs:
White Living Room With Diamond Rug
A white diamond rug elegantly sits beneath a vintage table with intricately curled legs, accompanied by a massive white couch. The room's palette is predominantly white, complemented by wood and amber accents, such as the pampas grass displayed in amber vases on a wooden tray with a handle. This combination creates a soothing and warm ambiance that invites relaxation.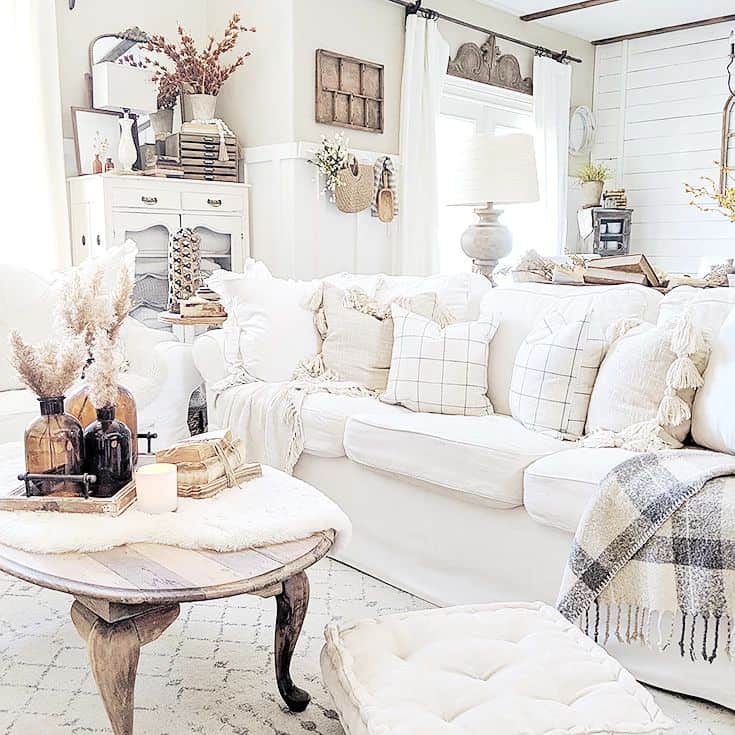 Credit: @thriftyandchicdecor
Shop the Style
Modern Living Room With Red-toned Rustic Rug
In this modern living room, a cozy dark grey couch topped with white tasseled cushions rests atop a red-toned rustic rug. The wooden coffee table, featuring a herringbone pattern, harmonizes with the wall-mounted wooden shelving, enhancing the farmhouse aesthetics of the space. The blend of modern and rustic elements creates a unique and inviting atmosphere.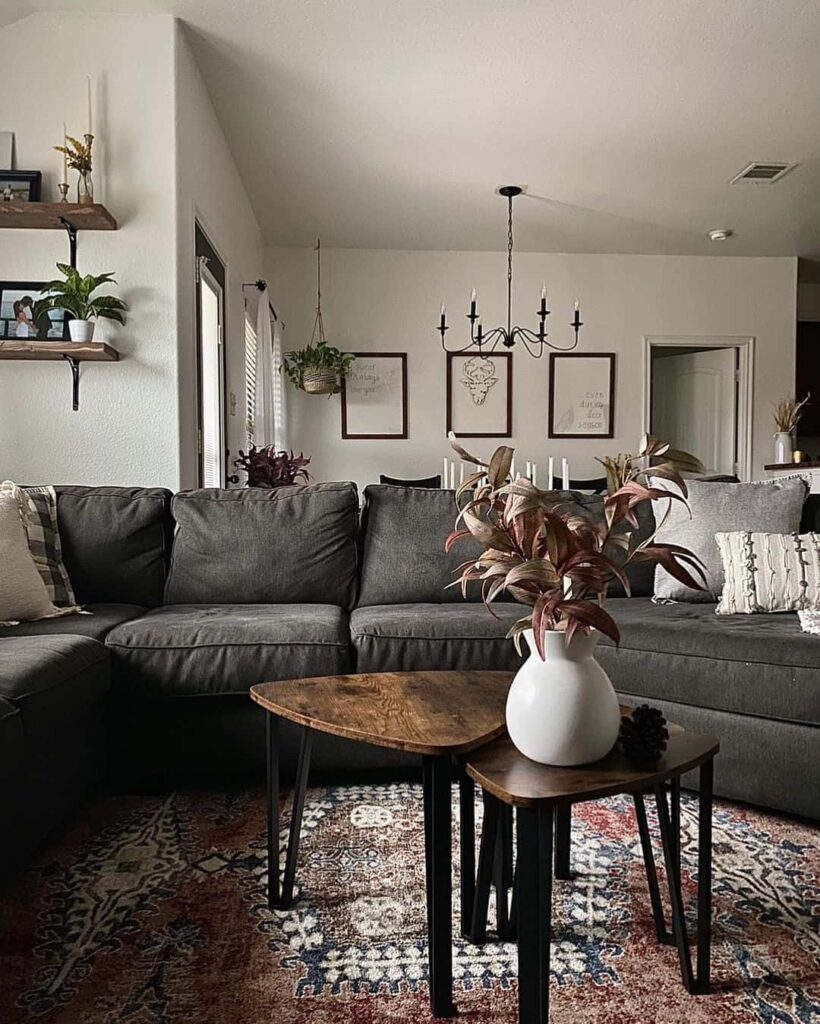 Credit: @yourlifeiswhatyoumakeit
Shop the Style
Open Living Room With Ivory Rug
This open living room showcases a luxurious ivory couch accessorized with cream and black pillows, serving as a stunning focal point. A long wooden coffee table sits on a neutral gray and ivory rug, while a golden chandelier adds a touch of opulence, hanging from the vaulted ceiling. The small square side table with a blue and white lamp adds a charming touch alongside the couch.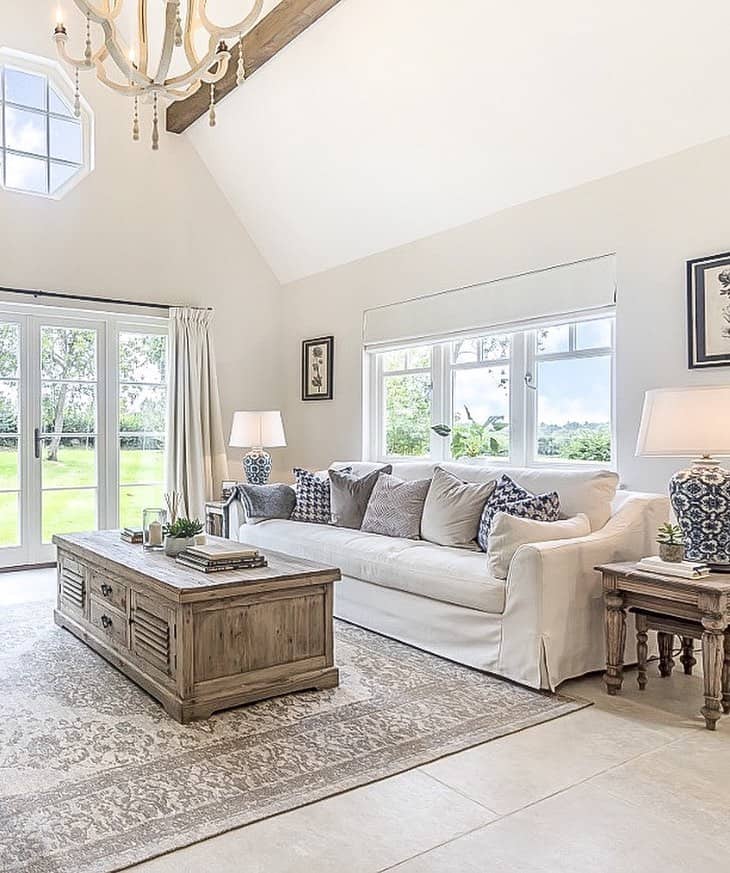 Credit: @wellswoodhomes
Shop the Style
Neutral Farmhouse Living Room With Floral Rug
This adorable and cozy living room features a floral rug spread across the wooden floorboards, adding a touch of nature to the room. Couches with cream cushioning and wooden frames are arranged in a welcoming setup, with a dark wood coffee table at the center. Plants in a galvanized metal vase, lettered signs, a cabinet with open shelves, and bags hung on coat hooks add character and warmth.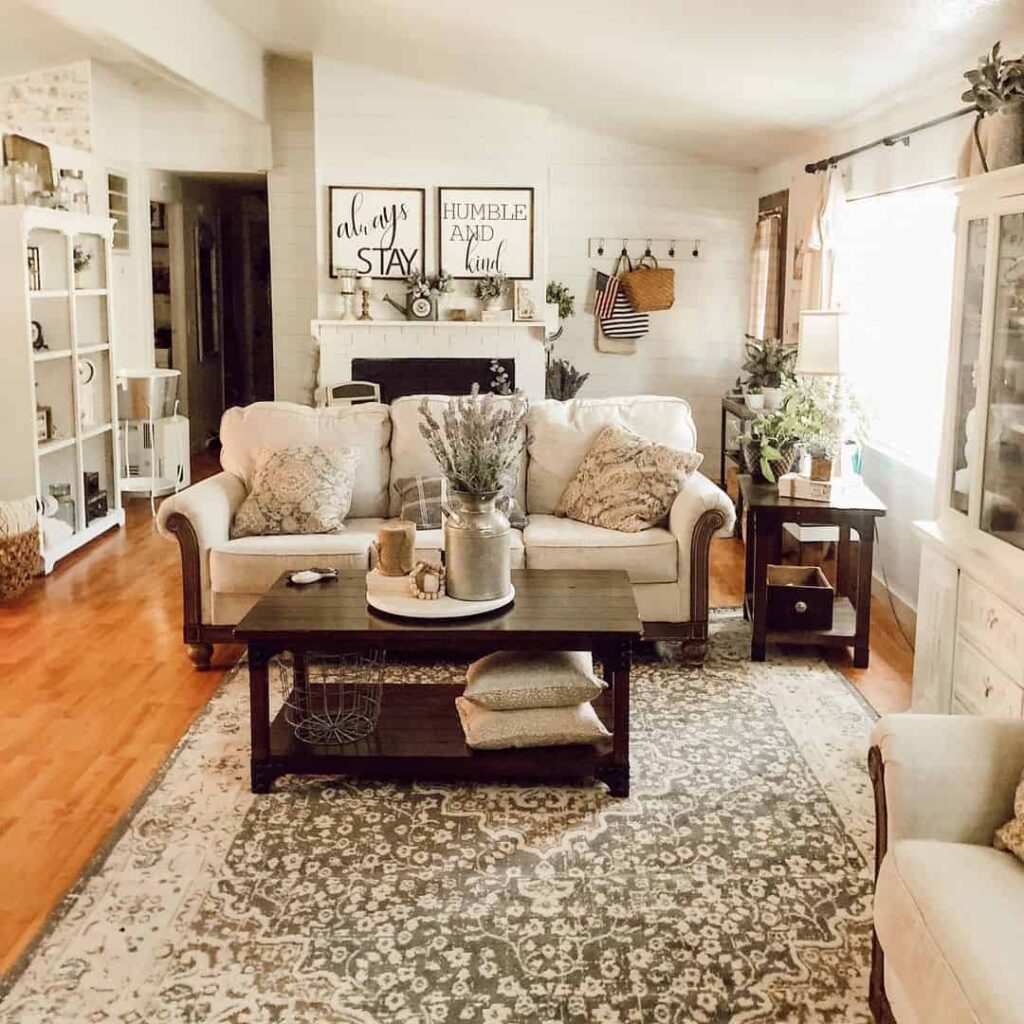 Credit: @theturquoisefarmhouse
Shop the Style
Farmhouse Living Room With Cream Rug
The woven cream rug in this living room helps create clean lines, harmonizing with the black legs of the coffee table, a black chandelier, and a black barn-style rolling rail for the white double doors. Striped armchairs facing cream couches across the wooden coffee table create a sophisticated and modern farmhouse look.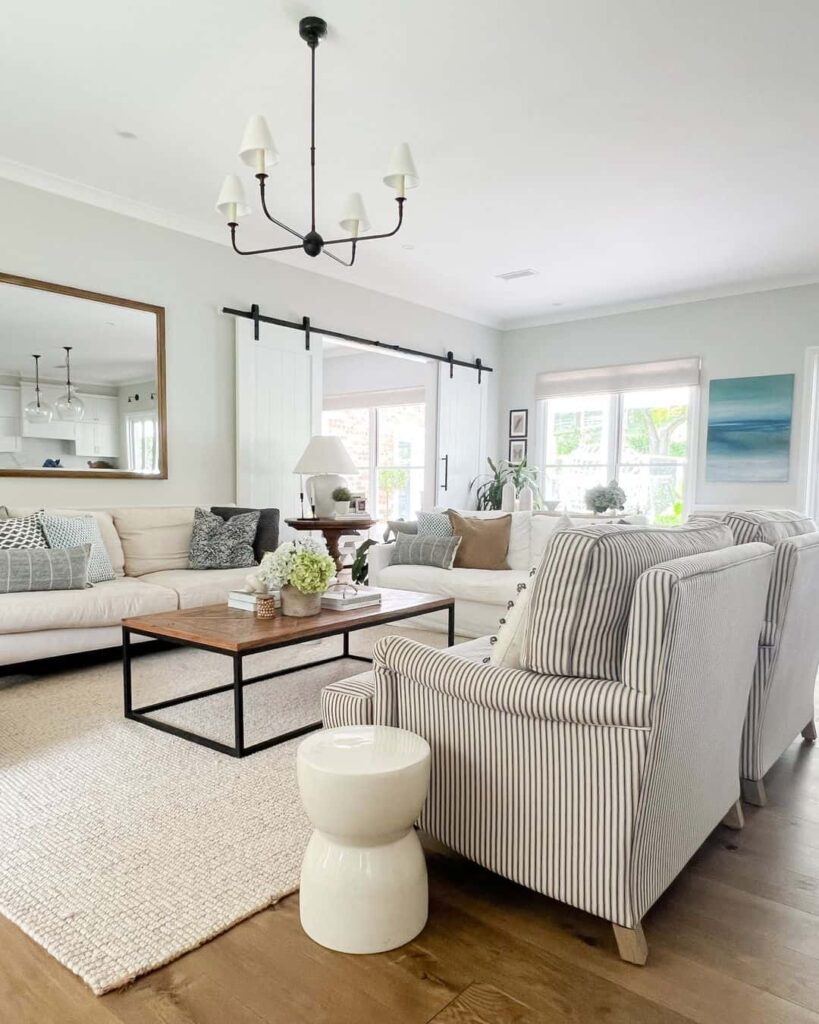 Credit: @thepeartreedrive
Shop the Style
Greige Rug & Wicker Coffee Table
A small greige rug sits under a wicker trunk that functions as a coffee table, adding a touch of rustic charm. A vase of yellow flowers brightens the space, while a beige couch and armchairs surround the table. Glass double doors behind the furniture add a sense of openness and connection to the outdoors.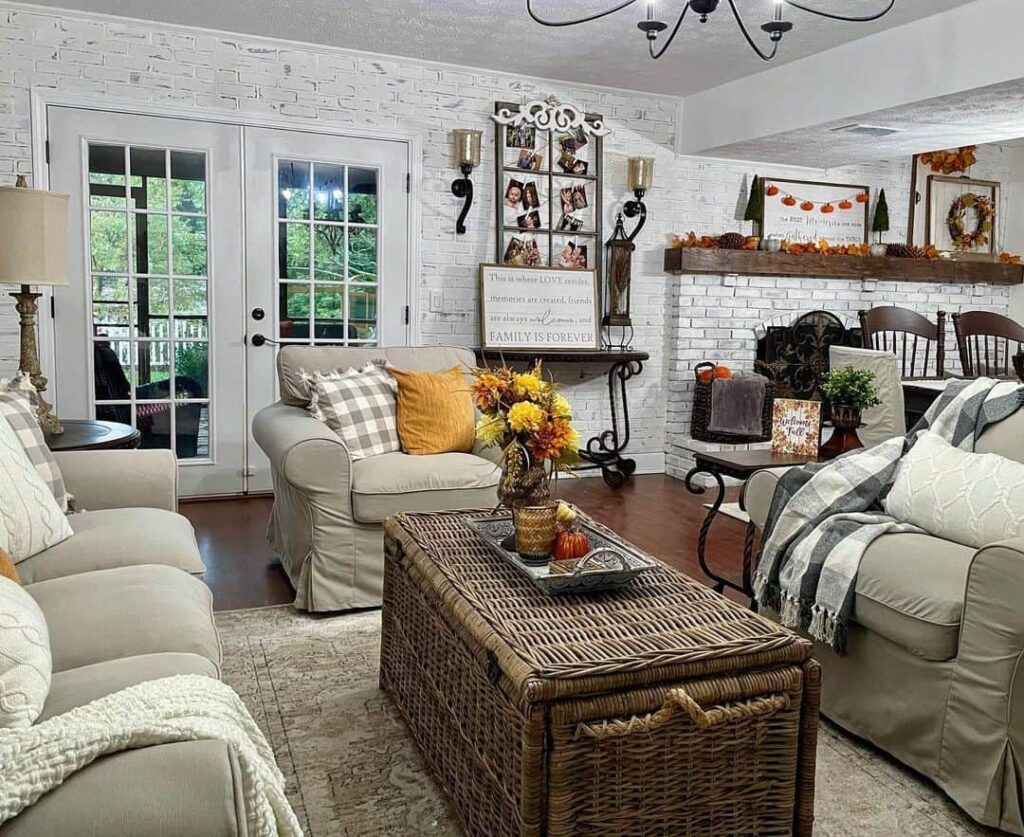 Credit: @wheretwoaregathered
Shop the Style
Festively-decorated Living Room With White Rug
This living room exudes festive charm with a white rug featuring diamond and dot details, sitting under a rustic wooden table holding a seasonal tablescape. A cream couch and armchair adorned with checked and cozy cushions create a welcoming seating area. The fireplace, surrounded by frosted trees, window frame, and a 'gather together' sign adds a magical touch.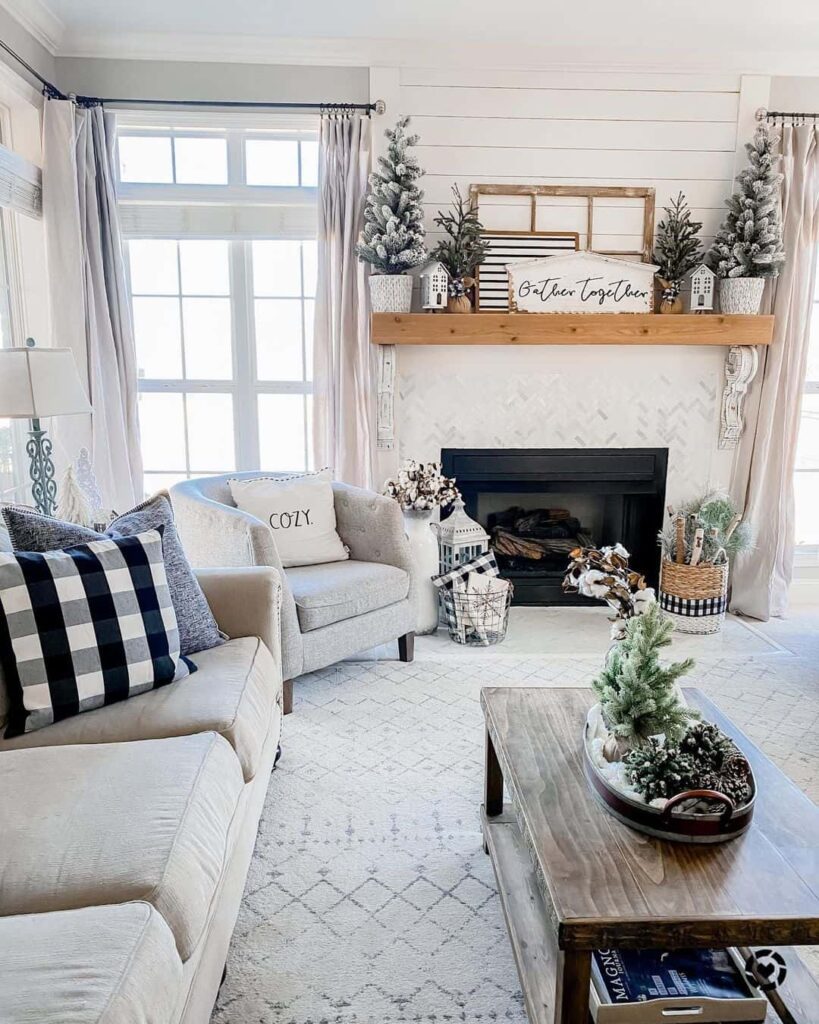 Credit: @wilshire_collections
Shop the Style
Grand Living Room With Cream Tufted Rug
This grand living room looks fresh and cozy, with a cream tufted rug underfoot. Pairing light couches with a vintage rustic dark wood coffee table creates a harmonious look. The fireplace, with a large mantelpiece holding a mirror and pillar candles, complements the duo of candles on the coffee table, adding a romantic and serene ambiance.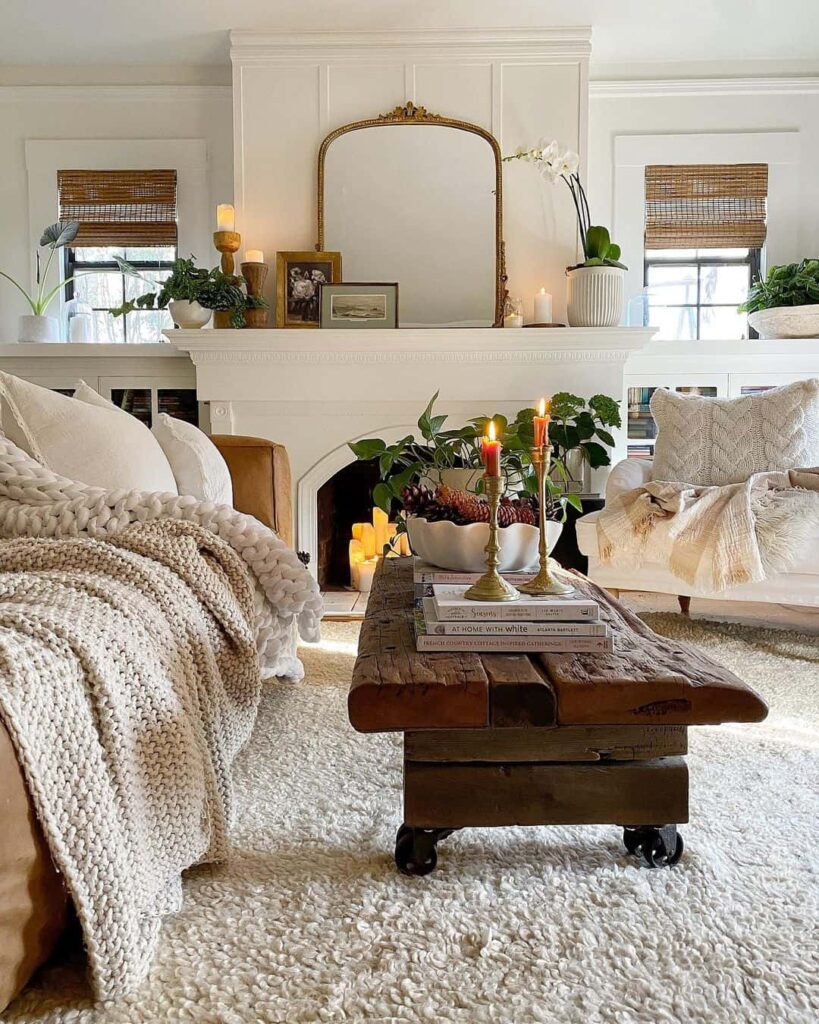 Credit: @toni_marianna
Shop the Style
Wrap-up
Whether you're a rustic romantic or a modern minimalist with a country twist, these rug ideas have something for everyone. From floral fantasies to amber accents, these designs will have your feet (and your heart) wrapped in cozy country style. So go ahead, roll out the rug of your dreams, and let your living room dance to the tune of farmhouse chic. Your feet will thank you, and your Instagram followers will be green with envy!