7+ Charming Couch Back Décor Ideas to Add Elegance to Your Farmhouse Living Room
Affiliate Disclosure: As an Amazon Associate we earn from qualifying purchases. Hence, if you click through and make a purchase, we will get a commission at no extra cost to you. For more info, read our full disclosure.
Transforming your farmhouse living room into an elegant and inviting space is all about the details, and one often overlooked area for decor is the back of your couch. In this blog, we'll explore seven charming couch back decor ideas that will infuse your farmhouse living room with a touch of sophistication and warmth.
From rustic accents to chic embellishments, these ideas will help you create a cozy yet refined atmosphere that truly makes your farmhouse feel like home.
Elegant Living Room: Warm-toned Throw Blanket Adorns the Couch
In this sophisticated living room, soft cream walls serve as a backdrop to vintage artwork, exuding a regal ambiance. The gray sofa is graced with plush white pillows for added comfort. Draping across the back of the couch is a warm-toned throw blanket, serving both as a decorative element and a practical addition.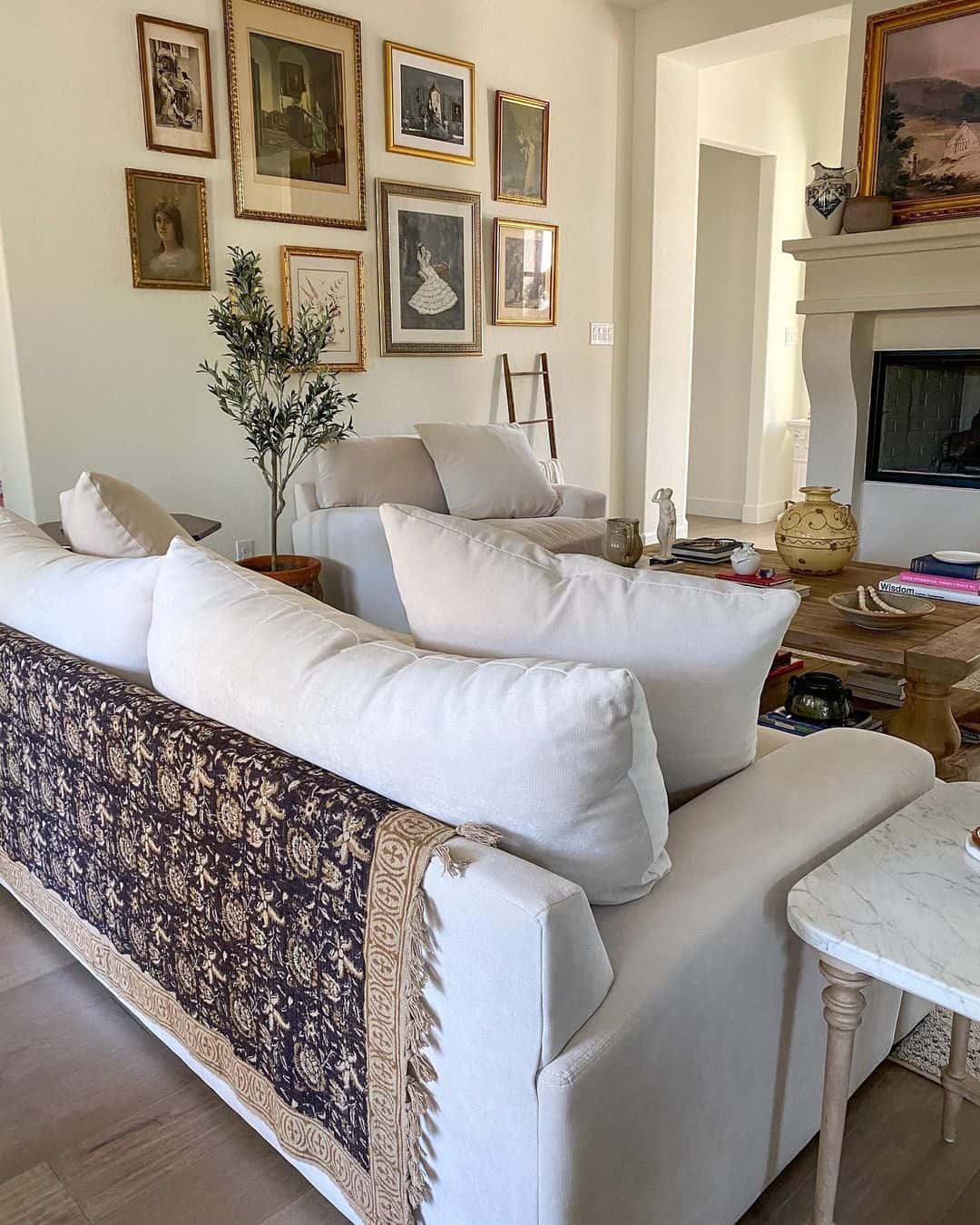 Credit: atimelessplace
Shop the Look
Chic Living Room Design: Wood Console Table and Striking Brick Feature Wall
This cozy living room features soft white walls juxtaposed against a striking jet-black brick feature wall. The plush gray sofa is positioned in front of a simple wood-stained console table, creating an appealing contrast. The room's warm neutral color palette complements the natural wood floors beautifully.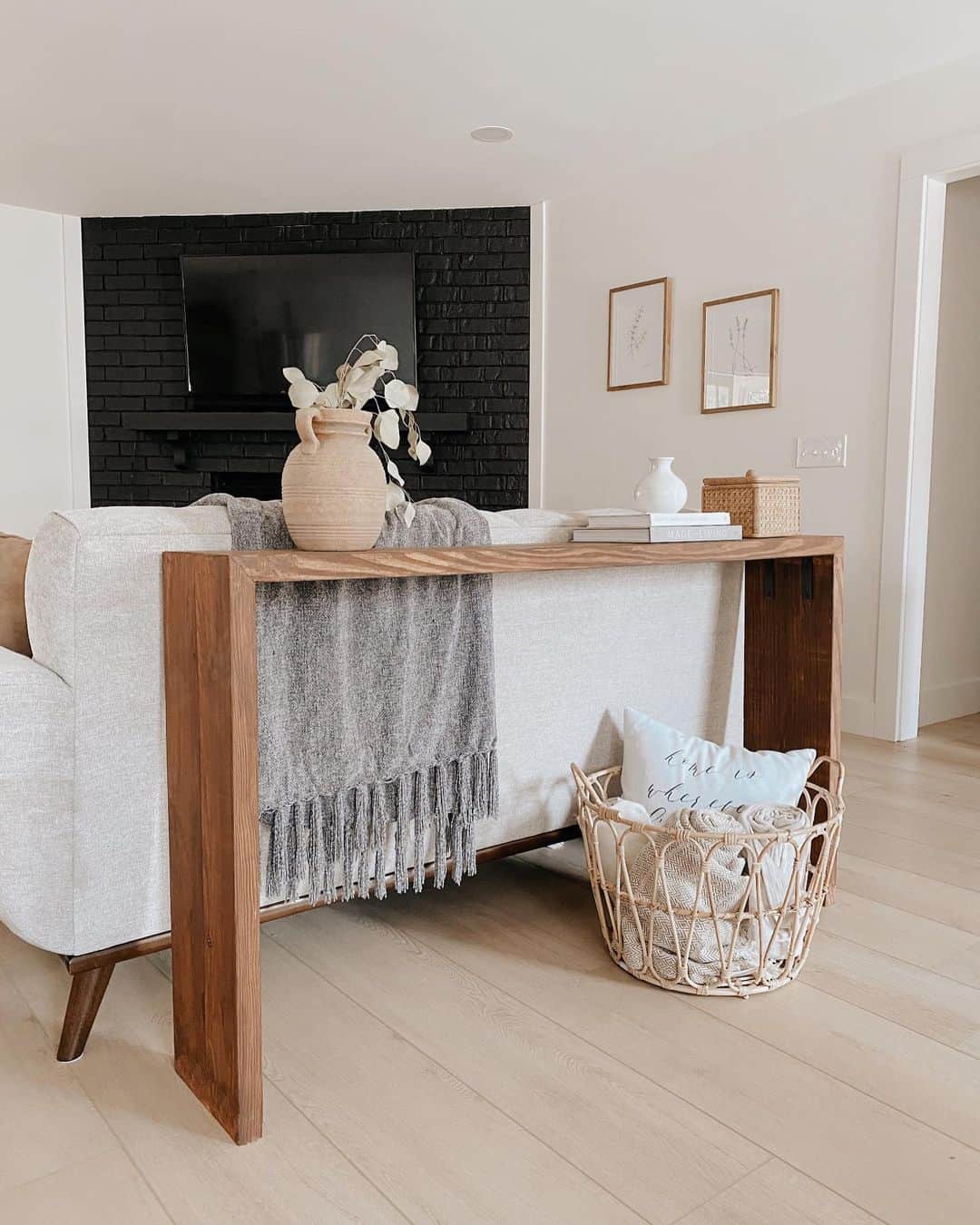 Credit: wetmoreworksinprogress
Shop the Look
Contemporary Comfort: Striped Throw Blanket and Console Table Behind the Couch
Embrace spacious comfort with this inviting beige L-shaped sofa. The back of the sofa is adorned with a soft striped throw blanket, elevating the cozy atmosphere. A dark mahogany console table positioned behind the couch displays warm neutral-toned decorations.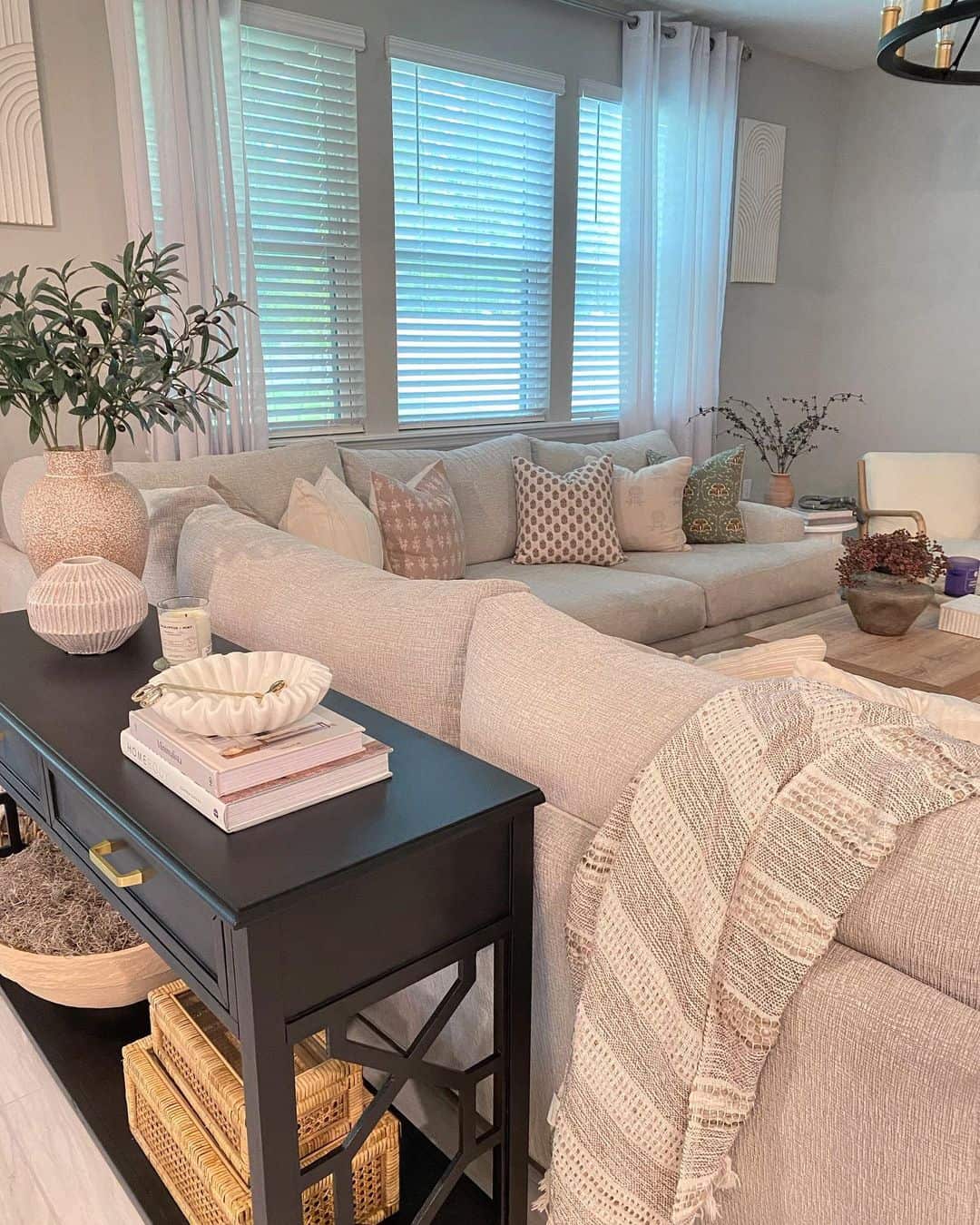 Credit: decoratingnewbuild_
Shop the Look
Rustic Farmhouse Vibes: Checkered Throw Blanket Adds a Cozy Touch
This charming living room combines soft white shiplap walls with rich natural wood elements, creating a warm and inviting space. A soft patterned rug graces the furniture and sits in front of the gray couch. Decorate the back of the couch with a checkered throw blanket for added comfort and a delightful color contrast.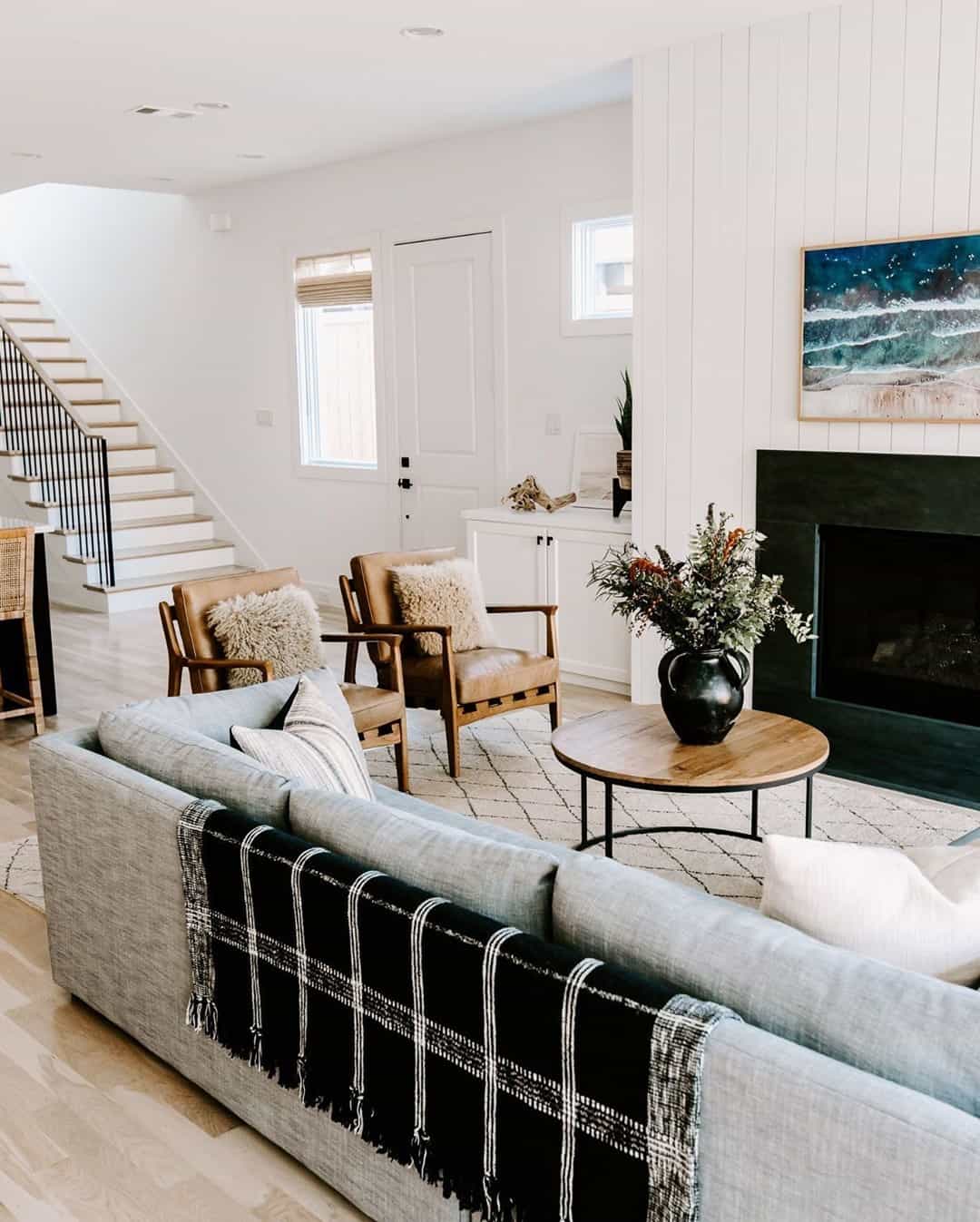 Credit: lindseydaltonblog
Shop the Look
Classic Cabin Retreat: Rustic Living Room Decor
With high ceilings, wooden beams, and a rustic indoor fireplace, this living room evokes the classic cabin in the woods atmosphere. The back of the comfy gray sofa is adorned with a zig-zag patterned rug, adding texture and a pleasing color contrast. Rustic decorations like a blanket ladder, antique portraits, and a mounted plank above the TV enhance the room's rustic charm.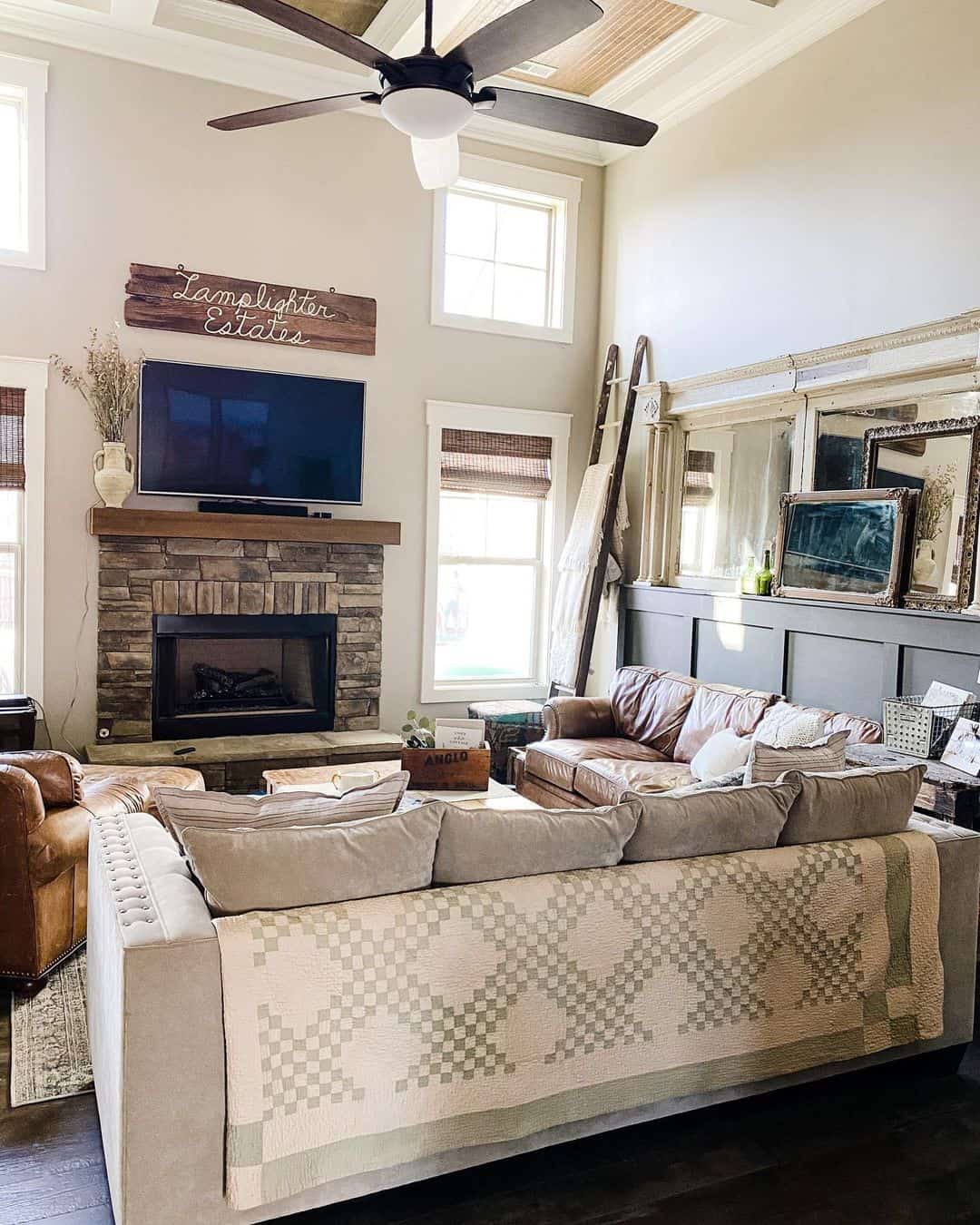 Credit: maple.and.dickerson
Shop the Look
Coastal Escape: Vibrant Living Room Decor
Infuse your space with a bright and vibrant coastal essence in this living room. The exposed wood ceiling seamlessly blends with pristine white walls, culminating in bright natural wood flooring. Accessorize your couch with an assortment of blue and pink floral throw pillows to create layers of texture and color.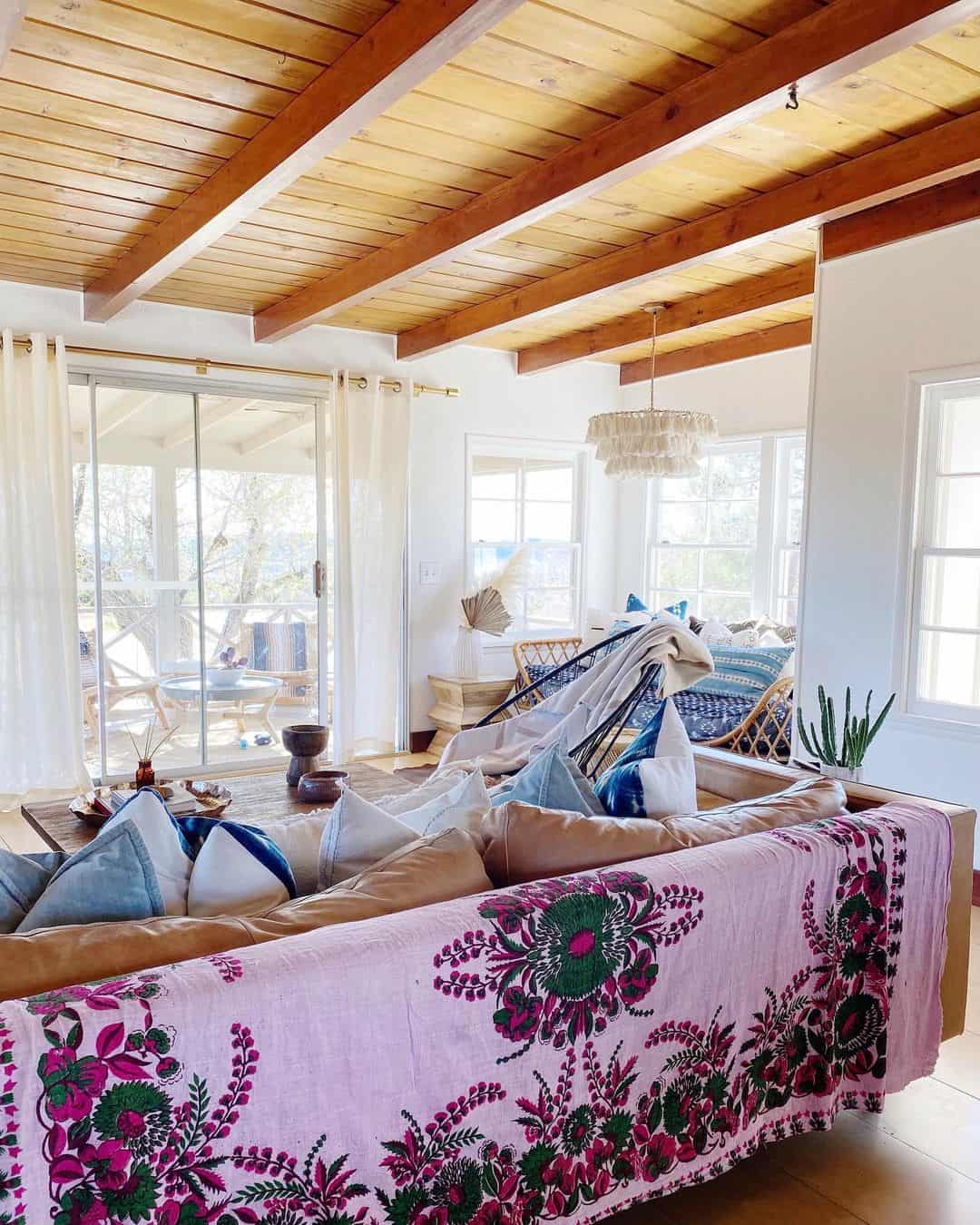 Credit: theharriethouse_joshuatree
Shop the Look
Christmas Elegance: Console Table Decor Behind the Sofa
Enter a charming Christmas-inspired living room, where festive wreaths grace the windows against a backdrop of soft white walls. The sofa's rear showcases a sleek black console table adorned with lush greenery and flickering candles, adding a touch of holiday charm. For added convenience, small stools are discreetly tucked beneath the table, ready to provide extra seating whenever required.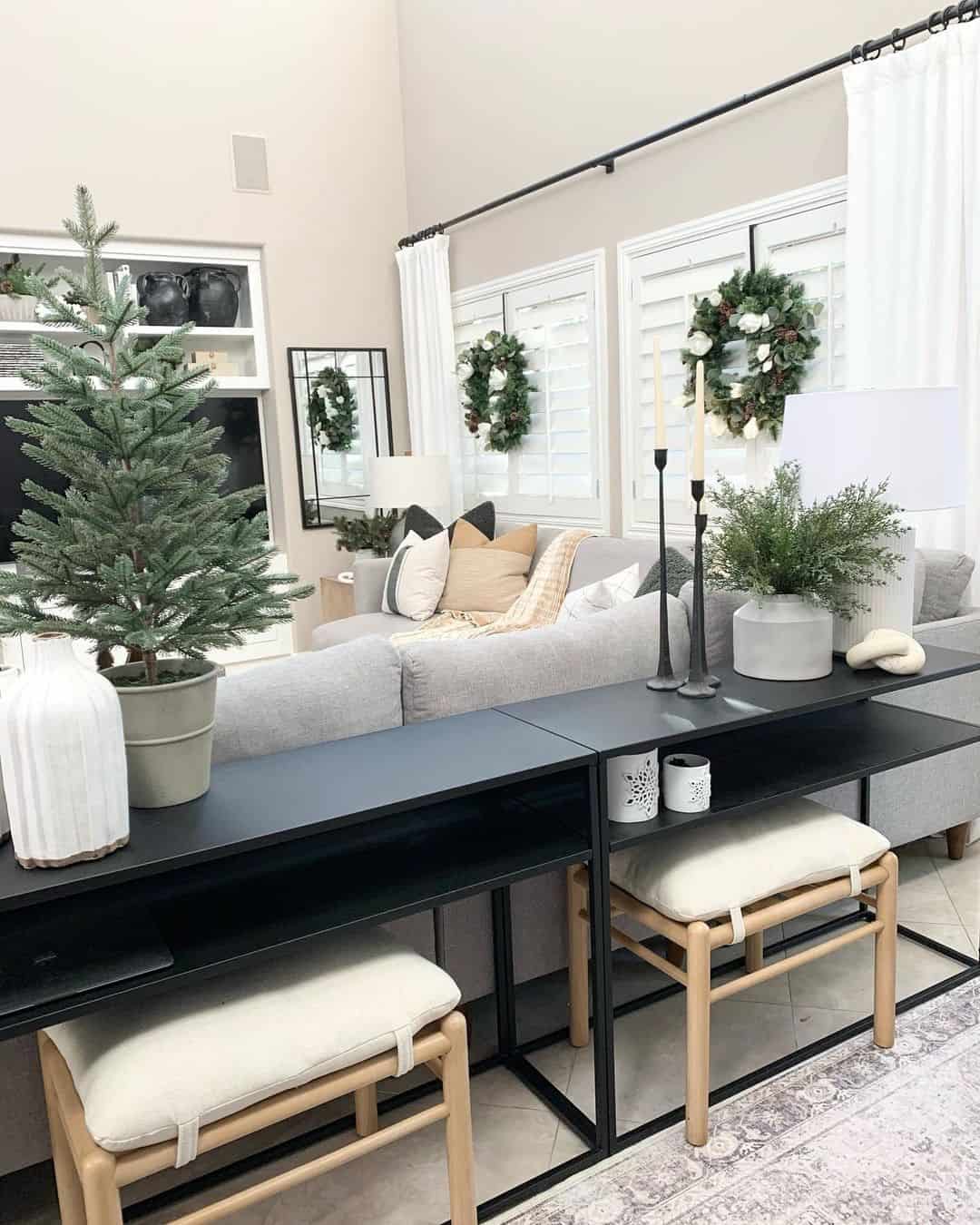 Credit: jaimebydesign
Shop the Look
Serene Living Space: White Throw Blanket and Soft Tones
Create a warm and inviting atmosphere by pairing soft tones in your living room, featuring a backdrop of neutral gray and darker components such as black light fixtures and natural wood accents. The comfy gray couch is outfitted with soft cushions, and a thin white throw blanket adorns the back, providing an additional source of comfort. Rich wood floors add a lovely rustic touch to the room.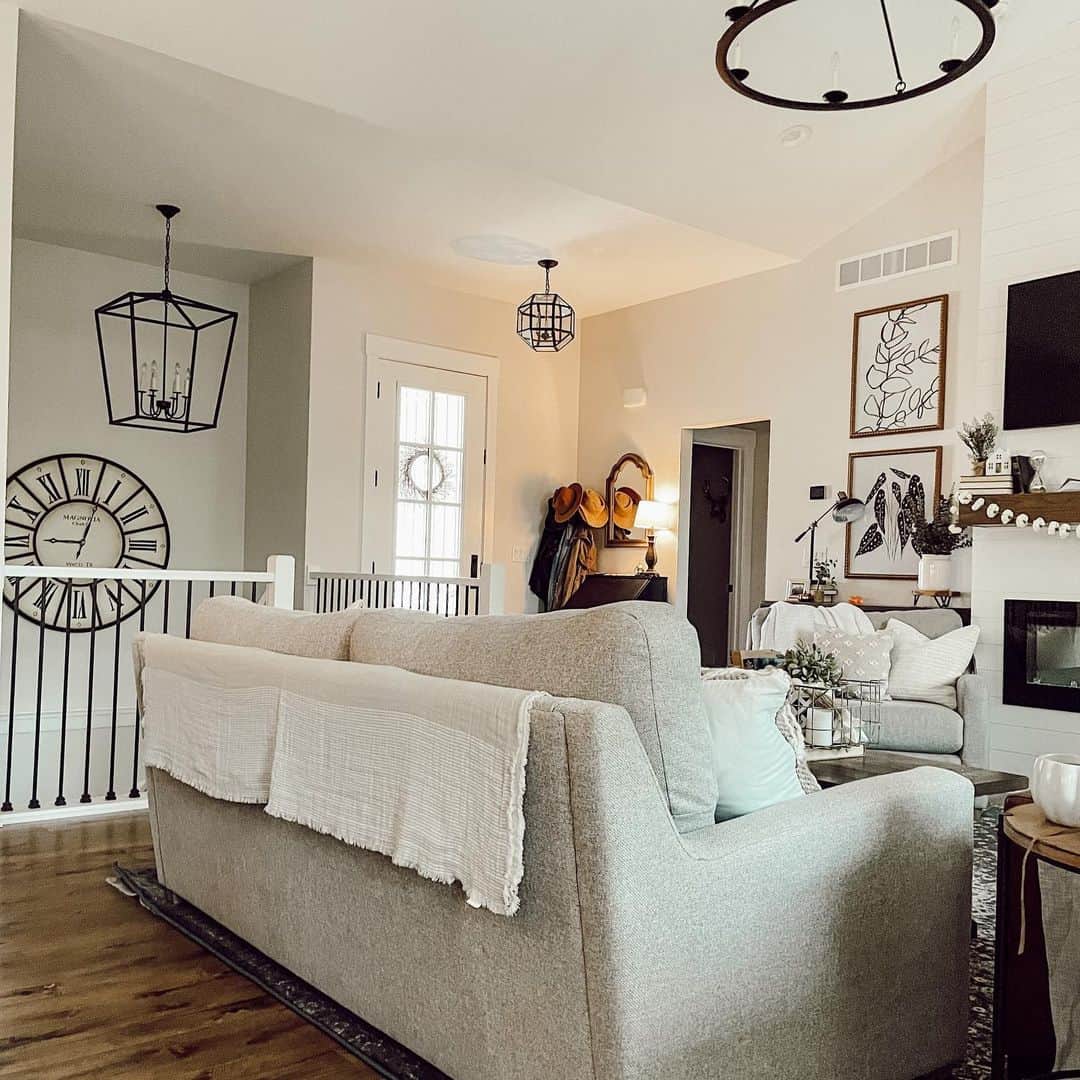 Credit: hickorylanehome
Shop the Look
Wrap-up
Your farmhouse living room can be a haven of elegance and charm, and the back of your couch is a canvas waiting to be adorned with delightful decor. By incorporating these seven ideas, you can effortlessly elevate your space, infusing it with warmth and sophistication.
Whether you prefer rustic accents or chic embellishments, these charming couch back decor ideas will help you create a farmhouse living room that's both welcoming and refined, where every detail speaks of your unique style and personality.