7+ Artistic Wall Picture Display Ideas to Personalize Your Farmhouse Living Room
Affiliate Disclosure: As an Amazon Associate we earn from qualifying purchases. Hence, if you click through and make a purchase, we will get a commission at no extra cost to you. For more info, read our full disclosure.
Transforming your farmhouse living room into a personalized haven of artistic expression is an exciting journey. Walls, often seen as blank canvases, hold the potential to encapsulate your unique style and personality. In this blog, we will explore seven-plus creative wall picture display ideas that not only breathe life into your space but also tell your story.
Whether it's vintage frames, gallery walls, or inventive shelving, we've got your farmhouse living room covered with these imaginative ways to infuse artistry and warmth.
Embracing Comfort with Framed Photos on Cream Walls
Create a cozy home ambiance with the soothing allure of soft cream walls and neutral-toned decor. Elevate your living space by adorning these walls with cherished family photos, serving as constant reminders of the precious moments in your lives. The soft cream backdrop provides the perfect canvas to showcase these heartwarming memories.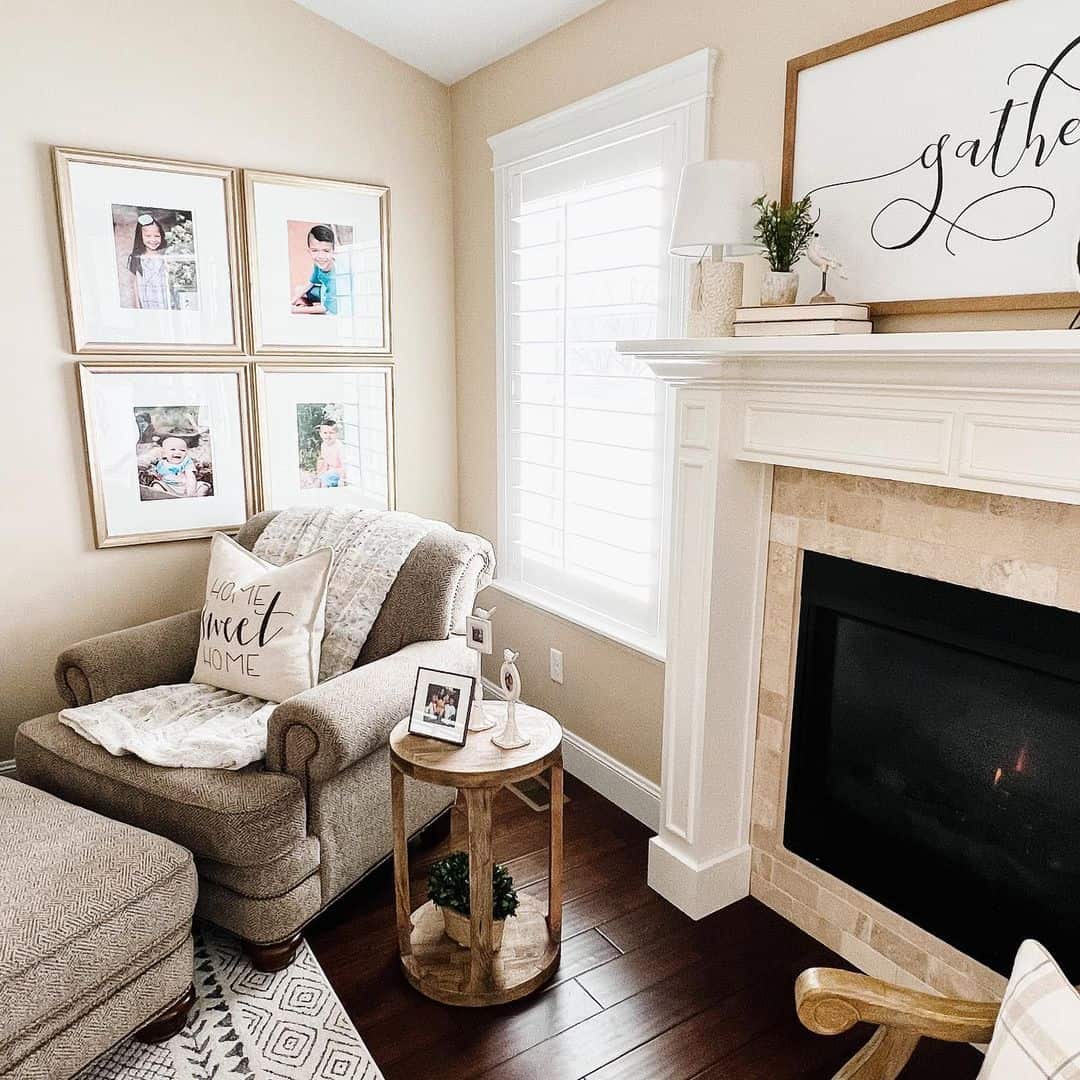 Credit: simplicity_of_home
Shop the Look
Farmhouse-Inspired Decor and Portrait Gallery on Cream Wall
Infuse character and charisma into your living space by making the most of the wall behind your TV. Embellish it with charming farmhouse-style decor and captivating portraits. The cream walls provide an ideal backdrop, allowing the subtle-toned elements to take center stage. The white cabinets beneath the TV harmoniously complement the warm, natural color scheme of the room.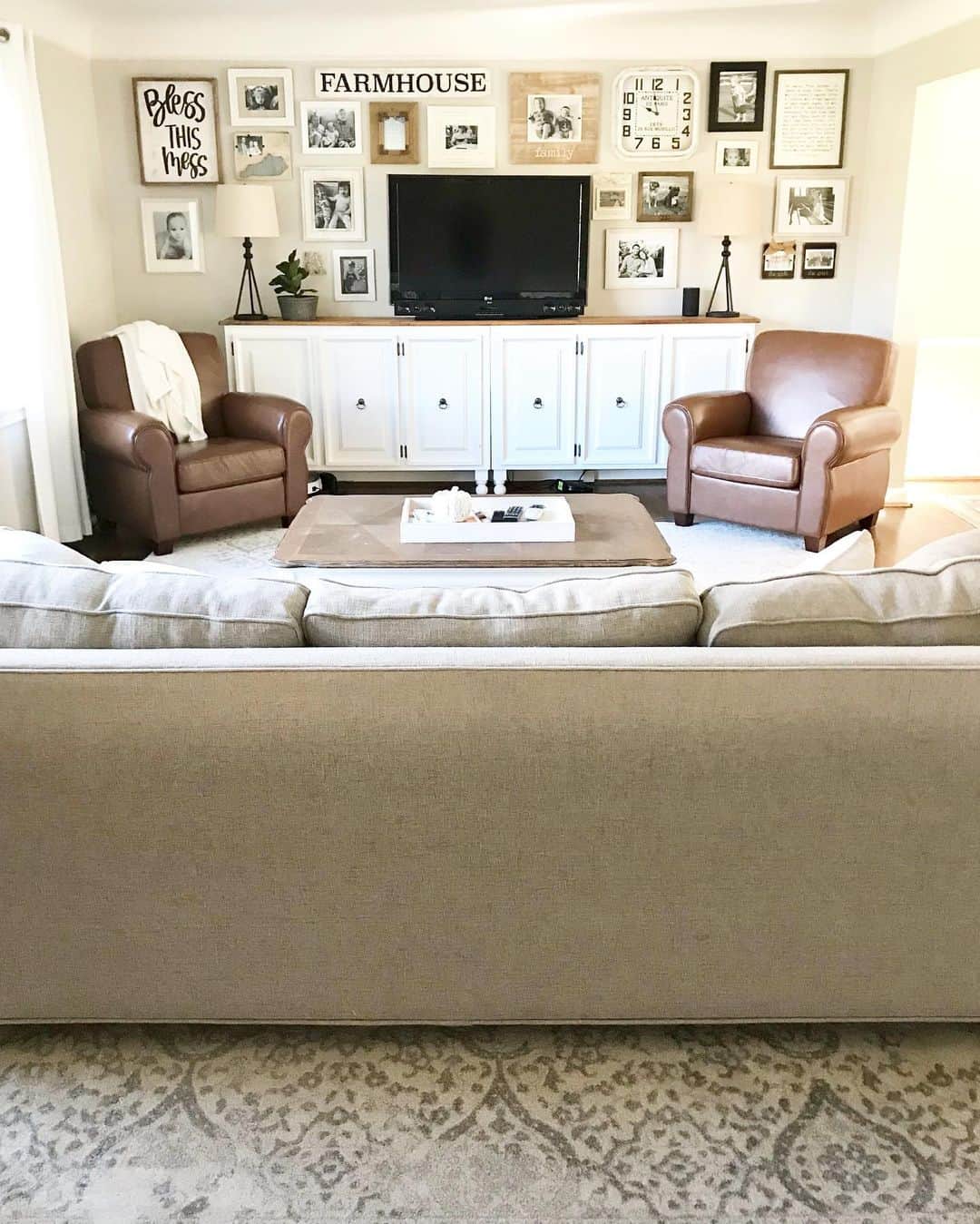 Credit: the.simplified.mom
Shop the Look
Snug Reading Retreat Adorned with Winter Scene Painting
Curate a warm and inviting winter aesthetic with enchanting portraits featuring winter scenes. The board and batten ashwood walls offer a delightful textural and color contrast against the smooth cream backdrop. A snug white armchair, adorned with a furry throw, is accompanied by a rustic wooden stand, creating the perfect corner for literary escapades.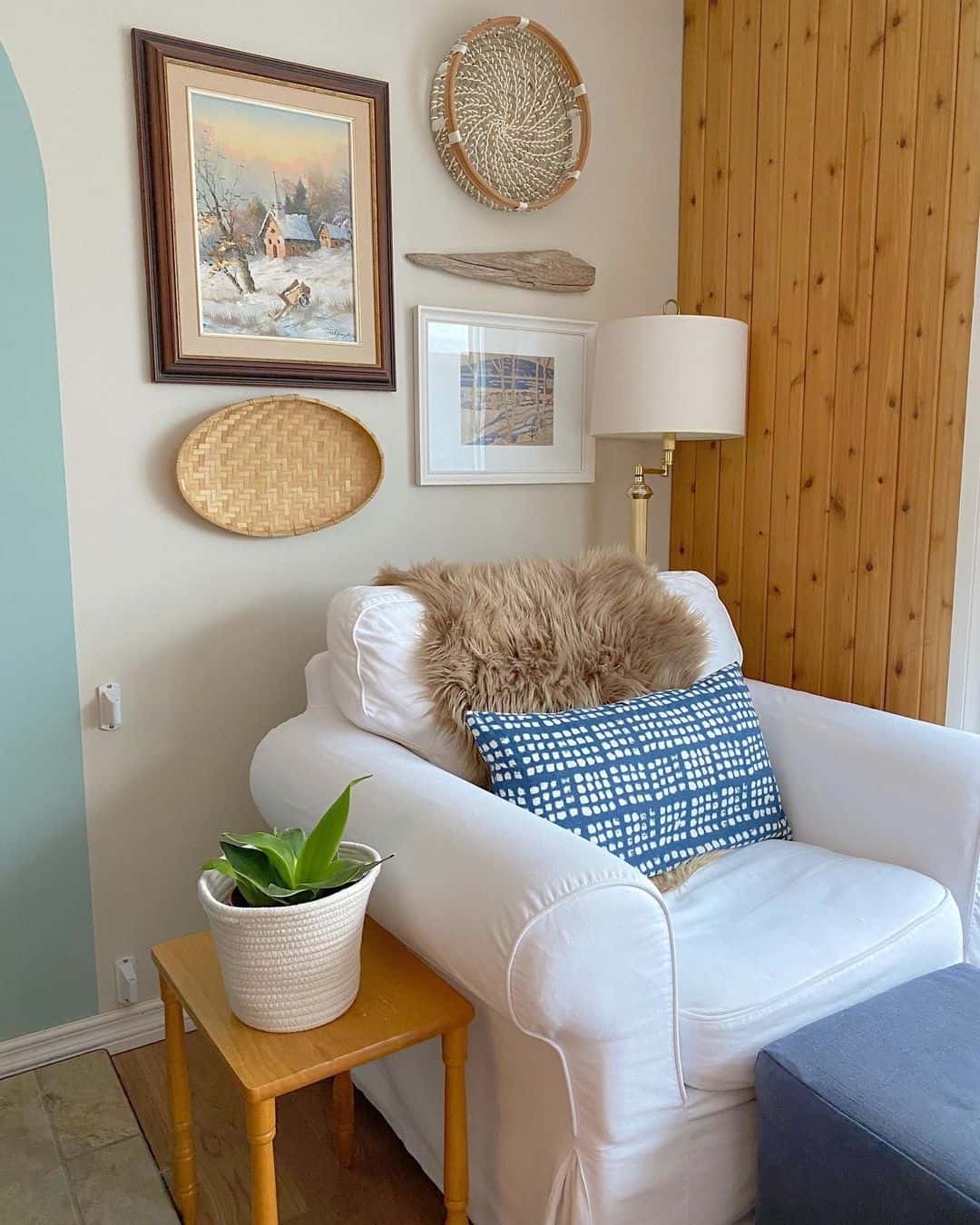 Credit: yzfhomedecor
Shop the Look
Minimalistic Elegance: Small Brown Table Amidst White Seating
In a pristine white living room, portraits on rustic boards find their place on a white shelf against a luminous backdrop. A lush green plant in an alabaster pot graces a white stool atop a white coffee table. A petite brown table takes center stage before a white sofa, resting on a snowy rug, enhancing the warmth of the wooden floor.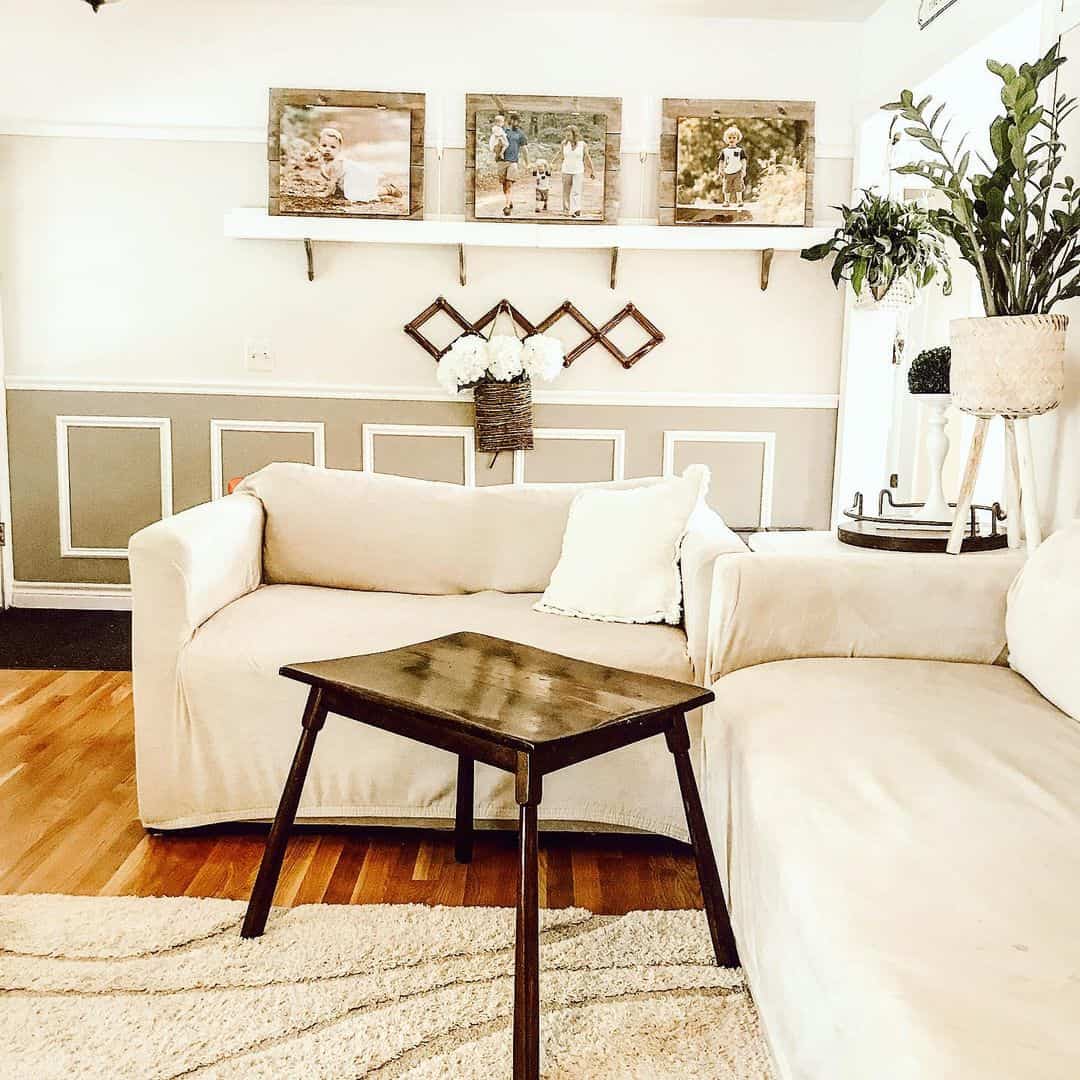 Credit: thyme_and_tinsel
Shop the Look
Timeless Beauty: Framed Artwork with Olive Couch
Adorn the soft cream walls with exquisite framed artwork that imparts a touch of classic vintage charm to the room. A brass light fixture adds a hint of sophistication, mirroring the artwork's warm hues. A graceful olive couch and a brown armchair frame a splendid wooden coffee table, completing the inviting ambiance.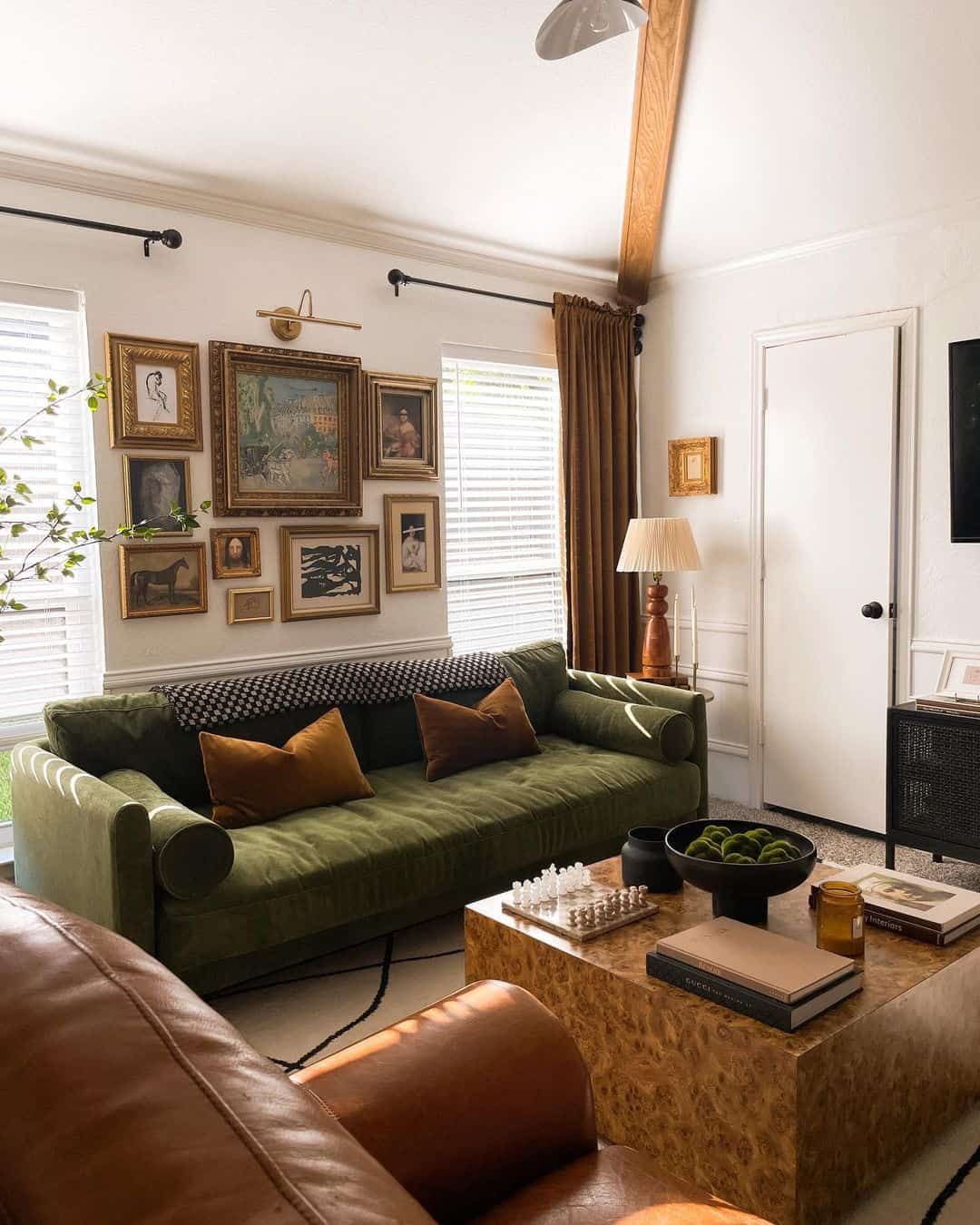 Credit: thegratzlife
Shop the Look
Capturing Memories with Rustic Wood-Framed Photos
Celebrate the tapestry of your life and relive its joyful moments through heartwarming photos adorning the wall. The diverse rustic wood tones of these photo frames infuse a charming rustic vibe into the space. A graceful wooden stand offers additional space to showcase your cherished family photos.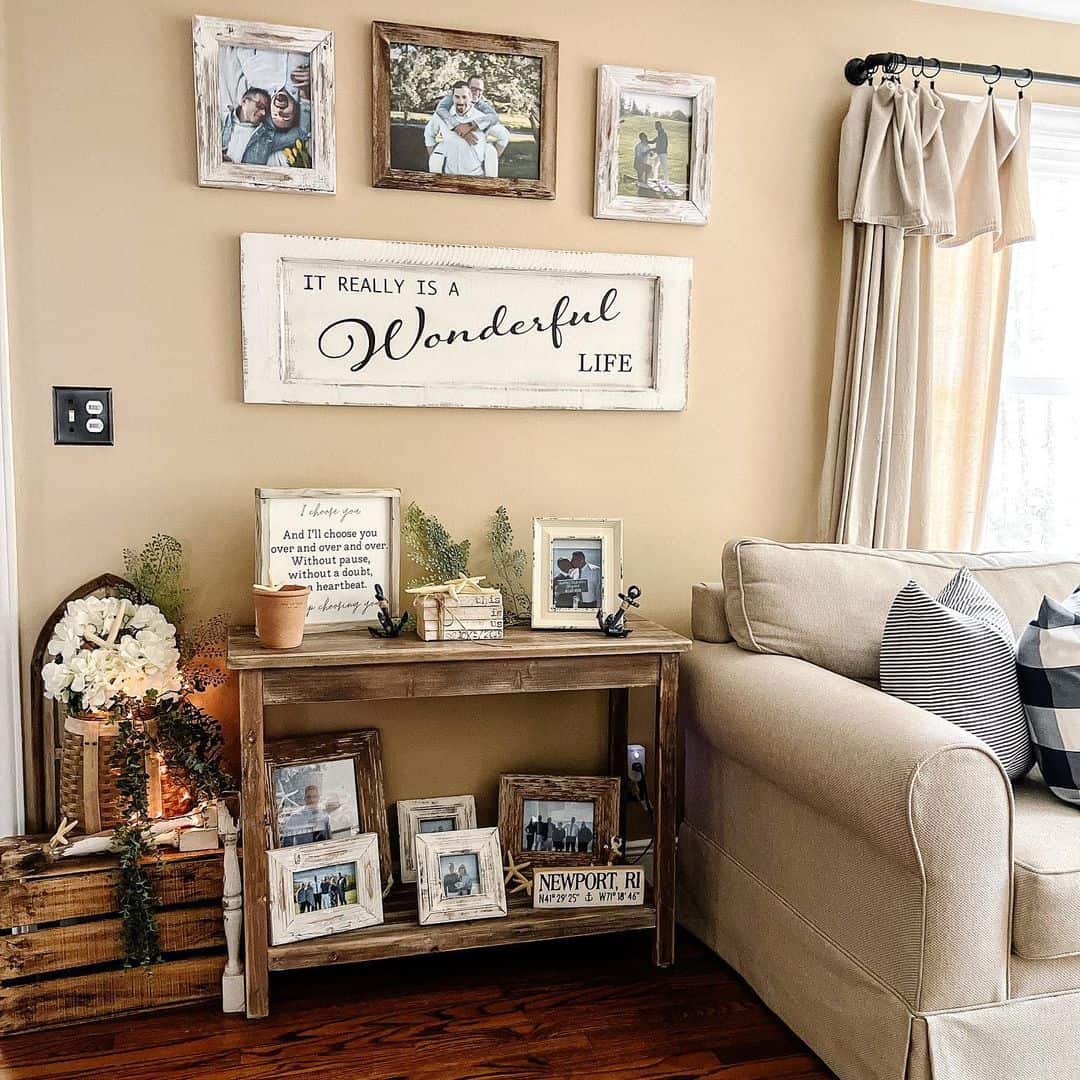 Credit: our.cozy.little.home
Shop the Look
Bold Contrast: Charcoal Black Walls with Neutral-Toned Portraits
Elevate your farmhouse room's aesthetics by applying a striking coat of charcoal black paint on one accent wall. This bold choice provides a captivating backdrop for the soft-toned portraits to shine. Introduce a rustic oak stand to highlight the simplicity of farmhouse decor.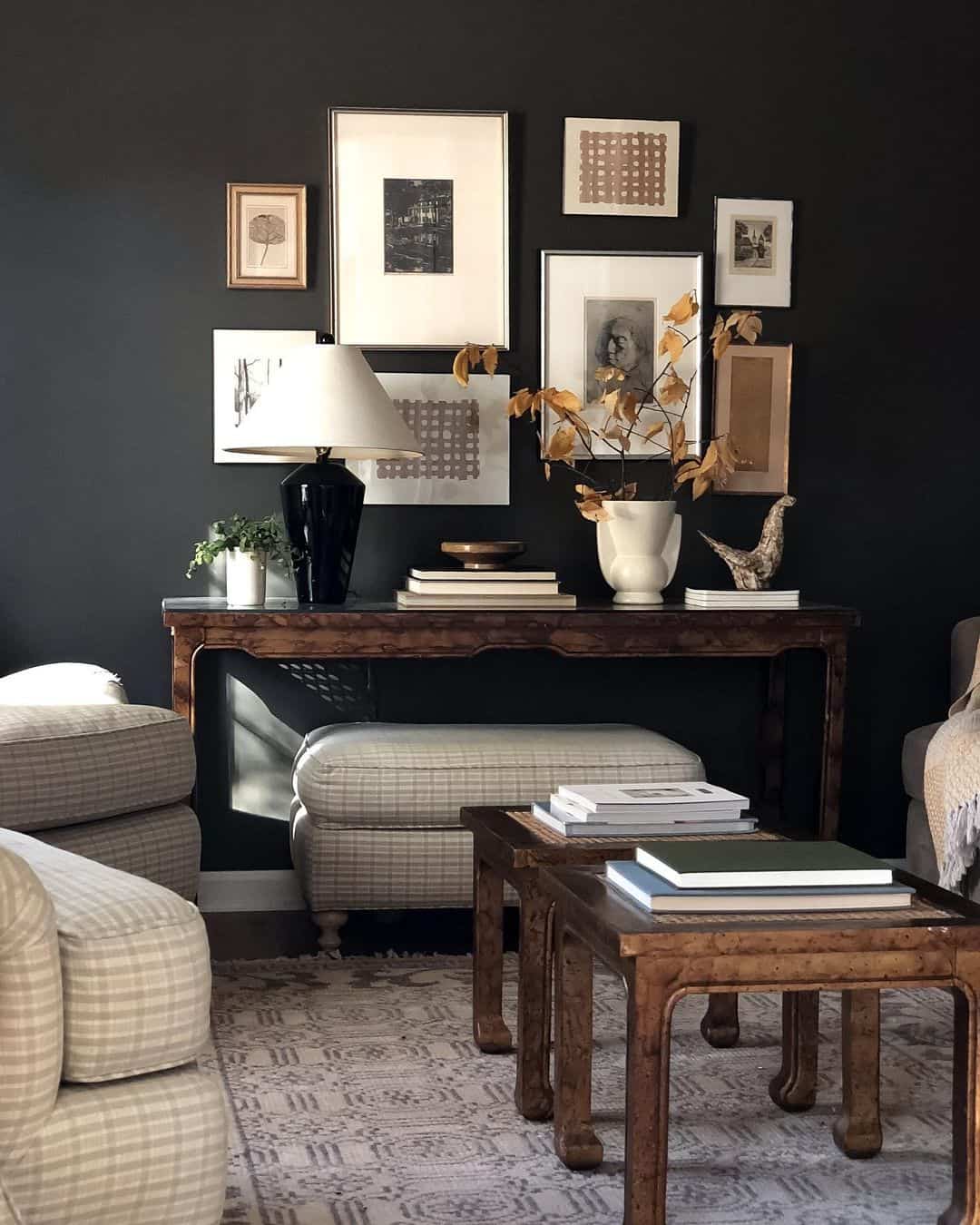 Credit: seedsofhome
Shop the Look
Modern Living Room Inspiration: Putting Pictures on the Wall
Experience comfort and style in this cozy sitting room, featuring a soft cream sofa and ottoman. Elevate the space's charm with the inclusion of lovely dried leaves and an elegant vase, showcased in a rattan basket atop the ottoman. Adorn the walls with beautiful art pieces that harmonize with the warm tones of the room.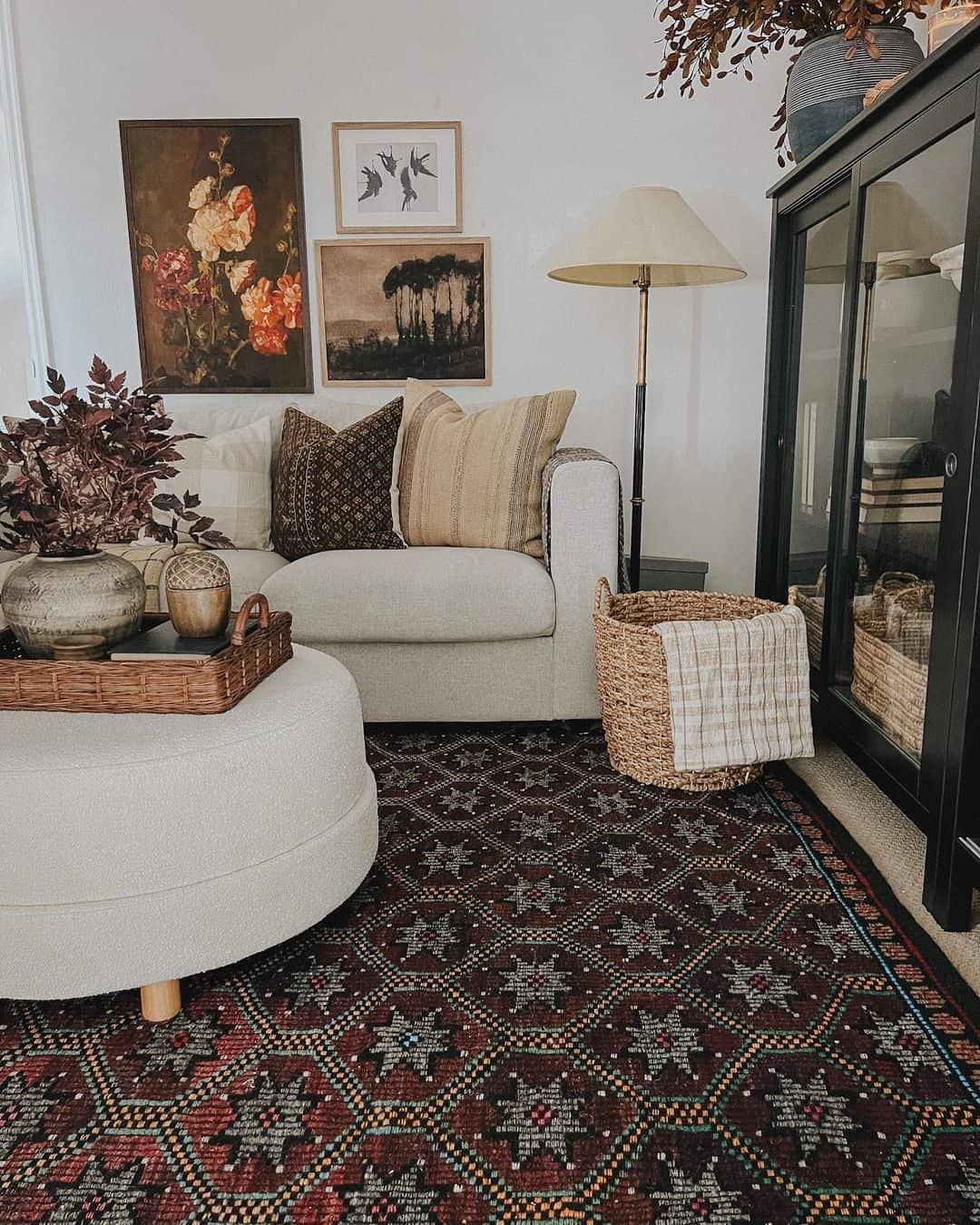 Credit: house.on.oak.lane
Shop the Look
Wrap-up
Your farmhouse living room is a reflection of your individuality, and the way you choose to display art on its walls can make it truly your own. From rustic charm to modern elegance, these artistic wall picture display ideas open up a world of possibilities to infuse warmth and character into your space. Let your farmhouse be a canvas for your personal story, and watch as it transforms into a place that feels uniquely yours.