7+ French Country Ideas to Infuse Your Farmhouse Living Room with Simple Elegance
Affiliate Disclosure: As an Amazon Associate we earn from qualifying purchases. Hence, if you click through and make a purchase, we will get a commission at no extra cost to you. For more info, read our full disclosure.
When it comes to interior design, the French country style is all about marrying rustic charm with simple elegance. If you're looking to transform your farmhouse living room into a haven of timeless beauty and comfort, we've got you covered.
In this blog, we'll explore seven fabulous French country ideas that will infuse your living space with a touch of provincial allure and understated grandeur. Get ready to embrace the cozy and inviting ambiance that French country design has to offer.
Welcoming Living Room with Soft Cream Walls and Stone Fireplace
This inviting living space embodies the essence of simple home living, with soft cream walls harmonizing perfectly with rustic walnut flooring. The stone fireplace introduces texture and character, while the armchairs seamlessly blend with the warm color palette that envelops the room. The open windows usher in a bright and airy ambiance.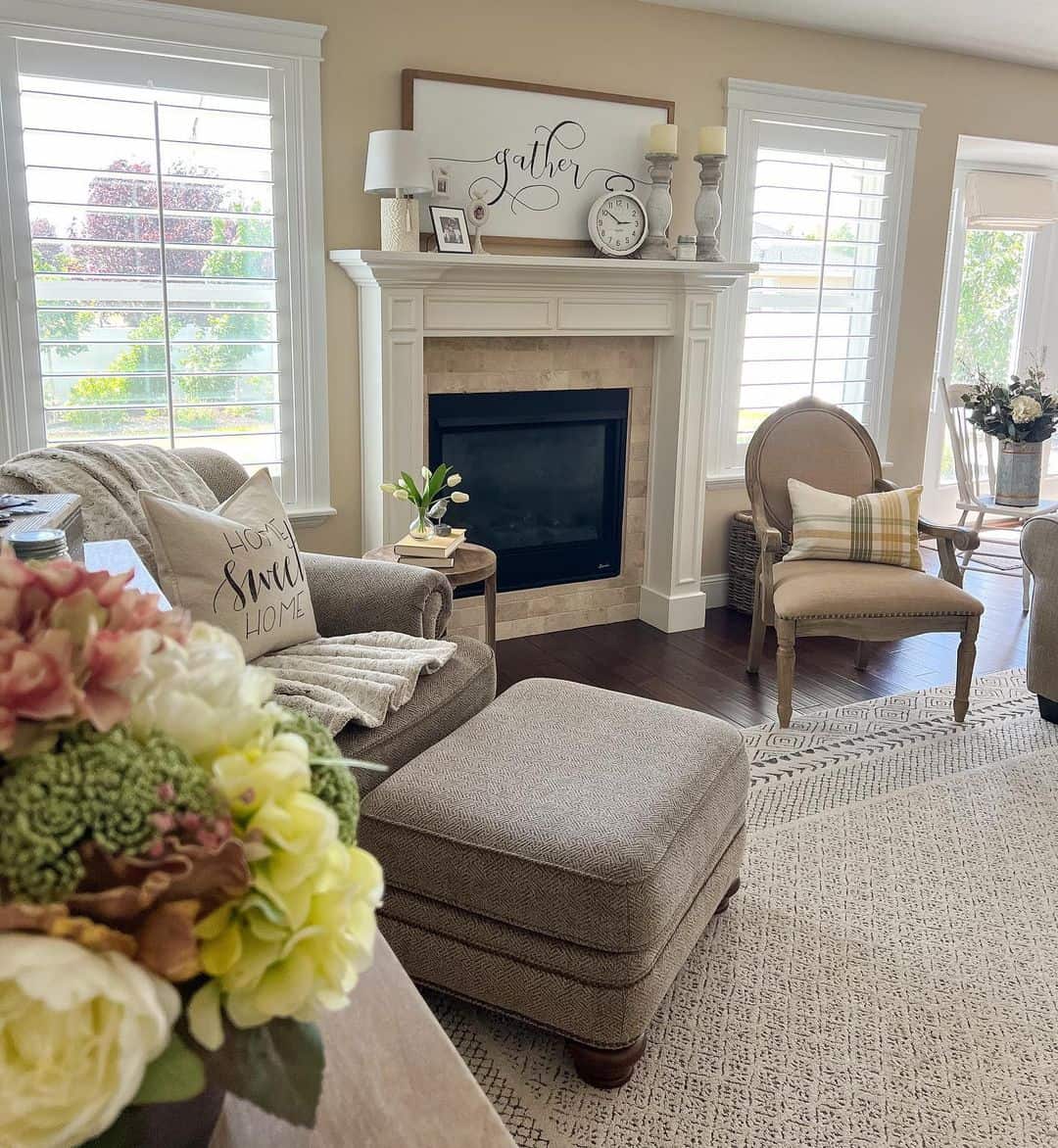 Credit: simplicity_of_home
Shop the Look
Spacious European Farmhouse Living Room Enhanced by Exposed Wood Beams
In this generously proportioned European farmhouse living room, exposed wood beams take center stage against white shiplap walls, adding charisma and depth to the atmosphere. Rustic wood floors complement the soft white furniture and decor, and sheer white curtains allow a gentle cascade of natural light to illuminate the room.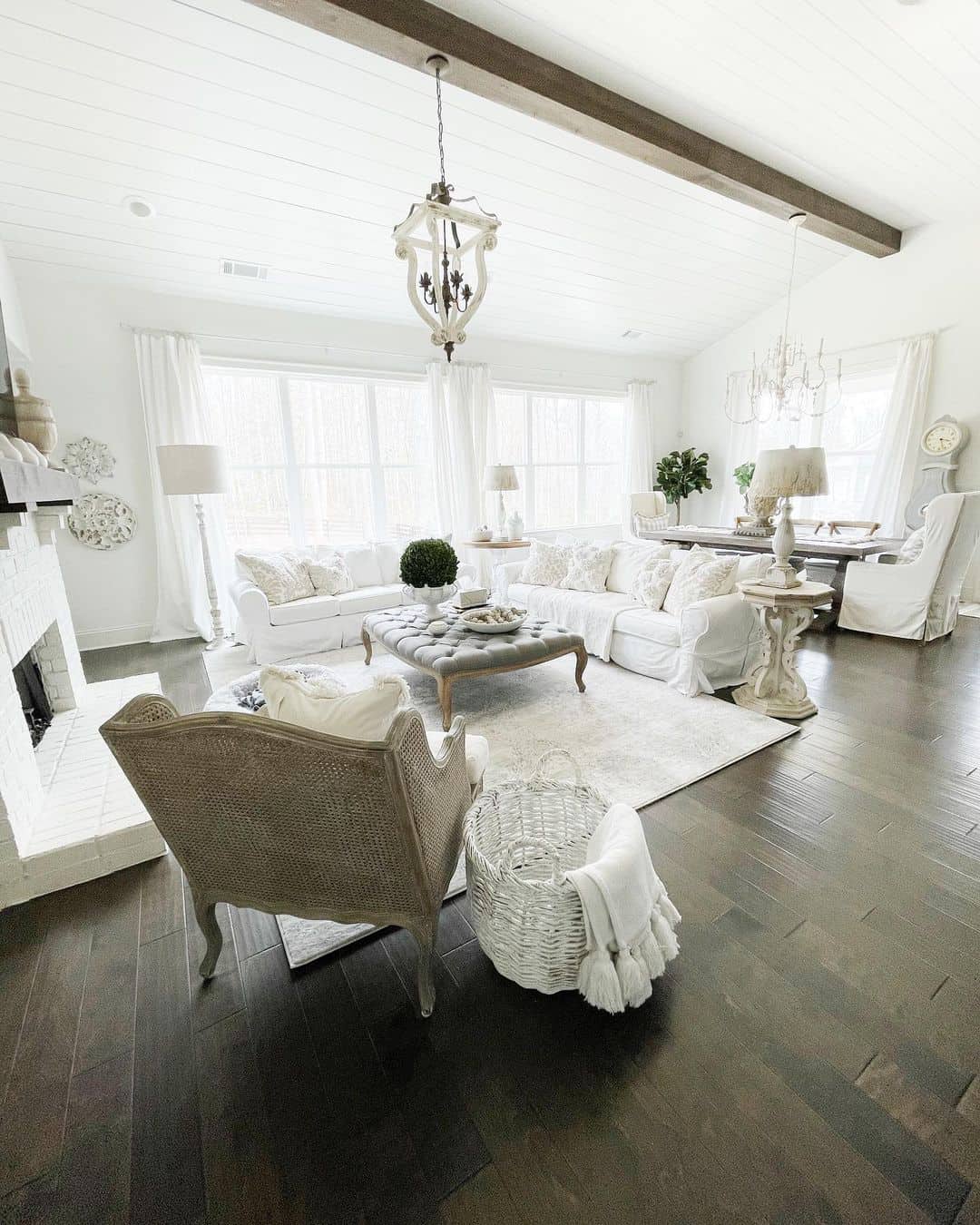 Credit: white.cottage.life
Shop the Look
Elegant French Country Living Room in Cream Tones
Sheer, ethereal curtains allow the gentle embrace of natural light to grace this exquisite French country living room. The soft cream walls harmonize effortlessly with the neutral-toned carpet adorning a light ash wood floor. An exquisite oak cabinet graces the space, adorned with an array of delicate ornaments.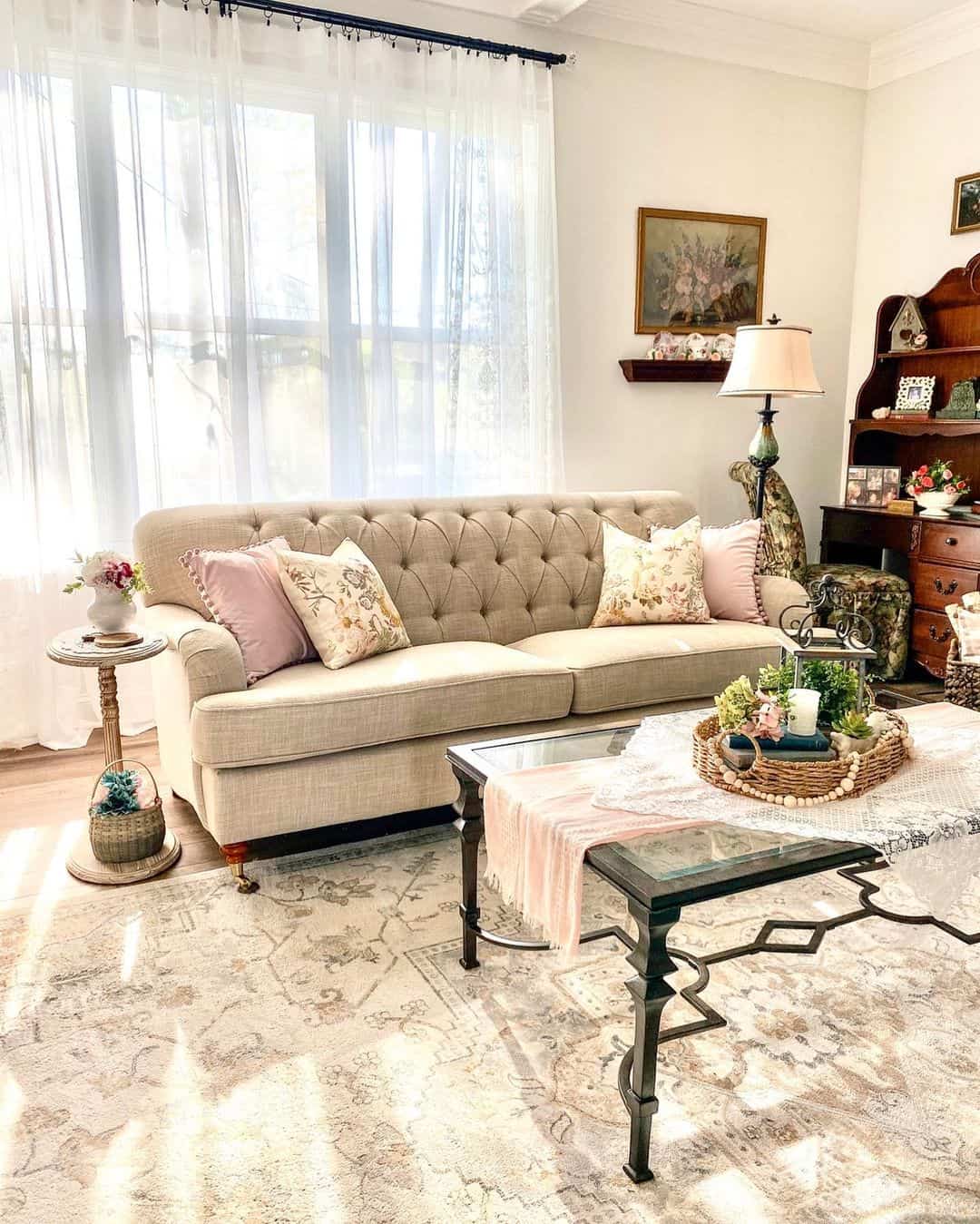 Credit: mysweetgeorgiahome
Shop the Look
Elegant Living Room Embellished with White Flora and Foliage
This sophisticated living room features a tasteful white and black coffee table paired elegantly with gray and wood armchairs. The centerpiece is a light gray fireplace adorned with a brass filigree mirror. Throughout the room, white flowers and plants serve as charming home decor accents.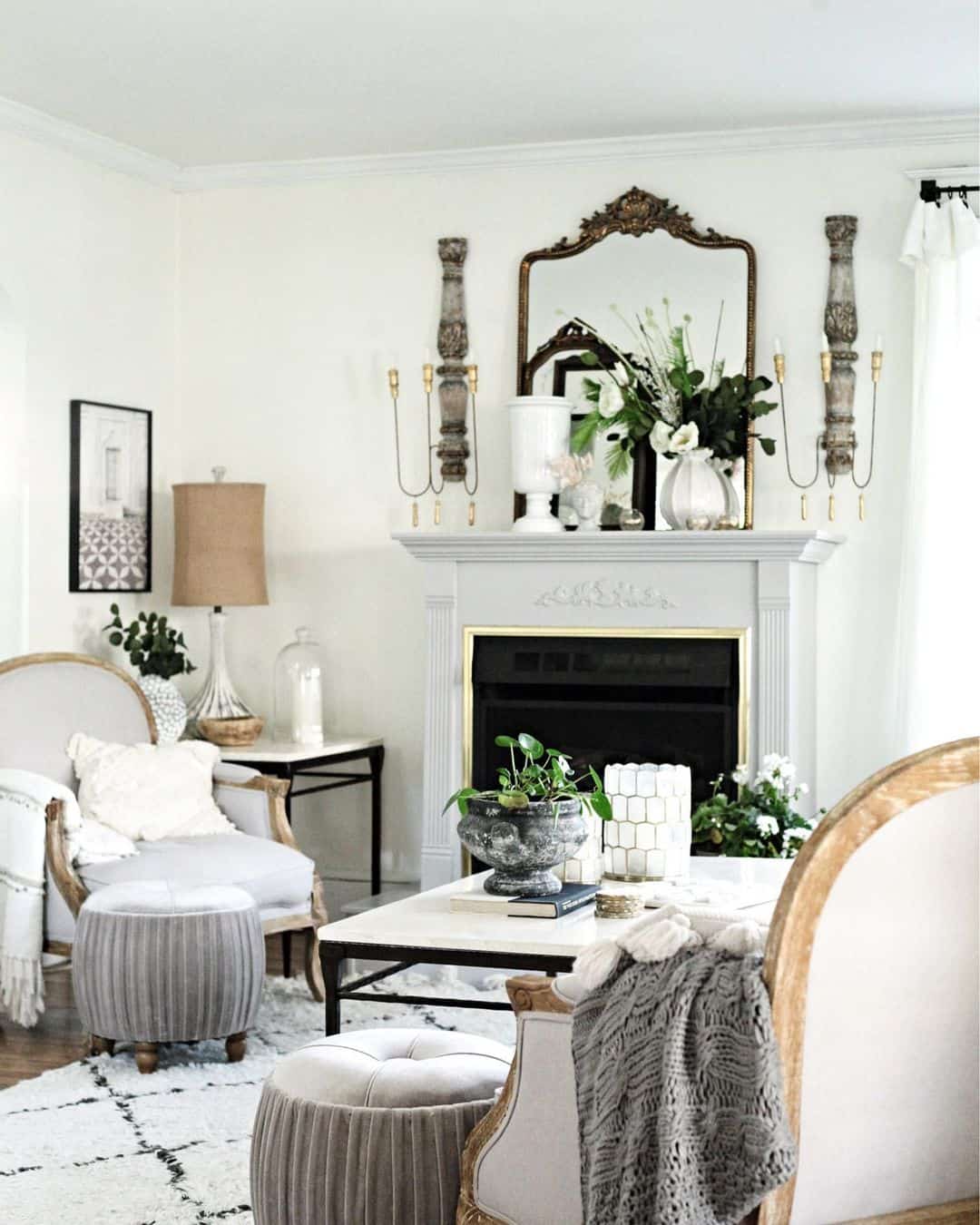 Credit: thecultivatedhome
Shop the Look
Inviting Farmhouse-Style Living Room with Exposed Wood Beams
This welcoming farmhouse-style living room melds warm neutral elements with vibrant wooden accents to create a charming rustic aesthetic. Exposed wood beams and bright wood floors seamlessly complement various farmhouse elements. A comfortable gray couch finds its perfect spot between two handsome oak stands.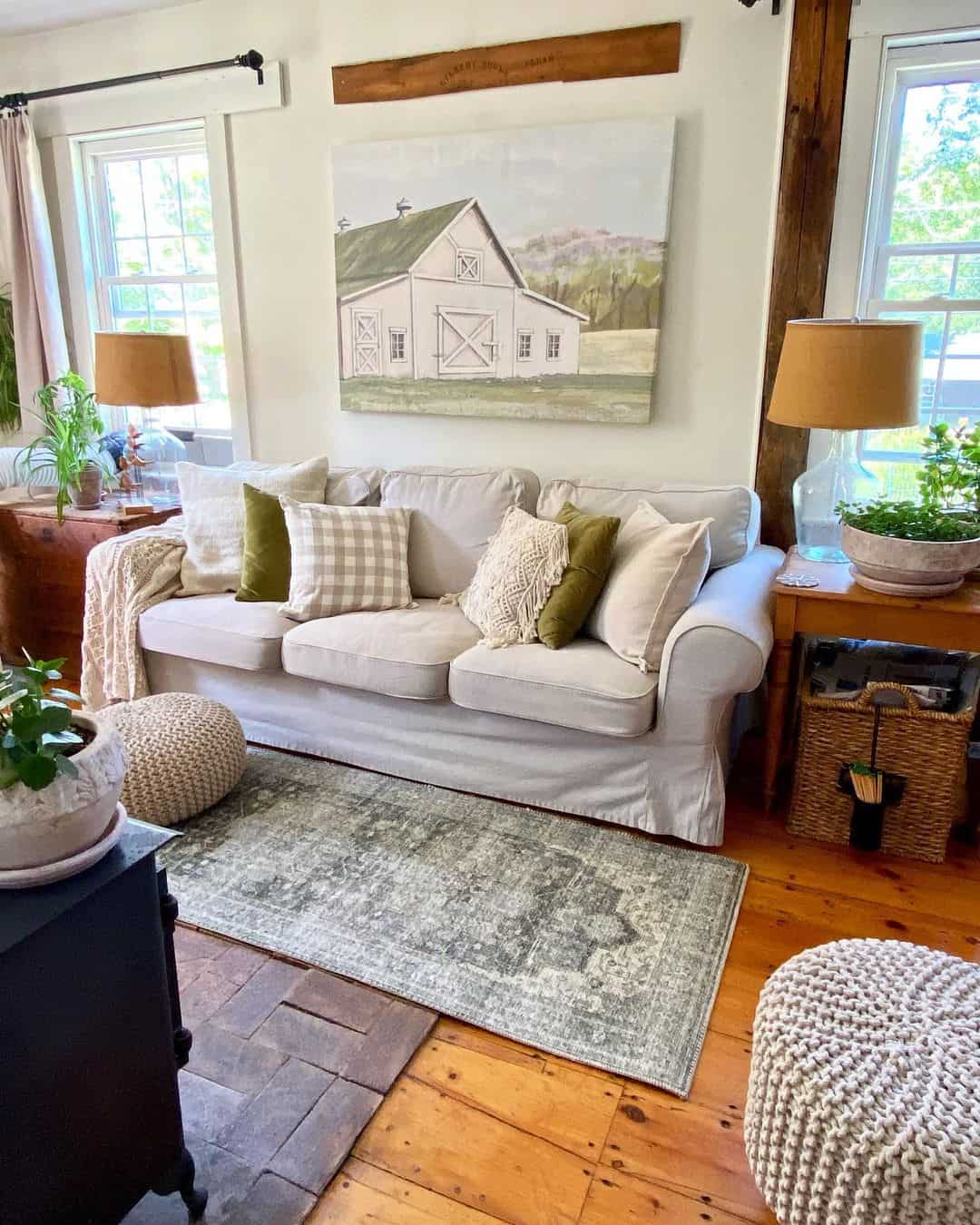 Credit: thelongawaitedhome
Shop the Look
Classic French Cottage Living Room with Vintage Glamour
This classic French cottage-style living room exudes vintage glamour, harmoniously blending rustic natural elements with glamorous decor. Artwork and a fireplace evoke a timeless vintage charm, while neutral-toned furniture and wood flooring infuse a rustic ambiance. The monotone color palette ensures the room's key features take center stage.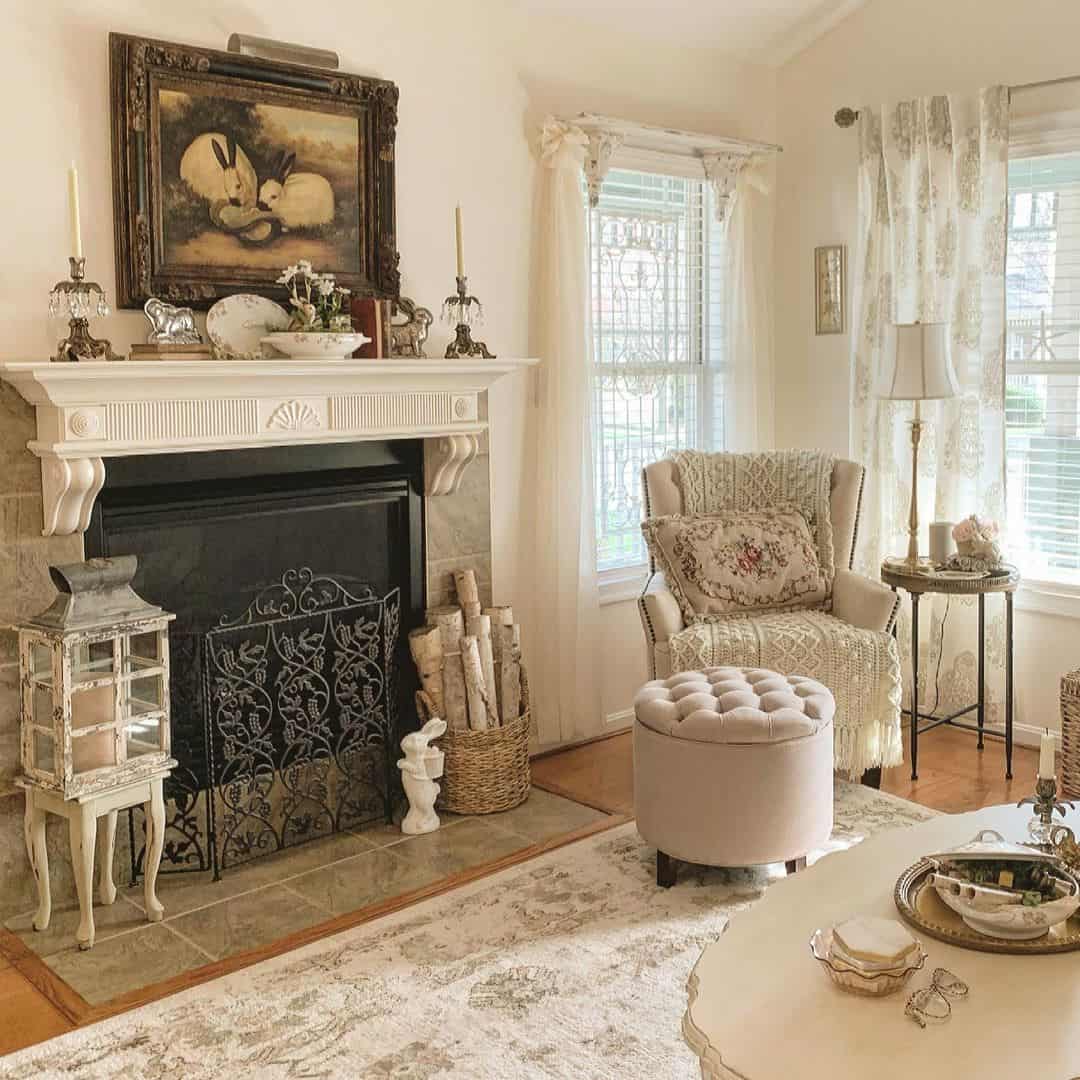 Credit: franidecor
Shop the Look
Elegant Decor: Ornate Gold Shelves, Topiaries, and White Hydrangeas
An opulent gold-framed mirror adorns the white living room wall, flanked by a pair of intricate gold shelves that showcase delicate topiaries. The beige couch is adorned with embossed gold pillows, exuding a sense of luxury and sophistication.
Adding to the refined ambiance, a round coffee table adorned with white hydrangeas graces a beige rug, creating an atmosphere of timeless elegance.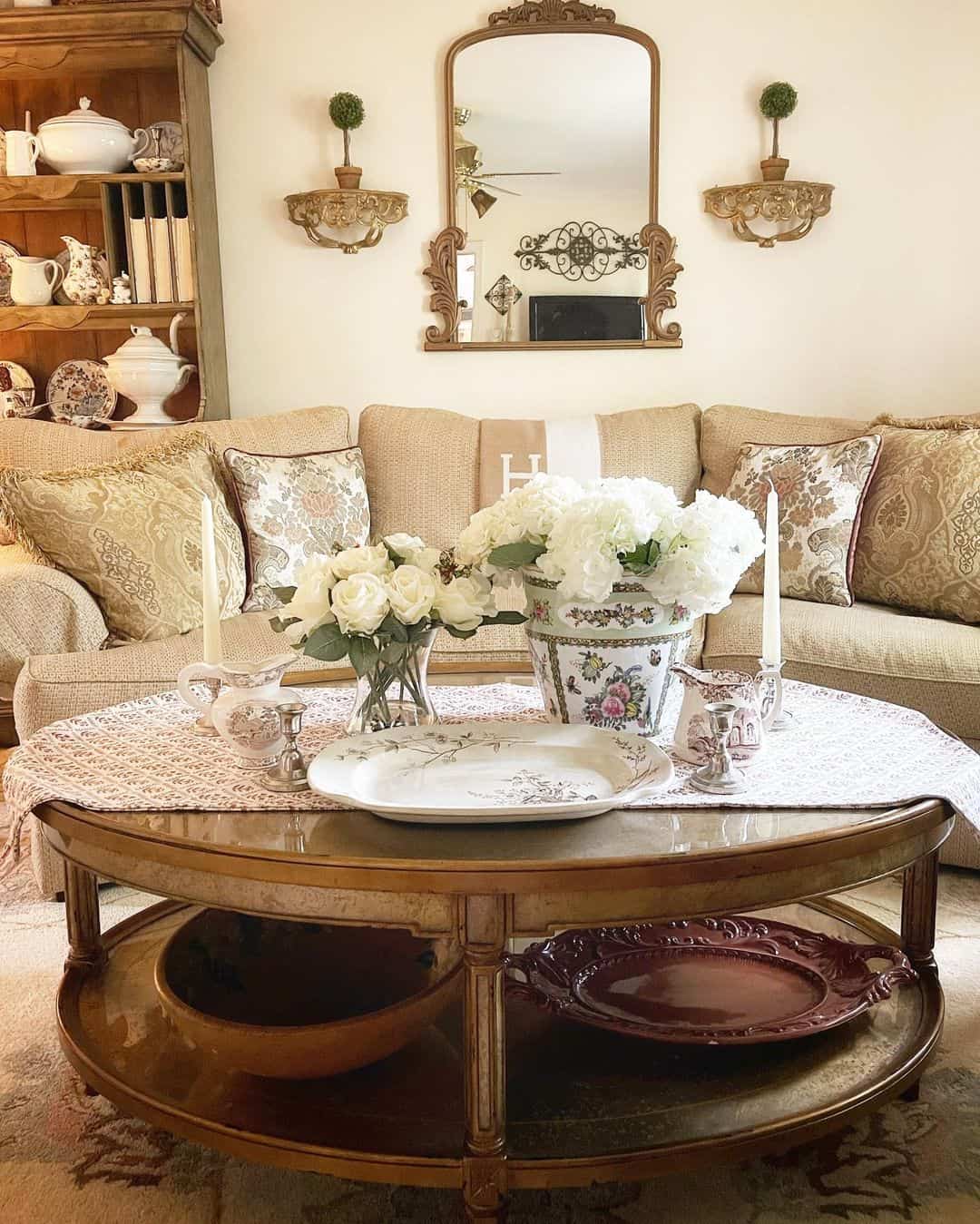 Credit: thefrenchcountryfarmhouse
Shop the Look
Embracing Cozy Comfort in a Farmhouse-Styled Living Room
Step into the warm embrace of this farmhouse-styled living room, where a snug beige sofa is generously adorned with plump cushions. At the heart of the room, a wooden coffee table rests atop a rustic rug, inviting relaxation and conversation.
Above the room's focal point, a white fireplace has been artfully transformed with vibrant garlands, infusing the space with festive charm. To complete the ambiance, wall-mounted golden lighting adds a touch of personality.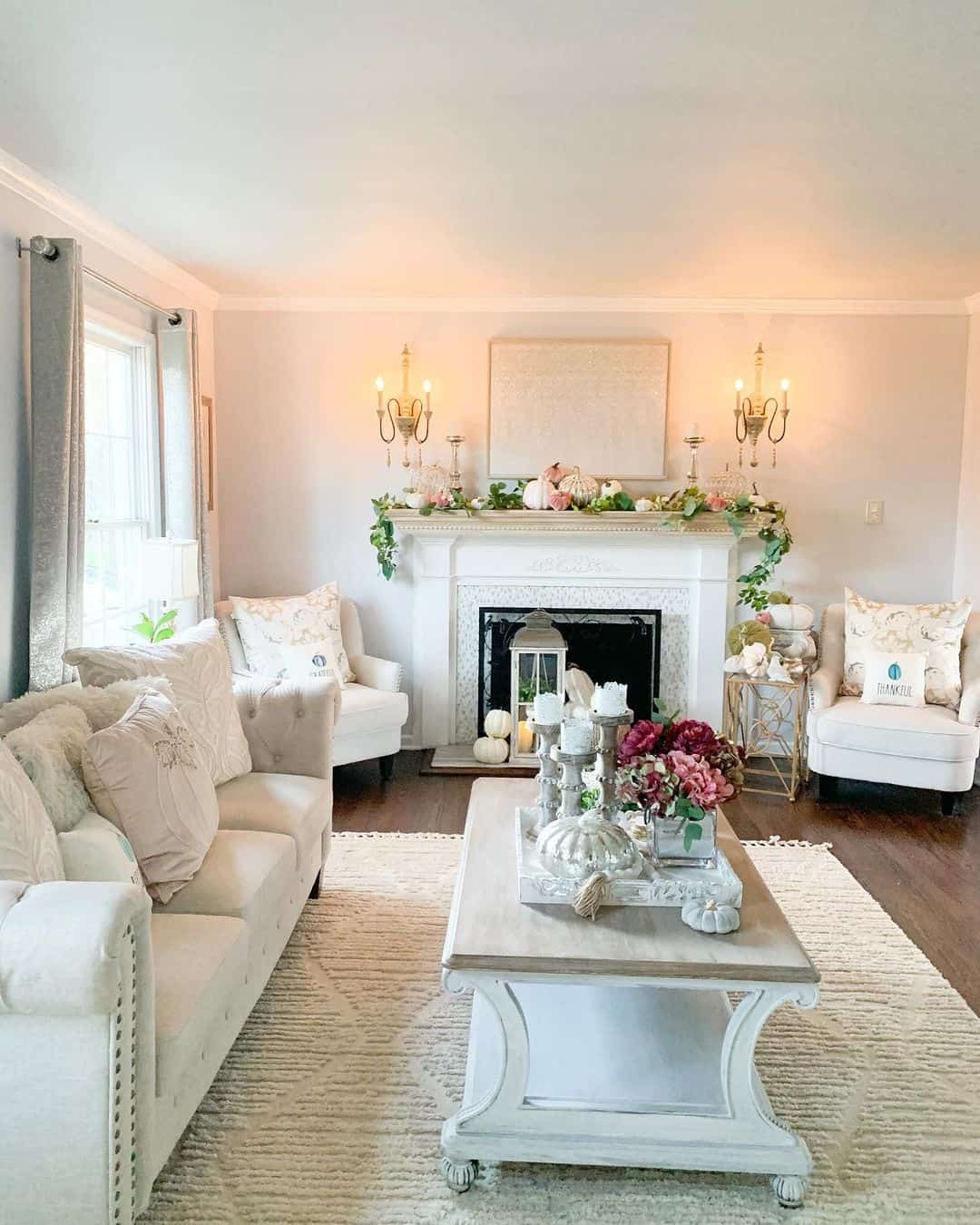 Credit: interiorlove_angelique
Shop the Look
Wrap-up
Incorporating French country elements into your farmhouse living room can elevate it to a whole new level of sophistication and warmth. By blending rustic textures, soft color palettes, and charming decor, you can create a space that exudes simple elegance.
These seven ideas are just the beginning; let your creativity flow as you craft a French country-inspired sanctuary that reflects your unique style and personality.