7+ Captivating Country Farmhouse Décor Ideas for Your Living Room
Affiliate Disclosure: As an Amazon Associate we earn from qualifying purchases. Hence, if you click through and make a purchase, we will get a commission at no extra cost to you. For more info, read our full disclosure.
Transform your living room into a cozy haven of rustic charm with these 7+ captivating country farmhouse décor ideas. Whether you're a fan of vintage-inspired accents or the allure of greenery, we've got the inspiration you need to infuse warmth and character into your living space.
Discover timeless design tips that will transport you to the heart of the countryside while maintaining the comfort of your home.
Unleashing Creativity in a Light and Airy Living Room
To breathe life into a light and airy living room, you'll encounter a pristine white couch, a gently hued gray upholstered ottoman, and ethereal white drapes. A whimsical wicker tray graces the ottoman, hosting a vibrant bouquet of flowers and delicate white wooden beads.
Whether it's a coffee table, ottoman, or a fusion of both, the canvas for creativity lies in a splendid tray adorned with your choice of lush greenery and a personal décor masterpiece.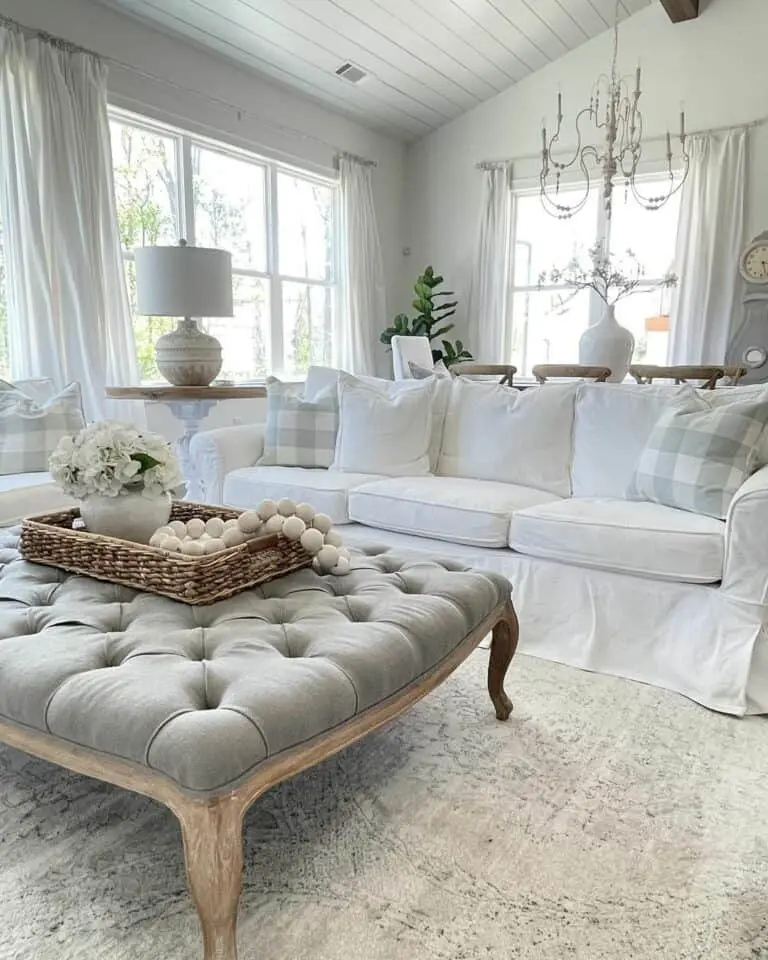 Credit: white.cottage.life
Shop the Style
Eiffel Tower Ornaments Transform a White Bookcase
Inject a burst of creativity into your living space with a captivating collection of Eiffel Tower ornaments adorning a pristine white bookshelf, set against a backdrop of serene white living room walls.
Plush white pillows grace the welcoming sofa, while elegant white décor finds its haven on a gleaming silver tray atop a pristine white ottoman. A white rug complements the warmth of the wooden floor.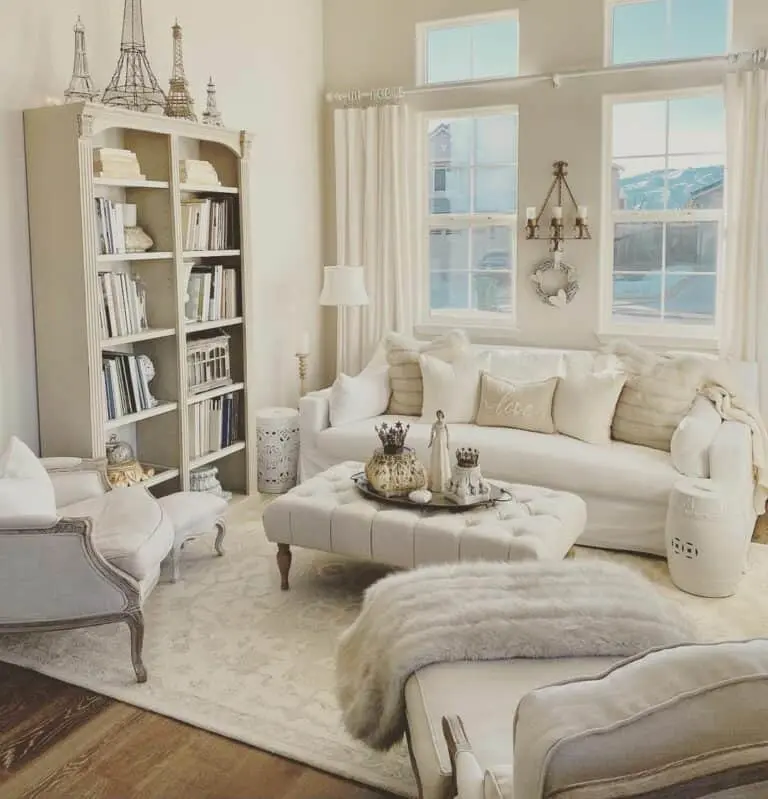 Credit: whateverbeautifies
Shop the Style
Nurturing Creativity with Cottage-inspired Floral Décor
Step into a world of artistic flair within an elegant cottage-inspired living room, adorned with neutral furnishings and enriched by vintage accents. Artfully placed potted greenery and delicate floral patterns echo the grace of the curtains, creating a gentle contrast against the canvas of white walls and lustrous wooden flooring.
A vintage-inspired chandelier, adorned with glistening crystals, completes the ensemble, infusing the space with an artistic atmosphere.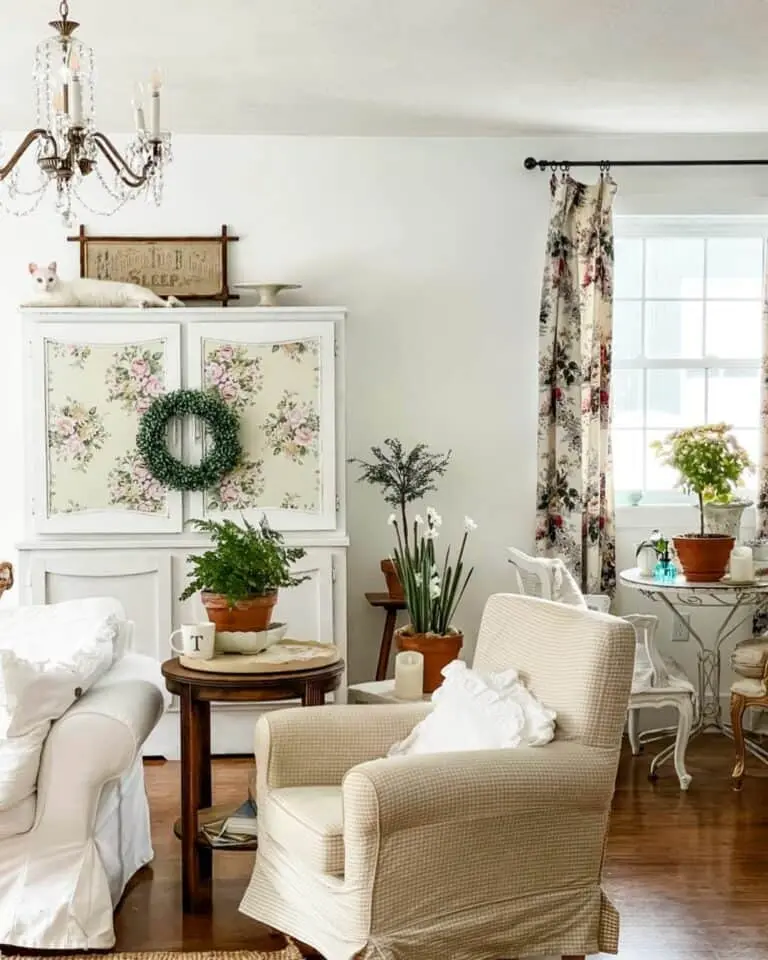 Credit: tracey_hiebert
Shop the Style
Reviving Creativity with Refurbished Furniture in a Country Living Room
This space boasts a charming stone floor, inviting natural woven poufs, a reclaimed potting table, and carefully refurbished chairs gathered around a painted table. The fusion of diverse natural materials creates an earthy yet welcoming atmosphere. Sprinkle in some greenery and plants, and the entire space comes alive with creative energy.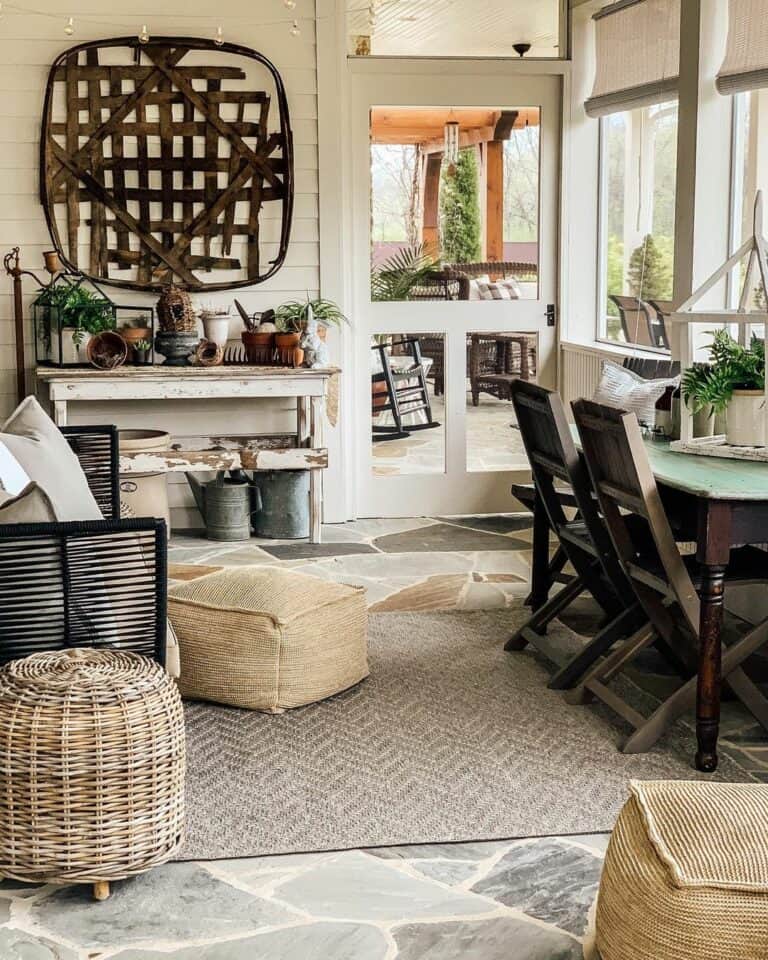 Credit: wholeheartedfarmhouse
Shop the Style
Creative Expression in a Bright White Farmhouse Living Room
White and wood form a timeless and enduring combination. Here, an exquisite white sofa graces warm hardwood floors, accompanied by a white stool adorned with a woven basket filled with cozy white throw blankets and pillows.
Behind the sofa, a white-painted chimney pitch takes center stage, framed by an antique wooden mirror and flanked by terracotta pots bursting with blooming plants.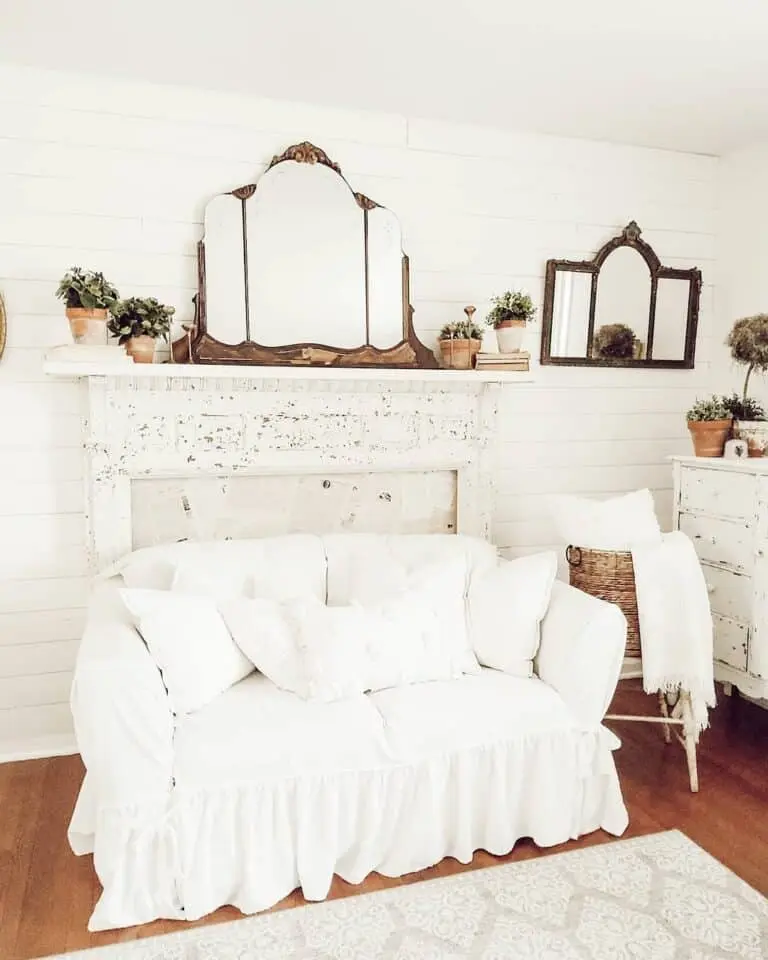 Credit: vintageandgraceliving
Shop the Style
Discovering the Charms of Country Farmhouse Décor
A black-rimmed white tray, a rustic planter, and a quaint pitcher share the limelight on a light wooden table, alongside a stack of carefully chosen books. Beyond the table, a stone fireplace with a white mantle becomes a canvas for frames, a mirror, and a vibrant green wreath.
To achieve the quintessential country farmhouse look, the inclusion of greenery is paramount. You can opt for easy-to-maintain plants like a snake plant or pothos, or choose the effortless beauty of faux plants.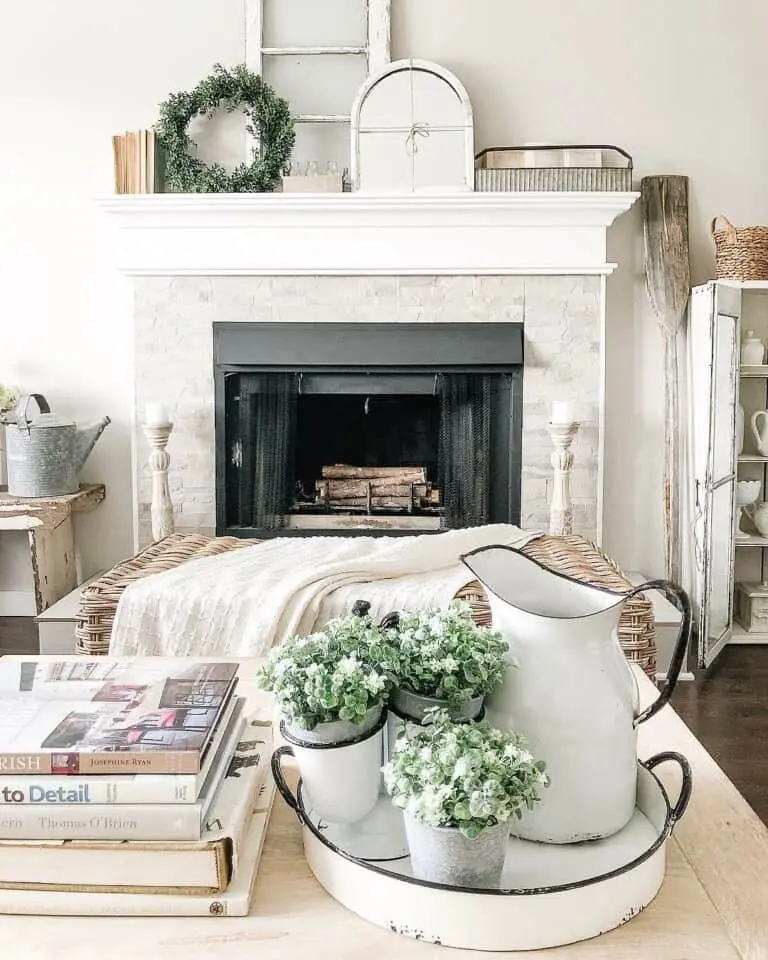 Credit: thewhitewoodcottage
Shop the Style
Crafting a Gallery Wall, Enhancing with Shiplap Siding, and a Papered Hearth
Two inviting white chairs frame a short-end table elegantly draped with a pristine white cloth, adorned with an array of carefully selected books and artistically arranged candlesticks.
Behind the chairs, a beautifully carved wooden chimneypiece takes center stage, boasting a papered-in hearth and a subtly decorated mantel. The room's allure is heightened by a simple white gallery wall and subtle touches of greenery.
This exemplifies the art of creative home decorating, making the most of items already within your grasp, such as pages from vintage books found at thrift stores, family photos elegantly framed for a gallery wall, or a piece of fabric thoughtfully draped over a table to conceal less desirable colors.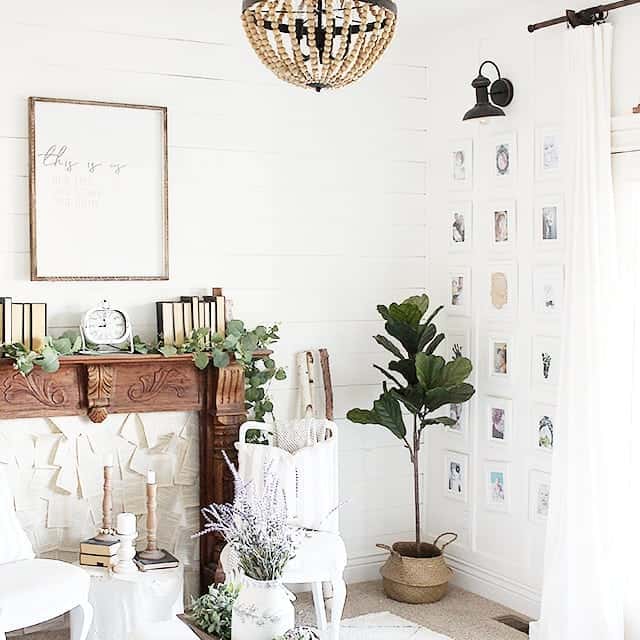 Credit: thriftyandchicdecor
Shop the Style
Expressing Creativity in a Cozy Country Style Entrance
Two textured pillows take their place atop a welcoming pale wooden bench, resting against a softly textured gray wall. Adjacent to the bench, an olive tree flourishes within a charming woven basket. The strategic use of texture in pillows, walls, and décor adds an extra layer of sophistication to your design.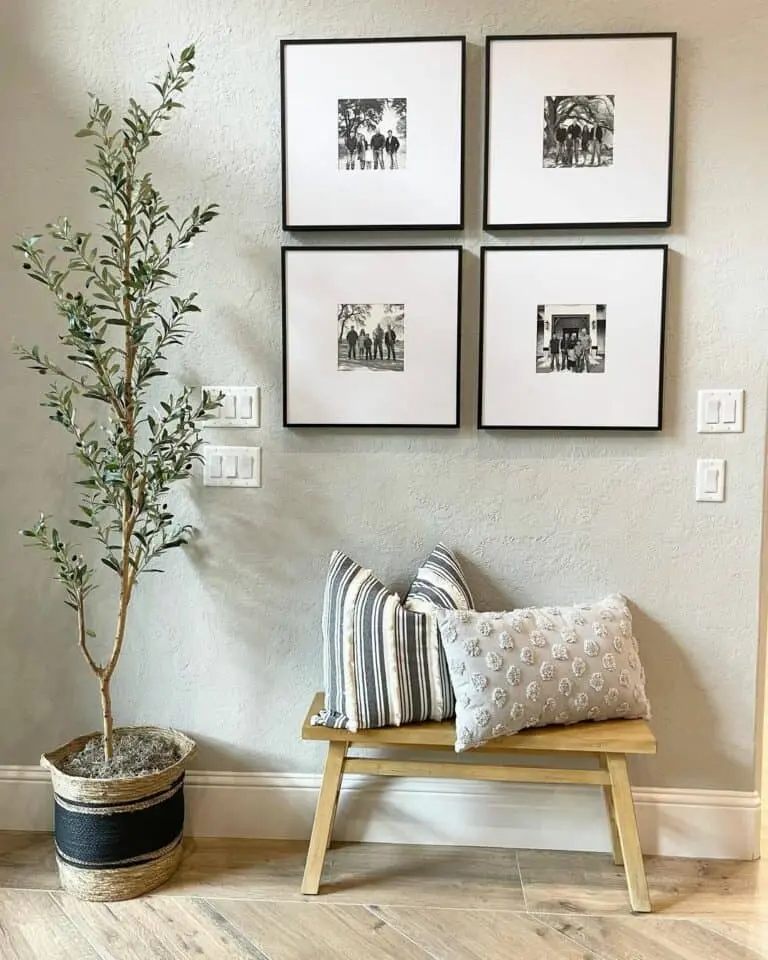 Credit: tredwayhomedesigns
Shop the Style
Wrap-up
Incorporating country farmhouse décor into your living room not only adds a touch of nostalgia but also creates an inviting and tranquil atmosphere. From black-rimmed trays to lush greenery, these ideas offer a diverse range of options to suit your personal style. Embrace the charm of rural living and make your living room a space that exudes warmth and character.