7+ Modern Farmhouse Living Room Designs to Spark Your Next Makeover
Affiliate Disclosure: As an Amazon Associate we earn from qualifying purchases. Hence, if you click through and make a purchase, we will get a commission at no extra cost to you. For more info, read our full disclosure.
Are you ready to transform your living space into a cozy yet contemporary haven? Look no further for inspiration! In this blog, we'll explore seven-plus modern farmhouse living room designs that are sure to ignite your creativity and spark your next home makeover.
From harmonizing vintage and modern elements to achieving a balance of elegance and comfort, these designs offer a wealth of ideas to revitalize your living room. Let's dive in and discover the perfect makeover for your space.
A Contemporary Living Space Featuring a Glass Coffee Table
Create a stylish blend of colors in your decor by incorporating creams, grays, and navy hues. Achieve an appealing contrast by placing patterned cream and navy chairs alongside a solid navy chair. Enhance the room's balance with bookcases flanking the fireplace and TV. Opt for a glass coffee table to provide functional surfaces without overcrowding the space.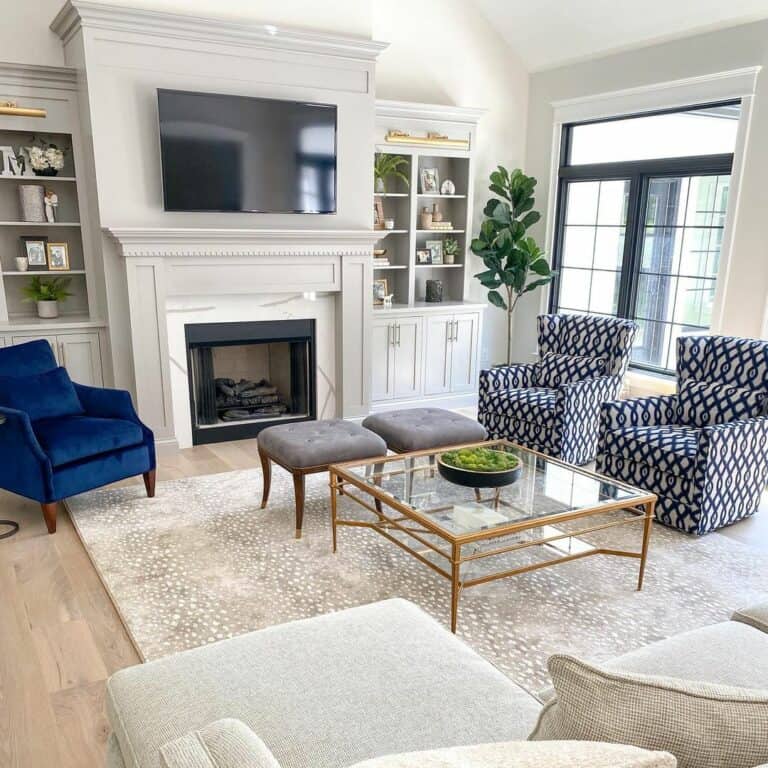 Credit: theendofthegraveldrive
Shop the Style
A Padded Pouf for Elevated Comfort
Transform your living room into a modern farmhouse oasis with the perfect combination of elements. Complement the ambiance with petite white armchairs, a plush round pouf, and a textured rug. Elevate the room's focal point with a grand wooden mantelpiece adorned with tall candlesticks and lush foliage for a striking visual impact.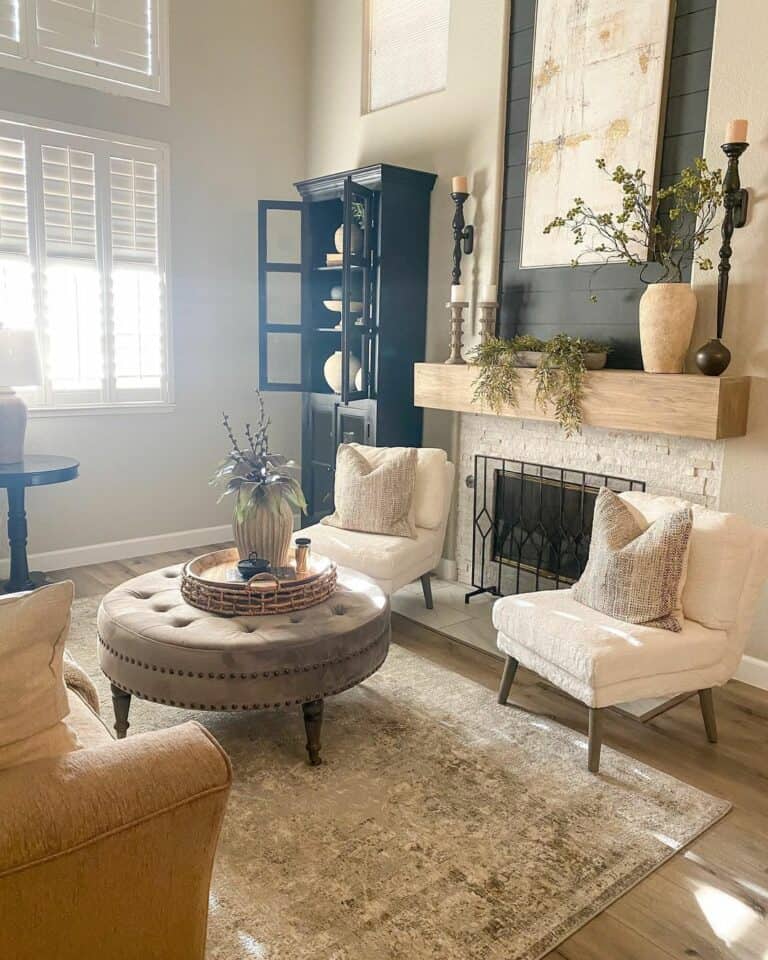 Credit: simply_grace_ful
Shop the Style
Refining Your Farmhouse Living Room
Illuminate your farmhouse living room with a sparkling crystal chandelier. Arrange expansive white sofas to face each other, framing a central gray farmhouse-style coffee table that fosters a warm and inviting atmosphere. Enhance the room's charm by incorporating smaller side tables for additional focal points.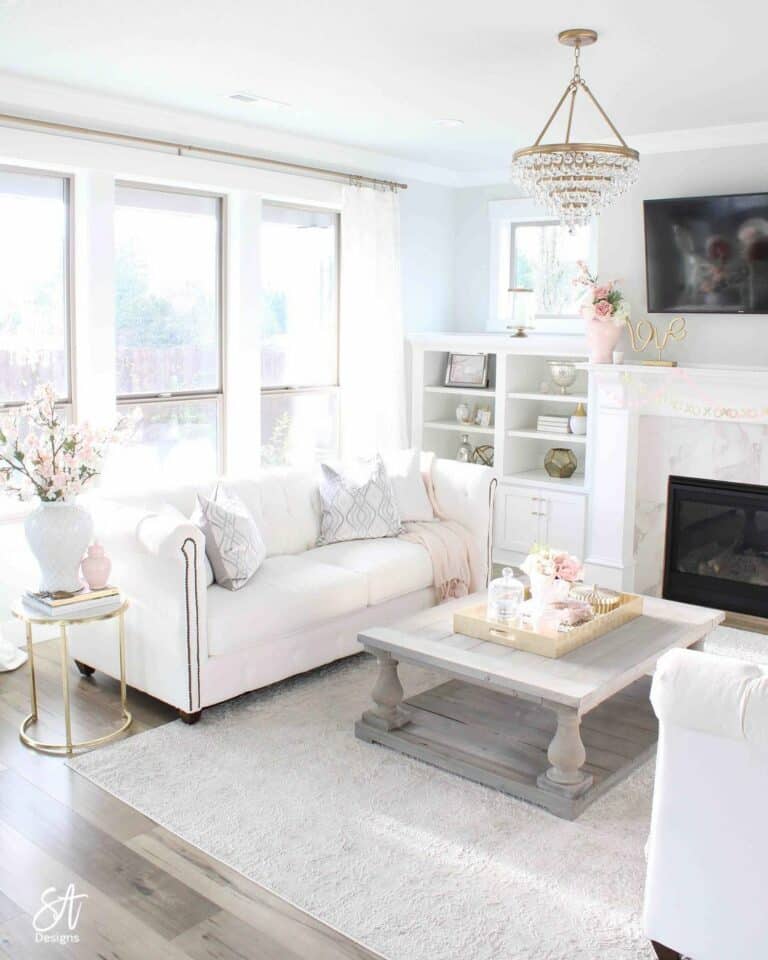 Credit: summeradamsdesigns
Shop the Style
Crisp White Ambiance with a Touch of Pattern
Craft a serene oasis within your living room with a spacious white corner sofa paired with a complementary pouf. Enhance the pristine white backdrop with neutral cushions and carefully selected coffee table decorations. Infuse visual intrigue with a patterned rug, and adorn the wall behind the sofa with tasteful wooden-framed prints for an elegant and sophisticated presentation.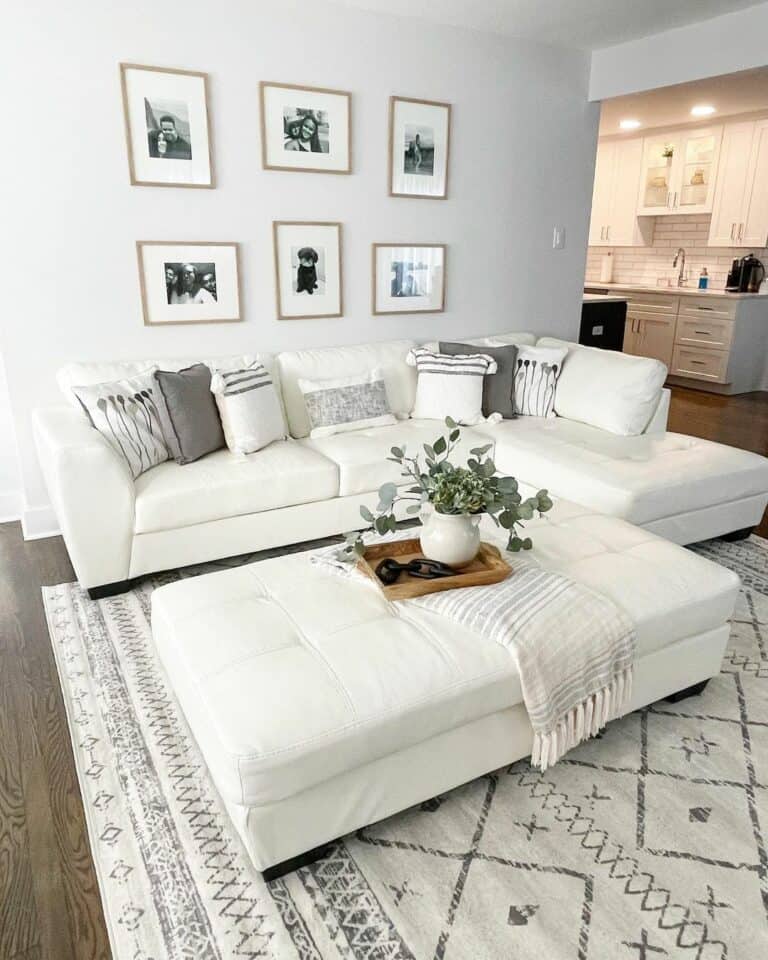 Credit: nita_home
Shop the Style
A Balanced Modern Farmhouse
Immerse yourself in the world of modern farmhouse decor, where symmetry reigns supreme. Adorn side tables on both ends of a contemporary fireplace with elegant rounded mirrors. Achieve a blend of relaxed elegance by pairing a brown couch with cream armchairs. Elevate a wooden console table's appeal with the addition of white flowers and tasteful coffee table books.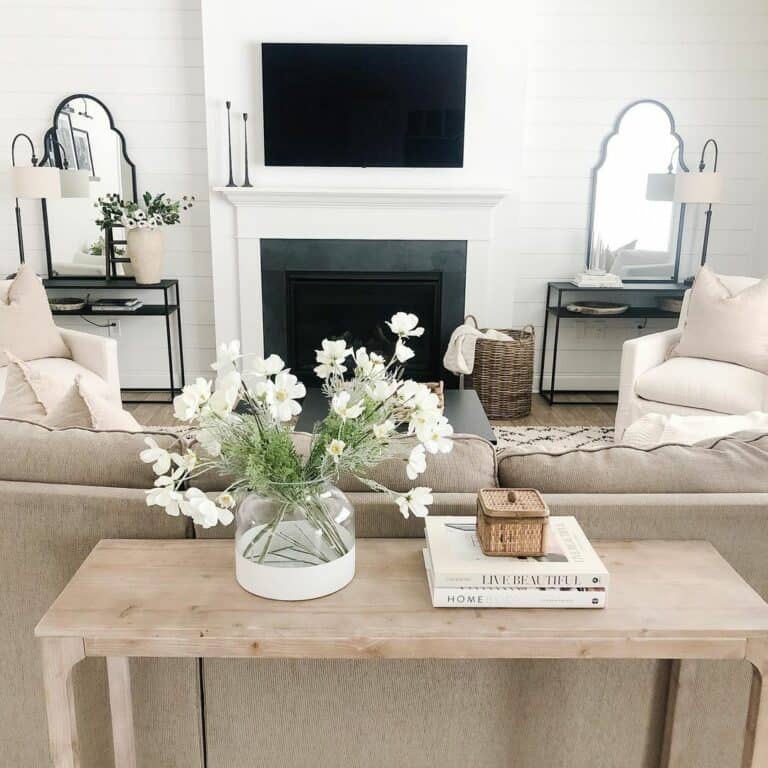 Credit: modern_farmhouse_on_the_hill
Shop the Style
Inviting Couches and a Circular Wooden Table
Craft a cozy and secluded haven by positioning couches at right angles, enveloping you in comfort and tranquility. Nestled in the center is a round wooden coffee table, serving as the perfect canvas for a captivating centerpiece featuring plants and a vase nestled within a round wicker basket. Enhance the ambiance with artwork hanging gracefully above the modern fireplace.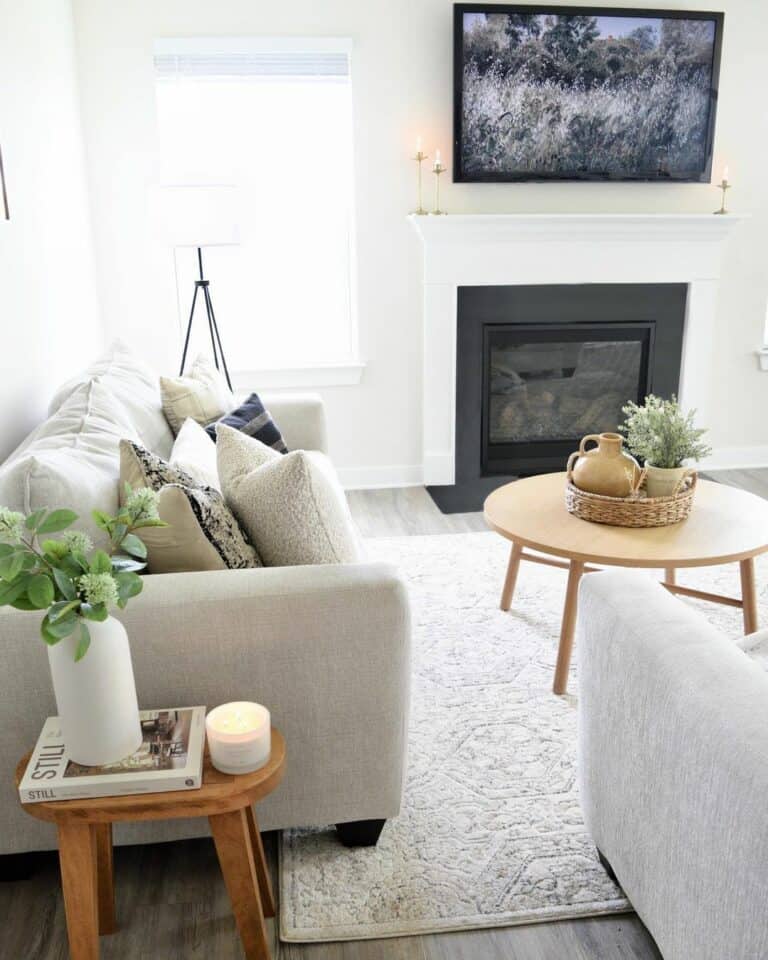 Credit: theniftythriftymom
Shop the Style
A Retro Vibe with a Distinctive Accent Wall
In this breathtaking modern farmhouse living room, simplicity takes center stage. An inviting textured accent wall serves as the backdrop for a floating shelf adorned with artwork and a gracefully rounded mirror. A retro-inspired beige leather couch rests behind a vintage upcycled wooden coffee table, while small pendant lamps cast focused spotlights, completing the scene.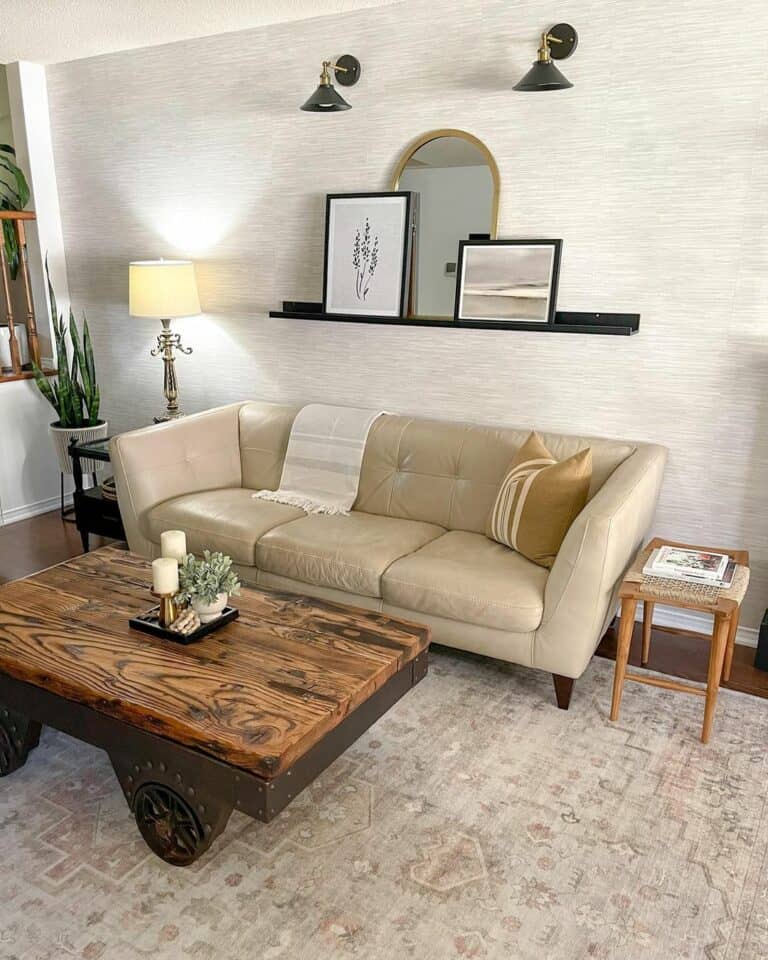 Credit: tarynfalconerdesignstudio
Shop the Style
Harmonizing Vintage and Modern Elements
Discover the allure of vintage wooden accents in this contemporary living space. From the charming wooden rocking chair to the functional blanket ladder, these elements exude chic sophistication. Add warmth to the modern fireplace with autumnal hues, such as flowers in a stylish gray vase and natural landscape artwork. Accompanying the vintage chair, a sleek modern standing lamp and a convenient magazine rack provide functional and aesthetic balance.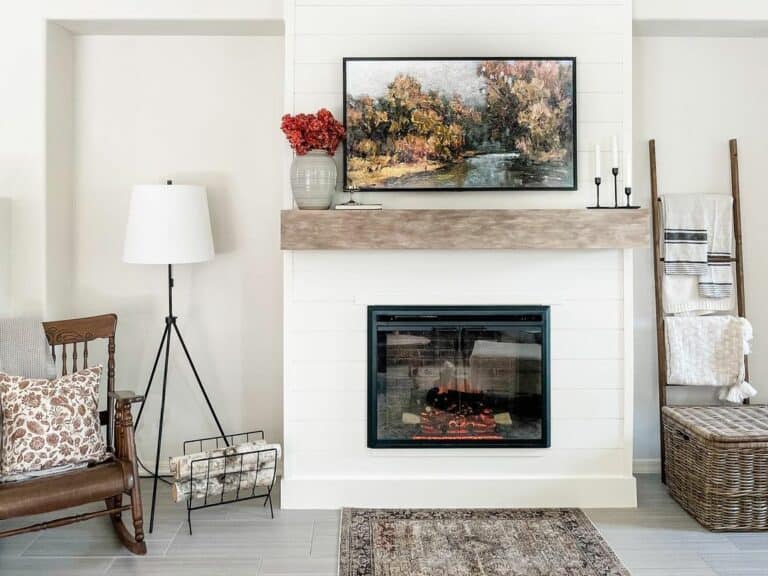 Credit: ouracaciagrovehome
Shop the Style
Wrap-up
Revamping your living room has never been more exciting, thanks to these seven-plus modern farmhouse designs that we've explored in this blog. Whether you're drawn to the timeless charm of vintage elements, the elegance of white aesthetics, or the creative potential of unique accents, there's a makeover here to suit your style and preferences.
So, roll up your sleeves, gather your design ideas, and start transforming your living space into a modern farmhouse retreat that's both stylish and inviting.