7+ Small Farmhouse Living Room Décor Ideas to Optimize Space and Style
Affiliate Disclosure: As an Amazon Associate we earn from qualifying purchases. Hence, if you click through and make a purchase, we will get a commission at no extra cost to you. For more info, read our full disclosure.
Decorating a small living room can be challenging, but with the right inspiration, even cozy spaces can feel spacious and stylish. Dive into these enchanting farmhouse décor ideas that beautifully combine comfort and elegance, making the most of every square foot.
Chic Farmhouse Oasis
Bask in the elegance of a farmhouse living room adorned with pristine white furniture set against the backdrop of a rich hardwood floor. The floor is gracefully draped with a deep-hued rug, while wooden accent touches add a dash of nostalgia. For that breezy ambiance, dress your coffee table with a neat wooden disk and a few water propagations.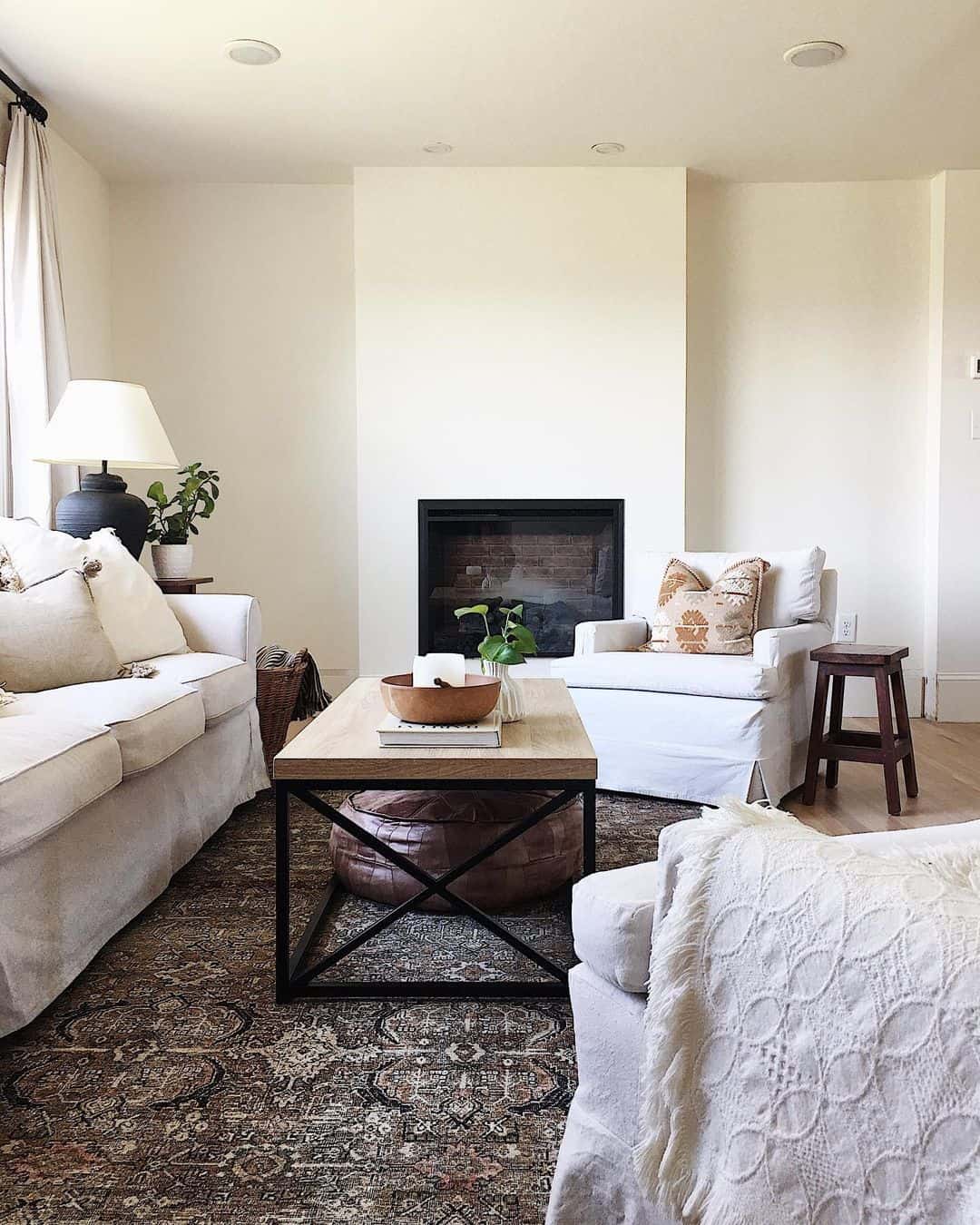 Credit: theprovidencecottage
Shop the Style
Farmhouse Décor with Modern Flair
Behold a striking board and batten wall showcasing a collection of contemporary farmhouse artworks. The setting sees a muted gray sofa peppered with white cushions and a snug brown throw.
Complementing this is a second sofa styled with brown, and monochrome accent pillows. The oval wooden coffee table rests over a blended gray and beige rug, carrying a wooden tray bearing a fresh plant and a dainty white candle. Nearby, a woven basket cradles a grand faux tree.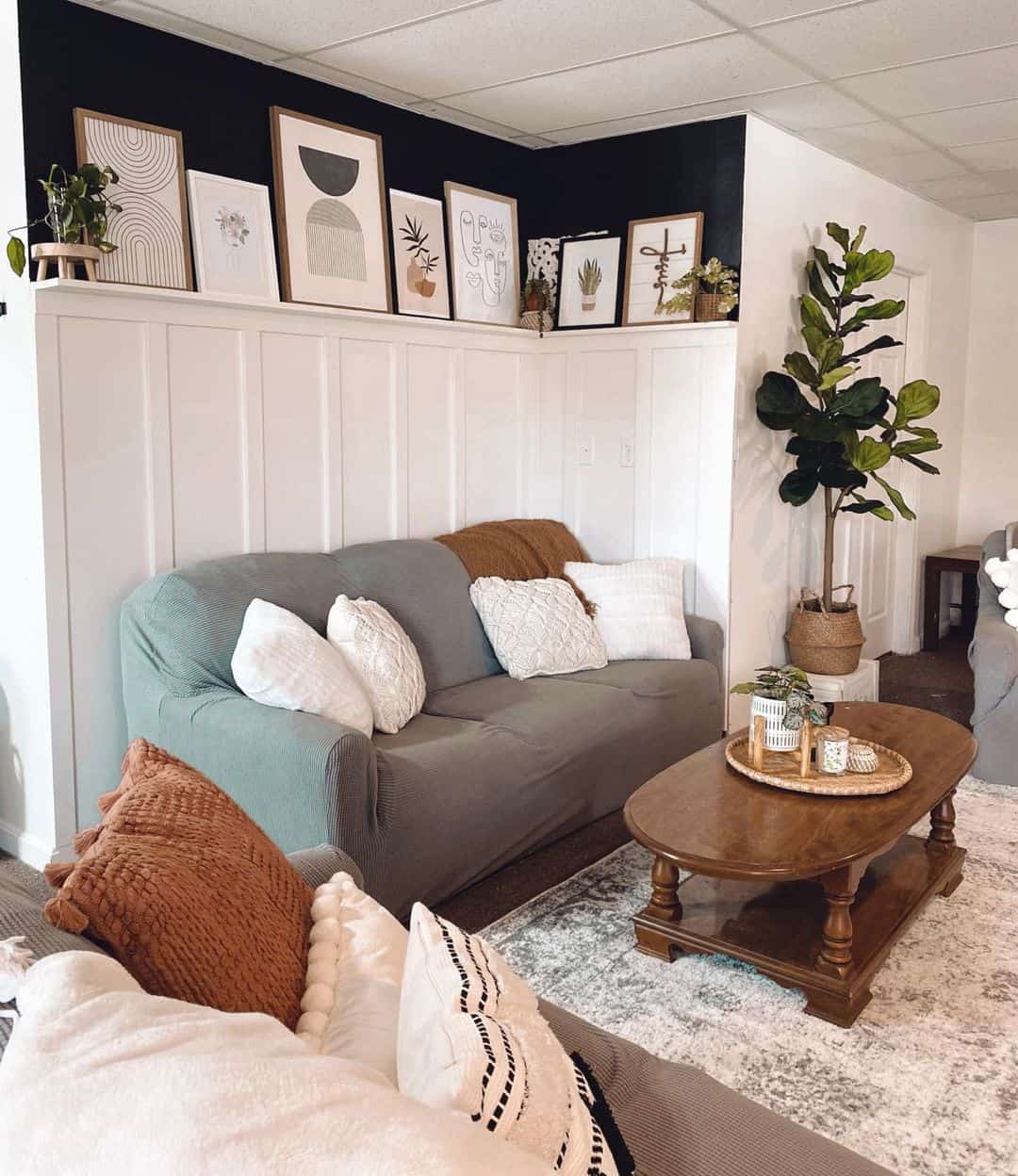 Credit: vt.diy.home
Shop the Style
Timeless Southern Charm
Witness timeless beauty in a beige couch adorned with patterned cushions set under a grand, ornate painting. Dark teal armchair, a mesmerizing blue and cream rug, and a metallic coffee table stocked with books and a pot of ivy add a splash of Southern charisma.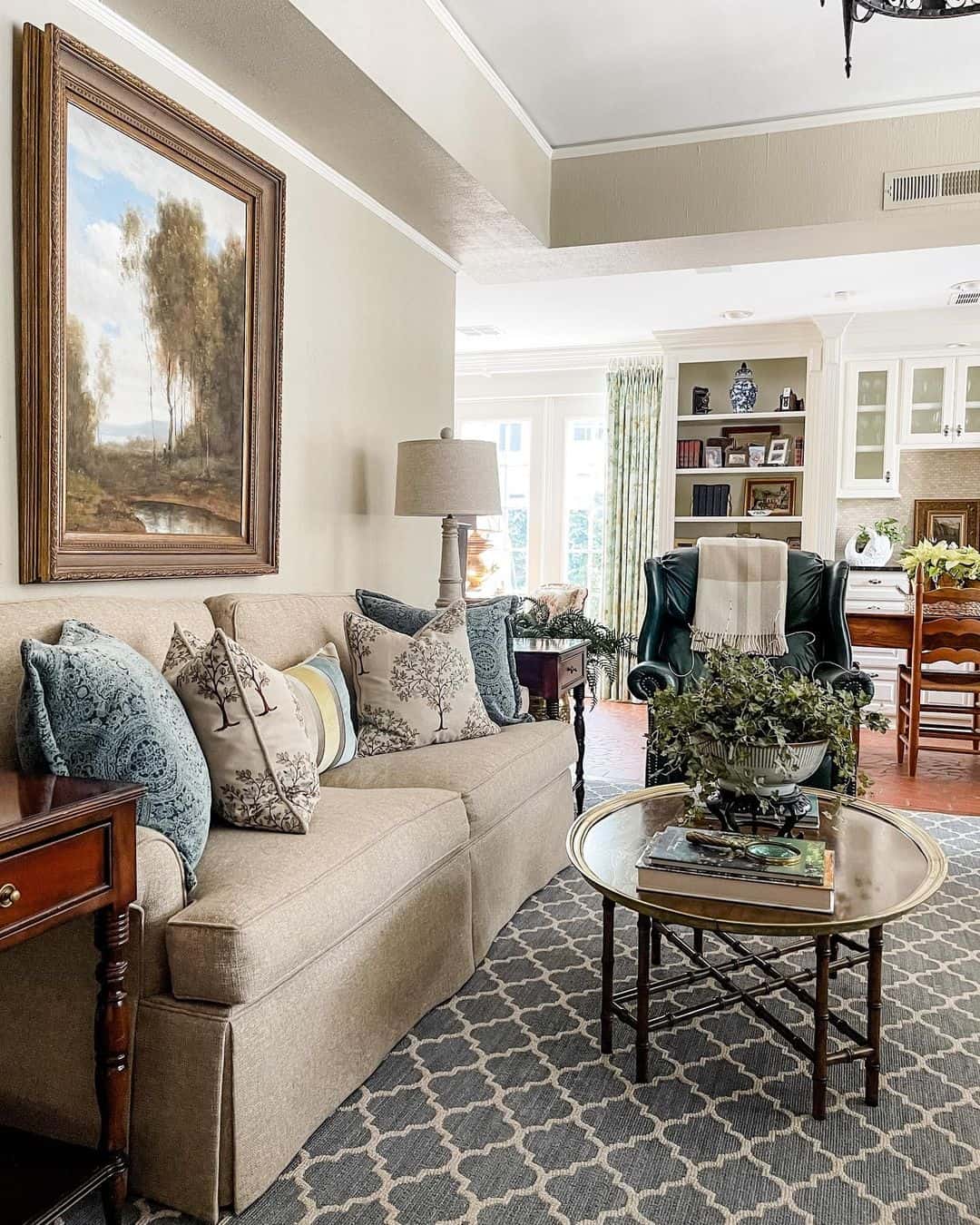 Credit: rachelrsimon
Shop the Style
Country Rustic Elegance
Delve deep into this rustic oasis where a sumptuous dark leather sectional, topped with understated cushions, occupies pride of place on honeyed hardwood floors. As fall-themed décors grace the dark corner shelves, the interplay of light walls and dark furnishings instills a sense of warmth and rootedness.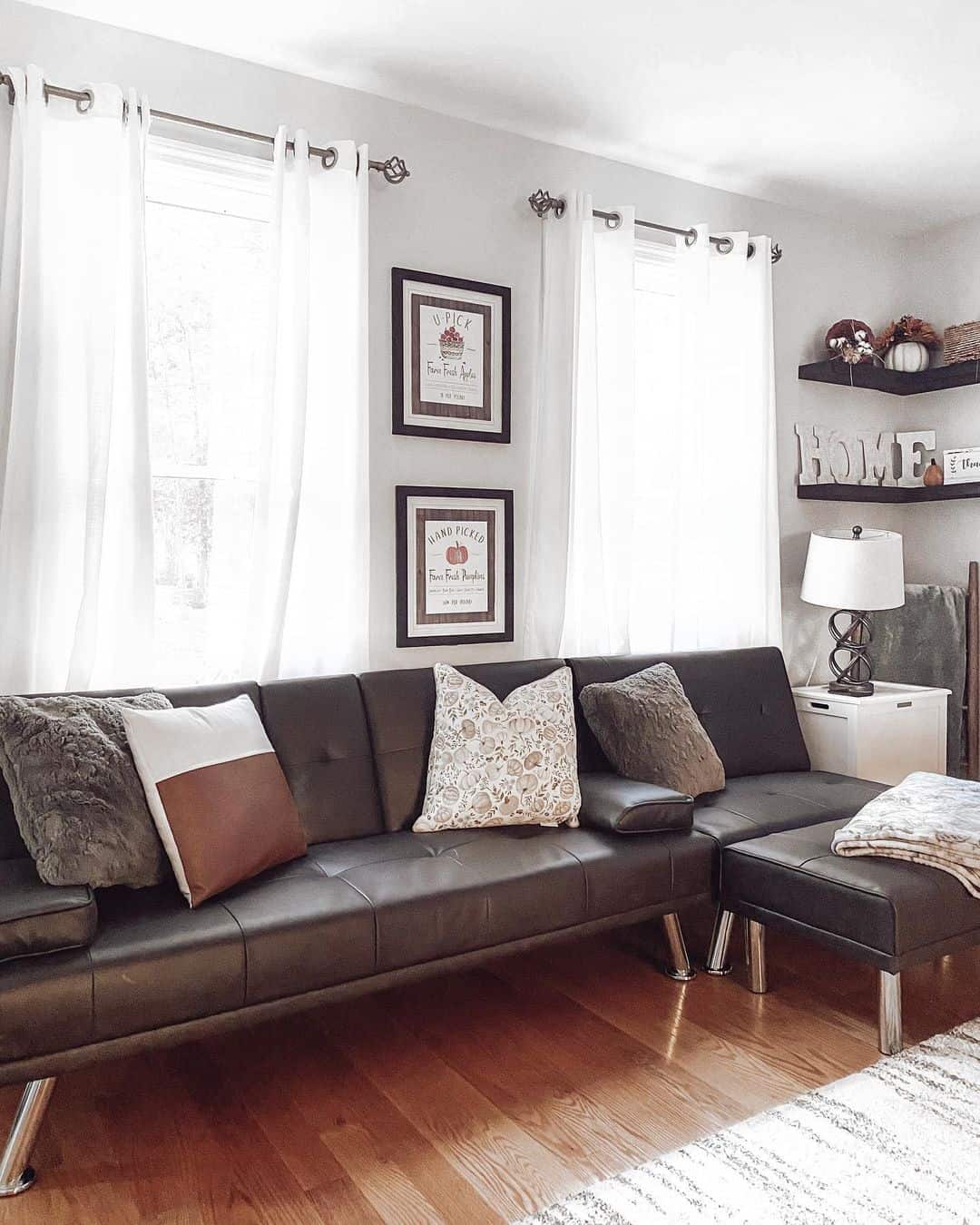 Credit: mainely_home
Shop the Style
Cerulean Dreams
Swoon over a serene pastel blue armchair set against a creamy sectional atop a wooden table adorned with a tray and petite plant. The pristine white rug boasts hints of blue, echoing the armchair and deep blue cushions. Remember, a harmonious color palette is your secret weapon for that polished, professional touch.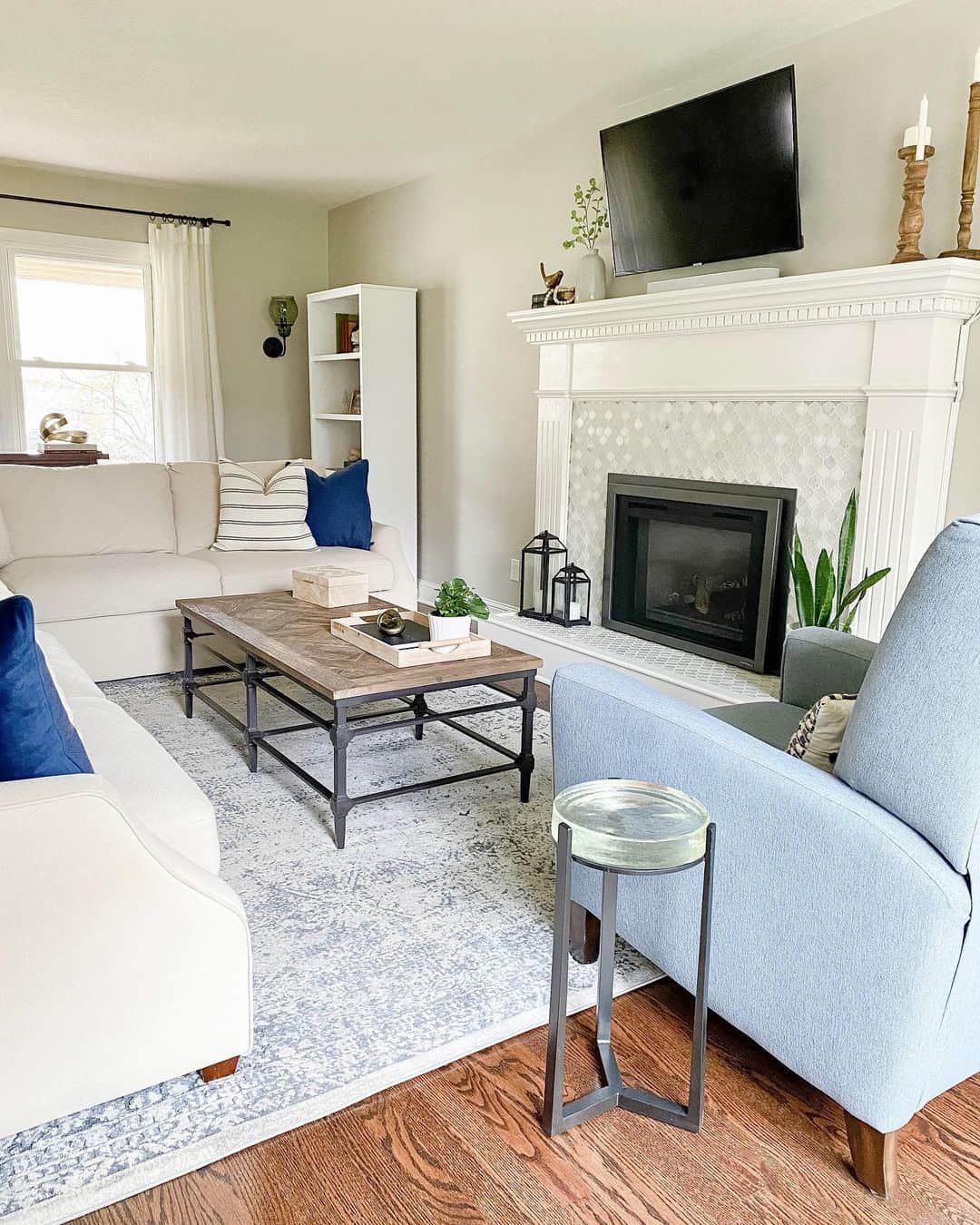 Credit: thebluesprucedhome
Shop the Style
Boho Bliss Meets Farmhouse Chic
Step into this sun-drenched bohemian haven showcasing leather mid-century furnishings, organic wooden storage solutions, and an avant-garde glass coffee table. The whitish shag rug and verdant plants evoke a sense of space, while the clear coffee table, carrying only a woven mat and candle, steers clear of visual clutter, thanks to the ample window light.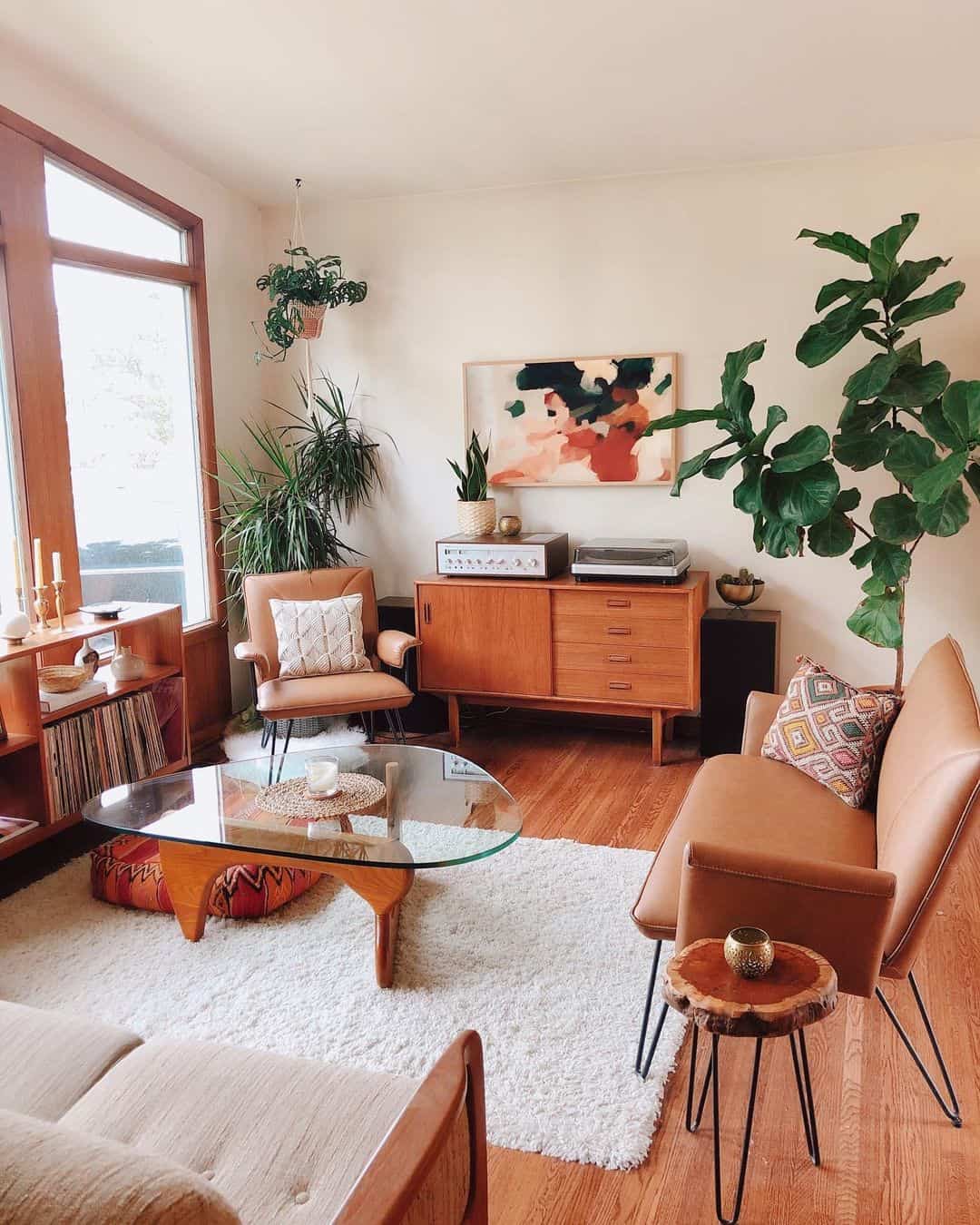 Credit: stefanie.zielke
Shop the Style
Vintage Vibes by the Fireplace
Let your gaze rest on this vintage wooden mantelpiece adorned with age-old candle holders and subtle ornaments. Nestled before a grandiose mirror with golden intricacies is a revamped crate crowned with a woven bag and vibrant ivy in a snowy planter. Remember, mirrors are a petite room's best friend, offering depth and luminance.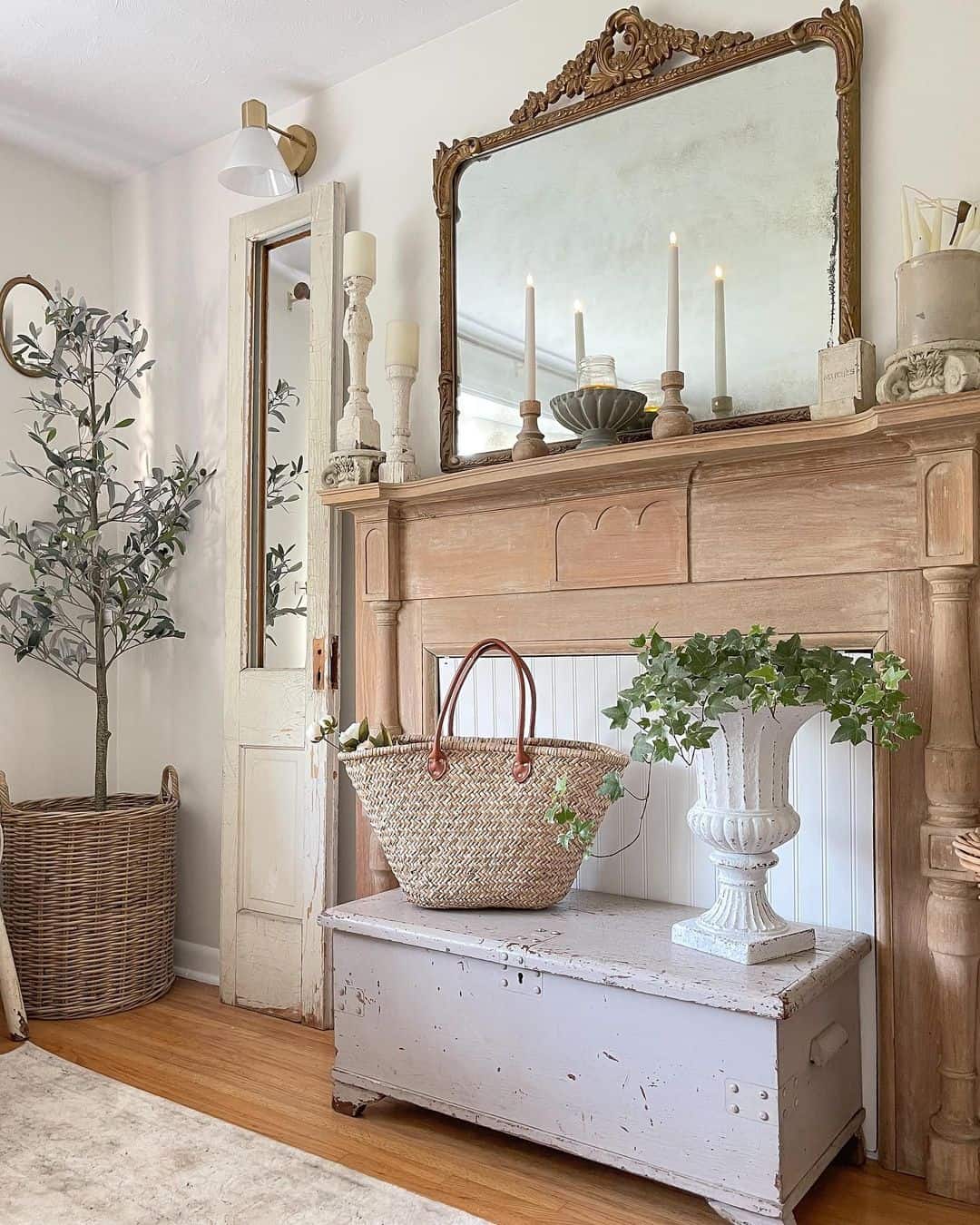 Credit: the.huber.homestead
Shop the Style
Lustrous Whites and Hearth Magic
Transform a pristine white mantel into a stunning canvas with stacked logs and moss beneath a candle-laden top. Keeping things airy and radiant, the room sparkles with soft white heathered pieces, ethereal white drapes, and a creamy rug covering honey-toned hardwood.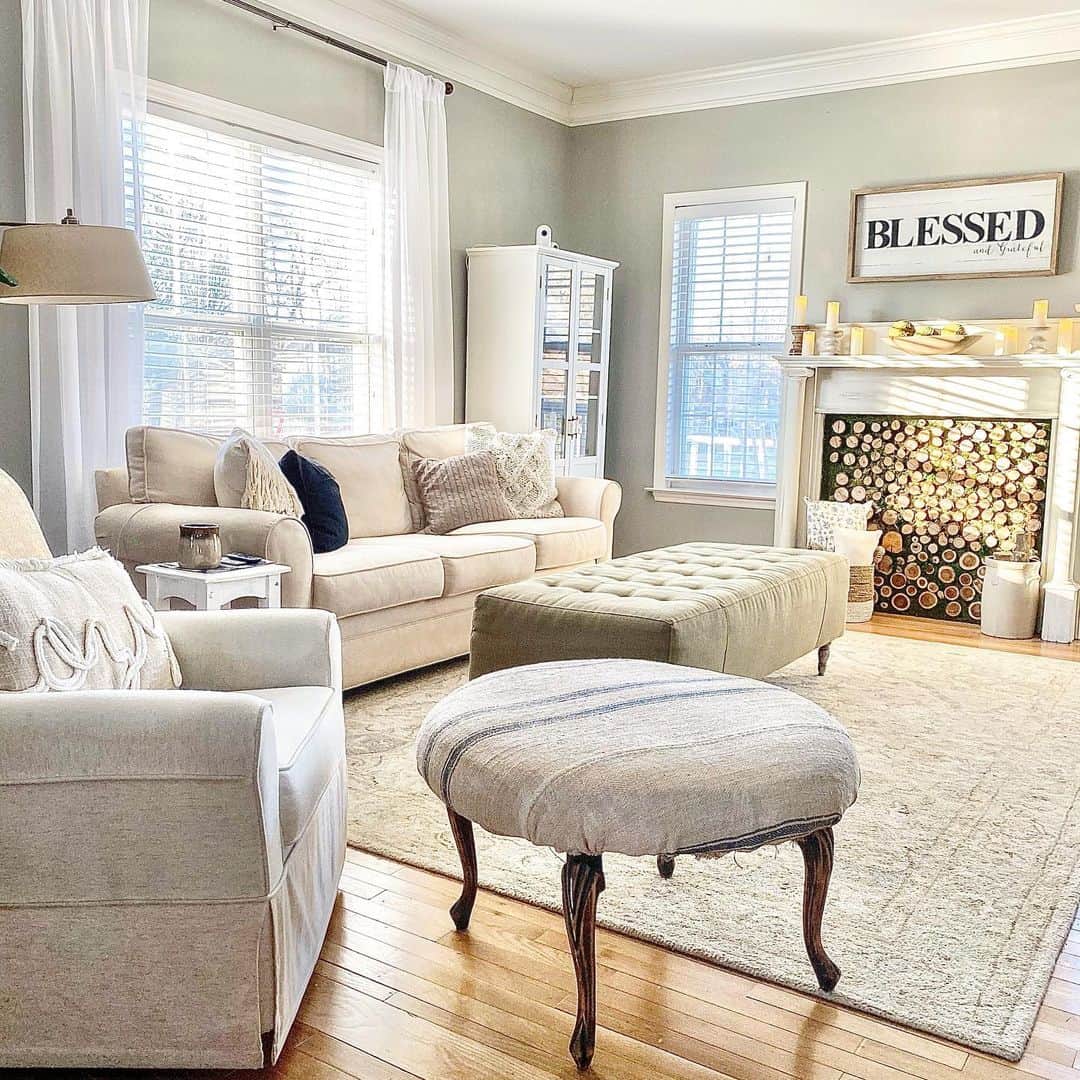 Credit: the_melton_homestead
Shop the Style
Wrap-up

Small spaces need not mean limited style. With these farmhouse décor ideas, your living room can exude charm, elegance, and warmth, turning even the tiniest nook into a stylish haven. Let these setups inspire you, and don't be afraid to weave in your personal touch to truly make the space yours.