7+ Quintessential Country Farmhouse Living Room Inspirations
Affiliate Disclosure: As an Amazon Associate we earn from qualifying purchases. Hence, if you click through and make a purchase, we will get a commission at no extra cost to you. For more info, read our full disclosure.
Immerse yourself in the timeless charm and rustic allure of country farmhouse living rooms. From cozy nooks that echo with nostalgia to elegantly designed spaces that capture the essence of simpler times, these living rooms effortlessly blend comfort and style.
Whether you're drawn to vintage aesthetics, traditional rustic vibes, or chic modern twists, this compilation of quintessential inspirations will transport you to the heart of countryside serenity.
Country Living Room Design with a Vintage Flair
Experience the perfect fusion of minimalism and vintage charm in this vintage minimalistic country living room design. It embraces a serene, calming ambiance with a neutral color palette of soft earthy tones and whites. The carefully chosen vintage elements, such as a vintage armchair and reclaimed wood accent shelf, shine amidst clean lines and simple designs.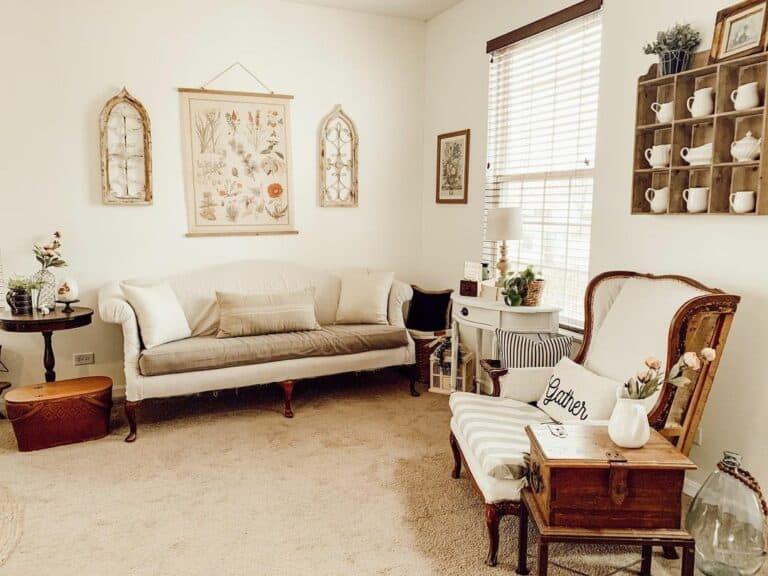 Credit: whiterosefarmhouse
Shop the Style
Embracing Cozy Vintage Country Living
Step into the warmth and nostalgia of this cozy vintage country living room. It combines vintage aesthetics with rustic country elements, featuring a comforting palette of muted earth tones. Vintage decor accents, like antique candle holders and dried flower-filled vases, create a charming and inviting space perfect for relaxation.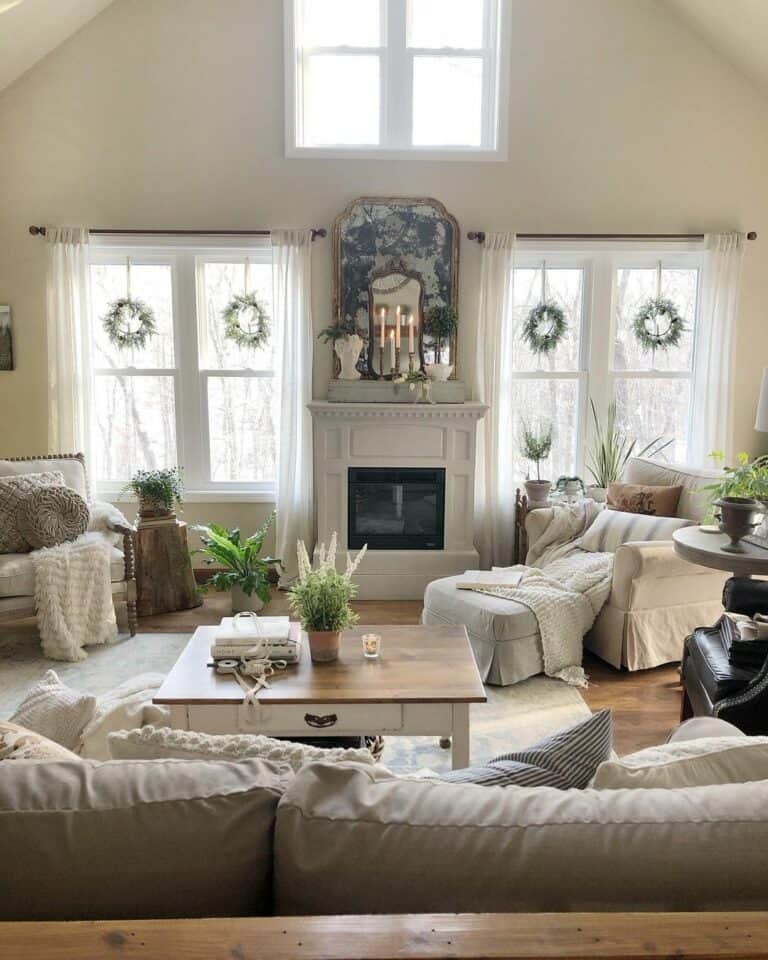 Credit: lostandfoundcottage
Shop the Style
Traditional Rustic Comfort in Country Living
Indulge in the coziness of this traditional rustic country living room. Plush seating, rustic wooden tables, and natural accents like plants and woven baskets define this inviting space. Traditional patterns on throw pillows and blankets add character, celebrating the beauty of natural materials and traditional craftsmanship.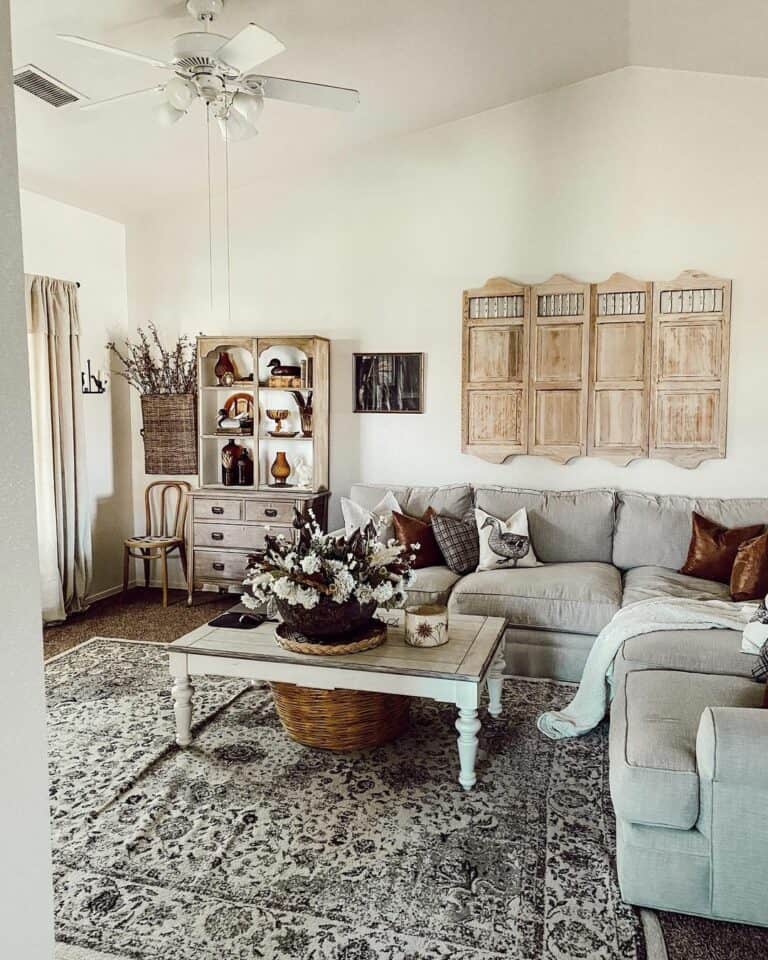 Credit: our_military_home_front
Shop the Style
Timeless Elegance in Neutral, Traditional Country Living
Discover timeless elegance in this neutral traditional country living room. Warm neutrals paired with natural wood tones create a soothing environment. Comfortable armchairs and simple, elegant decor, including floral arrangements and framed artwork, provide a perfect balance of comfort and style.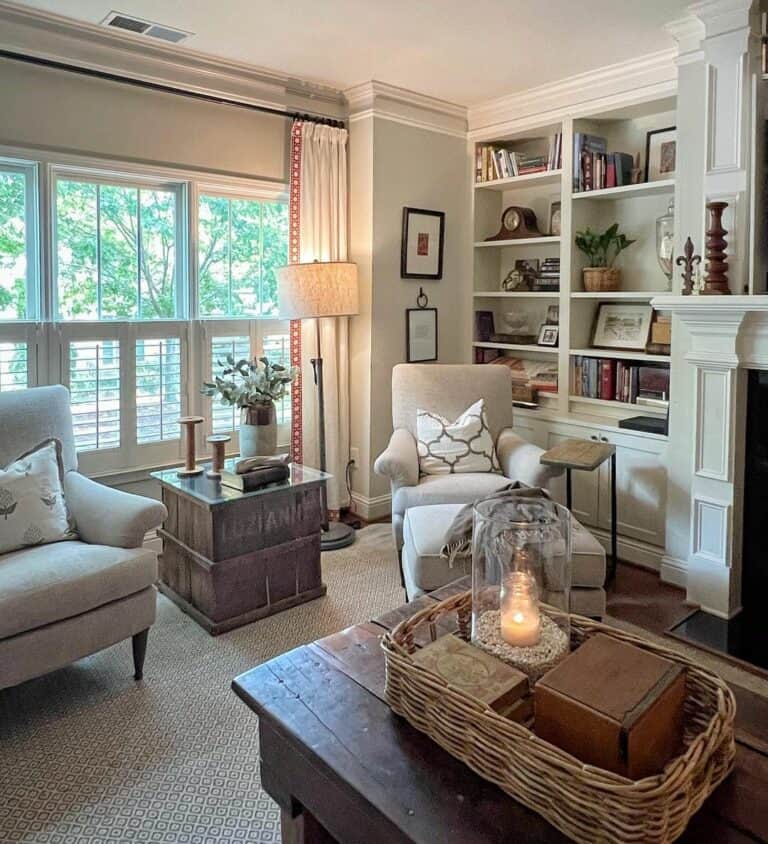 Credit: wellnestedhome
Shop the Style
Chic White Feminine Modern Country Living
Experience chic and style in this white feminine modern country living room. Predominantly white with soft, feminine accents, it exudes serenity and elegance. Modern and rustic elements coexist, from a sleek sofa to vintage armchairs and delicate, romantic details.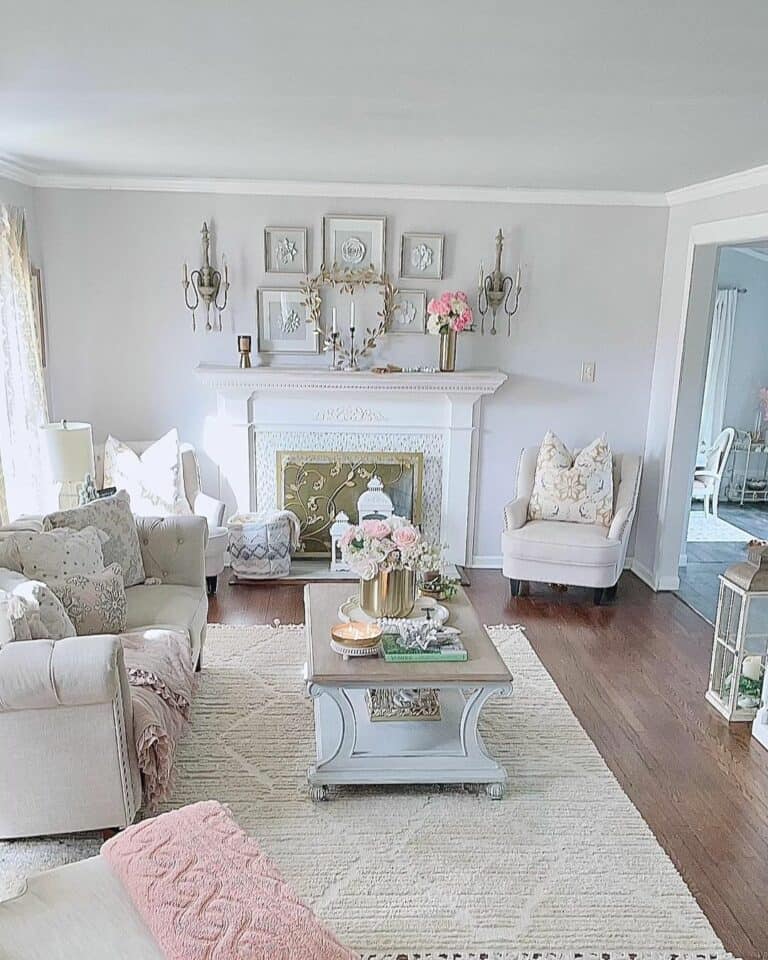 Credit: interiorlove_angelique
Shop the Style
Vibrant Charm in Colorful Checkered Country Living
Explore the vibrant and cheerful atmosphere of this colorful checkered country living room. A playful checkered pattern takes center stage, accompanied by a bright and bold color scheme. Woven baskets, vintage artwork, and whimsical knick-knacks complete the lively decor.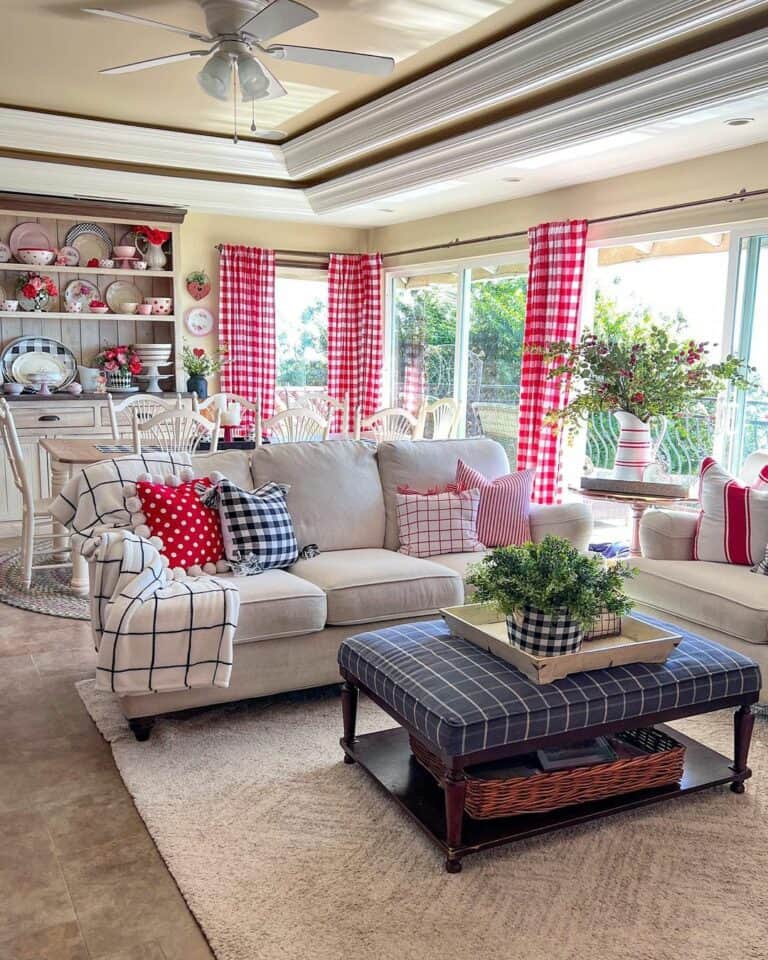 Credit: upsydaisycottage
Shop the Style
Breezy Summer-Style Chic Country Living
Indulge in the essence of summer living with this breezy summer-style chic country living room. Light and airy with natural textures, it features cozy seating, rustic tables, and a captivating patterned area rug as a focal point.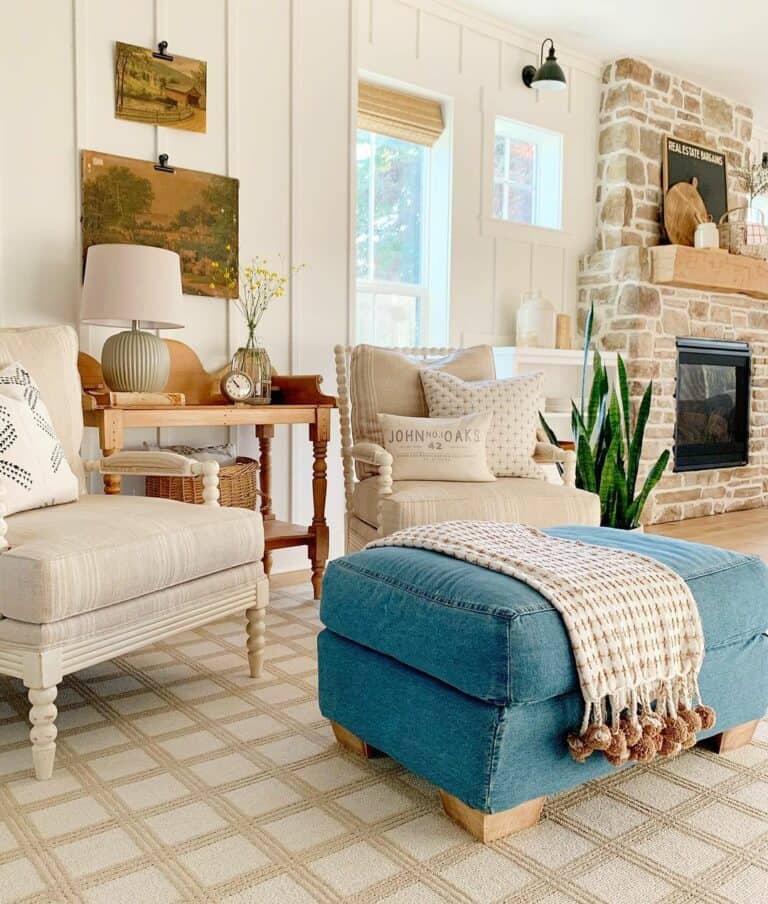 Credit: yellowprairieinteriors
Shop the Style
Elegance in White Living Room with Crystal Chandelier
Experience elegance in this white living room adorned with a crystal chandelier. Ivory shiplap walls evoke a countryside feel, and the room is anchored by a beige couch and chair. An alabaster coffee table with storage sits atop a fuzzy cream and silver rug.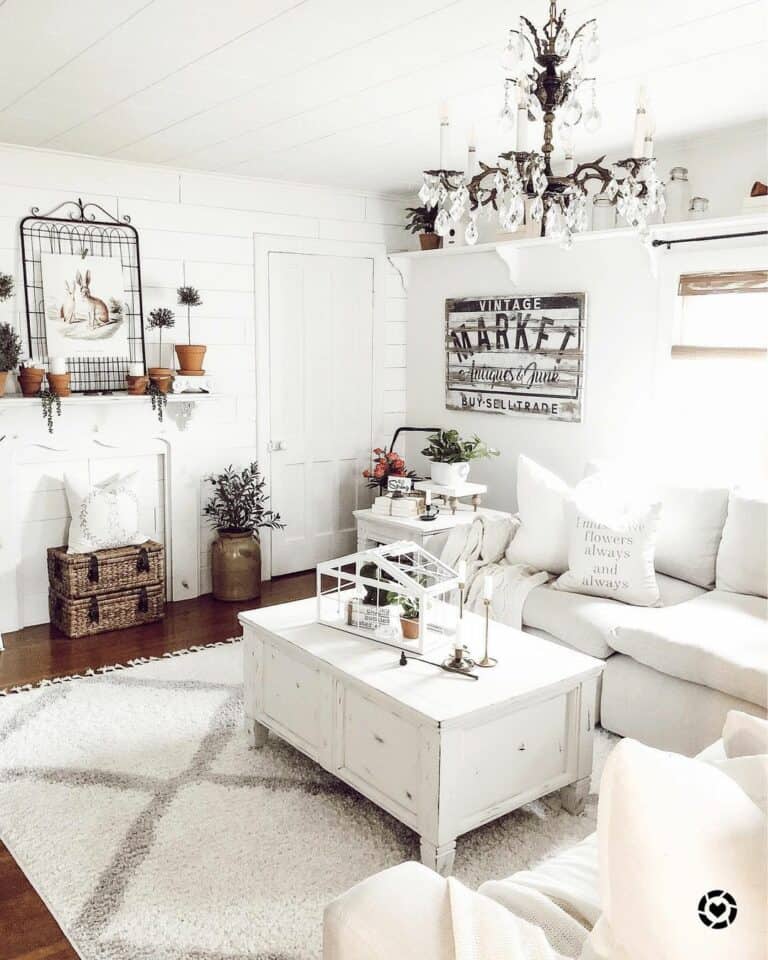 Credit: rusticvintagelife
Shop the Style
Wrap-up
As we conclude our journey through these quintessential country farmhouse living room inspirations, one thing becomes clear: the beauty of rural living is as captivating as ever. Each design offers a unique perspective on how to infuse warmth, character, and a touch of nostalgia into your living space.
Whether you prefer the elegance of traditional elements or the freshness of modern interpretations, the charm of the countryside is evergreen and eternally inviting.