7+ Farmhouse Window Trims to Boost the Rustic Charm in Your Living Room
Affiliate Disclosure: As an Amazon Associate we earn from qualifying purchases. Hence, if you click through and make a purchase, we will get a commission at no extra cost to you. For more info, read our full disclosure.
Transforming your living space into a haven of rustic allure is a captivating endeavor, and one key element that can effortlessly enhance this aesthetic is the timeless appeal of farmhouse window trims. These unassuming yet impactful accents have the remarkable ability to infuse your living room with a touch of classic charm that instantly transports you to the tranquility of the countryside.
In this article, we'll delve into the captivating world of farmhouse window trims, presenting you with a curated collection of seven inspiring ideas to elevate the rustic charisma of your living room.
Warm Wooden Accents in Farmhouse Living Room
In this welcoming living area, you'll find generous windows adorned with rustic farmhouse-style wooden trim. The trim complements the snug crown molding and extended wooden rods that support cream-colored curtains. The combination of cozy beige furniture and a classic vintage white table creates a comforting ambiance, perfectly capturing the essence of a quintessential farmhouse design.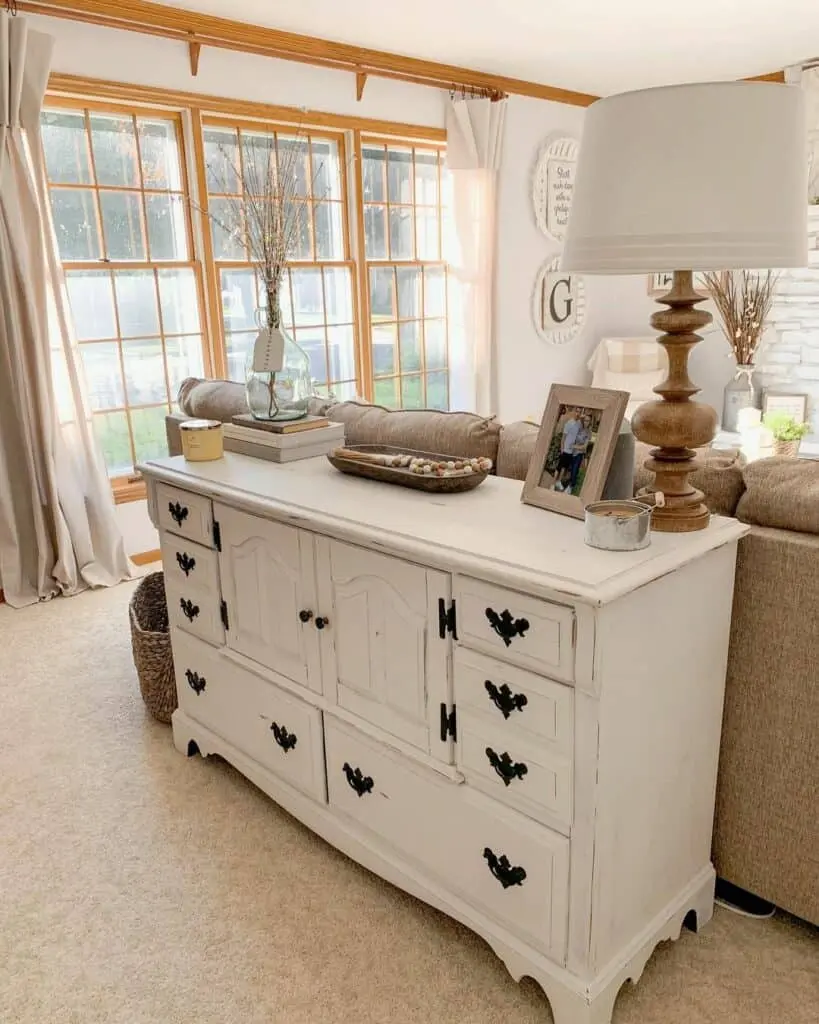 Credit: our.grace.filled.home
Shop the Style
Luminous and Airy Drapery
Cascading white drapes gracefully dangle from sleek black rods, elegantly suspended above the tall windows in this charming farmhouse living room. The windows are framed with classic white trim, further accentuated by a sprinkling of black wall sconces.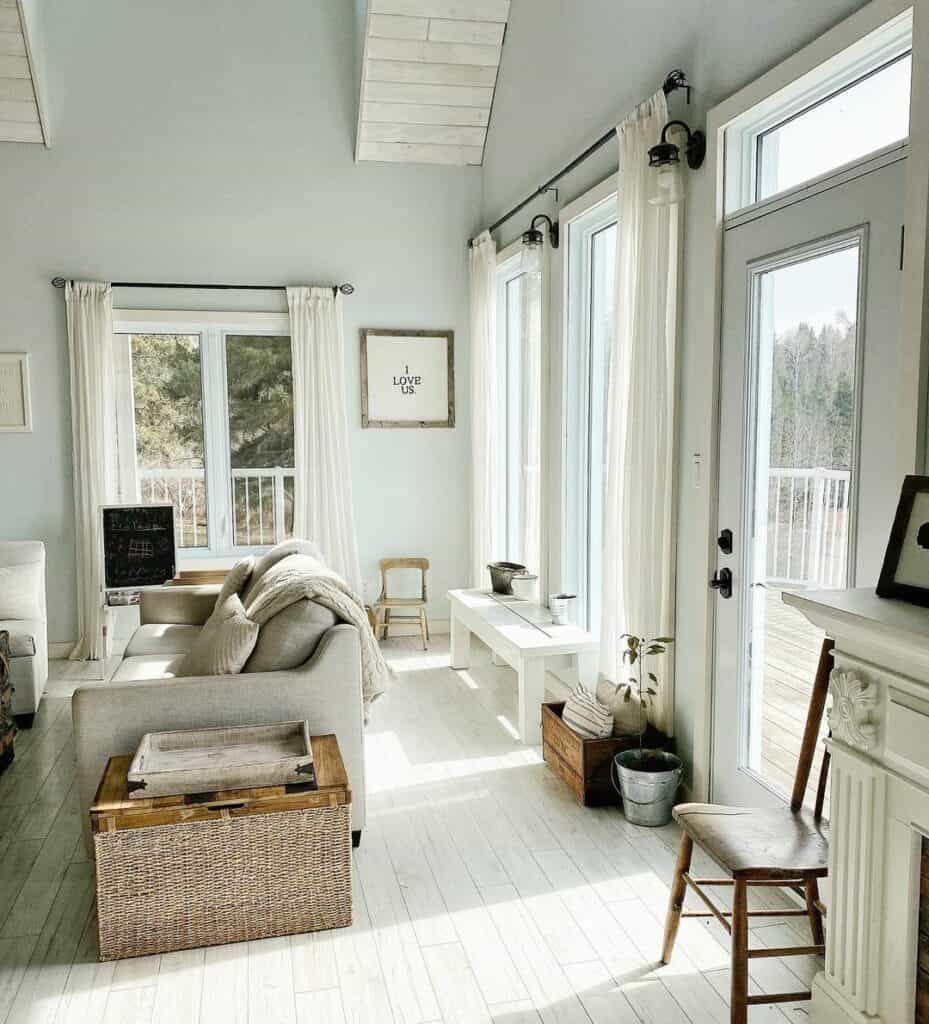 Credit: thishouseofsix
Shop the Style
Striking Modern Gray Trim in a Neutral Living Room
In this farmhouse living room, prominent modern trim encases the large windows set against a wallpapered backdrop of serene white and gray hues. A touch of modernity is introduced by a brick fireplace and a contrasting black accent wall in one corner, while the inclusion of plush neutral furniture beckons visitors to unwind and relax.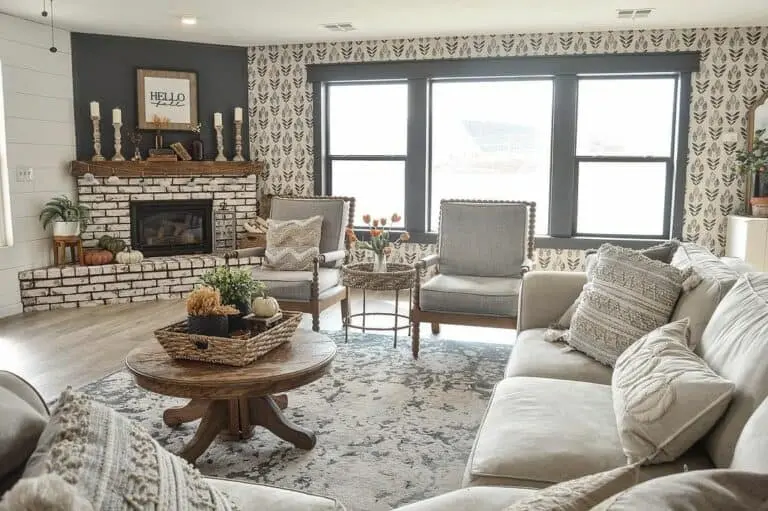 Credit: davia_at_home
Shop the Style
Effortless Fusion of White and Wood Trim
Delicate sheer curtains grace a black rod affixed to pale gray walls above the window. The window is further adorned with white Venetian blinds that harmonize with the understated trim enveloping it. A nearby cased wood opening adds a touch of visual intrigue to this airy expanse.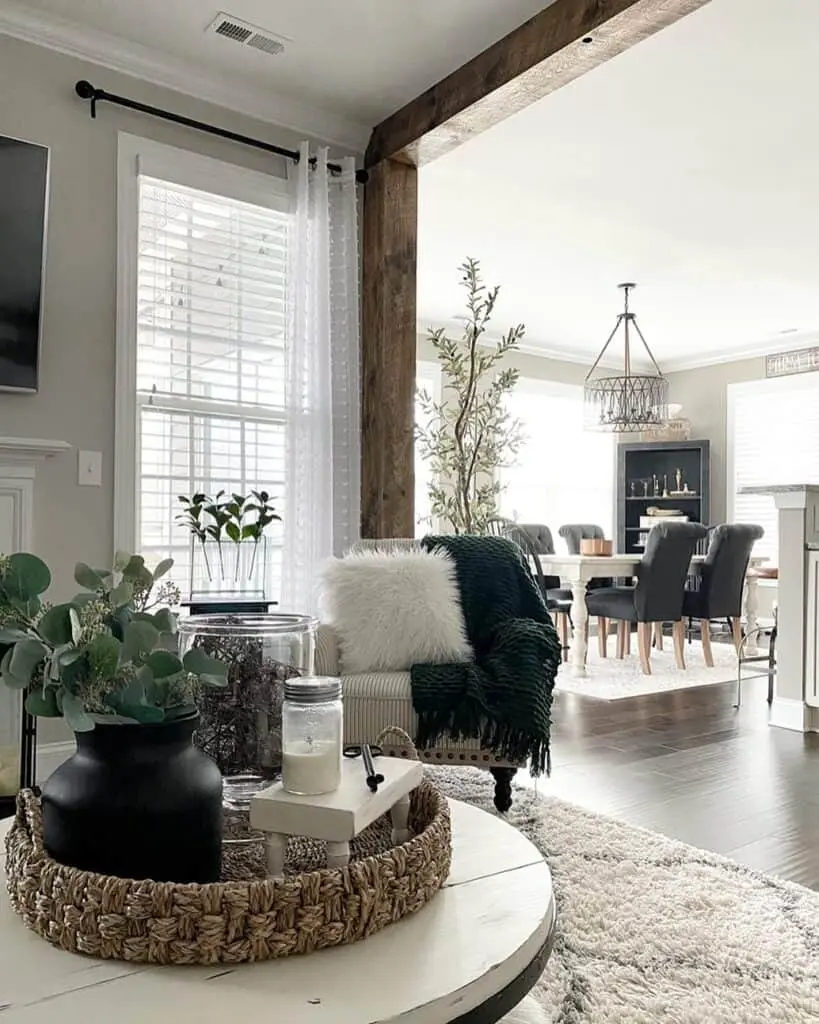 Credit: sweetfarmhousechic
Shop the Style
Quaint Cottage Vibe in the Farmhouse Living Room
Radiating warmth, this cottage farmhouse living room features vertically-opening windows enveloped in charming wooden frames. Instead of the expected trim, the eye is drawn to the white double doors showcasing expansive glass panels and adorned with coordinating wreaths.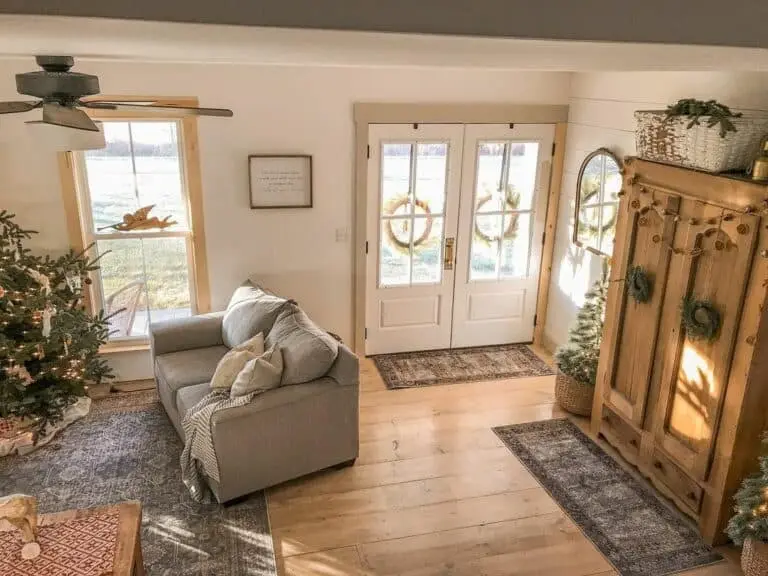 Credit: little.byrd.house
Shop the Style
Majestic Arched Windows Steeped in Elegance
Elevating the grandeur, this spacious room boasts a lofty vaulted ceiling swathed in wood, mirroring the wooden trim that elegantly encases both doors and windows. A dual-tiered window arrangement graces the walls – rectangular windows at the base and graceful arched windows above – all adorned with pristine white grilles and inner jambs.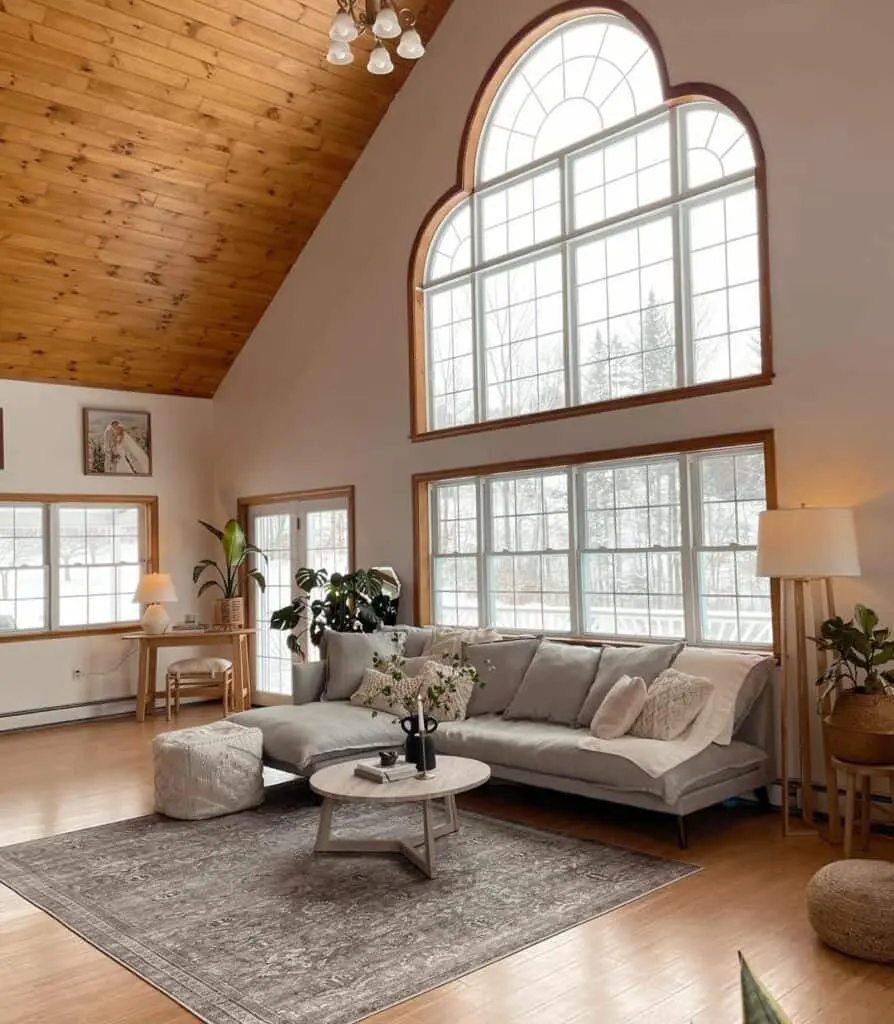 Credit: vt.diy.home
Shop the Style
Vintage Charm Abounds in the Trim Details
An imposing vintage-framed window takes refuge behind a plush white armchair. Elaborate details, from rosettes to fluted molding, adorn the frame, while an extended sill below adds an extra touch of sophistication. A faux white mantel proudly showcases an intricately framed mirror and twin topiaries, exuding timeless charm.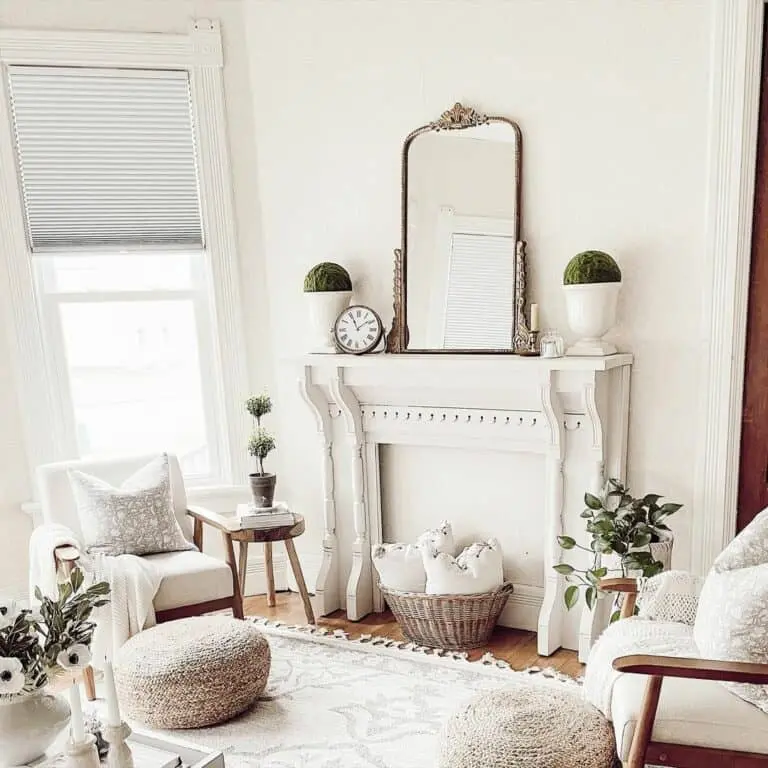 Credit: rusticvintagelife
Shop the Style
Layered Blinds Coupled with Sleek Black Built-ins
Sheer cream roller blinds delicately veil windows enriched by white trim and grilles. A wooden bench, cushioned with a soothing gray tufted pad, finds its place against the pristine white wall accentuated by tall, substantial baseboards.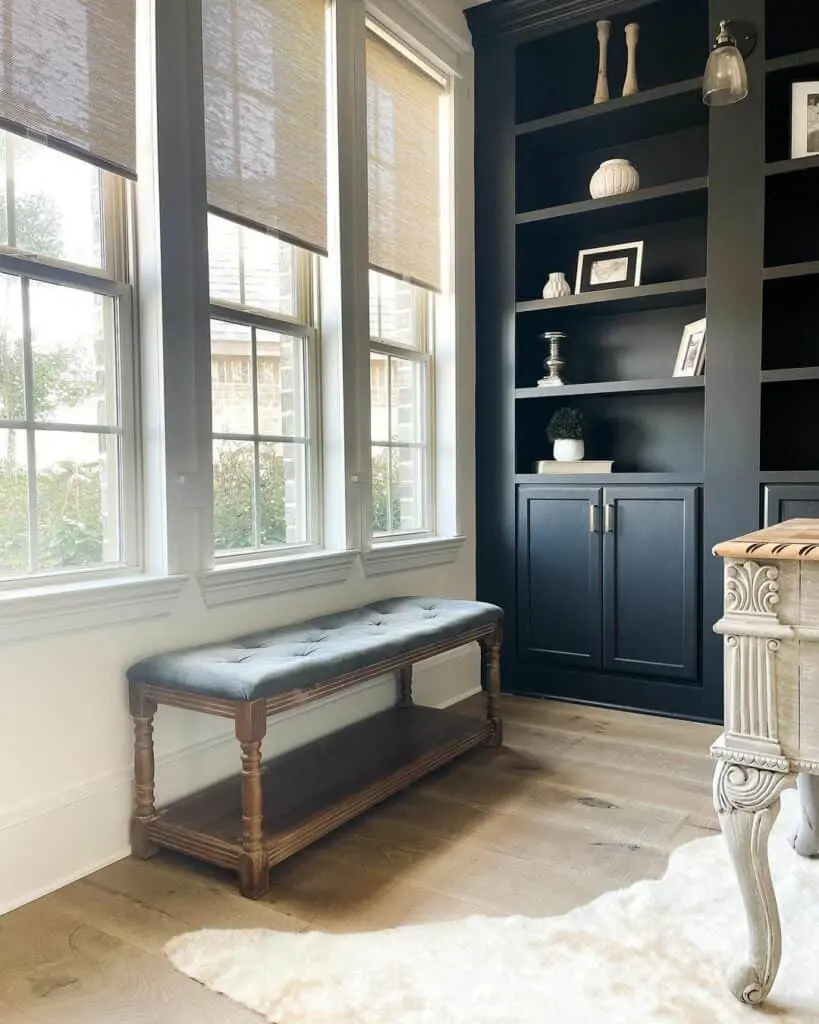 Credit: touchesofwood_lexi
Shop the Style
Wrap-up
Elevating the rustic charm of your living room through the addition of farmhouse window trims is a design journey that promises both visual delight and a connection to the past. These simple yet distinctive accents have the power to evoke a sense of nostalgia while seamlessly merging with modern interior aesthetics.
By incorporating the showcased ideas into your home, you'll create a space that not only pays homage to the warmth of traditional farmhouse design but also offers a haven of comfort and style for years to come.