7+ Rustic Modern Ideas to Transform Your Authentic Farmhouse Living Room
Affiliate Disclosure: As an Amazon Associate we earn from qualifying purchases. Hence, if you click through and make a purchase, we will get a commission at no extra cost to you. For more info, read our full disclosure.
Are you ready to infuse new life into your classic farmhouse living room? Look no further! In this blog, we've gathered seven-plus captivating rustic modern ideas that will help you transform your authentic farmhouse living space.
Discover innovative ways to blend timeless charm with contemporary elegance, creating a homey yet sophisticated atmosphere that's sure to impress. Let's embark on a journey to revitalize your farmhouse living room with a modern twist.
A Rustic Glow: Farmhouse Chandelier Above Wooden Coffee Table
In this rustic-inspired setting, a circular farmhouse chandelier takes center stage, casting a warm and inviting glow over a generously sized modern wooden coffee table. Nestled atop a layered ensemble of rugs, the wooden table serves as the focal point, providing a cozy spot for gatherings.
To complete the ambiance, brown cube ottomans accompany neutral-toned armchairs and sofas, while a built-in fireplace adds an extra touch of comfort and charm.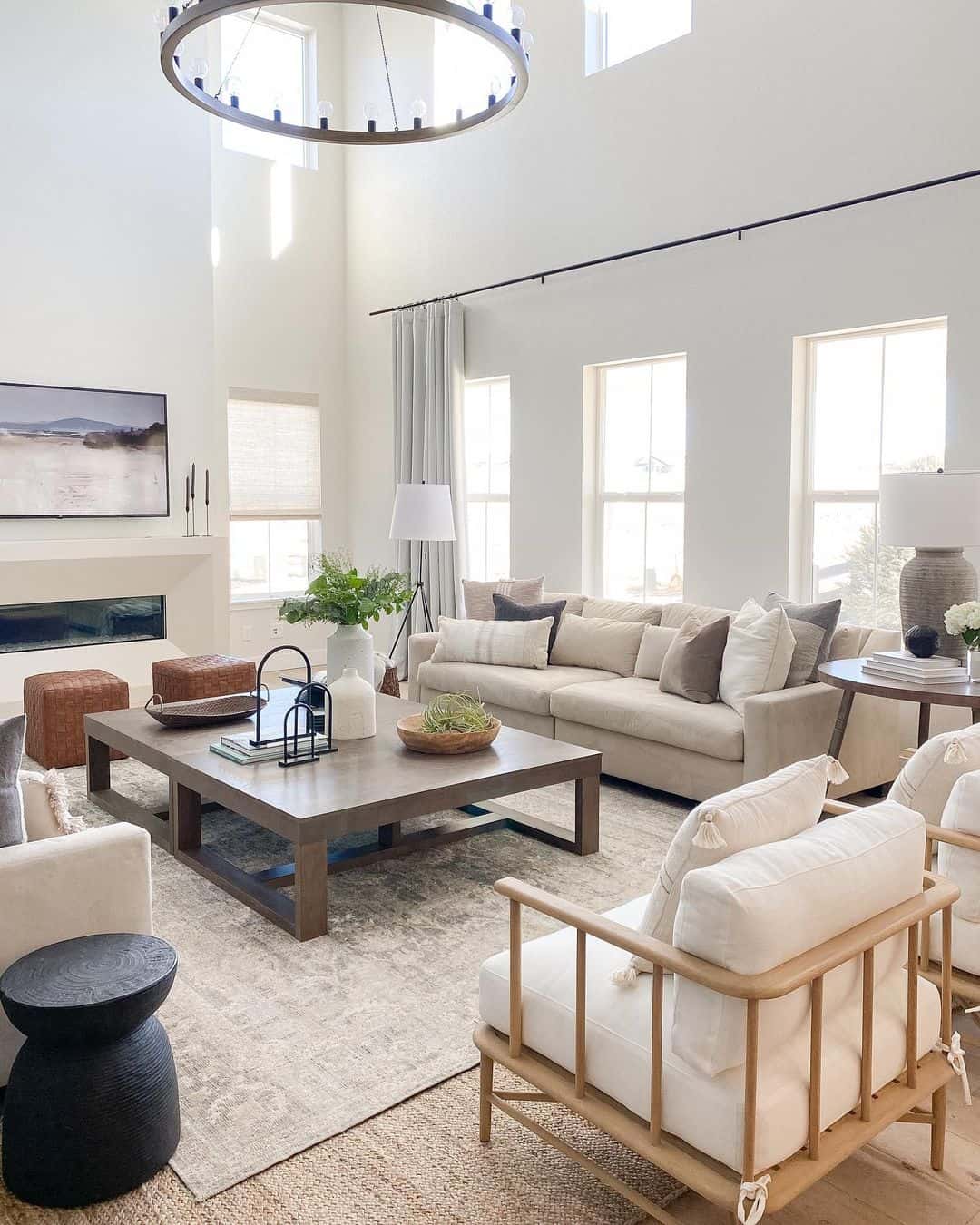 Credit: copper.on.pine
Shop the Look
Contemporary Comfort: Modern Farmhouse Living Room
Step into a world of contemporary comfort in this farmhouse-inspired living room. The space boasts a beautiful gray cement fireplace, elegantly adorned with a wooden mantel, an arched mirror, and a bouquet of dried flowers. In one corner, an oil landscape painting adds a touch of artistry.
The gray and cream furniture is thoughtfully arranged, with neutral accent pillows providing a delightful contrast. All of this surrounds an antique burgundy and ivory rug, creating a harmonious blend of modernity and rustic charm.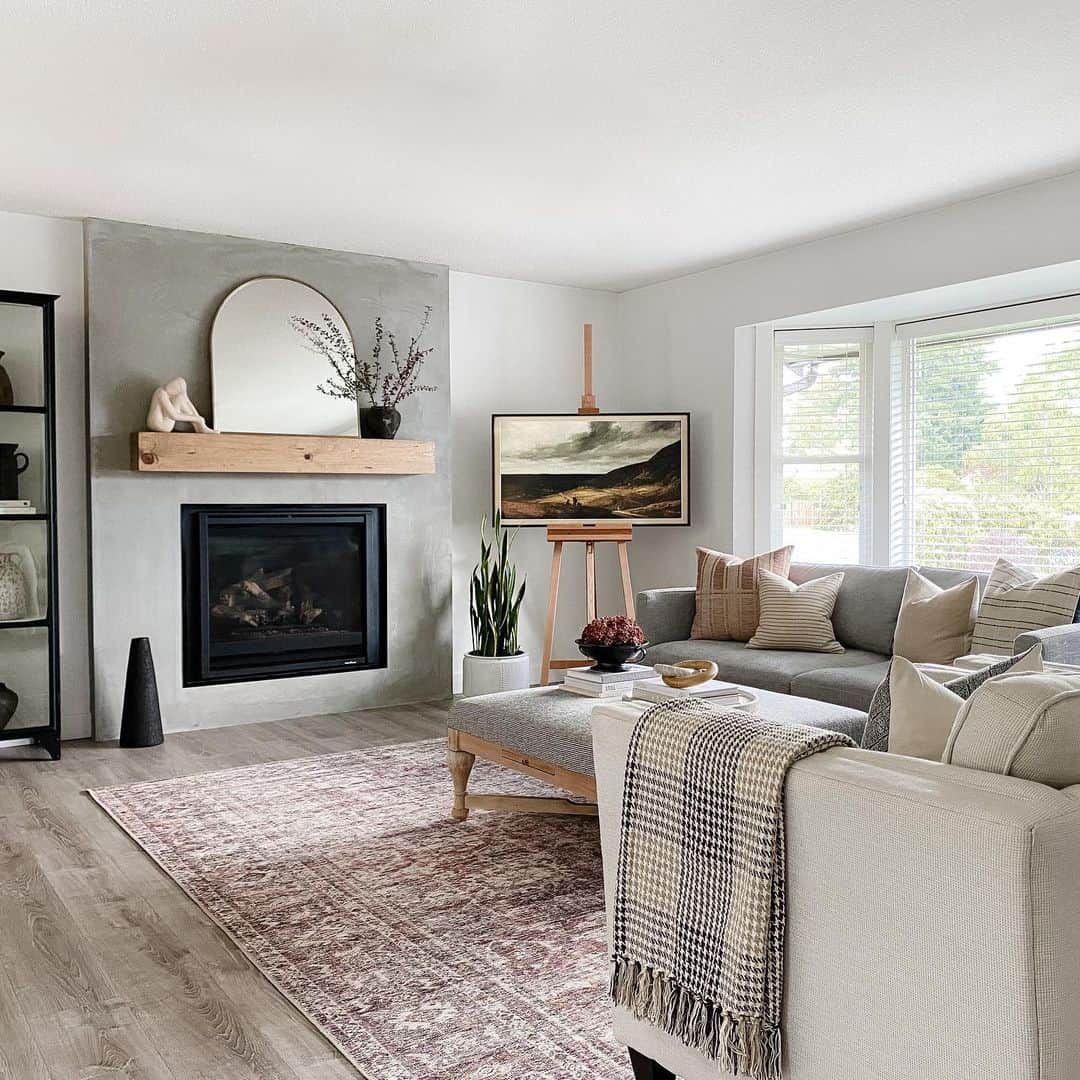 Credit: huushome
Shop the Look
Luminous Elegance: Bright Modern Living Room With Farmhouse Features
Radiating with brightness, this white-themed farmhouse living room exudes a sense of inviting elegance. An off-white nailhead couch takes center stage, nestled on top of an antique rug. A wooden farmhouse coffee table serves as a stylish focal point, adorned with a fresh bouquet of greens in a modern rustic vase.
Beige chairs find their place in front of a large wall of windows, allowing natural light to flood the space.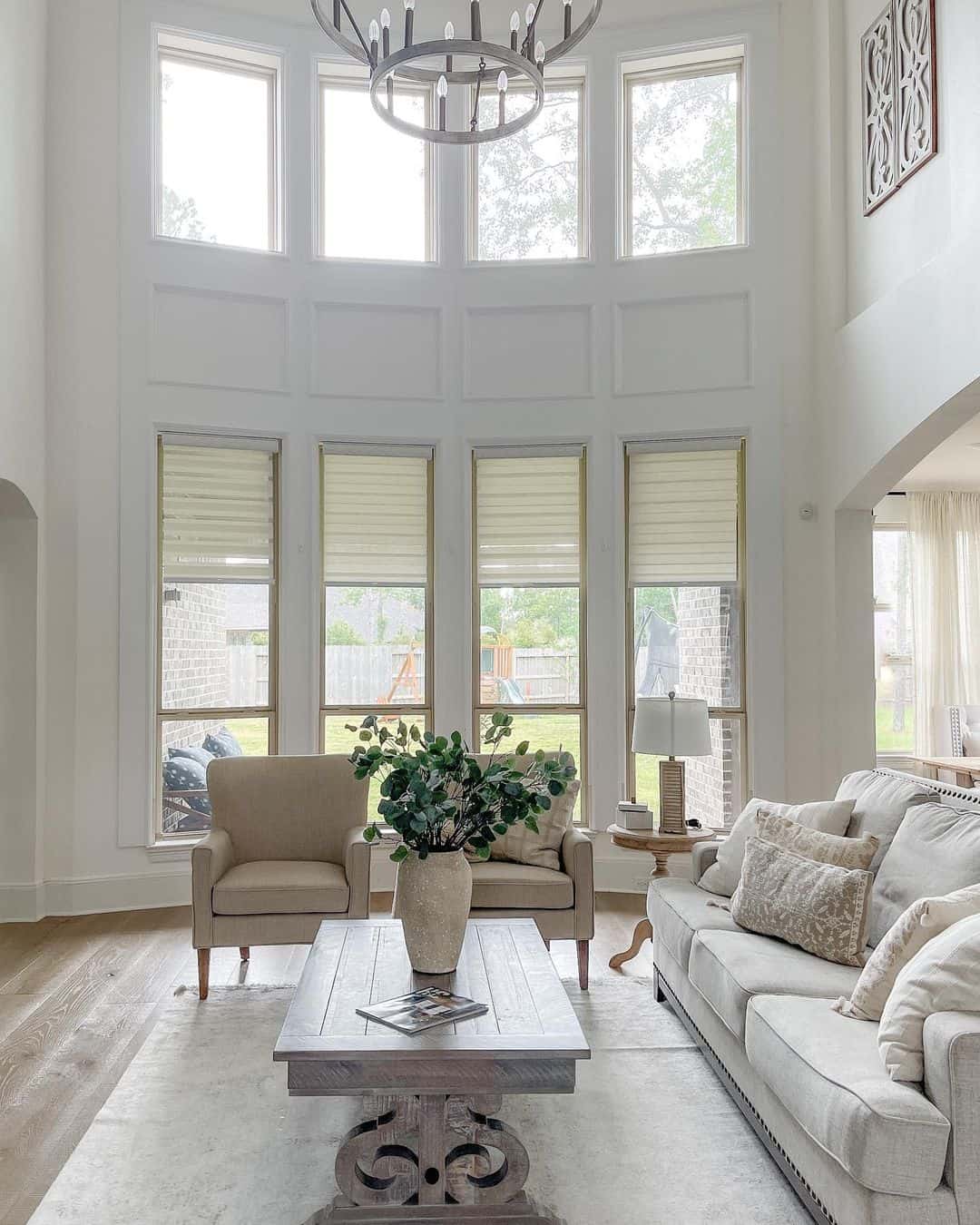 Credit: touchesofwood_lexi
Shop the Look
Beige Beauty: Farmhouse Living Room
Enter a serene farmhouse living room graced by a soothing beige sofa, adorned with plaid and patterned accent pillows. Above the couch, a captivating photograph in a modern frame finds its home between two windows dressed in sheer, white curtains.
The room's centerpiece is an eye-catching white fireplace, beautifully complemented by a large gilded arch mirror and a bunch of eucalyptus in a modern vase.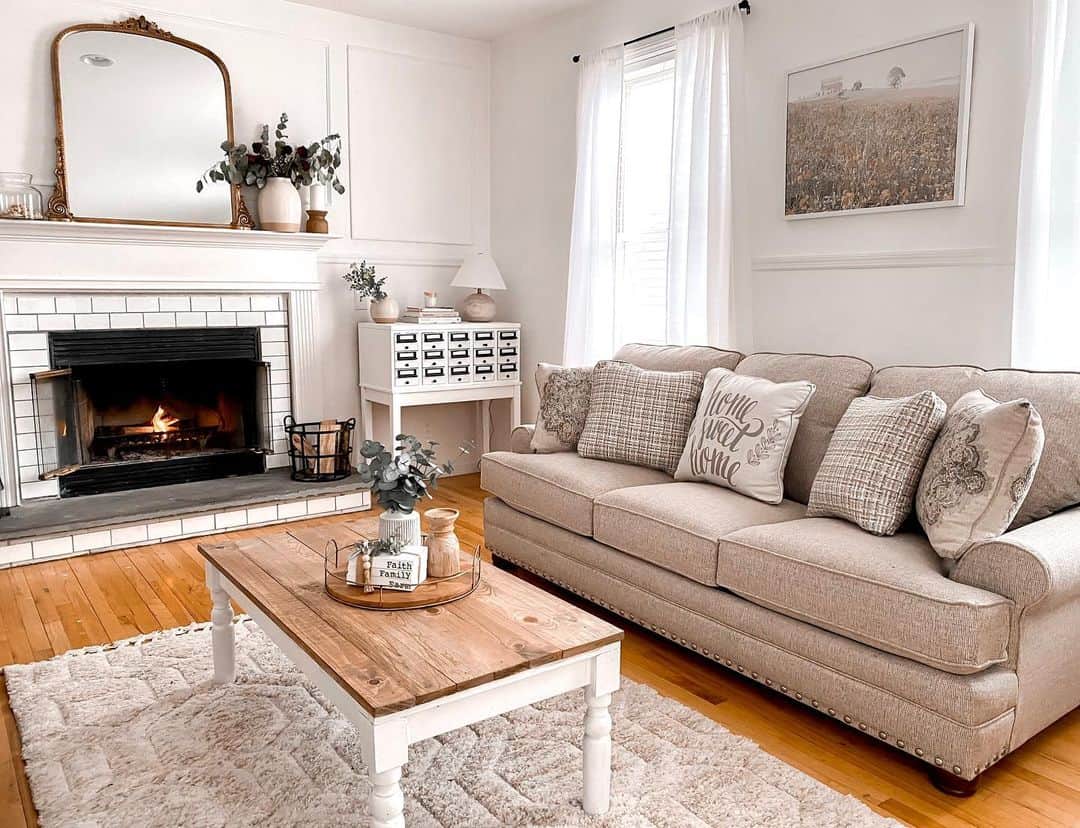 Credit: ramirezsgocountry
Shop the Look
Cozy Retreat: White and Brown Modern Farmhouse Living Room
Step into a cozy haven with this living room featuring modern plaster artwork in warm brown tones. The artwork graces a comfortable brown leather couch. Beside the couch, you'll find wooden farmhouse side tables, one of which cleverly features an open bottom for convenient storage in a woven basket.
A herringbone-patterned wooden coffee table adds a touch of elegance, adorned with lush greenery in a black jug, all resting gracefully on an antique area rug.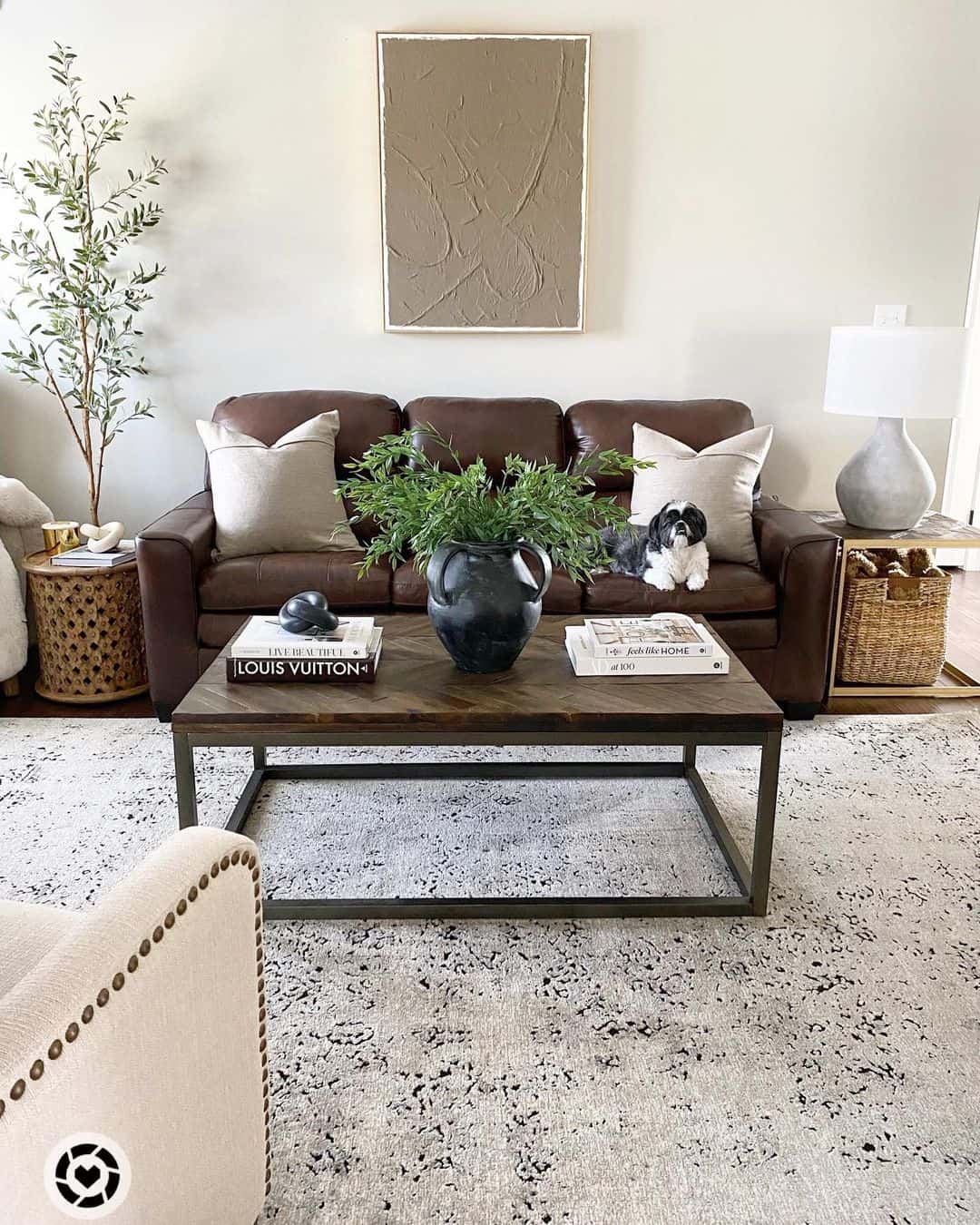 Credit: ourhouseofthree
Shop the Look
Earthy Oasis: Modern Farmhouse Living Room With Natural Tones
This transitional farmhouse living space offers a soothing retreat with a large white sectional, beautifully accented by natural, earth-toned pillows and a soft woven throw. The sectional is arranged atop a brown and blue geometric rug, providing the perfect backdrop for a stunning rectangular oak coffee table.
On the far wall, a black sideboard adds a personal touch, displaying framed, wall-mounted photographs.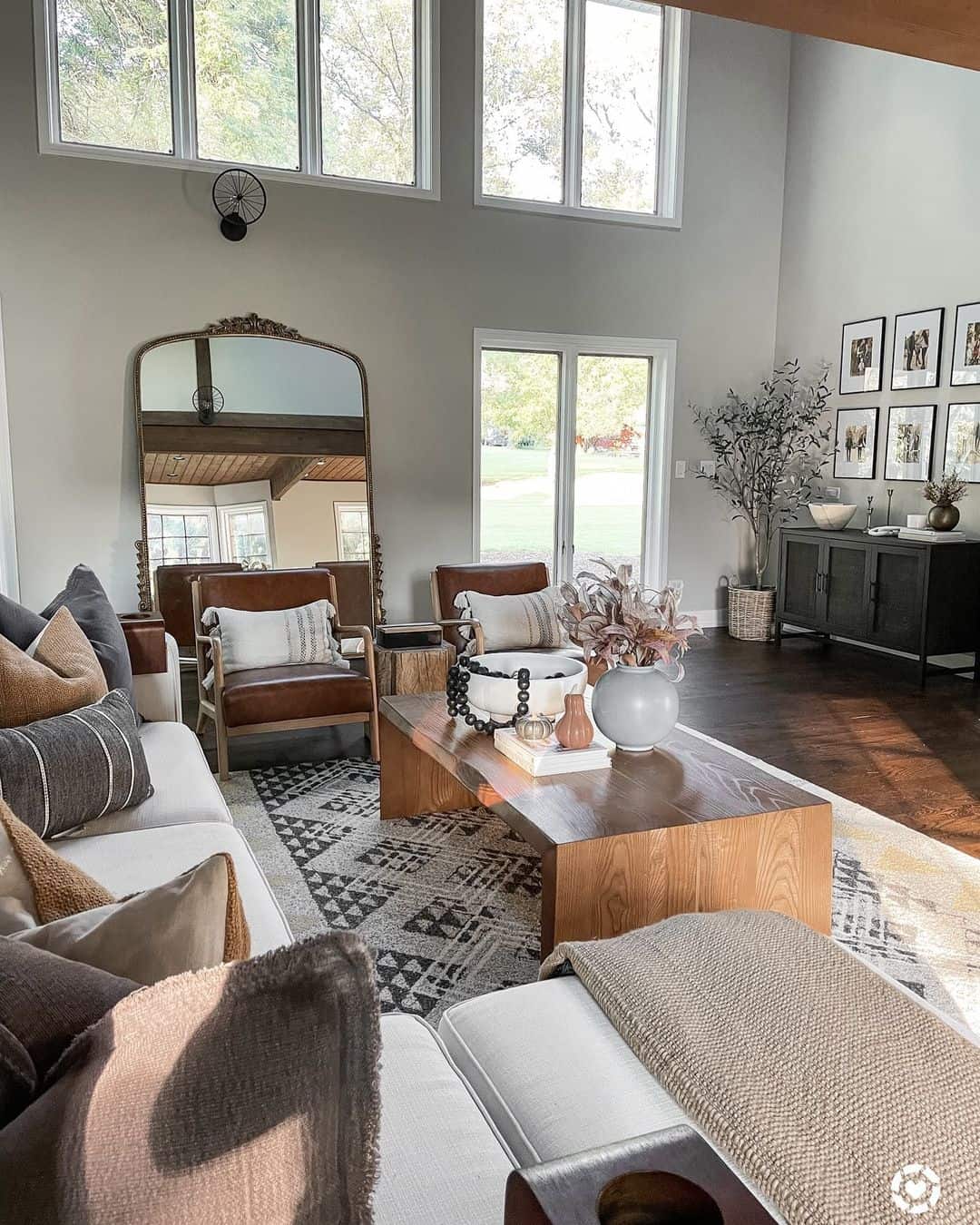 Credit: laurenashleyhansen
Shop the Look
Sleek Monochrome: Black and White Modern Farmhouse Living Room
Immerse yourself in the sleek contrast of this black and white farmhouse living room. The focal point is a large farmhouse-style fireplace adorned with black tile around the hearth, a wooden mantel, and a white shiplap wall extending toward the ceiling.
Modern furniture is artfully arranged on a faded antique rug around a circular wooden coffee table. The warmth of the rug and table brings balance and coziness to this monochromatic space.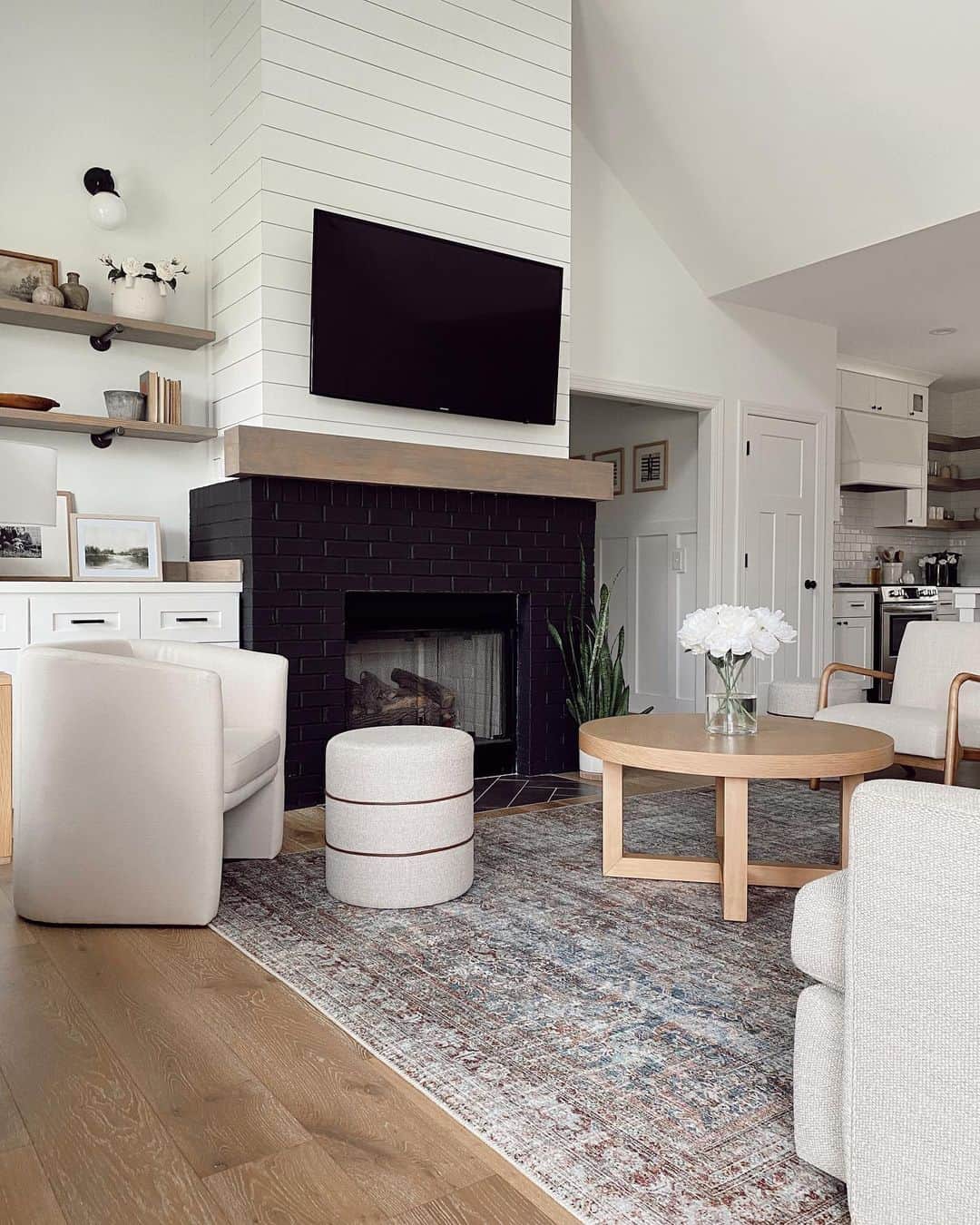 Credit: sosimplyjessica
Shop the Look
Contemporary Serenity: Farmhouse Living Room With Modern Sectional
Step into a bright and inviting living room featuring a large beige sectional adorned with a variety of cream, brown, and gingerbread-colored pillows. The sectional and round white stools are gracefully arranged on an antique rug, encircling a modern, circular coffee table.
Oversized windows with sheer white curtains add an elegant touch and draw the eye upwards to admire the coffered ceiling.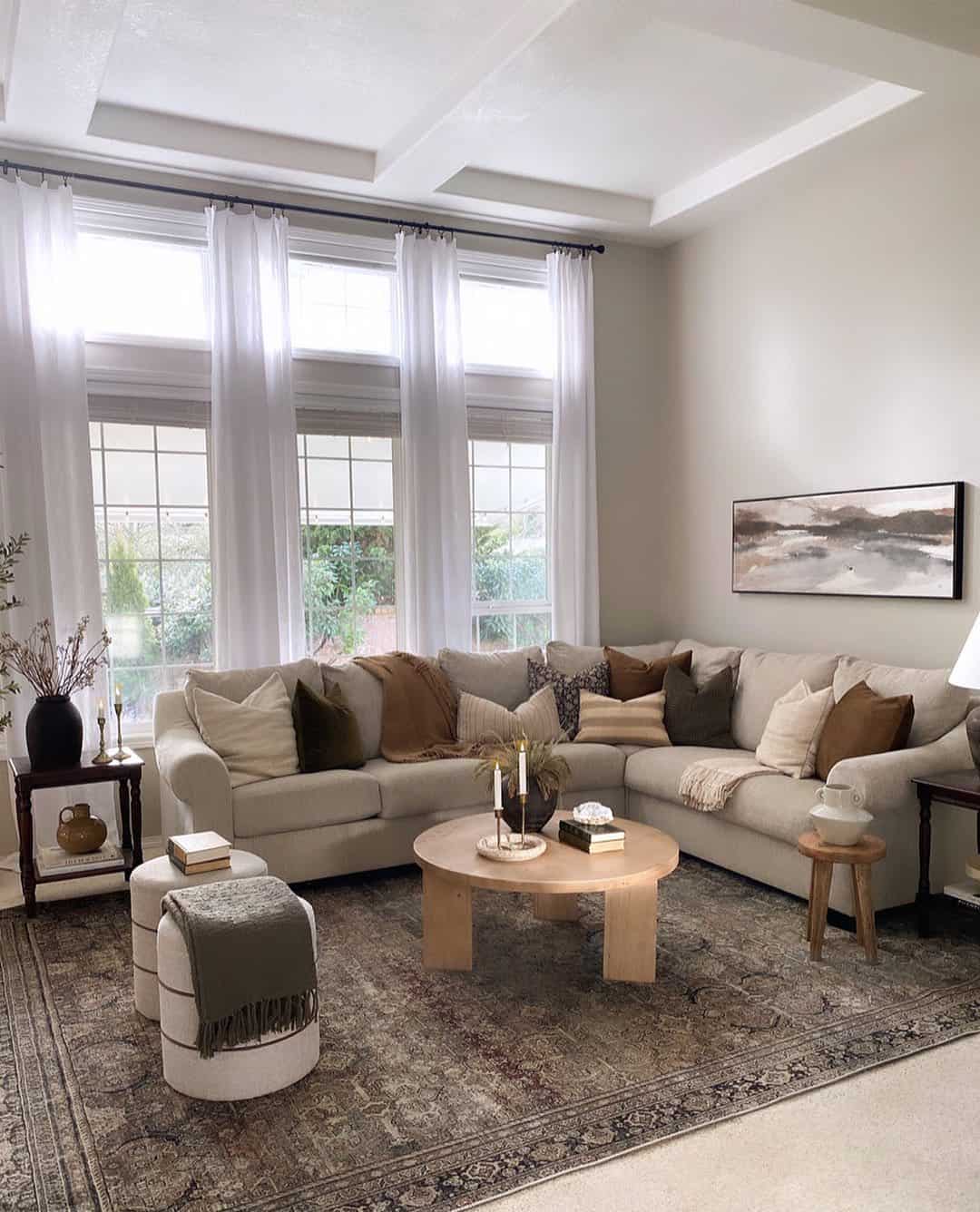 Credit: brittan_allie_home
Shop the Look
Wrap-up
Incorporating rustic modern elements into your farmhouse living room can rejuvenate the heart of your home. By balancing timeless charm with contemporary sophistication, you can create a space that's both inviting and stylish.
Whether it's updating your furniture, experimenting with contrasting color schemes, or adding innovative decor, these ideas offer a myriad of possibilities to transform your authentic farmhouse living room into a cozy yet modern haven.
Start your journey today, and watch as your space comes to life with newfound beauty and character.