7+ Mirror Ideas for a Dramatic Transformation of Your Farmhouse Living Room
Affiliate Disclosure: As an Amazon Associate we earn from qualifying purchases. Hence, if you click through and make a purchase, we will get a commission at no extra cost to you. For more info, read our full disclosure.
Transforming your farmhouse living room into a space of timeless charm and dramatic allure is easier than you might think. Mirrors, with their versatile ability to enhance light, space, and style, can be your secret weapon in achieving a captivating makeover.
In this article, we'll explore seven-plus mirror ideas that will breathe new life into your farmhouse living room. From grand vintage mirrors to sleek modern designs, get ready to discover how these reflective wonders can elevate the heart of your home.
Radiant Glass Pendant Over the Ottoman
Discover the art of material fusion within a captivating brick fireplace alcove, elegantly framed by a wooden mantel. A contemporary glass pendant exudes brilliance as it hangs centrally between a tufted white ottoman and matching sofas, creating a harmonious interplay of elements against the backdrop of modern beige walls.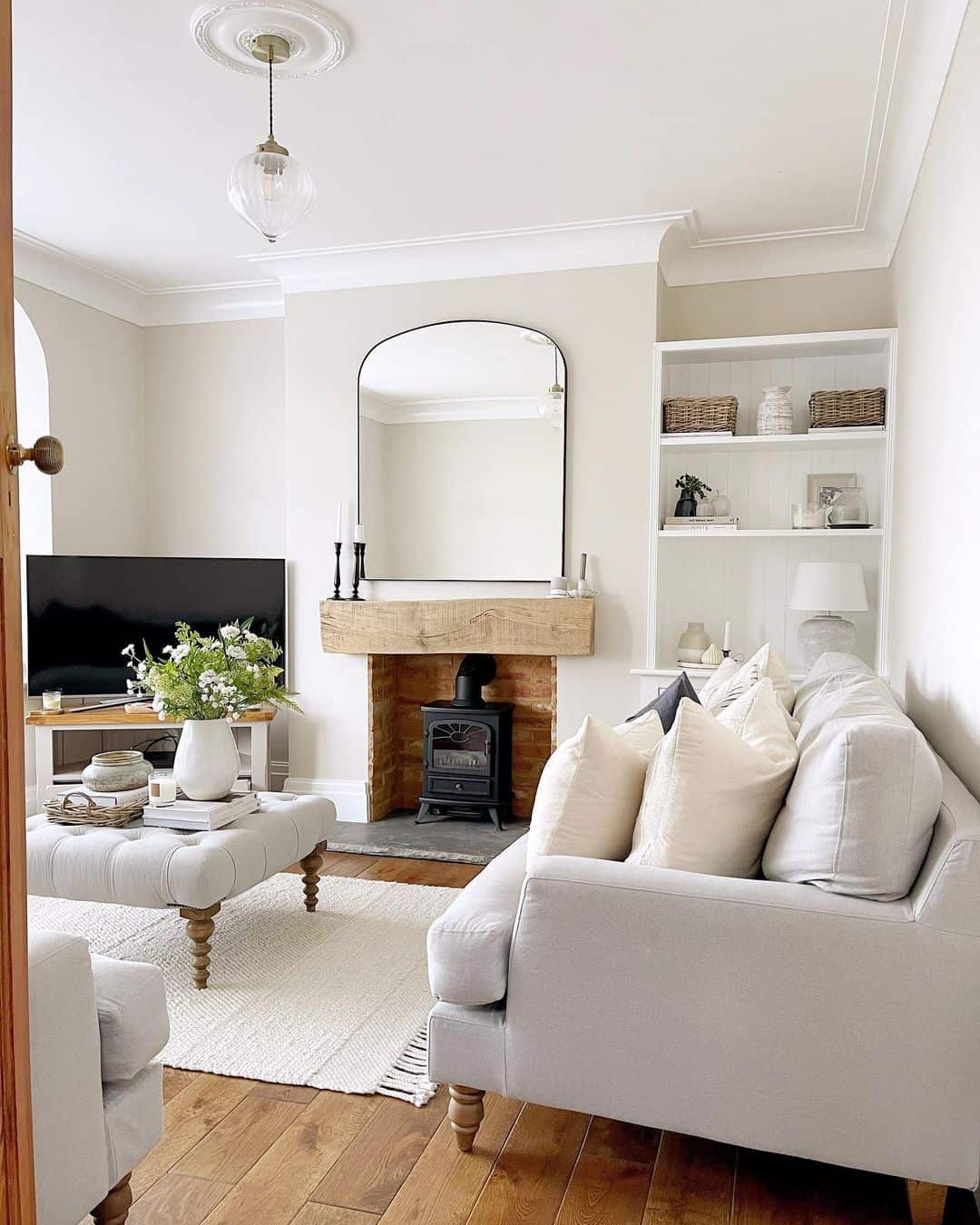 Credit: rachelsorbyhome
Shop the Look
Enchanting Crocheted Poufs Resting on a Decorative Rug
Behold the seamless coexistence of boho accents and modern aesthetics in this meticulously designed living room. Crocheted poufs, resting gracefully on a decorative rug, provide an enchanting touch next to a light gray wingback armchair. Consider adorning your fireplace mantel with an ornate mirror for an added layer of sophistication.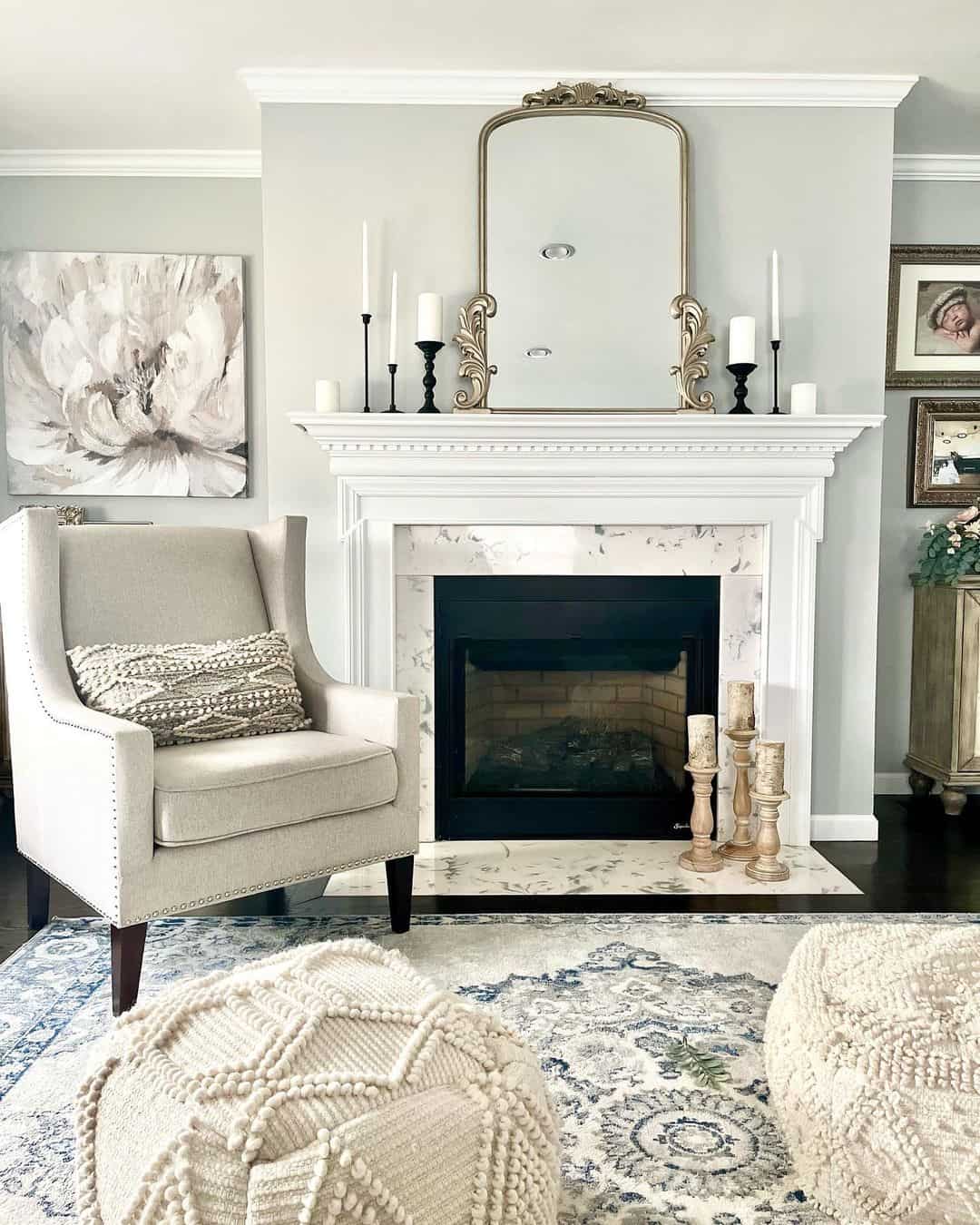 Credit: sweethome_saratoga
Shop the Look
Contemporary Art Framing the Modern Fireplace
Immerse yourself in the boho aesthetic as a patterned rug unfurls before a contemporary tiled fireplace. The beige mantel stands as a canvas for abstract art, adorned with unique elements such as pampas grass, candles, and potted plants. Opt for rounded mirrors to enhance the flow and spirit of boho-inspired spaces.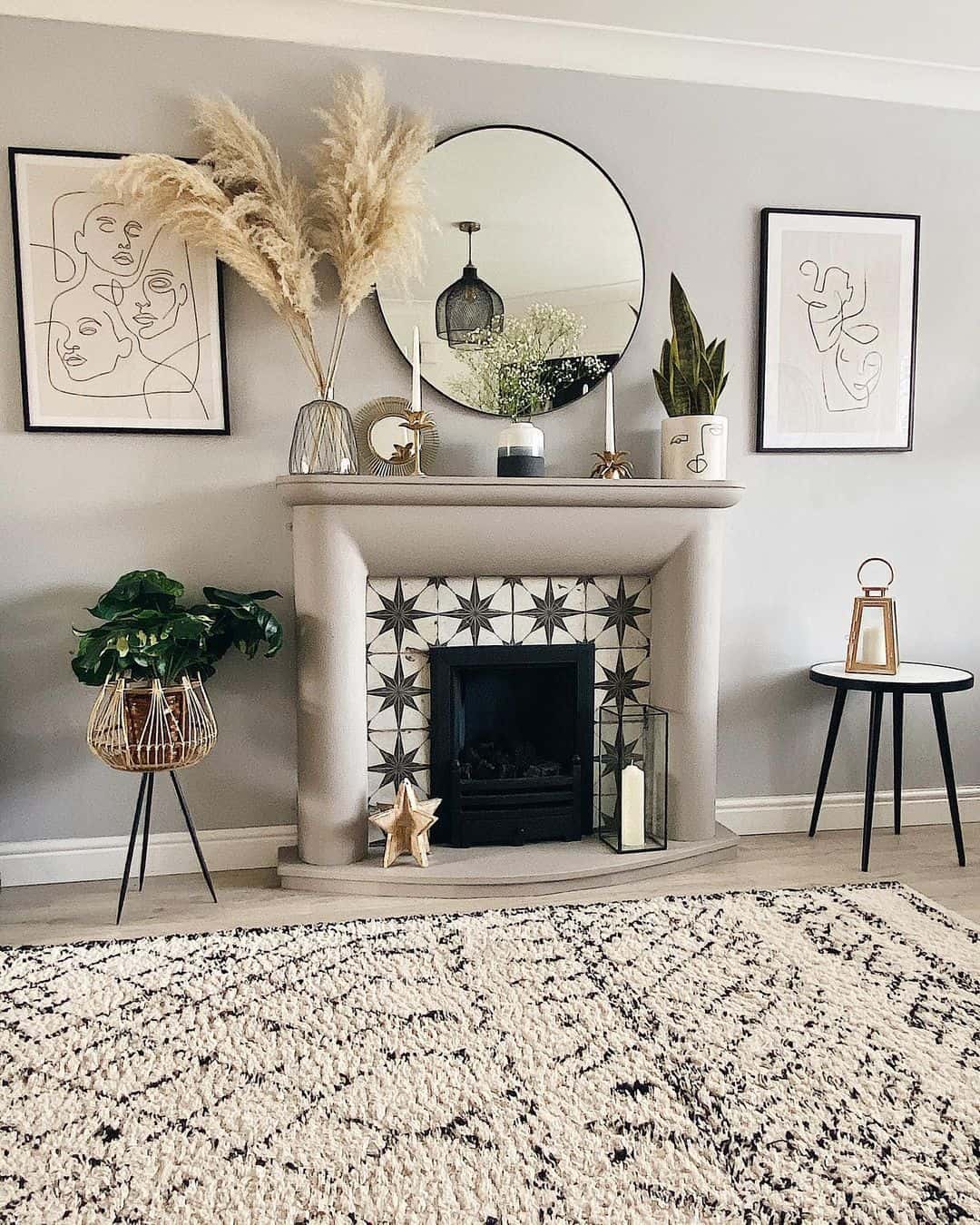 Credit: my_neutral_place
Shop the Look
Elegant Fireplace Accents with Layered Brass Mirrors
Indulge in your love for neutral decor within a living room adorned with pristine white walls and a sophisticated gray sofa. A welcoming beige rug extends gracefully to the fireplace, where a captivating display of layered vintage brass mirrors takes center stage. Completing the ensemble, intricate chandeliers bestow subtle elegance upon this harmonious neutral space.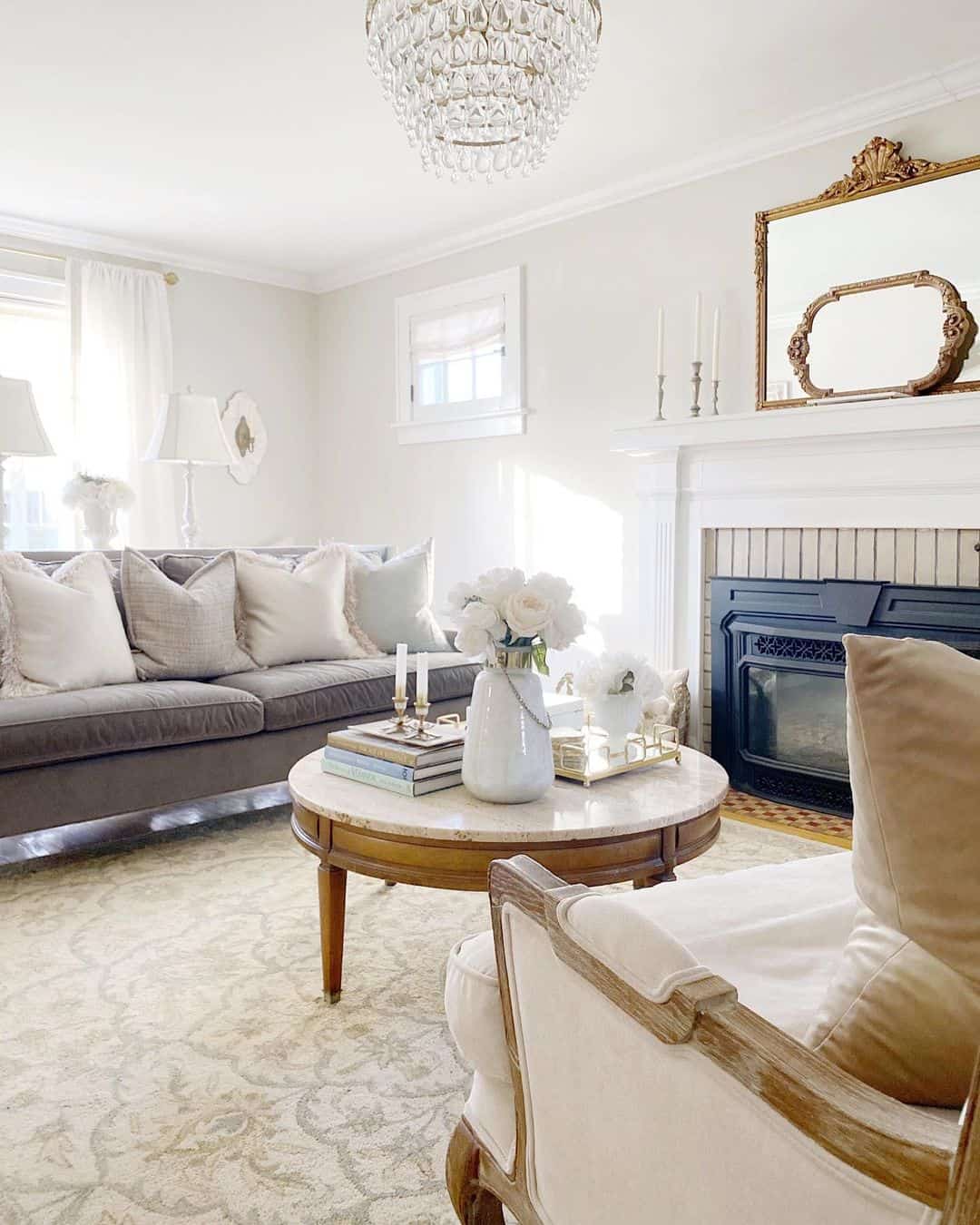 Credit: liz_seefeldt
Shop the Look
Enhancing Your Sitting Area with Slipper Chairs
Marvel at the impeccable styling of beige walls adorned with a charming stone and shiplap fireplace. A warm wood floor spans the expanse of this inviting living room, serving as the backdrop for a cozy sitting area featuring elegant white slipper chairs. To add a touch of uniqueness to this space, consider replacing a standard coffee table with a stylish circular ottoman placed at the heart of your seating arrangement.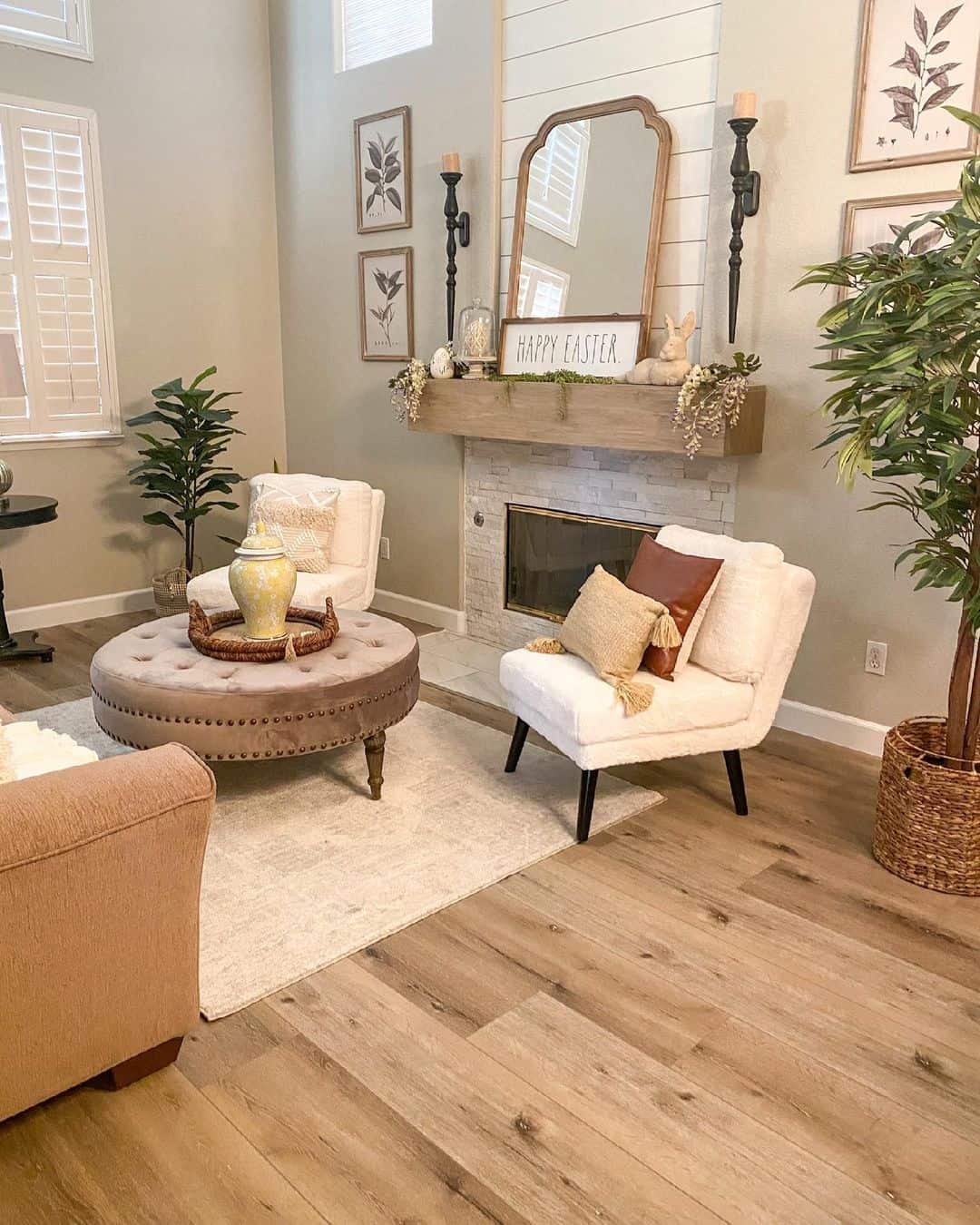 Credit: @simply_grace_ful
Shop the Look
Vaulted Ceilings and Rustic Stone Fireplace
Infuse warmth into a living room with vaulted ceilings through the rustic allure of a stone fireplace and a wooden mantel. A gray wall features rectangular windows and an arched grid-style mirror, providing a captivating contrast within this modern design. The cozy sectional with a chaise invites you to the ideal seating arrangement for a rustic living room.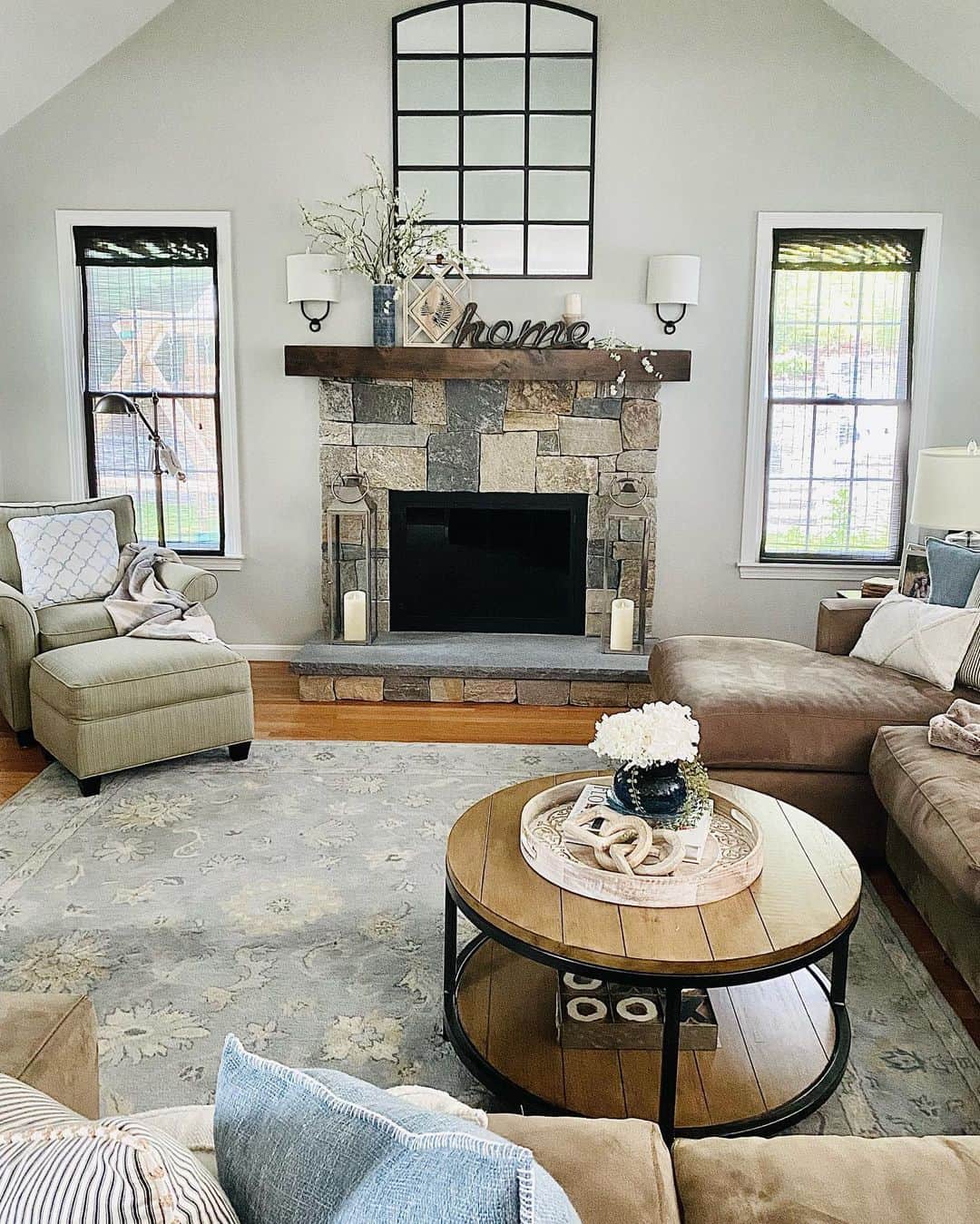 Credit: ondaisyhilldrive
Shop the Look
Adding Elegance with an Oversized Vintage Mirror
Enter a modern farmhouse environment where an impressively large vintage mirror leans gracefully against a pristine white wall. Below, you'll find sleek black shaker cabinets seamlessly integrated beneath a series of floating wooden shelves. To complete the picture, a cozy seating area awaits with a stylish tan sofa resting on a striking black and white rug.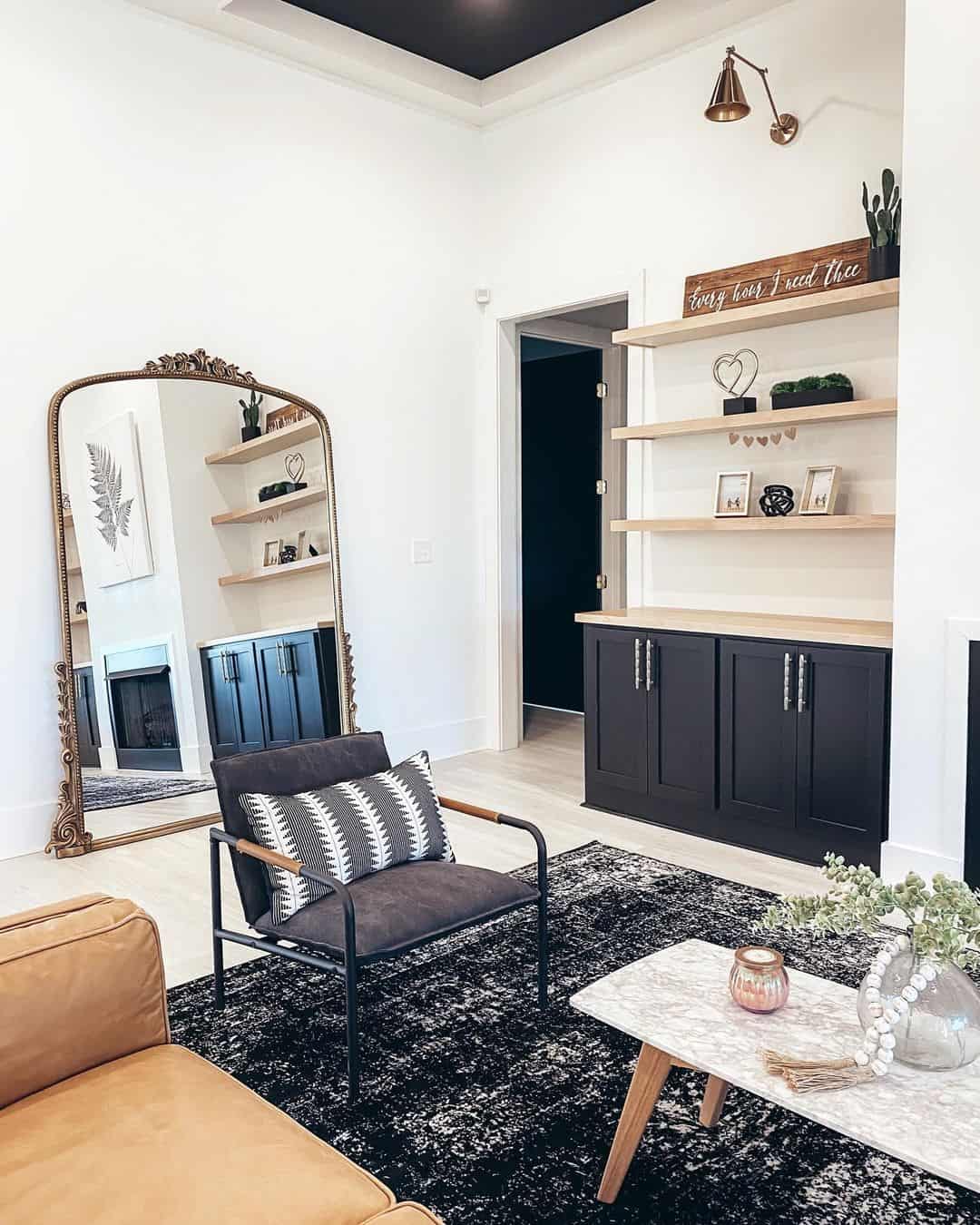 Credit: @melinabrook
Shop the Look
Vintage Grace Embellishing the Wooden Piano
Step into a captivating tableau of vintage grace that enriches this welcoming living room. A verdant sofa cozily nestles beside a well-appointed wooden piano, tastefully adorned with a luscious faux fur throw. Dominating the room's focal point, a substantial circular mirror exudes timeless charm, enhanced by an array of vintage treasures and verdant foliage adorning the piano's surface.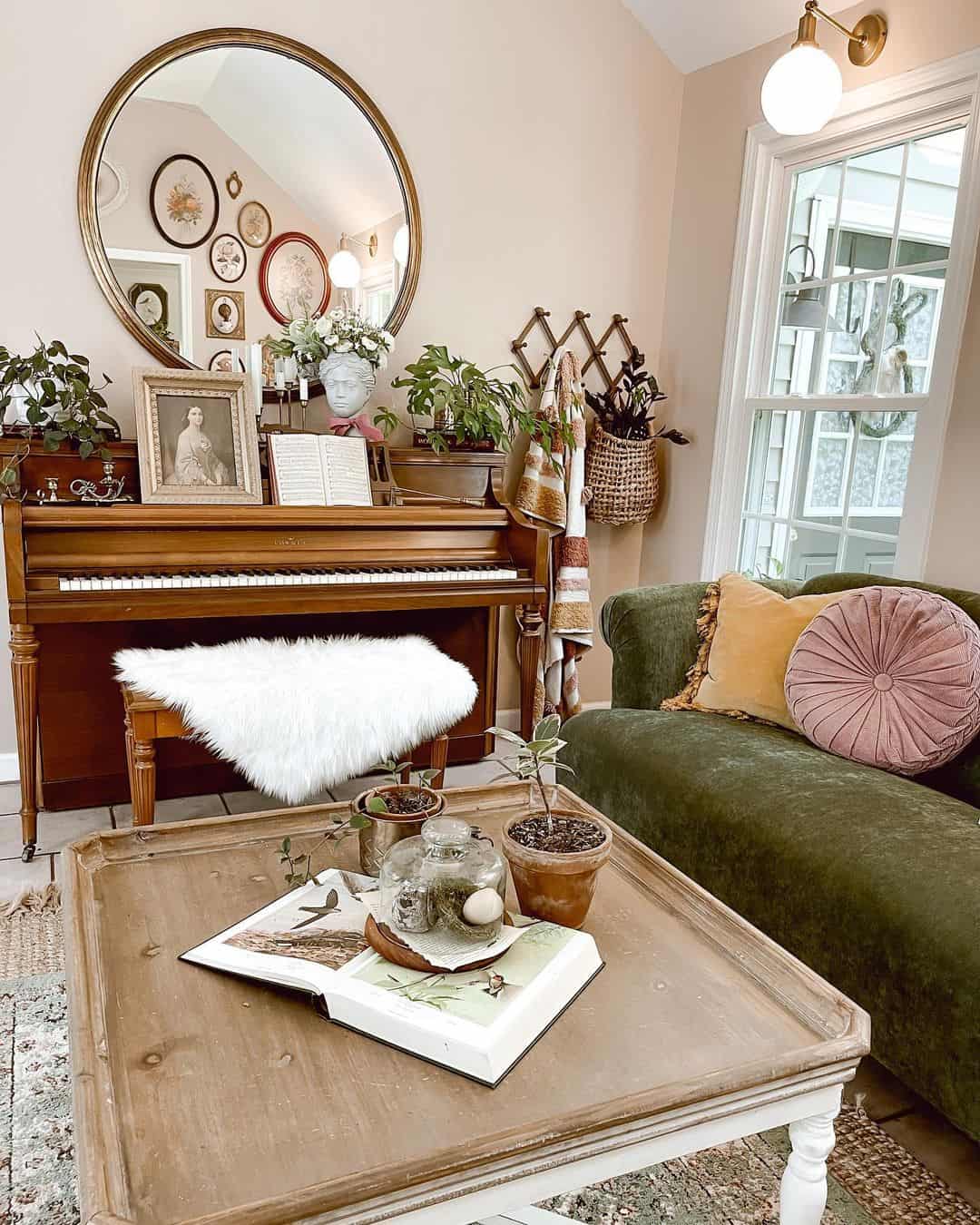 Credit: margaretsdaughter_
Shop the Look
Wrap-up
Incorporating mirrors into your farmhouse living room decor is a transformative journey that can redefine the entire ambiance of your home. With these mirror ideas at your disposal, you have the tools to create a space that exudes charm, elegance, and a touch of drama.
Whether you opt for grand vintage mirrors, minimalist modern designs, or anything in between, mirrors will undoubtedly play a pivotal role in achieving a stunning and dramatic transformation.
Embrace the power of reflection and watch as your farmhouse living room evolves into a space of timeless allure and sophistication.