7+ Captivating Exposed Beam Ceiling Ideas for Your Farmhouse Living Room
Affiliate Disclosure: As an Amazon Associate we earn from qualifying purchases. Hence, if you click through and make a purchase, we will get a commission at no extra cost to you. For more info, read our full disclosure.
Step into the world of rustic charm and timeless elegance with these seven captivating exposed beam ceiling ideas tailored to elevate your farmhouse living room. Discover how the natural beauty of exposed beams can transform your space, infusing it with character, warmth, and a touch of nostalgia.
Whether you're a fan of modern simplicity or classic farmhouse aesthetics, these ideas offer versatile inspiration for creating a cozy and inviting atmosphere that celebrates the heart of your home.
Lodge-Inspired Home with Soaring Vaulted Ceilings and Exposed Wooden Beams
Step into a lodge-style living room that beautifully highlights its vaulted wood panel ceilings adorned with delicately stained support beams extending from either end of the room. Suspended between these beams, a captivating wagon wheel chandelier creates a striking and modern focal point.
The ambiance is further enriched with the presence of a dark brick fireplace and a natural wood mantel.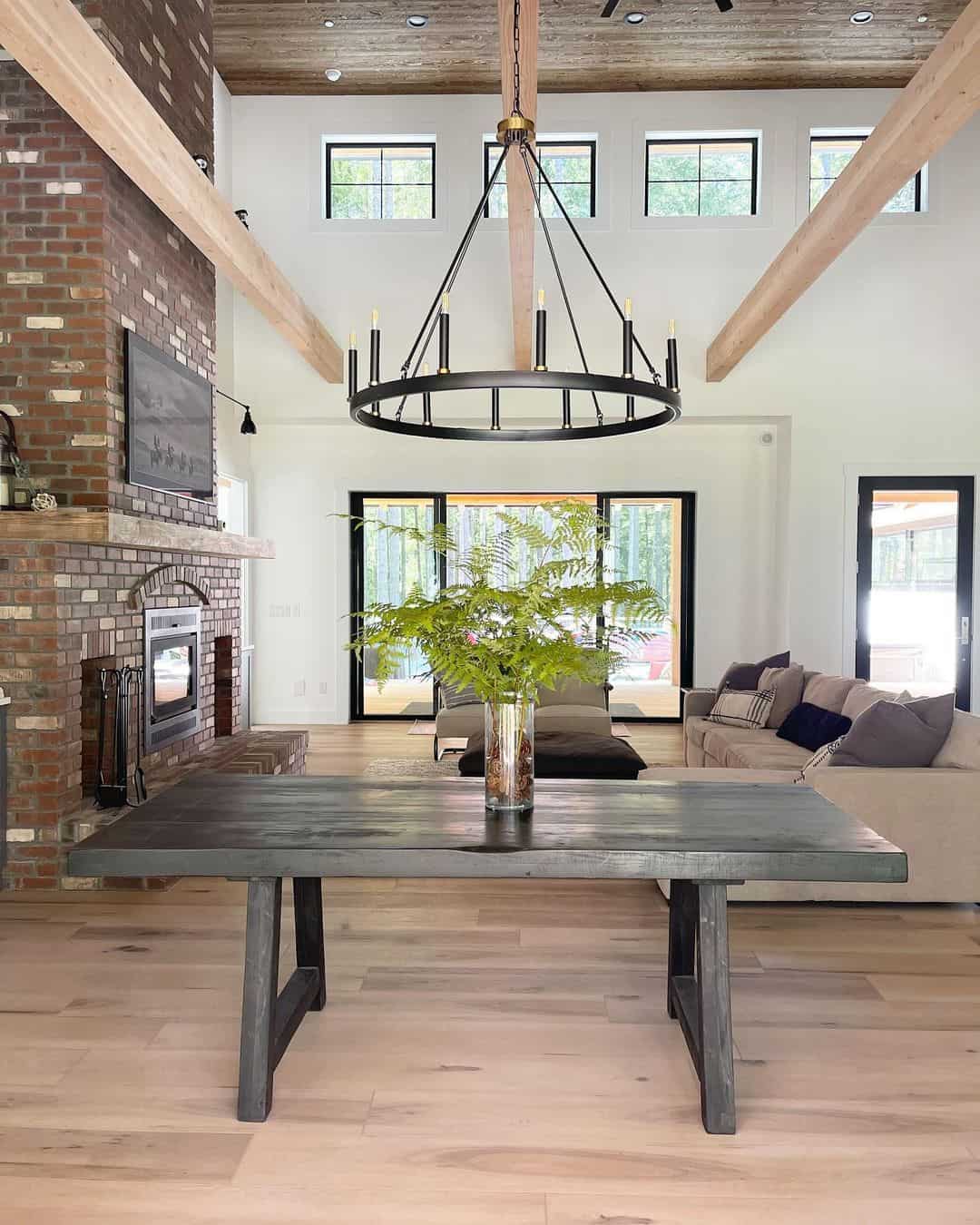 Credit: our_pnw_farmhouse
Shop the Look
Embracing Cozy Lodge Style with Exposed Ceiling Beams
This refurbished farmhouse living room proudly showcases its exposed wood ceiling beams, preserving the room's original rustic charm. To balance the room's warm, dark wood and leather sofas, a fresh coat of white paint graces the walls.
Adding depth and character, indoor plants and a boho farmhouse shag rug introduce a delightful array of colors and textures.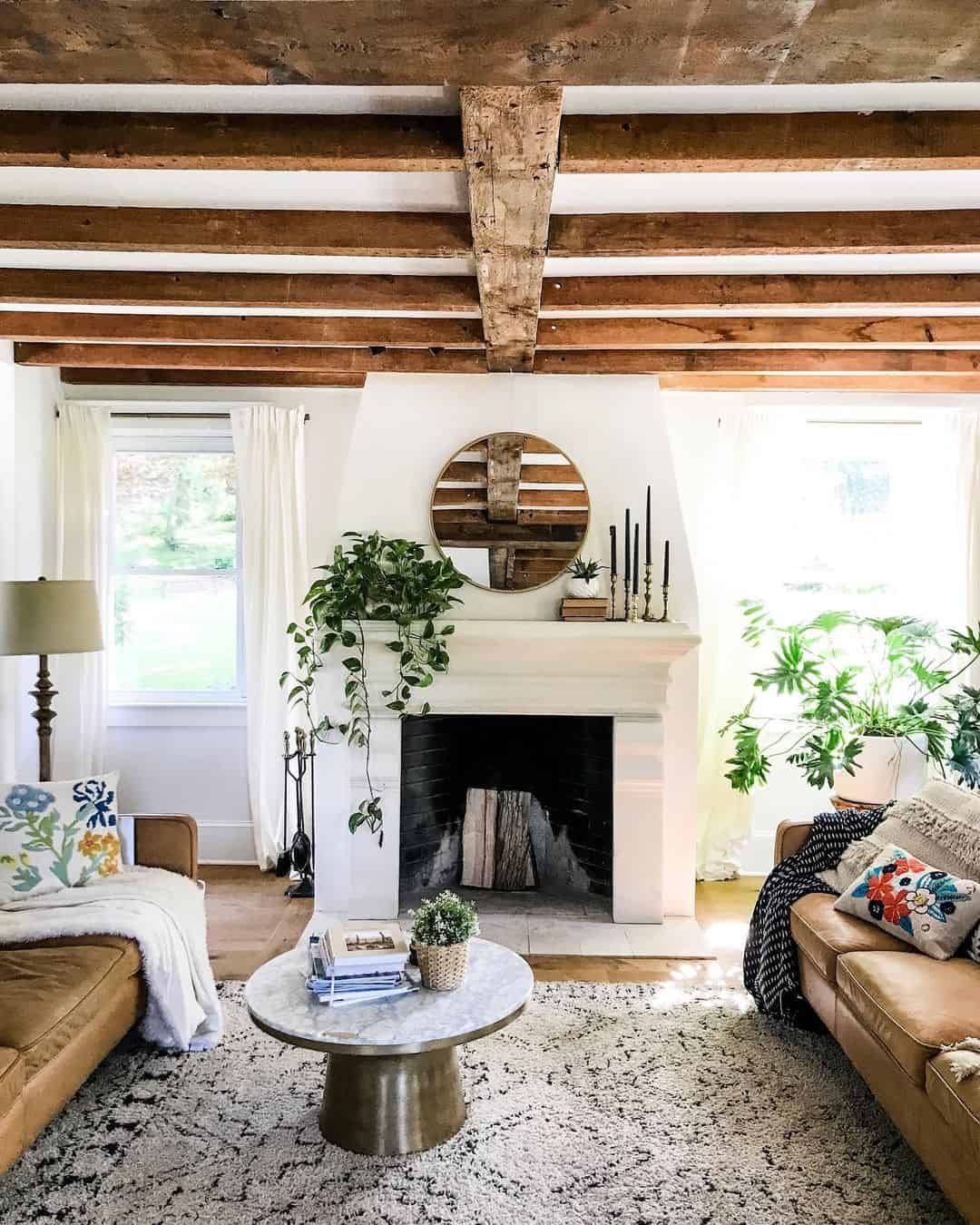 Credit: skiesofparchmentblog
Shop the Look
Embracing Rustic Charm with Wood Paneled Ceilings and Exposed Beams
In a white living room filled with natural light, a rustic wood paneled ceiling sporting a rich, dark stain fosters a cozy atmosphere. For an extra dose of rustic appeal, consider installing or exposing the ceiling trusses and beams to harmonize with the wood paneling.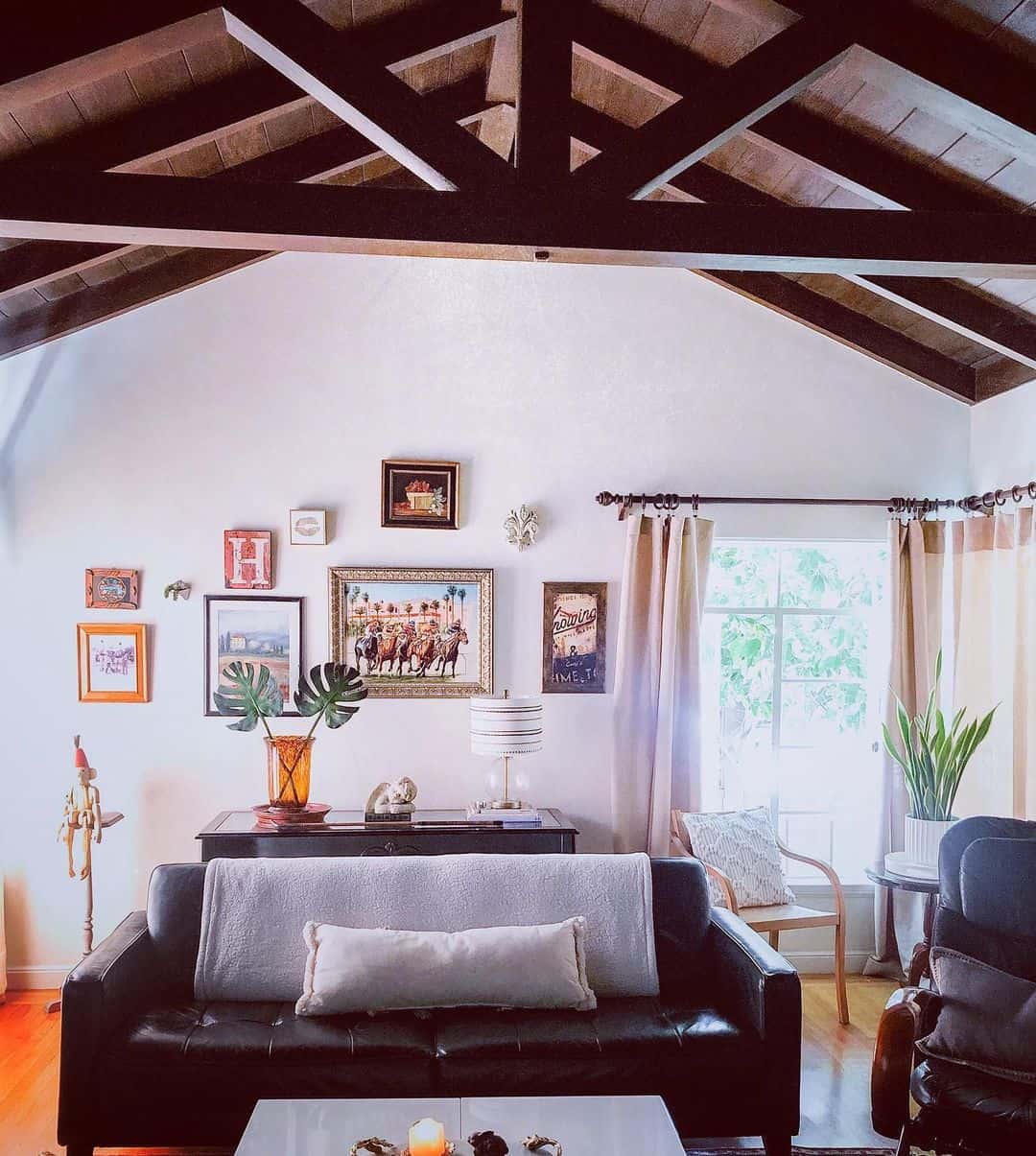 Credit: michellesmediterraneanhouse
Shop the Look
Farmhouse Elegance with Vaulted Ceilings and Exposed Wood Beams
Vaulted ceilings adorned with exposed wood beams and trusses create a breathtaking spectacle in this space, enhanced by a backdrop of white wall paint. Above a comfortable grey sofa seating area, exquisite two-tiered chandeliers cast a soft glow.
To complete the scene, leather armchairs adorned with white and grey striped lumbar pillows add charm, while a neutral farmhouse rug graces the wooden flooring.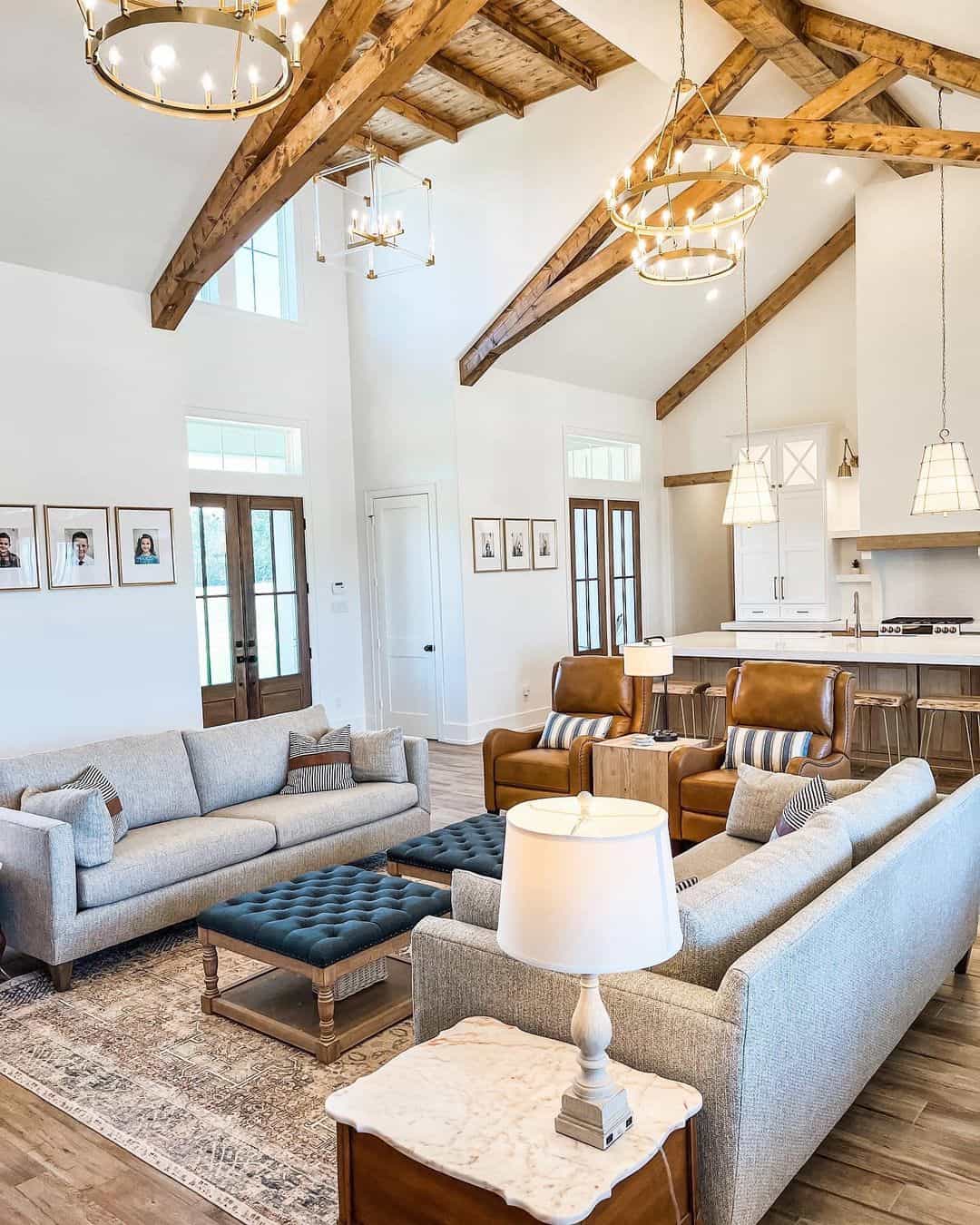 Credit: fiveacresfarmhouse
Shop the Look
Exploring Wooden Coffered Ceiling Inspirations
Elevate your living room aesthetics with a statement-making wood and white coffered ceiling, crowning a large white sectional and a graceful grey stone fireplace. The wood mantel serves as a showcase for black and white vases, candlesticks, and a magnificent black and white landscape photo.
Meanwhile, a small basket finds its place at the fireplace base, and a white throw drapes elegantly over the sofa. Completing the ensemble, a black cabinet with a white top stands nearby.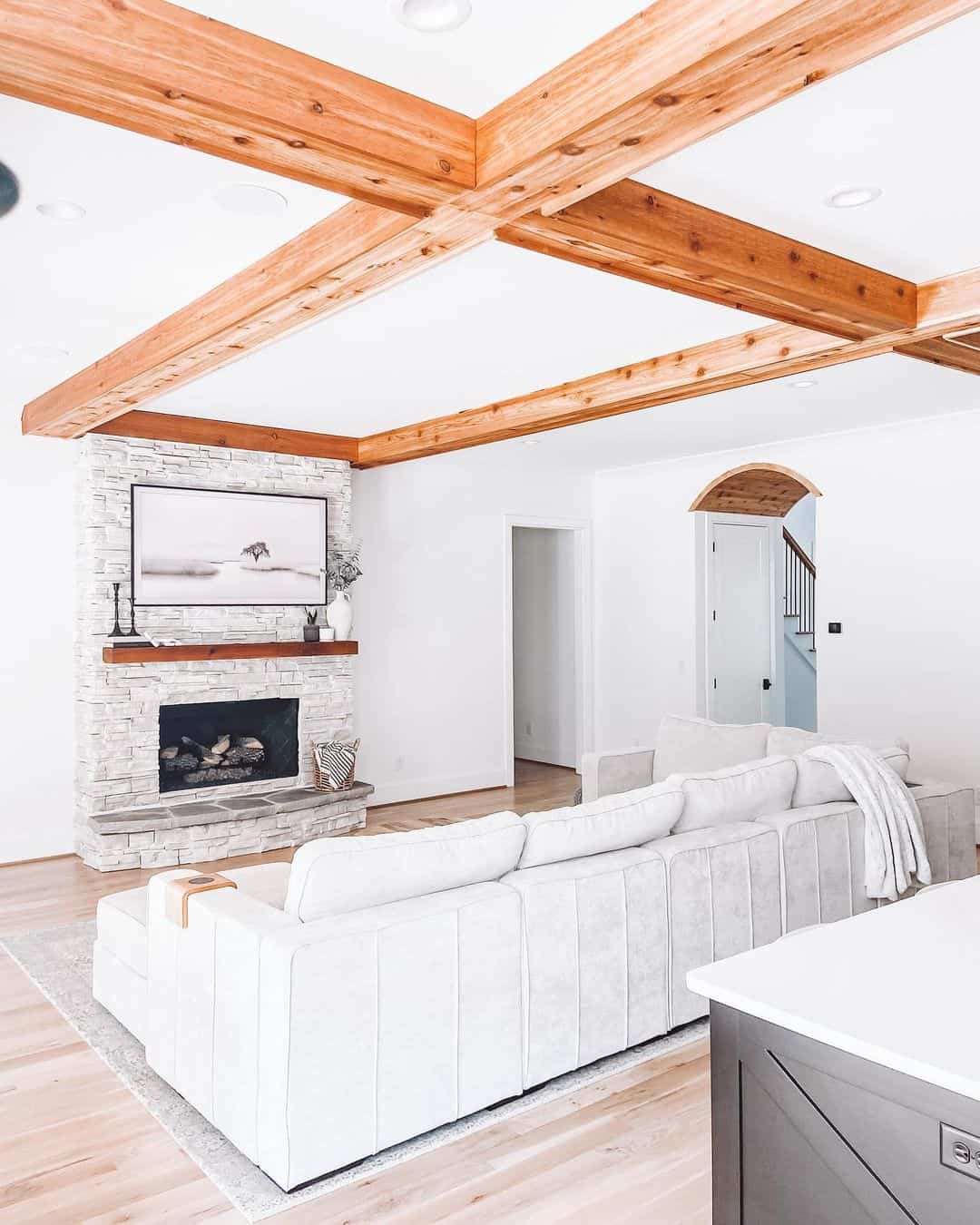 Credit: hayes.smith.haven
Shop the Look
Boho Chic Living Room: Faux Exposed Wood Beams
Introduce rustic charm to your boho living room with white ceilings enhanced by faux wood beams, creating an appealing textural contrast. The natural wood finish harmonizes seamlessly with other wood boho décor elements found throughout the room, as well as the inviting leather sofa and earth-toned pillows.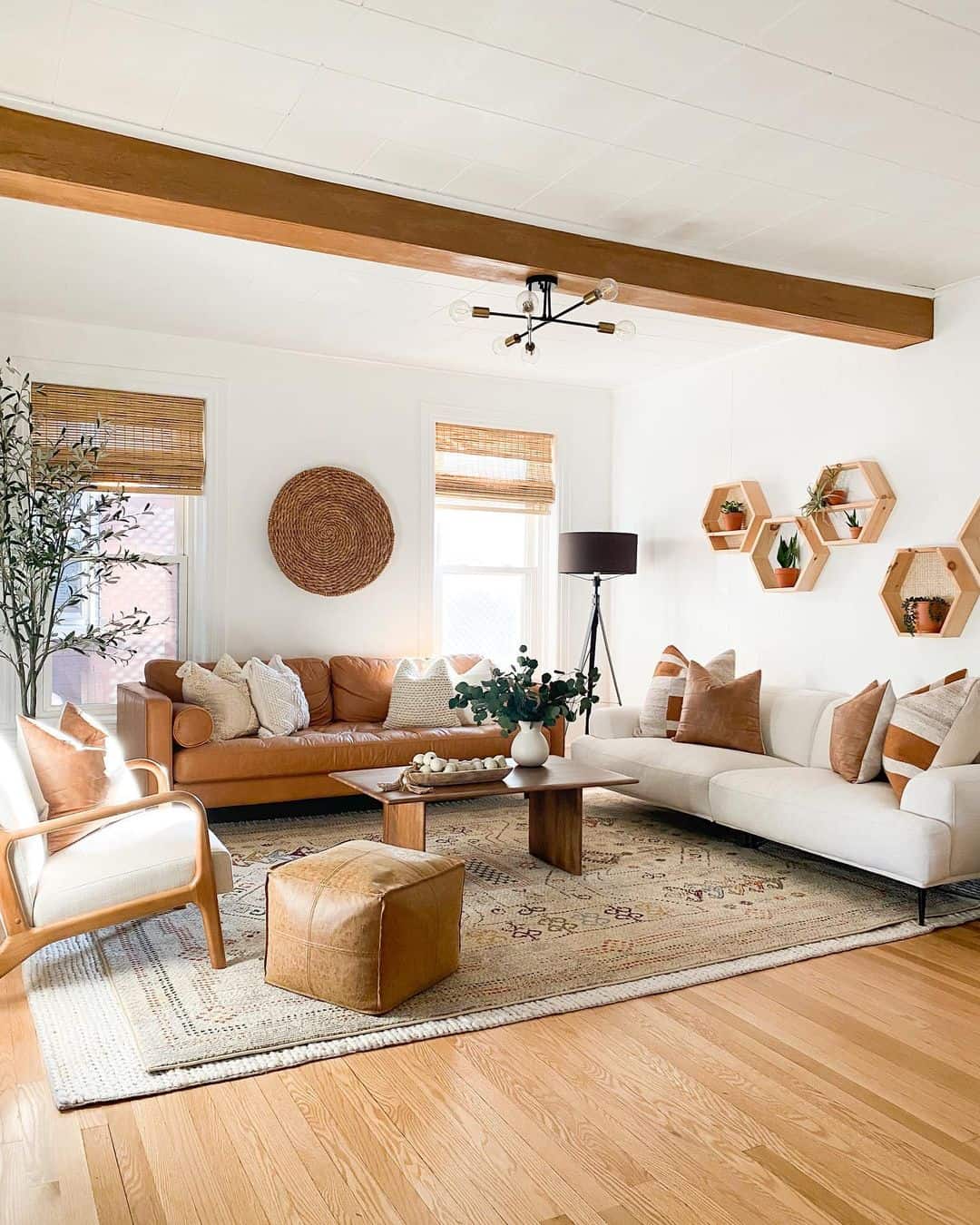 Credit: modernly_you
Shop the Look
Modern Elegance with Natural Wood Exposed Beams
Incorporate rustic warmth into your neutral living room with vaulted ceilings through the addition of an exposed beam ceiling. Contrasting the bright white room, black farmhouse fixtures like the lantern pendant light and modern black ceiling fan offer a contemporary touch. Completing the cozy atmosphere, a floor-to-ceiling brick fireplace mantel takes center stage.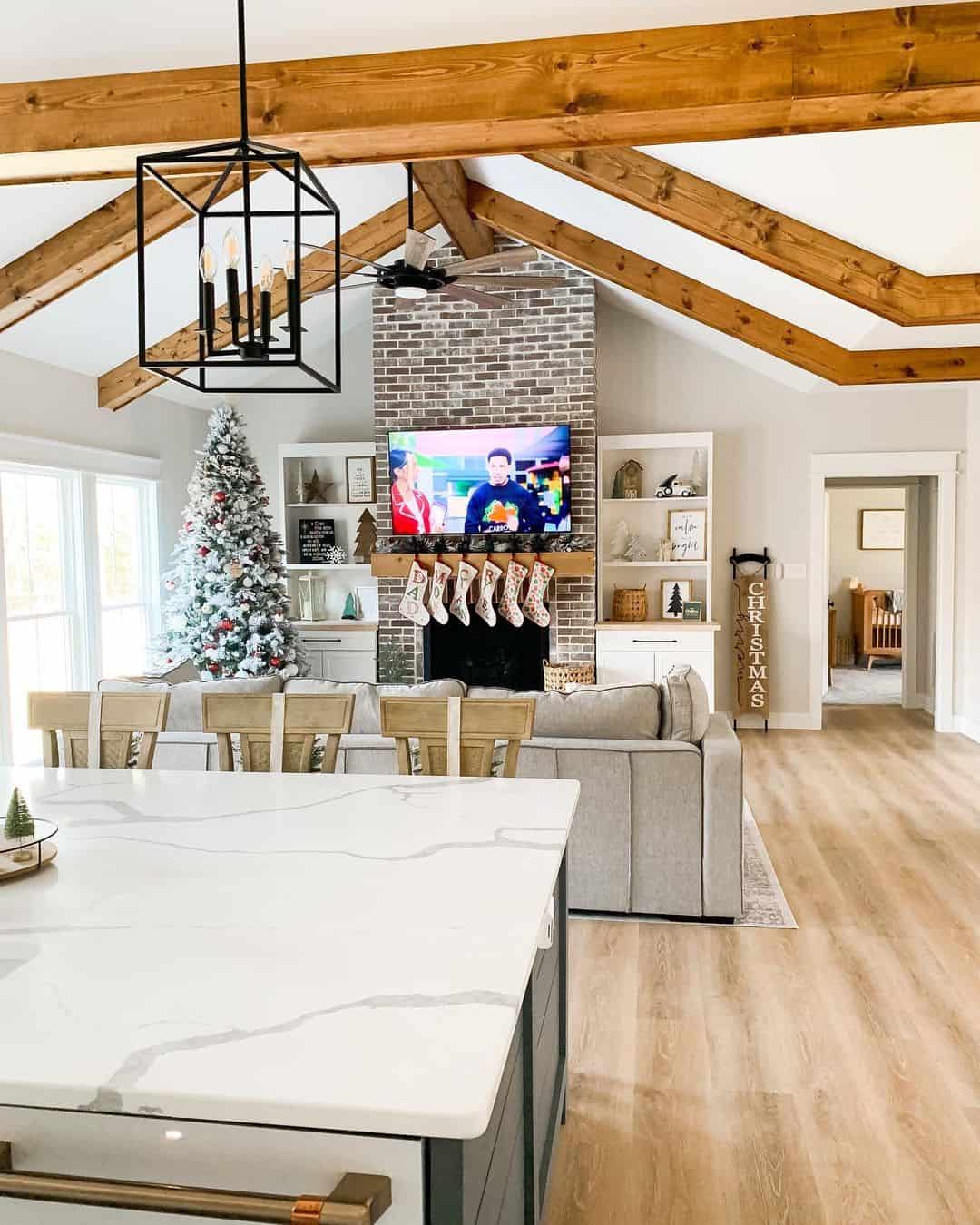 Credit: rowefamily_farmhouse
Shop the Look
Cozy Living Beneath Low Ceilings with Exposed Rustic Wood Beams
The welcoming charm of exposed ceiling beams infuses warmth into this well-lit living room with low ceilings, striking the perfect balance. To achieve a modern finish, incorporate neutral earthy accent pieces such as black stone vases, a solid wood console table, an indoor tree, and a captivating wagon wheel chandelier.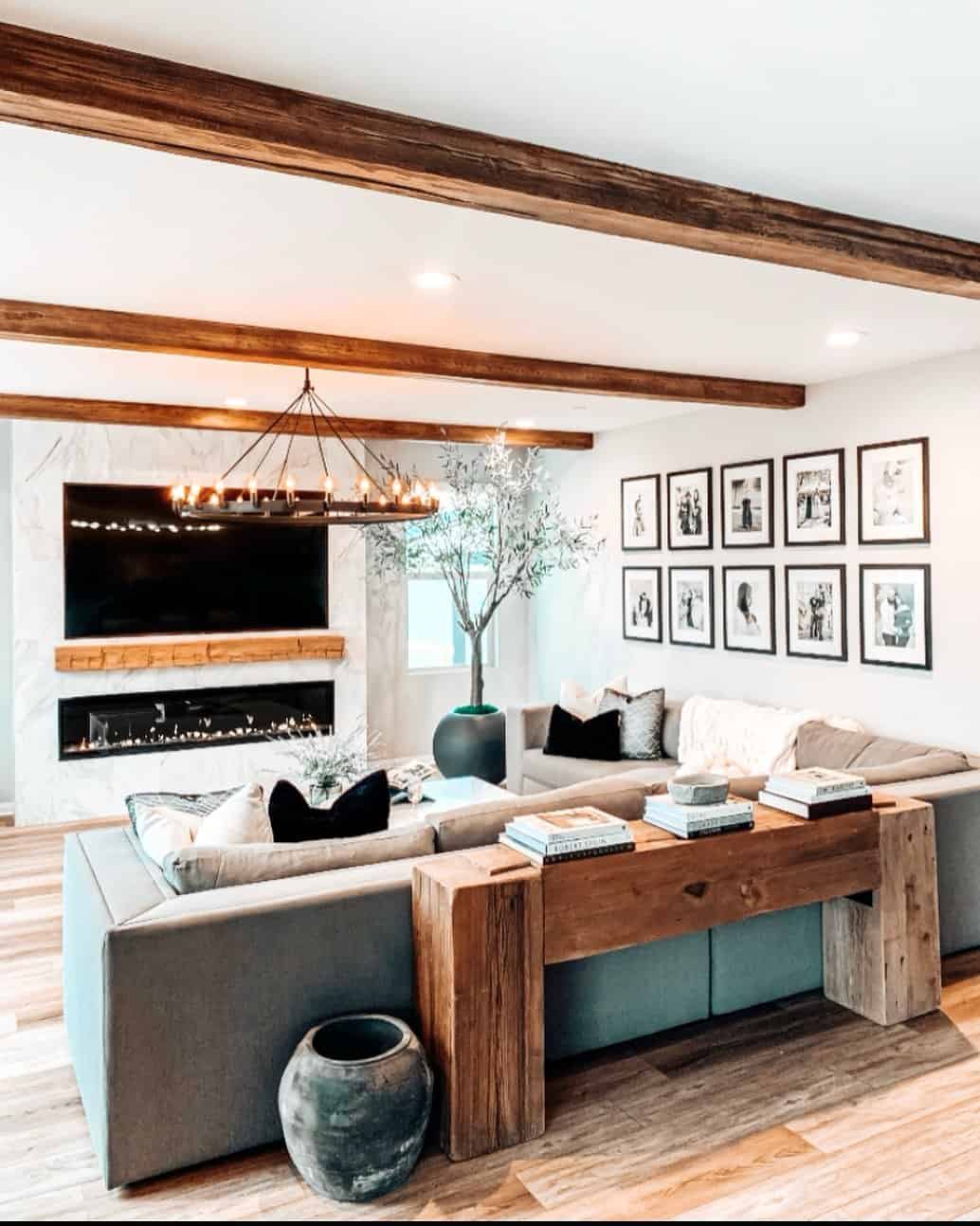 Credit: hannah_naylor_
Shop the Look
Wrap-up
As we conclude our journey through these exposed beam ceiling ideas, it's clear that they hold the power to redefine the ambiance of your farmhouse living room. From the allure of vaulted ceilings to the charm of rustic wood beams, each idea offers a unique canvas for you to express your style and make a statement.
Whether you choose to embrace the past or embrace a more contemporary approach, these beams bring a sense of timelessness to your space, creating a welcoming haven where memories are made.